This isn't your average desk-ridden wireless speaker system… not by a long shot! You're looking at the new BRAVEN BRV-1, an ultra-rugged, lightweight and compact palm-sized bluetooth speaker that was engineered for any adventure you can throw at it. Over past year or two the bluetooth speaker market has become flooded with wireless options for streaming music, but there still remains very few options for compact, stylish and truly rugged speaker systems that deliver high quality audio. It's a very tall order as you can imagine and few companies have stepped up to the challenge.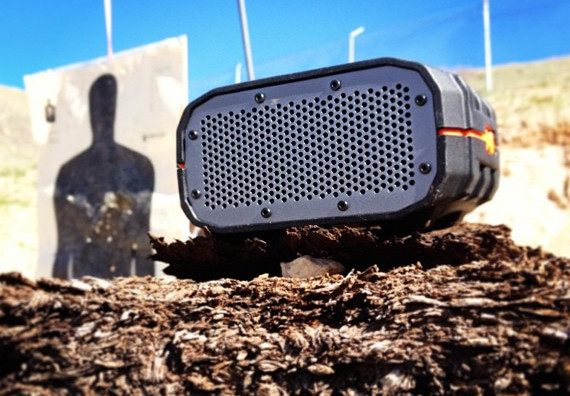 Then enters the Braven BRV-1, with its rugged shock resistant rubber armor, aluminum grill and IPX5 waterproof / dust-proof rating. The Braven BRV-1 is said to handle the elements with ease and produce high-quality sound along the way. Recently after being tapped by the good folks at BRAVEN we went hands-on with a demo BRV-1 unit and were asked to "not hold back" – and oooh boy we didn't!! We're talking rain, mud, 6 foot drops and general miss-use you wouldn't see fit for a basketball. The results? Well, you can find those below – but first here's a quick look at the BRV-1 and some key info to get your juices flowin'…

Our team loves active, outdoor adventures, so we designed the Braven BRV-1 to be the perfect all weather companion for any activity, we upped to cool factor with the look and functionality of this speaker without sacrificing our high-quality sound or signature charging capability. –Warren Osborn, BRAVEN CEO

BRV-1 KEY FEATURES:
IPX5 certified waterpoof & dust-proof rating
Integrated controls (power, volume, skip, sync)
Speakerphone w/ built-in noise canceling mic
Rechargeable (1400mAh) internal battery – 12hr life!
Battery life indicator lights (push button activated)
Bluetooth connectivity (up to 33 feet)
Aux-in connection for non-bluetooth devices
Available in 2 colorways (Black/Sliver/Orange or Black/Blue/White)
Tech SPECS:
Frequency Response: 180Hz to 13kHz +- 3dB, 145Hz to 15kHz +-6dB
Decibels at .5m (loud/volume level): 95dB (1khz at 10cm)
Subwoofer: 1 passive 70mm driver
Speakers: 2 active 3w -40mm drivers
Amplifier: Class D
Output Level: 95dB at 0.5m
Weight: 12oz (less than 1 lbs!)
*Included at purchase: Braven BRV-1 wireless audio speaker/cell phone charger, 3.5mm audio cable, USB to Micro-USB cable and a Lanyard.
Braven BRV-1 Review Breakdown
Design: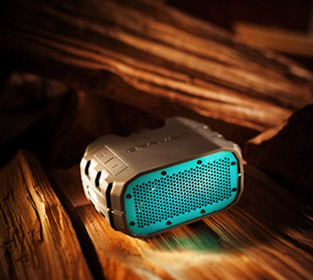 If we didn't know better we'd think the Braven BRV-1 was designed by the military. Its ultra rugged design is both functional and handsome. Some key areas that we felt were especially well designed were the high strength aluminum front grill, fully integrated (and easy to use) topside controls, and the super grippy rubber base-pads at the bottom which keep the speaker system from slipping around. Even in rough or slippery conditions.
Additionally, we really liked the fact that Braven incorporated battery life indicator lights into the BRV-1. It's always nice to know when the system needs a charge, and with five lights in-total signaling 20, 40, 60, 80 and 100% battery life it's easy to know when you're in need of a charge. NOTE: Charging from 0% to 100% takes approx 2.5hrs from our experience, and will play at medium volume for approx 10 – 11hrs on average. Playing the system higher than 60% volume did seem to drain the battery faster.
All-in-all the BRV-1 is everything you could ask for – style, durability and superb audio.
Audio Quality: 
For its overall small-ish stature (4.75″ x 3.25″ x 2.25″) the audio quality and depth the BRV-1 is capable of producing is actually quite impressive. We were especially impressed with the bass notes that its 3-watt 70mm passive subwoofer puts out. When cranked up to 60% volume (or higher) you can actually FEEL the bass the BRV-1 is pumpin'. Bass is a powerful component used in most music genres, but is commonly absent from speaker systems of this size – typically because there's just not enough space or power to support it. Our late night partying testing sessions with the BRV-1 proved that Braven has actually figured it out and created a system that delivers some nice acoustical balance.
In our estimation the Braven BRV-1 is one of the top wireless speaker systems at this size. It's quite loud overall and emits crystal clear vocals and instrumentals. When pushed to the maximum volume we did however experience some minor distortion (audible speaker crackling and general fuzziness) which was less than desirable and is why we had to dock the BRV-1 a full point in this category. To avoid distortion all together simply keep the BRV-1's volume at 80% and lower. At those volumes we didn't find that there was any noticeable distortion.
On the speakerphone side of the equation we were also pleasantly surprised! Incoming calls are easy to answer by pressing the play/pause button. Calls come though with excellent clarity and the built-in mic even has noise cancelling capabilities which makes for an impressive sounding call to the person on the other end of the line. The Braven BRV-1 has by far on of the best speakerphone capabilities of bluetooth speakers systems we've tested in recent memory.
Functionality: 
The BRV-1 does it all, and best of all… without having to access your smartphone/MP3 device once you're sync'd. Everything about this system was intelligently engineered, including the integrated (top side) controls for power, volume, play/pause, paring, answer/end call and skip track.
Check out the diagram below to get a full visual of everything the BRV-1 has to offer…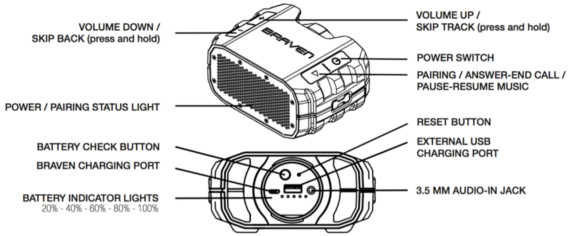 Power, pause/play and volume controls are all standard operation with most bluetooth speaker systems, but few incorporate the skip track (forward & back) capability which comes in quite handy and often when your playlists are as diverse as mine. To skip a track forward or back simply press the volume up button (to skip forward) and hold for about 2 seconds. To skip back, do the same, but with the volume down button and repeat twice in quick succession. You'll have to tinker with the timing to skip back, but once you've got it down it becomes second nature.
Another fantastic function the Braven BRV-1 serves is its ability to charge devices via its external USB charging port. This is awesome for when you need a little extra juice on your cell phone or iPod to get you though the day. We needed to use external USB charger a few times over the past couple weeks. It was a life saver and worked quite well in a pinch. We did however notice that charging cell phones and other devices off the BRV-1 did drain its battery considerably and much faster than when operating in its normal music playing mode.
Waterproofing: 
(7 out of 10) We can't technically classify the Braven BRV-1 as fully "Waterproof", technically it's rated IPX5 dust proof and "water resistant." Which doesn't mean it can't get wet or splashed, but does mean the system should never be submerged. I think the image below of Braven's water resistance instructions says it best in very easy to understand (idiot proof) graphics…
During our testing sessions the BRV-1 proved that it can handle some serious conditions without issue, inluding – heavy rain, mud as well as mammoth cannon ball splashes from the pool.
TIP: It might not be the best idea to keep the BRV-1 at the edge of the pool or hot tub. While it may seem indestructible – a dip in the drink will definitely incapacitate the BRV-1.
Durability: 
(10 out of 10) Need we say more…
Value: 
(8.5 out of 10) After factoring in durability, audio quality and its overall compact yet handsome design we found the Braven BRV-1 to be very fairly priced. The only factor holding us back from dishing out a higher rating for value is the fact that it isn't fully waterproof – as in submersible. If Braven could somehow build this same model with an IPX rating of  7 or higher then we'd be happy to give it a 10 out of 10. Maybe we'll just have to wait for the Braven BRV-2? Here's hoping!
Braven BRV-1 Bluetooth Speaker: Tech Review
The Braven BRV-1 is the ultimate companion for adventurous audiophiles who lead a non-stop on-the-go lifestyle. We were truly impressed with this speaker system for its easy to sync bluetooth wireless capabilities that make it simple and fun to share music anywhere! It's loud, incredibly rugged and almost 100% waterproof. A solid selection for your next or first bluetooth wireless speaker system indeed!
The Good:
Highly Durable
Integrated Controls for Play/Pause/Skip Track
Ability to Charge other Devices via USB