Back on May 9th, 2023, I helped spread the news of Suunto's newest adventure watch, The Suunto Vertical, which is Suunto's most exciting release of the recent few years. Blending software updates seen in the Suunto 9 Peak Pro with a large screen format and plenty of new features that I'll touch on, the Suunto Vertical is a true premium offering from Suunto.
The top-tier titanium models are equipped with solar harvesting tech, while all models offer incredible battery life (up to 60 hours utilizing the most accurate tracking mode, 85 on the solar model), dual-band GPS/GNSS tracking, and, a feature I was particularly excited about – free, fully featured offline maps! More on these features later, but the maps feature is a major update that allows Suunto to truly compete with Garmin, Coros, and Apple.
All that said, after a few months of anxious anticipation, I got my hands on a test unit. Let's get into it! Read along to hear my thoughts on Suunto's best flagship adventure watch offering to date.
Key Features (Titanium Solar Model):
Grade 5 Titanium 

Sapphire crystal

74 g / 2.61 oz

100m water resistance

1.4in matrix display 

10m depth meter for snorkeling

Outdoor, free, offline maps

32gb map storage

Dual-band GPS/GNSS tracking

95+ sport modes; customizable sport modes

Made in Finland with renewable energy
Suunto Vertical Review Breakdown
Design
The Suunto Vertical Titanium Solar replaces the Suunto 9 Peak Pro Titanium in Suunto's lineup. One of the 9 Peak/Peak Pro's top selling points was its size (or lack thereof). It was thin and handsome without sacrificing durability. It was an excellent example of Finnish design – minimal, beautiful, and functional.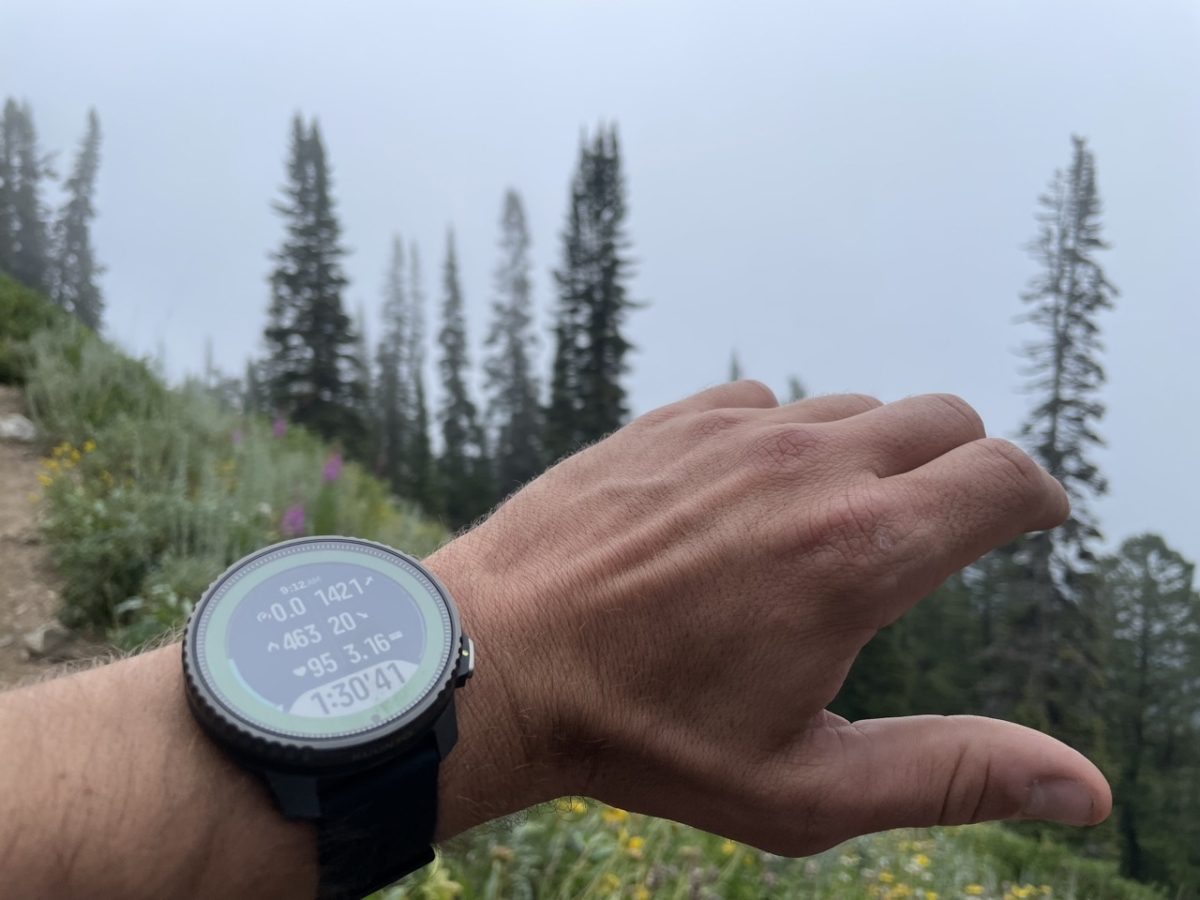 The Suunto Vertical's selling point is also its size, but in a different way – the Vertical offers a larger screen but increased depth, too. Size aside, the Vertical is very handsome, but it screams adventure watch.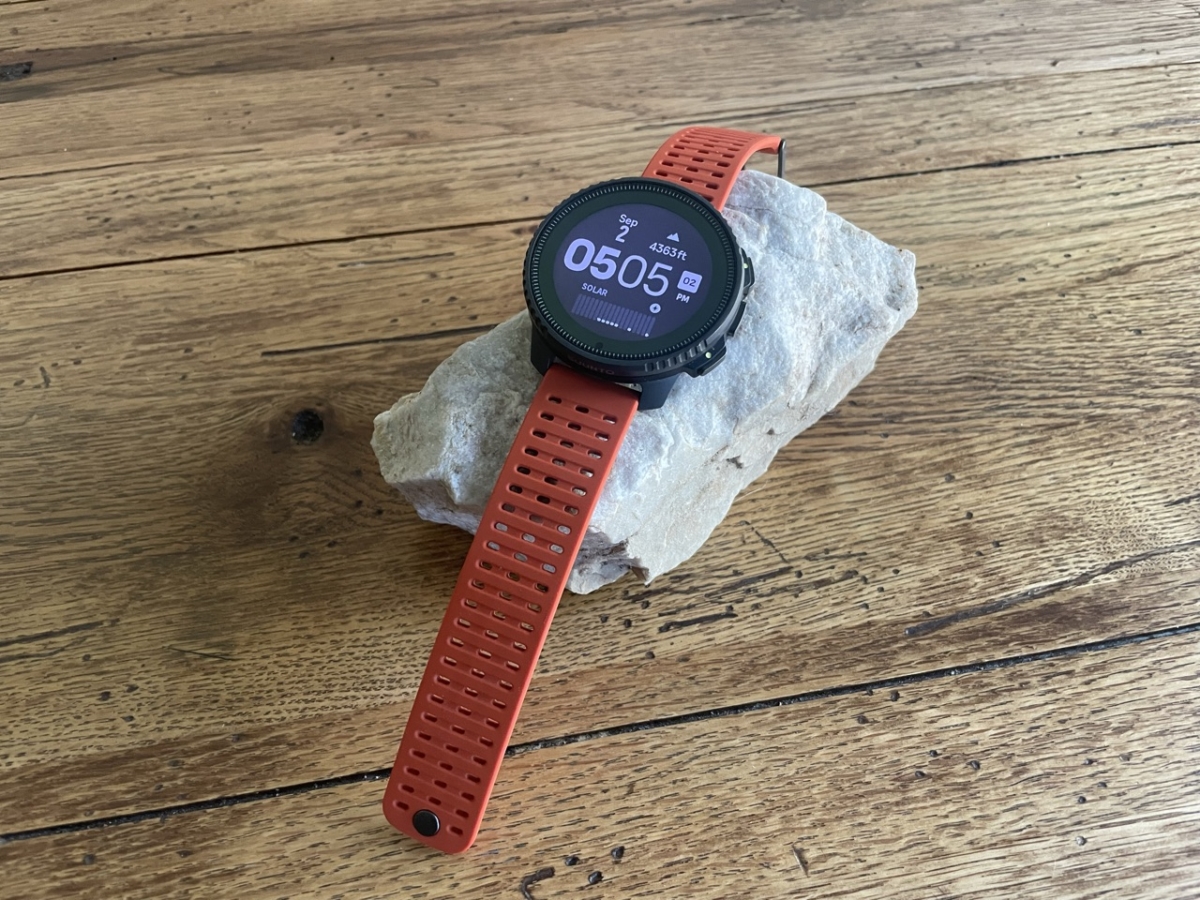 The 9 Peak/Peak Pro could fly under the radar and pass as a dress watch, especially when fitted with Suunto's leather straps, but the Vertical is an adventure watch through and through. It's big on your wrist, has more rugged detailing, and utilizes oversized multi-function buttons. While you can still dress it up with leather straps (the strap size remained the same between the Peak line and the Vertical line at 22mm), it still looks rugged – which I honestly quite like. Living in Utah, sport watches are worn in all settings, and the Vertical feels right at home wherever I take it.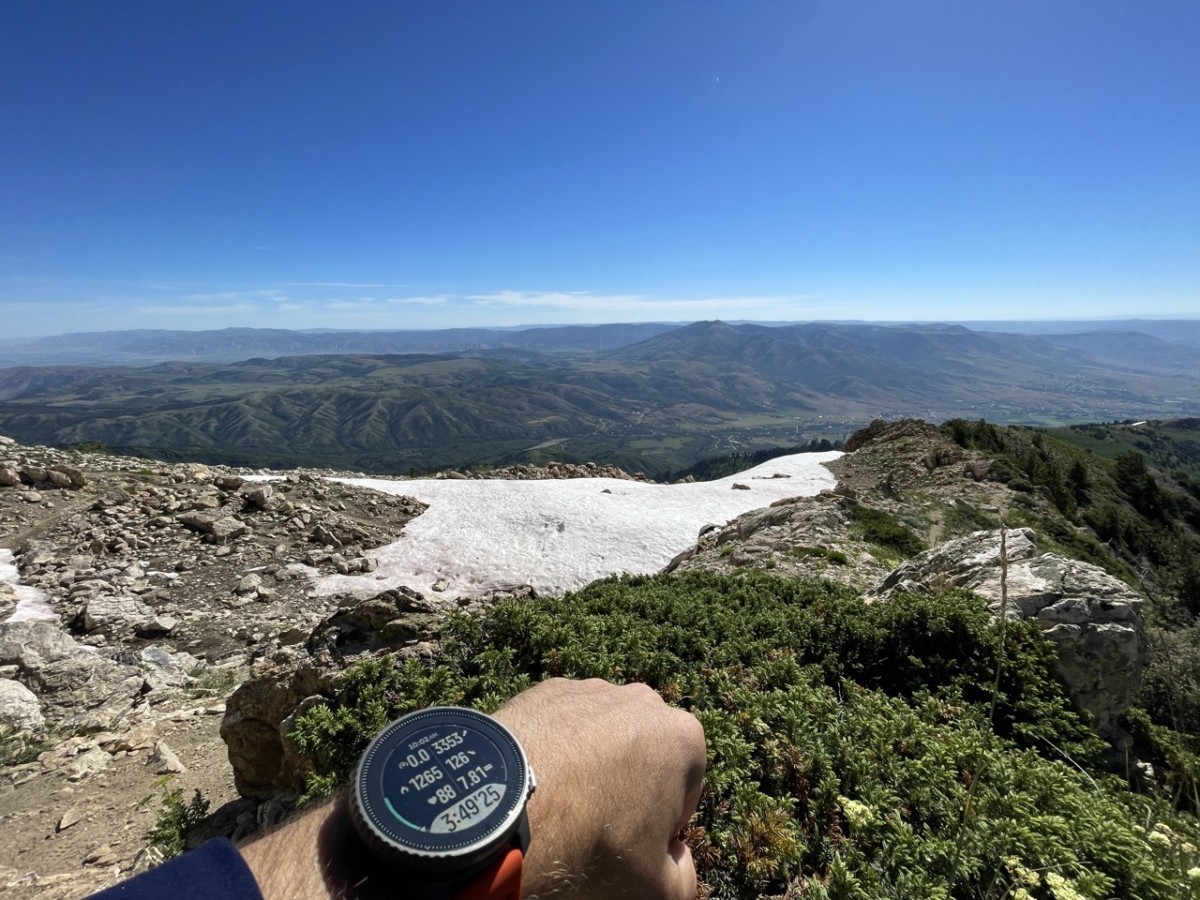 All in all, I am a massive fan of the new screen size, especially when making use of the new offline maps feature – more on that later.
Offline Maps
The new offline maps feature is exactly what Suunto fans have been waiting for! It also finally allows Suunto to fully compete with the flagship offerings from Garmin, Coros, and Apple, which all have offline/downloadable map capabilities. 
(Image credit: DC Rainmaker YouTube video)
If you've been a Suunto fan for a while, you're all too familiar with Suunto's breadcrumb map view. While it could certainly help you follow a previously loaded route or find your way back if you've made a wrong turn, it always fell short. There was no context to the map – just a line on the screen with turn-by-turn indicators if using a route, or simply a dotted line showing where you've been. That said, if you did happen to own the shortlived Suunto 7 with Google Wear OS, you were part of a select few that were teased with how good proper maps on a Suunto could be. 
Well Suunto fans, Vertical changes everything.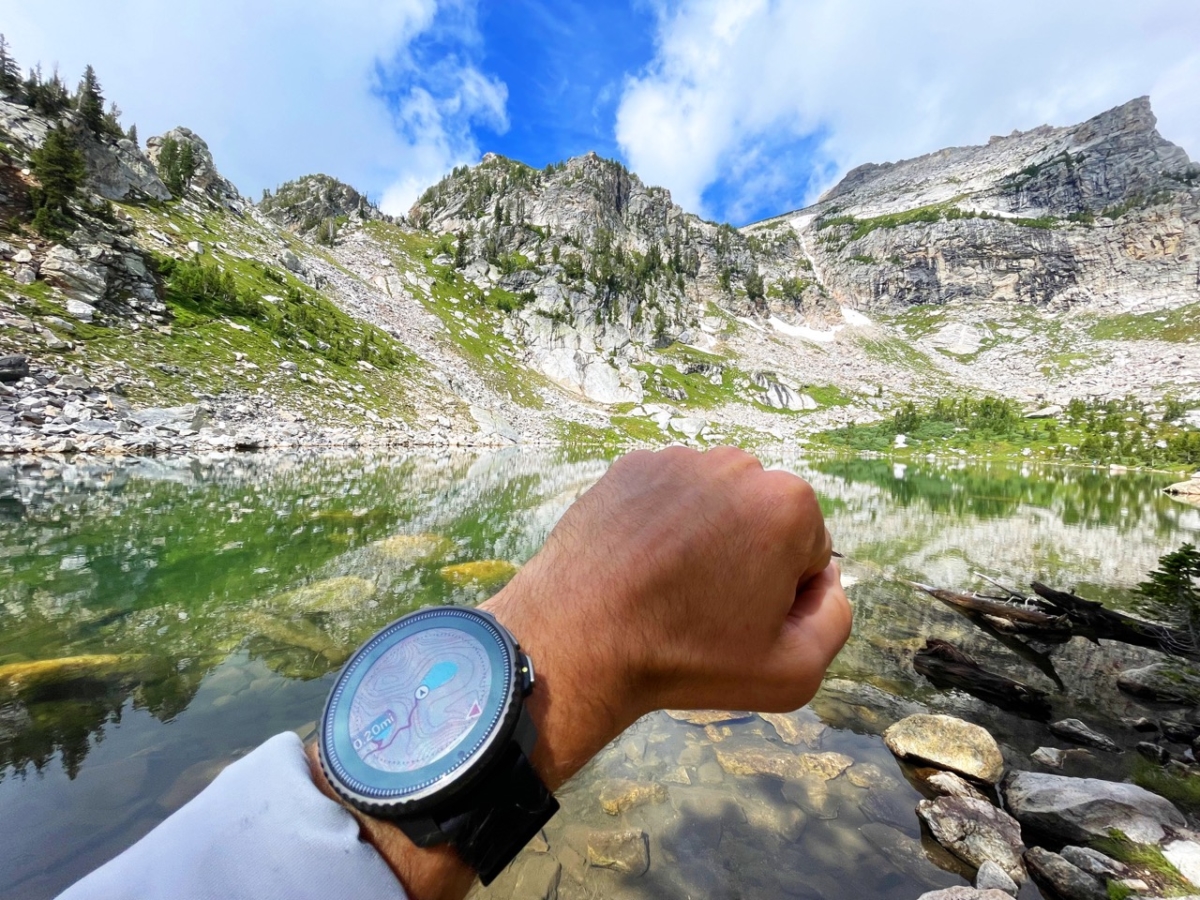 Vertical has proper, contextual maps! You simply download the state (or country) you live in or are visiting and bam, you have fully contextual maps complete with roads, trails, rivers, lakes, and parks. 
Now, some of the competition certainly has more detailed maps and useful indicators like road and park names, but for Suunto fans around the world, the fact that Suunto has real maps is a total win, through and through.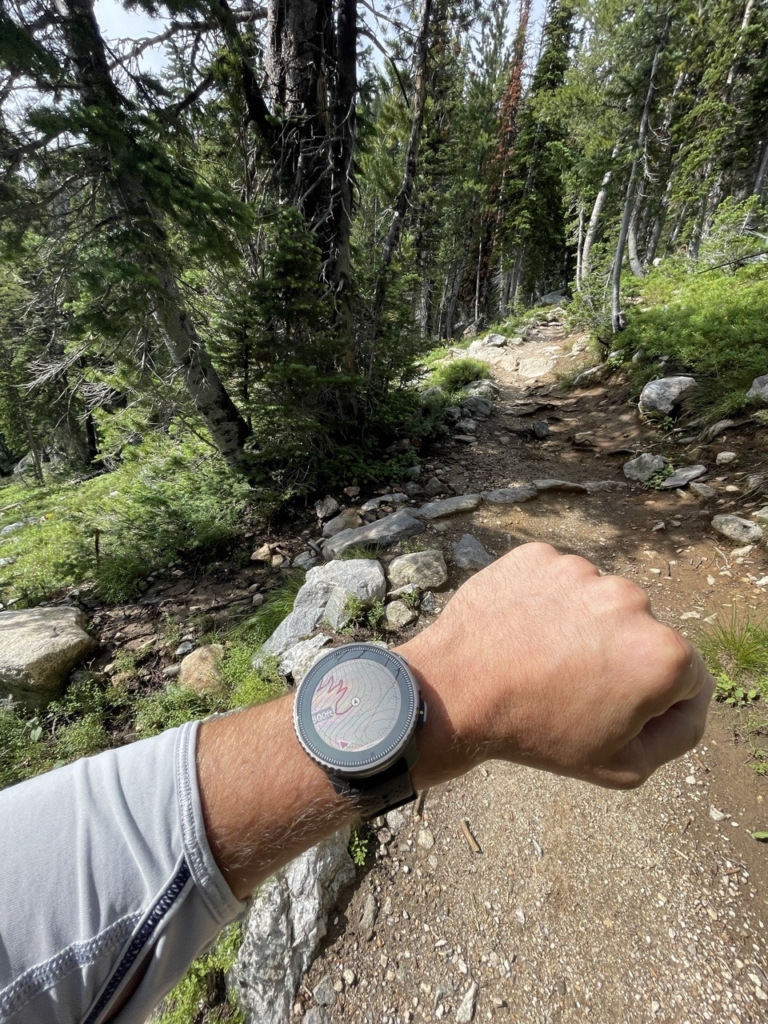 Gone are the days of comparing the watch breadcrumb to my phone's offline maps if I am getting turned around on a trail… I just simply pan out on the map view and I have full visibility of all known and mapped trails – without doing any extra work besides downloading my area of interest! The Vertical has me feeling like a giddy kid getting their first phone or laptop again. It is truly an amazing time to be a Suunto fan, as things will only get better from here – whether that be software improvements for the maps or better hardware in future Vertical versions.
Onto some of the technical details. The Vertical has 32 gigabytes of onboard maps storage. For context, I currently have Utah (where I live), Wyoming (where my job is HQ'd), and New York (where my family lives) downloaded to the map, and I still have well over 24.4 GB of remaining storage. 
Downloading maps is fairly easy – there is a new option for "Offline Maps" in the main watch sync screen of the Suunto App. Unlike other watch configuration options, the offline maps tool is available to edit even if the watch is busy, which usually blocks things like sport mode customization. Offline maps simply queue up and download in the background when they can. Vertical needs to be on its charging puck, in range of its paired phone, and connected to a strong Wi-Fi signal. Wifi must be configured on the watch before downloading any maps.
One callout – maps downloads are slow, like an hour or more slow. To me, not a huge deal. I just set my watch up to charge while I am working at my desk and let things download. Where this really hurts is if you forgot to download while you had your charger and wifi, and are out on a trip with no way to get it done. That would be a bummer and would be a situation where the traditional Suunto route loading could save you.
All in all, whether you're a Suunto enthusiast looking for a reason to upgrade, or if you're in the market for a high-end sport watch, Suunto Vertical is one to consider.
User Interface
As mentioned earlier in the review, Vertical makes use of the OS refresh that shipped with the Suunto 9 Peak Pro. It has a more vibrant color palette, a more rounded design, and just simply feels snappier to use compared to the older OS offerings on the original 9 Peak and other models before it.
It is easier and more direct to get to daily items with menu replacements such as "Control Panel" instead of the "Shortcuts", and a fully customizable suite of Widgets, which are essentially individual watch faces that correspond to different watch features. Some are more useful than others at a baseline, and furthermore, some are more useful to you than others.
Suunto also released a new watch face specific to the Suunto Vertical – they do this for all their new flagships. On the solar model I've been testing, the watch face displays a reading of your solar harvesting, which I have found to be both informative and fun to look at.
A nice touch from the Suunto team was keeping the same 22mm watch strap standard from the Suunto 9/9 Pro. This makes any accessories, like leather straps, easily transferable! Thanks, Suunto!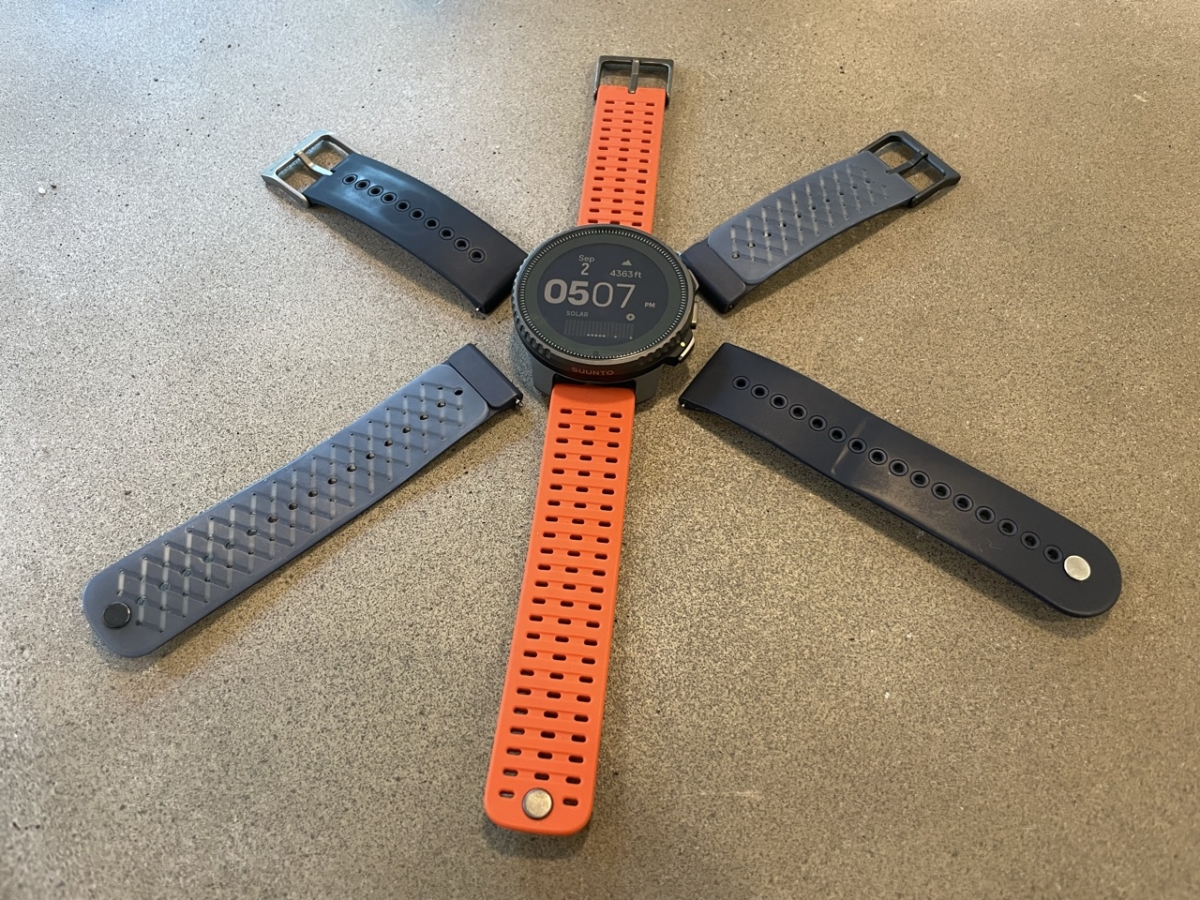 Physical Interface
Sununto paired the bigger screen with bigger, raised buttons side-body buttons. It is easier than ever to feel and click the buttons whether you're looking for the notification silence option in bed at night, or out on the trails in the early morning or late evening. I've really only tested this watch in summer, but I am certain it'll be easier to utilize with gloves, too. 
Flip the Vertical over, and you'll find a similar backing to that of previous Suuntos. Charging leads, a few sensors, and watch technical details.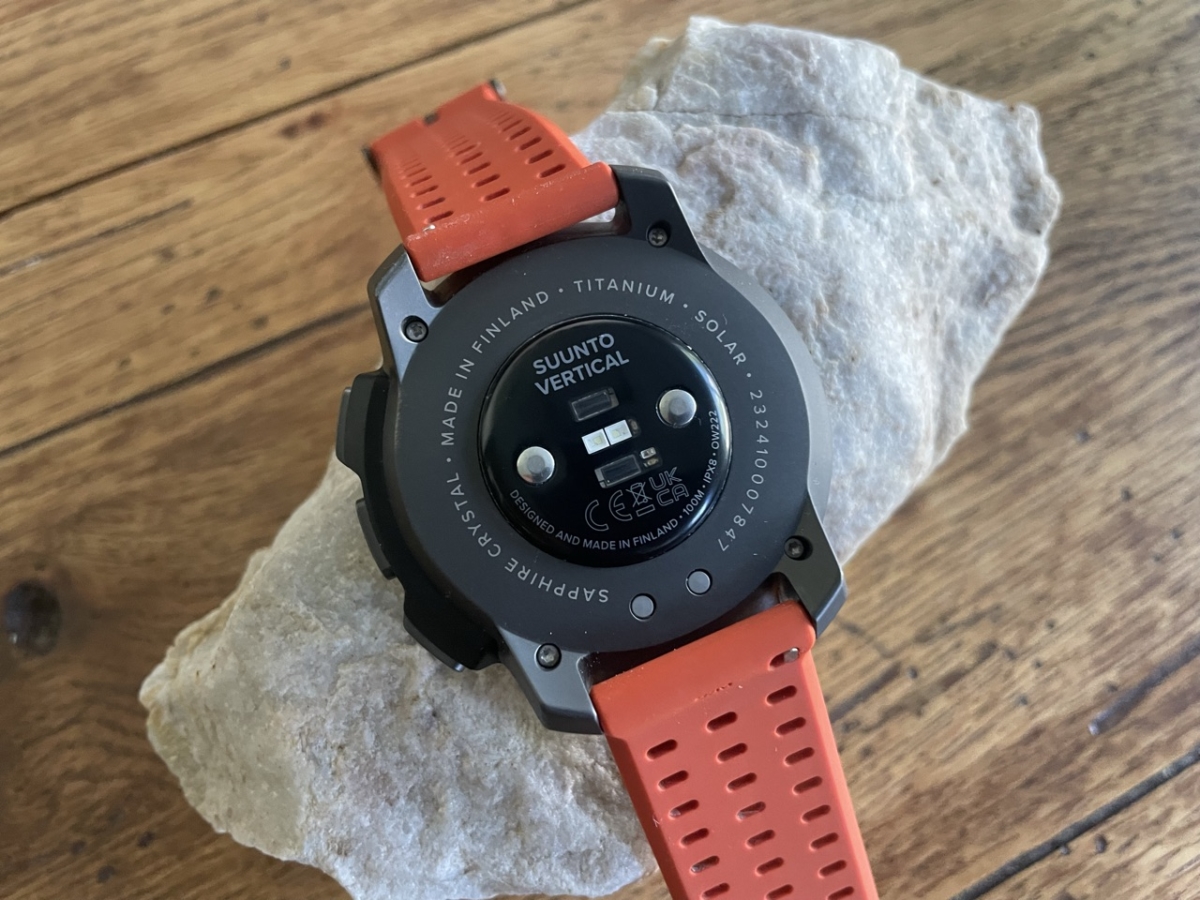 Solar Harvesting
This is my first Suunto with solar technology, and I have to say it has been a really fun addition. It does seem to need pretty ideal conditions to harvest solar, as almost every day is full sun out here in Utah, and my harvesting meter very rarely indicates full harvesting.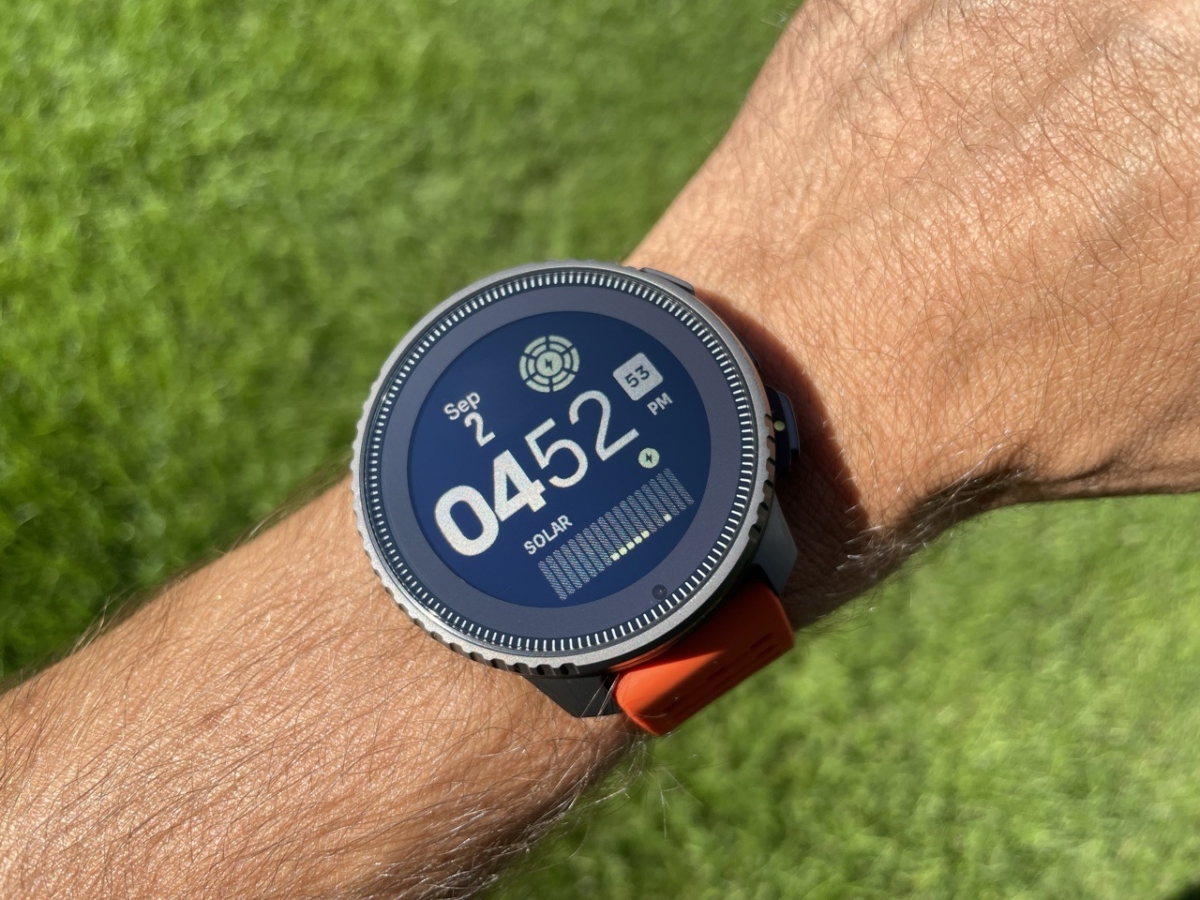 I am sure the angle toward the sun is a factor. Considering the watch is almost always in motion, solar charging translates to more of a trickle charge extending your range between charges than a reliable way to charge up your Suunto. Either way, super awesome addition that is yet another way Suunot has upped its spec to competition.
Value & Conclusion
While I am not the most technical reviewer out there, I hope this has given you some day-to-day insight into the Suunto Vertical for the average person. It is hands down my favorite watch Suunto has released since I started wearing the brand. It's still super high quality, very handsome, and loaded with new features to truly make it competitive in the sport watch space. 
At $839 for the test unit, it's certainly an investment, but Suunto has a great track record of supporting their devices for many years with software updates that don't result in forced obsolescence. 
If you're looking for your first sport watch, I'd save a few bucks and go with the stainless steel version. You're not missing much on the solar and saving a negligible amount of weight to still get 95% of the benefit. 
If you're looking for the best sport watch out there and are considering something like the Apple Watch Ultra, Suunto will deliver a much more straightforward sport watch experience with a longer lifespan, better everyday battery life, fewer gimmicks, and everything you'd need to track and monitor your fitness and sports. 
If you're looking to upgrade your Suunto, there's a lot to be had from any of the previous models, and I don't think you'd be disappointed! 
Buy Now at Suunto.com, or browse all Suunto watches