After a nice long winter aka the Polar Vortex of 2014, folks are practically bursting at the seems to get outside and release some energy. Summer is upon us and practically every community in the nation has at least one annual festival. Almost all of these festivals include the magic formula of live music, a variety of foods served on a stick, parades, fireworks, and a 5K run.
Over the past few years, the concept of the 5K (3.1 miles for the newbies) has started upping its game. While traditional 5Ks are seeing more and more popularity, a countless number of 5K hybrids are popping up all over the place. The Color Run, Warrior Dash, Electric Run, and Foam Run have put a new spin on the traditional 5K and made it an exciting concept for even the most non-runners out there. Who doesn't think that getting covered in powdered color pigments or sliding down a foam filled slide sounds way more enjoyable than just straight running 3.1 miles? Also, there are fool proof apps like Couch-To-5K that literally do just that – Get you off the couch and running a 5K in just 30 minutes a day, 3 days a week for 9 weeks.
Running a 5K has never been this attainable, accessible, and as fun as it is today my friends.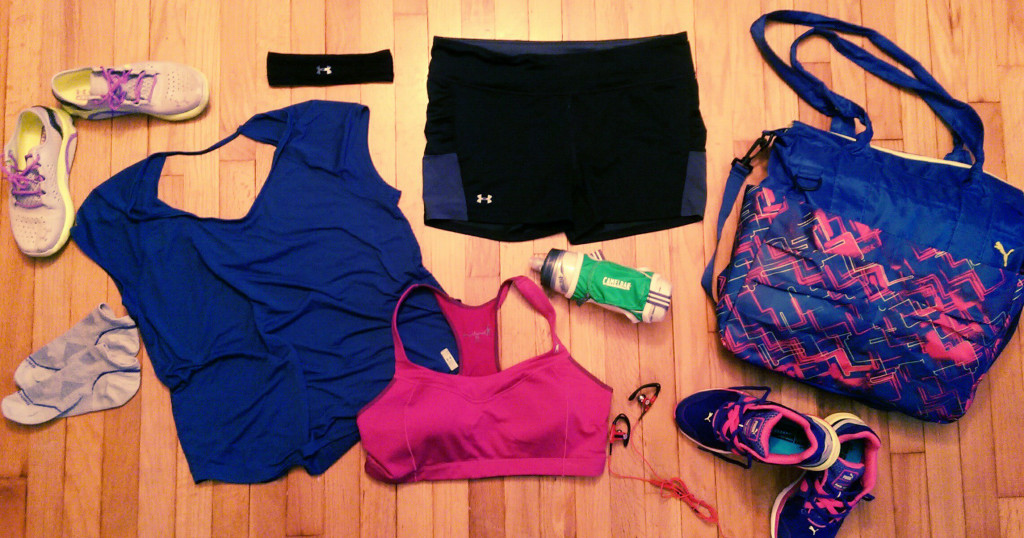 Whether its a fun alternative to your regular daily run or if you are just ready to jumpstart your fitness, here is the breakdown of essential gear you should consider before running your first – or next 5K:
– Footwear –
When it comes to running, the most important investment you need to make is choosing the right shoes. Believe me, you cannot just pull your gym shoes out of the closet and run a 5K. When I started running a few years back, I just put on my sneakers I got on sale from Nordstrom Rack and started running. A week later, I wondered why my knees started hurting. I switched to legitimate running shoes and it was like 'OH I GET IT'. You need some high quality kicks to bring you to the finish line and while some shoes may have bit of a sticker shock, they are worth every penny while you are on your way to the 3.1 mile marker. Here are two different types of shoes I highly recommend.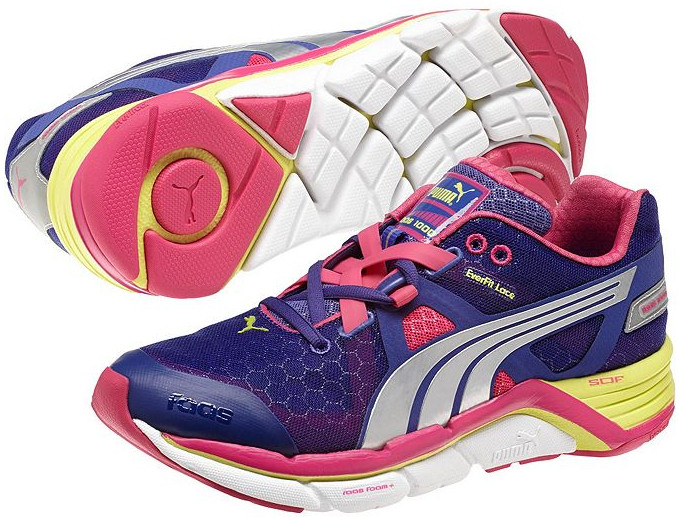 Hello comfort! The Puma Faas 1000 built with neutralCELL has an amazing level of cushioning and flexibility providing a smooth ride. The shoe's namesake comes from its FaasFoam+ midsole which is Puma's new proprietary blend of foam and rubber that makes it highly resilient, super comfy, but still responsive while you're on the run. Thanks to the FaasFoam+, you instantly feel comfort as soon as you step into the shoe.
While the Faas 1000 is packed with cushion, it still remains extremely breathable and fairly lightweight. One of my favorite features is its EverFit Lace upper lockdown technology, which ties into the laces to help keep your foot in place. What's unique about Puma's running shoes is that they all come with a 30 Day Test Run. If you aren't 100% satisfied, you can return the shoes within 30 days of purchase.
The Faas 1000 may only come in one color scheme but it's a great looking shoe. I just love how these shoes feel from the moment I put them on. They are so cushy that they automatically make you want to go for a run. I found that the Faas 1000 provides a enjoyable ride to not only for my feet but my knees as well. This shoe is in it for the long haul.
UnderArmour SpeedForm Apollo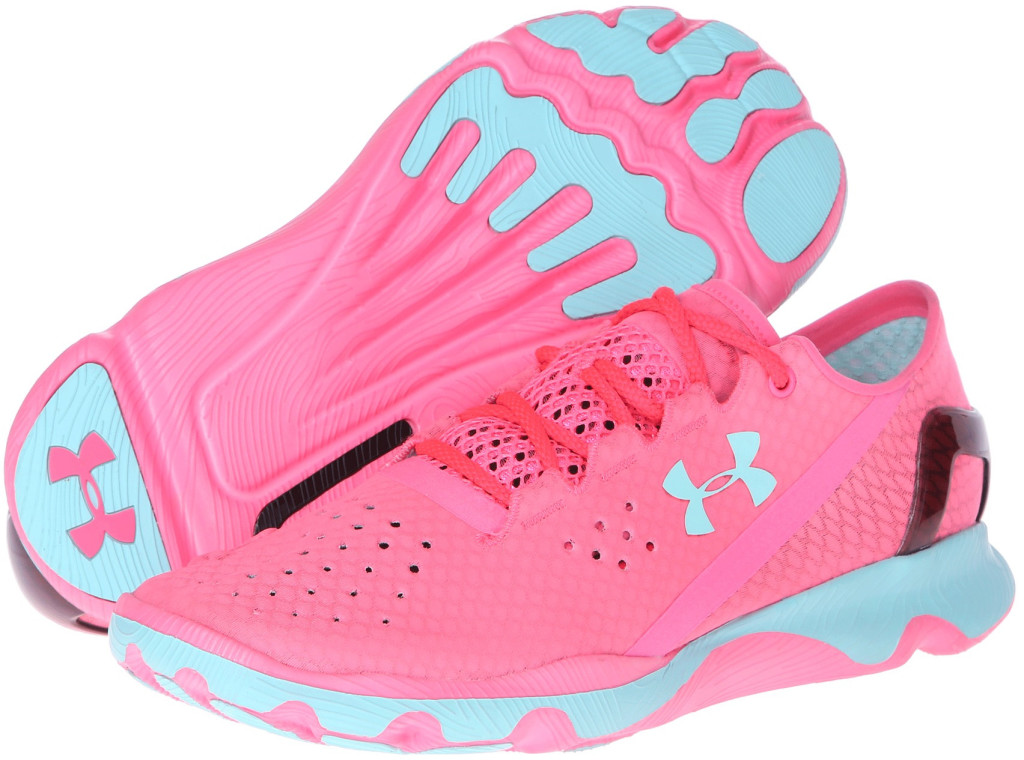 Right out of the box, you are going to be shocked by how light the UnderArmour SpeedForm Appllos are. But just because they are featherweights, doesn't mean they lack the muscle to get the job done. Their slimmer athletic cut delivers better mobility by eliminating the bulk of extra fabric found in traditional running shoes. The full-length Micro G midsole creates an incredibly lightweight and responsive ride. You'll feel like a gazelle while you're hopping over curbs during your morning run. The 4D Foam sock liner conforms to your foot's exact shape which will help eliminate slippage and keep your foot in place.
I received a lot of compliments while wearing the UnderArmour SpeedForm Appollos and everyone was asking what brand they were. Some were surprised they were UA shoes and didn't know that UA made running shoes. This is my second pair of UA running shoes and I love them. If you haven't tried UA's shoes before, I highly recommend you take the SpeedForms for a spin.
Smartwool PhD Run Ultra Light Micro Socks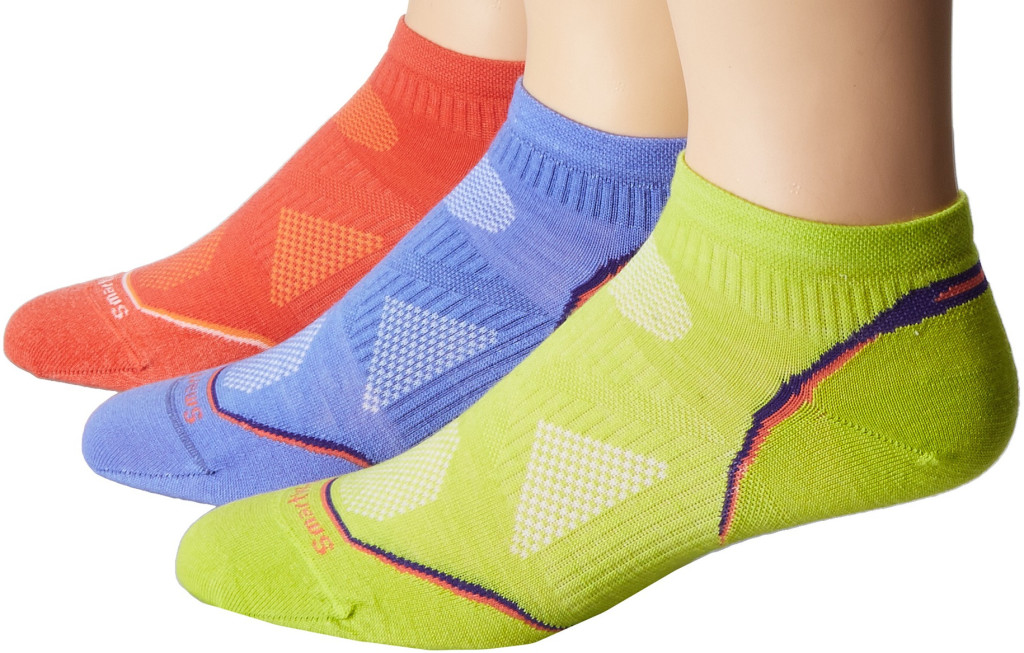 Pairing your quality kicks with quality socks helps complete the the footwear package. Having great shoes paired with regular cotton socks can lead to some pretty wicked blisters. The Smartwool PhD Run Ultra Light Micro Sock is the preventative maintenance package you need to keep your feet comfy during short or long runs. The new 4 Degree Elite Fit System uses two elastics for greater stretch and recovery to keep the sock in its place. The ReliaWool Technology is used in high impact areas to provide longer lasting protection. This means the PhD Run Ultra Light stays in place during your run instead of moving every which way causing friction against your skin.
I've been a fan of Smartwool since I tried their snowboarding socks a few years back. One may not automatically think of Smartwool for running undergear but you need to change the way you think. They know how to make a high quality product that provides the protection, support, and goes the distance. They make the kind of products that will be in your wardrobe rotation for years – not just a few months. These socks are amazingly light and I am happy to report that they have kept my feet blister free.
– Hydration –
Hydration is extremely important when it comes to running to keep up your energy and spirits high especially while running in the heat of summer. You may think that water bottles are water bottles, but once you try one of these you won't go back to that freebie credit union promo bottle you got from your company golf outing.
The CamelBak Quick Grip includes a 21 ounce Podium Chill Bottle that keeps your water colder twice as long as a traditional water bottle thanks to its insulated design.  It has CamelBak's proprietary Jet Valve which means its always open and always closed…at the same time. It also has a locking toggle to make the bottle completely closed. The carry band is comfortable and comes with a fully adjustable strap and zip storage that perfectly fits your keys, id, cash, ect.
This bottle may be a little over kill for a 5K but it doesn't hurt to have extra water with you, especially during the dogs days of summer. You could use half for hydration and the other half for a quick cool down when the sun's heat waves of death are giving you no mercy on a sunny day in July. I am hugely amused and a fan of CamelBak's Jet Valve. It makes hydrating easy and efficient while hydrating in motion.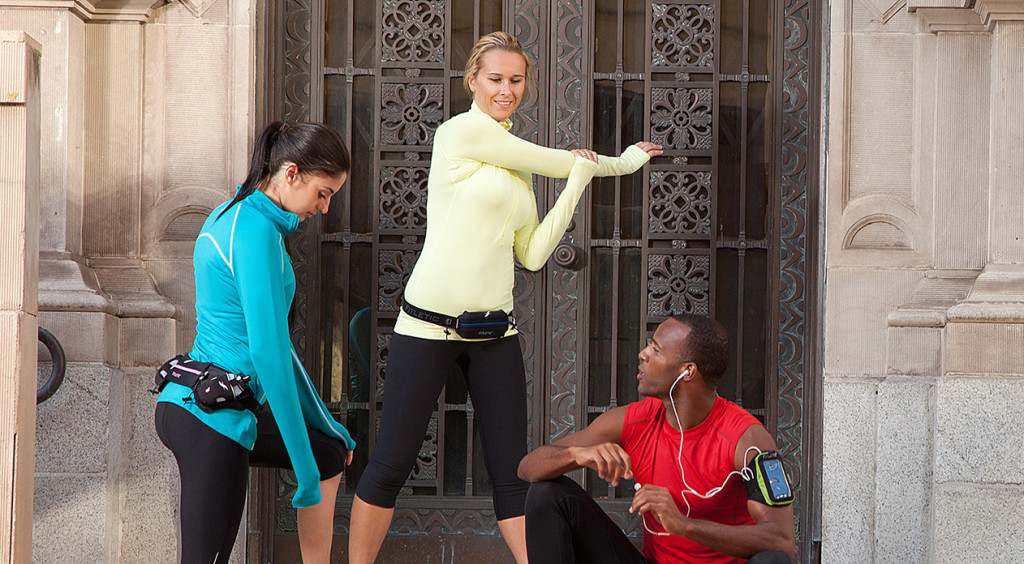 If going hands free is more your style, the Fitletic Hydration Belt is the way to go while still bringing your hydration along for the ride. Equipped with two 6 ounce water bottles, it provides the perfect amount of water for your run. It also has a handy water resistant neoprene zip pouch that can fit your phone, money, keys, ID, and maybe even a little mid run snack without having that 'fanny pack' feeling. Fitletic's ergonomic design contours to your body to eliminate bounce and allows for single-handed access of the water bottles. The waistband is adjustable and very comfortable. The Fitletic Hydration Belt is race ready with two exterior energy loops for on-the-fly-access as well as race bib toggles.
I usually run with my phone in one hand and my hydration in the other hand but I really enjoyed the convenience the Fitletic Hydration Belt gave me. It's a comfortable way to go hands free while having everything all in one spot.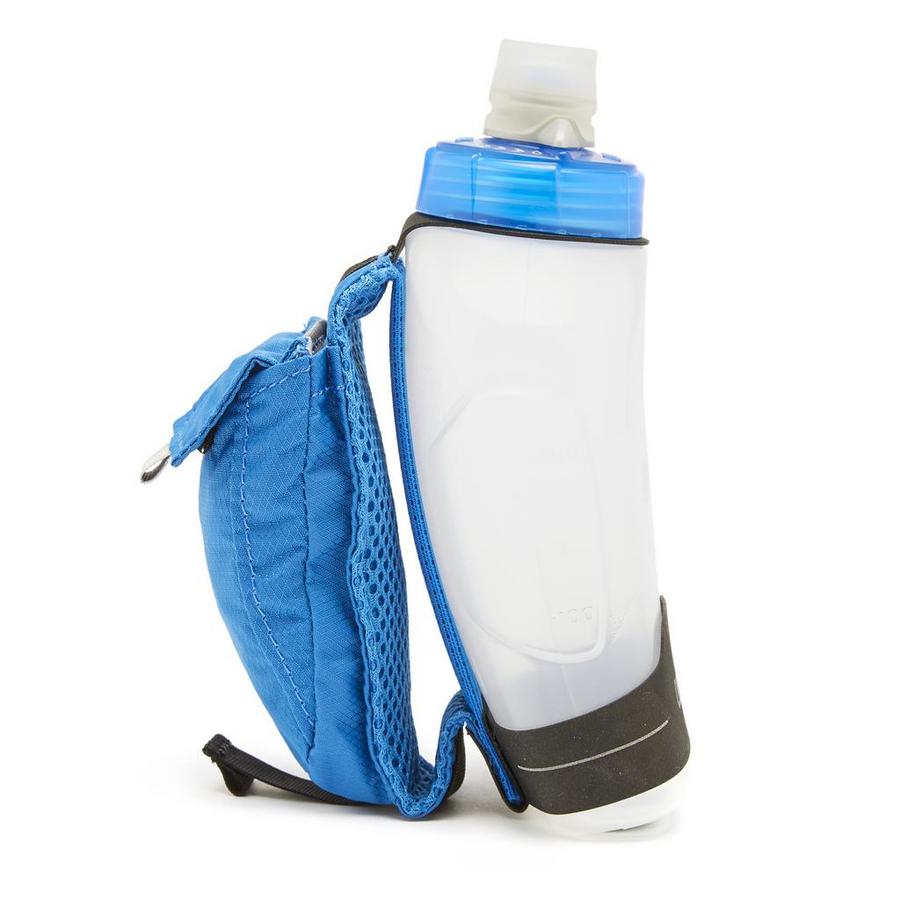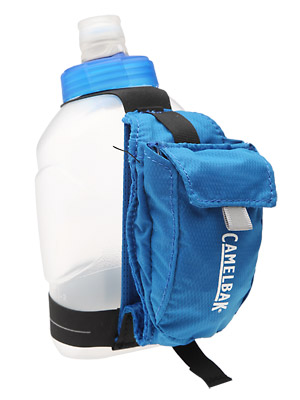 The CamelBak Arc Quick Grip brings hydration to the palm of your hand. At 10 ounces, this little buddy is the perfect size for your 5K push. It fits easily in the palm of your hand and doesn't feel bulky. It's small enough to do the job and the little zip pouch can carry your keys, cash, and an energy gel. Like its bigger sister, the Arc Quick Grip also has the self sealing Jet Valve which helps eliminate spills and splatters.
– Audio Motivation –
PowerBeats – Beats By Dr. Dre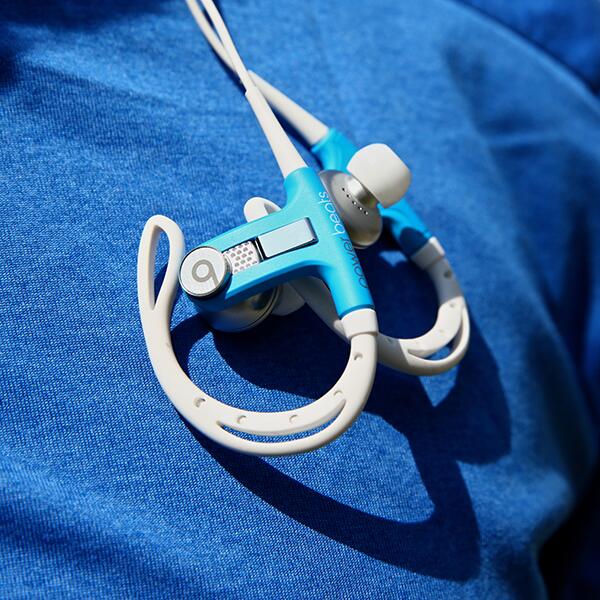 The easiest way to make your run more enjoyable, is to run to your own personal soundtrack. Heck some of us even run while listening to podcasts or audiobooks. Whatever motivates you to keep those feet hitting the pavement is a good thing. Powerbeats comes complete with flexible earclips that are designed to secure the headphones to your ears no matter how rigorous your workout is. Sweat- resistant materials and ear tips of all sizes help keep your ears comfortable during your run. Powerbeats are the only Beats by Dr. Dre earbuds that come with two speakers inside each bud. That means you get crystal clear highs and deep, rumbling lows in high definition. Powerbeats are specially designed to let you hear the full sonic range of your music while still being aware of ambient sound while running down the road. This is key when it comes to being sideswiped by bikers and dodging cars. The remote control cord allows you to pump up the volume or skip to the next song on your 5K soundtrack without having to mess with the playlist on your phone.
I mean, come on. The Powerbeats are endorsed by Lebron James. You can't help but feel like a little bit of a badass while you run down the street blasting some Jay-Z. These will keep you amped up all the way to the finish line.
– Apparel – 
Smartwool PhD Merino Blend Racerback Sports Bra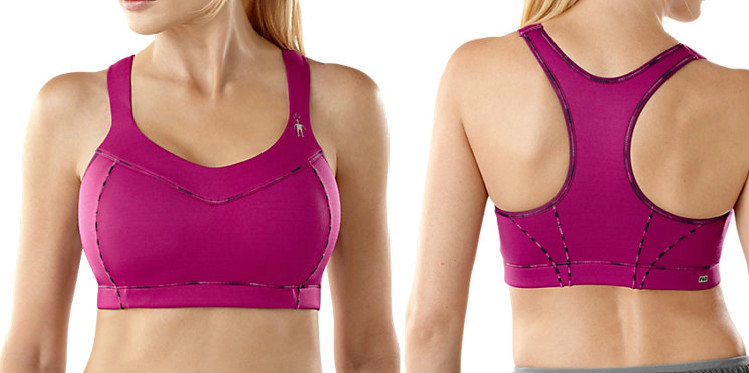 Ladies, I think you'll all agree that a great sports bra is probably right up there with shoes when it comes to top essentials for anything that has to do with running. The Smartwool PhD Merino Blend Racerback Sports Bra is your prescription to keeping things where they need to be and staying comfortable on your next run.
The Smartwool PhD is designed from the inside out using the 4 Degree Elite Fit System for unparalleled support and Merino Wool for the ultimate in temperature regulation and moisture control. This means you are getting comfortable straps for support and stability, Merino lined cups, strategically placed materials and knit types in key support zones, and an elastic band providing a secure anchor point. In other words, the girls are not going anywhere. Like, I mean nowhere. The Smartwool PhD Merino Blend Racerback Sports Bra is hands down the best sports bra I have ever had.
UnderArmour Fly-By Short Sleeve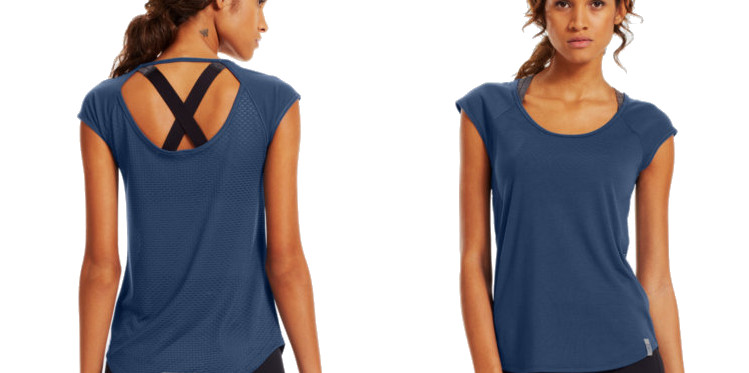 When I think back to when I first started running, I always just grabbed one of my old cotton tees and away I went. About half way through my run during the middle of summer, that shirt was eating me alive by trapping every drip of moisture and degree of heat inside of it. Fast forward to running in UnderArmour's Fly-By and I won't run in anything else. The Fly-By has UA's signature Moisture Transport System that delivers superior breathability and incredible comfort. The ergonomic Flatlock Seams allow you to move free without fear or chafing.
UnderArmour Fly-By is light, breathable, and just so happens to look super cute too. I bet I could pull off this shirt with a pair of jeans and head out for the day. No one would be the wiser. I received lots of compliments on this shirt and was asked where to get it. While fashion may not be top priority when it comes to running, it doesn't hurt to know you look good crossing the finish line while sweating your ass off.
UnderArmour HeatGear Armourvent Shorts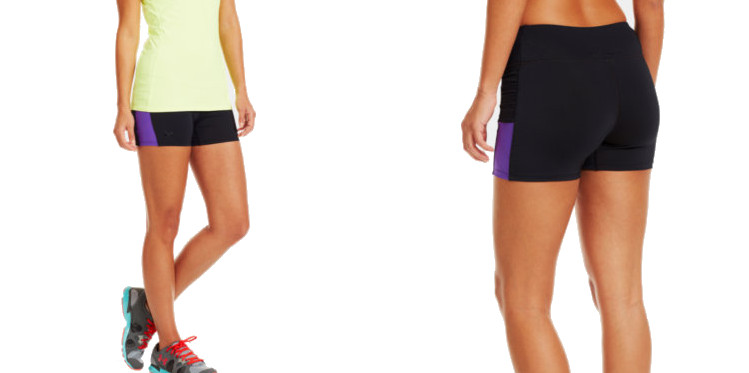 The UA HeatGear Armourvent shorts have locked-in UA compression fit which means they act and feel like a second skin keeping your muscles fresh and your recovery time fast. Even on the hottest days, the Iso-Chill construction and ArmourVent mesh help dissipate heat from the body to keep you cool. The signature Moisture Transport System wicks sweat to keep you dry even on the sweatiest run.
The UA Short comes in 8 different colors and even has a hidden pocket in the waistband to stash your key, ID, or cash. I love me a hidden pocket. Pair these shorts with the UA Fly By tee and you'll find the heat relief and style you are looking for during your summer runs.
– Accessories –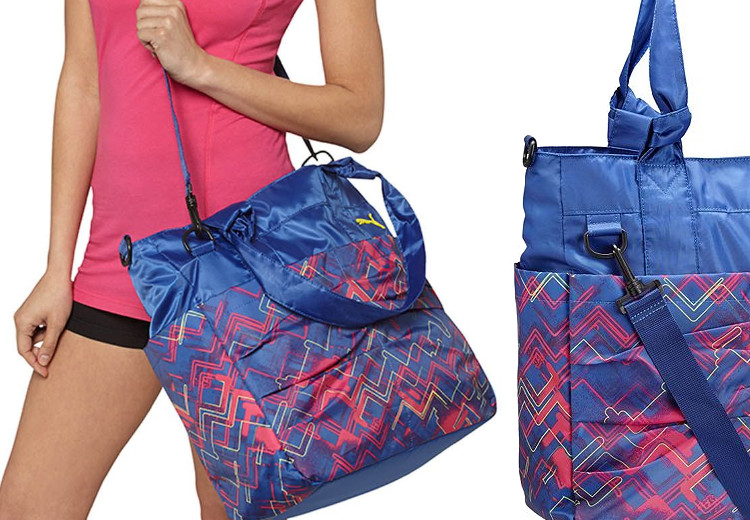 As soon as I got my hands on the Puma Studio Tote, I couldn't wait to put all of my gear inside of it. It's not your typical snory, borey gym bag – it has something to SAY. It's bright, fun, and holds a TON of gear. I fit my shoes, shorts, shirt, sports bra, socks, light hoodie, water bottle, and snacks and STILL had room to put a lot more in it. This means it could easily double as luggage for a weekend away. The Puma Studio tote comes complete with dual carry handles as well as a removable, adjustable shoulder strap. This the only gym bag you won't be embarrassed to store under your desk at the office. Your co-workers will be begging to know where you got it from.
UnderArmour Perfect Headband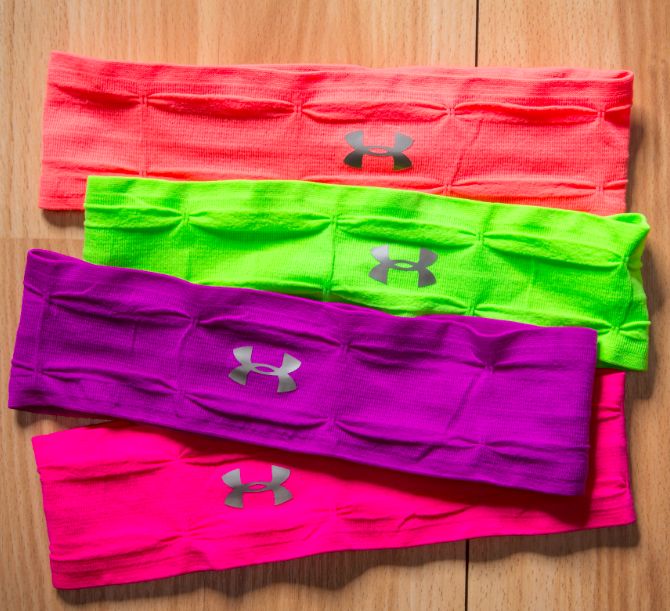 Well they knew what they were talking about when they named the UnderArmour Perfect Headband. It is perfection when it comes to keeping pesky hairs out of your face while being ultra comfortable. You might as well get one in every color.
Oakley Dispute Sunglasses

You're going to need these because your Jackie O style sunnies are not going to make the cut. You can try to run with them on a hot sunny day, not only will you look ridiculous, but they will constantly fall off your face and steam up.  You need something that is sleek, light, and will stay in place. Say hey to the Oakley Dispute.
The Dispute boasts durability and all-day comfort thanks to its stress-resistant O Matter frame material. They protect your eyes from the dangerous rays with their Plutonite lens that filter out 100% of UVA/UVB/UVC and harmful blue light. The Oakley Dispute's Three-Point Fit hold the lenses in place meaning they won't slide around your face. Make the switch from your fashion frames to the Dispute and you will feel and SEE the difference.