Earlier this year, I introduced Ridge as my new go-to brand for everyday carry products in this review of their Wallet and KeyCase. Ridge makes quality products that are dedicated to simplifying your life and, well, your daily carry. 
In the fall of 2022, Ridge became more than an EDC brand by releasing their handsome, fully-featured watch. 
The Land & Sea GMT Watch is Ridge's take on a classic form factor, the dive watch. It is a highly durable, functional watch designed with high attention to detail and boasts a few unexpected features for the price point. 
Spoiler alert from one of Ridge's happy watch customers, it's good:

Enough small talk, let's get into what makes the Ridge's first watch so good in this in-depth review of the Land & Sea GMT Watch.
Ridge Land & Sea GMT Watch Breakdown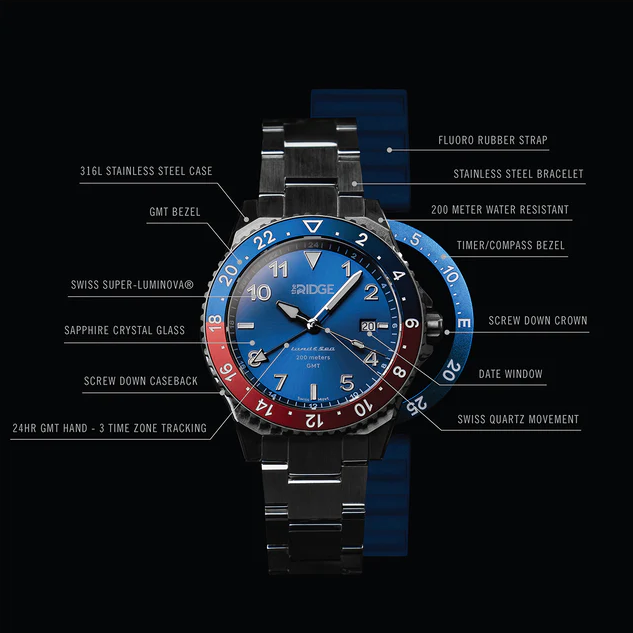 Key Features
CASE – Marine-grade, corrosion-resistant 316L stainless steel 42mm case. The streamlined design and comfortable on-wrist experience is an ideal daily driver.
STRAP – Interchangeable steel & rubber strap set with quick-release spring bars provide tool-free installation, giving you multiple options for different occasions and needs.
DIAL – Understated, yet rugged sunburst dial with Super-LumiNova® applied hour markers. Be ready for any terrain or rigorous activity.
MOVEMENT – The Swiss Ronda Powertech Caliber 515.24H movement is highly accurate and rated within -10/+20 seconds per month.
Design
Ridge's first watch offering is a modern take on one of the most popular and iconic watch categories – the dive watch. Easily recognizable by a large bezel and an adventurous, yet sophisticated look, the dive watch offers a reliable blend of features, everyday style, and durability. 
Ridge's version is no exception to the dive watch formula. Here's a snippet from their site about the Land & Sea: 
"We built the Land & Sea GMT for the unexpected; to be worn comfortably every day, yet reliable in any condition. Simply put, the Ridge Land & Sea GMT Watch is designed for living — for being precise, reliable, and water resistant for wherever life takes you." 
Couldn't have summarized it better myself. 
The Land & Sea comes with a solid stainless steel bracelet and solid stainless steel end links – this is a very special surprise for a watch of this price point. Most watches at this price point have hallow bracelets. For a more casual look, swap in the additional fluoro rubber strap. The Land & Sea also comes with two bezels – a 24-hour bezel or a 90-click compass bezel.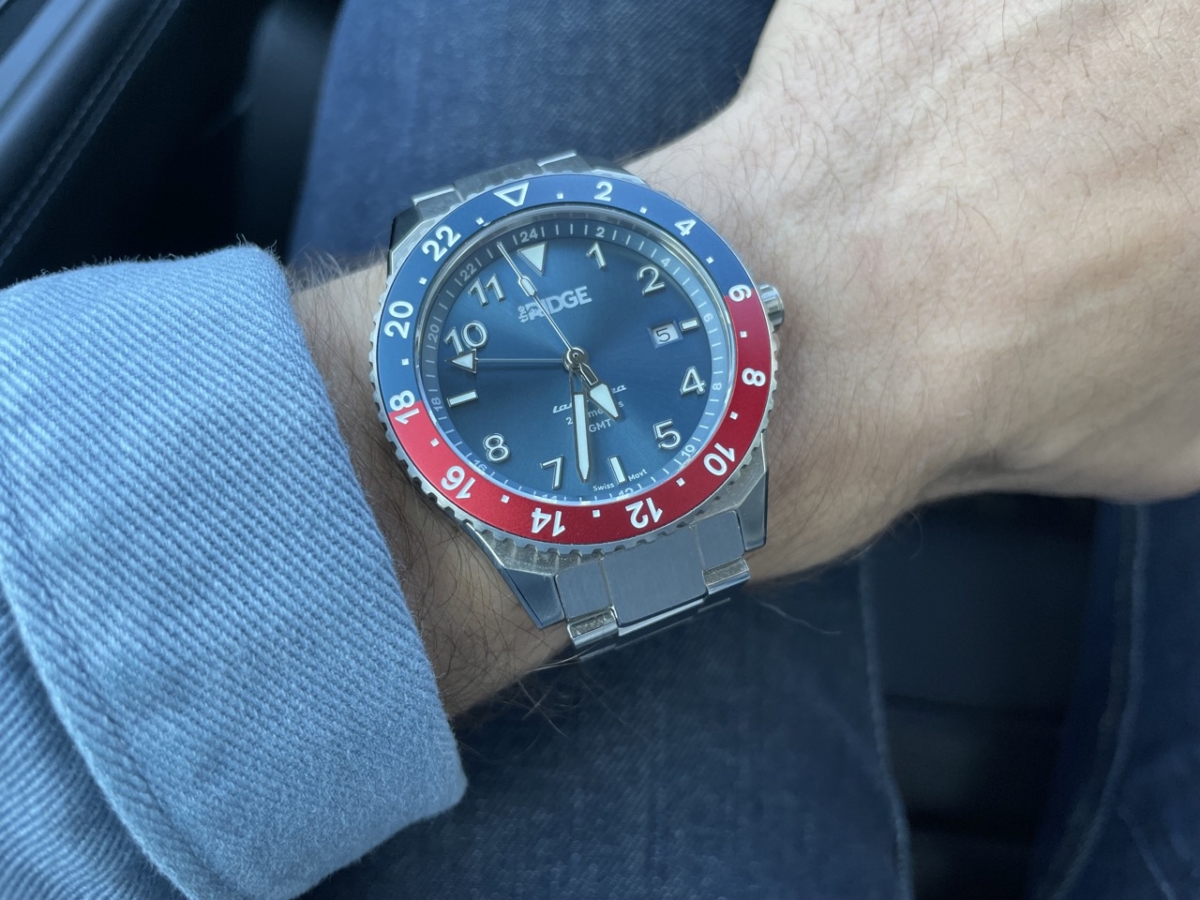 All in all, Ridge checked all the boxes and then some. While I opted for the more classic Alpine Navy colorway, the Carbon Fiber 3k colorway is Ridge's more modern offering. 
Functionality
Let's start with the basics. The Land & Sea GMT is water resistant to 200 meters – though you must ensure the crown is tightly screwed down to prevent leakage – is capable of displaying multiple time zones or used for navigation, has Super-LumiNova® markers that glow in low light, interchangeable bezels and straps to change the look and function, and is built to stand up to the demands of adventure travel. 
Whether you're new to the watch world, or building a collection, the Land & Sea GMT offers quite a lot for the price point. I am not a watch expert, so I'll admit that some of the functionality is lost on me, but I did play around with the GMT hand to track east coast time. I know it's an easy 2 hour addition to mountain time, but it has been fun to get used to converting 24 hour time. My hope is that I will eventually just know what time it is in 24 hour time and not have to convert 13-24 with quick mental math! 
Apart from learning a bit of the GMT functionality, I have mostly used the watch as is. The accuracy has been excellent, the Super-LumiNova® is very vivid at night when exposed to a full day of sun, and the sunburst dial and oversized numericals are easy to read at quick glance. 
The metal bracelet is super handsome and gives the watch a very premium feel, however, I am not always confident in styling it. I end up wearing the watch with the rubber strap on a more regular basis. It's easy to pair with my "sporty" wardrobe.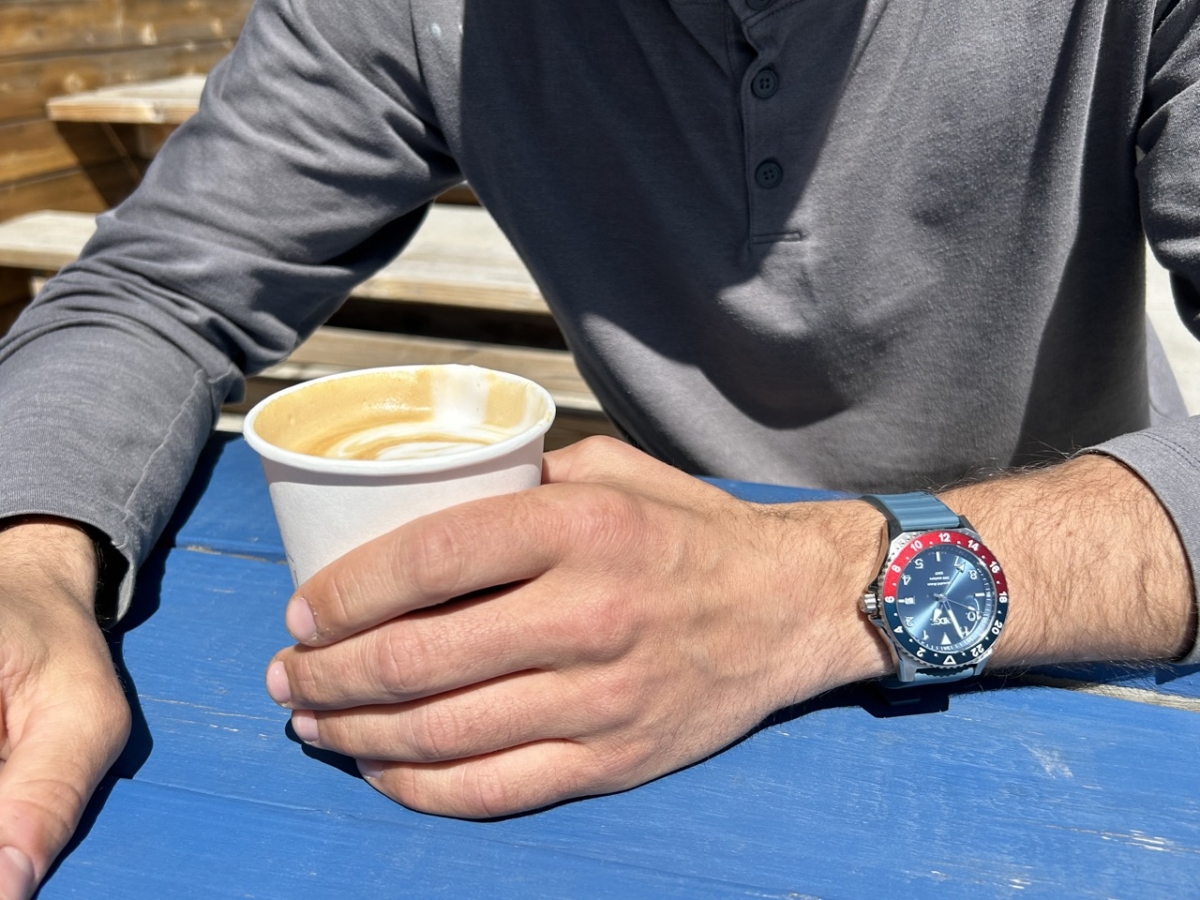 Overall, I am super pleased with the functionality. It has educated me about the benefits of GMT watches and has opened me up to a new world of styling watches and accessorizing outfits. I have gotten more than a handful of compliments since testing the watch which has been fun! 
Setup & Customization
The initial setup was super straightforward. Ridge put a lot of thought into their packaging and included this excellent welcome guide to help get you started. Setting the time was easy thanks to the welcome guide. 
I spent the most time customizing the metal bracelet size. I took a few links too many out, added two back in, then finally looked up a YouTube video and learned about the micro adjuster on the metal clasp. After a little help from the wonderful watch community on YouTube, I was rocking my first-ever metal bracelet!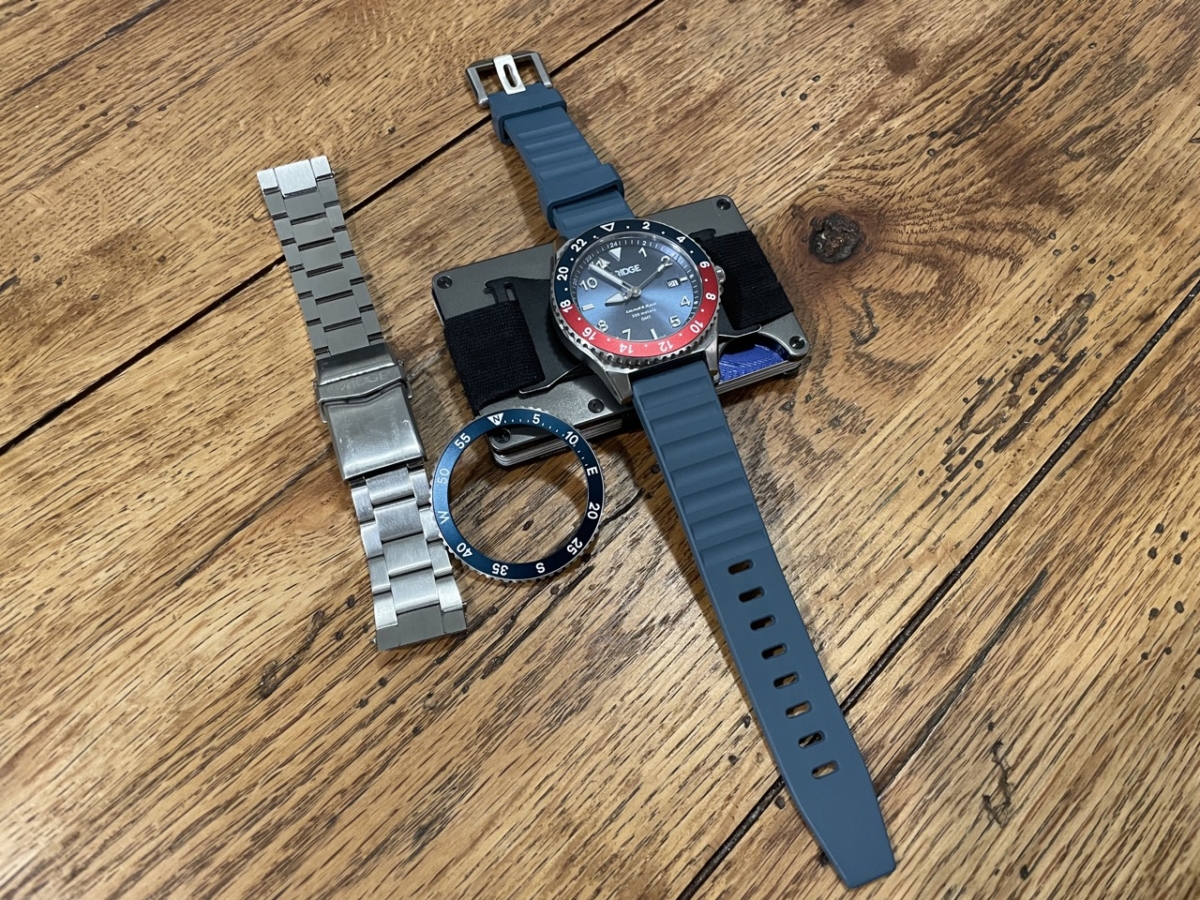 Swapping out the bezel is super easy. You can catch the edge with a fingernail and pry it up without too much effort. Popping on the second bezel is as easy as lining it up and pressing it down. Cake! 
Switching the watch band is just about as easy. The only difference between the two bands is the number of quick releases. The rubber band has a single release on each strap, while the metal bracelet has dual quick releases on either side of the bracelet. 
In summary, Ridge does a great job outlining the need to knows, and YouTube can fill in the extras like customizing fit and styling.
Durability
I mentioned this a few times now, but Ridge designed and built this watch for the adventurous buyer. Every component feels premium and all components you interact with have excellent feedback.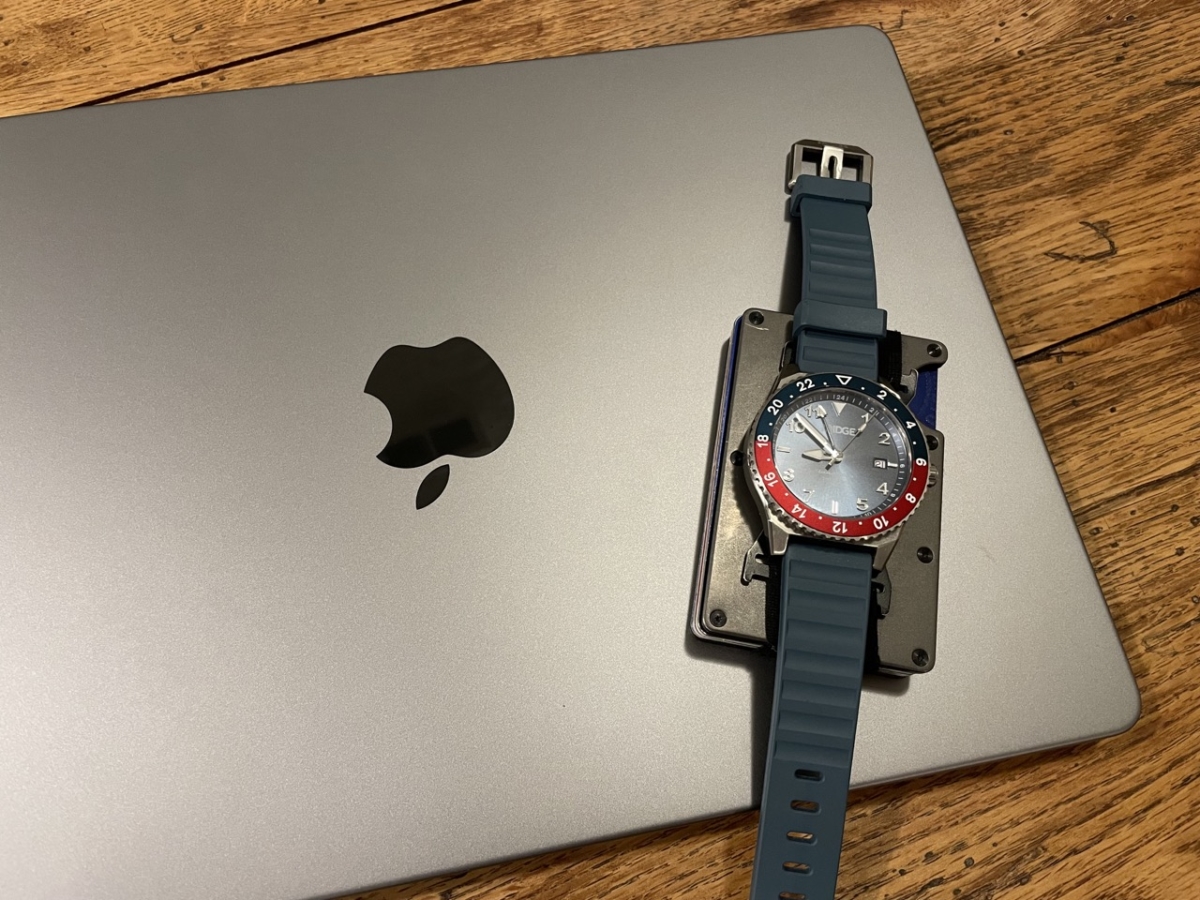 I have been wearing this watch for just shy of six months and it just about looks like the day it arrived. 
There's only one very minor ding, and it's on one of the two bezels. I am not entirely sure how it happened, I must've bumped it on a hard surface, but it in no way impacts functionality and it's really barely noticeable.
It's a rock solid watch that really caters to the target market – folks like me that are out and about getting after it hiking, biking, camping, snowboarding, working remote, and traveling. 
Check out Ridge's Land & Sea GMT at Ridge.com, available for $395 and free shipping.
Ridge Land & Sea GMT Watch | Watch Review
Ridge's Land & Sea GMT wristwatch is a fully featured dive watch that is offers a lot of value for the price point. With Swiss movement, water resistance, and a rugged build, it is ready for beginners or a daily driver for a collector.
THE GOOD:
Solid metal bracelet
Customizable bezel and bands
Easy to use for watch beginners
THE NOT SO GOOD:
Color options can be bold (but this is entirely preferential)