Chances are, if you've ever paddled around a lake or down a river in a canoe or kayak, it was likely produced by the fine folks at Old Town. They have been manufacturing boats of all shapes and sizes since 1898. Today, instead of wood (though they still make wood canoes), Old Town builds their boats from high strength and lightweight polyethylene and fiberglass. It's this type of innovation that has kept them at the top of the food chain in the world of watersports for nearly 120 years.
The newest innovation from Old Town comes in the form of a 13ft, 92lbs, Minn Kota powered, beast of a kayak, they've dubbed the Predator XL. This kayak is for serious anglers who want to spend less time paddling, more time fishing and impressing the hell out of every other angler on the water.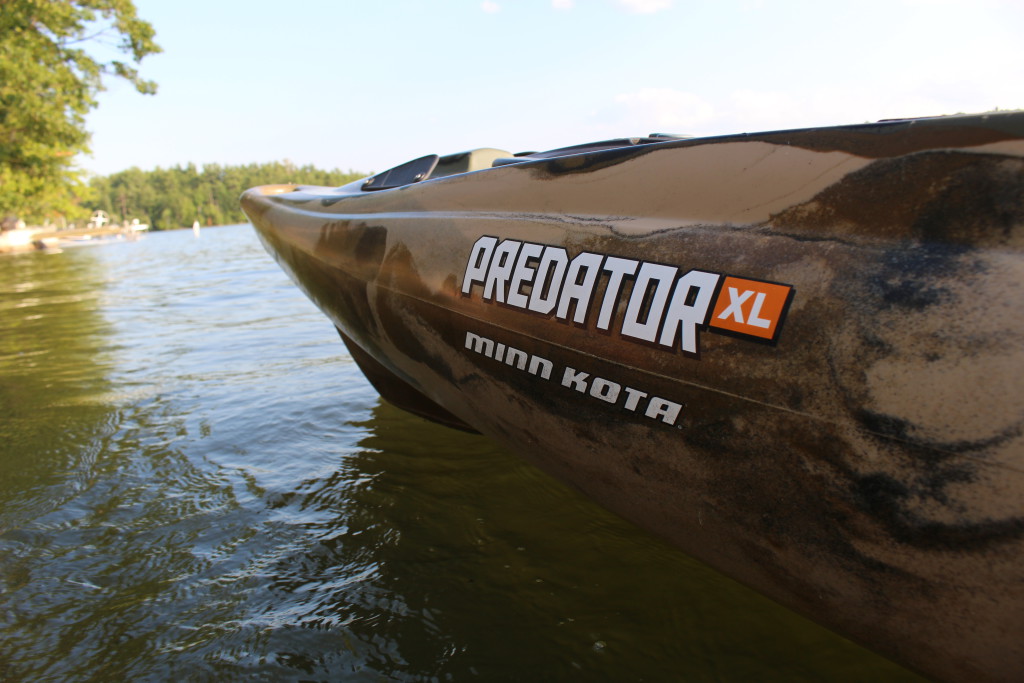 Over the years we thought we'd seen it all… leg drives, foot peddles, fins, but a kayak that is powered by a trolling motor with 45 lbs of thrust? This is something we didn't see coming!
"By partnering with the greatest name in trolling motors, and working together on design, we've created not only a one-of-a-kind watercraft – but an entirely new category in boating," -Luke LaBree, Old Town's Marketing Communications Manager
Recently we were handed the keys (err… safety clips) to a Predator XL to test and review ourselves. Having tested our fair share of kayaks in the past, we happily took Old Town up on the offer. We've got a lot to say about this boat, but before we get too far ahead of ourselves, lets take a look at what the Predator XL has to offer up in terms of features….
Key Features:
Performance Tri-Hull: LT900 polyethylene delivers incredible durability and strength. Tri-Hull design offers superior stability and tracking.
Slip resistant EXO-Ridge Decking: Proprietary textured design ensures you and your gear stay dry and secure.
Large Bow Hatch w/ Quick Seal Cover: Roomy hatch opening is perfect for gear bags and more. Locks securely with one simple click. Keeps gear secure and dry.
6 Mounting Plates: Strategically placed high-strength mounts mean no more drilling into your boat hull. Customize with rod holders, fish finders, slide tracks or GPS.
Rod Tip Holders & Rod Bungees: Dual-tip holders at the bow make storing easy. Side-mounted retainers allow for convenient grab-and-cast.
Molded Paddle Rest: Molded paddle rests allow for a quick placement to free up your hands.
Scupper Plugs: 8 scupper holes drain away any water that enters the kayak, and include our patented one-way Scupper Valves.
Dual Tackle Holders: Convenient recessed storage on both sides provides quick access to your gear.
Stand-up Assist: Nylon strap provides added leverage when standing.
Rudder System: Controlled by your feet, turning has never been so easy
Predator XL Review Breakdown
Design:
Built like a Sherman Tank, the Predator XL is one heavy boat. If you're serious about buying this kayak and hauling it to and from your favorite fishing hole on the regular we suggest also investing in a lightweight kayak trailer or loading into the back of a pick-up truck. Monroe and Yakima make fine trailers and you're probably going to want one. Weighing in at 92lbs dry, this boat takes two people to maneuver on land. But that doesn't mean you can't haul it on your roof rack. In fact, we've already made two trips of over 200 miles with this beast attached to the roof rack of the Jeep and it handled it fine. Pro Tip: Most kayak racks aren't rated for more than 70lbs so keep that in mind when shopping for roof racks.
Beyond it's heft and strength, the Predator XL is also packed with useful design features. Among our favorite is the foot controlled rudder system. The rudder is outfitted with a trolly system for quick up/down positioning. When you want to turn the kayak simply push right with your right foot and the boat begins to turn right. Want to go left? Push with your left foot and you'll start gliding to the left. The boat is capable of making some pretty tight turns, and the slower you're going the better it can maneuver in tight spots.
Also important to mention is that this kayak is a one-size-fits-all. The seat is wide, super comfy and the foot pegs are highly adjustable to fit people of all heights.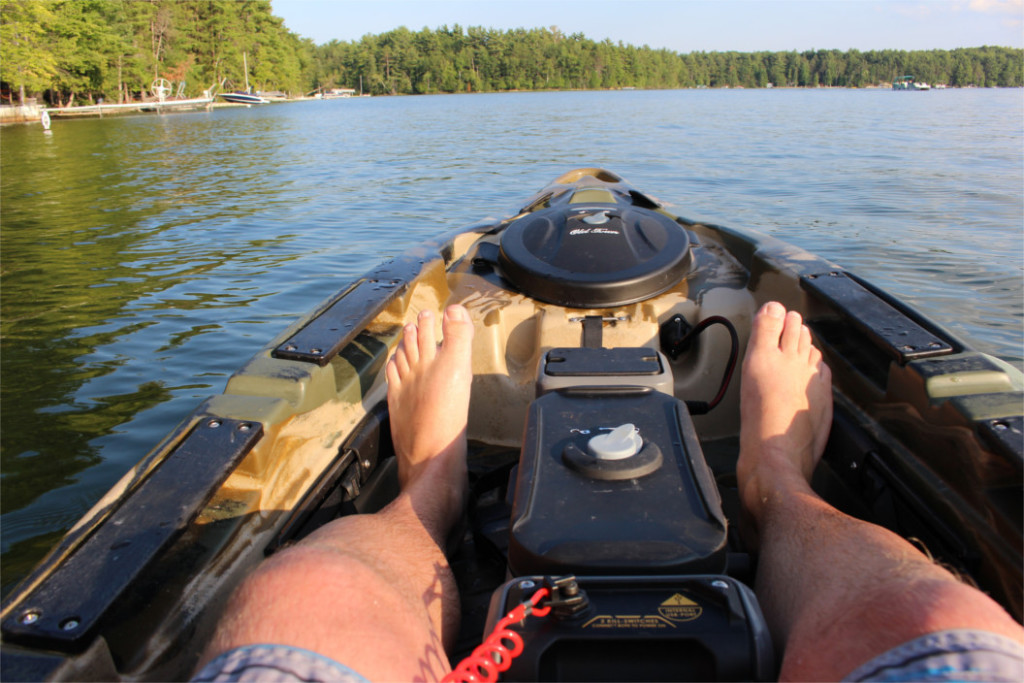 Another design feature we fell in love with was, of course, the Minn Kota trolling motor. This is the heart and soul of the Predator XL. With 45lbs of thrust you can cover a lot of water without ever having to paddle. When paired with a deep cell marine battery (not included), the Minn Kota motor is good for a whole day of fishing. If you're worried about running low on juice, there's no guess work either. They've even included a battery life indicator so you always know how much battery is left. In the worse case you can always paddle your butt home.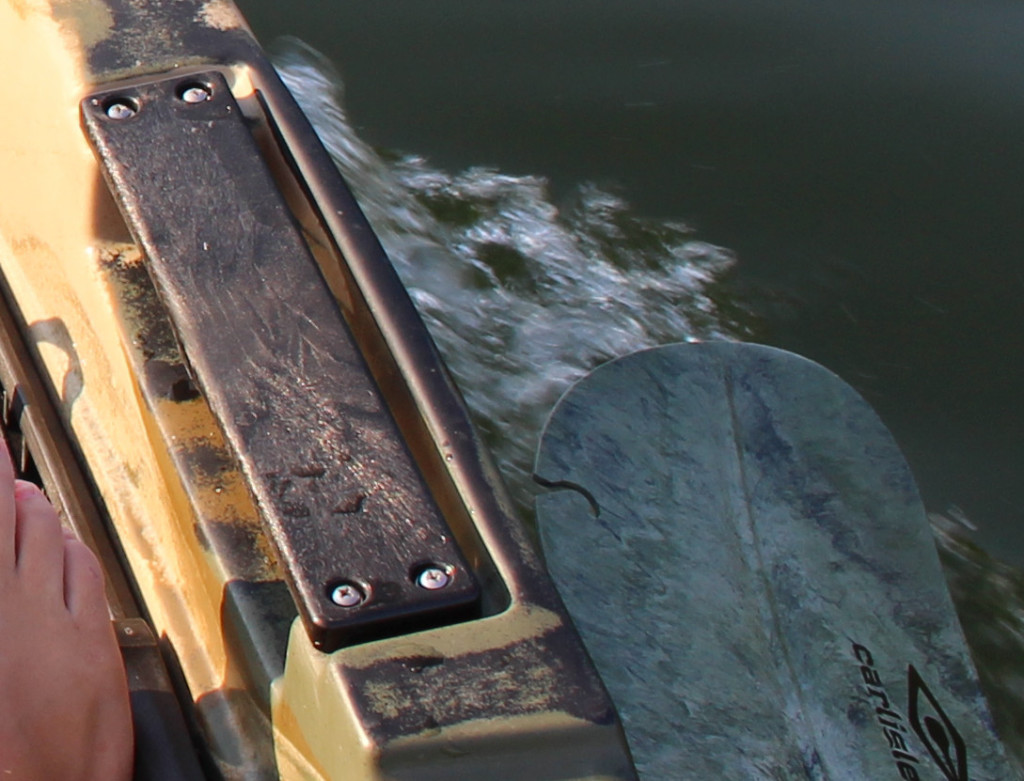 If trolling around isn't your thing, the Predator XL also can be ordered with a non-motorized utility console. Which looks much like the Minn Kota console, but with a flat bottom. They also sell an EXO-Ridge insert, which makes the bottom of the cockpit completely flush. Perfect for fly fishing. Each insert locks into place and is easily interchangeable. We ended up using the Minn Kota or Utility Console the most due to the fact they both have dry storage available within grasp.
If you're a angler who likes to customize your kayak you're going to really love the 6 mounting plates surrounding the kayak (4 in the front and 2 in the back), which give you the ability to mount whatever you want (rod holders, GoPro mounts, fish finders, etc…) to the boat without havin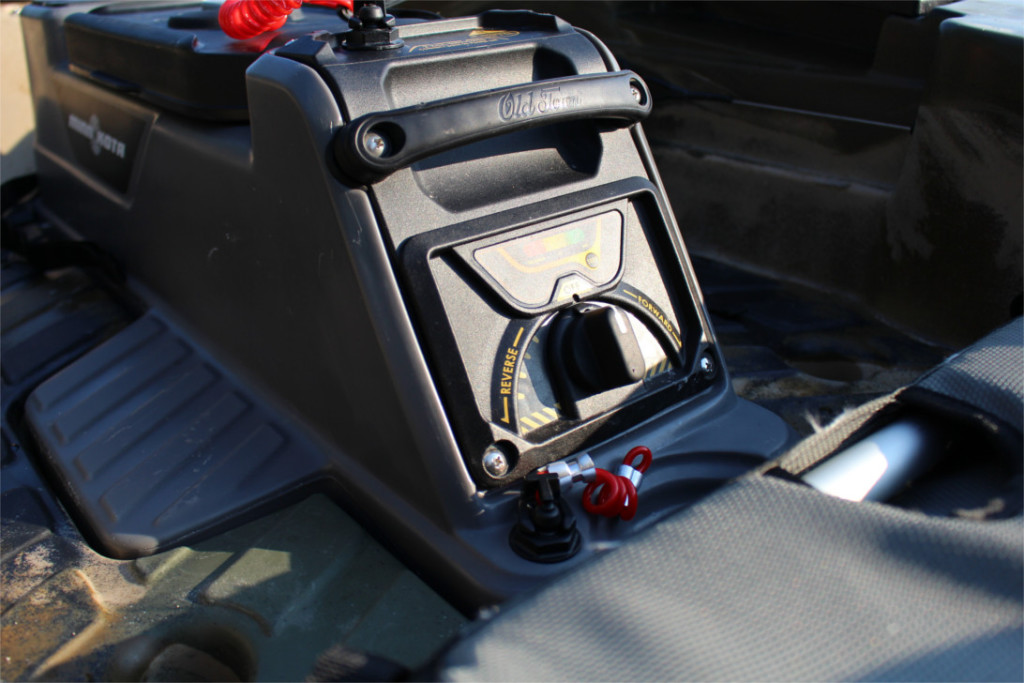 g to drill into the hull. Best of all, if you want to switch things up you can always purchase new plates or move their position around the kayak. This is a really smart way to offer anglers flexibility and versatility for different types of fishing trips. Nicely done Old Town!
Last but not least, we also really appreciated the amount of leg room and storage space this boat provides. With "ClickSeal" dry storage hatches utilized at the front, in the center console and under the seat, this boat has room for a ton of gear and tackle. The front hatch is the biggest and can hold a lot of gear.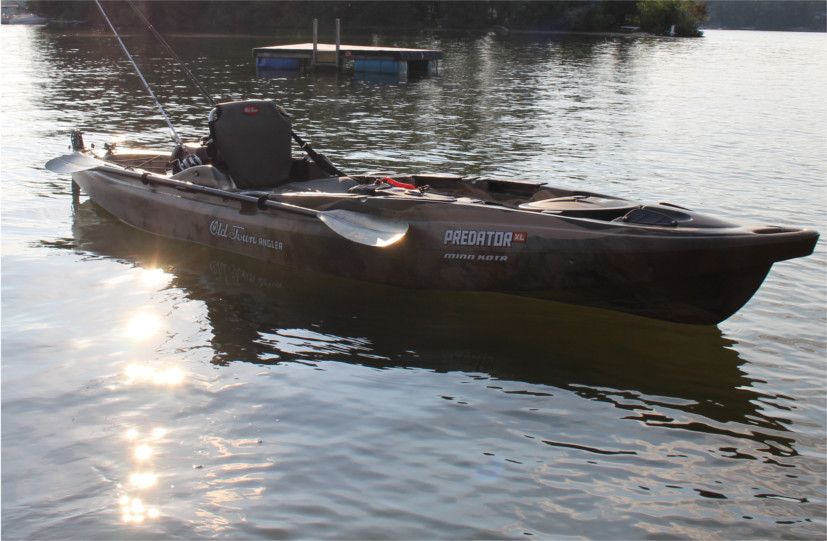 We like to stow all essentials in the center console (phone, aqua-vu, sunscreen, pliers, etc…) and use the under seat storage for other non-essentials. There is also two small storage areas on each side the seat and large pocket in the back of the seat, which is handy for holding one or two plastic tackle boxes.
Overall, this is the finest angler kayak we've ever tested. It was designed with fishing in-mind and it is no slouch on the water. It's got a Minn Kota motor, storage for days, a non-slip deck, TWO cup holders and a chair could fall asleep in. Not sure what more we could have asked for.
Maneuverability / Stability:
Using the foot controlled rudder system is simple and intuitive. Like riding a bike, it only takes a few passes to get comfortable with. Push right and go right, push left and go left. If you want to go straight keep both feet positioned parallel.
Throughout testing we were really surprised by how nimble this behemoth was on the water. The large rudder does the job well. If you're in the shallows and not using the rudder, the Predator XL becomes little less maneuverable, but this was to be expected. Paddling this boat is a workout, especially in moderate to heavy winds, but it actually tacks pretty nicely. We were really impressed with the tri-hull design, which keeps the boat tracking on-line.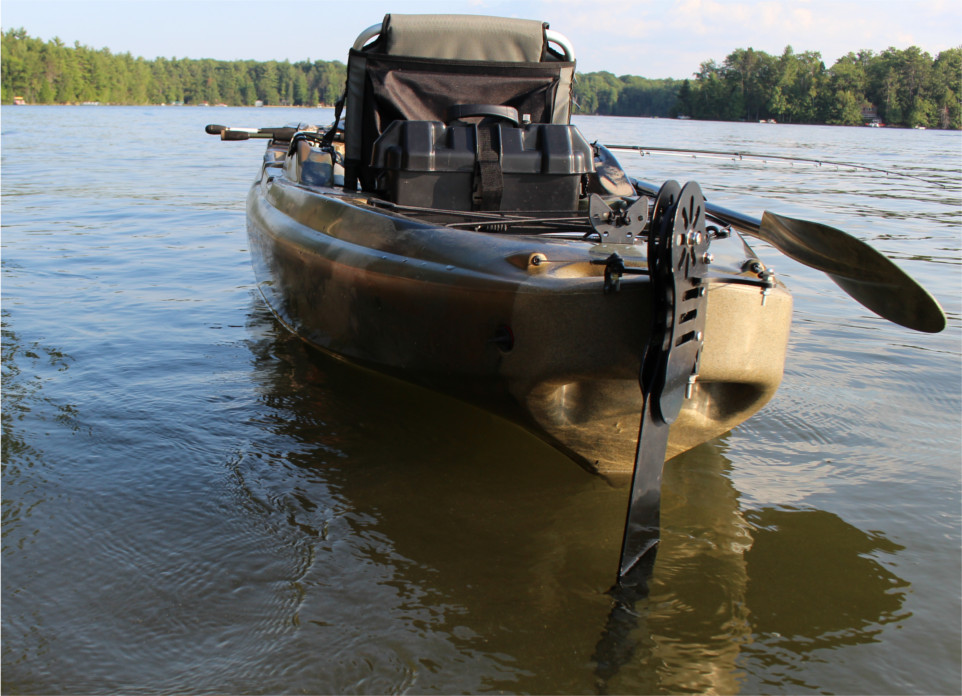 Pro Tip: When installing your rudder, make sure to NOT tighten the nuts onto the rudder cables too tightly. The cable loops should slide on the bolt feely. Tightening them too tight can result in broken cables due to fatigue… i'm not saying that we did this, but yeah, we did. Now we're installing a new set of cables. Which turns out isn't so hard. But save yourself the headache!
This is by far the most stable kayak we've ever tested. It is no challenge to stand up and fish from this boat. The EXO-Ridge decking provides a firm, slip-free place to plant your feet. This is a great setup for fly fishing. If we wanted to capsize the kayak we could have, but the fact remains that we never did. In over 40 hours of fishing, trolling and casting we never once felt that this boat was un-stable or was about to flip.
Getting in and out of the kayak is also super easy. Because it's sit-on-top style boat, you can easily slide in and out of the seat in water up to your knees.
Trolling: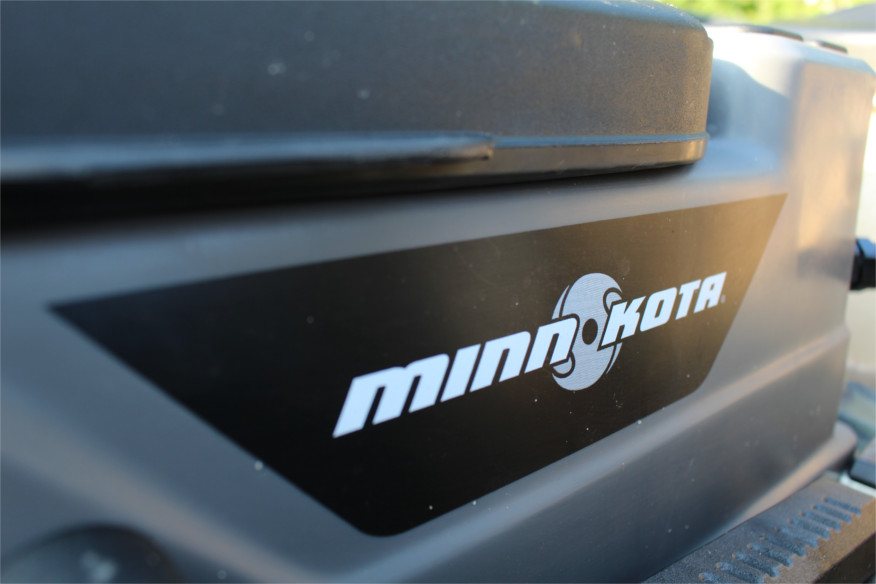 This is where the Predator XL stands above the competition in my opinion. Like I said earlier, the Minn Kota motor is the heart and soul of this kayak. With 45lbs of thrust you can reach a cruising speed that tops out at about 6mph in just seconds. The torque is pretty impressive too! I like the fact that you can hit many fishing locations along the shore quickly in this boat. I don't like to spend more than a few minutes casting without a bite. So the Predator XL fitted with the Minn Kota trolling motor works great for me. I can pull right into the lilly pads, or near a down tree and cast away. When the bite stops, I simply crank up the motor and jump to a new location down the shore.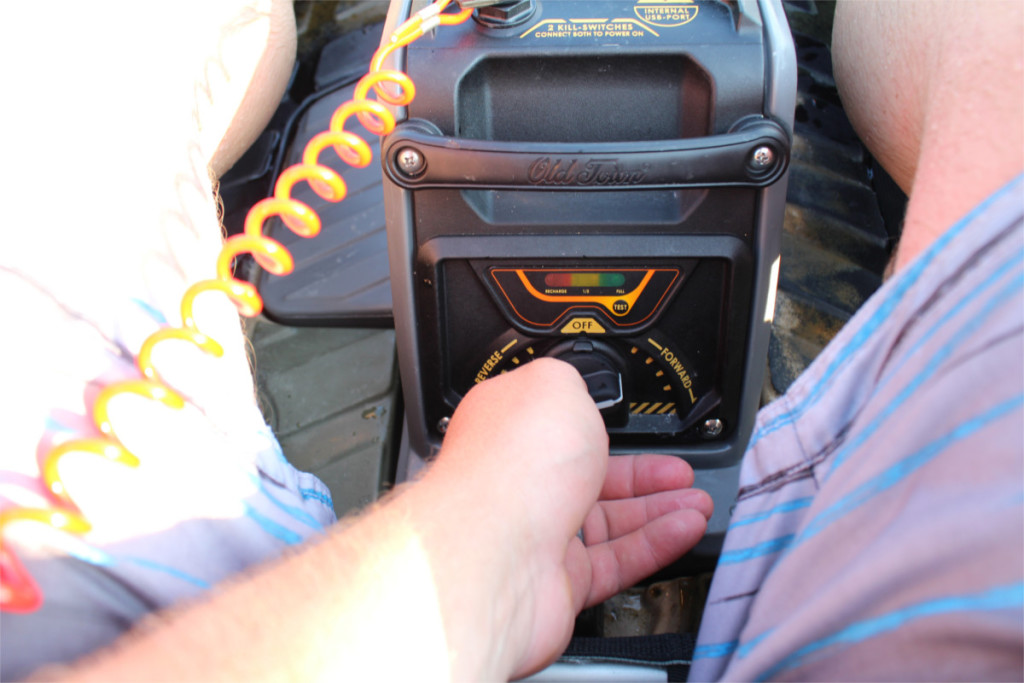 Since the boat has forward AND reverse it's easy to maneuver your way around without using the paddle.
The forward/reverse dial used to engage the prop is simple to understand and acts just like a dimmer switch. The more you turn the dial to the right the faster you'll go forward, and the same works for reverse – when you turn the dial to the left. The markings on the dial are nice for trolling. Lately I've been running a Biggie Smalls crank bait in about 8 feet of water for bass and pike. I found that setting the dial in between the 1st and 2nd dots was the butter zone!
When you're in the shallows, coming up on gnaly seaweed or moving the boat on to the beach the Minn Kota console can be unlocked and adjusted up and out of the water and rests on a kickstand. This is a quick way to protect your motor. Then when you're in deeper water, free of weeds you can drop the console back down and lock it into place. We were impressed with how easy this is to do.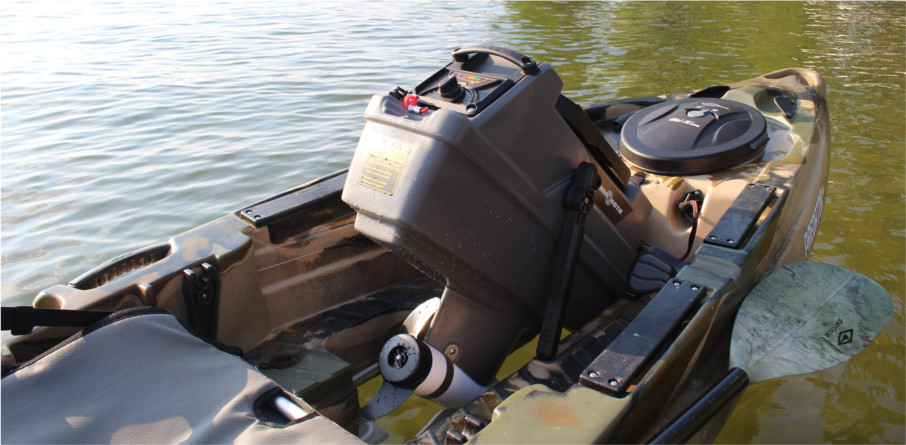 To keep you safe from the spinning motor Old Town has outfitted the Predator XL with two safety clips. One that attaches to your PFD and another that attaches to the boat and to the bottom of the console. So if you fall out the boat will stop. And if you lift the motor up and forget to turn it off it will also cut the power. We highly suggest using both safety clips as they were intended.
Pro Tip: Located inside the Minn Kota dry hatch is two USB Ports for charging your favorite devices. We used this often for charging a cell phone or Aqua-Vu. It's super handy, but does pull a drain on the main battery of the kayak.
Durability:
Crafted from LT900 polyethylene this kayak is built to last a lifetime! The only parts we could see taking the damage over time would be the Minn Kota motor, the prop and the rudder system (watch out for rocks, weeds and shallow water). Both of these systems have a lot of moving parts, but with a little care and time spent understanding the equipment and how it works there's no reason the Predator XL won't keep you running up and down the lakes and rivers for a lifetime.
Not to mention the hull and deck of the Predator XL is covered by Old Town's LIFETIME warranty.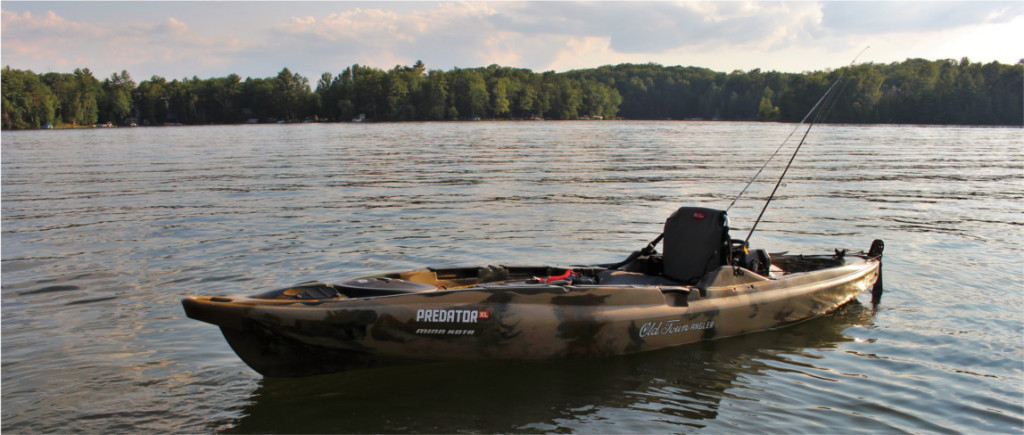 Value:
Ready for some sticker shock? Go ahead and sit down… alright… okay, here we go – the Predator XL Minn Kota tops the Busted Wallet charts at a whopping $2,699.99. Sure there are less expensive angler kayaks on the market, and believe it or not, there are much more expensive kayaks too. Yeah, $2,699.99 that's a lot of money, there's no debating it, but after testing this bad boy for the past month and a half we're happy to say, if you have the extra cash laying around this boat is well worth the asking price.
When you look at all the options for fishing these days, kayak fishing is one of the best ways to get out on the water quietly and efficiently. It's fun and you don't have to pay for gas! Sure you'll have to fork over another $130 – $200 for a solid deep cell marine battery , if you don't already have one, and get yourself a trickle charger, but it's totally worth it to have the newest, coolest and most innovative kayaks on the water.
Be prepared for other kayakers to ask you a lot of questions as you go gilding past them on the water. I usually just hold my hand up to my ear and say "what? huh? what's that, HUH?" and make a beeline for my favorite fishing spot.
Buy Now: $1,899.99 or to learn more, go to: PredatorKayak.com
Predator XL Minn Kota - Kayak Review
The Predator XL is by far the most innovative kayak on the market this year. We've yet to test another kayak that is as stable, angler-friendly or down right handsome. If you're in the market for a high-budget angler kayak that is sure to get you on the fish from sun up to night fall, we highly recommend test driving a Predator XL Minn Kota from Old Town. Once you do, you might never look back!
The Good
Incredibly Durable / Lots of Storage
The Minn Kota Motor is quick and efficient
Very Nimble For Its Size
The Not So Good
Marine Battery Not Included
Quite Expensive
At 92lbs, this Kayak is a Monster