If the trusty Dutch oven is the slowcooker of outdoor cooking, then the JetBoil Flash Lite Cooking System is the microwave. I've been a scout and a camper since I was 6 years old and I've felt tethered down by heavy gear. This stove has forced me to reevaluate backpacking. If you are backpacking alone or in a 2 person team, or just want a fast way to brew coffee with limited space, this is the stove you want with you.
Since 2004 JetBoil has been leading the charge when it comes to light weight / high efficiency camp stoves. Founders Dwight Aspinwall and Perry Dowst set out with one simple goal in mind when they launched the company… to make outdoor cooking easier. To say they've achieved their goal would be an understatement. The new Flash Lite Cooking System is the JetBoil's latest and safest innovation for backpackers who are looking to save space and cut weight for their next adventure. Recently we were given the opportunity to take the Flash Lite Cooking system into the wilderness for some camping and cooking. Here's what we discovered…
What comes in the box:
Lid
.8 Liter Pot (28 oz) (with neoprene sleeve covering)
Burner
100 gram fuel can
Cup
Stabilizer
Specs:
Boils 16 oz of water in about 2-3 minutes (depending on the starting temp of the water)
Weight: 1.2 lbs (19.2 oz) complete
Size: 4.25" round x 6.25" tall closed, 10.75" tall setup to cook.
JetBoil Flash Lite Review Breakdown
Design: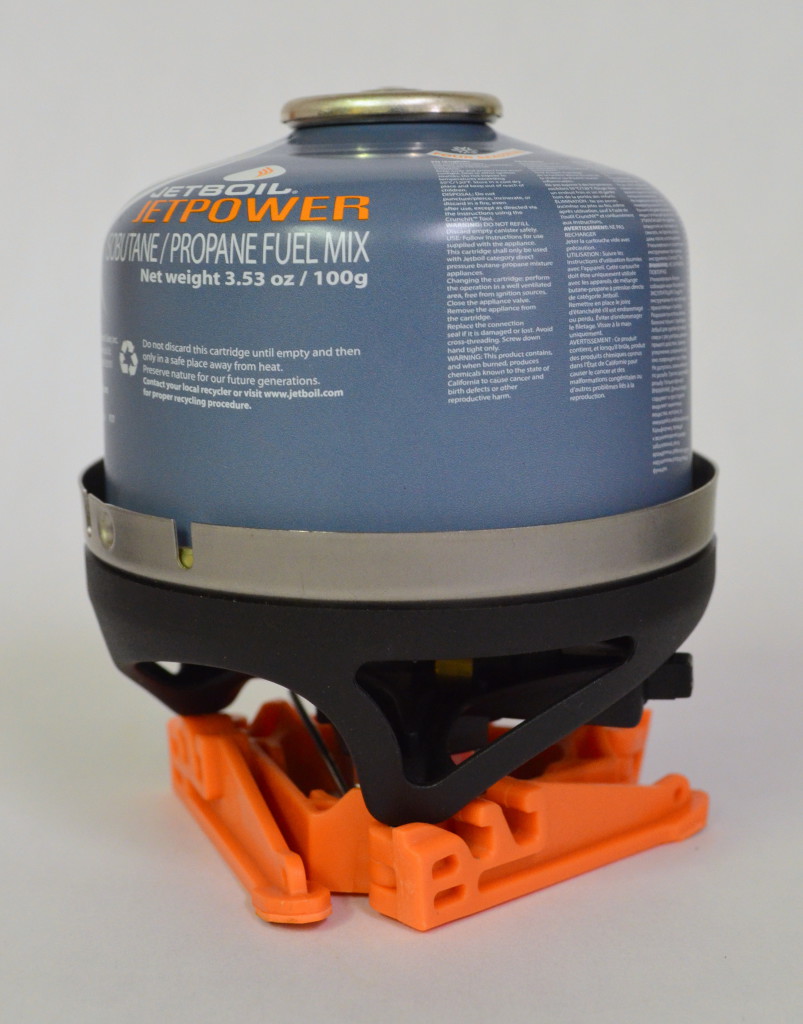 The Jetboil Flash Lite seems to be a compromise of the .8 liter pot size of the Jetboil Zip, but with the matchless ignition system of the Jetboil Flash and larger models. When you first unpack the system, the first thing you notice is how well packed it is, they fit each piece in the cooking pot for transport. This leads to the only negatives in this review, I couldn't put it back in the pot on my own. I had to search online for how to repack it, and finding nothing official I played around with it a bit. To save you the time, I've included a picture of how I stack it to fit back in the pot. Literally that is the worst thing I can say about the stove. And well, it's not just a stove, it really is a cooking system. It's well thought out and each part is designed to do a specific thing.
Weight And Size:
If you go camping already, I want you to think of a 1-pound green propane tank. This ENTIRE system at 1.2 lb (19.2 oz) is smaller and weighs less than that. Yeah, you heard that right, the entire system; stove, lid, pot, FUEL, cup and stabilizer weighs less, and is smaller than, a standard green propane tank. The 1 lb tank has 16 oz of propane but with the heavy metal container tips the scales at 1.873 lbs (29.968 oz). For that weight you can pack in another 100 g fuel can .4385 lbs (7.016 oz), double your cooking time, and still weigh less that a typical '1-pounder' used to power a lot of "light weight" stoves.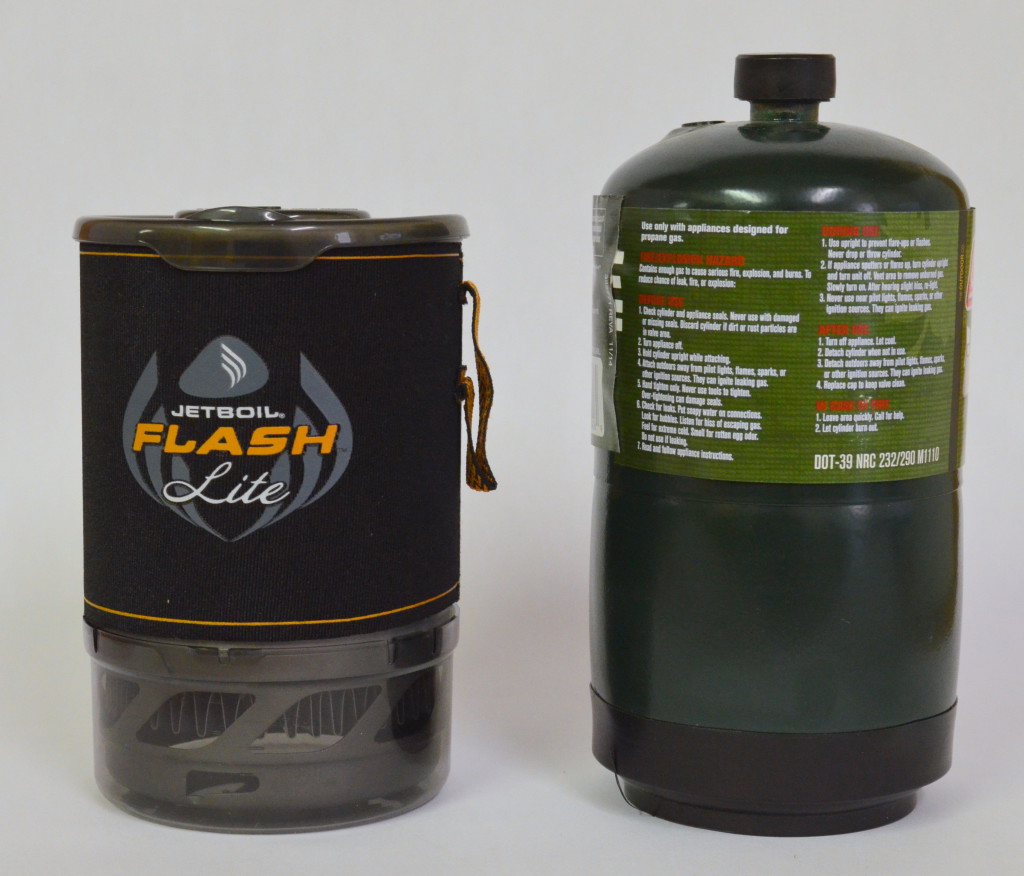 Power: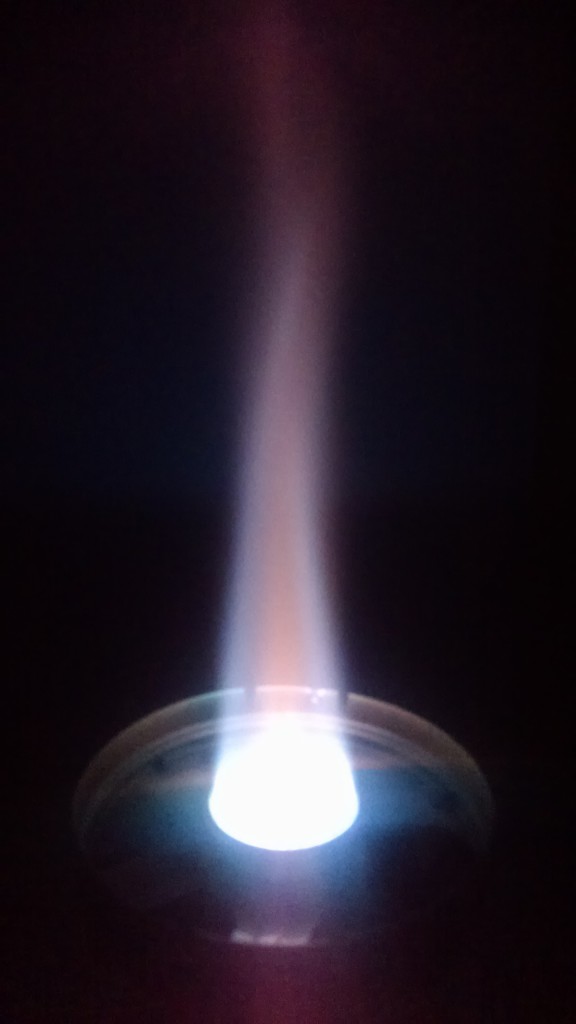 Big stoves get hot, so how does this little stove match up? Well you aren't frying bacon, you're boiling water and that is what it is custom made to do. The name is Jetboil, least you forget. The flame actually looks like a jet, and it boils 16 oz (two cups) of water in 2-3 minutes. Whoever said "a watched pot doesn't boil" never had a Jetboil, because you can literally watch this pot boil.
Efficiency:
For my trials I took it camping in April. It was 40 degrees on the first morning and I thought I'd warm my hands up while waiting for the water to boil but that was not to be. The burner design points the flame into the bottom of the pot, there isn't a flame that spreads out or up the sides. The pot is covered by a lid and insulated by a neoprene sleeve keeping most of the heat in the pot. Keeping the heat in the water means it is going to boil faster and use less fuel to do it.
Ease Of Use:
It takes about a minute to unpack and setup the stove. The parts go together easily. The stabilizer lives up to its name and makes the system very stable. The pot has a notch that it drops into and a small twist locks it to the stove. A turn of the control, a push of the ignition (no matches!) and you're off.
I mentioned above, that this is the microwave of outdoor cooking (can I trademark that?), that's because you boil water, mix it with your meal, stir, wait 6-20 minutes (depending on the meal) for it to 'cook', then eat. While you're waiting, the Jetboil cools to the touch in minutes and you can pack it back up before your meal is ready to eat. I kid you not. No more waiting for all the parts to cool down, the burner and pot (once empty) dissipate the heat with amazing speed.
How easy is it really? My children aged 3, 6 and 8 years old worked together to boil water for my wife's tea on our front porch one evening. It was just as fast as the microwave.

Coffee:
I also got to try out the JetBoil coffee press. It works with the Jetboil PCS, Flash, Zip and Sol systems, or the Flash and Sol companion cups. It weighs another .051 lbs (.816 of an ounce) and can be packed in the pot with the stove.
First off, it makes GREAT coffee. Arguably the best coffee I've had on a camp out. It's a French press. You boil water, remove from heat, add in the grounds, stir, place the top on, wait 3 minutes plunge and pour. So in 6 minutes (3 to boil, 3 to steep) you've got two 8-oz servings of coffee.
There are three downsides to the coffee press:
Everything else I do in this pot was just water, so it is self-cleaning so to speak. Now you're cooking something else in the pot, so you've got to clean/wipe it out to avoid the taste getting into something else.
You've got to clean the filter. That takes a surprising amount of water to do. Extra water is extra weight.
If you are using this stove, you're backpacking and that means bring less stuff. This is one more thing to bring and keep track of.
On my second trip out with it I left the press at home and brought dehydrated coffee which I've gotten used to. Still, if you want a small pot of coffee while camping, you'll be hard pressed to find better.
Negatives:
Seriously this is hard. I'm blown away by this. I've used a 1 burner Coleman stove, I've used a Peak 1. This beats both of those hands-down in terms of weight and ease of use. You aren't going to be making a pot roast from scratch or frying a pound of bacon in this, but that isn't what it was made for. The most confusing thing was repacking the stove but that was operator error easily solved. Maybe the biggest negative regret is that it took me so long to try the Jetboil in the first place. How may trails have I missed out on because I was tied to base camp and not exploring to my full potential?
Value: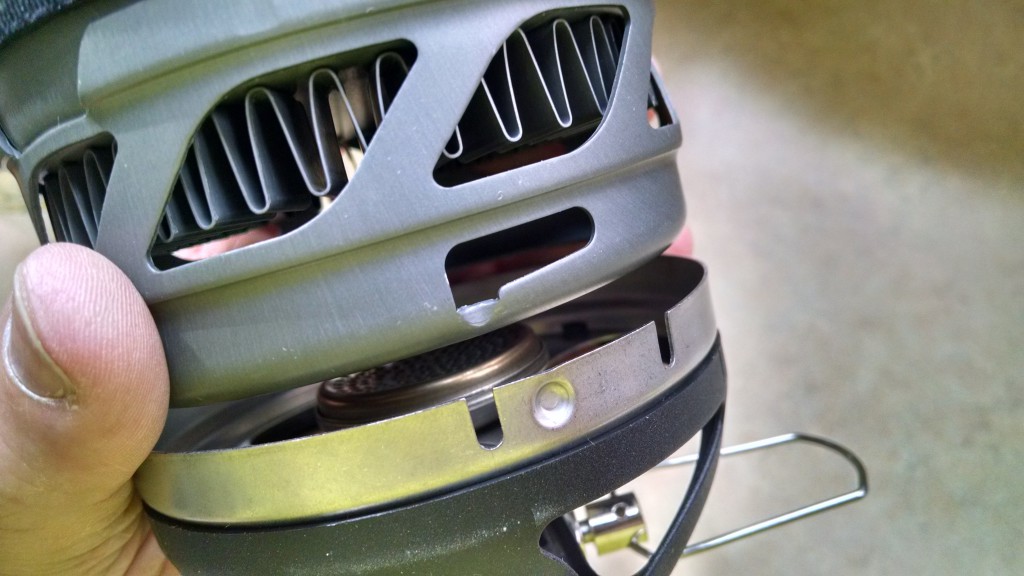 The Flash Lite will be available online and at all Jetboil retailers starting June 2015. With a MSRP of $99.99, this stove is an easy Yes for anyone that is going to backpack. I can't imagine a better built system for a better price. Beg or borrow someone's JetBoil and you'll end up buying one yourself. Most of the freeze dried meals I've tried are either HUGE 1 person servings or normal 2 person servings, and they use about 2 cups (16 oz) of water, which is the perfect volume of the included pot.
Is this going to replace my Dutch oven? No. But I've got a slow cooker and a microwave in my house and so far a fight hasn't broken out among the appliances. There are many ways to go camping and many ways to cook in the great outdoors. This stove does exactly what it says it will do and it does it very well at an extremely competitive price point.
Buy Now: $99.99 (Coming Soon!) to learn more, go to: JetBoil.com
Jetboil Flash Lite Cooking System - Gear Review
The Jetboil Flash Lite Cooking system is the best all-around stove for backpacking I've ever used. If you are going on a hiking camping trip, buy this. If you want to prepare easy backpacking meals at base camp, buy this. If you want the best coffee you've ever had camping, buy this. If you want to pack a few beers, a water bottle, a freeze dried Mountain House Chicken Teriyaki meal, and some candles into a backpack and then go for a hike and dinner date with your wife (hint hint Melanie) then buy this. You won't regret buying this, you'll regret waiting so long.
The Good:
Fast Setup and Teardown
Lightweight but powerful
Fuel Efficient
The Not so Good:
I couldn't remember how to repack it back in the cooking pot
Can't fry a pound of bacon (easily)
I didn't find it soon enough in life