Ah, the call of the wild, or more like, the call in the wild. Communicating in the outdoors is an essential part of safety. Biking? Hiking? Camping? Adults or kids, being connected brings piece of mind. When out mountain biking with a group it's a great way to stay in contact if something happens behind the leader, or to let others know of a trail problem. When camping, two-way radios give freedom to roam a bit from base camp while still providing peace of mind to those back in camp. Midland has been making two way radios for more than 50 years, from CBs and weather alert radios, to two-way radios. Recently we had a chance to have a look at a pair of their first entry in the hand held GRSM two way radios, the Midland X-Talker model T290VP4 and here's what we found:
What's in the box:
Two T290VP4 two-way radios
Two belt clips
Two Rechargeable battery Packs
Two Headsets
Desktop charger with power adapter
Specs and Features:
3 power levels
Silent Operation
5 Call Tones
Roger Beep
Channel Scan
NOAA Weather Alert Radio/Weather Scan
22 normal channels + 14 composite channels
121 Privacy Codes
Twist on/off volume control
water resistant
3 year warranty
Low power is +/- .5 W;
Med power is 1.0 – 2.0W;
High power is +/- 2.5 W
X-Talker Model T290VP4 Review Breakdown
Design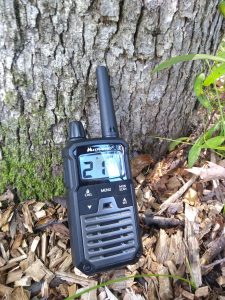 Black and silver, these radios look sharp and fit well in the hand. They have a spring loaded belt clip that is a lot nicer than a simple molded one. The volume knob doubles as a power switch but we found ourselves checking it to make sure we hadn't brushed it accidentally turning it down or off. The front has a big, clear display, that lights up with an orange backlight with the push of any button. Navigation of the menu and general use is accomplished using the 5 durable buttons on the front, each one has dual uses depending on the menu. The PTT (Push to talk) button is on the left hand side, but it is easy to operate in a right or left hand.  The headset jack is covered with a rubber insert to keep out dust and water.
The headset is an over the ear, not quite in the ear, universal fit for adults and youth. The cord is a good length to allow the radio to rest on a belt or in a backpack pocket. The cord is of good quality and doesn't feel flimsy. Make sure you plug in the headset before you turn it on.
Usability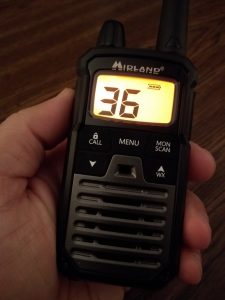 There are a lot of different X-Talker radios. What makes these different from all the others offered by Midland is instead of being just FRS, they are also GMRS.
FRS Family Radio Service, a collection of 22 channels that don't need a license to use, as long as you stay under 2 watts (or .5 watts on some channels).
GMRS General Mobile Radio Service, the same 22 channels as FRS, slightly more specific though for clearer audio, and has the ability to broadcast at more than 2 watts (but not on all channels!).
Beyond power and clarity, an FCC License is required for GMRS radio use. With great power comes great responsibility, er, licensing. Even on a lower power setting, below 2 watts, you'll still need a license because the radio has the ability to broadcast with more than 2 watts. The good news is the license is to an individual but covers your whole family, is good for 10 years, is independent of which radio you use, and you get a call sign. The bad news is it costs $70, you have to use it for every transmission, or every 15 minutes during a continual conversation, and you have to apply through the FCC website which is so convoluted that Midland has page about how to get a license.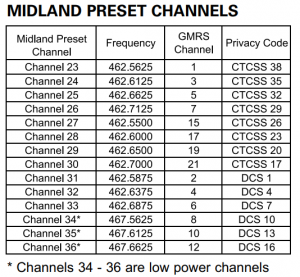 The T290 has the standard 22 channels and then it creates some custom channels (23-36) made up of the same frequencies as channel 1-14 but with a privacy code already applied. This is a compatibility issue with other radios beyond the T290. On one hand, it's nice having a bit of privacy built in, on the other, you need compatible radios to talk with the T290 if you want to expand. The manual that comes with the radios doesn't tell you what the channels and privacy codes are, but the Online Manual does on page 15. For example, channel 23 is actually channel 1, but with CTCSS code 38 applied.
The T290 has 121 privacy codes with two different encoding schemes, CTCSS and DCS. The 'privacy' in privacy codes applies to your radios only. It doesn't jumble or hide anything. Someone with the right receiver can choose to ignore the CTCCS or DCS signal and listen to every word you say.  Think of it more as filtering out other peoples conversations, it doesn't keep you hidden from others.
CTCCS – Continuous Tone Coded Squelch System. This sends a tone below 300 Hz with your transmitted audio, if the receiver doesn't get just the right tone, it ignores the broadcast and remains silent. If it gets the right tone, it filters it out and plays the audio through the speaker.
DCS – Digital Coded Squelch. This sends a digital code continuously during the transmission across several frequencies. It takes a lot more bandwidth to make it work.
The T290 has VOX (Voice Operation) 9 levels of sensitivity it only works in the hand held mode though, not with the headset. It has a lock, menu button, up down buttons, ability to turn beeps off and on, molded one piece antenna,  and weather radio. The weather radio is a 10 channel scan and it locks in to the strongest NOAA channel, which should also be the one near you.
Battery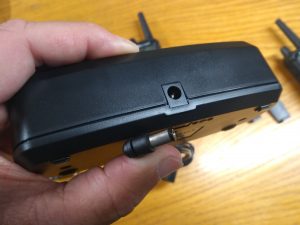 The T290 comes with a 700 mah rechargeable battery pack. It lasted on high, for about 6 hours of occasional use during mountain biking in a dense forest, on the high power level. Medium or Lower power should last longer and there were definitely places where we maxed out the range on another set of radios we brought with us, but the T290 still got through.
Other radios work on batteries with the option of a rechargeable battery pack that's a really nice feature that this radio set didn't have. Once you're battery is dead, it takes 12 hours to charge. You can buy more, but you'll have to charge them in the radio.
The radios charge in the stand but it is powered by a wall plug and round tip charging cord. Other radios Midland Makes can be charged by USB making it easier on the go. So while it has a good battery life from one charge, it's not easy to use all weekend while camping away from an outlet.
Value
As reviewed, the T290vp4 value pack of 2 two-way radios retails for $89.99 while another set, the T51 value pack of 2 two-way radios retails for $49.99. The two advantages the T51 radios have are the USB charging, and the ability to take AAA batteries, and doesn't require a license. The T290 wins on available power settings, channels, privacy codes, and included headsets.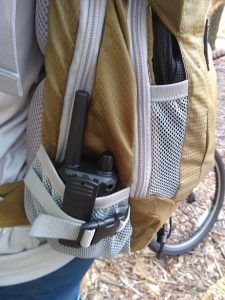 Every situation is different. Buildings are built differently, forests are different density, land has rolling hills and dunes. The only reliable method is line of sight. If you can see the person, you can talk to them, everything else is a bit of guess work. If you really want the details, check out this article by IntercomsOnline.com where they cover how radio waves for two-way radios work and measuring distances.
Which radio (or pack of radios) is right for you? Think about what features you like best, some features can be bought as accessories, like headsets and belt clips. Other features like channels and charging are built into the radio and can't be changed. They have a comparison chart on the MidlandUSA.com website. Or you can check out their other current X-Talker radios, camping bundles, or check out their hunting/camouflage two-way radio options. Midland makes a portable two-way radio to fit every need. The T290 stands out for single day use where you have access to charging each day and are serious about needing to reach further or cut though interference, and are willing to comply with getting an FCC license. Hunters or people working on a job site would easily benefit from more power. For everyday camping, or around the block, we'd recommend something like the T51 set.
Buy Now: $89.99 or to learn more, go to: Midlandusa.com
Midland X-Talker Two-Way Radio - Gear Review
The T290VP4 two-way radios pack a hard punch with more power, more channels, more privacy codes, a better belt clip and included headsets. But you've got to weight that with charging, lack of battery use, and a licensing requirement. These aren't radios you can just hand to your kids to play with.
The Good
Well built, rugged.
Power and number of channels
The belt clip is fantastic
The Not So Good
Only 1 battery option
Included charger is limited to wall use
Requires an FCC License.