Cotopaxi was founded in 2014 with one vision: build a brand that prioritizes people over profit. Many of Cotopaxi's innovations aren't necessarily product related but rather a result of an intense investment into human capital. Cotopaxi is committed to giving back to the community, and it supports various charitable initiatives through its Cotopaxi Foundation. 
But Cotopaxi is a brand that is known not only for its charitable contributions and social innovations but also for its festive and sustainable approach to product design. Their product range includes a wide variety of outdoor gear such as backpacks, jackets, sleeping bags, and tents, all available in bright and cheerful colors that are sure to make a statement.
The latest spring/summer collection from Cotopaxi is no exception, as it continues to focus on using sustainable materials while also incorporating high-performance fabrics that have been tested in the great outdoors. The collection features materials such as ripstop, PrimaLoft (P.U.R.E.), and textured stretch paneling, making it an ideal choice for outdoor enthusiasts and tech-savvy individuals alike.
Let's get into it!
Capa Hybrid Insulated Hooded Jacket Breakdown
DESIGN AND MATERIALS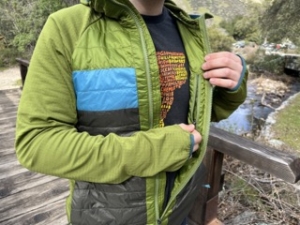 The Cotopaxi Capa Hybrid Insulated Hooded Jacket may very well be Cotopaxi's first truly technical jacket. The Capa Hybrid is a versatile and lightweight jacket perfect for cool spring days or as an effective layering piece in the colder months. The jacket features a hybrid design, with a combination of synthetic insulation and Polartec Power Stretch Pro fleece panels, which allows for a balance of warmth and breathability. The packable construction combines stretchy and breathable fleece material on the sides and underarms with insulated panels on the front, back, and hood for warmth and protection from the wind. The jacket's outer shell is made from 100% recycled nylon, while the insulation is made from PrimaLoft Gold Insulation Eco, a synthetic insulation made from 55% recycled materials.
The jacket also features a DWR (Durable Water Repellent) finish, which helps to keep moisture out in wet conditions.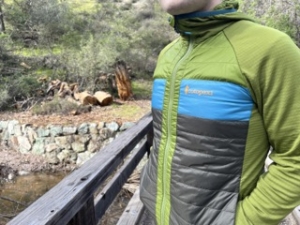 This jacket is highly functional, with a variety of features designed to enhance the garment's and your performance. The hood is insulated and adjustable, providing extra warmth and protection for the head and neck. The jacket also has two zippered hand pockets and an internal chest pocket, providing ample storage for small items and packing capabilities. The zipper closure is insulated as well and features a swatch of fleece to keep your face nice and warm.
FIT AND COMFORT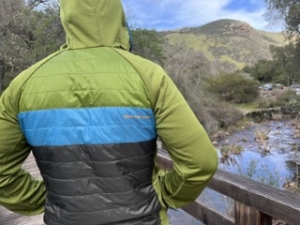 The Cotopaxi Capa Hybrid Insulated Hooded Jacket fits like a layering piece should – tight. The jacket features a slim, athletic fit with a bit of stretch that still allows for freedom of movement on the trail. The Polartec Power Stretch Pro fleece panels on the sides and underarms provide added stretch and mobility, making it easy to move around in the jacket. The jacket also features elastic ninja-cuffs and an adjustable drawcord hem, allowing for a customized fit and extra protection against wind and other elements.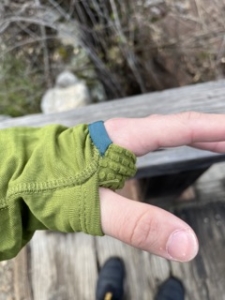 This jacket is a true standout, and the scuba hood and elastic ninja-cuffs are just a few of the features that set it apart from the competition. While these may seem like small details, they truly enhance the overall functionality of the jacket. The scuba hood is perfectly integrated for use under a standard ski helmet (I tested it on the Bern Wyatt 2.0), providing excellent protection and warmth.
Overall, the Cotopaxi Capa Hybrid Insulated Hooded Jacket is a top-quality piece of outdoor gear that offers the perfect balance of functionality and style, featuring Cotopaxi's signature use of bright colors. The attention to detail, from the scuba hood to the ninja-cuffs, and the use of sustainable materials show Cotopaxi's dedication to providing exceptional performance and innovation while staying true to its vision.
The Capa Hybrid is perfectly executed and for less than $200 – a bargain! Be sure to check it out on Cotopaxi.com.
Salto Ripstop Pant 

Breakdown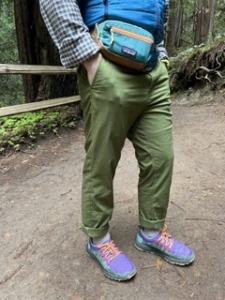 The Salto Ripstop Pant from Cotopaxi is really freaking comfortable. Superbly crafted and designed to withstand the rigors of outdoor adventures, these pants are the perfect all-day companion that will take you from trail to tavern with ease. The combination of ripstop nylon and spandex delivers exceptional durability and stretch, allowing for a full range of motion and a modern, comfortable fit.
DESIGN AND MATERIALS
The Salto Ripstop Pant features a five-pocket design, including two deep front pockets and two back pockets with buttoned flap closures. Additionally, there is a zippered pocket on the left leg, providing ample storage for small items like keys while keeping them safe and secure.
Made from what Cotopaxi calls a Better Cotton Initiative blend, this pant features a full zippered fly, an encased elastic drawcord waist, and a lined inseam for a splash of color should you choose to wear them cuffed. The use of eco-friendly materials is an essential feature of the Salto Ripstop Pant and one of the many Cotopaxi hallmarks. The 100% recycled nylon and partially recycled spandex not only make these pants environmentally friendly but also contribute to their exceptional durability and stretch. The ripstop weave is super strong and naturally lends itself to be somewhat water resistant. I found that spilled liquids still bead on top of the pants even after several washes.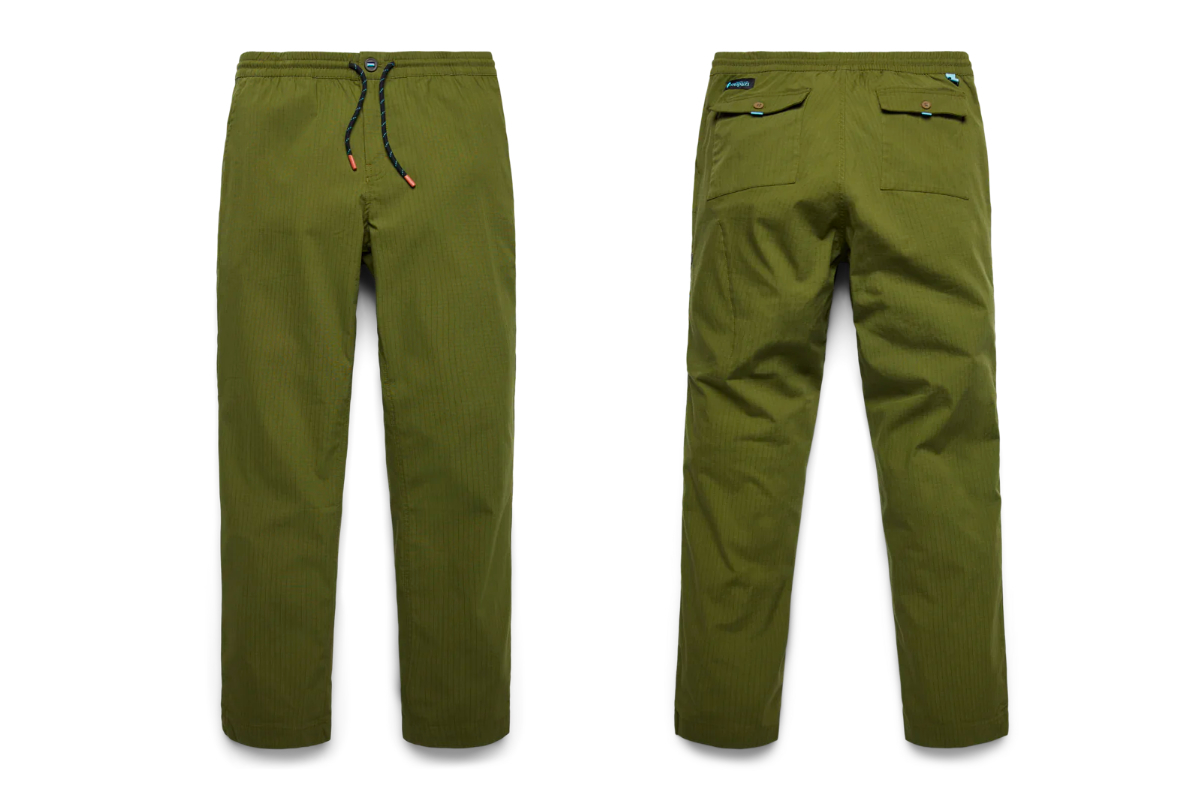 FIT AND COMFORT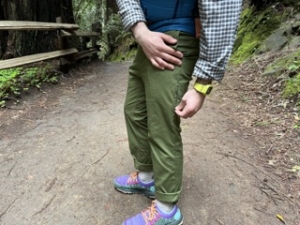 Right out of the bag, the Salto Ripstop pants had a relaxed modern fit. Reminiscent of a contemporary straight cut, I didn't notice much of a taper below the knew,  but when you consider the lined inseam, these pants were really made for cuffing, and look better, in my opinion, slightly cropped. However, after the first wash, the fit changed pretty dramatically and morphed into what I would consider to be a modern slim fit. They will stretch out over wears in between washes, but be warned that they will fit snugly right out of the dryer.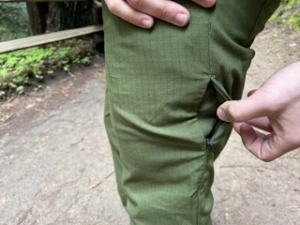 The waistband of the Salto Ripstop Pant is adjustable with a braided drawstring, enabling a customized fit for maximum comfort. And I could be wrong but the waistband definitely feels padded – bonus points!  The pant also features articulated knees and a gusseted crotch, which contribute to flexibility and comfort, making it easier to move around without restriction.
Lastly, the Salto Pants are definitely for Spring-Summer-early Fall. The ripstop fabric adds a nice texture to the lightweight construction and, of course, ensures these pants won't tear easily.  Very lightweight and breathable, the Salto Ripstop pants are perfect for this time of year.
The Salto Pants come in a variety of colors and sizes ranging from small to double extra large. They're available right now on Cotopaxi.com for $80, and If  I were you, I'd get them in every color!
 Amado Fleece Vest 

Breakdown
I love vests, so it came as no surprise when I found myself wearing the Amado Fleece Vest almost every day this Spring season. Its bold colors, relaxed fit, and easy-to-use pockets make it the ultimate light layer for warmer weather.
DESIGN AND MATERIALS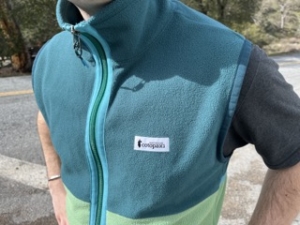 Made almost entirely from recycled Polyester fleece, the Amado Vest features a full-length front zipper with a signature rubberized pull for ease of use even while wearing gloves. The collar is tall and snug, providing additional warmth around your neck. The vest also has two drop-in hand pockets, which provide ample storage space for your essentials, though I wouldn't put anything too valuable in there since things can easily slide out. The Amado Vest's overall design is eye-catching and modern, coming a variety of color-blocking combinations and also a solid Graphite (blue-gray) option.
FIT AND COMFORT
The vest's fit is definitely tailored, featuring a slightly tapered waistline and elastic ribbing around the armholes. Though, in my opinion, the hem is slightly long – I'm 5'6″ and reviewing a size small –  the Amado Vest is versatile enough to be worn on its own or paired under a jacket as a light layering piece.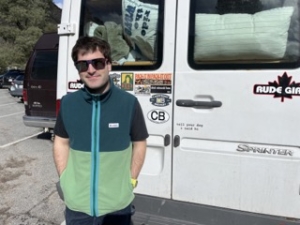 The Amado Fleece Vest from Cotopaxi is an excellent choice for anyone looking for a versatile and functional vest that can keep up with their active lifestyle. Whether you're going for a hike, camping, or simply running errands around town, this vest provides excellent warmth and insulation without sacrificing style or comfort.
The Amado Fleece is for sale on Cotopaxi.com for $70 – be sure to stock up for the Spring!
Cotopaxi Spring/Summer '23 Layers Conclusion 
Overall, the latest collection from Cotopaxi is a perfect blend of sustainability, technology, and style. The brand's use of eco-friendly materials and vibrant colors, combined with high-performance fabrics, makes its products suitable for a range of outdoor activities. Whether you're planning a camping trip or just looking for functional and stylish outdoor gear, Cotopaxi has something for everyone
Shop all styles at Cotopaxi.com.
Cotopaxi Spring/Summer '23 Layers | Gear Review
The Good
Inclusive Sizing
Good Value
Great Color Options