Mustang Survival is arguably most well known for their industrial strength dry suits made to keep a person dry even if submerged in frigid arctic waters. They decided to take their know-how and use it to build a gear bag called the Greenwater series that is one of the most versatile I've ever seen!  The Mustang Survival Greenwater Deck Bag is a fully waterproof, ultra-rugged duffel style bag that will keep your stuff dry and safe no matter where you take it.
Key Features:
Key Features
Fully Submersible
YKK® Aquaseal® dry suit zipper
420D Hypalon Fabric
Molle Webbing Tie Downs
Fully RF Welded Seams
Rectangular Shape
35L or 65L Sizes
Mustang Survival Greenwater Deck Bag Review Breakdown
Design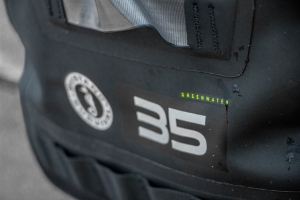 When you look at the Mustang Survival Greenwater deck bag, you can't help but think someone cut up a SCUBA diving dry suit and turned it into a bag. This design is ultra-rugged looking, but there is no mistake that this bag was designed to function.
The all-black, rubbery look of the material is accented with a slightly glossy MUSTANG logo down the side. It's not flashy, but has a really nice, almost stealthy, aesthetic that just screams 'here to do work'.
The Greenwater comes in 2 sizes, 35L and 65L. The 35 is about carry-on size, while the 65L is more for an extended trip.
The bag shape looks like a duffel style, but it is actually rectangular in shape. This maximizes packing multiple bags together.
Across the top diagonally is the huge YKK® Aquaseal® dry suit zipper enclosure. This zipper is what sets this whole bag apart from others. It's big, oversized, fully waterproof, possibly even airtight. It's the exact same zipper you'll find on the Mustang Survival dry suits.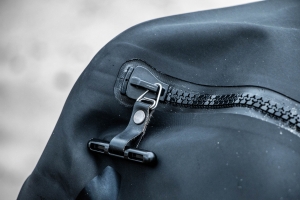 This zipper takes a bit of effort to pull closed so it comes with a nice T-Handle to easily have a grip and also included a package of zipper lube to maintain. With such rugged materials and a single slit type opening, ease of access to what's inside can be a little tricky. But with a full diagonal opening from one end to the other, it's not hard to get at.
At the ends and on top are 4 coated webbing handles that are extremely well attached. On the bottom are 2 non-coated webbing handles. It's nice to have handles on all sides. It means no matter which way this bag gets tossed or stacked, there will be an easy & sturdy point to grab and pull for access.
Along all 4 sides, near the bottom is another row of well attached webbing that is sewn into loops for tying down. This is extremely useful for keeping the bag secure by attaching to the deck of a boat, kayak, truck bed or just attaching accessories with a carabiner.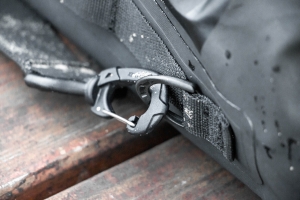 In 2 of these loops are pre-sewn D-Loops to attach a shoulder strap when you're transporting on foot. The strap is fully removable with pivoting clips and has adjustable length. It is a very strong webbed strap, probably capable of holding several times what a normal person would carry.
But, given the overbuilt feel of the rest of the Greenwater bag, the larger than needed strap feels strangely plain. Not sure what else I would expect out of a strap, but maybe if I needed to carry this long distances through several airports, or on a hike, I might look into something aftermarket. Maybe even something that converts to a backpack type system that could easily attach to the bags tie down points.
The final reminder that this is a piece of baggage and not a dive suit is the clear panel attached to the top that allows for a name card. This is attached and integrated into one of the tie down handles so there is no risk of it being the weak point that would allow in water.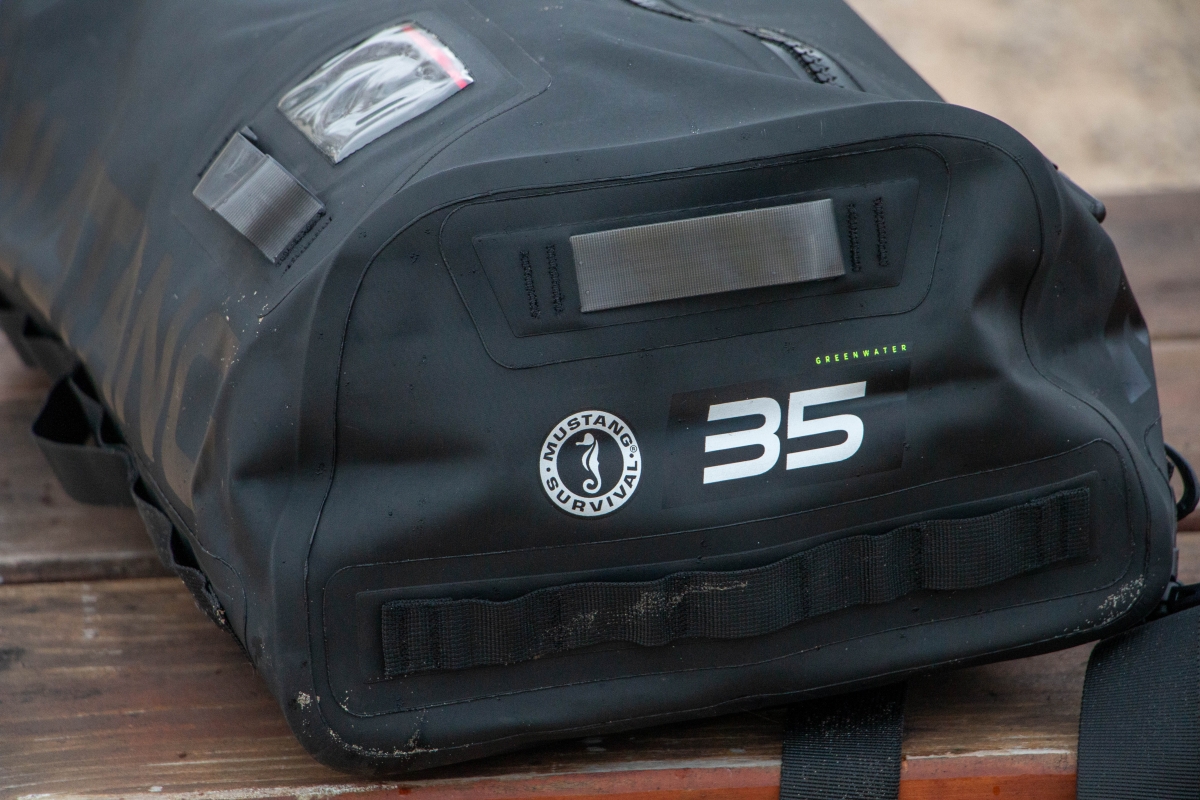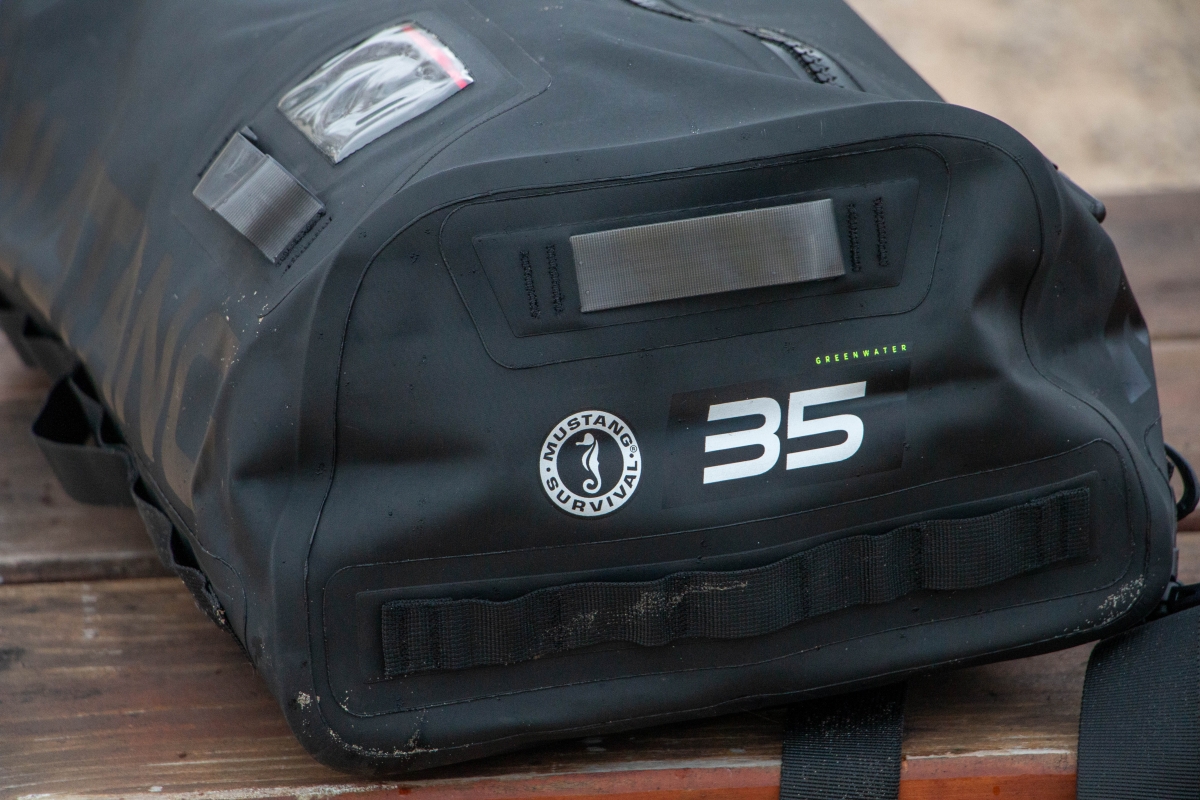 Durability
The Mustang Survival Greenwater bag leaves no question that it's wildly durable. It was designed for all maritime environments which tend to be some of the most rugged on earth.
The oversized zipper is not just an aesthetic. The huge teeth on the zipper and the giant handle are there to help this bag function even as it gets sprayed with saltwater. A normal, smaller, metal zipper would quickly rust or jam as salt accumulated. Not so with the YKK® Aquaseal® zipper.
In fact, the zipper will hold its waterproof ability up to about 2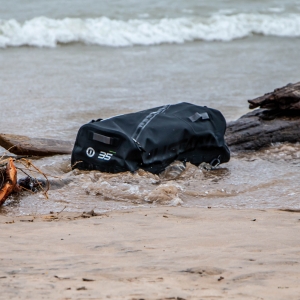 meters underwater. However, you'll have a hard time hitting that because when fully loaded, the bag holds so much air that it actually floats! (See it here) So much that you could grab it and it would keep you afloat in an emergency! (Not rated for flotation or as a safety device, but it'd do the job in a pinch!)
So it looks tough, but how has it held up? Our bag has spent time being tossed into truck beds, yanked out of trunks with heavy loads, slid across wooden docks, chilled on the beach, hit with water on a cement pier, kicked around on a no-slip deck, floated up against downed logs and while it might have picked up a few scuff marks, it continues to function like day 1.
Versatility
So let's say you're not an offshore fisherman or professional sailor. Why would you need a deck bag? Well this bag is surprisingly more versatile than I originally expected. I am neither of the previously mentioned, but I do love to get out in the world and very much enjoy being near water.
Yes I've used this bag to haul dry clothes onto a boat but I didn't drop it in the water, nor have I ever. But it was good to know if I did, I would still have dry clothes and they wouldn't sink to the bottom.
But versatility means much more in a bag like the Mustang Survival Greenwater. Let's say you go kayaking or canoeing on an afternoon river trip. Or go big and make it a weekend. Need a place to stash a dry towel, change of clothes, your phones and wallets? The 35L capacity is perfect for that without taking up too much room. Lashing to the boat has never been easier with all the options.
Maybe you want to raft instead or just float a river on a hot day? It can do the same with room to carry the gear of your whole crew with the added perk of tying a rope to a tie down and now your bag will just happily float along behind you.
Maybe you are a fly fisher? Need to keep some warmer clothes with your car keys, phone, camera and sandwich dry? An easy task. Toss a line around a tree and let your bag sit on the wet riverbank. Or let it float along behind you. Why clutter your wader pockets or be weighed down with a bulky backpack?
Own a pickup truck and like to road trip? Pack your clothes in a Greenwater bag, throw them in the bed of the truck and don't worry if it starts to rain! The wind and rain from the road can't touch what's inside.
Heading to the beach or river and want to bring your expensive camera kit? Maybe take some photos of your favorite surfer or do some bird watching? Throw your regular bag inside the Greenwater and you'll only have to worry about what's in your hand. The elements can't touch the rest of your expensive gear.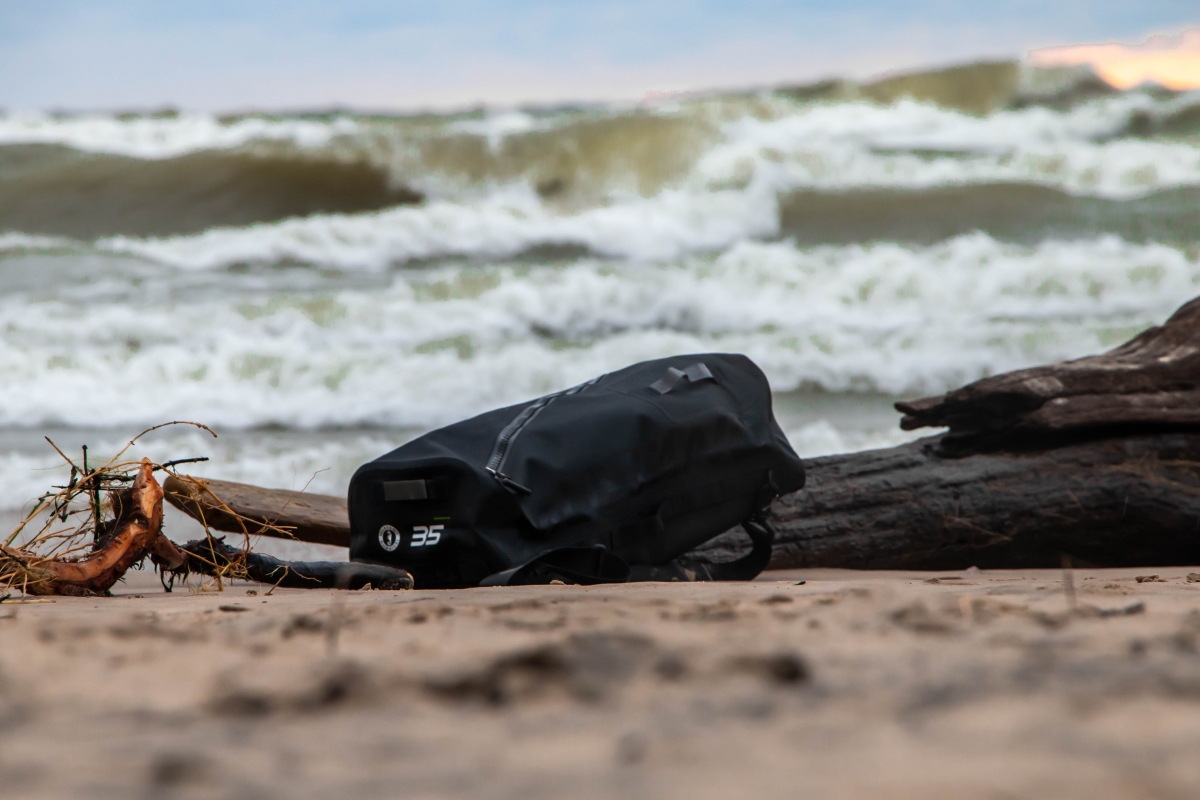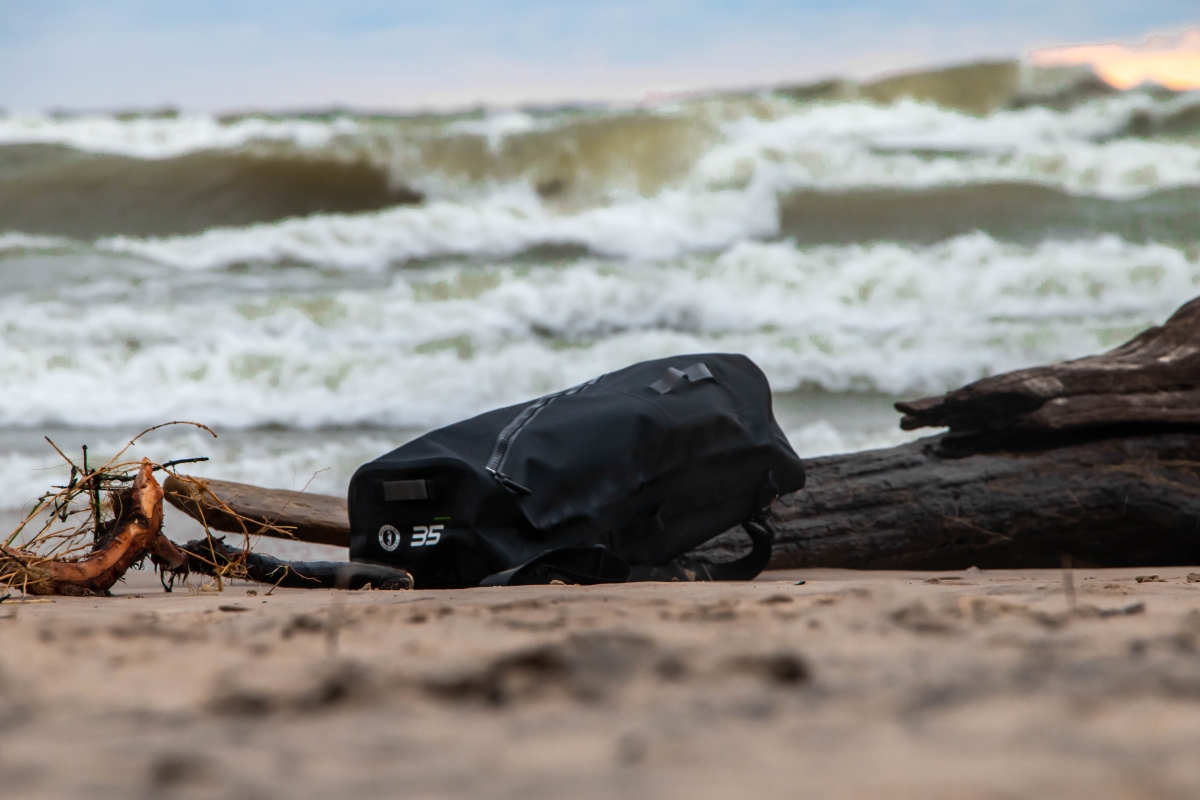 Value
The Greenwater Deck Bag is about $75-$100 more than what you might pay for a nice duffel from a big brand outdoor adventure company. However, this may be the last travel duffel you purchase. Plus if you were to buy a duffel and a waterproof bag, it would be easy to spend just as much or more.
Add in that Mustang Survival stands behind the quality of what they build and you'll find that you definitely get what you pay for. The warranty length on these bags is simply stated as whatever is "practical." Meaning normal wear and tear or modifications may not be covered, but they fully intend to stand behind it. If a seam starts to give way, expect a fix, but something tells me you won't have to worry about that…I haven't on mine.
Buy Now: $219 from MustangSurvival.com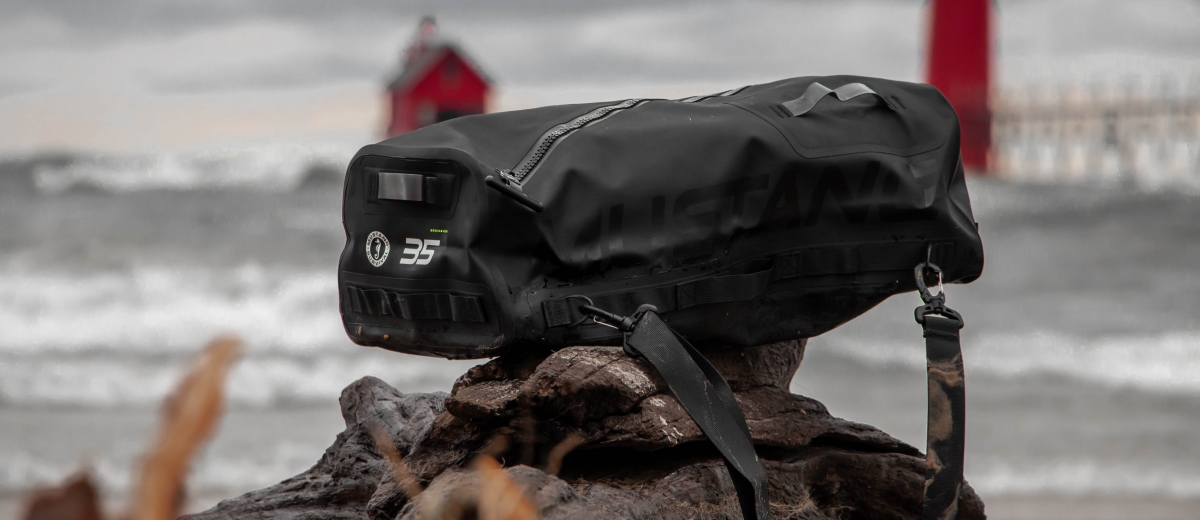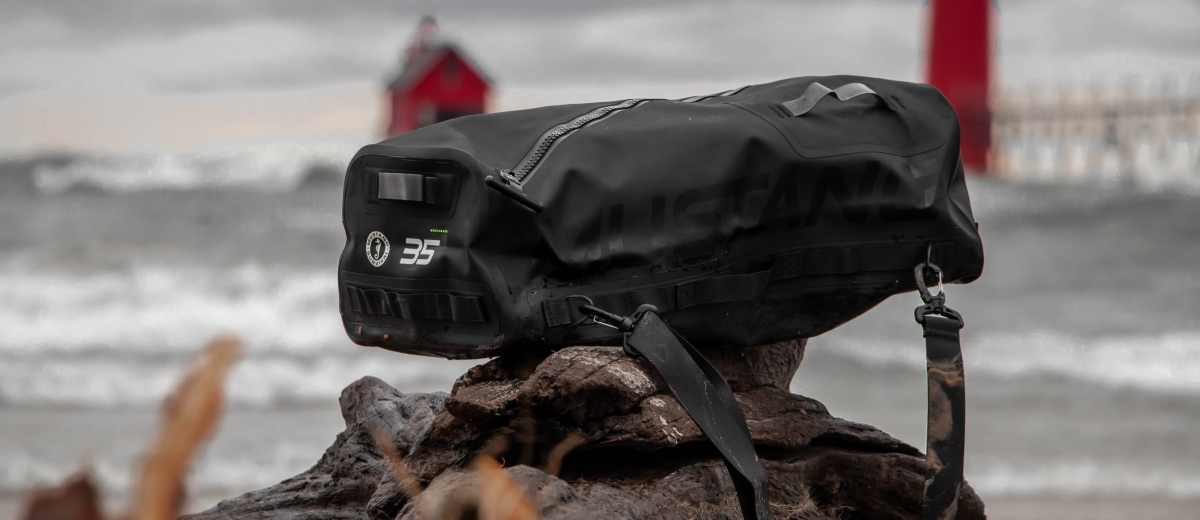 Mustang Survival Greenwater Bag Review
A virtually bomb-proof, water proof deck bag/adventure duffel that will never let the outside elements get to your precious cargo inside. Built for adventure, whether it's your job or just a hobby.
The Good
Extremely waterproof
Extremely durable
Lots of ways to secure
The Not So Good
Shoulder strap could be more
Rigid opening