The moment you've all been dreaming of – Traeger's got a flat top grill. 
The Flatrock represents a new era for Traeger. A departure from the wood pellet smokers that have built the foundation of Traeger's reputation. Traeger didn't just launch a flat top grill, Traeger conquered the flat-top grill. Leveraging longstanding expertise in the industry while pairing internal R&D with passionate outdoor chefs during development, Traeger's Flatrock delivers a versatile, wide-open cooking experience poised to capture your culinary creativity. 
"WELCOME TO THE TRAEGERHOOD," FLATROCK!
When you get the chance to see one of these in person, you'll immediately notice the bombproof construction, just like all of Traeger's releases. Traeger procured quality materials that enhance the grill's durability and deliver a modern look. 
As we dive into the details of the Traeger Flatrock flat top grill, we'll explore a few unique key features, design elements, and performance aspects that make this grill a game-changer. If you're a Traeger fan already, fire yours up, grab a beer or a whiskey, and sit back and enjoy my thoughts on the Flatrock flat top grill.
Key Features
TruZone™ temperature control features 3 distinct, insulated cooking zones

FlameLock™ construction improves fuel efficiency for more bang for your buck

U-shaped burners ensure even heat distribution across entire cooktop

P.A.L. Pop-And-Lock™ accessory rail lets you customize cook space

Built-in folding side shelves offers extra space for prepping, plating, and more

EZ-Clean™ Keg collects grease and drippings in one convenient place

Cold-rolled steel surface develops durable non-stick properties with proper care

Lid with folding hinge stays securely upright and provides added wind protection

Temperature range: 350 – 600°F

Dimensions: 18 x 33in

Total cooking area: 594 sq in
Traeger Flatrock Grill Review Breakdown
Design
I've got a friend that works for Traeger's design team… from the sound of it, this Flatrock has been a few years in the making. Now he didn't disclose how many prototypes it took to land at the final shipped design, but he did make reference to quite a few team lunches and brunches perfecting everything from burner shape to heat distribution to overall cooking quality. 
As referenced in the intro, Traeger didn't stray far from their design language. From a burly lid and handle to sleek, clean, rounded lines, the Flatrock fits into the Traeger lineup effortlessly. Sticking with blacks and grays, the Flatrock looks durable, handsome, and ready for years of grilling.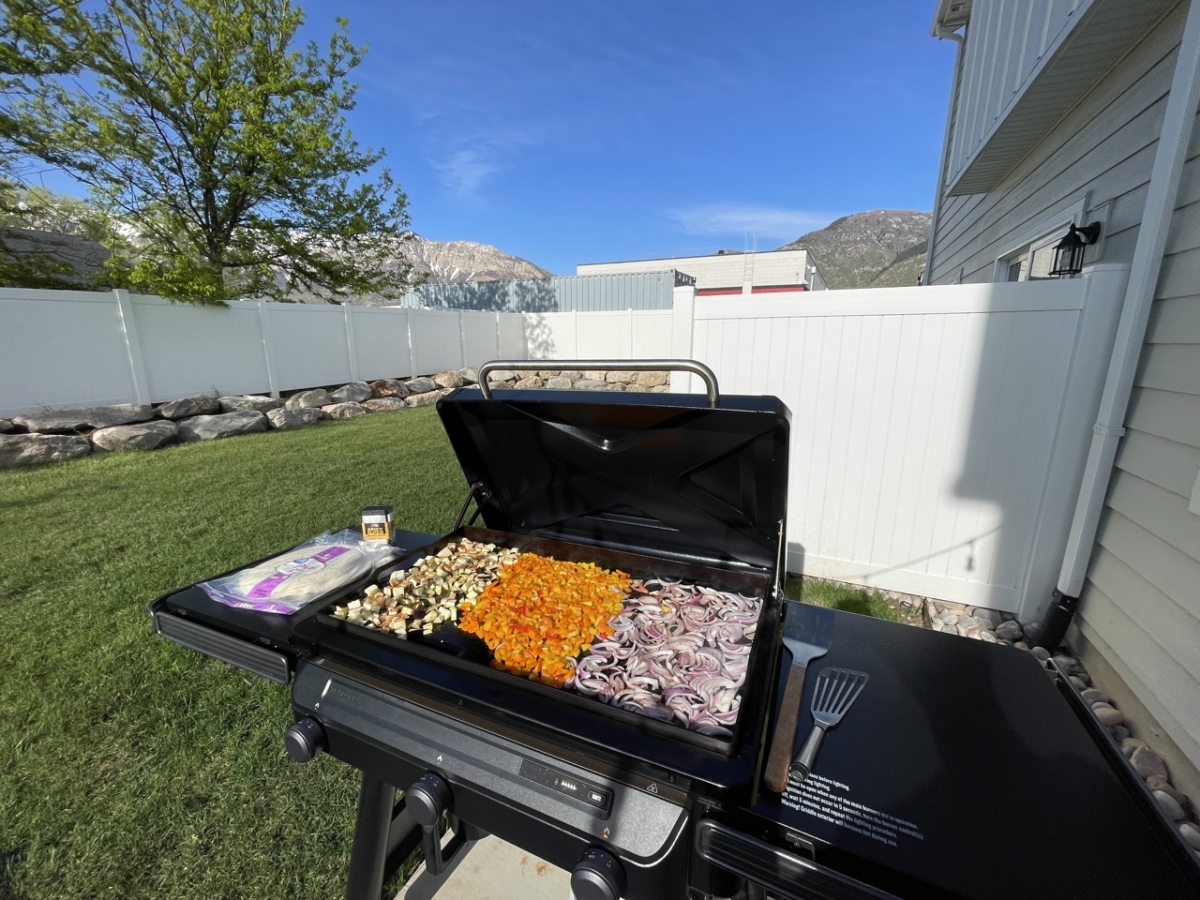 "ANY DISH EVERY MEAL."
A line from Traeger's Flatrock product page perfectly summarizes the rest of the Flatrock design. With over 500 square inches of cooking surface, the Flatrock is ready to entertain from sunrise to sunset and all hours in between.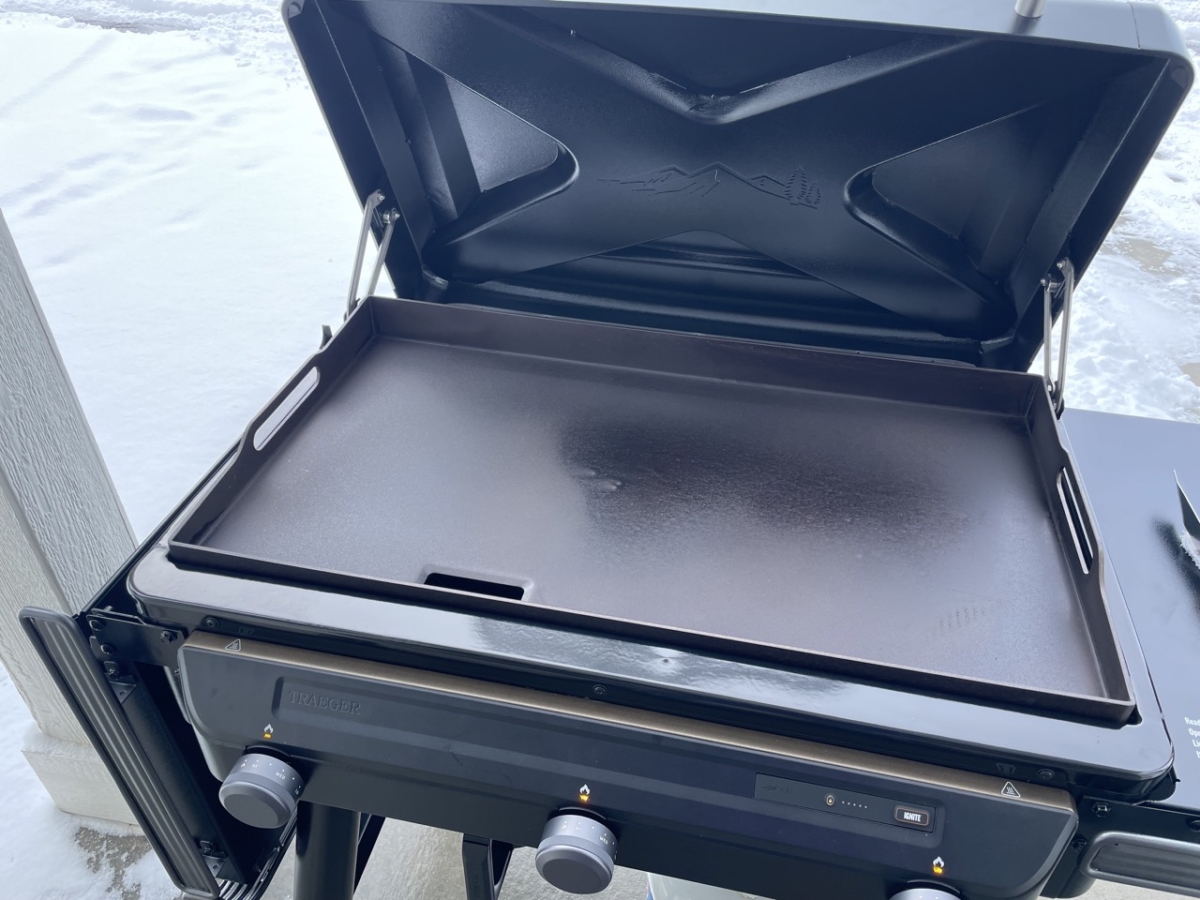 A few unique features set Flatrock apart from the competition. The first two work in tandem to deliver efficient, controlled, and even heating across the entire surface. U-shaped burners, separated by heat shields, help to deliver that experience. The U-shape burners help avoid hot spots, while the heat shields ensure you can confidently cook at different temperatures across each of the three burners. This is especially ideal for breakfast when you're sizzling up delicate eggs on one end, hashbrowns or home fries on the other end, and a mixture of goodies in the middle. The U-burners are also deeply recessed, tucked away from the wind, and well insulated with Traeger's FlameLock™ Construction. "It keeps heat right where it should be for more consistent cooks while using 28% less propane than standard griddles."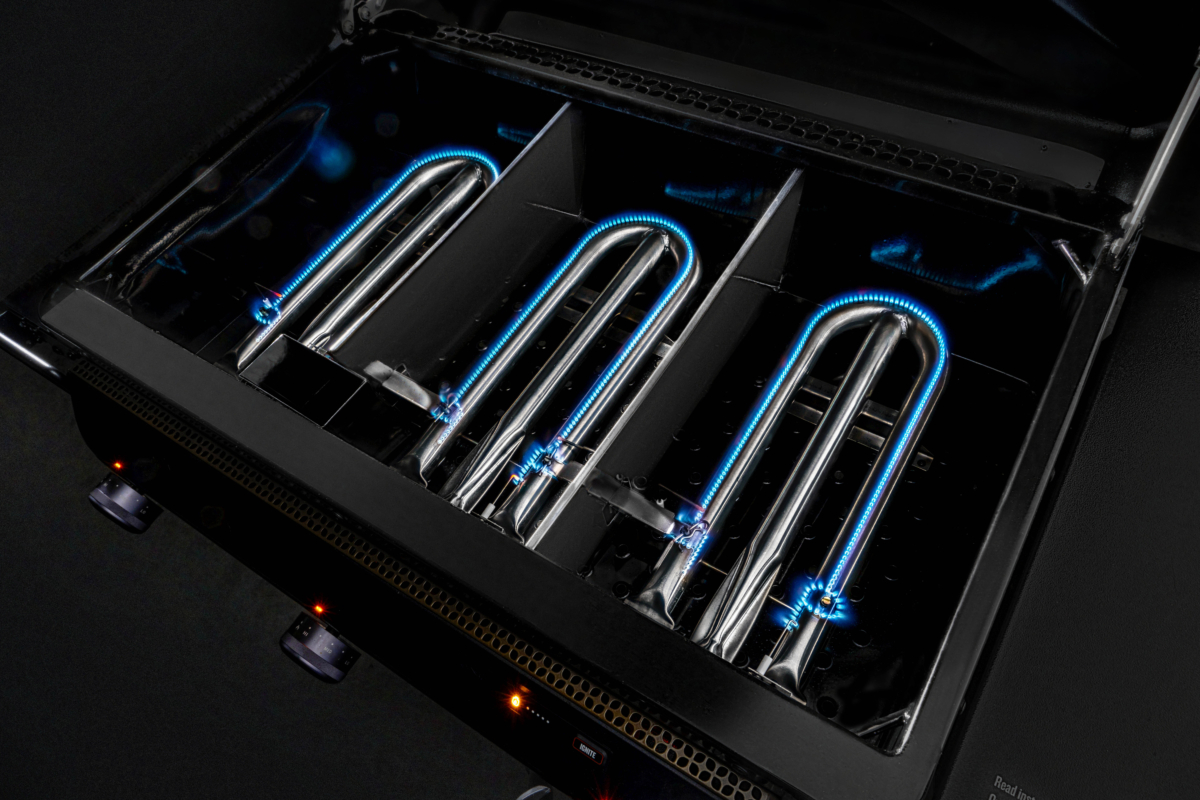 While the Flatrock isn't wifi connected or touch-controlled like some of Traeger's other top-of-the-line models, Traeger did manage to sneak in some unique features that require an electrical outlet. The first, and most unique electric feature is the "never run out of gas" propane tank sensor. As your tank lightens over time from grill use, bright white lights off to the right-hand side of the front fascia will start to disappear as your fuel disappears. This helps you get ahead of the dreaded fuel supply dead end.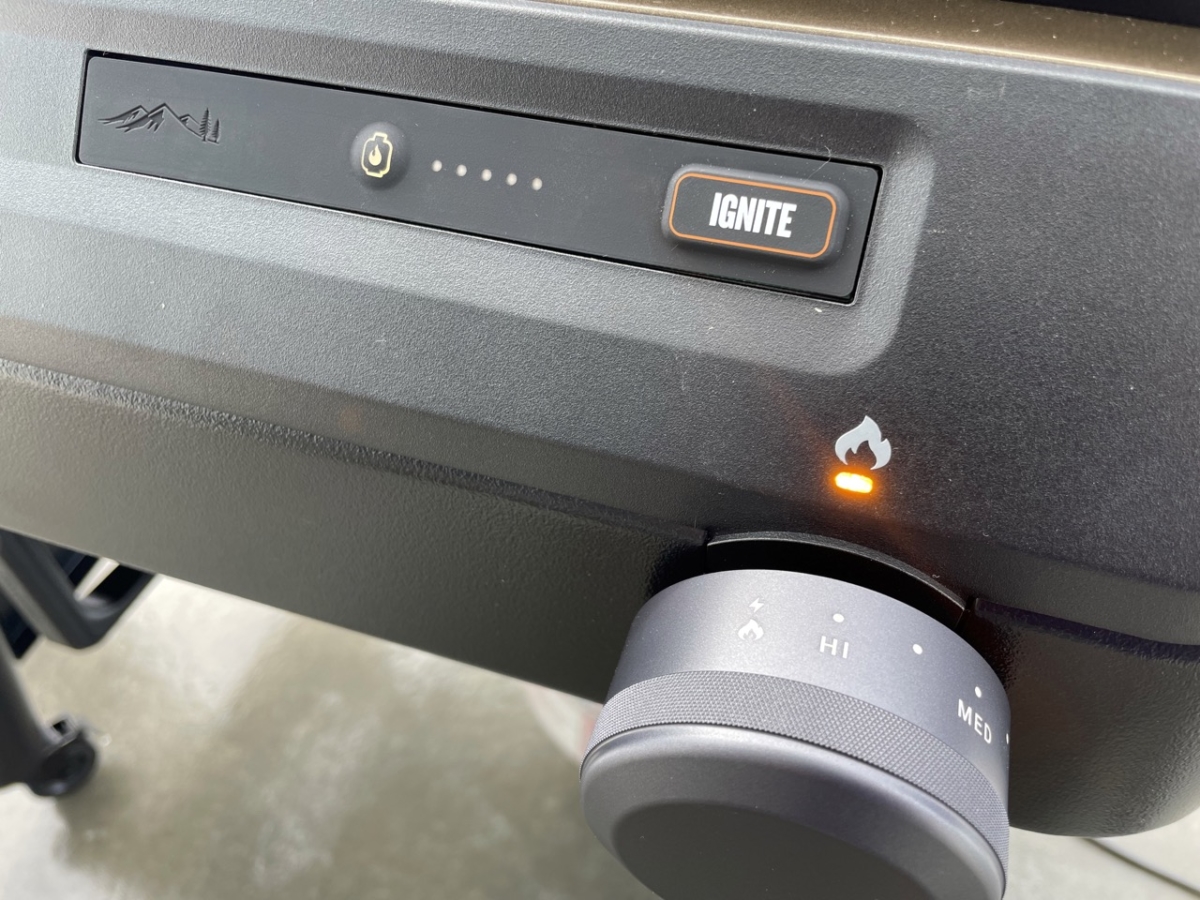 Secondly, each fuel knob has a handy light that illuminates orange when the burner is lit. This is really nice because the burners are completely tucked below the carbon steel cooktop – you can't see 'em and you can barely hear 'em. The caveat to all this electric tech is the need for a wired connection. You can use a 9V to power the electric ignition, but the LED features only work when plugged in. 
Cooktop & Cooking
How could you go wrong with a thick slab of carbon steel that seasons up like a cast iron pan over time? The Flatrock's cook surface is a monster at 33″ X 18″. 
According to Traeger, you can cook up to 26 eggs, 28 bacon strips, or 24 burgers at a time.

Now I've never been great at math, but that's a heck of a lot of food! 
Surprisingly, I have yet to host a true fiesta since welcoming the Flatrock to my back patio, however, I have done a few smaller dinner parties, a few hungry man breakfast spreads, as well as some burrito meal preps for myself.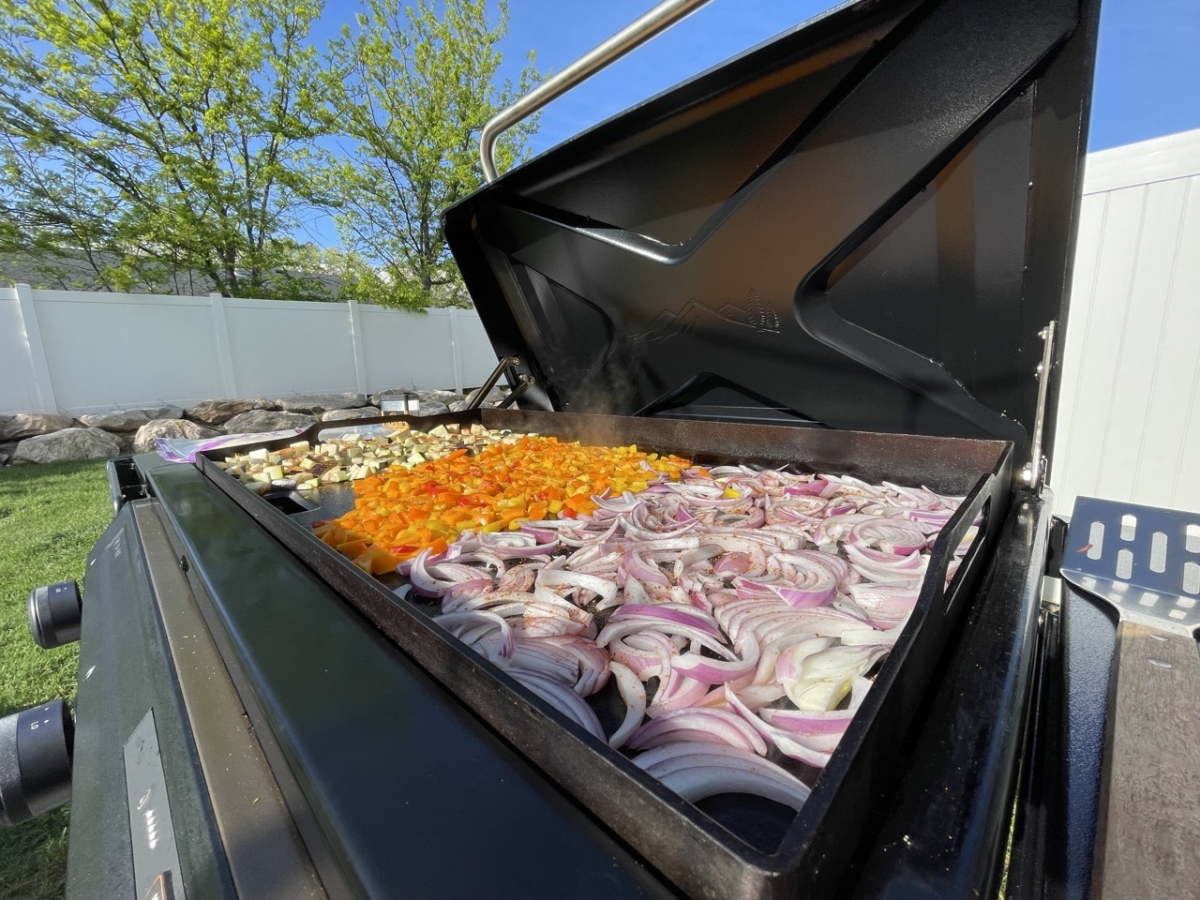 It's amazing how easily and how fast I can whip up a week's worth of food on the Flatrock – what used to take me 2 to 3 hours of cooking in stages, can be done in about an hour between veggie prep and grill saute. There's just so much space and so much heat control with the 3-zone setup. Cooking on the Flatrock just simply brings a smile to my face, and I am not just saying that for the review.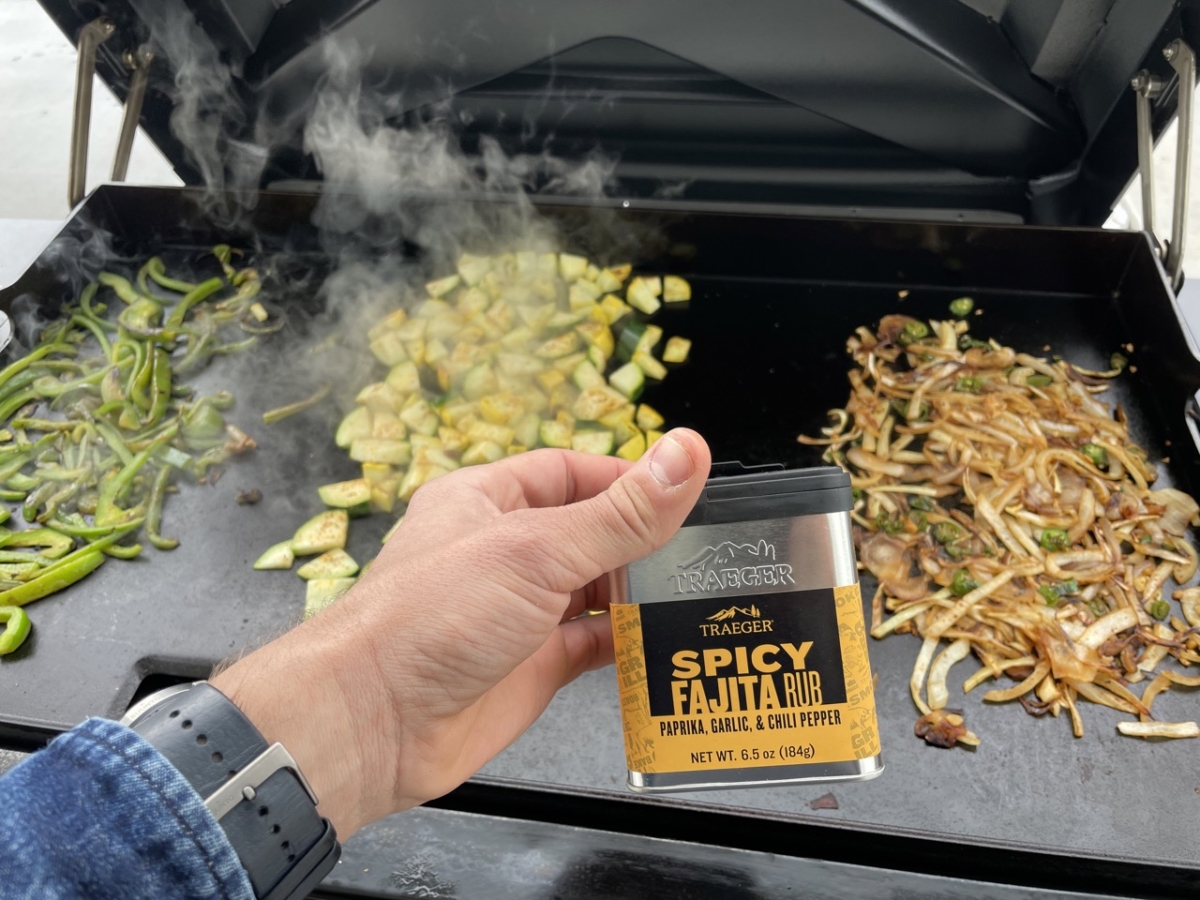 Treat the cooktop like your favorite cast iron, and it'll cook like a dream every time. Before each cook, I preheat the zones I plan to cook on for a few minutes, then add a fresh layer of fat – I've tried butter, olive oil, and avocado oil – and finally, let the sizzle rip!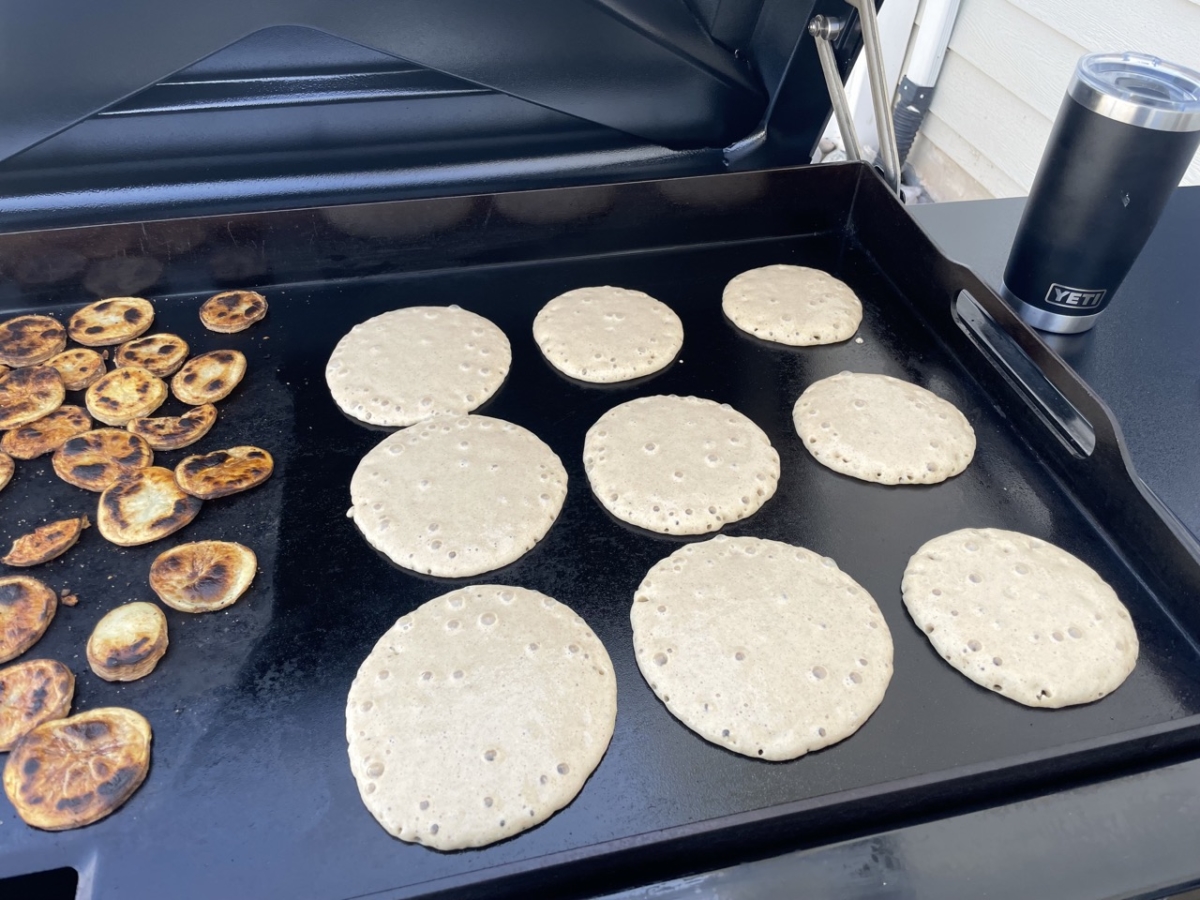 Clean-up is just about as quick and easy. I first get the surface as clean as I can with my spatula, then I use a soft grill brush to push any food crumbs down the grease keg. If anything is sticking like a stubborn marinade, I use a light water bath while the grill is still hot to steam release. Regardless of the previous step, with all the burners off, I let the grill cool a bit, then apply a thin coating of avocado oil before closing the lid and waiting for a full cool to add the cover.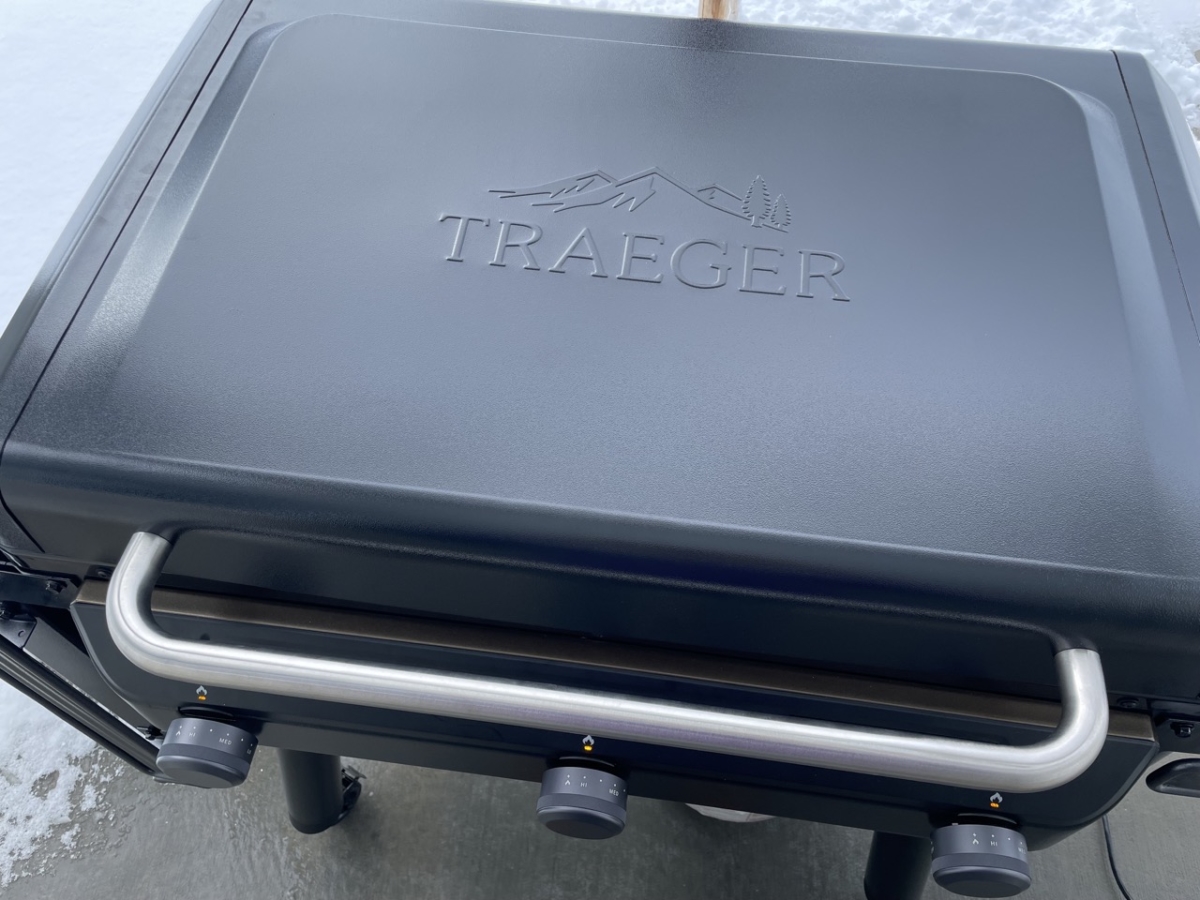 Setup
Traeger's setup experience is excellent. Not only is there a handy step-by-step app that can easily be downloaded by a provided QR code when you open the box, but there's also a YouTube video you can open on your laptop or tablet alongside the app.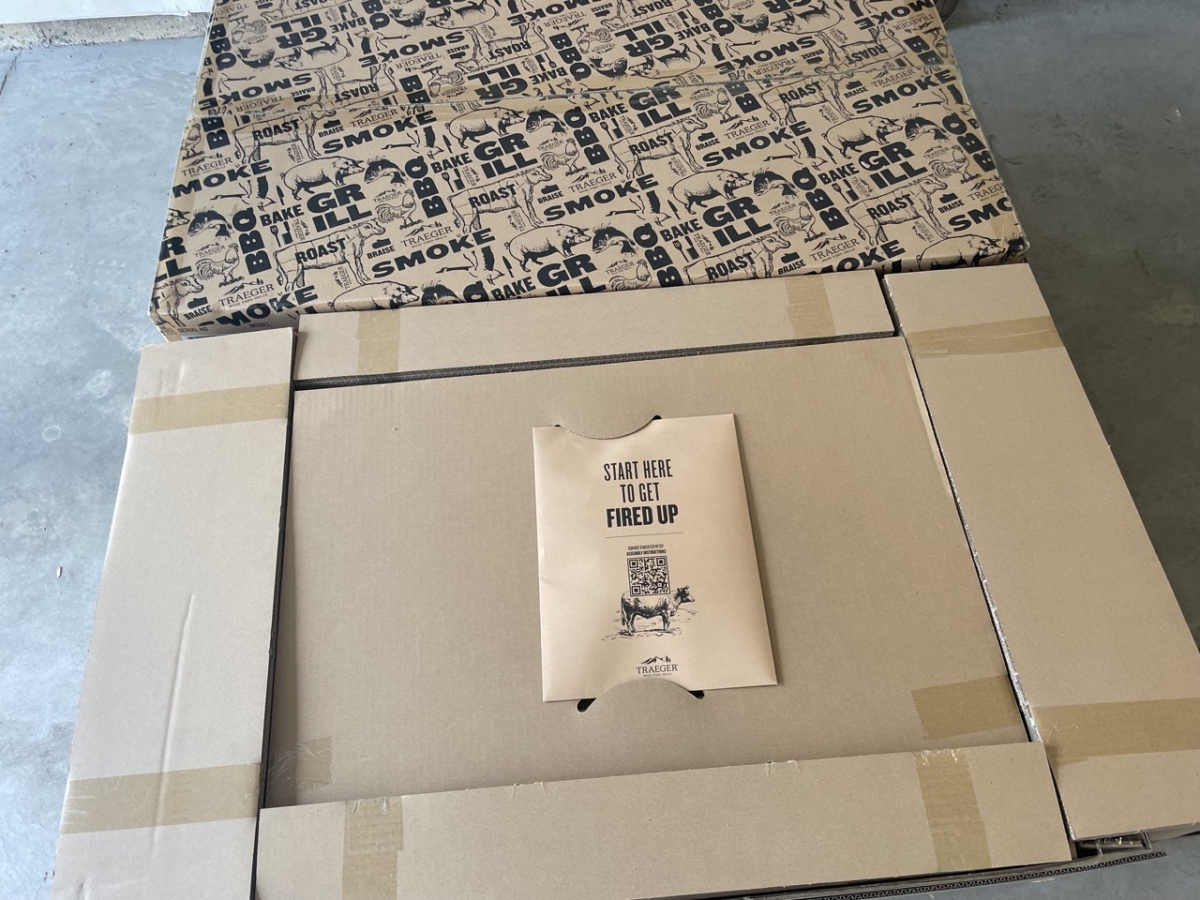 The app has a very clever "beer" guide, to show you how many beers deep of a six-pack you should be at each step.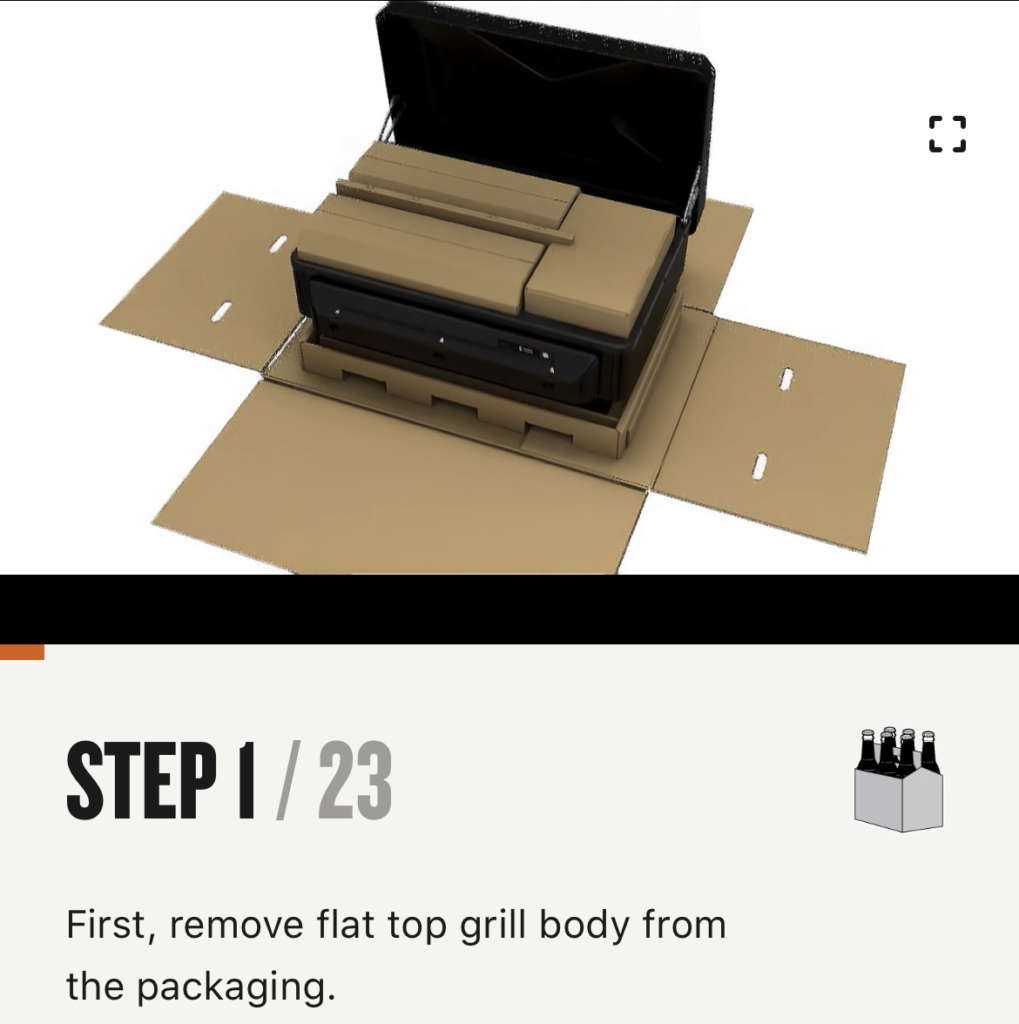 Since I am not an experienced grill builder like some grilling YouTubers out there, I used the app and YouTube video side-by-side. The YouTube video gave me the finite control to scrub forward and back as needed to review a step. The assembly took me about 2 hours to complete. I've seen some YouTubers say it took them an hour to complete. I'd imagine you'll fall somewhere in that range. I am already a vegetarian, so I sure as heck am not vetting my manhood against my assembly speed. The hardest part was flipping the unit upside down to add the legs and right side up again to get it standing. I didn't have help like the app or video suggested.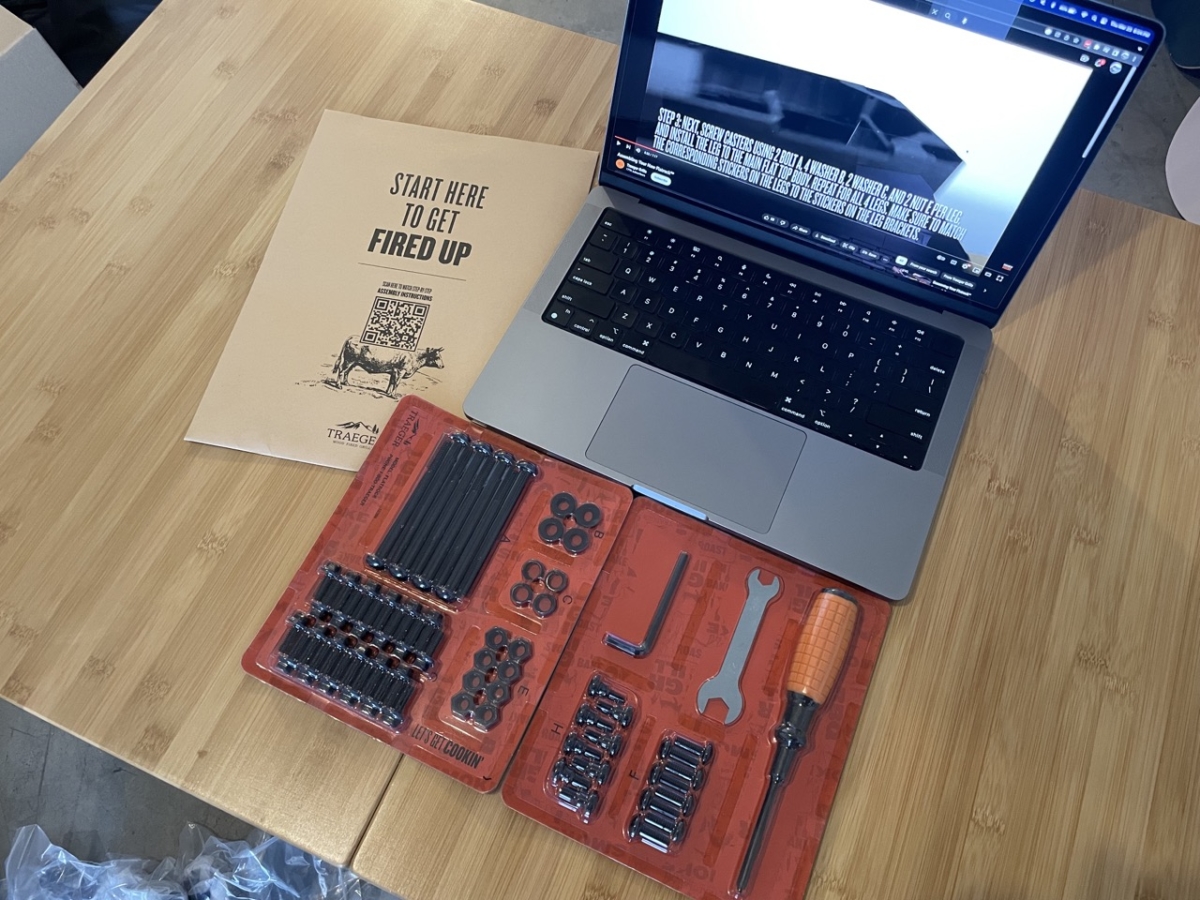 Once you've assembled, the most important part is proper seasoning of your Flatrock. If you're out here reading and watching videos on flat top grills, I sure as heck hope I didn't need to tell you this, but do not cook food on your Flatrock right out of the box. Season it with a few oil burns – Traeger made an easy-to-follow video on the recommended process. 
I seasoned mine with avocado oil after a few recommendations from some YouTubers, but Traeger does sell their own seasoning & conditioner. You can find it online from many 3rd party retailers. The process took about an hour and a half. It was worth the wait to ensure proper cooking (and long-term surface health) from day one.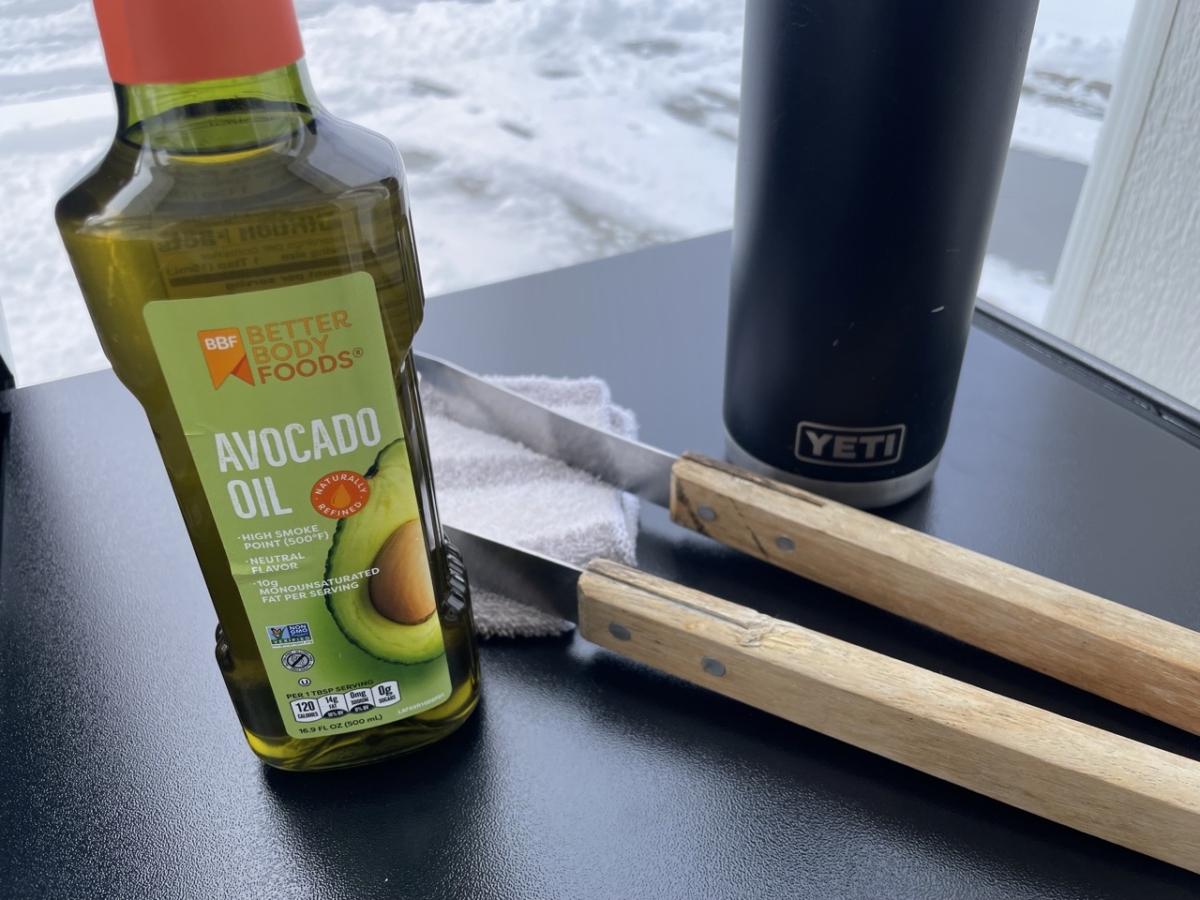 Value
At $899, the Traeger Flatrock flat top grill is certainly a premium offering, but it delivers exceptional value. Traeger ensures your hard-earned cash is well spent with top-quality build materials, and Traeger-exclusive features like the LEDs, U-shaped burners, and the FlameLock™ recessed heating area. The Flatrock also comes with a 5-year warranty and exceptional support.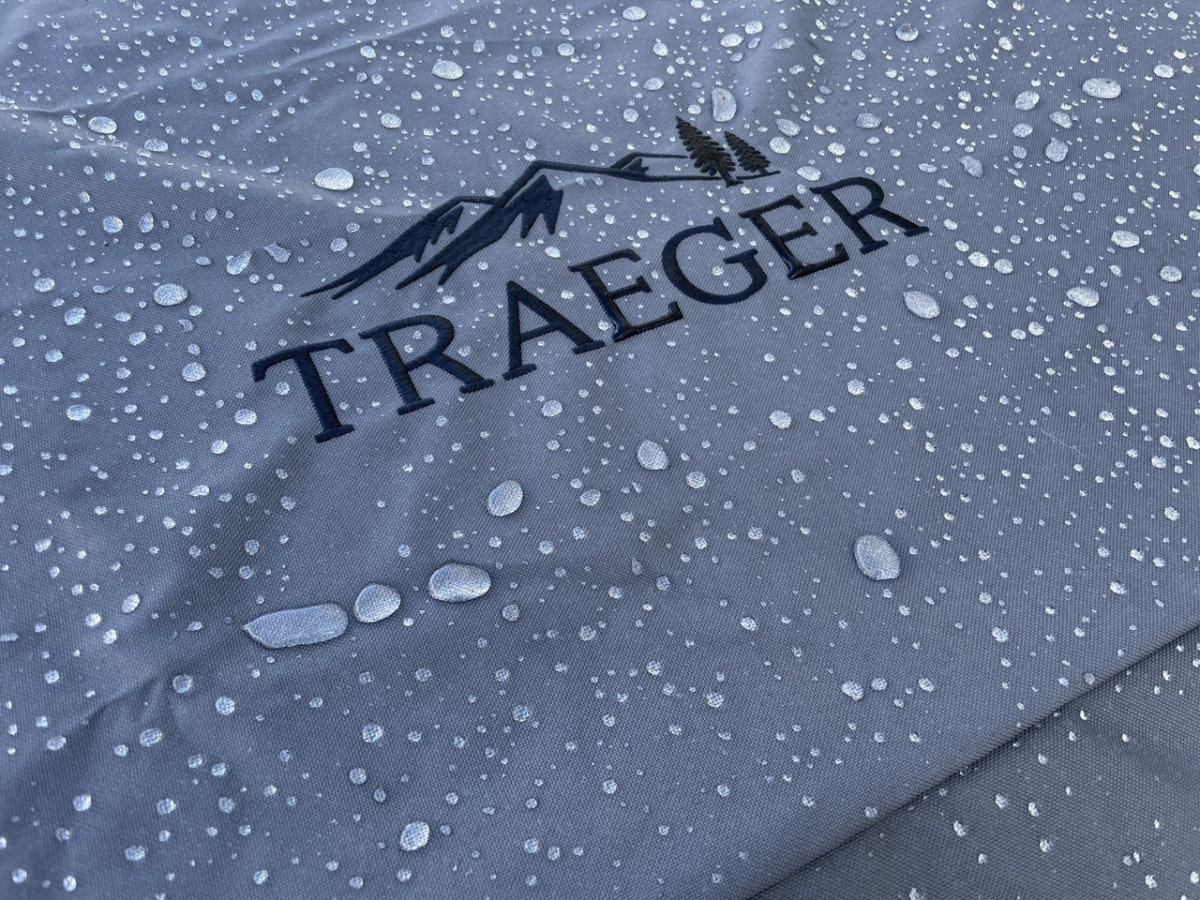 All that wrapped up in the most handsome flat top grill design out there, you're guaranteed to get some solid cook time. I've received compliments from every friend that has seen it in person. Its modern look makes for an attractive addition to any outdoor cooking setup. 
Shop now at trager.com or buy it today!
Traeger Grills Flatrock Grill | Gear Review
The Traeger Flatrock Grill is an excellent first flat top grill offering from the beloved brand. They spared no R&D expense designing and building out an incredible outdoor cooking setup ready for any meal of the day!
Illuminated LED Features
8.7
THE GOOD:
Large cooking surface
Durable, high-quality build
Even heating & 3-zone cooking
THE NOT SO GOOD:
Cover doesn't have a tie down
Heavy to move around, though that same weight means there's quality materials!