You may have seen them before. In fact, odds are getting better since they released their first models back in 2015. You know… the 3 wheeled vehicle that make peoples head turn. You can't help but stare at these wondrous vehicles. Is it a car? Is it a motorcycle? While it's still technically classified as a motorcycle, they are really in their own category and many states are beginning to realize that. You don't need a motorcycle endorsement to hop in and drive one. As a motorcycle enthusiast and a sports car lover, this is really the best of both worlds. In fact, I just got back from a weekend trip in Austin where I test drove the 2022 SLR and SL models. The Polaris experience occurred during the Austin City Limits Music Festival where we were able to drive through the city as well as the open roads outside the city limits to experience two different use cases.
We've been following the evolution of the Polaris Slingshot for a while and I've now tested every model they offer (LE, R, SLR, SL, S). Each new model has upgrades that make this a great vehicle for a day of fun or even an everyday commuter. Polaris pulled out their whole lineup with all the upgrades. I spent two days pushing each model to the max. Straightaways, hairpin turns, stop and go, as well as highway cruising; this was the one trip that solidified my opinion on the future of Slingshot. 
Key Features: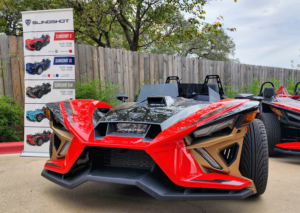 Manual or AutoDrive Option

Prostar 2.0L Engine Delivering 178 HP – with Two Drive Modes

LED Headlight, Front Accent Lights, and Taillights

Lower Front Accent Panels

18" Front & 20" Rear Machined Aluminum Wheels

7" RIDE COMMAND Display with Multi-Touch, Bluetooth®

& USB Phone Connectivity, and Back-up Camera

Stage 2 Rockford Fosgate® Audio

Security Package

Backup Camera
Design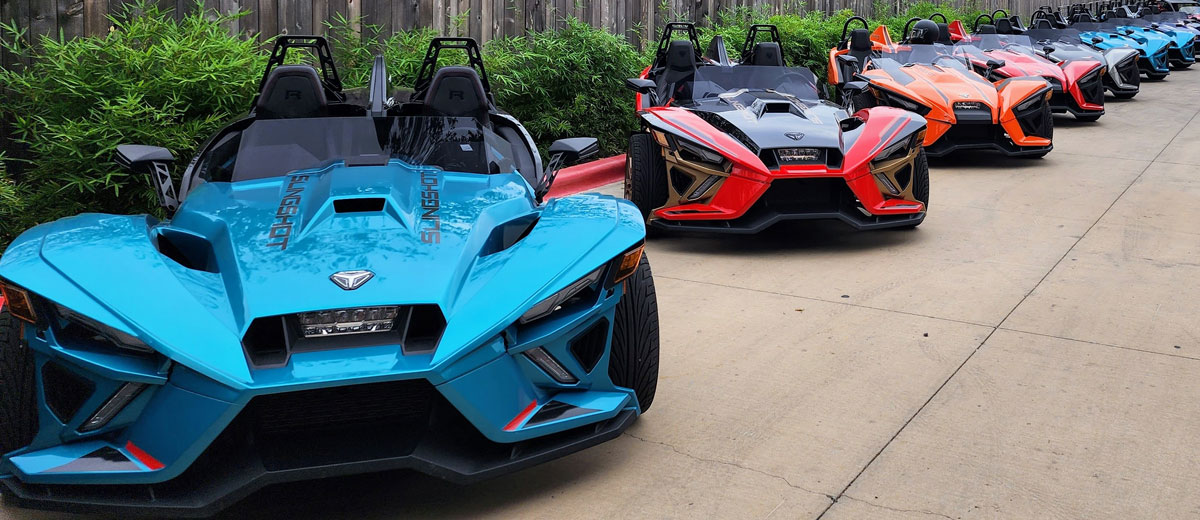 Polaris had their whole fleet of Slingshots ready to rock the streets of Austin. I'm going to focus on the SL as this was the model where I spent the most time. The SL delivers enhanced features, including additional style components and premium finishes from tip to tail. Each model offers a variety of Trim & Color options. The SL currently has 6 options that you can customize. Plus you can add metal badges and accent graphics to give it another layer of style. The interior is weather proof so you don't need to worry if you get caught in the rain. These bad boys are made for fun. The three wheels are what really makes the Slingshot standout. The aggressive lines and color scheme makes these vehicles stand out from a distance as well as lure people in close to check out all the details. Every model can be customized to your liking; from colors, to vented hoods, and interior comfort (more on that below).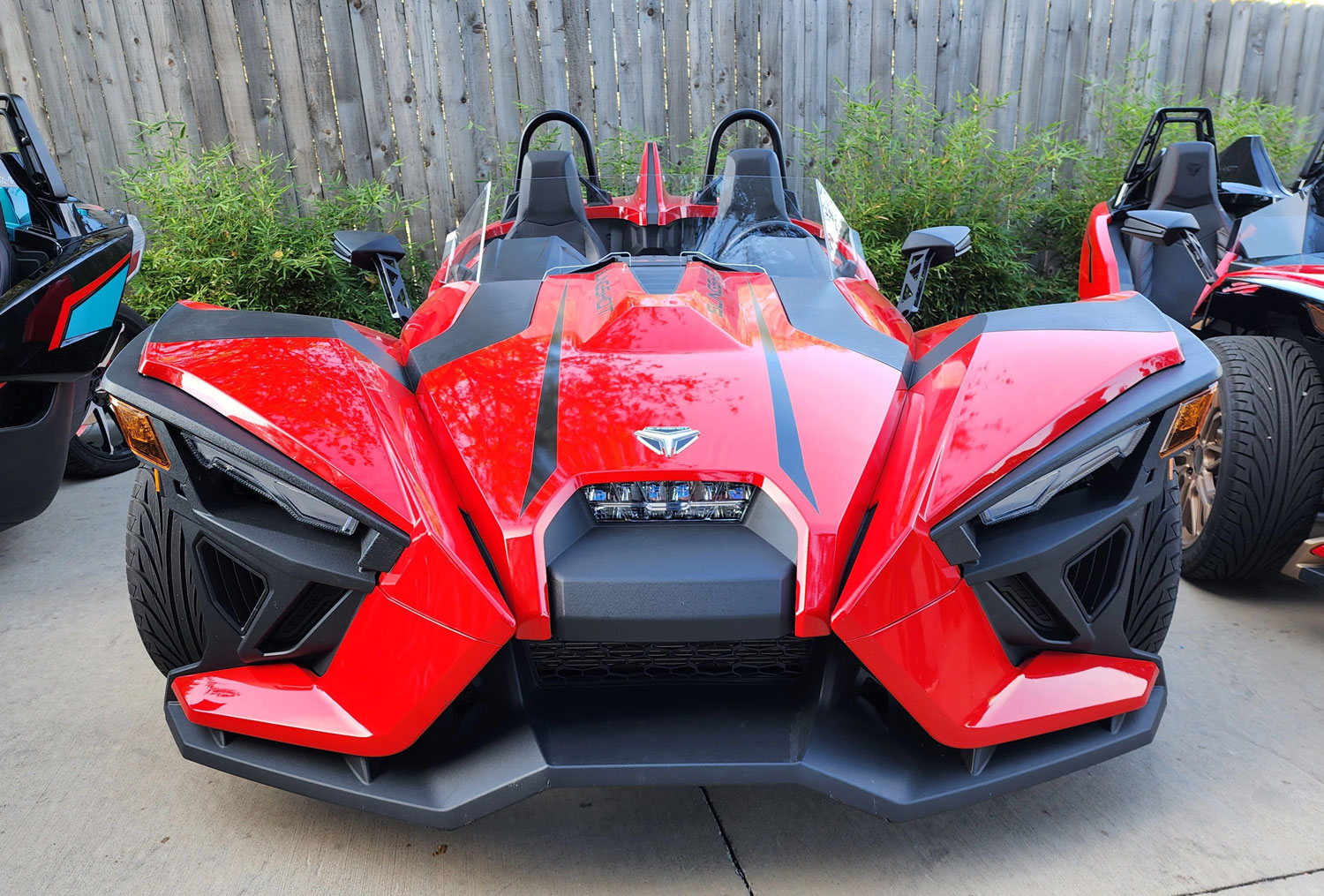 With the bold styling, nothing turns heads like the slingshot while cruising through the city. But out on open roads, the open-air cockpit delivers a motorcycle-like experience where you're immersed in the elements. Don't get me wrong… I love riding my motorcycle, however, there's something to be said about the added comfort, style, and performance this machine offers that gives you a similar sensation of a motorcycle, but with more protection. Plus it's nice having a passenger sitting next to you instead of behind you.
Performance
I was driving the full manual 5-Speed version and it was a blast. While the automatic and even the "manual" paddle shifters are a ton of fun, the full manual added another level of control and excitement. There's nothing like stepping on the clutch and ripping the stick to make you feel the power. In fact, you have to really ease off the clutch in order not to spin out in first gear. It's incredibly easy to burnout on these. Kicking the back end around a hairpin turn is so much fun. Because it's easy to spin the back end out, I did have concerns about how well it would handle the curves. The traction control and low center of gravity proved that these machines can handle each curve with ease at high speeds.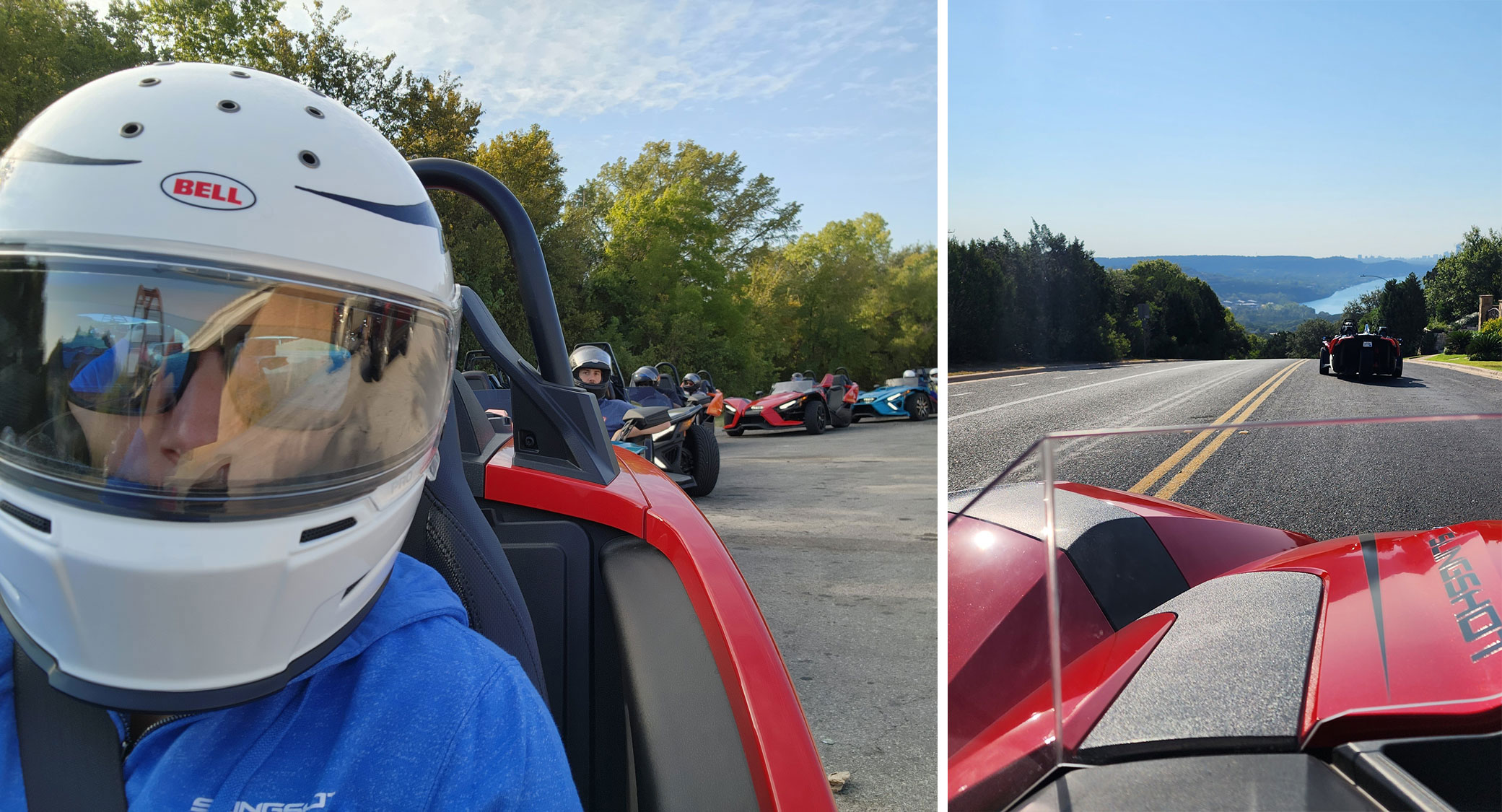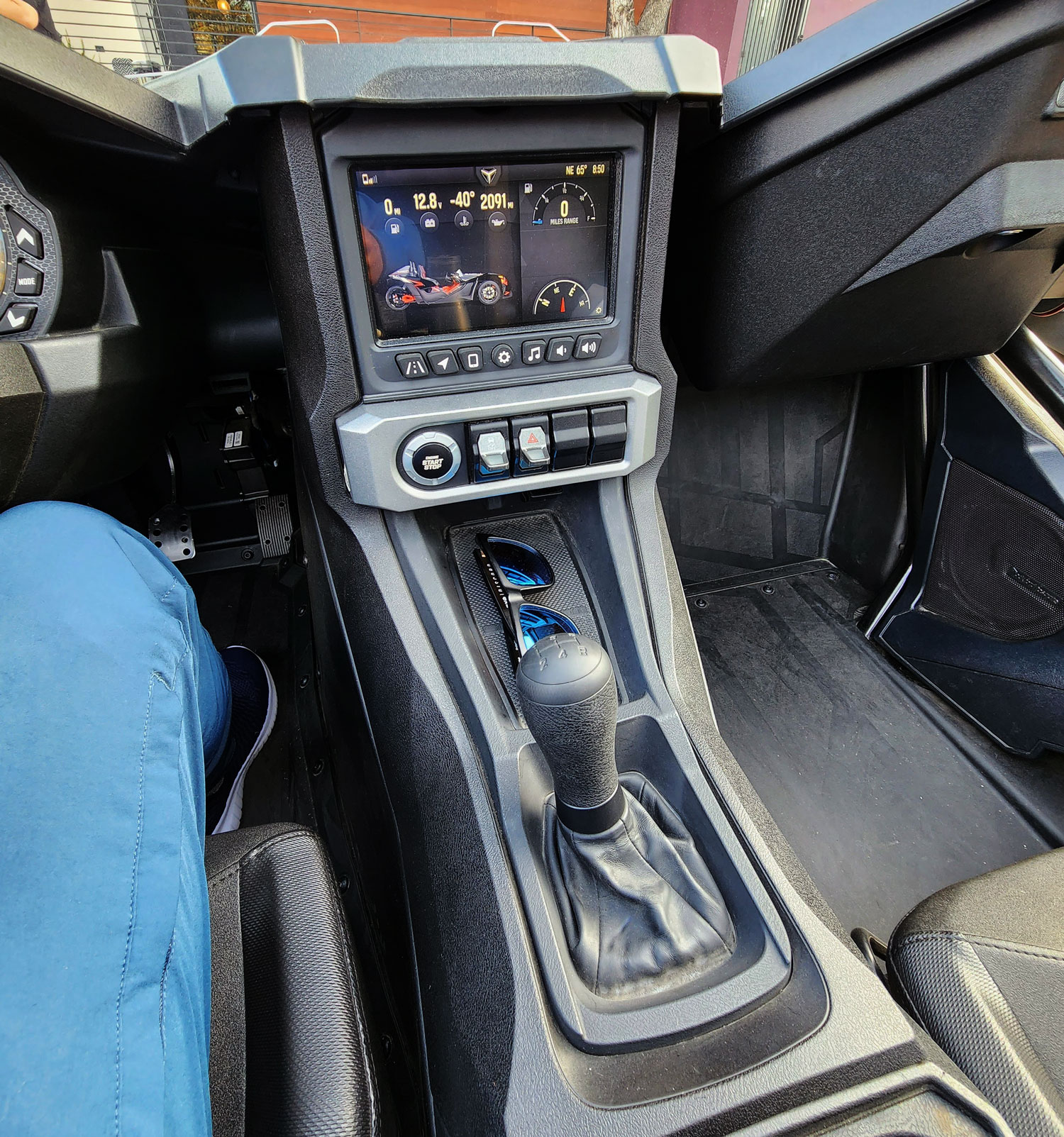 I also got to have discussions with the engineers about features as well as tips and tricks while driving. For example, in the AutoDrive models, you can sort of "hack" the gear shifting by double tapping the gas to spike the RPM and shift quicker. Each model comes equipped with a "Slingshot" button on the steering wheel that can toggle between Comfort and Slingshot mode. The main difference between these two modes are added aggressiveness as well as tighter steering. The Slingshot mode is definitely more noticeable in the AutoDrive transmission options.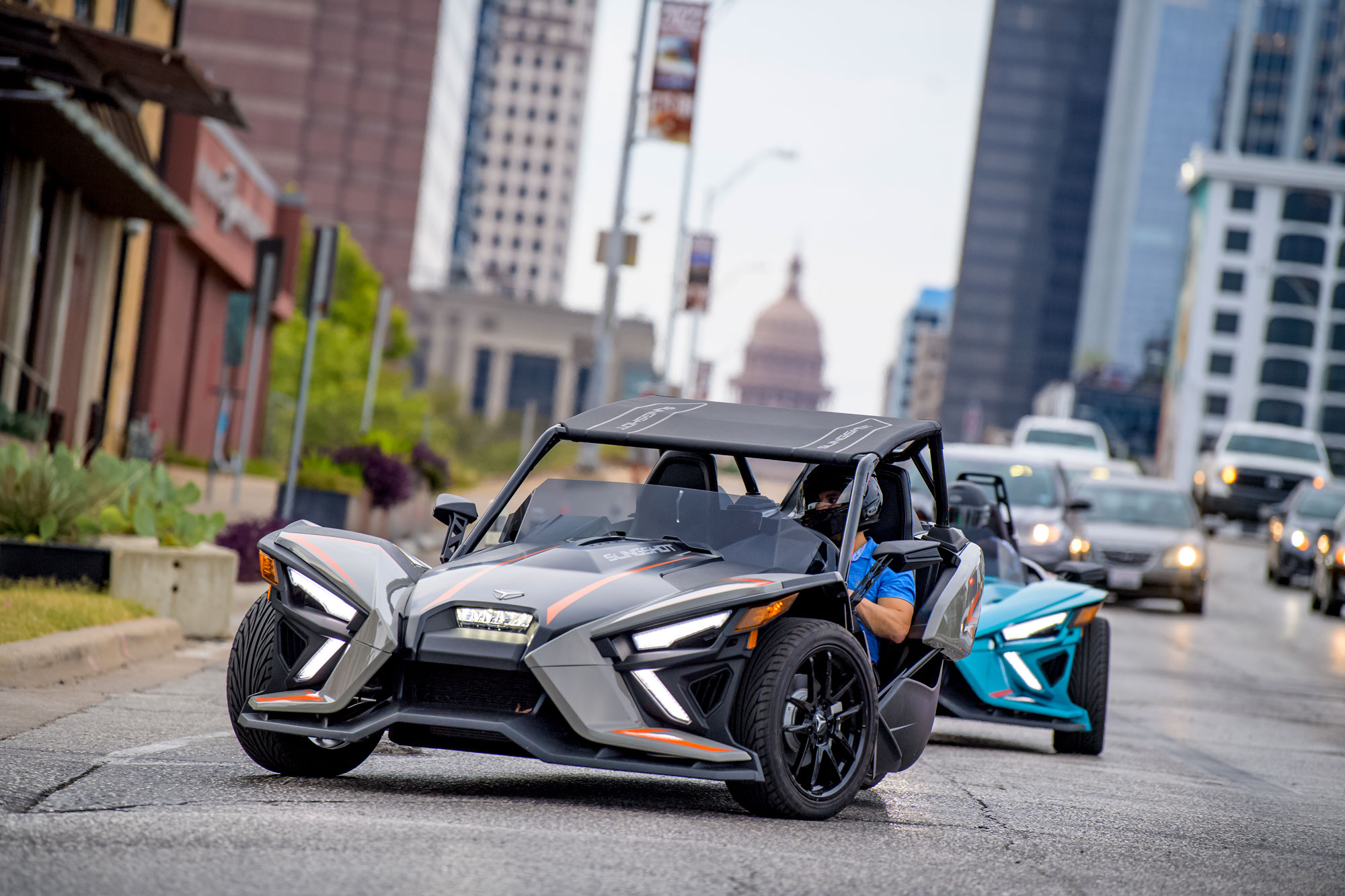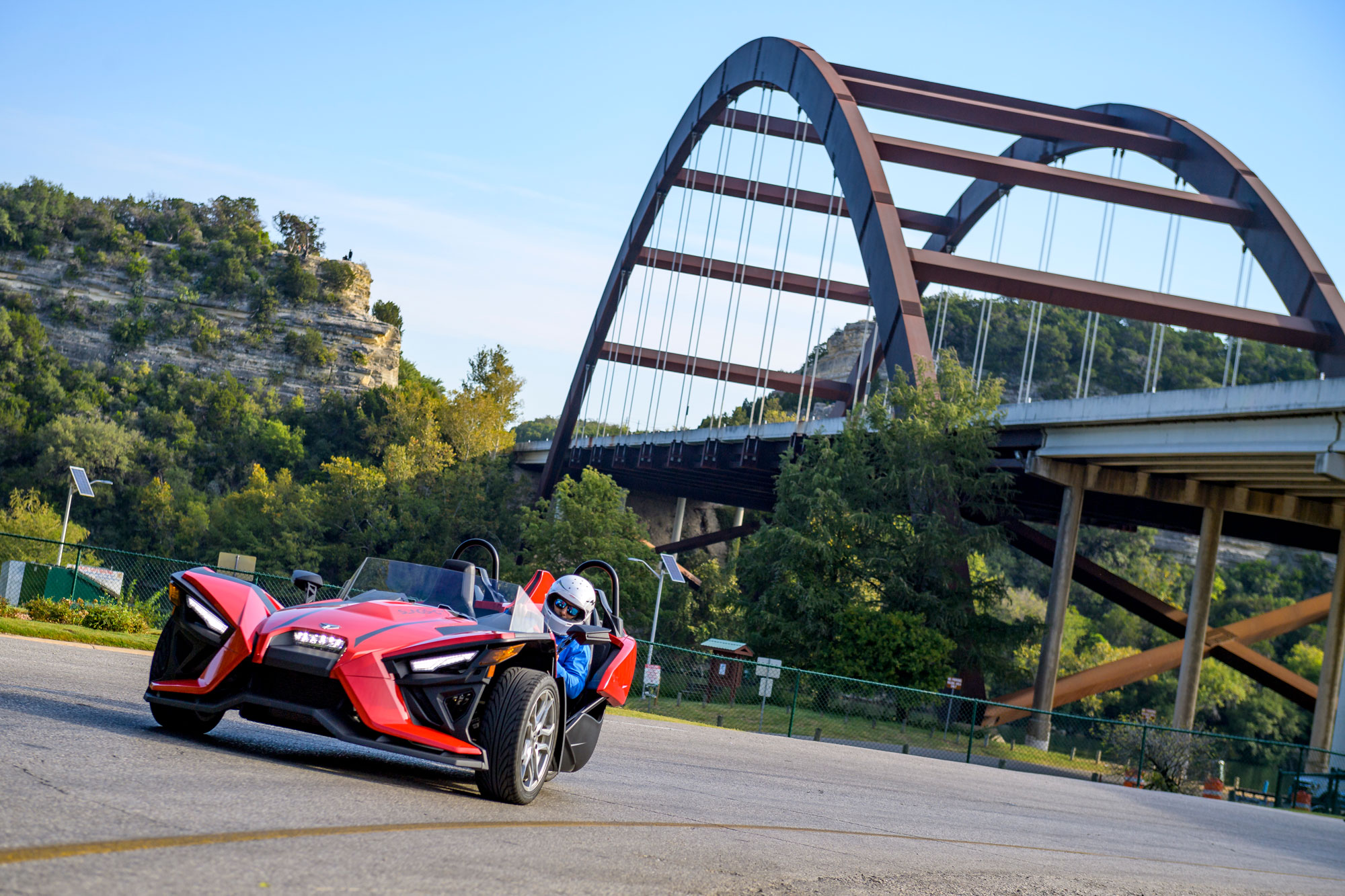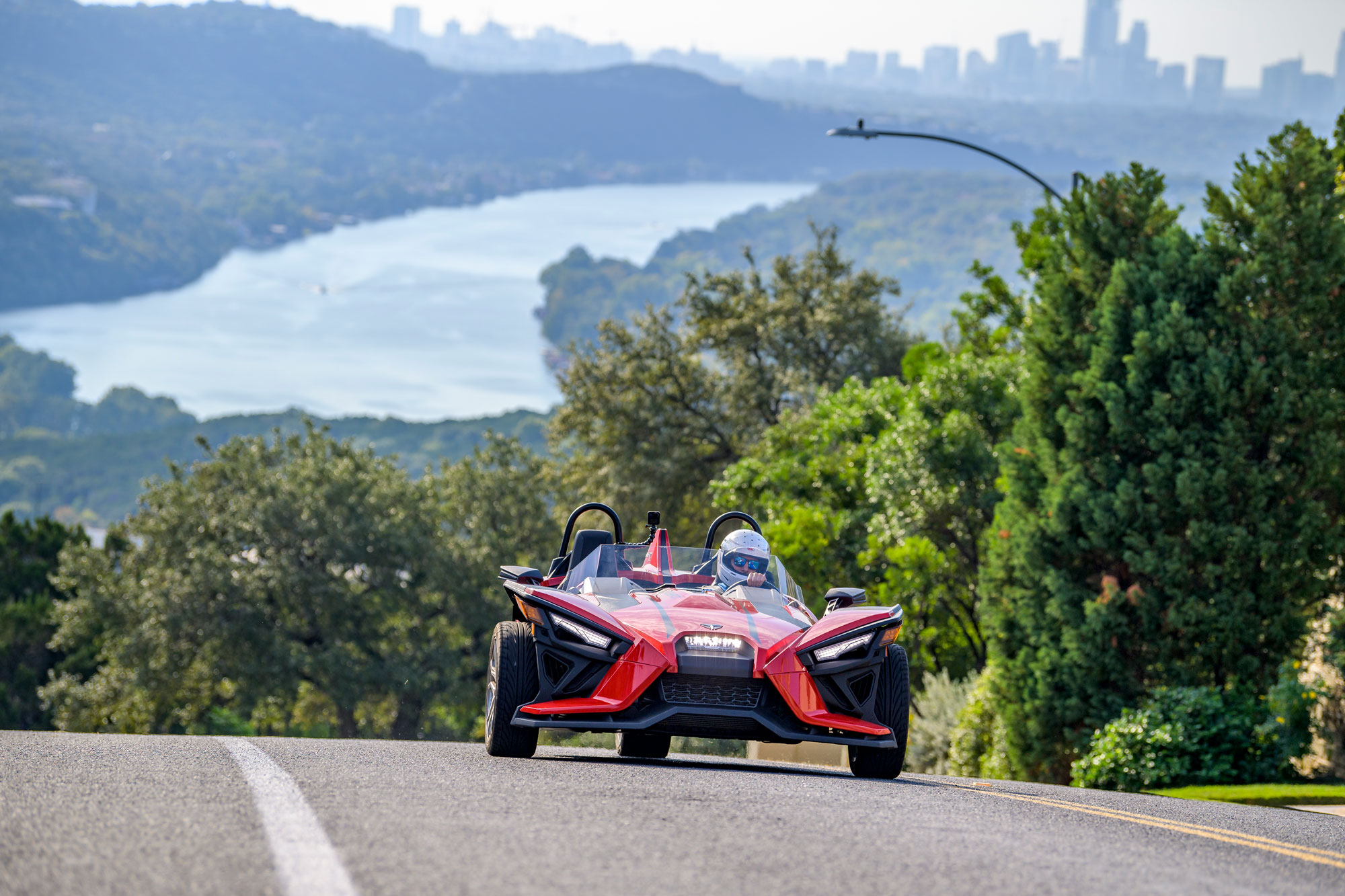 Aside from the mechanical performance (which is superb), the audio system is what makes these vehicles even more fun to drive. Because of the engine and open cockpit, you need a speaker system that can pump loud enough to hear while cruising at higher speeds. This system does just that. Plus, it has an auto leveler that decreases or increases the volume of your music to compensate for ambient noise levels. So when you come to a stop with less wind and lower RPM's, the music will lower. When you kick it into gear and get moving, the music level rises so you can still hear your beats.
Comfort
The comfort has increased since last years models. And there are upgrades to make it even more comfortable, including heated and cooled seats. If you live in a warmer climate, the cooled seat feature is a must have since these guys produce a good amount of heat from the engine. Because they are technically a motorcycle, there is no air conditioning option. However, you can add the Vented Sport Hood for better air flow and a cooler ride.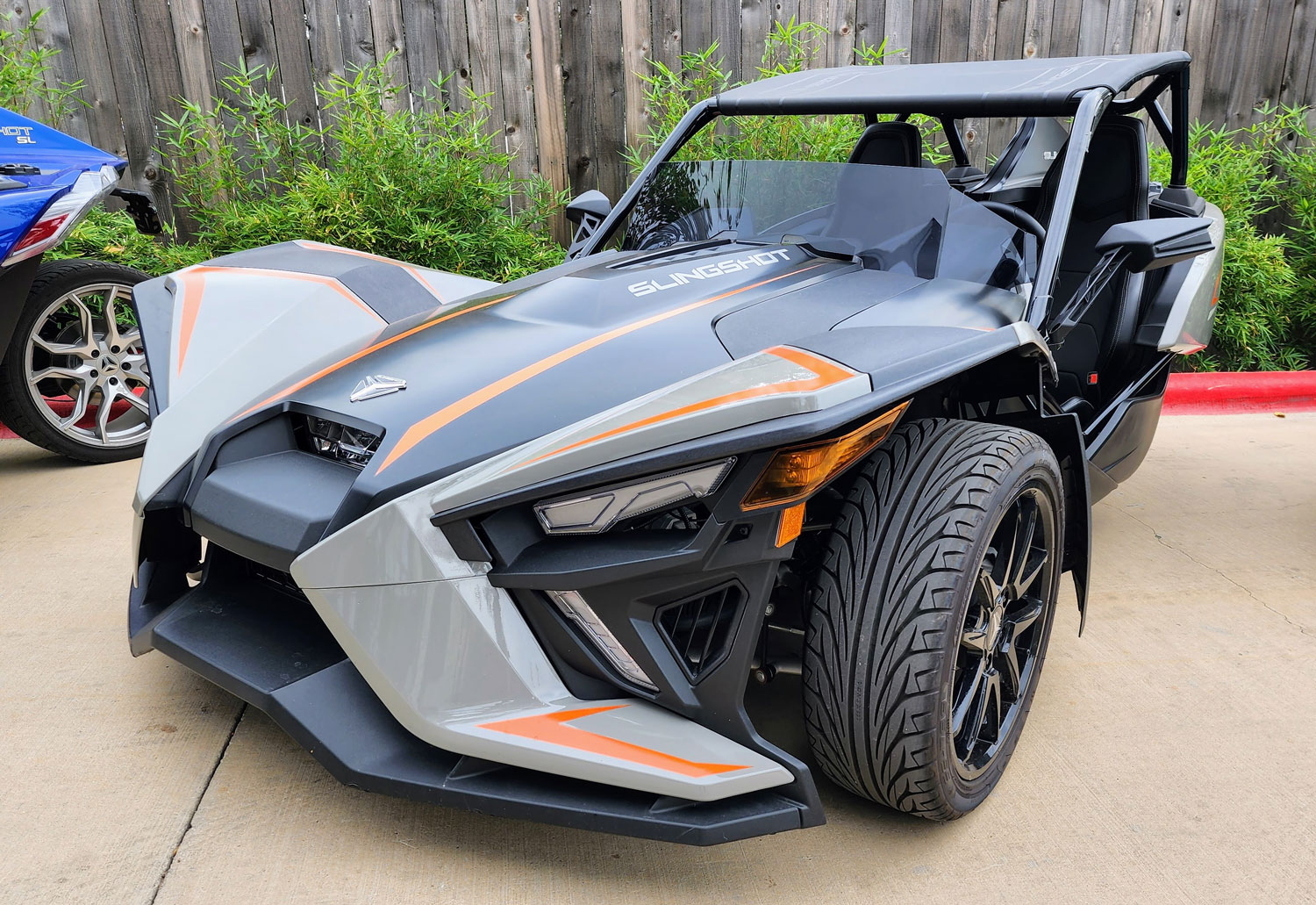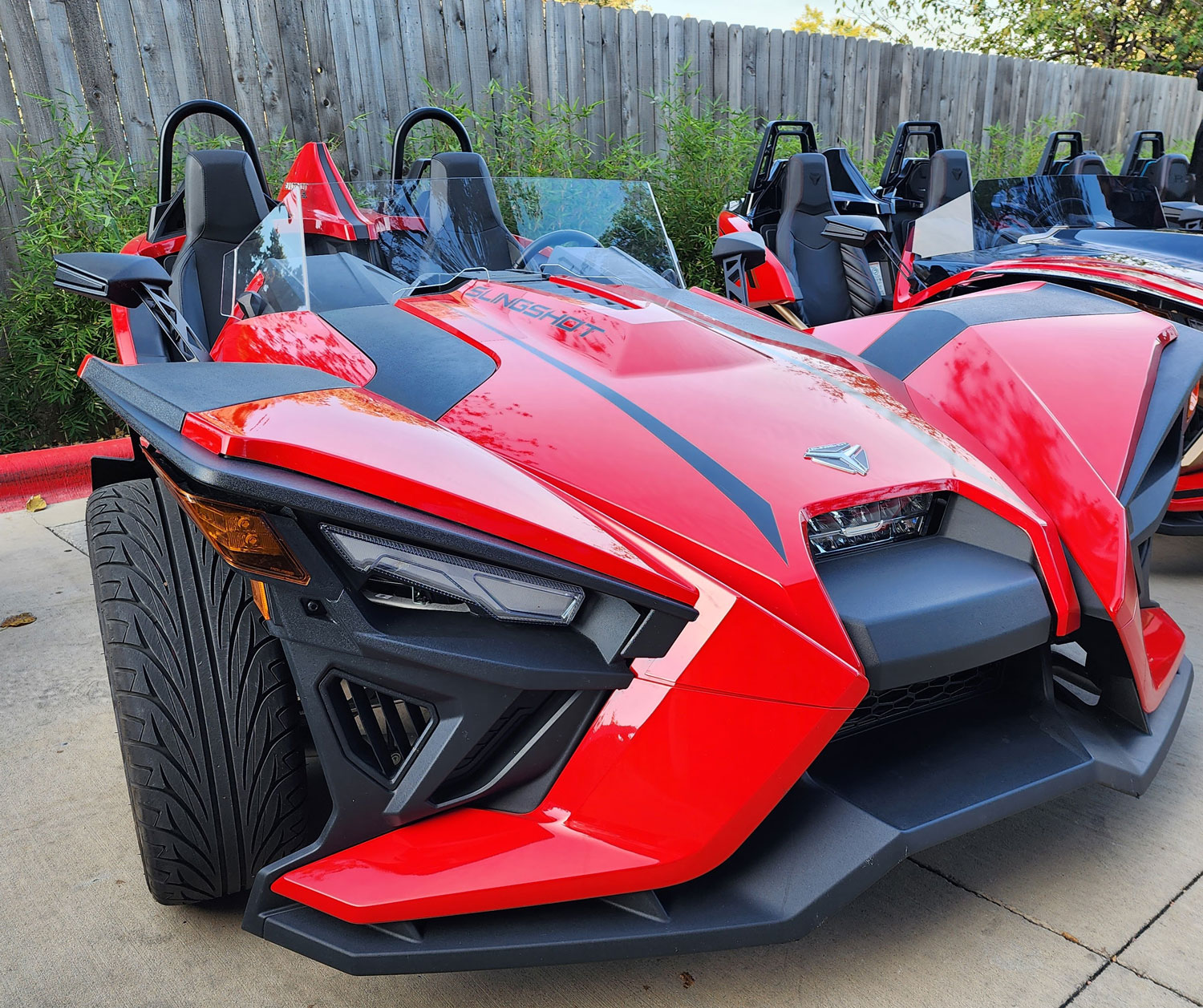 Overall Experience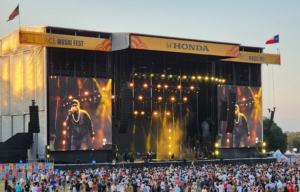 As I mentioned in the beginning, we were there during the ACL music festival, which seemed to really help showcase the creative lifestyle that surrounds the Slingshot vehicle. After-all, the Slingshot is as much as a lifestyle statement as it is a fun driving experience. After two days of test driving the fleet of Slingshots, we were able to check out all of the great artists performing at ACL. The lineup was excellent and we had a chance to get out of the spotlight and enjoy some music to help unwind from a few adrenaline filled days of driving. The Polaris Slingshot experience was a great opportunity to really see what these machines can do and get insight to the future of what's to come from their engineers and designers.

Value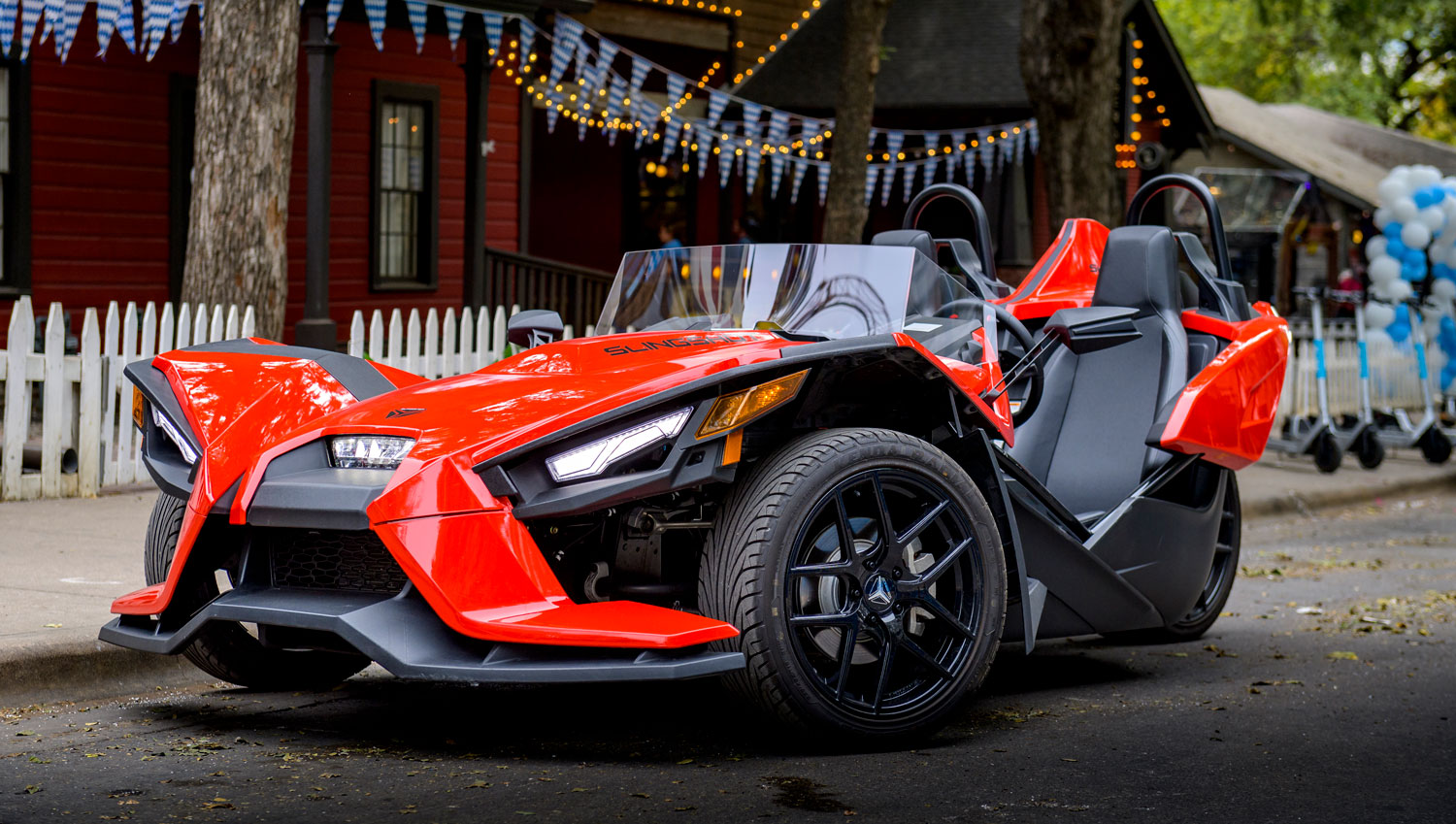 Slingshot offers 5 series that range in price. Each can be customized to suit your needs. The 2022 SL models start at $26,799. If you like the feeling of riding a motorcycle but prefer to have a passenger sitting next to you instead of behind you, this is a great option. If the weather is good most of the year where you live, this can also be a great option for an everyday commuter. Each year Polaris improves their Slingshot models with better performance and style. The 2022 lineup is a testament to their vision of creating a fun vehicle for all to enjoy. 
To learn more or customize a Slingshot build, click here.
2022 Polaris Slingshot - ACL - Experience
If you are considering a fun vehicle to cruise the streets with performance and style, this is it! The 2022 Slingshot has features for everyone and is a sure way to turn some heads as you cruise on by.
The Good
Extremely eye catching design
Powerful Performance
Super fun ride with room for 2
The Not So Good
It can get a little hot in warmer climates (opt in for the cool seats)