Located in Cherry Grove, north of Myrtle Beach, Tidewater Golf Club is a scenic course featuring a wonderfully crafted layout that exceeds expectations and challenges your ball striking abilities with fairways protected by water, precariously placed bunkers and challenging pin locations on almost every hole. If you're planning on lining up a tee time in Myrtle Beach in the near future, take it from us, Tidewater Golf Club is an excellent choice. Bring your camera, you're going to want to remember this one!
Tidewater Golf Club

Par 72 – 7,044 yrds – 144 Slope
For our second round of golf in Myrtle Beach we booked at tee time for 9am at Tidewater. From everything we could see online, this course had great ratings, all the views you could ask for and some challenging golf holes. Designed by architect Ken Tomlinson, Tidewater Golf Club is nestled between the Intracoastal Waterway and Cherry Grove, which makes for some fantastic scenery and an abundance of wildlife. When we arrived at the course we were impressed with how lush the grass was. We played Tidewater in mid-April and luckily for us, Myrtle Beach had received more rain than expected in March, so the fairways, greens and trees we're full of life and color. In fact, when talking to the GM, he suggested that they were going to begin cutting the greens twice a day to keep up with how fast the Bermuda grass was growing. In a typically warm and mainly dry climate, this is an awesome problem to have.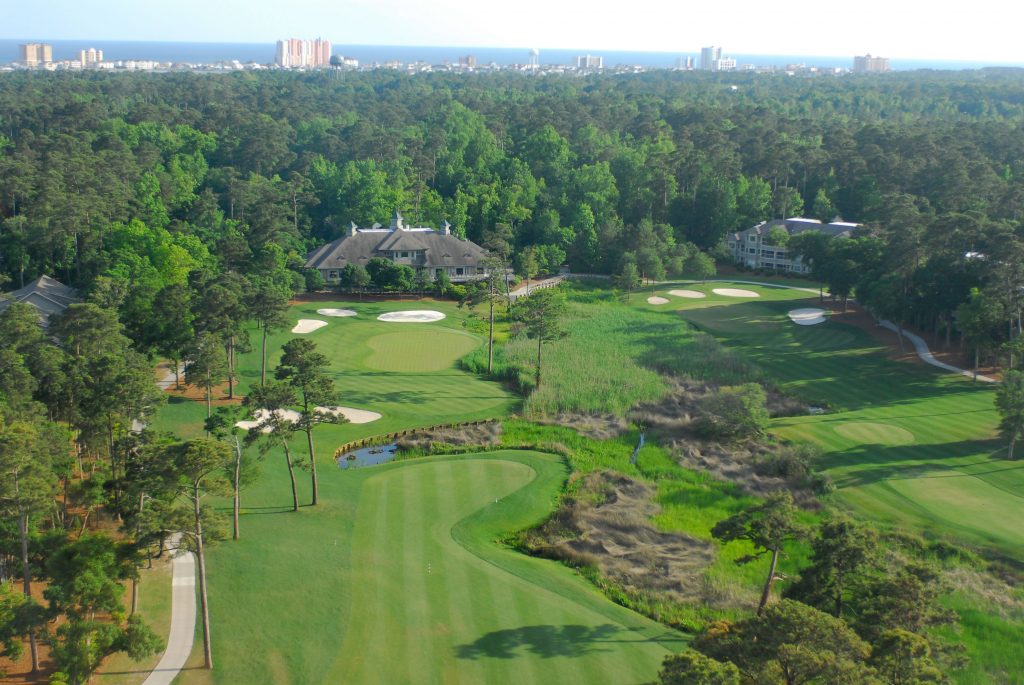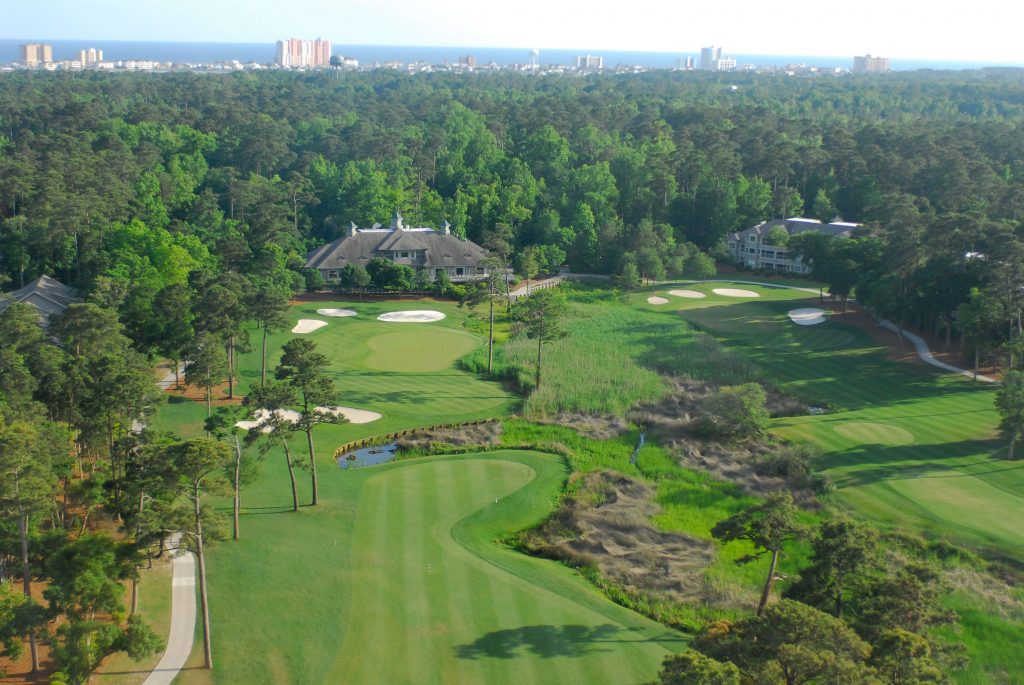 In fact, the day we played, we had a little rain to contend with as well, but we didn't let that stop us from enjoying a day on the links. While our day at Tidewater Golf Club was cut a bit short due to some lightning in the area, I do want to talk about a few holes on the front nine that were truly impressive and challenging, such as holes #1, #3, #4 and #6. While this course seems fairly open and welcoming from the tee box, don't think you can leave your "A" game at home, because you're going to need it!
Starting out on hole #1, this is a fairly stock 526 yard par-5 that allows you to unleash your driver right out of the gate. Trees on the right and on the left call for a well placed drive. However, if you spray it a little, you won't be punished too much. At least there's no bunkers… well, until you get ready to hit you second shot. If you're lucky enough to hit a bomb down the fairway, you'll have a chance at getting on in two. However, the green is protected short and long on left, so a layup or a well struck long iron or wood is the play. If you're going for it. The bail-out is to the right side of the green, those bunkers are no joke! Overall, I like this as a starting hole. I'm not always over enthused about kicking things off on a par-5 but this was fun and got me loosened up right away.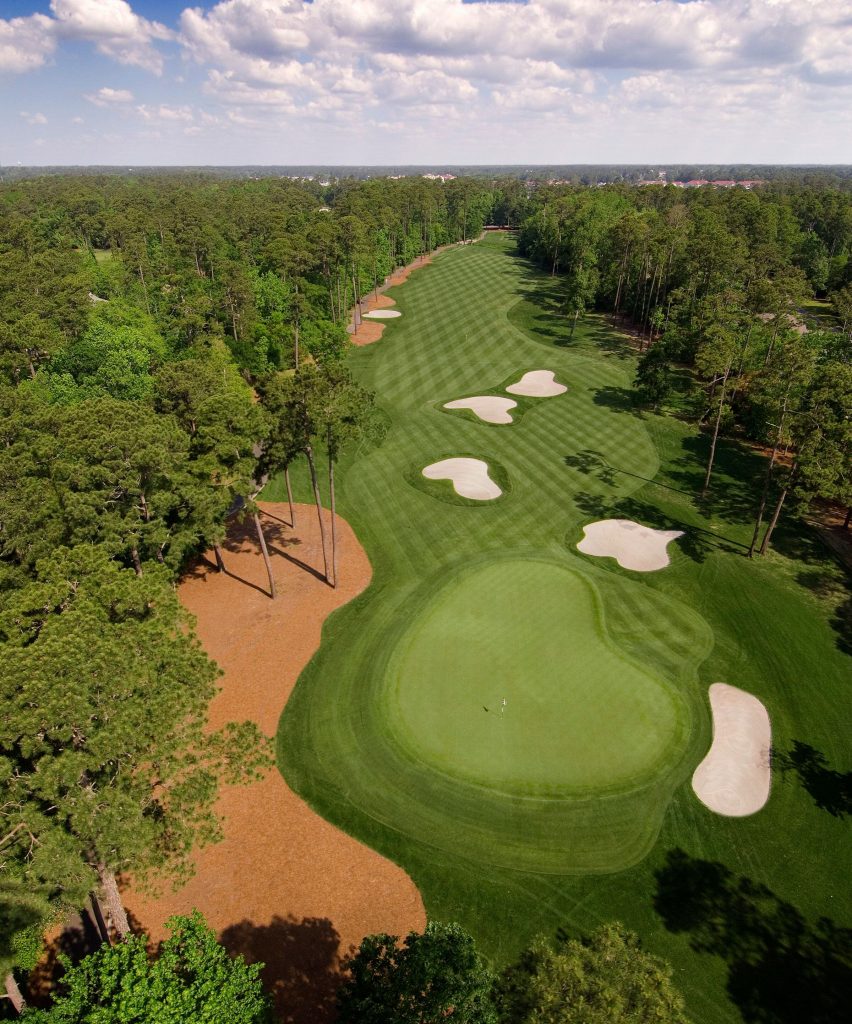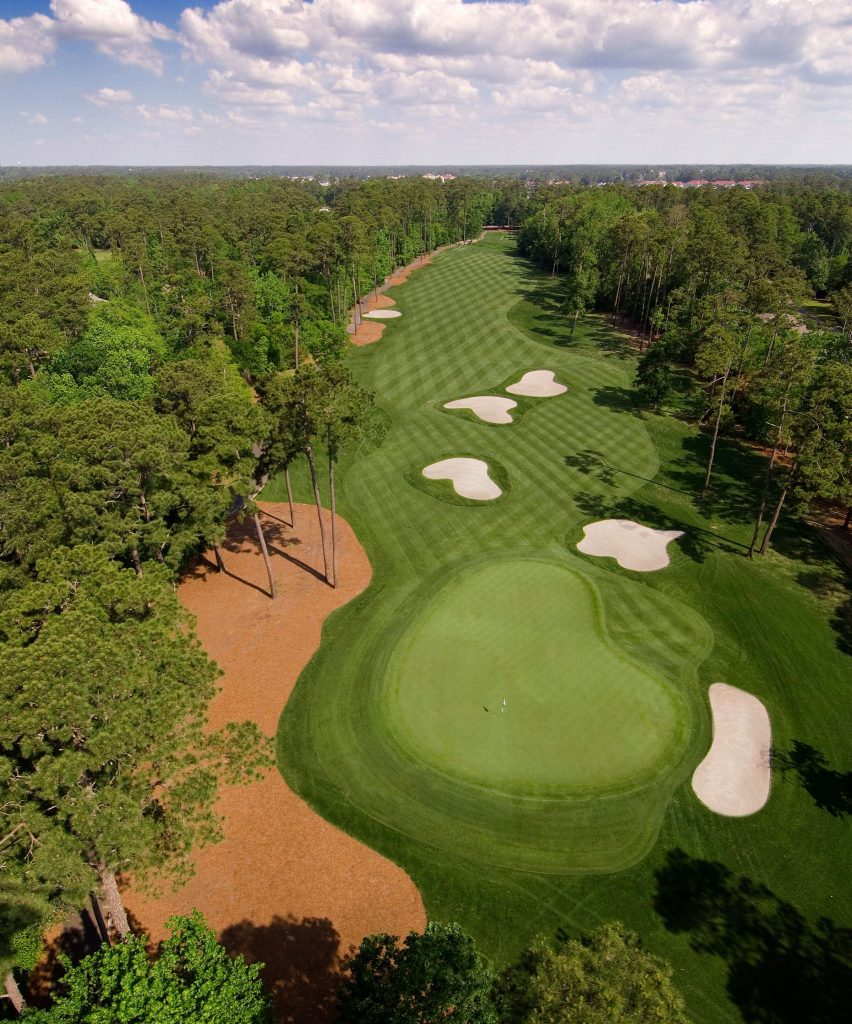 Hole #3 is where you'll want to have your camera ready. Carved into the Intracoastal Waterway, this par-3 is spectacular. With an epic view of Myrtle Beach in the background and birds swooping the waterway, it is easy to forget you're playing golf. This is one of those holes that you don't mind if the group in front of you is playing a little slow. "No problem, Henry… take your time with that 4 footer for double bogey!"
Anyways, this par-3 calls for a well struck iron shot to a multi-tiered green protected on every side by sand. It's almost like the architect hypnotizes you with the beauty of the hole, and then "snap!" back to reality, you need to hit a challenging tee shot. Once on the green, depending on where the pin is located, you can find yourself with some tricky putts. Until now, we haven't really mentioned the greens. Well, they are Bermuda and they are outstanding. The pace is fast, teetering on the really fast, which I like. This is the hole I would recommend grabbing your golf partners and taking a photo together. The scenery is really that good.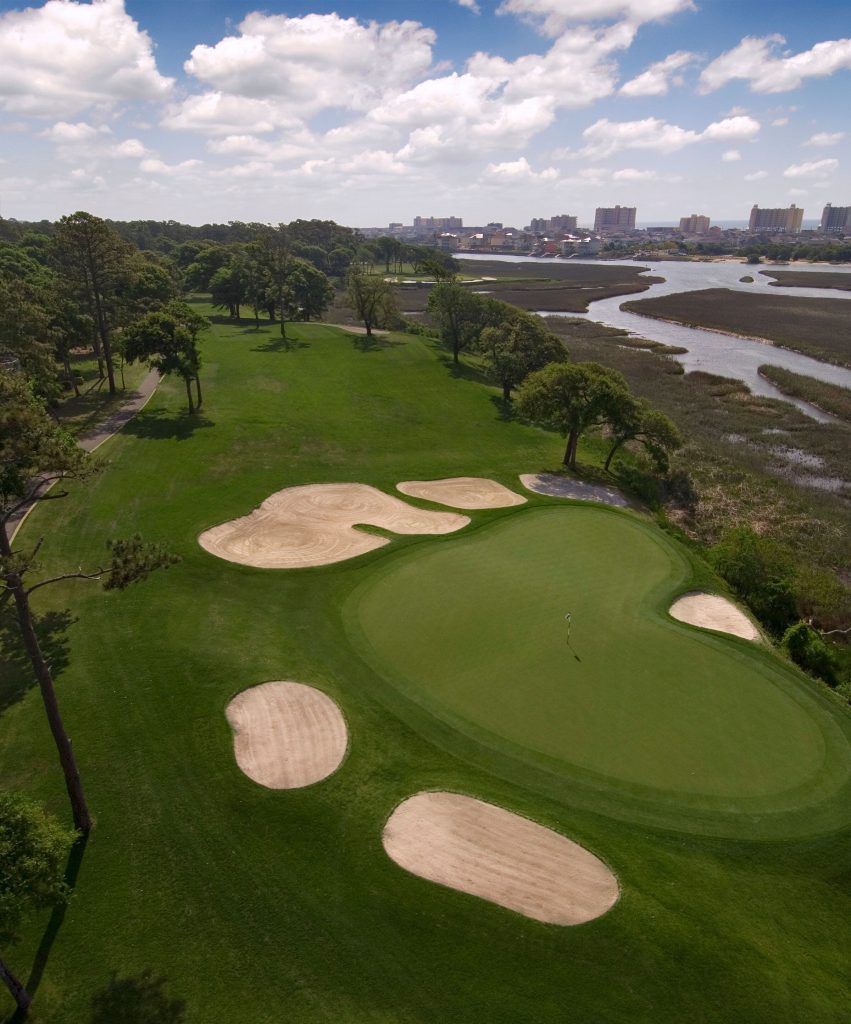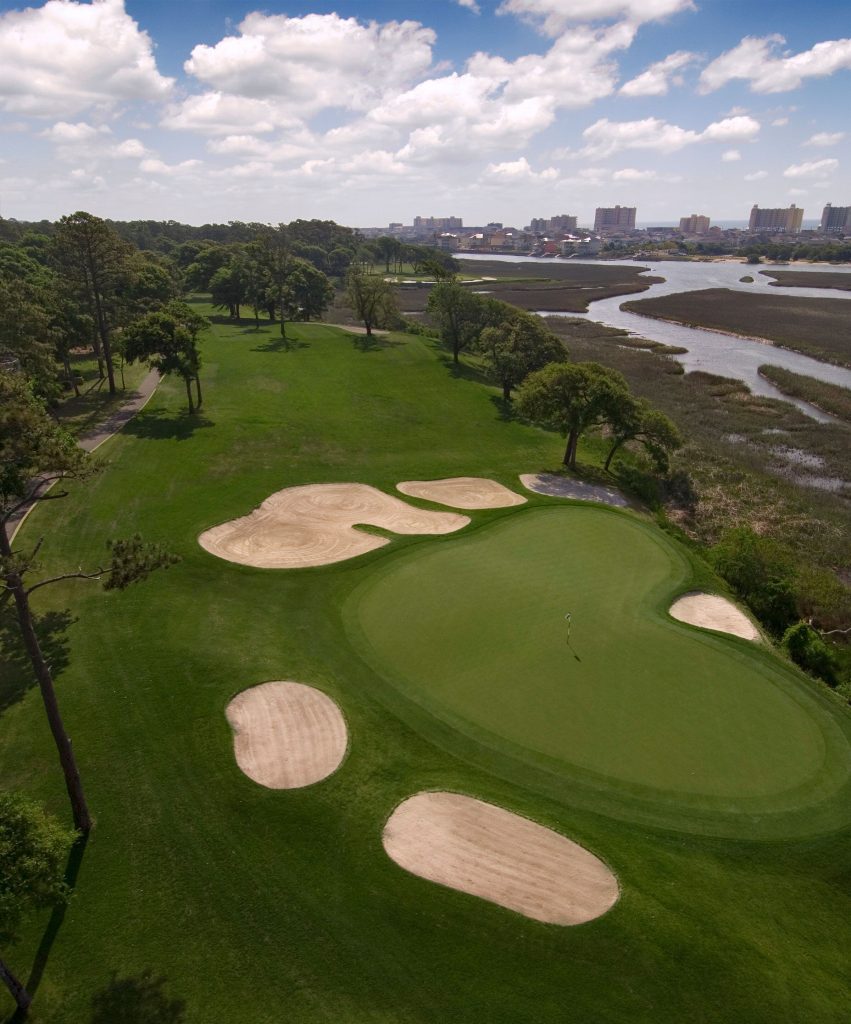 Once you step off hole #3, you're in the cart and on to #4. This is one hole I wish I could forget. This is the #1 handicap hole on the course and it straight up beat me down! From the blacks, it plays 430 yards with a dogleg to the left. Bunkers and trees on the right, inescapable marsh on the left. A solid tee shot is a necessity. Sadly for me, I left my draw at home and swooped my ball into the trees on the right. The proper way to get off the tee box would be to take driver (or less) and play a nice draw somewhere on the left side of the fairway. If you can do that you are golden. Well, until you have to stare down your approach shot into a green that (and get used to this) is well protected by bunkers in all directions. If you can manage to walk off this green with par or better I want to shake your hand, because I made a snowman and couldn't wait to get to the next tee box. I would love to go back and play this hole about 5 more times. I'm guessing I could make par one out of the five times and I'd be happy with that.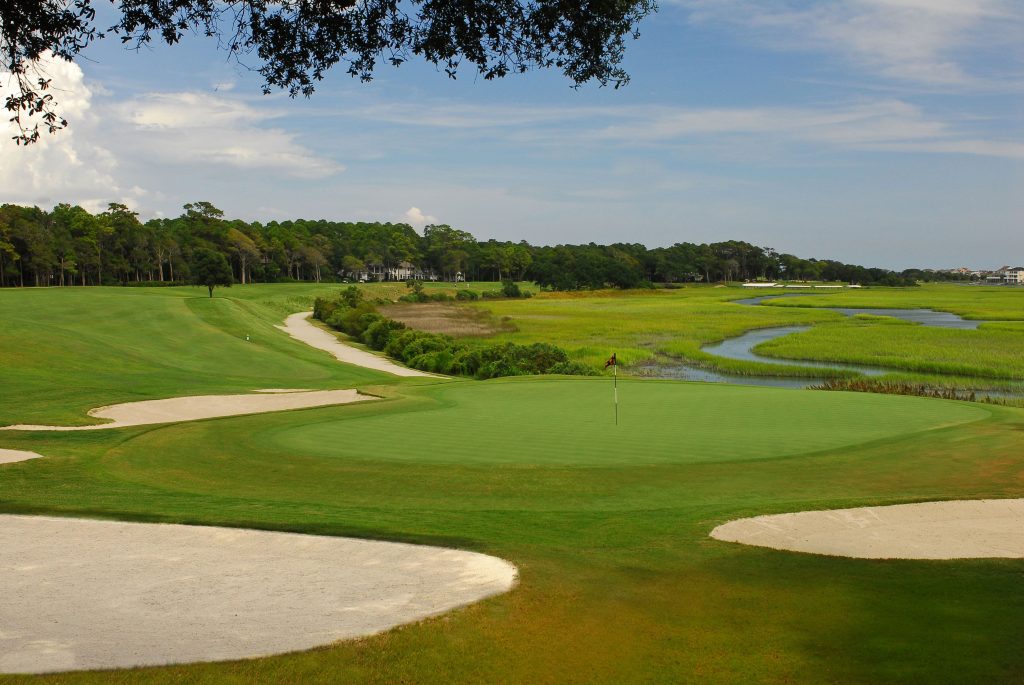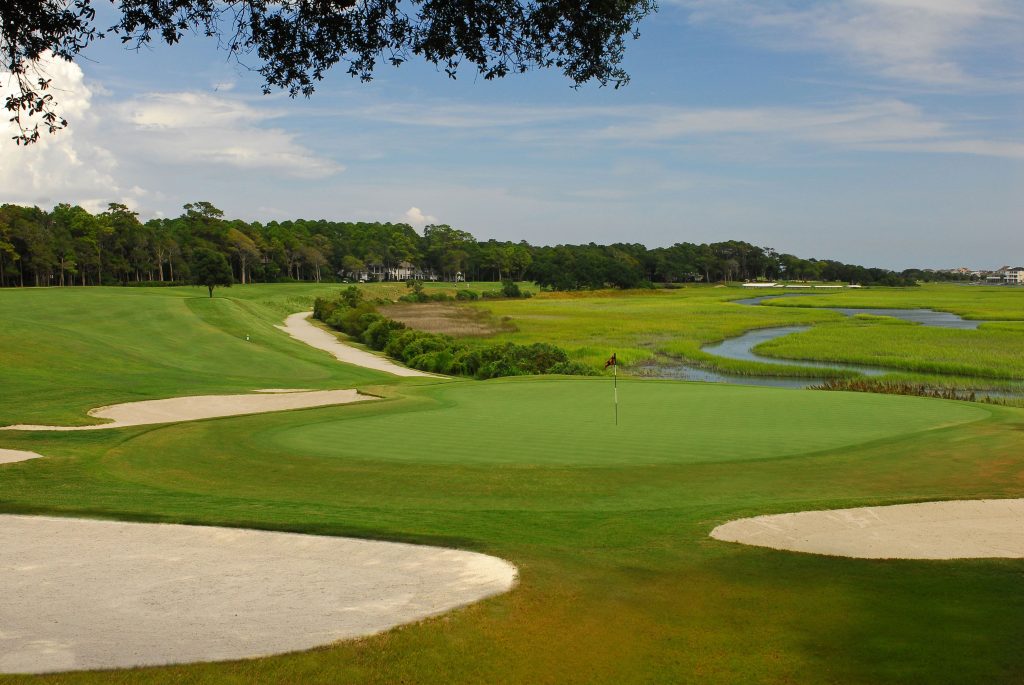 Before mother nature abruptly kicked us off the course we teed it up on #6. This was a fun par-4 that brings a couple of ponds into play, but it also brought my game back into play after the whoppin' I took on #4. With a well struck tee shot in the fairway you can easily go at the pin in two, but be careful of falling short. There is a small creek that connect the short left pond and green-side pond. I think this is the only hole on the course that doesn't have a bunker. If you can land it on the green you'll have a decent putt to make birdie or par. I'm really happy hole #6 was there for me just when I needed it.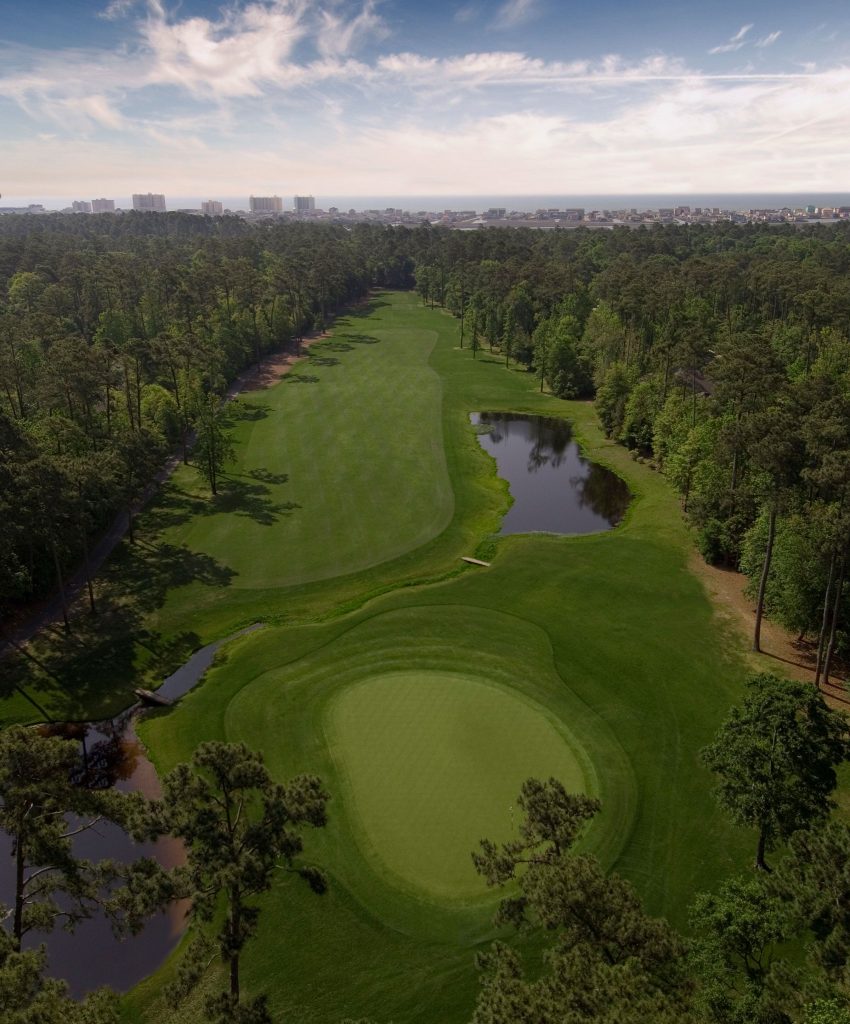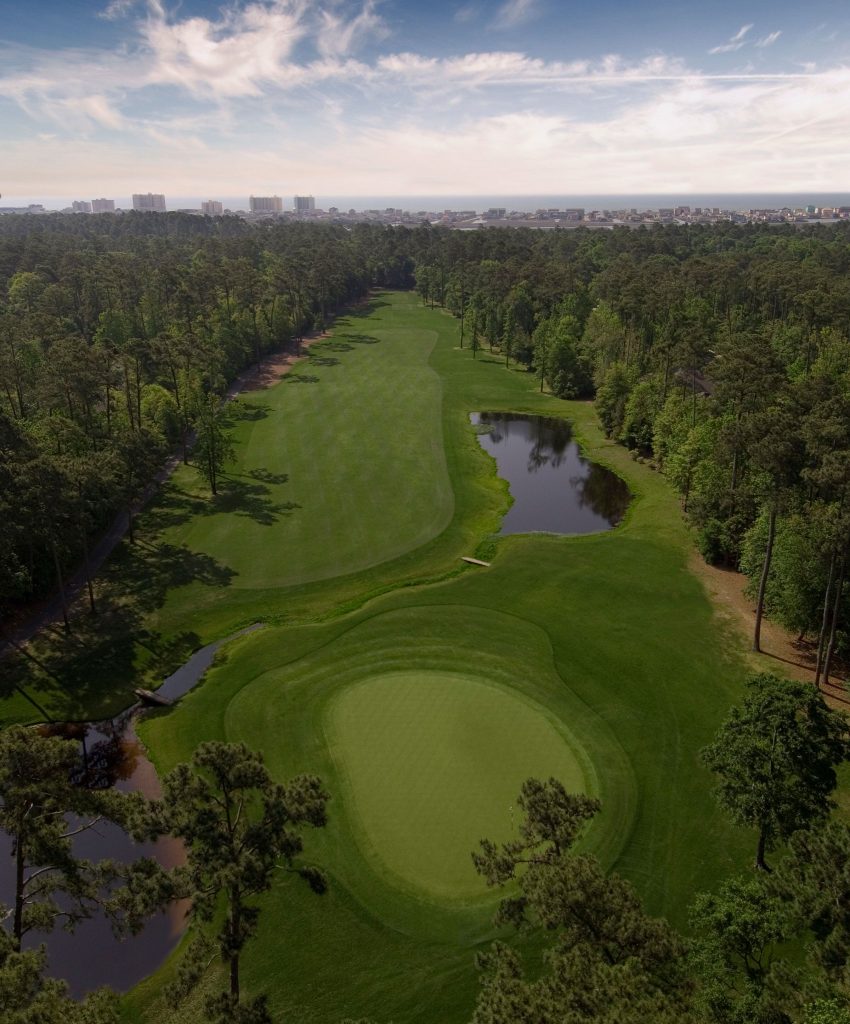 Sadly we didn't get to finish a full round at Tidewater Golf Club, but we plan on going back soon. If you are planning a golf trip to Myrtle Beach in near future and are looking for challenging golf, scenic views, wildlife and grass so lush you'll want to take some home with you and plant it in your yard – then I highly recommend booking a tee time at Tidewater. The staff is super knowledgeable and helpful. The carts have integrated GPS with touchscreens. The beers are cold. I don't know what more you could really ask for. With tee times starting at $139, this is high dollar golf that is worth every penny!