We are entering a new era of video where we expect more.  With software and hardware developing as quickly as it is, why not?  The problem with traditional video footage is that we are limited to what the camera can capture.  Of course if we are intended to view something specific in that field of view, then no worries.  However, since we as consumers want more, 360fly has now given us the ability to capture and watch 360 degree video so we can relive those moments as if we were still there.  Sure there have been ways to capture 360 videos in the past with multiple cameras, but that was a pain and a process to stitch several camera feeds together while trying to avoid obvious seams in the stitch.  With 360fly, that process is completely eliminated with a single ultra wide lens that requires no stitching.
Key Features:
CMOS Image Sensor (2.26 megapixels, 1504 x 1504 resolution at 30fps)
H.264 Video Format (up to 20 Mbps VBR)
Waterproof Design (Down to 120 feet)
Shock-resistant
Infinite Focus
F2.5 Aperture

240

° Field of View
.88mm Focal Length
8-element glass intra-fisheye lens
3-axis Sensor & Accelerometer
32GB Internal Memory
Built-in Microphone (Mono, 48 kHz, 64 Kbps AAC Audio Recording)
Rechargeable Lithium Battery (2+ hour battery life)
Wi-Fi
Bluetooth LE Interface
360fly App (preview, record, edit, replay, and share from iOS or Android)
USB 2.0 Interface
360fly Camera Review Breakdown
Design & Capabilities: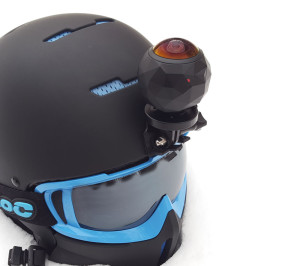 This tennis-ball sized video camera has a simple and sleek circular design with carved edges along the exterior to help with gripping as well as providing a cool texture.  With a single button you can turn the camera on and off as well as start and stop recording.  The 360fly records 360 degrees horizontally, however since there is a single lens on the top, it records 240 degrees vertically, which leaves you with a 120 degree blind spot on the bottom.  For us, this single lens blind spot is a trade off to a multi-lens in camera or post stitching process.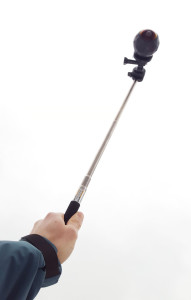 360fly is an action camera that comes with a couple different mounting options. It comes standard with a twist lock magnetic locking system that connects to a couple different adhesive mounts that also come in the box (one curved for helmet like surfaces and one flat).  It also comes with an Action Cam adapter mount that allows you to attach it to other camera mounts like the GoPro.  So if you already have a ton of GoPro mounts, then this little adapter will go a long ways.  However, if you don't, 360fly has a variety of their own mounts that will mount to your tripod, bicycle, car, and more.
Since the camera itself is waterproof there is no external memory or battery.  The internal memory is 32GB and the battery will last around 2 hours with continuous recording.  The 1504 x 1504 resolution is not bad (for a single lens 360 camera) compared to other 360 cameras on the market today.  However because it is an ultra wide distorted lens, there are some areas (mainly around the edges) where the footage is not as sharp.
App & Software (With Optional VR Goggles):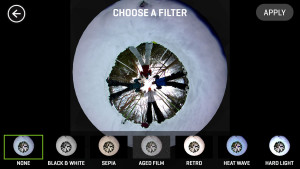 With only one button for powering and recording, you'll want to download the free mobile Application to monitor what you are recording as well as playing back your videos.  This App works with both Android and iOS and also has the ability to let you edit the 360fly footage…well, on the fly.  The mobile App is impressive and easy to edit.  You have the option to edit your 360 footage using "Watch Me" mode, which controls what the viewer sees.  Use this tool to cut standard format (non 360° videos) by recording whatever you see in the Watch me window.  The "Still Capture" mode allows you to capture still images from your footage from every angle, every POV (Circular 360, Square, 16:9, Panorama), and apply filters before you export and share.  You'll also be able to simply "Select the Best", which is a mode you can use to toggle the button while playing the video to start and stop capturing the sections you want in your edit.  You can also add color filters, adjust the playback speed, and add music from their library to make your edit that much better.  If you are like me and want to do your editing on your computer, then you can download their 360fly Director App (also free) to edit, export, and share your awesome videos right to Facebook, Youtube, or 360fly. 

One of the best parts about the exported 360 footage is that you can enable VR (Virtual Reality) mode to watch your interactive videos with a pair of VR Goggles, which you can also get from 360fly.  You simply open the front of the 360fly goggles and slide your phone right in.  Enable VR mode on the app by selecting the goggle icon, place on your head and enjoy as if you were there.  The goggles also have a few different knobs for adjusting so you can have the perfect viewing experience.  The side knobs adjust the distance from your phone to your eyes so you can get the correct spacing depending on your phone's display size.  There is also a knob on the top to adjust the eye spacing.  These goggles are super comfortable due to the thick foam padding and adjustable head straps.  They also have a small gap on both sides to allow for headphone hookup to your phone.  One great feature I love about these goggles is that the front panel pops off exposing your phone's camera to allow for AR (Augmented Reality) viewing… but that's a whole other review.  If you decide to not purchase the optional VR Goggles, no worries, you can still enjoy viewing full 360 degree video using your phone or computer.
Durability: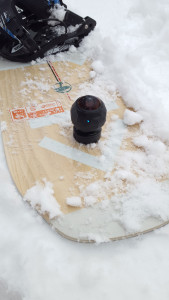 Since the 360fly is waterproof there is no need for an external housing.  The only thing you'll want to make sure you do before diving into the water is make sure the audio plug is in so the mic is not exposed. We have not tested diving into the depths with this camera yet but according to 360fly it can withstand down to 120 feet.  However, we have tested it while out in the snow and cold weather.  The camera itself held up just fine but there were times when I was snowboarding where I felt nervous about scratching the lens.  Since there is no case or anything to protect the lens, that leaves the camera open to vulnerabilities as an action camera.  With GoPro, you would swap out the case if you scratch it, with the 360fly, if you scratch the lens… well, not so lucky.  We did however inquire about a protective casing or ways to replace the lens in case we were to scratch it.  Their support responded quickly (within 12 minutes via email) with the following response:
"Dear Geno,

We do not currently offer a protective casing for the 360fly camera lens. If the lens gets scratched substantially enough to affect the videos, we would provide instructions for you to ship your 360fly camera back to us. Once we receive it, our technicians will determine if the damage is covered by the warranty, and if it is, we will send you a replacement camera.

If you have further questions, just reply back and a Fly Care expert will be on it.

Yours in 360°,

The Fly Care Team"
Value:

Let's face it… life is not confined to a rectangular frame, why should your video be?  With 360 video becoming increasingly popular, 360fly has a solid solution that is simple, easy to use, and won't break the bank.  Although we discovered some minor negatives, for $399.99, the 360fly is a worthy competitor in the market and a product that is easy for us to recommend.
Buy Now: $399.99 or to learn more, check out: 360fly.com
360fly Camera - Tech Review
The world is not flat, neither is 360fly footage. For the price and capabilities packed into this camera, it is a camera worth investing in.
The Good:
Waterproof
Single Video Output (no stitching required)
Android & iOS Compatible
The Not So Good:
Blind Spot (240 degree vertical)
No 4K
No Case or Protective layer for lens