Smith Optics are renowned for their sunglasses. Ranging from technical protection to everyday  wear, Smith Optics has cemented themselves as a staple within the active community.
I recently had the opportunity to test drive one of their newer offerings – The Smith Embark Sunglasses – in a festive, experimental colorway.
Having spent the past several months on the road, and spending a lot of time in the driver's seat, it's safe to say I put these shades through their paces. 
You might want to get a new pair of sunglasses after reading this review because the Smith Embark sunnies really outshine the competition. Let's look at the key features and get into this review! 
Key Features: (Matte Purple Cinder Hi Viz + ChromaPop™ Polarized Opal Mirror Lens)
ChromaPop™ Polarized lenses

*Also available with ChromaPop™ Glacier Photochromic lens tint that adapts to match the light conditions with less sensitivity to temperature changes and full ChromaPop™™ contrast and color enhancement throughout the tint range

Anti-fog and hydroleophobic coatings on the Glacier Photochromic lenses for clear optics and easy cleaning

AutoLock hinges hold frames open for easy one-hand on and off

6-base lens curvature offers a modest wraparound fit

Megol temple and nose pads provide non-slip grip so glasses stay put

Evolve™ bio-based frame material is lightweight and durable

Removable TPU side shields block peripheral light

Snow goggle inspired retainer strap

Microfiber bag and hard case
Smith Embark Sunglasses Breakdown
DESIGN AND COMFORT
I specifically chose the Smith Embark sunglasses because of their practical design and go-with-anything shape. While Smith Optics has plenty of large-frame sunglasses that may offer more face coverage and satisfy the trend of oversized sunglasses (thanks to Pit Viper), the Embark sunglasses utilize a more classic, square frame that is equally comfortable on the trail and at the Apres bar. However, while the Embark sunglasses may be smaller, they still pack a big punch when dealing with reflective sunlight. The frames are slightly curved and offer a wraparound fit, creating a very immersive wearing experience. It feels like you're on one of those bubble ski lift chairs, especially when you attach the side shields! 

I prefer smaller-framed sunglasses for two main reasons: first, I have a smaller head/face and larger frames end up covering most of it. Second, I love lightweight sunglasses – I want to forget I'm wearing them, and the Smith Embark sunglasses give me that sensation or lack thereof. Using a super tough and lightweight bio-plastic (Smith calls this Evolve™), the Embark sunnies float on my face and are very comfortable for all-day wear. I'm also thrilled they came with a retainer leash that integrates so well into the arms of the sunglasses.
LENS TECHNOLOGY
The ChromaPop™ lens tint is a versatile lens technology not limited to just skiing and snowboarding. The lenses comprise high-quality materials, such as polycarbonate and Trivex, known for their strength and durability. These materials are impact-resistant and can withstand extreme temperatures and harsh weather conditions, making them ideal for any situation.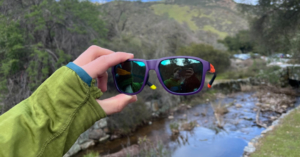 For those who spend long days on the hiking trail (or in the driver's seat), the ChromaPop™ lens tint provides clear, sharp vision in various lighting conditions, allowing them to navigate all terrain easily. Its photochromic properties also mean that hikers and climbers don't need to switch lenses as the lighting conditions change, making it a convenient and practical option for outdoor activities.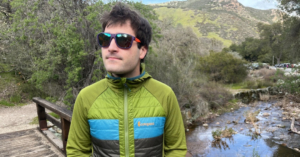 I've driven in various road conditions, including sun-showers, desert highways, and snow-covered roads where the reflection alone is nearly blinding. Suffice it to say; the ChromaPop™ lenses have been my most reliable companion, enabling me to see the clearest possible version of the road and terrain in front of me.
DURABILITY AND VALUE
Starting at $209 and topping out at $239, the Smith Embark Sunglasses are certainly more expensive than most. The option I reviewed (Matte Purple Cinder Hi Viz + ChromaPop™ Polarized Opal Mirror Lens) is priced at $219.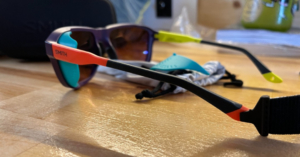 At that price, these sunglasses are certainly an investment. However, when considering their advanced lens technology, durability, and versatility, they offer a good value for their price, and I definitely have not babied these frames. Traveling with me from Sacramento to San Diego, these shades have seen hundreds of miles of tough, dusty roads and are rarely in the, albeit, very nice padded case and cleaning bag that come courtesy of Smith.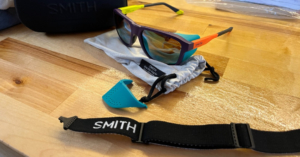 So while they may seem pricey at first, the Smith Embark sunglasses offer excellent value for their price and will provide years of reliable performance and visual clarity, making them a smart choice for anyone who enjoys spending time in the great outdoors and in the driver's seat!
Check them out at smithoptics.com!
Smith Optics - Embark Sunglasses | Gear Review
The Good
Amazing Quality
Very Durable
Great Features + Extras
The Not So Good
Expensive
Didn't come with extra lenses