Hydro Flask has exploded on the market in 2009, with their original 18 oz insulated bottle. Over the past decade they have continued to evolve their product lineup to feature more bottles, tumblers, growlers, beer cups and now their award-winning soft coolers. The soft coolers are what bring us here today, as they recently asked us to test and review their new Hydro Flask 22 L Soft Cooler Pack. According to Hydro Flask, the 22 L is built to withstand epic adventures, but light enough to carry for miles. The soft cooler pack is designed to give you the coldest leakproof cooler experience without the added bulk.
For those of you new to Hydro Flask, they are an incredibly interesting company. They believe that whatever adventure you're planning, they're in. From cross-country skiing to stories by the campfire. From morning meetings to sunsets in the park. They also believe that every hour of engineering that goes into each Hydro Flask product-it's all for one thing: to be part of the moments that make life more fulfilling. That's how Hydro Flask says they design each product in their lineup today—always premium, always better than anything else they ever used, and never lukewarm. Did the new Unbound Series 22 L Soft Cooler Pack live up to the high standards of Hydro Flask? Here's what we discovered…
Key Features:
Smart Insulation keeps your contents cold for up to 48 hours
The lightest, durable cooler in its class
YKK's Watertight AQUASEAL zipper and welded seams ensure leakproof transport
Durable 420D nylon shell is ultra-light and waterproof
Wide mouth hinged top makes for easy access and easy cleaning
Mesh back panel and padded shoulder straps for a comfortable hands-free transport
Woven sternum strap and carry handles
Compression molded base for unsupported self-standing
FDA food grade, BPA-free liner: free from toxins, free from worry
Dry storage top pocket for added versatility
Side pocket keeps your small essentials at the ready
Stretch mesh pocket fits a Hydro Flask bottle
Two welded nylon tie-down points for added stability
Hydro Flask 22 L Soft Cooler Pack Review Breakdown
Design:
For what looks like a simple cooler to the naked eye, we were extremely surprised with the amount of care put into the design of the Hydro Flask 22 L. Featuring Hydro Flask's new TempShield Soft insulation and Advanced Thermal Mapping. Designed to keep food and drinks chilled more than 24 hours. The new technology puts the insulation at the base where cold is vulnerable to loss. The True Access hinged top keeps the interior of the pack easy to access, allowing for quick packing and easy cleaning, while welded seams and an Aquaseal zipper are built to ensure a leakproof transport.
The Soft Cooler Pack is built to be mildew-resistant, anti-microbial FDA food grade BPA-free liners that comes with a category leading 5-year warranty. In addition, the Hydro Flask 22 L features a compression molded back panel that make it a comfortable fit, and the puncture, tear and abrasion-resistant base provides unsupported self-standing when not being worn. The Soft Cooler Pack also features dry storage pockets, external cinching straps, a hidden side-slip pocket and two lash strap mounts.
With the design of the new Unbound Series from Hydro Flask, they have really stepped up their game with the next evolution of the products. From our use of the Hydro Flask 22 L we could really see the thoughtful and careful design through during testing.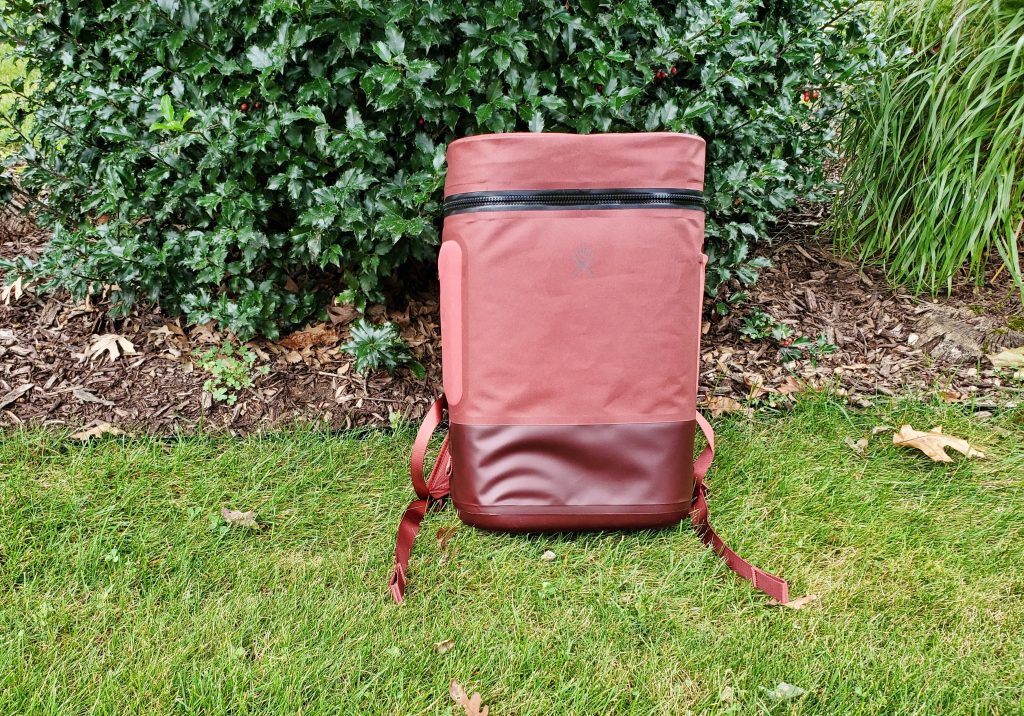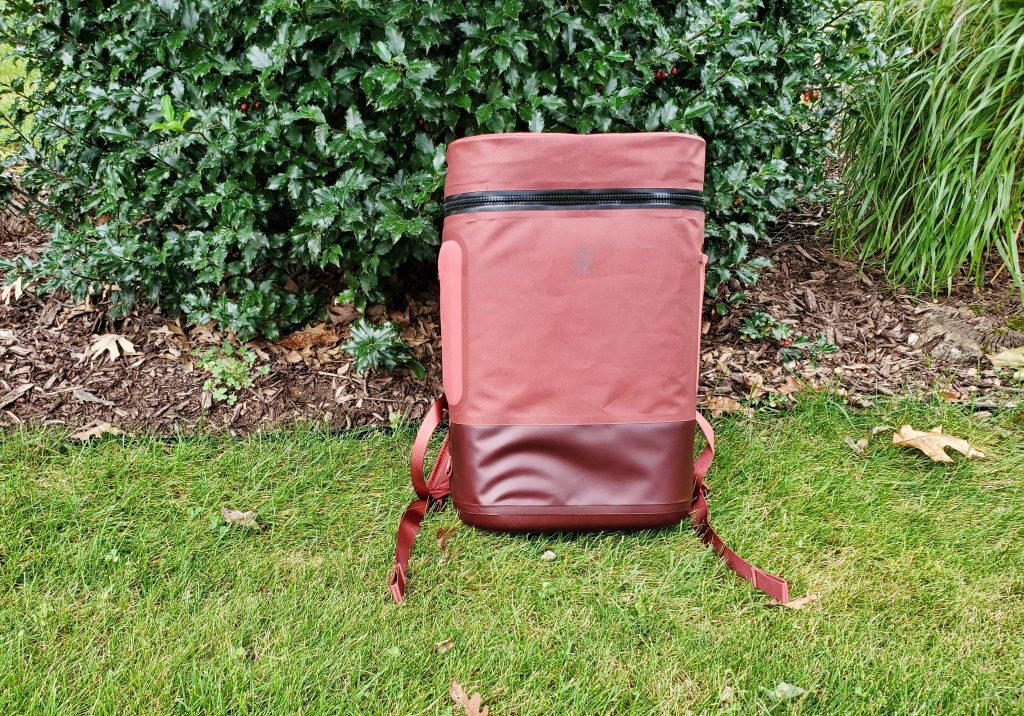 Performance:
Where the 22 L Soft Cooler Pack really shines in its versatility. The pack is perfect for hitting the beach, a summer picnic, boating, or otherwise transporting items that need to stay cold. What started as a cooler to keep beers cold quickly turned into our go-to cooler, especially for hitting the road. It can hold a good amount of food and drinks and has great side pockets for extra storage. When we originally started using the cooler, we were using ice as our cold source. We never had a leak and we left ice in there for multiple days after it melted to see if we got any moisture and we did not.
After a while, we switched from ice to the cooler packs. For one reason, this helps with space, but the other is the cooler is so well insulated they work just as well as ice and no melted ice to deal with. If you can limit how many times you open the cooler, then you can really keep things cold for a long time. A bonus trick is to take your cooler pack and supplement with a little bit of ice you can really get your pack nice and cold and maintain it even longer.
Hydro Flask touts the new cooler pack to get 48 hours of coldness via the new Smart Insulation. Our testing wouldn't say they are necessarily wrong but what constitutes "cold"? We did a test of ice and six beers. At one point we had the pack at 38 degrees in the early hours of testing. After 12 hours we were holding strong at 43 degrees. At 24 hours we were up to 48 degrees and finally at 48 hours we were at 59 degrees. We did the test in a temper-controlled environment at 70 degrees. So, was my beer drinkable after 48 hours? Absolutely, but we can debate the "coldness" of it until we pass out from those beers. Either way, the Soft Cooler Pack does its job. I don't need 48 hours of coverage, the first 24 is critical and the pack delivers.
Comfort:
The pack is surprisingly easy to carry. We thought it would be a little heavy when we loaded it up, but it's light and comfortable to wear. When we put the pack on our back, we thought the woven sternum strap was a little high. However, it never choked us, and it is just the right placement. It does a good job of spreading the weight around, so it doesn't just sit on your shoulders and back. While the cooler could be upwards of 20-30 pounds, you really don't feel it weigh you down. It is great on the bike and will cause some back sweat but that's why you have the beer in the cooler as your reward.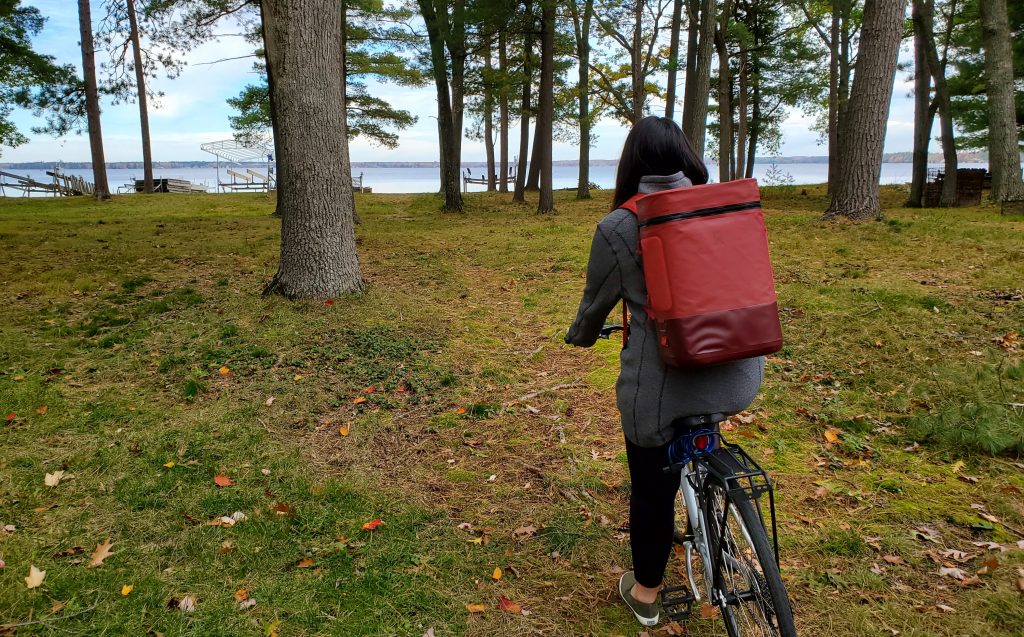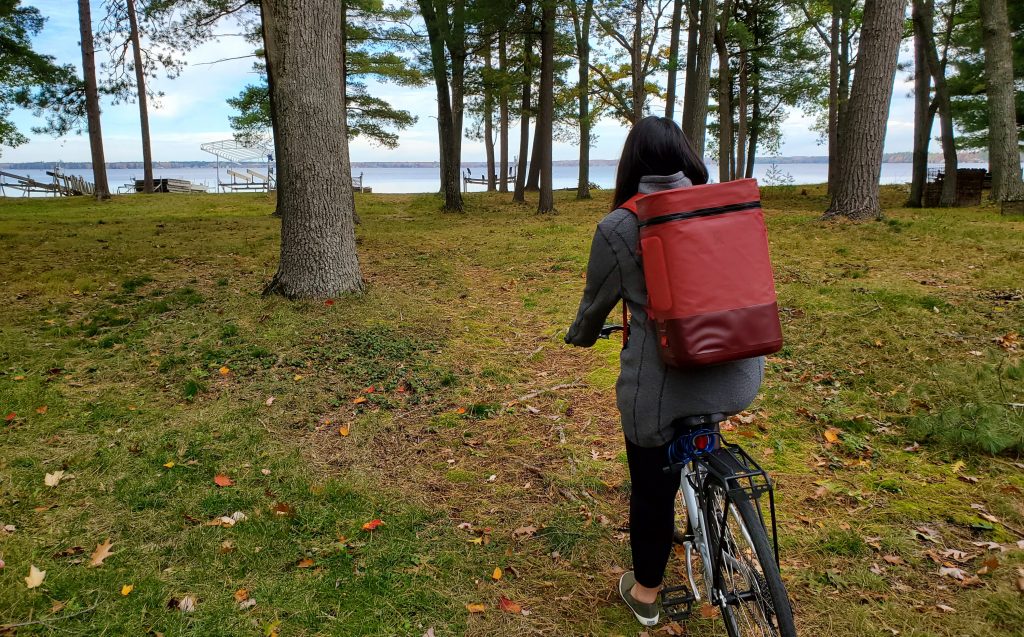 Value:
Priced at $199.95, we are loving the value that the Hydro Flask 22 L Soft Pack Cooler is offering. We really liked the extra compartments that the cooler has built in. The top pocket fits bigger things like books and keys, making for a complete package. We love that it stands up flat on its own. Also, when you open the top, the entire cooler is accessible. This is because of the zipper continuing around the back. The value with this cooler/pack is very simple, it works. The pack does not leak, and it keeps things cold. It is also versatile and holds a lot of food and drinks that makes it your go-to cooler. Hydro Flask entered a competitive market for soft coolers, but they knocked it out of the park on their first attempt. Competitors beware!
Buy Now: $199.95; or to learn more, go to: HydroFlask.com 
Hydro Flask 22 L Soft Cooler Pack Review
Hydro Flask is bursting on to the soft cooler scene with their new Outbound Series that they believe will be the only soft coolers on the market that liberate you to live your everyday adventures. The series is designed to go anywhere and everywhere while keeping your food and drink and cold. The best part is, it works! We loved our 22 L soft pack cooler and found no signs of water leakage while retaining ice for maximum coldness. Be sure to check out this new series from Hydro Flaks
The Good
Great ice retention
Surprisingly comfortable when strapped to your back
No water leakage
The Not-So-Good
Price point will detract some people- but worth the investment
Did not achieve advertised 48 hours of coldness