"This feels like the future." ran through my mind as we un-boxed and tested the Touchjet Pond – the world's first virtual touchscreen projector.  We browsed Facebook and blasted Adele's new music video on YouTube. We opened the whiteboard app and virtually painted on walls…  Instantly, a rainy Friday night was transformed into a blast.
About 15 minutes prior I was shifting through my backpack pulling out my laptop, a mouse, and an AC adapter.  I cleared some space on the wall and set the projector on a table about six feet away.  I began searching through the Touchjet case for a wire to connect my laptop with the projector, but found only one, six inch USB Mini (OTC) cable. The cable wasn't compatible with my laptop without another cord and certainly wasn't long enough to connect.  I managed to avoid throwing a fit long enough to pick up the user manual to find out why I couldn't hook up the projector with a run of the mill laptop.  And then my mind was blown:  I wouldn't need my laptop at all.  The Touchjet Pond is WI-FI ready and an ANDROID OS IS BUILT IN.  THE PROJECTOR IS ALSO THE COMPUTER. MIND. GONE.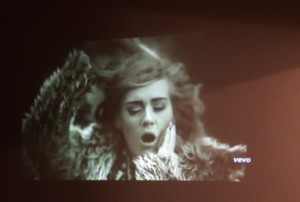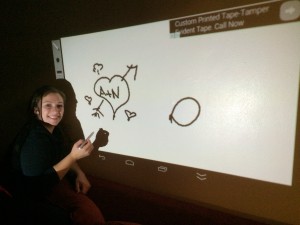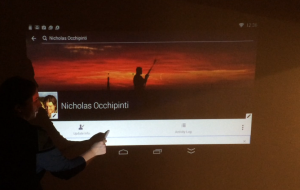 Key Features:

Mobile projector that fits in the palm of your hand
Embedded Android operating system works like a smart phone
Converts any solid, flat surface into a virtual touchscreen tablet
Specs:
20,000 hours RGB LED, consumes 15W
1.6Ghz CPU/ARM DUAL
4GB NAND Flash + 16GB Internal SD card
Optical touch sensor
Android 4.4 Kitkat with Touchjet UI
Ports: Mini HDMI, Audio Jack (3.5mm Mini), Micro USB
Touchjet started with two men in a coffee shop and a big idea:  Tom Jiang Li and Zhen Liu saw the rapidly expanding world of consumer tech and wanted to develop products that bring people together.  Straight out of a Pixar movie Touchjet, Inc. employs engineers from around the world and has offices in San Francisco and Singapore.  Touchjet had to invent stuff to make this projector possible, and they used the crowdfunding website Indiegogo to raise almost $1,000,000 in start up capital from some 3,500 different people.  Through this approach they have built a tech savvy customer base that is literally invested in their success.  These early adopters keep Touchjet honest by delivering product feedback directly to Touchjet staff.  This could be particularly helpful for a software dependent gadget that can be updated remotely.
Touchjet Pond Projector – Review Breakdown
Efficient, efficient, efficient.  Everything about this product just wreaks of serious engineering and efficient design. And no wonder, it has to be efficient.   How else could a functioning Android operating system be built into an 80 lumen projector, complete with Blue-tooth, WI-FI, external speakers, active cooling, and a number of useful ports?
If you're into gadgets, or small, sleek tech, the fun starts before you pull it out of the box.  The Touchjet Pond packaging and carrying case is likewise efficient, handsome, and compact.
What's in the box:
Touchjet Pond projector
Interactive stylus (x2)
Airmouse remote
Power adapter
Getting started guide
AAA batteries to power the Airmouse and stylus
Soft shell carry case
The Pond is plug and play and as intuitive as an Apple product – so much so that I wonder if a few of Touchjet's engineers may have spent some time at Apple.   Setting-up the device is easy, and using it is similar to a smartphone. And just like a smartphone you will have to enter a host of passwords to fire up the Wi-Fi, Gmail, Facebook, and any other compatible app from the Google Play store.
The manual focus is a cinch, and the only feature that takes any thought at all is calibrating the device for the first time.  I tried free styling the calibration process and was successful after about five minutes of experimentation.  If I had read the 200 word introduction it would have taken about two minutes.
Mastering the touch of the stylus on hard drywall was a bit more difficult as is it only responds to an accurate touch, and at an angle less than 90 degrees to the wall.
Mobility and Design
The Touchjet Pond weighs about as much as a pool ball and fits in the palm of your hand.  At 4.5 inches wide, 3.9 inches long, and 1.1 inches high it's smaller than George Costanza's famed wallet.  The travel kit is just as handy with a nice with a trim, square, black case with rounded corners.  It will easily slip into a briefcase, backpack, or carry on.
Perhaps most importantly, the projector is so small you can set it up anywhere:  Hang it from the ceiling and make any table a virtual tablet.  Put it on the night stand and watch Sports Center on your ceiling.  Set it on the bed and Netflix is on your wall.
Weight: 268 gram (9.4 ounces)
Height: 28 mm (1.1 inches), Width: 115 mm (4.5 inches), Depth: 100 mm (3.9 inches)
As I alluded to earlier, the styli were a bit touchy.  One has to position and touch them properly to a stiff surface to engage the optical sensor.  The sensor glows red and confirms that the projector is reading the stylus.  However, I found that I would often have to re-position my hold of the styli or engage the surface with a different touch for it to work properly.  I quickly improved my use of the stylus, better applying the correct pressure and angles, but several weeks into testing I am still not impressed by it's responsiveness.
Innovation:
Touchjet gets definite props for the Pond being the first of its kind.  There just isn't another projector on the market with an embedded operating system that produces a virtual touch screen.  If you're looking to generate some tech envy, you're definitely going to score some points showing this thing off – both the physical design of it and the functionality.  A demo for friends and family is guaranteed to generate fun and no shortage of oohs and ahhs. Basically nobody has one of these or has seen this kind of tech before in real life.
Unlike your smartphone, the Pond does not have GPS, cell phone transceiver, compass, camera, or built in Mic, so it's not guaranteed to run properly with apps requiring these devices.  Again, the Touchjet people are working with science and not magic, so we'll give them a few years to work in these luxuries.
Utility:
The Pond is incredibly portable.  It weighs nothing, and has a sleek, simple and attractive design.  With so much functionality packed into such a mobile gadget, should we consider this a toy or tool?
The Pond is kind of a unicorn in that it will function equally well as a man's tool or a child's toy.  However, the Touchjet Pond is going to have limited utility in the Man Cave beyond the initial wow factor.  It will do much better in a travelling professional's briefcase, child's bedroom, or family game room.  Why?  Because with (854×480) WGVA resolution you're going to want to keep watching Monday Night Football and Blu-ray's on the HDTV.  The Touchjet projected display looks darn good while projecting a 25 inch screen, but as you back up and push it towards its 80″ recommended max it looses clarity and can't compete with an HDTV.  Also, you really need the lights dimmed, or off to optimize viewing.
The positive side of the relatively low lumen output is that I had the projector running for more than an hour and it never got hot – like at all.  It even has  a battery mode so you can go wireless.  However, the brightness will max out at 50 lumens on batteries.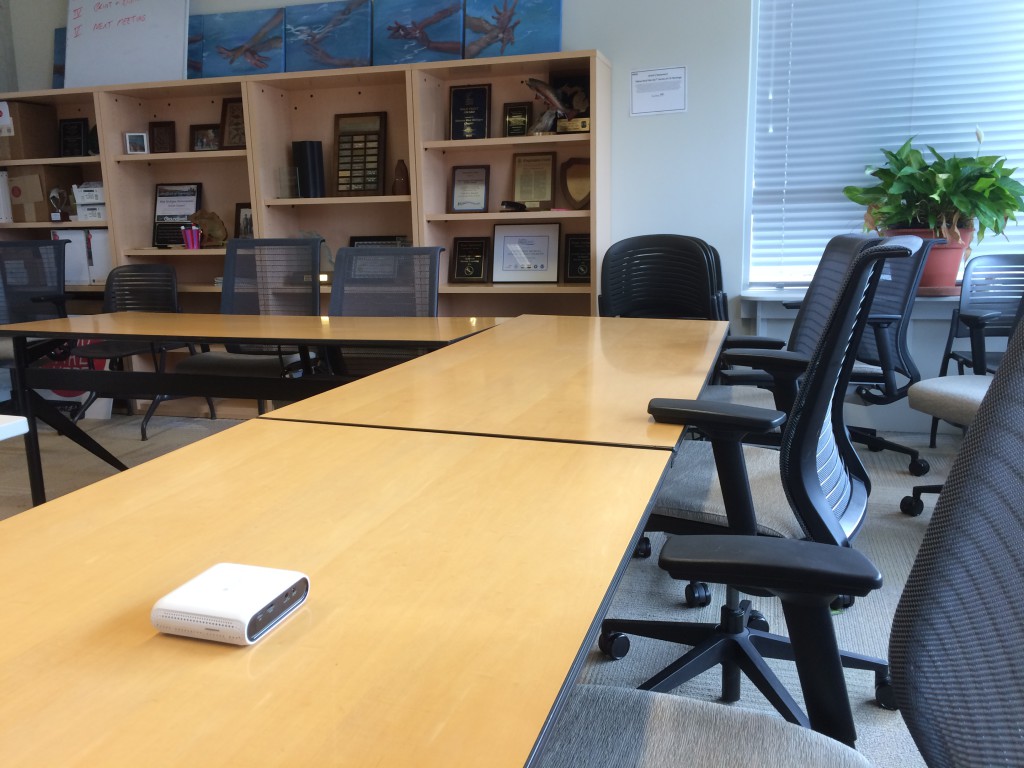 The Touchjet Pond was built for portability and to display touchscreen images where they have never been before. This is the screen you go outside with in the summertime and project on your garage, or against the house as you sip an adult beverage on the deck.  Or maybe you hide it around the house and display artistic images during your next hip party – perhaps timed to a hot dubstep cut.   You bring this projector tailgating, set it up in a shaded area and stream the game from your smartphone.  It used to take ridiculous, elaborate set-ups to accomplish these imaging feats.  The Pond makes them easy.
The Pond would also be great for the travelling professional – particularly when one doesn't know what presentation environment he or she is walking into.  It can be unnerving to be physically separated from your computer when delivering an important presentation, because you can lose control of what's displayed.  The Touchjet Pond will let you stand at the front of the room and operate the computer simultaneously.  For the typical professional, that's serious innovation.
Touchjet Pond Projector - Tech Review
The Touchet Pond is innovative, sleek, and efficient. It will inspire envy and it will be a lot of fun for children and when you first pull it out of the box. It won't replace your HDTV, but it will be a handy tool for the travelling professional.
The Good:
Portability
Design
Innovation
The Not So Good:
Display power
Touchy Stylus tool
Display clarity