Tis' the season for egg nog, holiday movies, and (sadly) snowstorms that bring back-breaking shoveling to your driveway. Luckily for you, the engineers at Craftsman decided to take all the hard work out of clearing your driveway this winter with the pro-series Craftsman 28″ 3-Stage snowblower. Equipped with a powerful 357cc motor, this snowblower is designed to plow through the toughest snow packs you can find. Recently, we were pounded by heavy snow storms here in the Midwest. Perfect timing to put this beast to the test.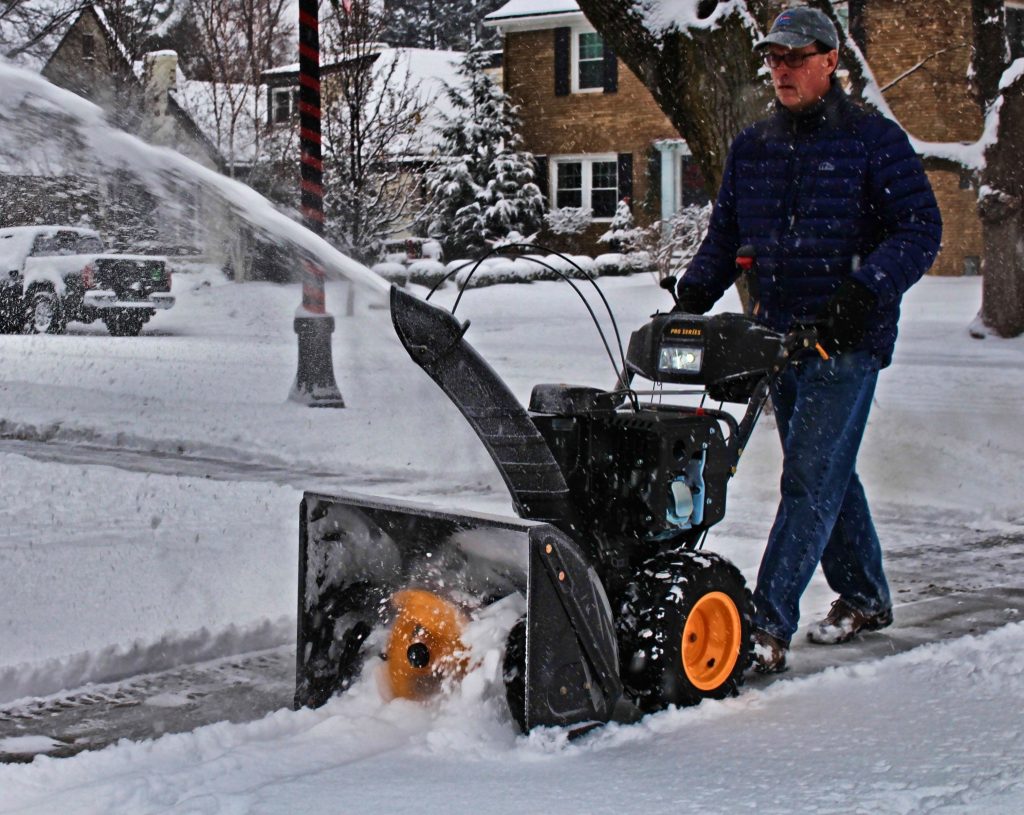 Key Features:
357cc engine designed to handles hard-packed snow
The 28″ clearing width and the 21″ intake height help you cover large areas easily
4-way chute control with 200° chute rotation and pitch control discharge the snow where you want it
An LED headlight on the dash improves visibility by illuminating the clearing path
Choose from 6 forward and 2 reverse speeds to work at your pace
Deluxe Glide-Tech skid shoes eliminate garage rust stains and driveway damage by sliding along pavers and bricks
Power steering takes some of the strain out of pushing your snowblower
Craftsman 28″ 357CC 3-Stage Snowblower Review Breakdown
Assembly:
As with any piece of power equipment, we highly recommend reading the assembly instructions before getting started. Assembly is not overly difficult overall, however you can easily make some mistakes if you don't follow the directions closely. The first step will be the handle assembly which is easy enough. However, make sure you tighten your carriage bolts well. We made the mistake of not tightening them 100% and we lost one during our first testing session do the vibrations. This has a ripple effect on your steering and chute rotation because everything needs to be aligned and tight.
The chute assembly is the most complex part of the assembly process as the instructions are not entirely clear on where all the parts align and fit with the pictures. However, once you figure out the diagram it goes together perfectly.
The most important thing here is your chute directional control assembly rod and making sure it is aligned and fits snugly. Because we did not have a tight seal on our bolts, our assembly rod was loose. This caused our chute to only rotate to the right for our first session, which is obviously not correct. None of this is Craftsman fault, it was user error, but it is important to make sure you take your time while assembling. If the instructions are not clear, we recommend watching some of Sears YouTube videos to assist.
Overall, it took about an hour and a half from un-boxing to getting the snowblower started and ready to run. If you want don't want to take on the task of assembly yourself, no problem! Sears can assemble and deliver to your home.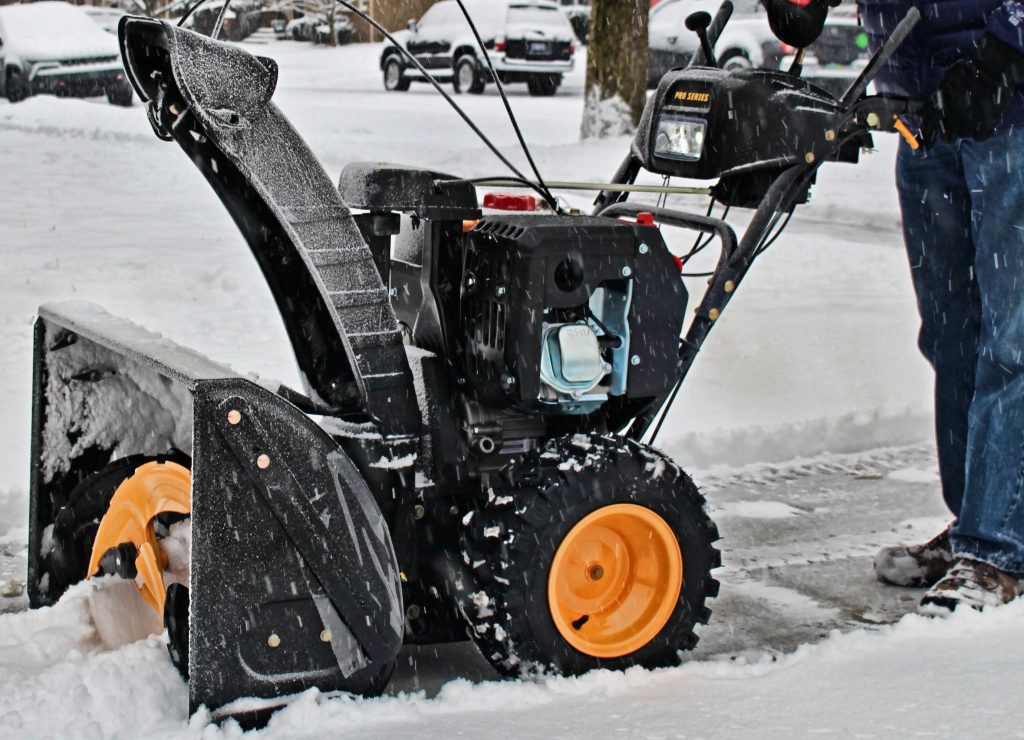 Design:
This snowblower is part of Craftsman's pro-series and is top of the line. The machine comes equipped with a powerful 357cc engine. This coupled with the 3-stages will help you plow throw those large snow piles.
You are probably asking yourself, what is the difference between a 1, 2 and 3 stage snowblower. This is a good question and will want to know what type you need when you are shopping. Single-stage snowblowers are lighter and easier to handle. They can be gas or electric. They don't work great for snow over 8″. Whereas two and three-stage snow blowers are going to be gas powered and feature augers and an impeller fan to discharge show through the chute. Essentially, three-stage snow blowers like this one are capable of handling more snow in less time. Operationally, they are like the two-stage model, the three-stage blower features an accelerator that can move about 10 times faster than the augers to clear heavier snow quicker than a two-stage model. Until the invent a 4-stage snowblower 3-stages are the king of the hill.
In addition, this snowblower also features a 28″ clearing width and has a 21″ intake height that allows you to clear a lot of ground in a short amount of time by scooping up a lot of snow in your bucket and shooting it through the chute quickly. The chute is controlled by a 4-way control that allows to rotate the chute by 200 degrees. One of the coolest features is the chute pitch control, which allows you to angle the snow exactly where you want it to go. The snowblower also features Glide-Tech skid shoes that eliminate garage rust stains and driveway damage by sliding along pavers and bricks. A nice touch is the LED headlight for night operations.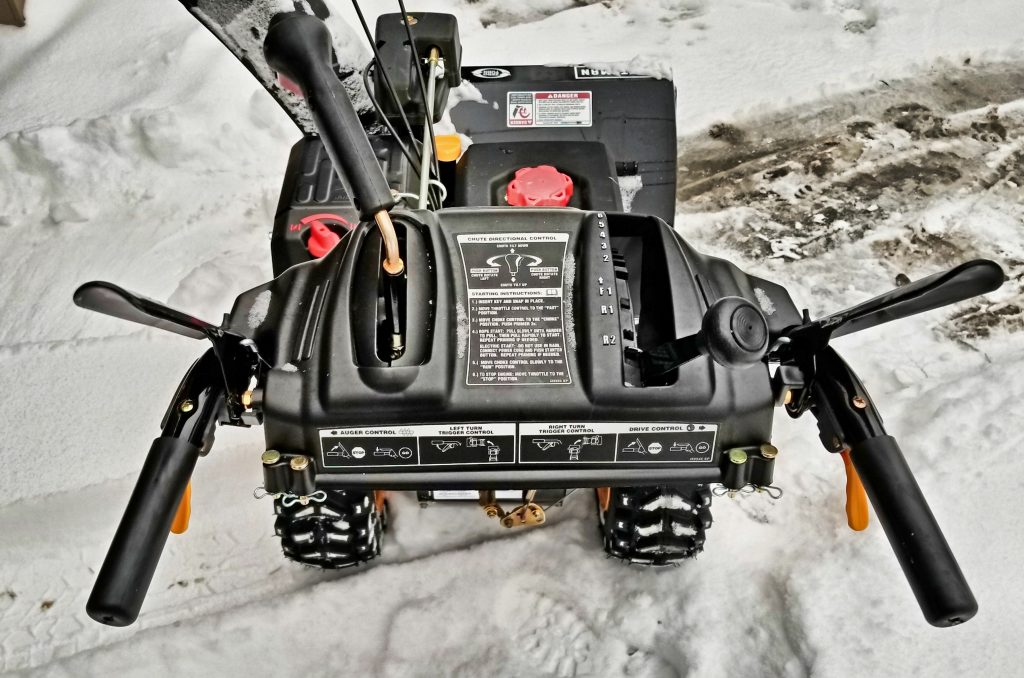 Operations/Steering
Now it is time to start the Craftsman snowblower. You have two options, 1st being the traditional recoil pull starter. The 2nd being an electric starter. You're going to love this… by simply plugging in an extension cord and hitting the start button the snowblower comes to life. Make sure you have a heavy-duty rated extension cord that can handle the voltage.
For driving operations, if you have never used a 2-stage or 3-stage snowblower before, there is a learning curve. The snowblower itself is quite heavy at over 280 pounds so you are not going to manually move this around your driveway.
Luckily, the snowblower comes with power steering! Underneath the auger lever and drive lever is your right and left power steering controls. As you are driving your snowblower simply squeeze either lever to easily turn right or left. You also do not have to be moving to use the power steering levers. One of the nice parts about maneuvering this machine is how easy the power steering can turn the blower. The power steering does a nice job of reducing the strain on arms and wrists as well.
At the control base, there is a lot going on. You have an auger control lever, drive control lever, shift lever, and your chute control. The best piece advice is when you feel like you don't know what's going on or you are trying to do too many things at one time, is to take your hand off the drive control lever. This will stop the unit and allow you to reset what you are trying to do. It's also okay to go slow and learn the controls at your own pace. I found it difficult to maneuver the chute while also having the snowblower in drive mode. I found it easier to get everything set up properly and then drive. After a few snowstorms you'll be a pro.
This snowblower also has 6 forward drive positions and 2 reverse speeds to work at your pace. The reverse speeds were a little slow (like most snowblowers we've tested) for our liking. We actually found it easier to maneuver out of most positions by using reverse quickly and then re-aligning by going back into forward drive.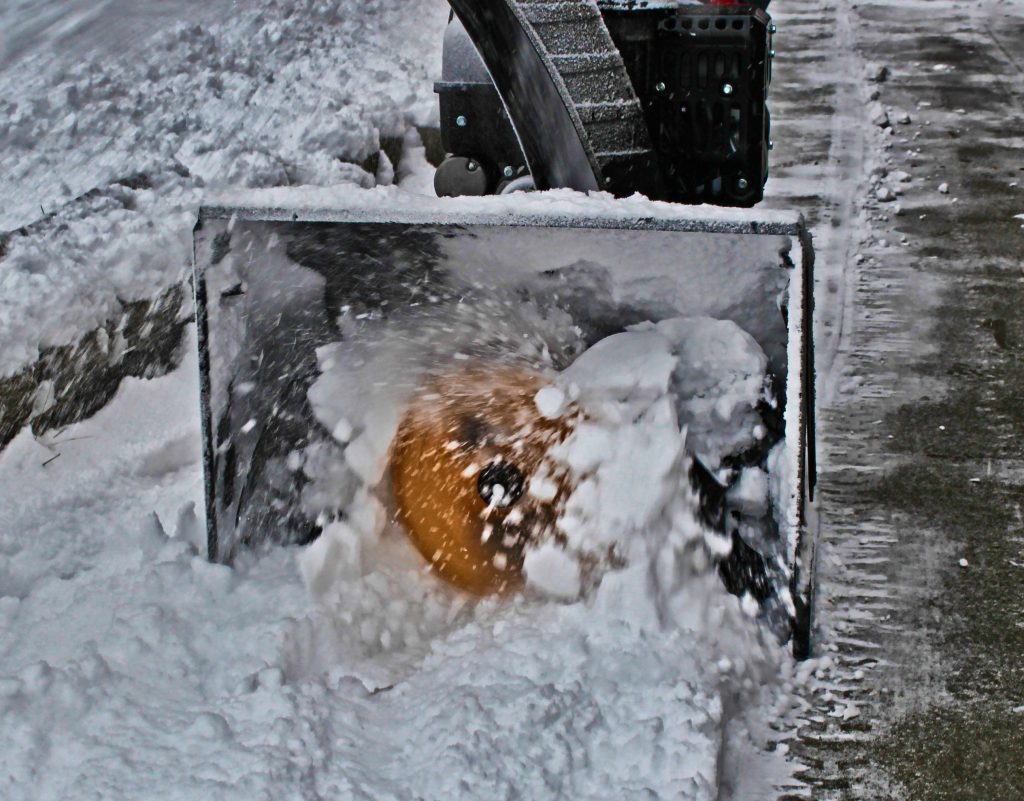 Power:
Touting 357cc this snowblower is built to move a lot of snow. After our first big snowstorm, we fired her up and my neighbor immediately stopped running his 1-stage snowblower and came over to admire the Craftsman. We got over a foot of snow and the snowblower easily moved the snow where we needed it to go.
The only time the snowblower struggled is after the city plows come through and packed the end of the driveway with heavy, thick snow and ice. Amazingly we were able to work our way through it. It wasn't fast or as efficient as it was with the regular snow but we were able to free ourselves from being packed in. We did get it stuck one time but this was due to taking a bad approach to the snow pile. Overall, you will be hard pressed to find snow that this machine can't handle.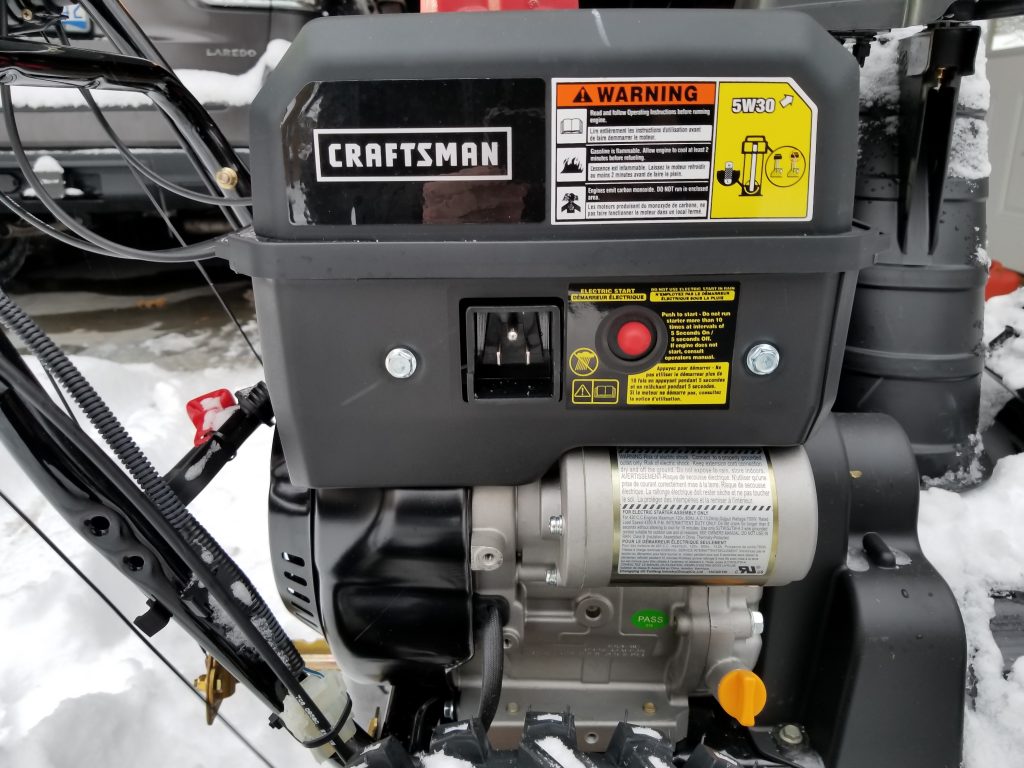 Value:
Priced at $1,299.99, the Craftsman Pro Series 28″ 357cc 3-Stage snowblower comes with hefty price tag but it is one of the best heavy duty snowblowers on the market. Throughout testing this snowblower proved to be powerful and easy to use. The key for purchasing this blower is finding out if you truly need it. If you have a driveway less than 60-feet and not a ton of snow fall throughout the year, then I would recommend a 2-stage or even a 1-stage snowblower to fit your needs. If you get a lot of snow, have a large driveway, and need something with power and handling, then you can't go wrong with the Craftsman 3-stage snowblower.
Buy Now $1,359.99 or visit Sears.com for more information
Craftsman 28" 3-Stage Snowblower
If you have a large area that can accumulate a lot of snow then you need to look at this Crafstman 28" 357cc 3-stage snowblower. Coming equipped with power steering, this snowblower is built to move the toughest of snow piles. While this snowblower comes with a hefty price tag, you will appreciate it when mother nature rears her ugly head.
The Good
Very powerful and easily moves snow
Electric start makes getting it started a breeze
Chute control allows you to easily find the snow a new home
The Not-So-Good
Hefty price tag- worth it, but make sure you need it
Very heavy so don't expect to manually move it to line it up
Reverse is a little slower than desired