This will be my 15th winter as a homeowner in Michigan. You know, the state shaped like a mitten. It's the winter state. The snow state. And for 14 of those 15 years I've shoveled my sidewalk and my driveway. I've even Tom-Sawyerd all three of my children into believing that shoveling is a privilege, not a chore. At 9 years old my son still believes me, but someday he will learn the ugly truth. Shoveling snow is cold and soul-crushing work. I love the skiing. I love watching the white flakes fall gently outside the window. I love camping in the dead of winter, to wake in the morning to a blanket of white as far as the eye can see. But no, I don't love to shovel. I had back surgery in 2012 and I'm not interested in the literal back-breaking work that is a true Michigan winter.
Enter the Cub Cadet 3X 24" HD. This is my new friend. Made by Cub Cadet an industry leader in outdoor power equipment. From hand held power tools to 4 wheel drive utility vehicles, Cub Cadet is American Made quality. Well the 3x 24" HD is the cutting edge of snow thrower design and power. They let us take one for a spin around the block and here is what we discovered…
What's in the Box:
The 3x 24" HD Snow Thrower
Assembly and Instruction Manual
extra shear pins
2 safety keys
Chute clean out tool
What's Missing from the Box:
Wallet sized photos of your new baby to show to your friends
Specs:
Clears Snow 24" Wide and 23" High
15"x5" Knobby Tires
Four-Cycle OHV 277 cc Engine, (See POWER below for HP info)
Trigger Controlled Power Steering
1 Handed Operation
Heated Grips
Dash Mounted Headlight
3-year Limited Residential / 1-year Limited Commercial Warranty
5-year Gearbox Warranty
3 Stages of Snow Removal
Chute Rotation 200 Degrees
Separate Control for Chute Height and Rotation
Cub Cadet 3x 24" HD Review Breakdown
Design:
To quote their website: "The 3X three-stage snow thrower is the first of its kind and a leader in the snow removal marketplace. First, the collection augers gather snow, ice and slush and move it all towards the center. Then, Cub Cadet's new high-volume accelerator cuts and chops winter's worst. Accelerating it right into the high-performance discharge impeller where it's thrown up and out of the high-impact chute."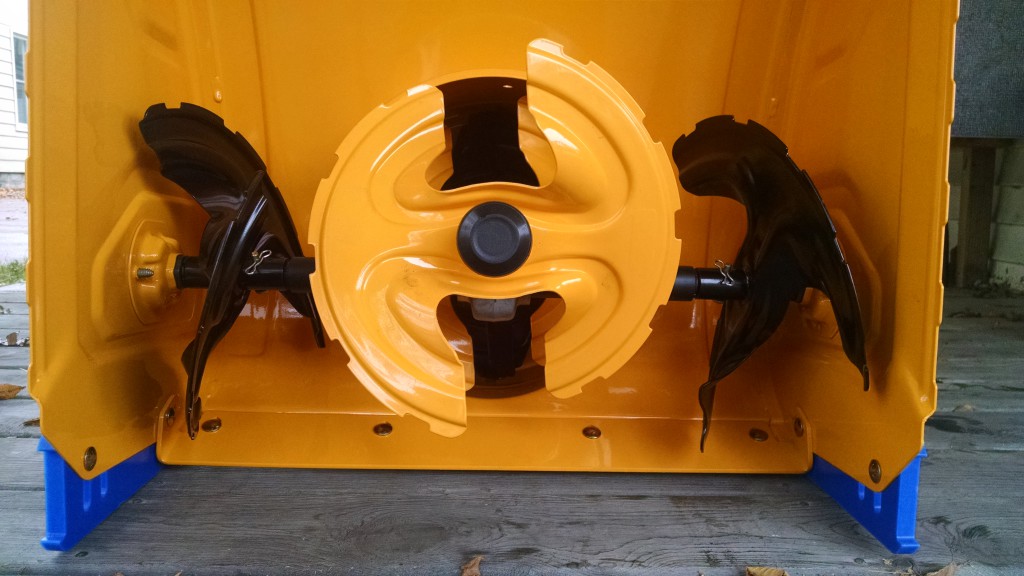 Cub Cadet makes your typical 1 stage and 2 stage machines also. Their 1x (1 stage) is your typical paddle that collects and throws light snow, it's the only model that will clear down to the pavement. Their 2X (2 stage) is a set of collection augers with a discharge impeller to throw the snow clear. This new concept, the 3x, or 3 stage, adds a step between the two stages of a 2x. This makes every section more efficient and in my opinion is brilliant. It takes pressure off of the collection augers and by re-chopping the snow and ice then the discharge impeller is going to remain clear. The model we tested was an HD, which adds $200, a steel discharge chute vs a plastic one, a thicker steel shave plate at the bottom, 2 more inches of intake height and an extra 8 lbs. It also changes the control of the chute from a joystick, to a crank and lever. Either should work great.
They claim that this 3rd stage improves efficiency enough to allow you to clear up to 23" height of snow at 50% faster rate than a typical 2 stage. That's frankly amazing. But the auger serves another purpose. Clearing what the snow plow leaves at the end of the drive way. Even on days when you might only get 1-3 inches, the street plow can leave you an impenetrable berm at the end of your driveway. Impenetrable no longer! We ran the 3x 24″ HD up the side of the curb after the plows went by and scooped up 3-4″ of wet slush with no problem.
Assembly:
Anyone that can follow directions and use simple tools, should be able to un-box and assemble this beast. It came on a pallet and was delivered on the porch. The hardest part was moving the 270lb machine off the pallet while not under power but I was able to do it by myself. There are several different chute configurations, each one has it's own connections. Take your time and get it right, follow the steps in order and you'll be o.k.. It took about an hour being super careful while taking photos. It came with the oil filled, but make sure to check as not all do. Also make sure you go buy the right oil and filter for use in the machine as it recommends changing it after the first 5 hours of run time. After that though, it should go a season at a time for home use.
Operation:
The top left handle controls the augers, the right top handle controls the drive. There are triggers under each handle that when released move the machine forward. Pull one or the other back to turn the machine, or both to pause for a moment. In effect, power steering.
If you engage the augers first and then the drive lever, you can release the auger control to change the chute angle/rotation and the machine will keep throwing snow. This is what they refer to as one-handed operation and is quite convenient to get the snow to go where you want it to while you are operating the machine.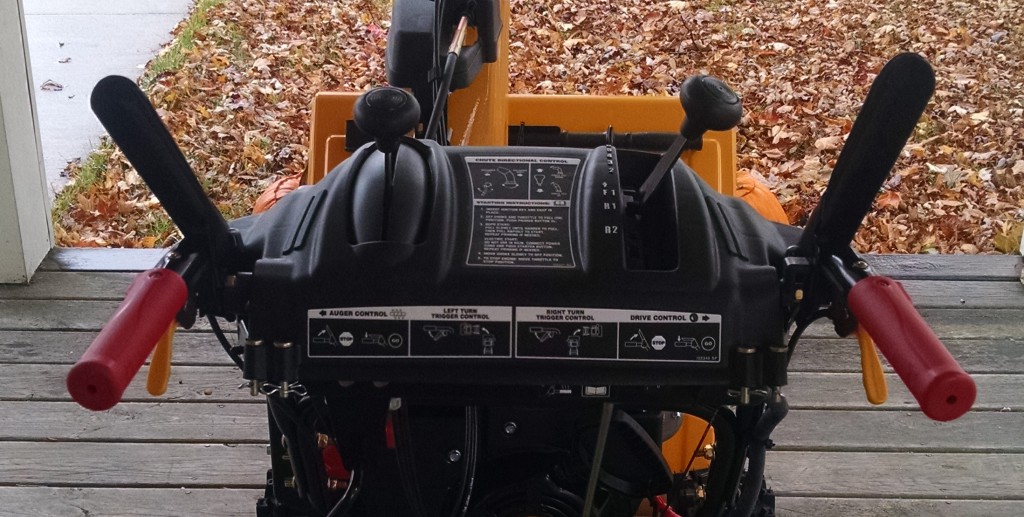 There is a shift lever that has 6 forward speeds and 2 reverse speeds. Speed 1 in both directions allows for fine movement at very slow speeds. Speed 2 in reverse is good for moving into position quickly, and speed 6 forward will have you at a brisk walk.
Throttle control is variable from fast to stop and is used to turn off the machine when done. It's located on the engine next to the choke. Both controls have big handles which make them easy to grip without removing gloves. In fact, all the controls seem to be made for operation with gloves on including the pull start.
The pull start works great. It was easier to start at 28 degrees (1 pull) then for the first few test runs at 50 degrees (2-4 pulls). Not that you need the pull start though. You can plug in an extension cord to the electric start and press a button. Let me warn you, they aren't fooling around with the electric start, it is a high-powered fast-cranking starter. It requires a 15 amp service and a heavy duty extension cord, after trying it you'll understand why.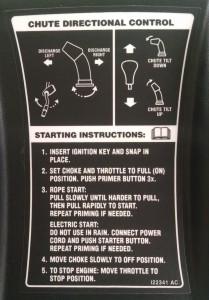 The chute rotation is a crank that takes two rotations to turn the full 200 degrees. This allows a throw angle of just behind the path of the snow thrower. On the model we tested there is a separate handle for height angle of throw from just a bit of a downward angle to almost straight up. You could'nt ask for more movement and it didn't feel limited in any way. Having only 2 turns of the crank for rotation was the right amount of being able to aim where we wanted balanced with not taking forever to get there. They also make an electronic control and a 1 handle ball control. There isn't a huge benefit to any other chute setup than the one we tested, it was easy and straightforward. It comes down to personal choice.
There are two blue skid shoes, one on each side of the auger housing. Take the time to adjust them for what you'll be working on. We went with the 1/8" recommended setting by using a set of paint stir sticks under the shave plate while sitting on level concrete. This will leave some snow behind, but not much and it can be salted down quickly. If you want to use the machine on gravel or uneven terrain, you can adjust the shave plate higher. The skid shoes are reversible when they wear out for more use.
The handle grip heater is a small switch on the rear of the dash, not sure why you'd ever want to turn it off to tell you the truth but make sure that the model you order has it standard, you'll thank yourself later. The handles get nice and warm in the cold and wind. We didn't need special thicker gloves, just normal winter ones were good enough for operation.
The headlight turns on when you start the machine and is plenty bright and well aimed even during blowing snow. It really lights up your work area. Some other models have an LED version that should mean less bulb changes over the life of the machine, but brightness wasn't a concern.
Power:
The is the smallest engine in the 3x line up. 1x and 2x have smaller engines available. Since about 2009/2010 Cub Cadet doesn't rate by horse power anymore, but just to give it a number it should fall in the 7-8 horse power range. Either way, it's more than enough. Their wider models have larger engines as one would expect.
Efficiency:
This is the smallest of the 3x machines at 24" wide. In the area we tested there were two parking spots to do, and a lot of sidewalk. Having 24" to work with meant more back and forth but it allowed for tighter turning. The 3rd stage that differentiates this from the 2x line is a set of augers that re-chops and feeds the snow and ice from the collection unit to the disposal-throwing unit. It's supposed to make it clear snow 50% faster. Cub Cadet has a model selection wizard (look at the bottom of the page) on their website to help you determine what machine would be best for you based on thickness of snow, and areas to be cleared. It gives a realistic starting point for selecting a model, if you need a 1, 2 or 3 stage, and width that will work for you. We played with it for a while and different configurations and felt that it gave good recommendations for picking out a machine. Their goal is to make you happy, not over or under-powered.
Ease of Use:
It takes a bit of getting used to if you've never run a snow thrower before, but it is mostly intuitive when you realize it is set up for ease of continued use. This machine isn't designed to just sit still, it is meant to churn and throw snow and ice, and get the job done.
Value:
At the $1299.99 asking price, this machine is an amazing value considering the competition. The 2x would suit the needs of our test area fine but for the extra $200 we'll spend less time outside and the days when we really want the extra power, the day we get 10" at once and it drifts to 18", we'll be ready. It's those back-breaking days when you don't want it to be under-powered. Cub Cadet has a few sales events each year. At this point, buy it for this winter yet as the worst is yet to come. If this was the end of March, maybe wait for the next sales event, which they post on facebook, so like their page to find out when those are.
There was nothing that was confusing. Nothing was flimsy or weak. A few minutes looking over and testing out the controls and any adult, male or female, can operate all 270 lbs of it with no problem. You don't have to man-handle this snow thrower, with the level of controls you have in gear selection you can be as gentle and maneuverable as you want.
Buy Now: $1299 or to learn more, visit: CubCadet.com 
Cub Cadet 3X 24" HD Snow Thrower Review
This is a powerful, well built, American made machine that does everything it says it does, and at the end of the day, that's what you are paying for. There are less expensive snow throwers but not necessarily better machines for the price. This is a one-time purchase until you move houses and need a larger one, so make the right purchase the first time.
The Good:
Ease of use
Ease of starting
Strong, Well Built Machine
The Not So Good:
Doesn't come with a cup holder?