Suunto has a long-standing reputation for quality, durable devices with aesthetic designs. Headquartered and manufactured near Helsinki, Finland, every device that leaves Suunto's HQ strongly represents Nordic design characteristics – clean, minimal, and functional.
The original iteration of Suunto's Peak lineup, the Suunto 9 Peak, hit all those marks – thin and light with no harsh lines and well-integrated buttons. It looked as good on the trail or at the gym as it did at dinner or a business meeting. However, there was one thing lacking… the operating system and UI was the same one Suunto had been using for years. The S9P looked fresh but didn't feel fresh in everyday interaction.
The Suunto 9 Peak Pro is the GPS multisport watch the Suunto 9 Peak wished it could be.
The S9Peak Pro is now a complete package – thin, light, and responsive to user input with a material UI refresh. It feels fresh.
Let's dive into this in-depth review of Suunto's newest flagship offering, the Suunto 9 Peak Pro GPS multisport watch.
Key Features:
Ultra thin: 0.4 in/10.8 mm (excluding HR dome).

Titanium model weighs 1.94 oz (55 g); steel model weighs 2.26 oz (64 g)

Fast charging: 100% battery in 1 hour;  10h training time after 10 minutes

Made with sapphire glass, stainless steel, and two models with grade 5 titanium

Barometric sensor; more powerful chipset architecture 

Waterproof down to -328 ft (-100 m)

New snorkeling sports mode that tracks activity data down to -33 ft (-10 m)

97 sport modes to choose from and the ability to create custom modes

Wireless software updates

Fully carbon compensated in a reforestation project with Verified Carbon Units via 

Tree-Nation
Suunto 9 Peak Pro Review Breakdown
Design
As noted in the intro, the external changes from the Suunto 9 Peak to the 9 Peak Pro are subtle. At a quick glance, they look almost identical – especially if you have a colorway that shipped for both generations of the 9 Peak. The bulk of the changes are internal and interface, but we'll get to that.
The non-titanium models come in a few new colors, which are akin to Apple's pastel color palette of the past 2 to 3 years – Ocean Blue, Pearl Gold, and Forest Green. You'll also find new bands on the All Black, Ocean Blue, and Forest Green colorways. 
The Titanium models look largely the same, swapping Granite Blue for Slate (grey) and Birch White for Sand (very similar off-white). 
Overall, I think all the 9 Peak Pro colors are sharp. The pastels are a welcomed diversion from Suunto's traditional colorways. I have been testing the Ocean Blue model, which is handsome, yet unassuming. It looks great in a business setting. 
Worth noting, the color can chip and wear from the coated stainless steel models over time, so if you're someone that wears tech battle scars proud, it shouldn't bother you. If you're more protective over your tech, the Titanium models might be worth the extra cash as the scratches give the watch character vs. the battled look.
Flip the Suunto 9 Peak Pro over and you'll start to see the real differences. Slightly different sensor placements and sizes allow the internal chipset improvement story to unfold. 
UI Refresh
Suunto definitely spent some time on the interface design. From the sport mode iconss to the way you navigate the watch features to the overall feel when using the interface. It's fresh and it feels faster thanks in part to the new, faster chipset and in part to the overall quicker access to sport modes – the main reason for the watch! 
While scrolling through LinkedIn, I saw that they contracted help from a 3rd party to design the new icons and it paid off. The icons feel a lot more cohesive and uniform than the previous UI. Every sport mode is now represented by a minimalist, "line-based" figure (lacking a better way to describe them).
The old sport modes were represented by a mixture of equipment used for the sport. It was hard to decipher the difference in some instances, specifically walking vs. hiking vs. trail running, three of likely the most popular modes for these watches. The new figure icons make it a lot easier to pick your sport by icon.
UI Usability
While the icons are a fun and welcomed change, the most impactful changes are in the way users interact with and use the watch. Scrolling up one from your watch face now drops you right at your top-used sport modes list, highlighting the last used for a quick start. This is one less step than the previous UI, which you had to scroll to "exercise" select that, then you'd get your top-used list. Interacting with the top list on the old UI was also a "full screen" experience that showed the full icon one slide at a time. The new UI shows a few at a time, and scrolling with your thumb allows you to scroll through a few at a time rather than one at a time. I dig it, though using the buttons still only moves one at a time. 
Swiping left or right from the main watch face gives you an array of widgets that you can choose to use or not in the Suunto App. These widgets used to be stacked downward from the watch face, and you'd need to click through them one by one like the sport modes – it was slow and frustrating. The new widgets not only load faster, but the way you interact with them is a lot more intuitive for what they are. They are essentially micro apps, so swiping left or right feels like swiping through pages of apps like a smartphone. This makes sense to me!
Scrolling down one from the watch face brings up the options that used to live in a shortcuts menu that could be accessed by long pressing the center button. It has items like do not disturb mode, backlight on and off, etc. Long pressing the center button now takes you to the larger general settings, which also makes sense to me! 
Overall, these improvements take a little to get used to coming from the older UI, but are extremely welcomed once you adjust. 
The more intuitive feature layout is also enhanced by the new chipset and processor. There is a lot less lag overall. Dragging with your thumb actually drags the UI in real-time, vs. a drag and wait for the UI to react.
As I said in the intro, the UI looks fresh and feels fresh. The Suunto 9 Peak is so much snappier side by side than the Suunto 9 Peak. I notice it most with sport modes, not only can you get there faster, but there's a much shorter wait to start your tracking than the old UI and chipset offered.
To close out this section, here's some words from Suunto's Vice President of Product Sami Männistö: 
 "The new user interface, with bigger icons and digits, as well as the use of white and color background elements make the watch easier to operate and read during sports, allowing sports enthusiasts to focus better on what they do best."
Physical Usability
Suunto retained the very clicky buttons from the 9 Peak, which I have grown quite fond of. They have a very loud and distinct click noise coupled with a very tactile and responsive bounce back when depressed. Gone are the days of hoping you paused your tracking through your jacket sleeve, you can hear and feel if you paused your tracking even if you have the watch on do not disturb and chimes are muted.
As mentioned above, the touchscreen is not any better than the 9 Peak, but the chipset has made interacting with the screen feel 10x better. It feels responsive, not quite Apple Watch or iPhone responsive, but more in line with true Suunto competitors.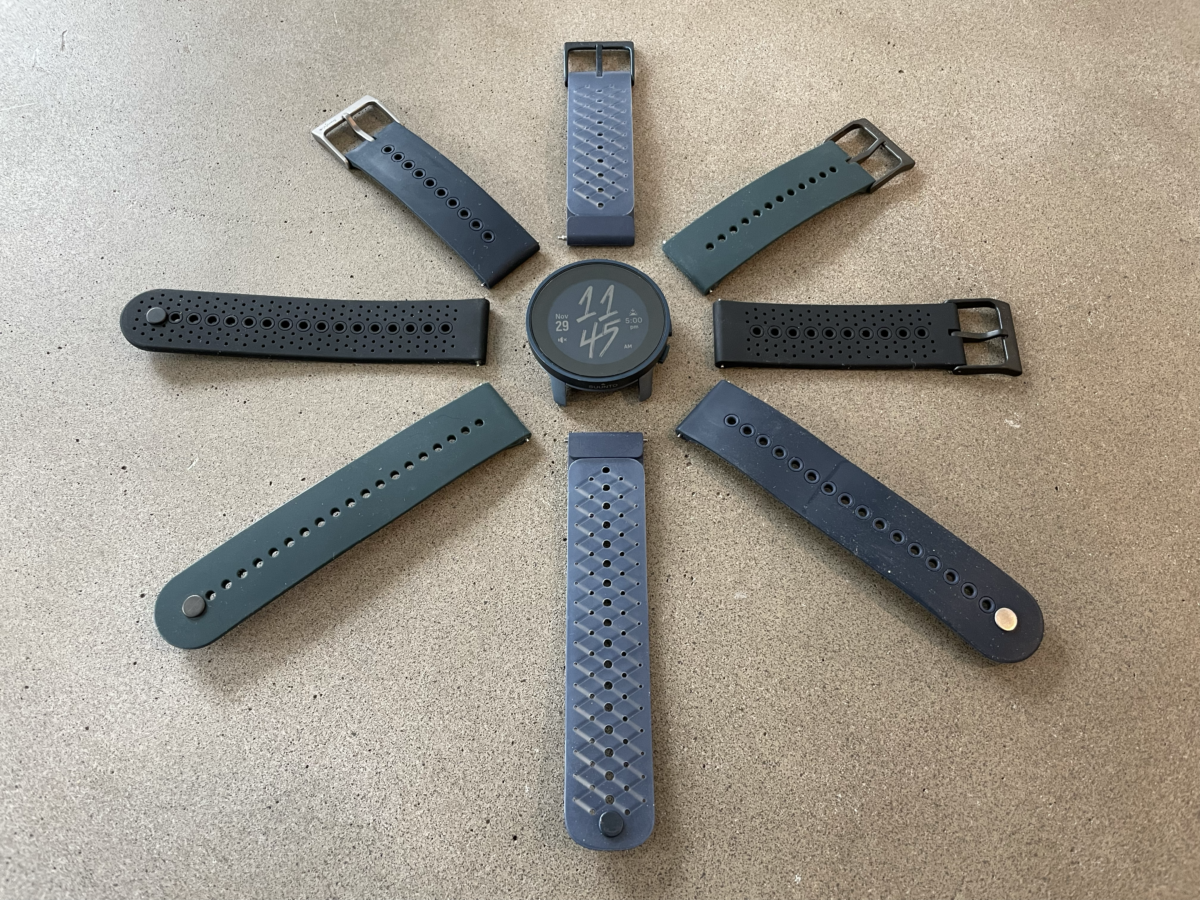 Swapping watch bands is no different than the 9 Peak. Both 9 Peak and 9 Peak pro use a standard sliding pin interface for bands. It's tried and tested, not broke why fix it, any of the cliche sayings for something that just works. I don't change bands often, so it's not a big to-do for me, but I can imagine it could get frustrating on a daily basis. The band size is identical to the 9 Peak, so if you built up a stash of straps, you're in luck! 
I personally prefer the Suunto leather straps, but the Ocean Blue strap that ships from the factory is very comfortable and more breathable than the standard silicone straps found on the titanium models.
GPS Accuracy
I am not the most technical person to reference for this section. If you're an absolute data nerd, I'd check out the work done by DC Rainmaker on his in-depth Suunto 9 Peak Pro review. He compares the 9 Peak Pro to other sport watches. In addition, he also analyzes the GPS tracks, sensor accuracy, and various sport mode features with a more scientific/mathematical lens.
All that aside, for the typical user, the 9 Peak Pro will do exactly what you need it to. Track your activities with solid accuracy to let you know if you finished your marathon or century ride or not. 
Suunto notes that the 9 Peak Pro, "can connect with up to four satellite systems (GPS, GLONASS, GALILEO, BEIDOU) and up to 32 individual satellites simultaneously. This results in greater accuracy when exercising in challenging GPS conditions, like below tall buildings or deep mountain valleys." 
Most GPS watches struggle in conditions where GPS reception can be hindered – the examples above, or in deeply wooded forests for those that are out through hiking or trail running. With the extra satellite connectivity, it seems Suunto has taken a step in the right direction to improve performance in these tough environments. 
I live in a small mountain town and do most of my exercise on mountain trails without much vegetation, so while I don't need to combat these tougher GPS conditions, it is nice to know my tracking is more accurate than my 9 Peak. As I continue to train and improve at my sports, I know I'll care more and more about accuracy.
Here's a day of snowboarding with the Suunto 9 Peak Pro. Unfortunately, Strava imports Suunto downhill mileage wrong, but the vertical is spot on and the GPS tracks are clean and crisp even at high speeds:
Value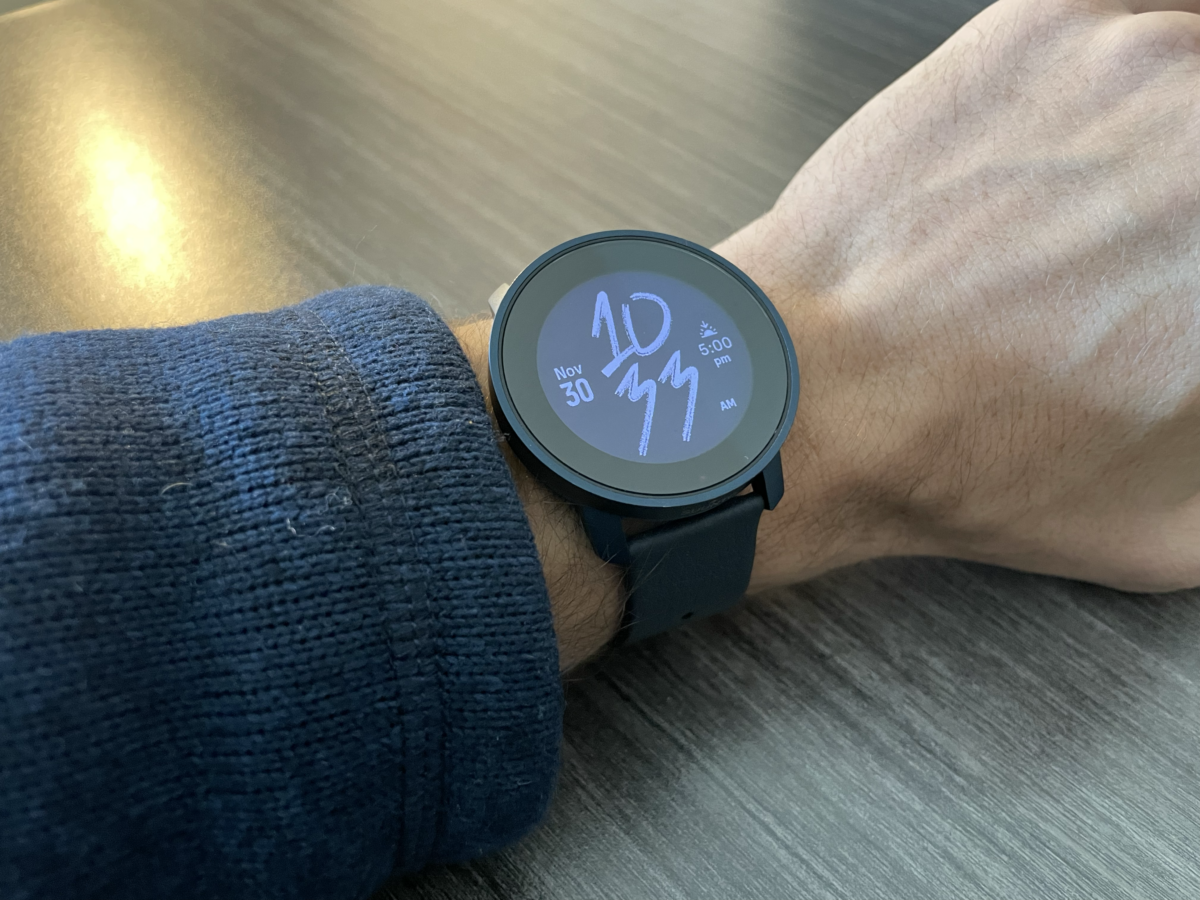 Overall, if you're already a Suunto 9 Peak user, this is a sign that great things are coming from Suunto. Unless you're an absolute nut about the latest and greatest tech, I'd see what else Suunto has up its sleeve in the next 12-18 months! I wouldn't be surprised if improved screens are in the works… as that has been a major complaint from users for some time now, both in brightness and in clarity. 
If you're in the market right now, I'd say the Pro is a really nice addition to the Suunto lineup and is worth the investment. The faster chip will make it more future-proof, the improved GPS functionality will let it stand its own against any competition, and the sleek design will stay fresh and modern for years to come. And to top all that off, the 9 Peak Pro is the nicest-looking multi-sport watch on the market. I get compliments all the time from other GPS/multi-sport watch fans.
Buy now, starting at $499, or Browse the entire Suunto 9 family.
Suunto 9 Peak Pro | Tech Review
Suunto's 9 Peak Pro is what the 9 Peak should have been – an elegant and minimal design with a fresh new UI to boot. It now feels more modern, not just looks it.
THE GOOD:
Impressive Battery Life
More responsive to user input
UI refresh was a needed update
THE NOT SO GOOD:
Screen didn't see an update, yet, but readability is certainly improved
Does not charge with Suunto 9 Peak charger, has a new charging puck