Here we go! It's time again to knock the dust off our skis and snowboards, ride that chairlift to tip top of the mountain, and enjoy another season of beautiful fresh trails! Ski season is upon us and and a large part of the equation is responsibly gearing up with the proper attire to protect our bodies from the bitter wet and cold the slopes might dish out along the way. This season, we're heading out there wearing the Helly Hansen Olympia Jacket, pushing it to the limit, and getting as much out of winter as we possibly can!
Key Features:

HELLY TECH® PROFESSIONAL
Waterproof, windproof and breathable
2 ply fabric construction
4 way full stretch fabric
Fully seam sealed
Durable Water Repellency treatment (DWR)
PrimaLoft® Black Insulation Hi-Loft 80gin body
PrimaLoft® Silver Insulation Hi-Loft 65g in arms
Fully insulated
H²Flow System mechanical venting for optimal comfort
RECCO® Advanced Rescue system
Articulated arms and elbows for superior fit
Zip-away stretch powder skirt
Detachable helmet compatible and adjustable hood
Dual hand warming pockets and 2 chest pockets
Wrist gaitors
Internal pockets for goggles and electronics
Ski-pass pocket
YKK® water resistant zippers
Helly Hansen Olympia Review Breakdown
Design:
When it comes right down to it, we're hard pressed tho think of a winter jacket more fully loaded than the Olypmia. For the hardcore adventurer who lives life closer to the edge, or perhaps even out of bounds, the Olympia has you prepared for the worst with a fully installed RECCO® Advanced Rescue System. In the event that one finds themselves in a search and rescue situation, the RECCO reflector installed in the sleeve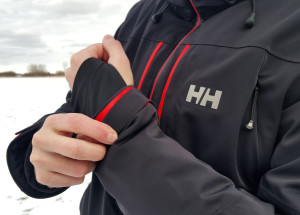 makes you searchable, and requires no activation to function with virtually no limit in its lifespan. This little bit of extra added protection is a pretty big deal when the possibility of a life and death situation is present. Hey, you never know.
Aside from safety measures, this jacket is ready for everything from top to bottom. The hood is removable, and re-attaches with virtually no difficulty. It has three adjustment chords, one on each side and one on the back, so whether you prefer the extra protection of a brain bucket or not, the hood can be adjusted to fully encapsulate the head comfortably.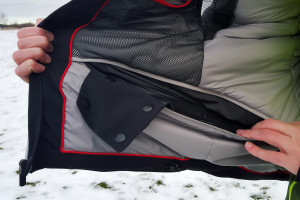 The Olympia is ready to carry whatever you need as well, with an elastic inner pocket, an internal zip-up pocket, a breast pocket, standard hand warming side pockets, and a left sleeve ski pass pocket. Whatever it is that you intend to take with you (within the bounds of reason) will most definitely fit, and with a variety of options to maintain optimal accessibility. The internal zip-up breast pocket also comes equipped with a media port, so jamming to your favorite tunes is an available option while cruising down the slopes, and whatever electronic device you're using remains well protected.
As you're enjoying the fresh powder runs in the early hours, you'll be well protected of any possible snow intrusion to your underlayers. The Olympia is all set with wrist gaitors as well as a stretch powder skirt, and the elements can be kept out comfortably. The powder skirt is actually woven into the insulation of the lower jacket, so it remains available at all times. The days of fully detaching the powder skirt when unnecessary are over, and there's no need to worry about getting caught unprepared in unexpected conditions.
Performance:
Helly Hansen has undoubtedly outdone themselves with the huge array of features that keep the wearer of the Olympia jacket well protected in any extreme conditions. The HELLY TECH® PROFESSIONAL fabric provides front line protection from the elements…waterproof, windproof, and breathable. This special membrane is designed to keep water molecules from penetrating, but still allows moisture molecules to escape, meaning you stay dry from the outside and comfortable on the inside.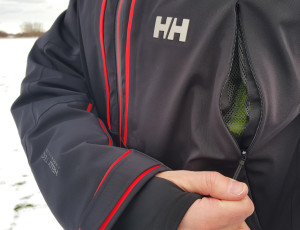 The PrimaLoft® synthetic insulation technology offers thermal properties that make for some of the best temperature regulation we've ever encountered, made up of ultra-fine fibers that form air pockets to trap heat inside. These fibers are also combined with a special treatment that doesn't allow water to pass through, and their highly reduced diameter makes PrimaLoft® extremely soft.
The innovative Helly Hansen H2Flow system, on top of everything else we've already discussed, has opened our eyes to a whole new revolution of control over body temperature. We look back on earlier winter jacket ventelation systems that were virtually just openings that allowed the cold external air to break through to our core. The H2Flow system, however, also sends the air into the insulation of the jacket sending a well proportioned airflow around the body and to the back, cooling down the entire body quickly and uniformly.
Comfort:
Slipping into the Helly Hansen Olympia jacket is like jumping into a feather mattress bed with 1500 thread count luxury Egyptian sheets. No lie, even on the warmer days when you're only wearing a T-shirt underneath, this jacket's interior is ridiculously comfortable against the skin.  Loaded with adjustable features from the hood Chords, adjustable waist chords, and Velcro flaps in the sleeves, the Olympia is easily managed to fit just about any body type. We don't need to go over all of the performance features a second time, and needless to say, keeping warm and dry is optimal in any environment one might encounter.
Style:
Helly Hansen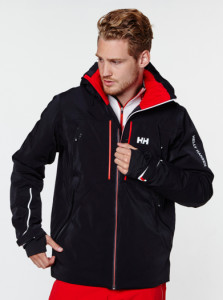 has promoted the Olympia as "A true resort ski jacket for the person who appreciates a clean stylish outside with a new evolving technical inside", and we find ourselves agreeing adamantly with that statement. On top of the smorgasbord of technologies and design concepts within, the Olympia is a great jacket to look at, providing true visual benefits at the same time. It comes available in three color scheme options, and we've had the pleasure of wearing the black version with bright orange/red highlights. The little extra flair of the highlights are minimal and tasteful, and you will not be confused as a goober who hasn't purchased an new jacket since 1991.
The deep black is easily recognizable against the white snow, so being seen by other skiers is no problem and making turns down the mountainside is made safer. On the flip-side, when the day is done and it's time to hit the local pub, the highly reflective logos and accent colors will make you easily spotted by a friend, or even a hot little ski bunny. You never know who you may run into, enjoy a drink or two together, and discuss a location to meet up the next day to carve some lines.
Durability:
We all want a jacket that performs, but knowing that it will withstand the test of time is of huge importance to any purchaser. We're happy to report that Helly Hansen's reputation has preceded itself since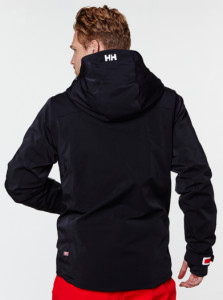 Helly Juell Hansen and his wife began producing oilskin jackets and trousers in 1877. More than a century later, Helly Hansen's brand has enjoyed a heritage of well made products and relied on by professionals across the globe. In the time we've been wearing the Olympia, we see absolutely no sign that they've lost any bit of their game. The fully sealed seams are not only made with unquestionable precision, but show no sign of wear that we can find whatsoever. Our confidence in this jacket's wear ability over time is rock solid.
Value:
So much to choose from. The market for winter jackets with options across the board for brand and style is one of the largest out there, but also one where you generally get what you pay for. We're delighted to confirm that the Helly Hansen Olympia is on the top of our list with this in mind. At first glance, the price may raise some eyebrows a bit, but after you consider all of the features this jacket provides with it's durability and enduring sense of style it's not hard to see that every penny is worth it.
Buy Now: $700.00 or to learn more, go to: HellyHansen.com
Helly Hansen Olympia Jacket - Gear Review
It's been called the "true resort ski jacket" by its maker, but Helly Hansen may have sold themselves short this time. The Helly Hansen Olympia is the ultimate safeguard in everything winter might throw at you, and not just at the resort. Whether you mean to enjoy a day out on the slopes, make a fashionable statement, or simply be as comfortable as possible in any conditions you may find yourself in, this is as good as it gets when gearing up for winter!
The Good
Impervious Temperature Regulation
Insanely Comfortable
Enduring, Yet Functional in Style