Yes, that's right… we're back at it again with another review of a Yuneec Aerial System – the Typhoon H!  So much new tech has hit the market in the last year and Yuneec has done a great job of integrating the latest smart and safety features into their Typhoon H.  We are no strangers when it comes to testing Yuneec aerial systems.  If you missed the Q500 4K, Typhoon G, or the Yuneec Breeze 4k reviews, definitely check them out (especially now that the price has dropped).  However, if you want the latest in best tech from Yuneec, the Typhoon H is here and delivers on nearly everything we've been hoping for.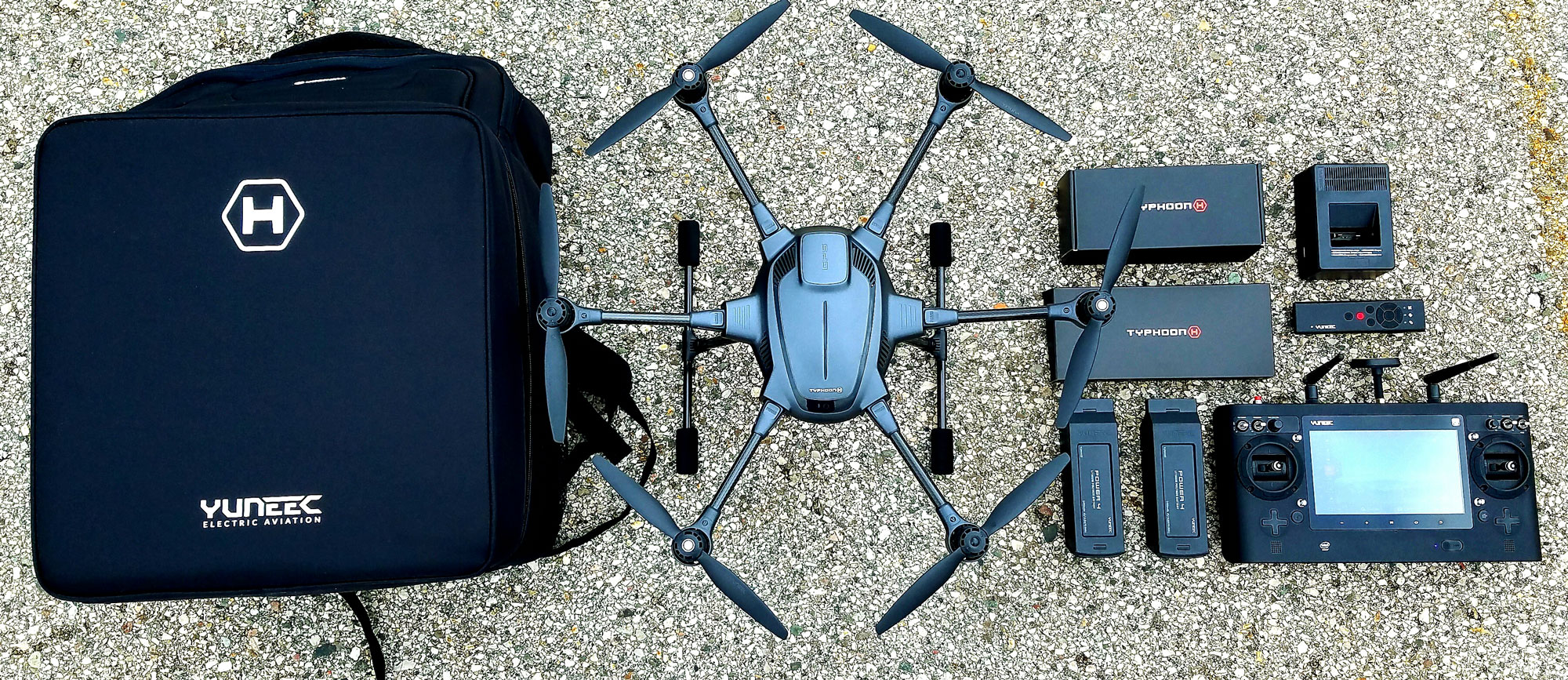 Key Features:
25 Minute Flight Time
43.5 mph (70 km/h)
4K Video Resolution @ 30 FPS
12.4 Megapixel Still Images
Low Distortion Lens
HD 720p Digital Video Downlink
3 Axis Gimbal
360 degree Unlimited Camera Rotation
115 Degree Field of View
Lens: 14mm / F2.8
Video Transmission Range: Up to 400 m
Control Transmission Distance: Up to 1 mile
HD 720p Video Link Resolution
ST16 Ground Station with 7″ touch screen
What's in the Box?
Typhoon H CGO3+ Gimbal Camera
ST16 Ground Station
Wizard Remote Controller
2 sets = 12 Propellers
USB Adapter Cord
AC/DC Charger
Power Cord
Dual-Port Charger
16 GB Micro SD
ST16 Sunshade
2 Batteries
Backpack
Typhoon H Review Breakdown
Design:
One of the most attractive looking features on the Typhoon H is the noticeable 6 rotor design.  Having more than 4 rotors allow for redundancy if a motor should fail during flight.  Luckily we didn't experience any rotor failure, however, it's always nice having an extra motor or two to fall back on if needed.  The quick release propellers allow for an easy installation and removal.  With two more rotors than the average drone, having the ability to quickly and easily install and remove propellers is a bonus and time saver.  The foldable Arms are another cool feature and allow for a more compact fit when stowed away in the backpack.  The Typhoon H comes ready with the Sonar Collision Sensors for obstacle avoidance.  So long as you have the Sonar Sensors facing the direction in which you are flying, the Typhoon H will stop short of obstacles automatically.  Because they are front facing, make sure you are flying forward and not side to side or backwards into an area where obstacles may be an issue.  There is another option for the Typhoon H that includes the Intel RealSense technology that not only detects obstacles, but also navigates around them for you.  We weren't able to get our hands on it for testing just yet, but hopefully in the near future we'll be able to do an update.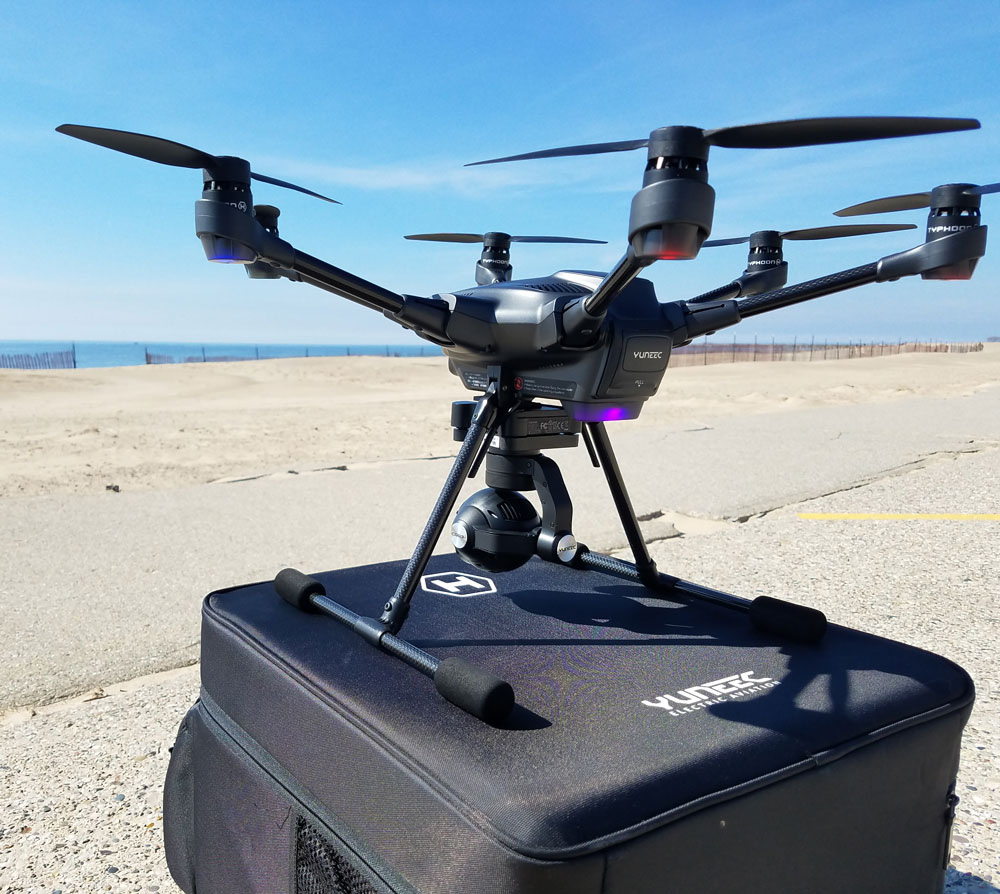 Flight Capabilities:
Similar to the Q500 4k, the Typhoon H also has a 25 minute flight time with a top speed of 45 mph.  The Typhoon H also has the Follow Me/ Watch Me mode that will allow the Typhoon H to follow you as you move along any path, all while keeping the camera pointing in your direction. The Curve Cable Cam is a new feature where you can easily program a route of pre-set coordinates for the Typhoon H to fly along, while independently controlling the camera position.  In lieu of team mode, the Curve Cable Cam is a great feature to use while you fly solo, in order to get that shot (previously only possible with 2 people).  Orbit Me mode is a familiar feature in which the Typhoon H flies in a circular path around you, while keeping the camera locked on to your position.  Similar to Orbit Me, the Point Of Interest Mode allows you to orbit around a subject that you select.  The Typhoon H will then orbit around that subject autonomously.  Journey mode is a new feature that when selected, the Typhoon H will go up and out as far as 150 ft to capture a selfie.  And of course we have the reliable Dynamic Return to Home feature for when you want the Typhoon H to come back and land itself within 26 feet of your current position.  All of these flight modes serve a purpose and have been easy to integrate and control in our 2 months of testing.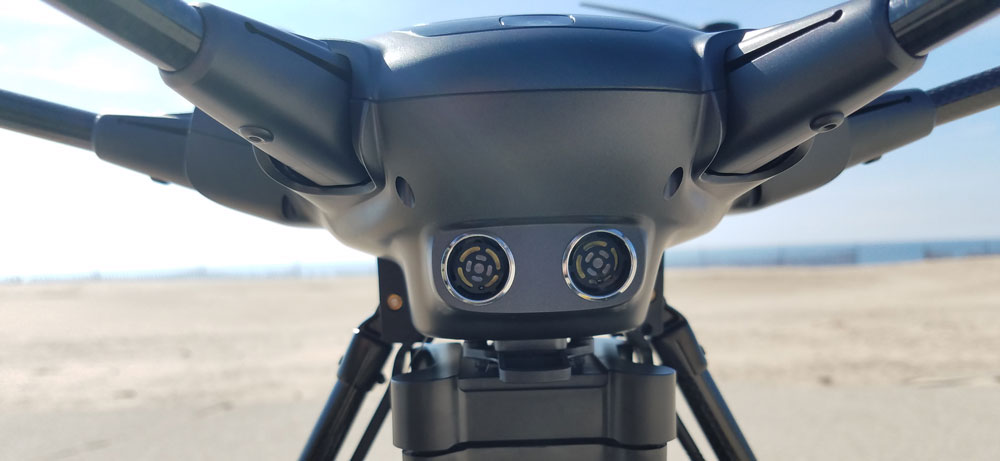 One of the features I was most excited about was the Team mode with the Wizard and ST16 flight controller. Since I am accustom to flying professional grade aerial systems that use 2 controllers (one for flight, one for camera control), this feature was a game changer for a much smaller platform.  Yes, you can bind two ST16 flight controllers for more precision, but since this package comes with the wizard and one ST16 Ground Station, it is much easier for a "prosumer" to get up and running without a ton of experience.  The Wizard is a compact flight controller (TV remote size) with a built in GPS beacon.  Once the Typhoon H is bound to the Wizard, you can easily control the position of the Typhoon H, while a second operator uses the ST16 Ground Station to control the camera position.  Simply point and click the Wizard, and the Typhoon H will move where you want it to. Or switch the Wizard to follow me mode and the Typhoon H will follow you as you ride along the terrain.
Camera:
The CGO3+ camera is essentially the same camera as the CGO3.  Although there wasn't much to improve on with the original CGO3 in the first place.  Same 4K, 2.5k, and 1080p resolution and FPS specs.  Same 115 degree Field of View.  Same 1/2.3″ CMOS sensor. Although their website claims they both have a Video Transmission range of 400 meters, I did notice a better range when it came to the CGO3+ with less signal interference.  Compared to other competitors (mainly DJI), the Typhoon H has a shorter range.  However, since the FAA has strict regulations on not losing line of site (without a waiver), there really isn't much need to exceed past 1 mile if you want to follow proper safety measures.  Nevertheless, the CGO3+ camera captures the same amazing video quality and .dng imagery.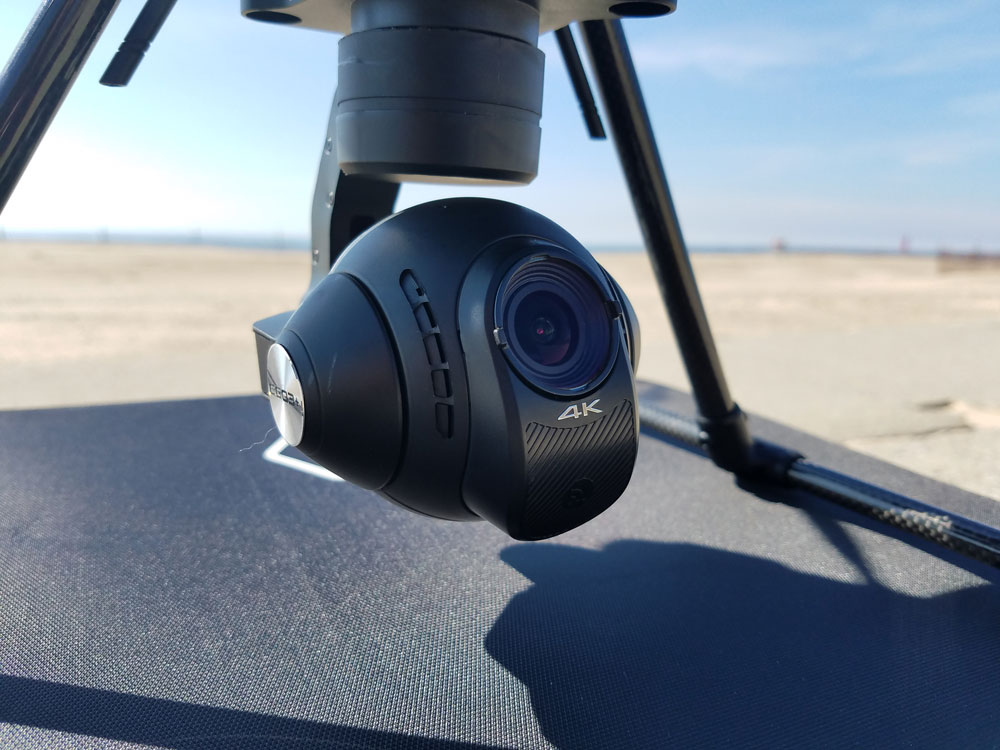 The 360 degree gimbal is one of my favorite features and allows for a more professional looking shot while taking advantage of the Sonar Collision Sensors.  By flying the Typhoon H forward into an area where obstacles may be an issue, the Sonar Collision Sensors will work to avoid any incidents while you focus on using the ST16 control dial to rotate the camera into position.  The retractable landing gear allows for unhindered capture and full 360 access for the camera, allowing you to get the perfect shot.
Ground Station/Remote:
The ST16 Ground Station is definitely one of the best transmitters I've used.  The 7-inch integrated touch screen display is a great size and allows for full control over the Typhoon H and all its parameters.  You can easily program autonomous flight paths, dial in camera settings, and eliminate the need for any external display.
As mentioned above in the Flight Capabilities section, one of the best features of the Typhoon H is Team Mode.  With Team Mode, you can use two ST16 remotes.  One is bound to the Typhoon H for flight, and the other is bound to the camera.  This mode is great for complex shots and is safer overall.  As a pilot, not having to take your eye off your drone to make sure you are getting the right shot is ideal.  This mode allows you to fly as the FAA intended while your photographer worries about getting the perfect shot.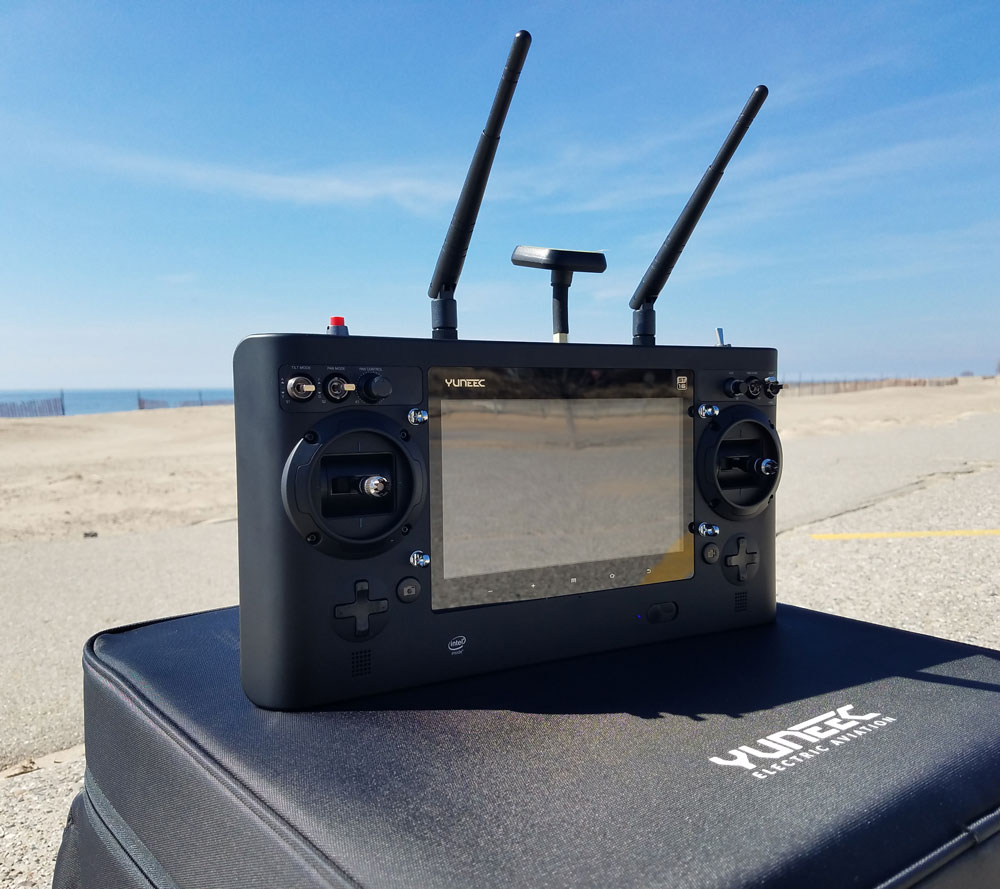 Value:
As of March 2017, the Typhoon H is going for $1499.99, which is pretty average for a new drone on the market.  If you want to be patient and wait several months, the price always drops.  But if you want the latest in Yuneec tech and a drone that captures superb imagery with an easy learning curve, then we highly recommend getting the Yuneec Typhoon H.
Buy Now: $1,499.99 or to learn more, check out: Yuneec.com
Yuneec Typhoon H - Tech Review
Yuneec delivers another stellar drone with the new Typhoon H package.
The Good
360 Degree Unlimited Camera Rotation
Beautiful ST16 Remote with built in 7 inch touch screen display
Team Mode capability
The Not So Good
Video Transmission Range could still be improved
No ST16 neck strap/ leash
No battery light indicator for battery voltage on the battery body