These days it seems like they're everywhere! They've been above our heads and capturing aerials for years now, they may soon be delivering packages right to our front doors, and they've caused controversy all over the place! Drones have become a part of our lives in a way that would have blown our minds a decade ago and it looks like they're here to stay. Not only do they serve useful purposes to our lives in a myriad of ways, but they look like a heck of a lot of fun to play with too. The only problem is that any drone on the market capable of taking high quality shots is sure to cost well into the thousands of dollars…that is until the Yuneec Breeze 4k broke onto the scene a few months back. We got our hands on one of these babies, and we're ready to provide some opinions of this drone designed with the common, less tech savy consumer in mind.
Specs:
Aircraft: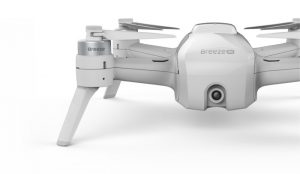 Dimensions: 196 x 196 x 65 mm
Take-Off Weight: 385 g
Battery: 3S 11,1 V 1150 mAh LiPo
Flight Time: up to 12 minutes
Maximum Flying Height: 80 m
Maximum Horizontal Speed: 5 m/s (limited by software)
Maximum Climbing Speed: 1 m/s
Camera:
Working Temperature: 0°C – 40°C
Sensor: 1/3.06 CMOS
Effective Pixels: 13 Megapixel
Photo Resolution: 4K – 4160 x 3120 pixels (13 MP)
FOV: 117°
Shutter Speed: 1/30 – 1/8000s
White Balance: auto, sunny, sunrise, sunset, cloudy, tungsten light, glowing, disabled
Yuneec Breeze 4K Review Breakdown
Design:
One simple word is all it takes, and that word is simply "simplicity". Yes, the Breeze 4k was designed and marketed for the everyday person who'd love the opportunity to get a better view of things and capture life's moments with professional quality in resolution. The Breeze 4k comes as a single unit, and requires practically no set up or break down to operate. It is operated straight from any smart device with WiFi capabilities, so there's no controller to store or keep track of. The breeze weighs in at only .8 lbs which does put it within the specs to legally be considered a drone, so any use will require FAA registration and the operator will need to make sure they stay compliant with the law to operate it. Small and incredibly compact with it's own storage container, the Breeze 4k can be taken pretty much anywhere the operator desires, as well as indoors if the operator has the confidence to do so.
The memory is also completely self contained in the Breeze 4k, which we see as a real plus in this instance. An SD card that can be changed out is of key importance to a lot of professionals using the the larger drones, but with the Breeze 4k battery life only having 12 minutes per charge, it's impossible to fill up the memory between flights and uploading is as simple as sending the photos and video straight to your smart device via the WiFi connection or through USB to your home computer. Yuneec was also nice enough to provide an extra battery, so right out of the box you can get double the flight time. It takes about 45 minutes to charge each battery, so don't expect to go running out to fly again right away.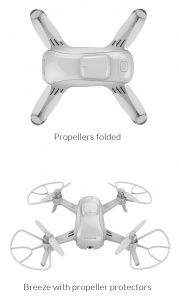 The Breeze 4k comes equipped with an optical sensor on it's underside. While this helps prevent the Breeze 4k from hitting ground, it does not work as a side sensor so there is still the chance of running into obstacles. We also discovered that flying over water presents a risk, as the reflectivity of the water's surface interfered with the optics, causing the breeze to lower on it's own. It almost ended up in the drink, but we were able to right it just in time.
We feel that we should also mention that the Breeze 4k comes with a full set of extra props and prop protectors that can be clicked right into place in seconds. If you've seen our unboxing video, you know that we managed to crash the Breeze 4k within hours of getting our hands on it. We must admit, we made the rookie mistake of not turning off the GPS to fly indoors, and some unknown disruption caused the Breeze 4k to run itself right into a door. This turned out to be a good test for the prop guards though, and we quickly learned they didn't really do much to save our props. not only did we break a few props, but one of the prop guards themselves shattered on impact, and we really haven't seen much point in using them since.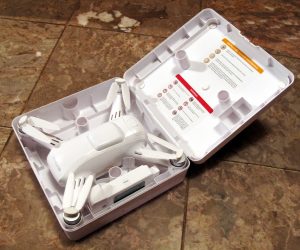 Changing the props isn't the the most difficult task in the world, but we're a little disappointed in a few aspects of it. For one, Yuneec neglected to give instructions in the box on how to do it and the tools it requires. Built outside the USA, this fix requires a 1.5 mm hex wrench…and the tool is not provided, so getting this job done may require a trip down to the hardware store if you don't already have one. You'll also need to use an exacto blade to remove the cover where the prop screws are accessible, and the gum that secures the cover is in the way of the screws and will need to be worked around. When we did get the props changed out, we found it difficult to reattach the covers as securely as they were out of the box.
Despite some of these minor setbacks, the most important aspect of the design of the Breeze 4k is how insanely compact it is. Even with the landing gear engaged, we were able to comfortably fit the Breeze 4k under Yuneec's Typhoon Q500 4K quite comfortably. With it's own carry case capable of storing one backup battery, this conveniently compact flying camera can go anywhere you want to take it with virtually no problems, and THAT'S what it's all about.
What's in the box? Check out our unboxing…
Controls:
As we've mentioned, there is no controller to keep track of here. The controls are right in your pocket on either your cell phone or another WiFi capable touchscreen device! Just download the App and you're ready to fly! There are five flying modes available, and in-depth instructions are provided within the app before take off with each of them:
Pilot Mode – The most basic and what one would expect in a remote control flyer. All of the basic functions are right there to move the Breeze 4k through the air in whatever way you desire.
Selfie Mode – Probably the simplest and most user friendly function in our opinion. Just set the Breeze 4k up facing yourself, and move it closer, further, or higher, it's up to you to find that right angle to catch the perfect shot.
Orbit mode – Set the distance and the Breeze 4k will go around it in a perfect circle. This can be a bit tricky if you don't know exactly the distance between the Breeze 4k and the object it's orbiting.
Journey Mode – Definitely the most complicated of the five available functions, we highly recommend getting very well aquatinted with it in a wide space before putting it into real use. Very cool though, you can set the breeze to fly away, rise to a specific height, orbit, and then com back systematically. You'll get some pretty great videos if you can master this function.
Follow Mode – Just pinpoint the person or object on your screen and the Breeze 4k will follow it. This function works better in theory and there is a bit of a late reaction time. just walking to the right or left, we were able to leave the view of the camera before it started to follow.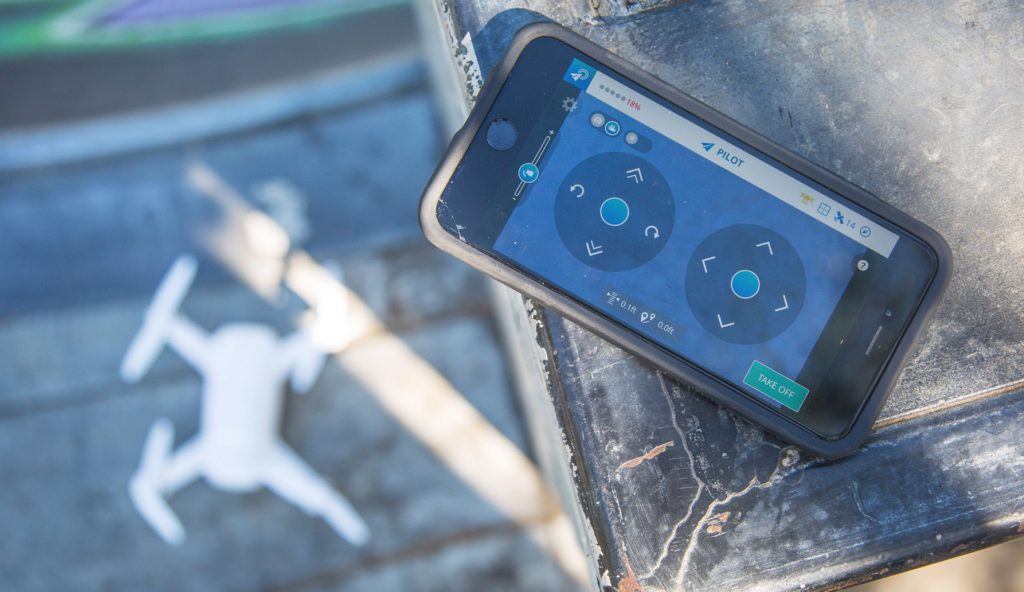 We've played with all of these functions, and while all of them serve a specific purpose, we've found ourselves using the Pilot Mode most often. While it is a great novelty using our smart devices as the controller, we will say that the touch screen controls can be a bit finicky. Holding a tablet as a controller can be a bit cumbersome, so using a cell phone is probably best. However, with such a tight touch screen surface to control the Breeze 4k from, the controls are incredibly sensitive to the slightest shift in finger position.
The camera is controlled directly from the WiFi device as well, which means that you have to switch away from the controls to operate. For that moment your hitting the record button or taking a snapshot, you'll absolutely want to get the Breeze 4k in a position your comfortable with. Otherwise its quite user friendly, and switching between the modes takes minimal effort.
Note: Yuneec has just announced the availability of its all-new Breeze First-Person View Controller, creating a new means to pilot the Breeze 4k. This may just be what we've been looking for in order to solve the issues we've found with the controls. Time will have to tell on that since we didn't have the device available during our testing.
Photo Quality:
It may be small in size, but the Breeze 4k camera features ultra high definition 4K video and 13 megapixel still quality, so it will hold it's own against the higher end drones on the market. The camera is without a gimbal, but is instead encased in a soft rubber internal socket, which does help prevent jumpy movement in video during flight. However, due to the sensitive controls through a touch screen device rather than a traditional controller, we did find it difficult to get good steady video footage during more aggressive maneuvers and windy conditions.
The App: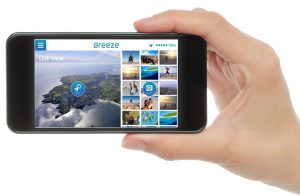 One of the great advantages of this setup is that everything is self contained at your fingertips, and the free app is just a quick download away. We've discussed the flight controls, but there's more to it than just that. Once you have your footage and the Breeze 4k has been landed, everything is accessible for download through the WiFi connection. That means you're capable of saving shots right to your device, sharing them to social media, or even doing some basic editing right there in the app.
We did run into a few buggy technical issues along the way that caused our phones to turn off unexpectedly and at one point we ran into a magnetic interference that caused a pop-up in our display that wouldn't go away. Fortunately, when the Breeze 4k looses the WiFi connection, it's programmed to relocate to it's original GPS coordinates and land in the same location it started. We consulted Yuneec's tech support and they recommended we recalibrate the drone and re-install the app. These were basic fixes, and we haven't had any problems since. We do have to remind ourselves that this software is only a few months old and rely on Yuneec to work out these bugs through future updates.
Value:
Despite a few issues we've had with the app and interface, we have to remind ourselves that the Breeze 4k has some of the best photographic quality available on the drone market, and in a small, accessible, and inexpensive package. This one is perfect for anyone who wants the best shots possible without breaking the bank!
Buy Now: $399.99 (With Cash Rebate) or to learn more, head over to: Yuneec.com
Yuneec Breeze 4K - Tech Review
Getting high definition video or pictures from above is just the quick download of a free app away with the light and compact Breeze 4K from Yuneec! All self contained and a fraction of the price of the bigger more complicated drones on the market, this flying camera can go virtually anywhere the common person wants to take it.
The Good:
Insanely Light and Compact
Amazing Photo Quality
Photos are Instantly Accessible from App
The Not-So-Good:
Touchy Controls From Smart Device
Buggy App Software
No Tools or Instruction to Change Props