Founded in 2013, Ridge is a fast-growing company dedicated to simplifying your everyday carry. With so many slim, front-pocket wallets and key solutions on the market, it's tough to make a decision. I'm here to give you my in-depth thoughts on two essentials from Ridge: Ridge Wallet and Ridge KeyCase.
The Wallet put Ridge on the map. Ridge's design team knew they could build a better wallet that suits the modern plastic (and metal) card lifestyle we've all adapted to. Slim, handsome, functional, and RFID-safe. It's built to keep up and last.
The KeyCase came later, but the intentions were just as pure – build a better way to organize and carry keys. Out with the jingle, in with the mingle (because you'll be looking sharp without that wad of keys hanging off your jeans). 
Whether you're a gear enthusiast like me or are just looking for a practical upgrade for your bloated old wallet, look no further than Ridge. Read on to see why Ridge's EDC products are worth the swipe (or CC info type).
CARRY LESS. LIVE MORE.
Ridge Wallet Review Breakdown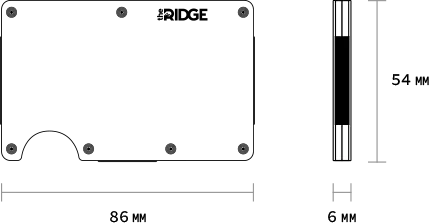 Key Features:
Holds 1-12 cards without stretching out

Blocks RFID to prevent wireless theft

Scratch resistant

Lifetime warranty

99-day risk-free trial

Replaceable screws and elastic

Grade 2 Titanium | Powder Coated

Weight: 2.5 oz | 86 x 54 x 6 mm
Design
"It's about carrying less but always having what you need."
Right from the Wallet's product page, I couldn't have kicked off this section better. As a dude who never overstuffed a wallet in the past, this line of copy is music to my ears. Any card that I didn't need to carry, was immediately out of my wallet. No pictures of my fiancée, family, or niece, no store loyalty cards (why carry them when you can type in the number?), oh and never any receipts.
I carry 7 cards regularly, and I feel like it's the perfect number for Ridge Wallet:
Metal credit card

Debit card

License & global entry card

Health insurance & FSA cards

Library card
It fills the wallet to the point where the elastic strap is stretched tight so the cards feel secure, but not pushing the wallet's limits. Ridge claims the wallet can comfortably hold 12, but I feel like that slightly impacts the ease of use. When the elastic is more stretched, it's a little harder to "fan" the cards out.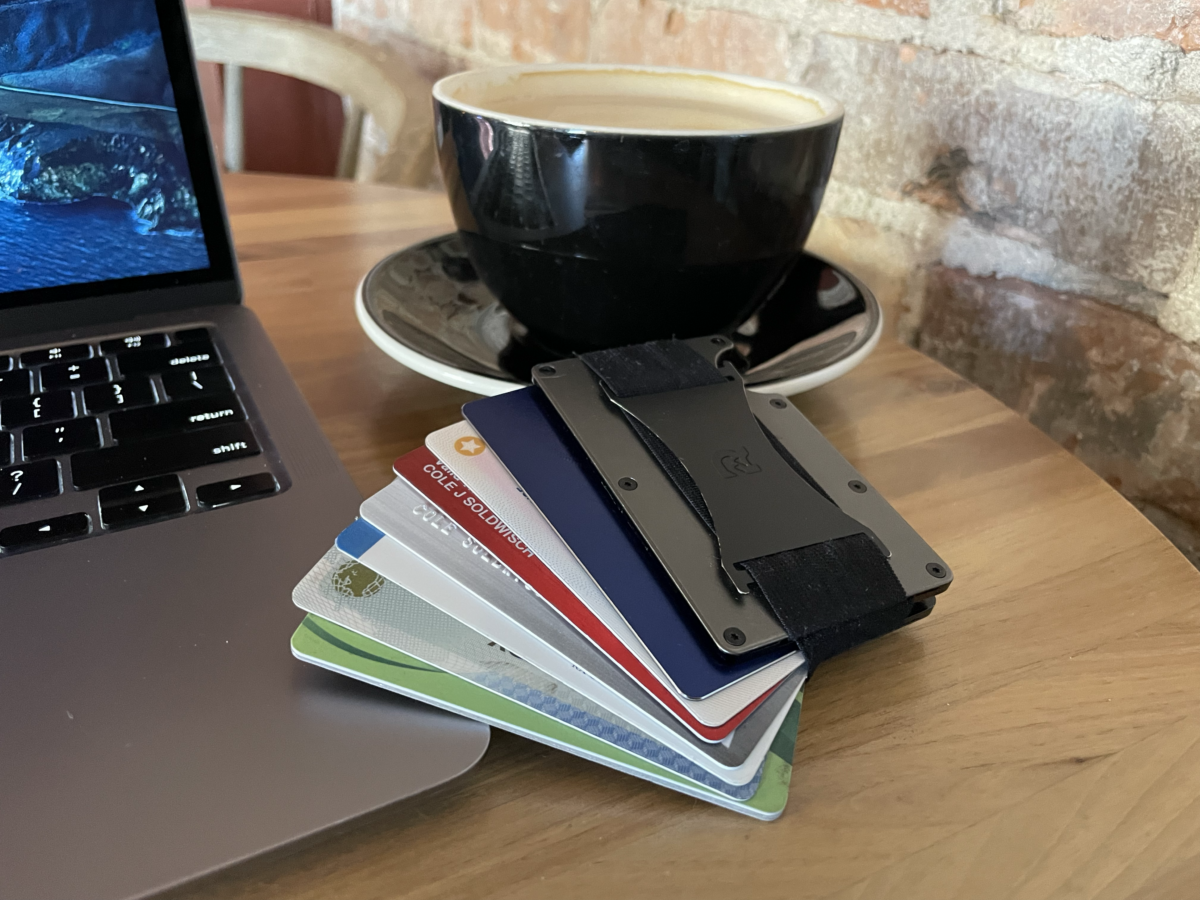 The Wallet itself feels super solid in the hand. Not heavy by any means, but sturdy and well-built. It's essentially two halves of machined metal – I believe this is what Ridge calls "dual-track design" – trimmed with a Titanium plate screwed onto each outside half. The stretchy elastic is what holds it all together, which is very responsive. It's easy to combat its strength, and it quickly returns to its original shape. 
I went with the Titanium Wallet in a Matte Gunmetal color. It's super sharp and doesn't really hold fingerprints like some matte paint jobs are notorious for. You also have the option to do a money clip, a cash strap, or both and swap them out. I went cash strap over clip, as I rarely carry cash, so figured the strap would be more versatile in the long run for things besides cash. 
Overall, I am a huge fan of the design. It lives up to the marketing story that Ridge puts out, a true 21st-century wallet. 
Everyday Carry
To be honest, I've always been a back-pocket guy, so switching to the front-pocket was the biggest adjustment for me when I started using Ridge Wallet back in November of 2022. 
And yes, you guessed it, I certainly tried to put it in the back pocket at first. And yes, you also guessed it – it's not comfy back there. It's simply too small for most back pockets.
So, save yourself the trouble – man up, and use it in the front pocket from day one. You won't regret it.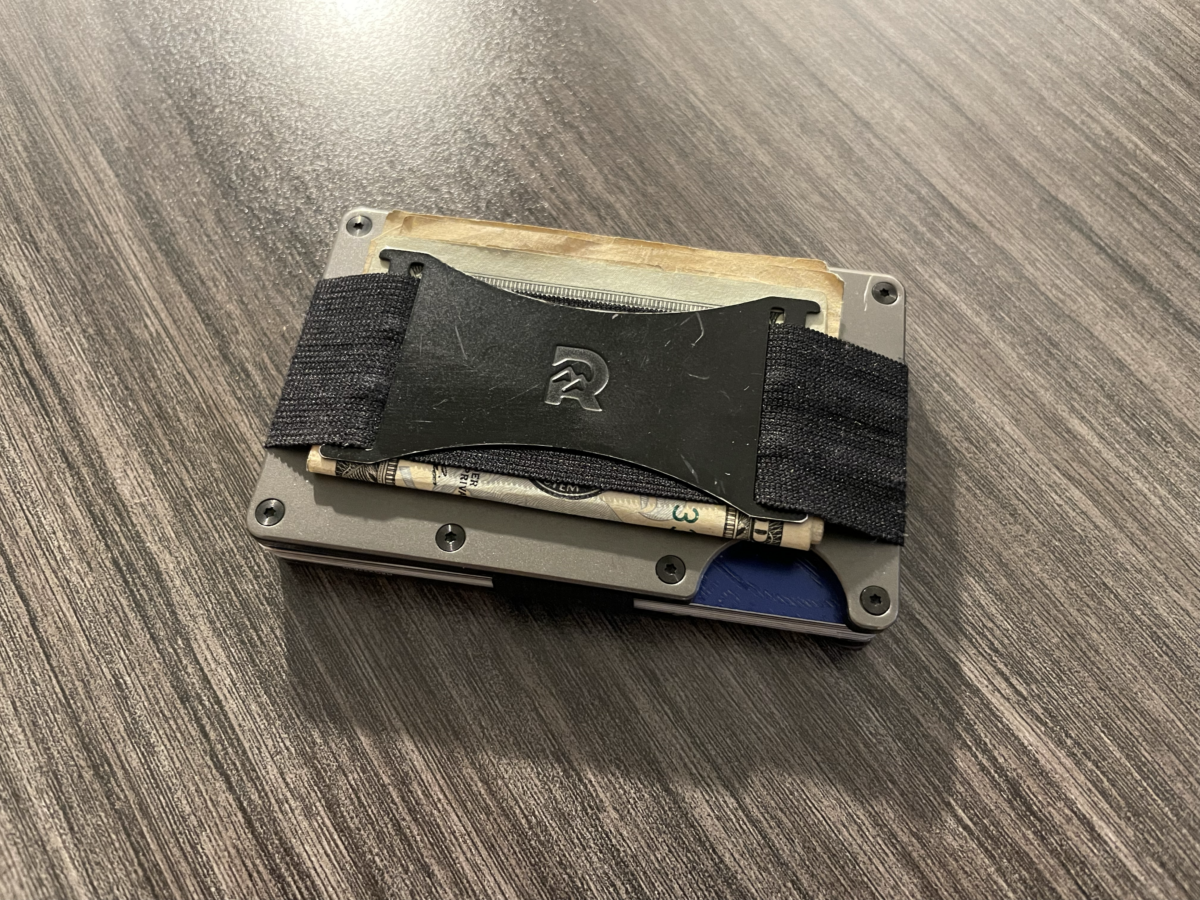 All that habit dependency aside, once I got used to the front pocket, I'll never go back. It honestly feels more secure in the front pocket. Harder to steal and easier to feel against my leg, like how you know your cell phone is in your pocket. Secondly, it's really more comfortable. Gone are the days of sitting on a wallet, having to get back up and push it to the side, or take it out and set it on the table altogether. Lastly, it eliminates the stretch/fade marks in your pants that back pocket wallets cause from days and days and days of sitting on the wallet. So much to love right here! 
Oh yeah, one more fun thing. It spins pretty well on a table, like a fidget spinner. Enjoy that pro-tip. 
Durability
For starters, let's talk about my use case since I got the Wallet. It arrived at the end of November, and the first week of December, I left for a 5 week's trip to Europe. It was a daily carry through 8 countries and 15+ cities. 
There's no time in your life when you use cards & IDs more than traveling. It was an amazing stress test for Ridge Wallet, and it performed perfectly! I quickly got accustomed to the best approach fanning out the cards, picking a card, using it, and fanning them back. It takes a little finesse, but once you get used to it, it becomes second nature (and honestly is pretty satisfying). 
Another important bit, especially in Europe as they're way further along in the contactless payment game, is the built-in RFID-blocking tech – no CC stealing for me this Eurotrip! 
After nearly 3 months of testing it, including the Eurotrip, I can honestly say it's held up well. The elastic pilled a bit, but that was an easy cleanup with a battery de-piller we had at the house. Additionally, Ridge claims the Wallet is scratch-proof, but I did get a scratch in the finish. Maybe they were referencing strength against deep damaging scratches, as this really is a minor scratch in the finish. Lastly, I had my initials engraved, and that looks as clear as day one.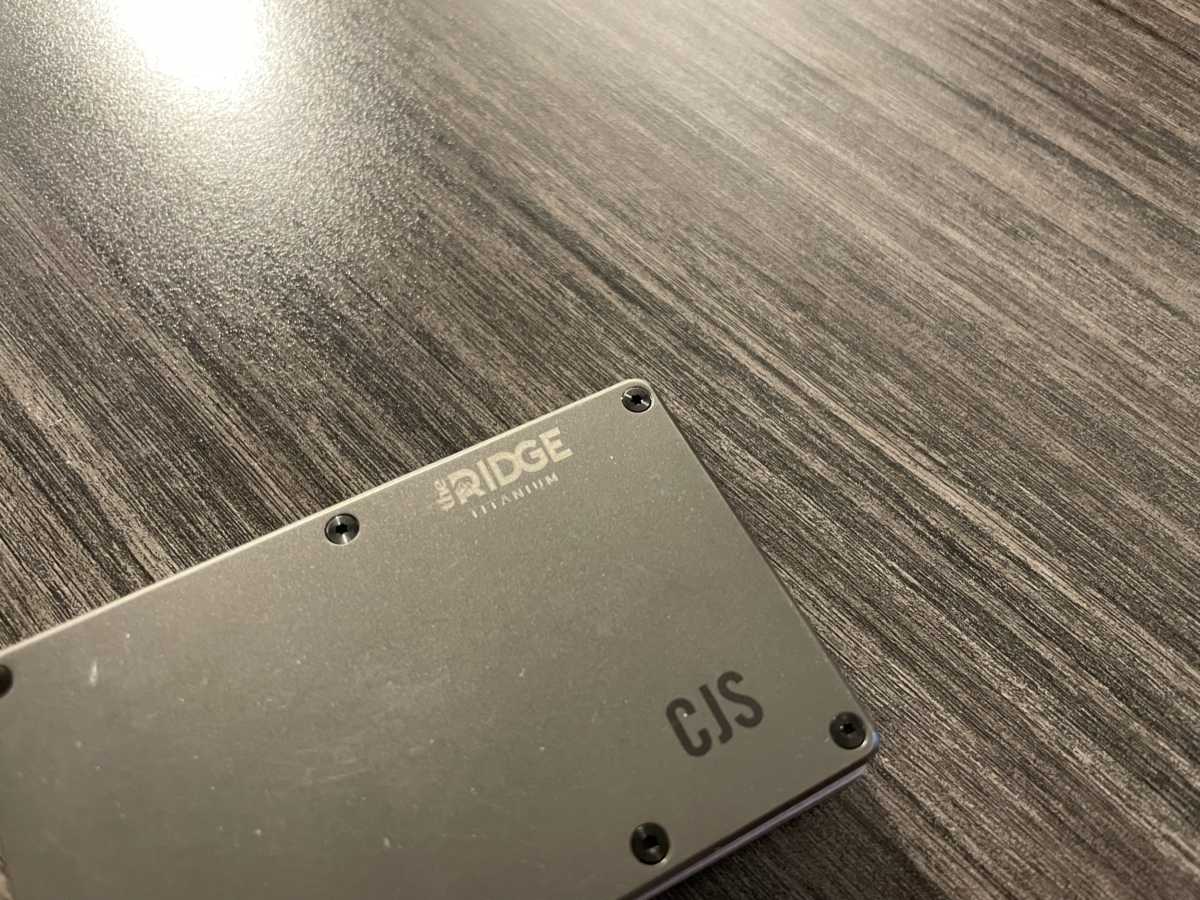 Ridge KeyCase Review Breakdown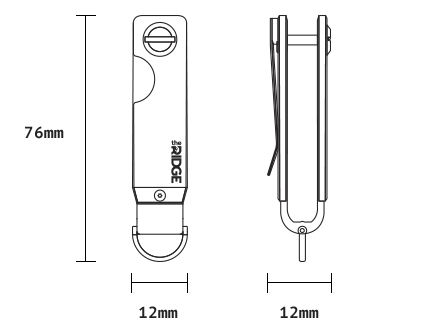 Key Features:
Secures 2-6 Keys

Patent pending tension plate system

Premium metal plates

Manganese Spring Steel Clip

Free returns within 99 days

6061-T6 aluminum | Gunmetal

Weight: 1 oz | 76 x 12 x 12 mm
Design
If you're at all like me, you'd never use a key again if you didn't have to. My front door has a code, my garage door has a fob, my car has a push-button start and touch unlock, and my gym has an RFID card. So, why a KeyCase if I don't seem like I need to carry keys? Well, backup, that's why – I always carry my keys, even though I don't want to. If the door keypad battery dies, I still need to get in my house!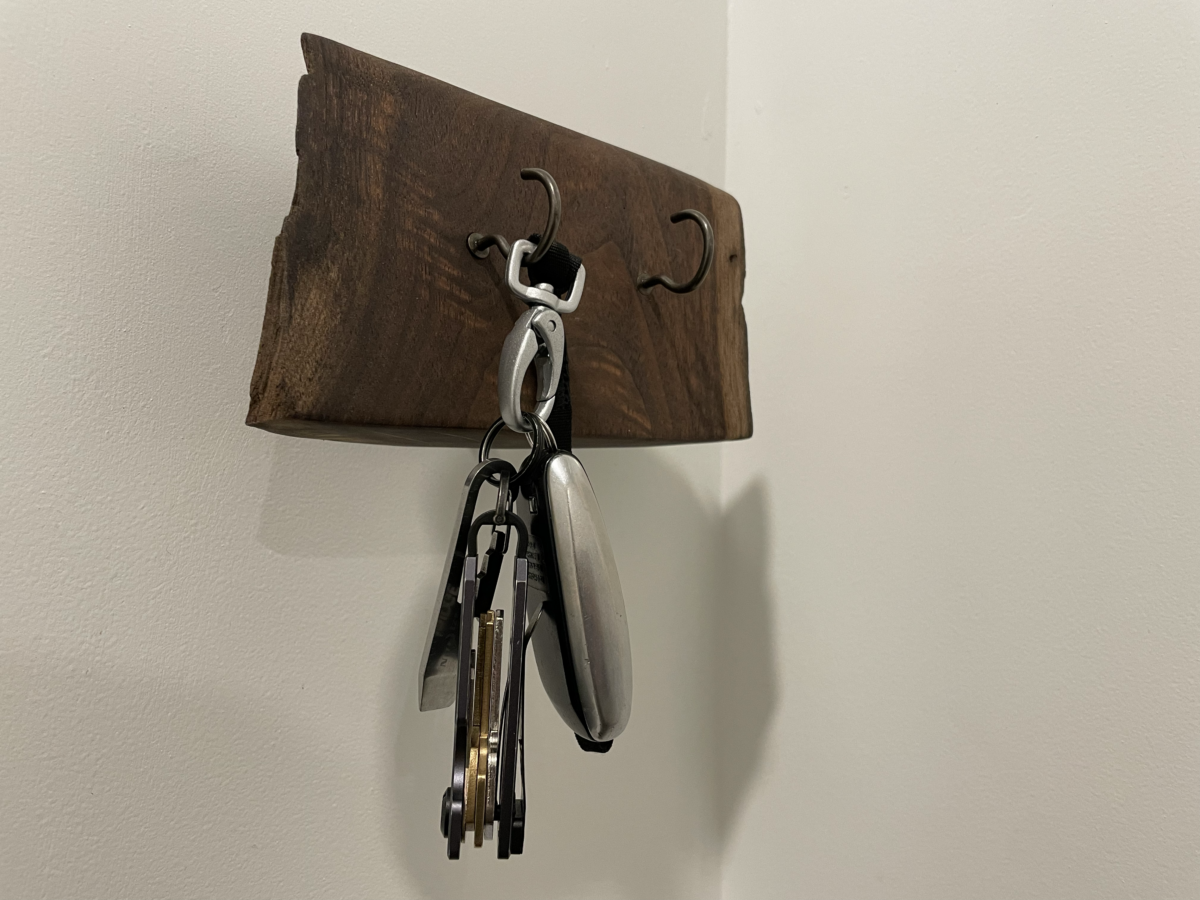 The KeyCase is the perfect solution for a guy that doesn't like keys. It keeps them stashed away, not jingling away, and they're easy enough to flip out when I do actually need a key. 
Like the Wallet, the KeyCase is two halves of machined aluminum joined by a rubberized, flexible connector. A screw with a long post allows you to control how tight the keys are in the case, as well as expand and contract for more or fewer keys. It's a really straightforward design that makes both setup and pivoting the keys easy. The case also has a clip that you can use to secure the case inside your pocket, bag, etc. 
I have 4 keys in it, and it's just barely thicker than the wallet with 7 cards. It's sleek and looks good with my car's keyfob. It coordinates well with the wallet… overall I am a fan. 
Everyday Carry
Overall, it's a perfect match with my keychain. I have a Nite Ize DoohicKey® Key Tool floating around with it, my Subaru keyless entry keyfob, and a black loop strap to bring it all together.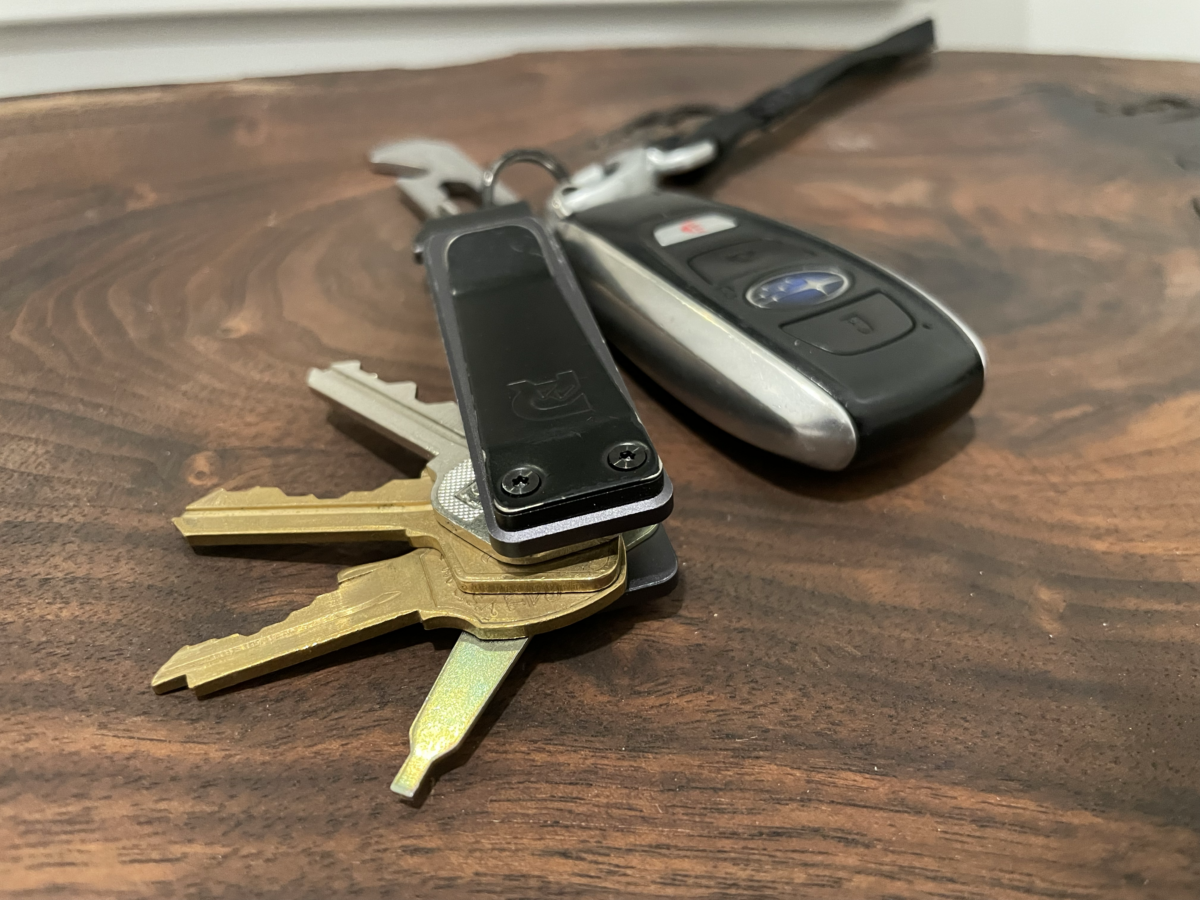 The size is similar to my keyfob, so it doesn't feel out of place. Additionally, since I do have keyless entry, it tends to be in a jacket pocket or backpack, so I don't worry about how it fits in my pocket much.
Not as much here to talk about compared to the Wallet. It's slim, minimal, blends in well with the rest of my keychain, and does its job well!
Durability
Structurally, the KeyCase is perfect. 100% operational, no needing to tighten the screw holding the keys, and no tearing of the D ring connector.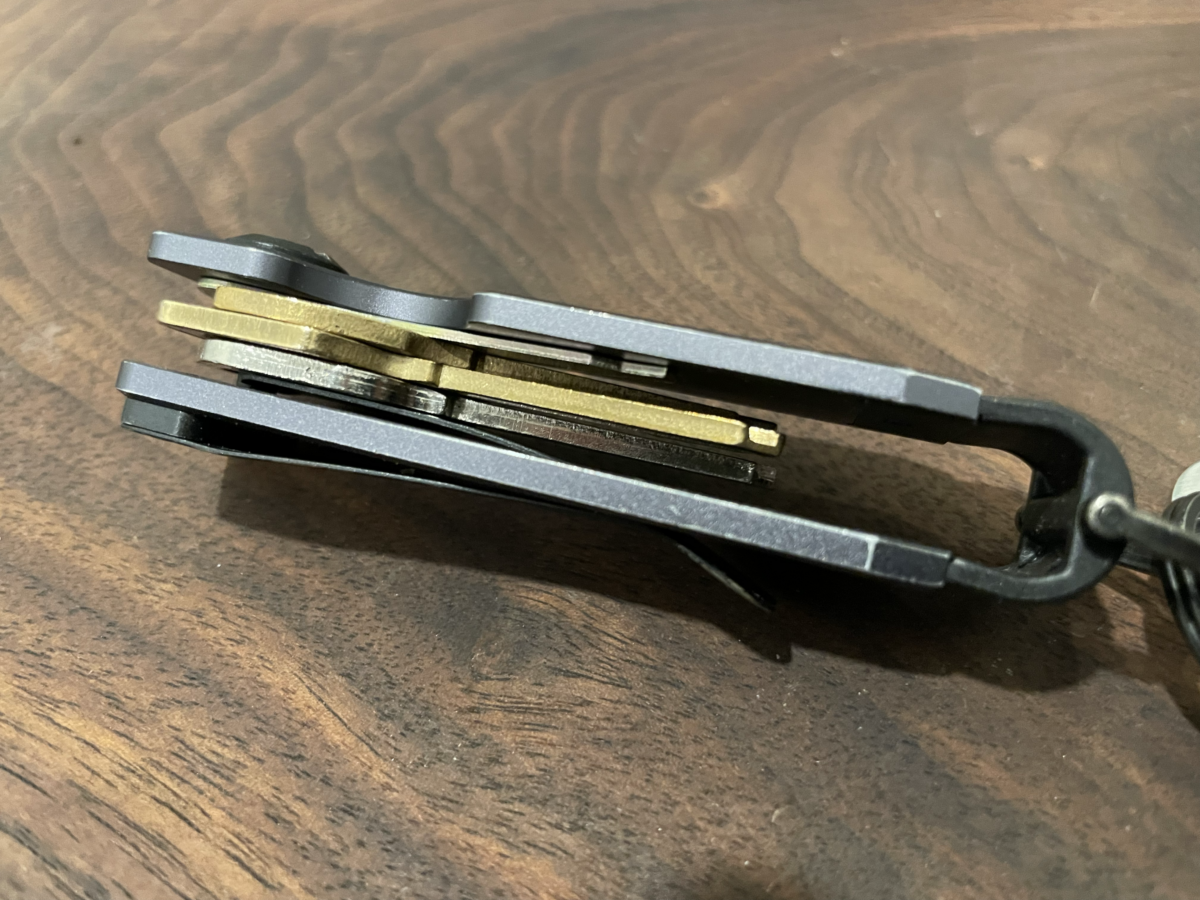 Cosmetically, the finish is looking worse than the wallet. Now, this could be two things. One, I got the aluminum KeyCase to see the differences in metals and feels, so the finish is different. Two, the key case is rubbing against other metals a lot more than the Wallet. Overall, not a dealbreaker, but worth mentioning.
I picked gunmetal to match the wallet, but as mentioned above, they are a few shades apart. If I did it over, I'd pick the carbon fiber one or the black one to compliment the elastic on the wallet. That said, I did get the KeyCase engraved too, and that has held up very well.
Ridge Wallet & KeyCase Value
Overall, I am a fan of both pieces, but the Wallet is truly special. For a durable, slim, modern RFID-safe Wallet, it's the best I've used. It's well worth the asking price, especially considering a nice, real leather wallet could be well over Ridge's standard aluminum MSRP. 
Visit the links below to get your hands on a Ridge! 
Browse & Buy Ridge Wallet, From $95
Browse & Buy Ridge KeyCase, From $75
ProTip, check out Ridge's kits to save yourself up to 30% when bundling. 
Ridge Wallet & KeyCase | EDC Gear Review
Look no further than Ridge for your next wallet purchase. They're the a bombproof, modern alternative to your bulky old grandpa wallet.
THE GOOD:
Clean & aesthetically pleasing design
Easy "splay" of wallet & keys
Customizable
THE NOT SO GOOD:
Paint durability isn't perfect