Delivering first-rate performance to users from novice to expert, the new X-Force Blade Pro Crossbow by 
Carbon
Express features heart-pounding speed and staggering accuracy in an extremely versatile and affordable package. Feathering the scales lighter than its competition, the compact X-Force Blade Pro comes ready to hunt with factory-matched components that rival
AK-47 Rifle parts
for efficiency, and is equipped with a Quiet Crank Cocking Winch.
X-Force Blade Pro Features and Specifications:
Feet Per Second: 350 fps
Kinetic Energy: 114 ft-lb
Draw Weight: 175 lbs
Weight: 6.9 lbs
Width: 13 ½" (cocked) / 17 ½" (uncocked)
Power Stroke: 12 ½"
Length: 34 ½" to 36 ½"
Length of Pull (LOP): 14 ¼" to 16 ¼"
Arrow: PileDriver 20″, 442 gr crossbolts w/moon nocks & 100 gr field points (3)
Includes: Quiet Crank™ Cocking Winch
Ready-To-Hunt Kit:

Quiet Crank™ Cocking Winch
Rope Cocker
Quick-Detach 3-Arrow Quiver
3 Piledriver® 20″ Crossbolts
Rail Lubricant
3 Practice Points
4×32 Scope
Unleashing bolts at a sizzling 350 feet per second, the X-Force Blade Pro is loaded with many of the high-quality elements 
Carbon
 Express Crossbows have become known for, including a lightweight, ambidextrous and compact design with extreme adjustability, making it an attractive option for any shooter.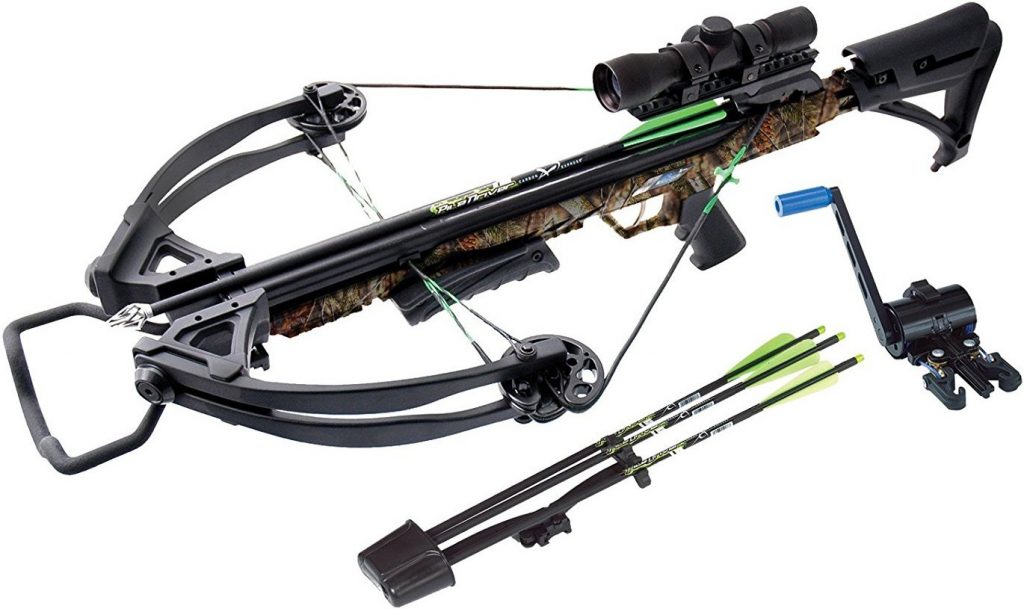 The 
Carbon
 Express Quiet Crank™ Cocking Winch reduces cocking effort by 90 percent and pulls more consistently than conventional methods. Accuracy is improved by ensuring equal pressure to each crossbow limb. During cranking, the anti-torque mounting shaft keeps the unit stable. Right- and left-handed shooters will appreciate the portability and single-pound weight of the winch.