Mowing the lawn is a chore that gets old fast no matter who, or how old you are. Having the right equipment for the job is a must! If you are like me, you've tried it all. I started out with push mowers as a kid, then self-propelled push mowers, even an electric mower, I've owned riding mowers and even zero-turn mowers. All these types of mowers have their place, but when it comes to very large lawns, there's only one mower that I would recommend… The zero-turn.
Recently we were given the opportunity to test and review the new Troy-Bilt Mustang Z46. My lawn is approximately 1.5 acres and the perfect test for this zero-turn. Over the past month I spent time getting to know this machine inside and out cutting the lawn two times a week. How does this zero-turn rate on the Busted Wallet scale? Well, here's the scoop…
Key Features:
Newly designed heavy-duty, full length, fully welded, tubular frame is built for added strength and durability in the yard
679cc V-twin OHV Troy-Bilt engine features full pressure lubrication to ensure smooth delivery of oil to critical components and a forged steel crankshaft making it stronger and more durable
Ride in more comfort with reduced vibration with the high-back seat and foam grip steering controls
Dual hydrostatic transmission with lap bar controls delivers true zero turn performance for quicker mow times and improved maneuverability with a maximum forward speed of 7 MPH and 2.5 MPH in reverse
46-in twin blade cutting deck features 9 cutting height adjustments between 1.25-3.75 inches high
Mower deck hose attachment for quick and easy cleaning of blades and mower deck.
Troy-Bilt Mustang Z46 Review Breakdown
Design:
The Mustang Z46 is a well designed piece of lawn equipment. As you look around the mower everything looks and feels heavy duty. Even the welds on the chassis and frame are very well done. Some of the design features I enjoyed most while testing the Z46 over the past month were things like the highback seat, which is one of the most comfortable seats I have ever seen equipped on a riding mower. As you make turns and travel up and across hills, the seat keeps you secure and comfy.  Another creature comfort I also really appreciated was the built-in cargo space and cup holders on either side of the seat, which make keeping your keys, phone and other belongings safe and near by at all times. The cup holder was even designed to fit most cans, bottles and YETI style tumblers. Well done Troy-Bilt!
I should also mention the deck. Troy-Bilt deigned the Z46's deck to be clutter free. This is great for a lot of reasons, personally I love it because there's no clutch to worry about and you can use the deck for picking up and transporting limbs, trash or whatever else might be in your way while trimming the lawn. Having a clutter free deck also means it is very comfortable and offers plenty of leg room.
Something else I was happy to see was the 9 position height adjustment lever allowing you to select cutting heights from 1.25″ to 3.75″. After reviewing many mowers over the years, I've noticed many do not allow you this amount of adjustment. Many have a 5 or 6 position lever. I like to cut my grass a little taller in the middle of summer, so setting 7 was perfect for my grass. In the fall I might take it down to a 5 or 4 to mulch and bag leafs.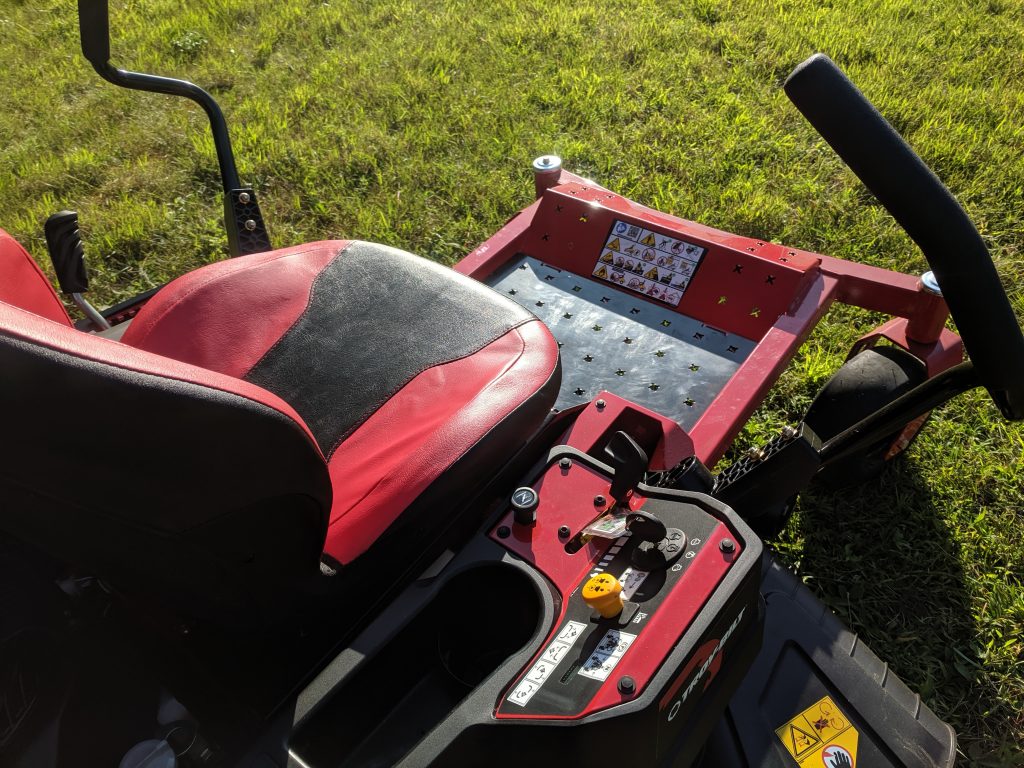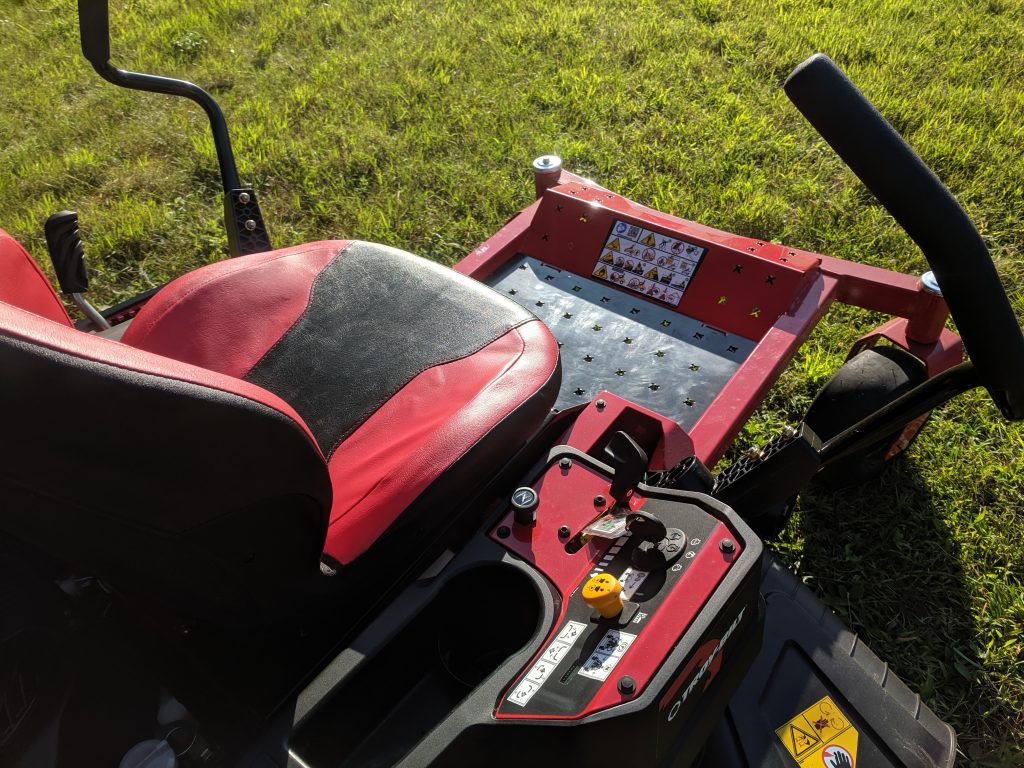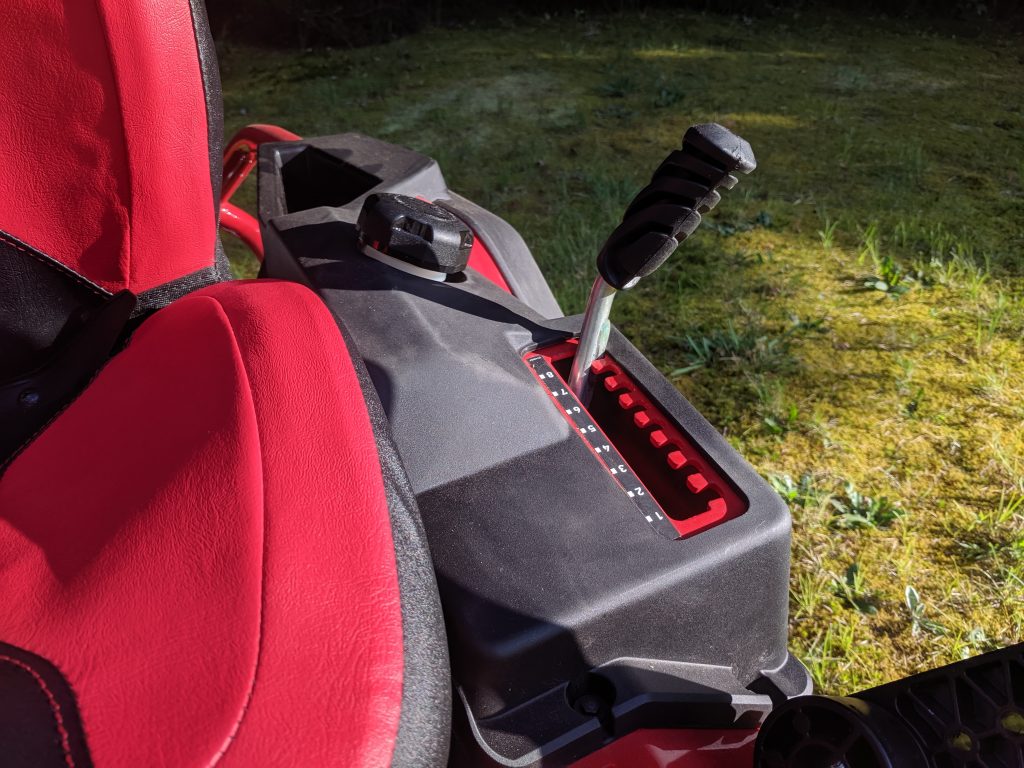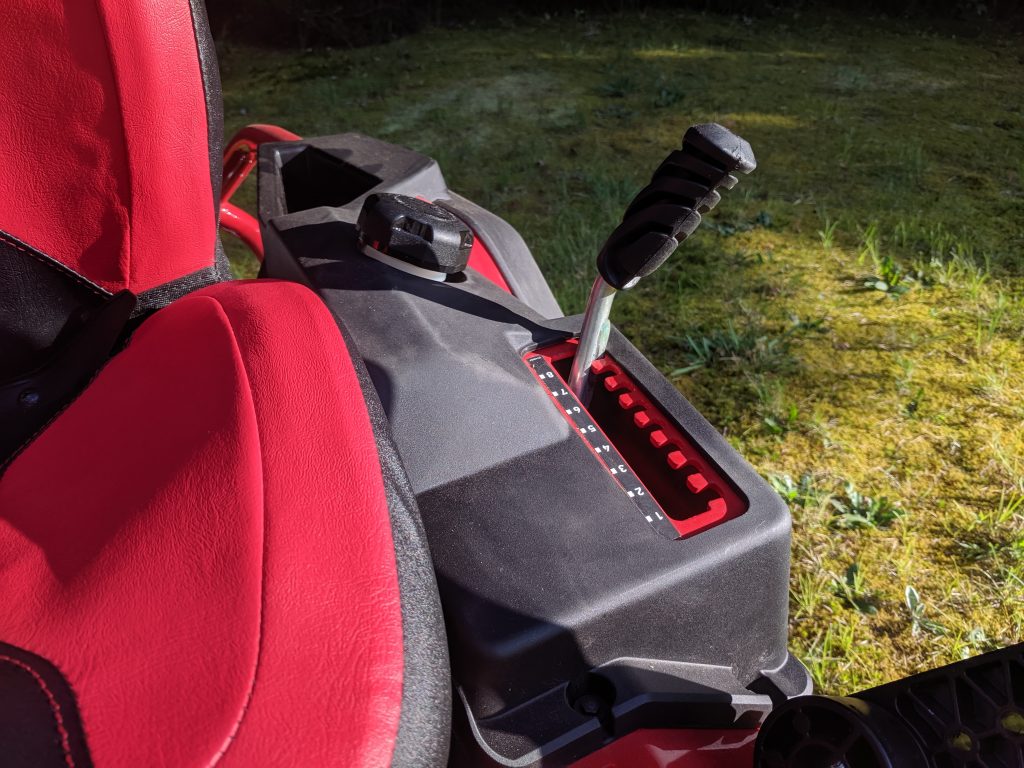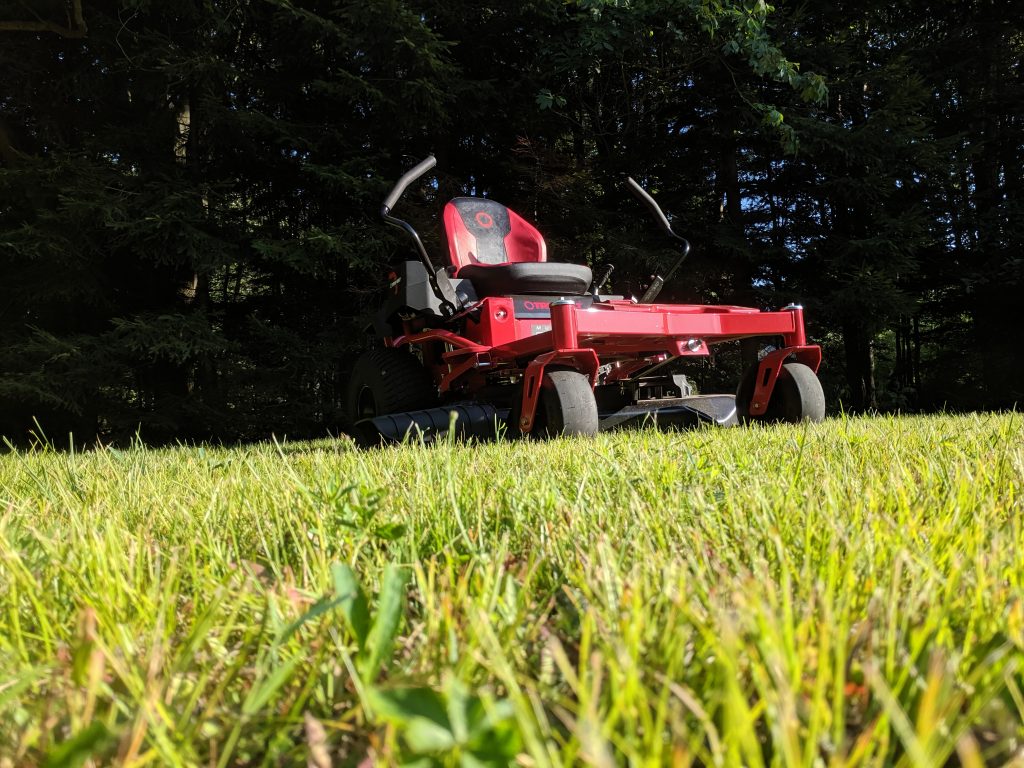 One thing I noticed right away when speaking with Troy-Bilt about reviewing this zero-turn is that it is very sporty looking. The red and black paint job is a good look and the tubular framing really really pulls it all together. If you're looking for one of the sexier zero-turns on the market, this one is a real jaw dropper. Troy-Bilt, if you're listening… a useful upgrade for next year's model would be to add a LED light bar.
Operation:
From starting, to driving to cutting, this is a simple machine to operate. To get started simply pull the choke out and turn the key (make sure the blades are disengaged). When cold, you may need a few seconds of choke and key turning before she'll fire up, but once the mower is started, release the choke and you're ready to shred grass!
As far as operating the dual hydrostatic lap bar goes, if you've never used a zero-turn mower, it will take a some time to master. However, it doesn't take long. Even my wife got the hang of it after a few swipes of the front yard. There's no clutch to worry about or gears to shift. The more time you spend operating the lap bars the more it becomes intuitive.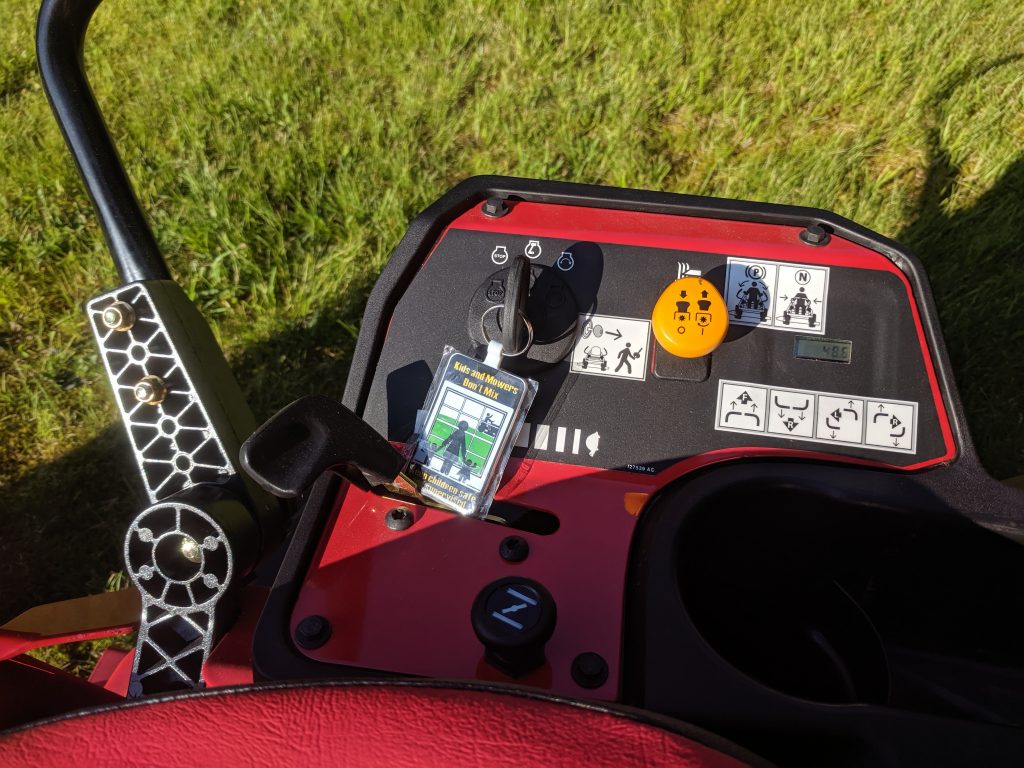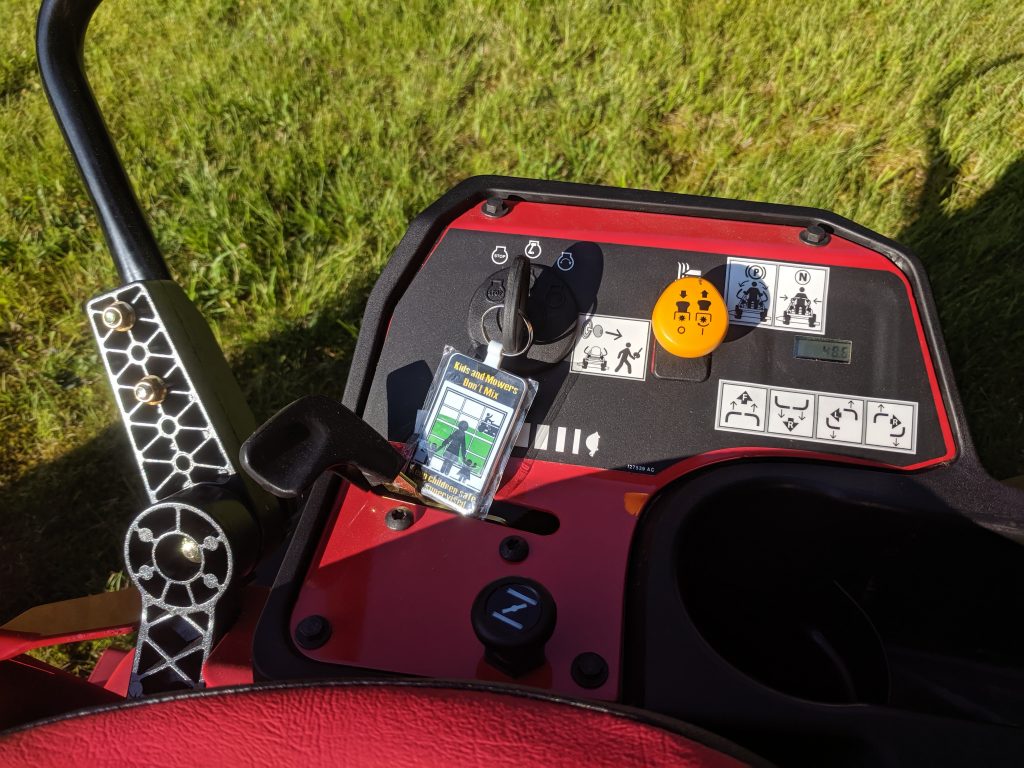 Safety:
The Troy-Bilt Mustang Z46 has a few safety features you'd expect. For example, if you get off the seat while the blades are engaged, the mower will shut down. Also, with the key turned all the way to the right, the mower will not go in reverse while the blades are engaged. This is backup-safety mode. This is a smart safety feature if you have kids or animals running around. You can turn this feature off by turning the key one position to the left.  Overall, after testing the Z24 for over a month, I found it to be very safe. However, a lawn mower is only as safe as the operator.
Performance: 
Equipped with a 679cc V-twin OHV Troy-Bilt engine capable of 7 MPH in forward and 2.5 MPH in reverse, this machine is powerful. However, it has a 3.5 gallon gas tank and love to guzzle gas. I was impressed with the how far grass was sent flying out the discharge chute – approximately meter. It does a great job mulching. Outfitted with two cutting blades, the mower deck operates at high RPMs to allow you to cut grass at decent speed as long as your blades are nice and sharp. I also like the large 20"x8-8" rear tires as well, which provided a lot of stability on uneven ground and some shock absorption on bumpy lawns.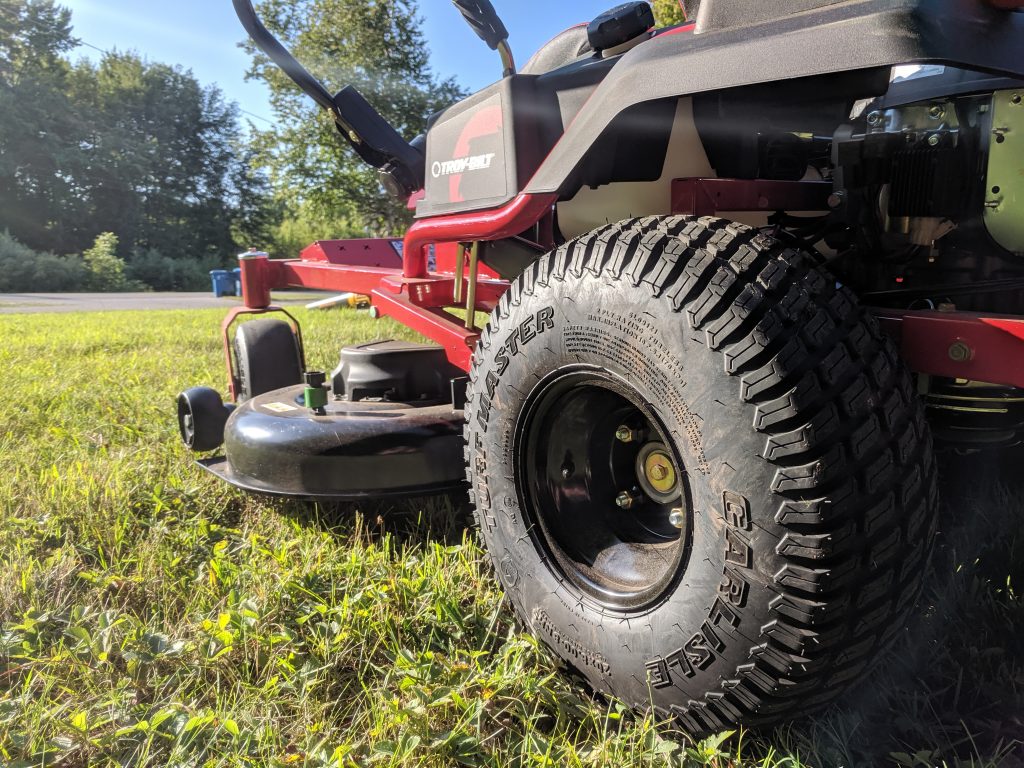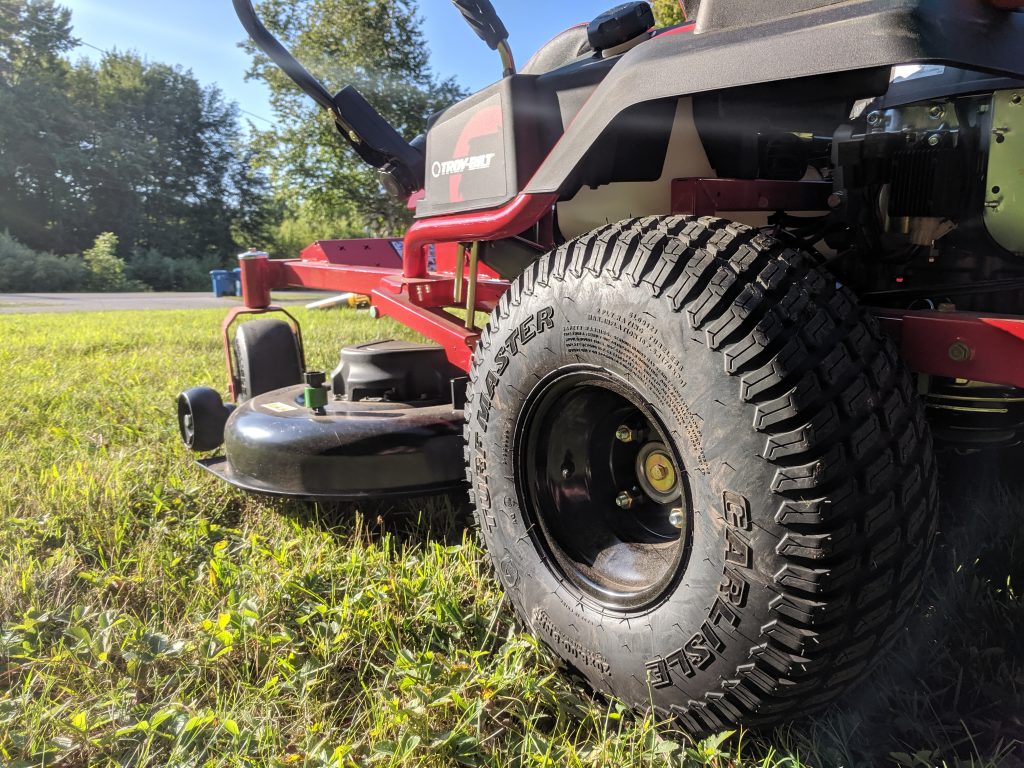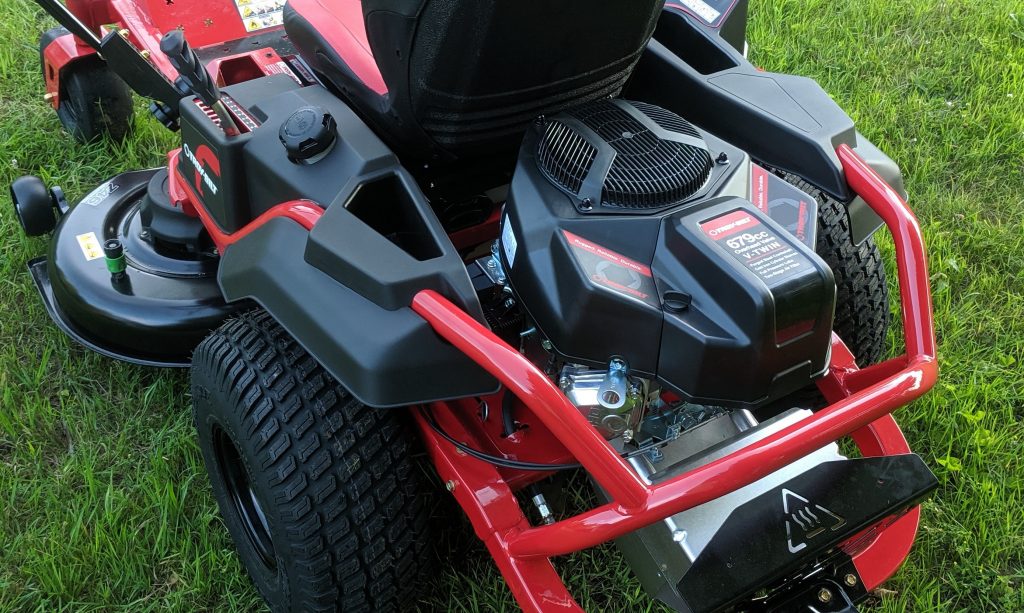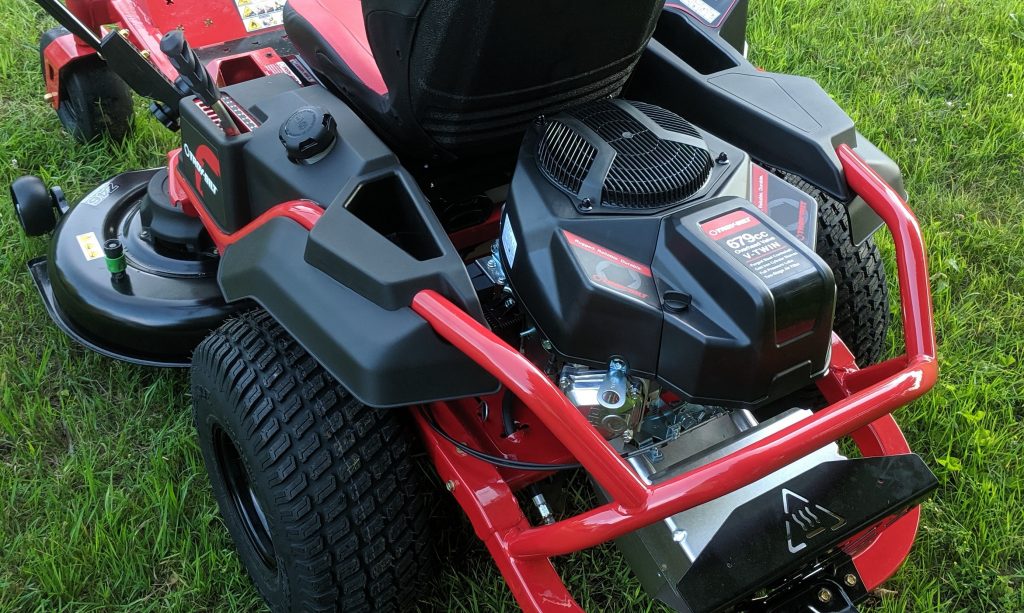 Maneuverability:
This is the category where this zero-turn really shines. The Troy-Bilt Mustang Z46 can go anywhere the 46″ deck will fit. The zero-turn capabilities not only allow you to quickly turn around, it also allows you to cut closer than ever to trees, bushes and any other obstacles that you might come across. When mowing my 1.5 acre lawn it roughly takes me an hour and 20 mins. That's with a standard riding (non-zero-turn) mower. Using the Troy-Bilt Mustang Z46, I was able to cut that time down to just an hour. If I was really moving along and not giving too much attention to perfectly straight lines I could speed up and finish up in 45 mins. Of all the features the Troy-Bilt Mustang Z46 offers, the maneuverability is the greatest.
Value:
The Troy-Bilt Mustang Z46 retails for roughly $2,500. Obviously, this is not a bargain buy, but in this case you do get what you pay for including a limited lifetime frame warranty. After testing this machine for a month, I found myself looking forward to mowing the lawn once or twice a week. I'm the kind of guy who will wait to cut the lawn until my neighbors do and I am forced into firing up the mower so I don't look like a bum. If you're a homeowner researching zero-turn mowers I highly recommend the Z46. It delivers plenty of power and looks good doing the job!
Buy Now: $2,499 or to learn more, go to: TroyBilt.com
Troy-Bilt Mustang Z46 Zero-Turn Rider
If you're in the market for a zero-turn mower with plenty of power, excellent maneuverability, safety features to keep your family safe and a one size fits all cup holder, put this mower on your list.
The Good:
Excellent design and safety features
Plenty of power
Discharges grass approx 1 meter
The Not so Good:
Goes through gas quickly
No headlights
No fuel level indicator