Fall and Winter throughout the Midwest and much of the United States means one thing to outdoorsmen and women… Whitetail Hunting! Hunting deer is a time honored tradition passed down through the generations. With each year, new and interesting gear, technology and equipment come to market seemingly everyday, it's almost impossible to keep up with everything essential for your next hunt.
Lucky for you… that's where the Busted Wallet staff steps in and takes care of business. That's right, our staff of hunters is seasoned, serious about whitetail and totally obsessed with new and exciting equipment. Here to help you get geared up and ready to roll, we've put together a list of essential gear to have at your disposal this season. Good luck out there and happy hunting!
Wildgame Innovations Rival 18 Trail Cam
This camera showcases almost every premium upgrade we've dreamed up at Wildgame Innovations: Silent Shield™ quiets camera operations, Tru-Dual Cams™ enhance day and night images and Adaptive Illumination™ adjusts with changing distances. Incredible quality from 18-megapixel images and 720p videos send the Rival 18 to the front of the pack. Simple user operations balance the advanced technology. The backlit LCD screen and dot matrix display make selecting your preferred camera settings quick and painless. Also simple: setup. A new adjustable strap with alligator clips secure the unit in mere seconds.
Twice the bone, twice the tone! These are a must have if you're hunting alpha bucks in the rut! Both racks easily stack together and fit inside most backpacks with room to spare. The unique hex grip and offset handles make using the racks simple, adding control for better sounds and greater protection/comfort for long-term use. It's time to give up on wimpy shed fights. Create a full-on war with Battle Bones.
Gerber Vital Big Game Folder
With this knife you don't have to worry about having a sharp blade when you're out in the field ever again. This folder is razor sharp and worth every penny. The replacement blades are easy to change out in seconds. We've had the smaller Vital Pocket Folder in our kit for a year now and love it. The Big Game Folder is the big brother we've been wishing for – and it is ready for any hunt.
Barnett Whitetail Pro STR Crossbow
This is how a crossbow should feel: comfortable, stable and unobtrusive. The Whitetail Pro™ STR features a lengthened stock and fiberglass composite step-through riser. This combination packs power and speed without unnecessary bulkiness. Specially sized for full-framed shooters, it just feels natural when you shoulder it. Pick one up and you'll get what we're talking about. It also comes cloaked in concealment, with a fully-wrapped TruBark® camo riser and string dampeners to muffle vibration. A worthy adversary for any big game.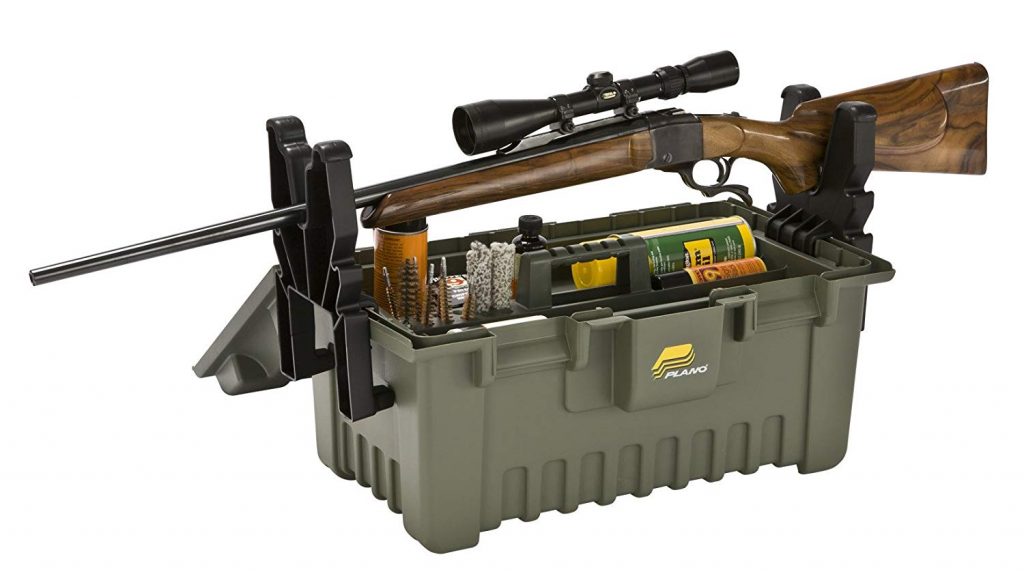 Deep storage, a staggered yoke system and an extra roomy lift-out tray exemplify Plano® quality in this all-in-one shooter's case. Clean your firearm, store your gear and travel with ease. The Shooter's Case XL has everything you need to stay on top of your shooting.

This thing is a tank! And when it comes to packing out meat you can't do better than a Yeti. Designed specifically with the rafting community in mind, the hunting community has found out that this cooler is perfect for packing in food and beverages that will stay cold for the week and packing out meat when the hunt is complete.
Like all YETI coolers, the Tundra 110 is built to last trip after trip, with the same rotomolded polyethylene construction used to make whitewater kayaks. Up to 3 inches of PermaFrost Insulation and Yeti's ColdLock Gasket mean you won't have to constantly top it off with ice.
Bloodsport Night Fury Extreme
The blade containment system on the Night Fury Extreme flies with deadly field-point accuracy. What you may not expect is the punishing damage this blade delivers upon impact. Two curved, cross-opening blades instantly open on contact to create a cutting diameter of 2¼ inches. And because the Night Fury Extreme doesn't require any rubber bands or O-rings, there is little energy loss – making hits all the more devastating.
Ameristep Brickhouse Ground Blind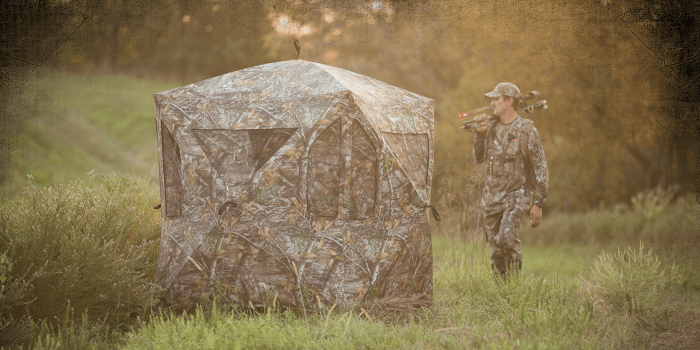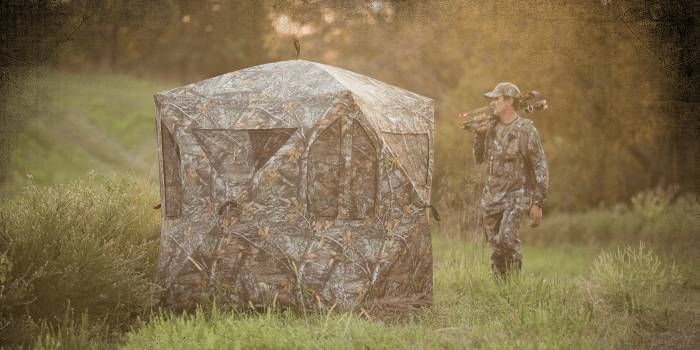 The Brickhouse is an ideal blind for multiple firearm hunters who need extra elbow room and solid shot variety. Versatile window openings feature both shoot-through mesh and gun ports to handle whatever angle or location your shot requires. The Brickhouse is as sturdy and dependable as its name suggests – with a rugged Spider Hub® frame that sets up easily and Durashell™ Plus fabric that provides durable protection with a matte finish. Paired with brush loops for adding natural foliage, the Brickhouse manages to stand its ground while remaining discreet.
If you're a hunter who likes to stay on the ground and still be invisible… this is the ticket.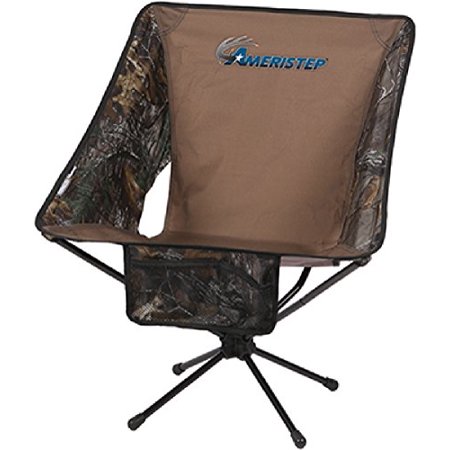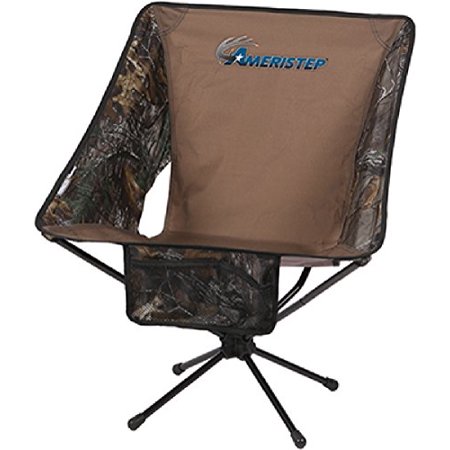 Take a load off without hauling a heavy load! The Ameristep Tellus Lite Chair's compact design and included carry bag make it easy to take anywhere. Shock-cord frame design sets up quickly and holds up to 225 lbs. with ease. Durable and padded sling seat keeps you comfortable from sunup to sundown.  The only thing you need to be careful of is not falling asleep because you're too comfy!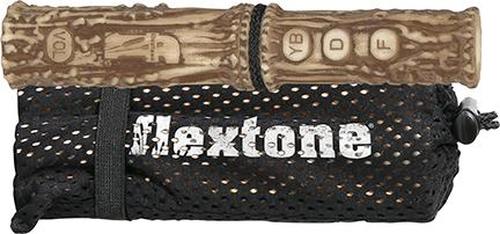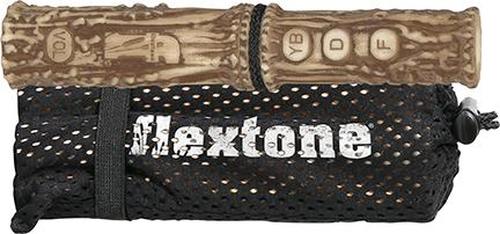 The All-N-One™ Boned Up looks as fierce as it grunts. The boned-up, antlerized body isn't just there for looks, though. Its flexible design is the reason this grunt call can create such realistic sounds. The call easily bends and twists for natural inflection – just like the soft tissue in deer's mouths and throats. Amateur callers will appreciate the user-friendly buttons; simply press to switch between compelling buck, young buck, doe and fawn sounds. The volume button offers further control for softer sounds. Advanced callers know the trouble disassembly and O-rings can create, but these modern upgrades paired with the call's impressive versatility will turn what could have been a tragic hunt into a triumphant one.
Hooyman 16 Foot Extendable Pole Saw
Designed for clearing limbs and branches from shooting lanes and putting up tree stands, the Hooyman 16 Foot Extendable Pole Saw is a must have for your hunting pack. I can't tell you how many times I have been up in a tree stand and realize that there are overgrown branches blocking vital shooting lanes. With this saw and the add-on Pole Saw Lopper Attachment at my side I make sure I'm ready when that buck walks into range.
The XLR1500 reaches further than any Halo® rangefinder ever has before, giving rifle hunters and long-range target shooters impressive accuracy at up to 1500 yards. The simple press of a button calculates distance to target almost instantaneously, and scan mode makes switching between targets just as easy. With 6x magnification, premium glass lenses and AI Technology™ – the XLR1500 is quite simply, the best in every category.
Wildgame Innovations Vision 12 Trail Camera
This is a really good all-day pack. And is deigned to carry all your gear! The TZ 2220 provides 2,400 cubic inches of 100% usable space so you can hunt light and fast with everything you need in reach. The TZ 2200 is a serious overachiever in every category: weight packability, premium materials, quick access, simplified organization, specialized accessories and all-day comfort. Carry a bow or gun in the fold-out boot and load on additional gear with webbing straps. The TZ 2220 can keep pace to handle it all – and then some.
Millennium Outdoors L200 18ft Double Ladder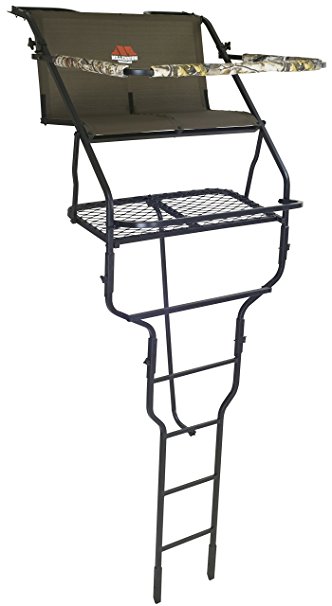 The L200 Double Ladder Stand is ideal to share a day in the woods with your family and friends. With a 500 lb capacity, it is perfect for introducing that young hunting partner to the sport. The L200 is fully equipped with ComfortTech seats, adjustable shooting rails and folding foot rests.
What we liked best about this ladder stand is the extra space you get. If you're hunting alone you have space for your gear. If you're hunting with a buddy you can sit comfortably and have four eyes on the lookout.
Setup is easy, but it is best to have two or three people on-hand to help hoist this heavy stand into the tree.
If you're in the market for a new ladder stand that will have room for you and your gear or you and a friend, this is a great option.
Thermacell MR450 Mosquito Repeller
We've been using Thermacell portable repellers for years. The new MR450 is the most rugged version they've ever produced. The new design integrates nice ergonomics, a rubber armor and an accessory mounting system. As with all Themacell repellers, they create a 15 x 15-foot zone of protection from bugs while remaining silent, virtually odor-free, with no open flame. If you hate bugs as much as we do, this is a must have.
Motorola Talkabout T465 Two-Way Radios
Ideal for outdoorsmen and women who want to keep in-touch when there is no cell service, the T465 is a rugged two-way that is designed perfectly for hiking, hunting, camping and just about anything you can throw at it. These two-ways work great while hunting in locations that are off the grid.
The T465 is a must have if you are hunting in a group that splits up. The weatherproof design is ideal for rain and snow conditions. Not to mention, you can alert other hunters in your group with a vibration instead of noise, keeping your location hidden from prey. Don't leave camp with out it.
Gerber Span Archery & Shotgun Tools
When your gun or bow breaks down in the field you better have the tools necessary to make the fix. Otherwise it is a long and lonely walk back to camp. Put these tools in your pack and never have to worry about missing out on the buck that got away.
Buy Now (Span Archery) (Span Shotgun)