Safety during mountain biking is critical. The danger is what makes it so fun, but the right equipment gives you the confidence that you'll ride another day. The gear you choose is the most important decision you can make. POC has created the all-new Tectal Race SPIN NFC which is an absolute game-changer in the world of trail & enduro cycling helmets.
POC, pronounced "pock," is a Swedish company founded on the idea that the right gear can make your adventure. They have come up with some of the most innovative designs I've seen and the Tectal Race SPIN NFC raises the bar (a lot) on helmet design. Best described as a helmet that cares for you "Before, During & After" an accident, this helmet has the ability to not only keep you comfortable and safe, but it can talk for you when the unthinkable happens and you can't.
Key Features:
368g
RECCO® reflector
NFC Medical ID tag
Fully wrapped unibody shell
Aramid bridge liner
AVIP color & material package
SPIN pads
Dial fit adjustment
Highly ventilated
Goggle clip
Integrated strap system
POC Tectal Race SPIN NFC Helmet Review Breakdown
Design
The Tectal Race SPIN NFC is oozing with incredible design. It's rare that you pick up something as utility as a bike helmet and think that literally everything in your hand was designed with a near-perfect combination of aesthetics and function. The Tectal Race SPIN NFC is that.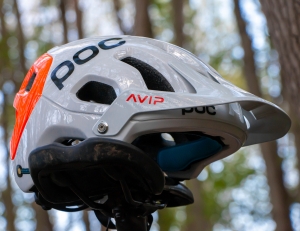 Overall, the well-ventilated helmet has a very glossy white outer shell that gives excellent form and finishes without exposing any of the traditional foam material that is often common in bike helmets. POC has become well known for this type of fully wrapped helmet design which adds significant strength & protection from sharp objects. Also in this material is a layer called Aramid Bridge to further add strength & protection. Not to mention the look really helps to give a quality feel for the helmet.
While most of the helmet is a glossy "Hydrogen White", the rear of the outer shell is a bright & shiny fluorescent orange color. This is the only color scheme for the NFC version of the helmet and is advertised as an AVIP feature. This stands for Attention, Visibility, Interaction & Protection. It is a POC program that resulted in a pre-defined color pallet to maximize visibility in all conditions. Whether trail, road, forest, weather, time of day, or a whole slew of other conditions. The result is a black, white, and orange color scheme that is scientifically proven to utilize movement, light, color, and material to improve visibility.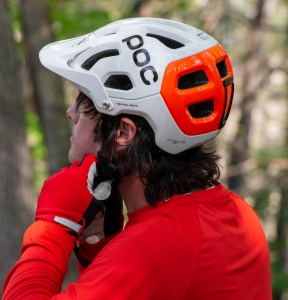 At first I didn't know what AVIP meant, but I did go for a ride on a gravel road on a sunny day and quickly realized that the orange isn't just for looks. The colors popped as I've never seen and the glossy glare went wild. In the daylight, the orange glows extremely brightly and maybe it was just a good day, but I felt like the few passing drivers gave me just a little more room. Evidence of how this sets out to take care of you in the "Before" stage of an accident.
In front is an adjustable visor with attaching hardware that has way more detail than needed. Most visors are just glued on, maybe Velcro if you are lucky. This has what looks like custom machined aluminum mounting screws. The look is again, premium.
The chin strap is very comfortable, adjustable, and out of the way while also being very secure. But it almost doesn't feel needed because of the easy adjustment system that snugs the helmet to your head with the twist of a well-protected dial on the rear of the helmet. It allows you to get just the right snug fit without squeezing your brain or being too loose.
Rounding out the rear is a goggle strap designed to keep your eyewear in place on the more gnarly trails while the front is designed to not interfere with regular glasses.
Finally in the back is a slew of logos..we'll get to those later, the true design of the Tectal Race SPIN NFC lays in what's under its glossy looks.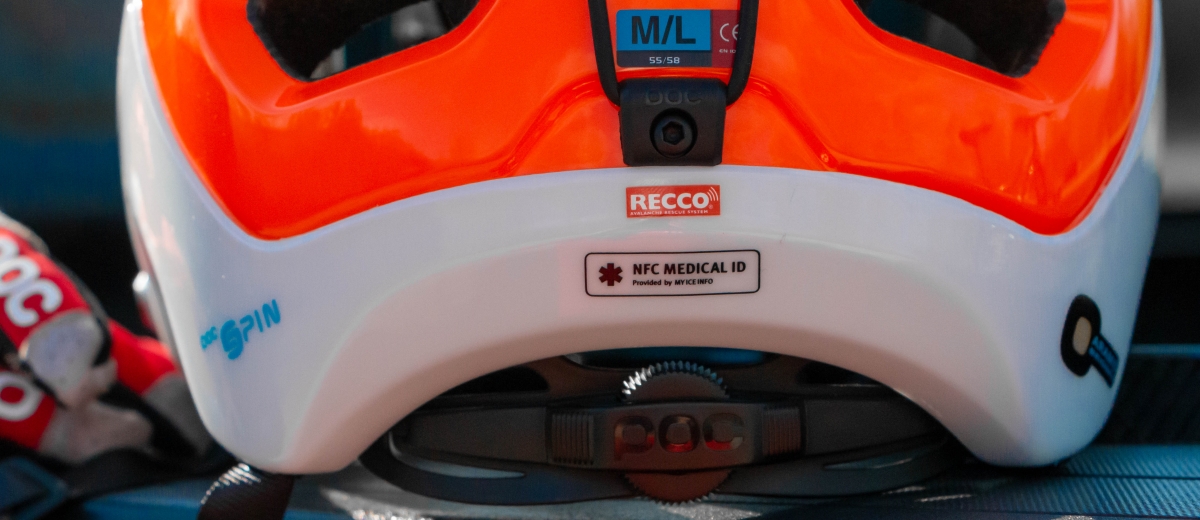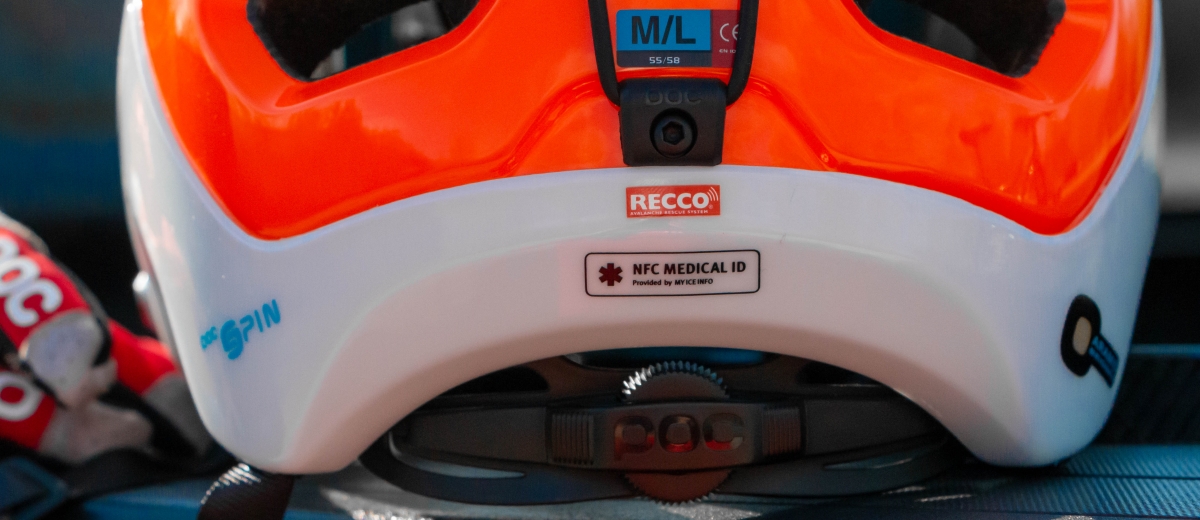 Comfort
A good helmet means nothing if it's not comfortable because it must be on your head all day in order to work. The Tectal Race SPIN NFC is very lightweight and easy to wear. The adjustable dial at the back helps to dial for comfort quickly and easily. When heading towards a somewhat questionable decision, I was able to add a few clicks for a more snug fit. Then while hanging out, dial it back and it sat on my head like nothing was there.
The visor also has some adjustments to help you keep the rain or sun out of your eyes without restricting vision.
Inside are padded liners that do a good job at keeping sweat at bay without feeling like a sponge is sitting on your head. They also are low profile enough that I was able to wear a lightweight balaclava under my helmet on a particularly cold day without sacrificing the fit.
These padded liners are where the SPIN name comes from. Shearing Padding INside. This means there is a gel membrane in the pads that will reduce forces during an impact that leads to more severe head injuries. Most of the industry in recent years has been focused on implementing similar technology called MIPS which is just starting to gain serious traction. POC was one of the first to adopt it. However, while the rest of the industry catches up, they are already moving on to the next best thing. Look for more of this SPIN tech in the future.
One thing to note is this particular helmet does run on the large side. I would suggest trying one on first if you are in the middle, or just plan on sizing down.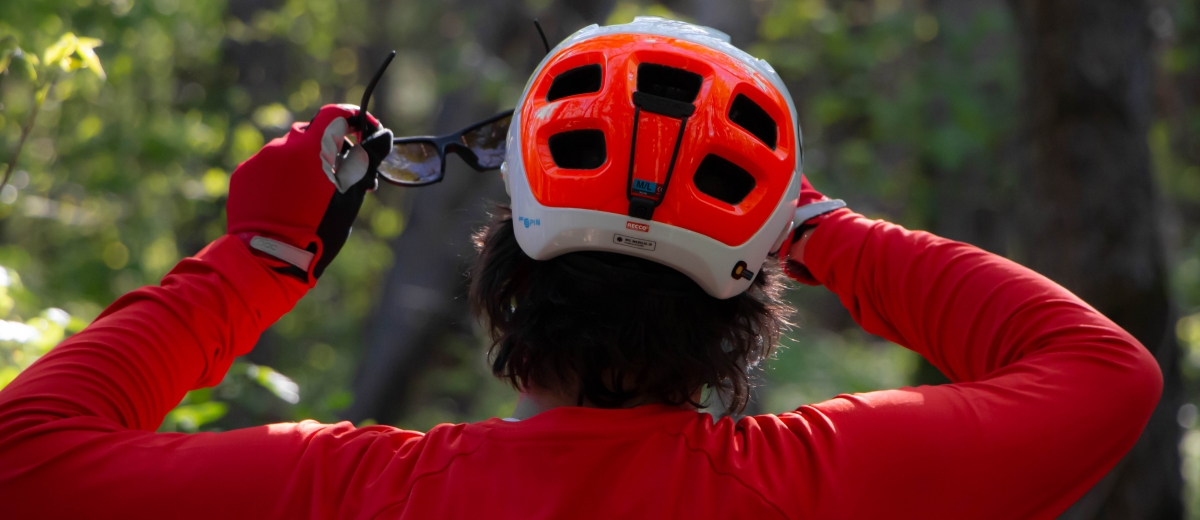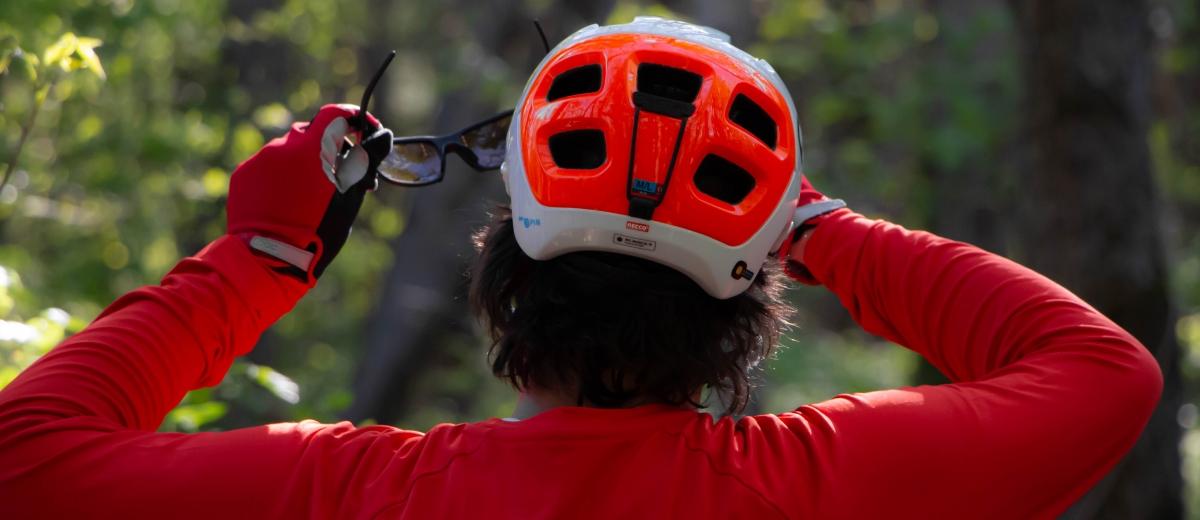 Tech
Unusual to see a "Tech" section when talking about helmets, but with the POC Tectal Race SPIN NFC, its warranted. This helmet is chock full of so many hidden techy features.
Start with the most "basic" which is the included RECCO reflector. Usually reserved for backcountry skiing, the RECCO system was designed to aid rescue crews in finding buried avalanche victims by sending out radio signals from a helicopter and then again from people on the ground to pinpoint a lost person. POC made a smart move by also embedding a reflector in the Tectal Race SPIN NFC. That means if you are ever lost, rescue crews will be able to pinpoint your location extremely quickly.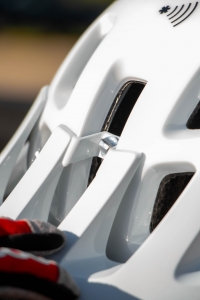 Next up is the flagship feature and signals what I hope will be a drastic shift in helmet design. The NFC chip. This little chip is embedded in the top of the helmet and can immediately transfer your emergency medical contacts, history, even insurance information to a first responder.
The tech is backed by the company twICEme ("Twice Me") and here is how it works. First, you download the twICEme app where you will load your vital medical history, emergency contacts, identification information, insurance information, and even organ donor status and religion! All the fields are optional, so don't feel like your identity will be stolen along with your pride on your next wipeout, but wow that it's all there. Once your profile is created on your phone, you simply hold your phone up to the helmet and click a button to write all that data to the NFC tag.
Now, you just ride and never have to change a battery or worry about the information not being there. If the unthinkable happens where you crash hard and a first responder gets there to find you unresponsive. At that moment, every second becomes the difference in so much. Everything they need to know to potentially save your life (or even someone else's life if the worst should happen) is in the palm of their hands.
Admittedly, this tech is only good if it's used. So what if the first responder doesn't have the app? Well, it may not help much, but twICEme is trying to not let that happen. With a simple website request, they will send you an informational training kit complete with a demo helmet that you can present to your local ambulance and rescue organizations so they will know what to do when they see the logo on your helmet.

Protection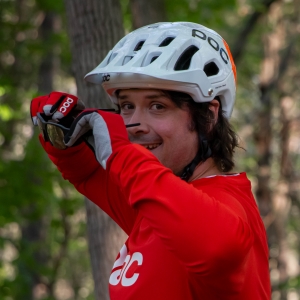 It's pretty simple. POC said this helmet is about protecting you "Before, During & After" an accident. After getting to know it, wow is it true. Let's break it down:
Before: AVIP color & material design to maximize visibility; adjustable visor to keep sun and rain out of your eyes; comfortable fit so you can wear all day; goggle strap & glasses integration to protect your eyes.
During: SPIN padding reduces head injury forces; Aramid Bridge to add strength & puncture protection.
After: RECCO reflector to help locate you in the wild; NFC Medical ID to be the voice of your rescue if you are unable to be your own.
A helmet's job is to protect, but by framing it around those 3 phases of an accident the Tectal Race SPIN NFC has completely changed what it means to protect you.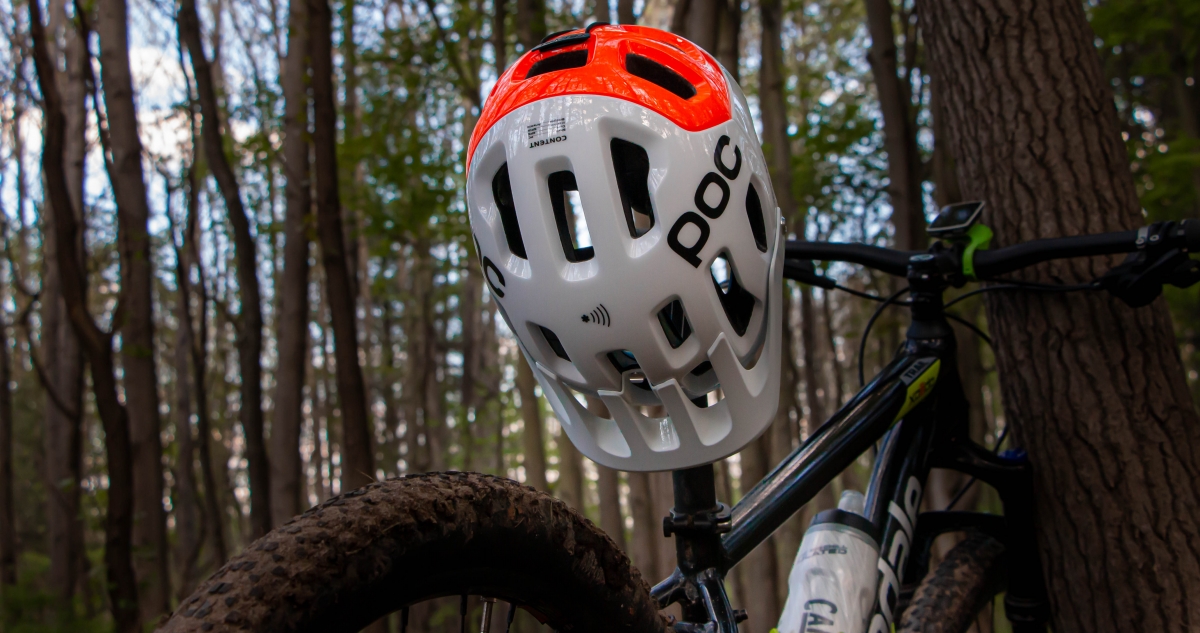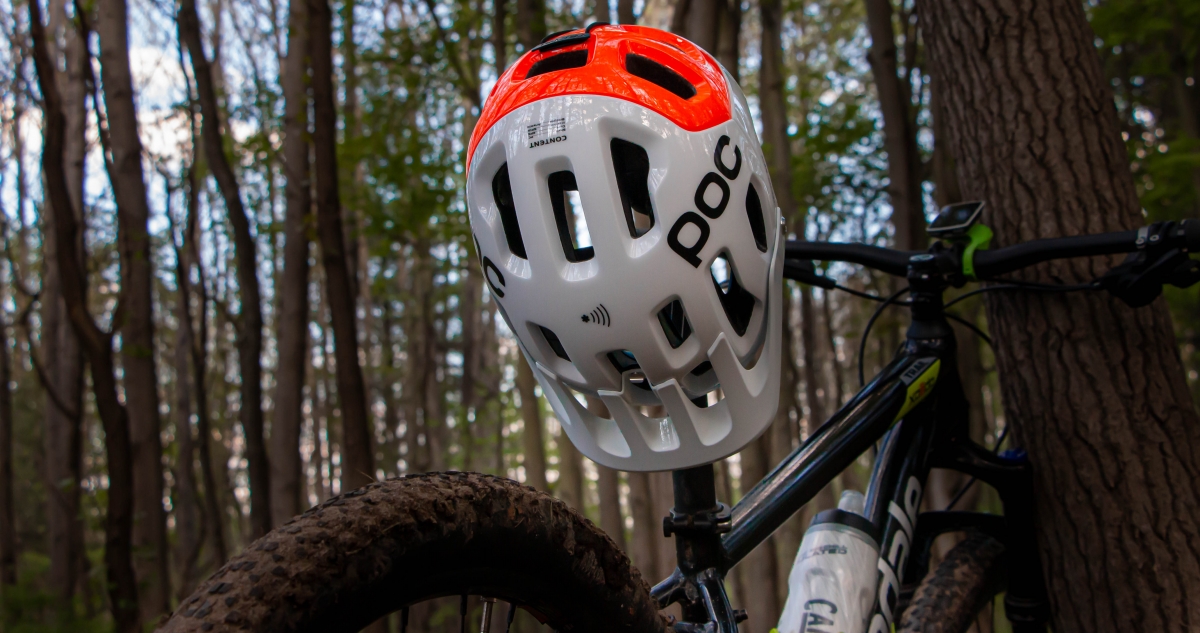 Value
This is the most expensive bike helmet I've experienced. Not by a lot, but it is. Is it worth it? Easily. The Tectal Race SPIN NFC goes so far above what a helmet can be that it redefines what we should expect from our safety gear. But helmets don't last forever and eventually this one will wear out. Then, I would easily spend the same for a new one.
Buy Now: $250 at pocsports.com
POC Tectal Race SPIN NFC Helmet - Gear Review
The POC Tectal Race SPIN NFC is a high tech cycling helmet that is there for you before, during and after an accident. Features that help prevent injury but also inform emergency workers means we may be entering a new age of safety gear.
The Good
Highly visible
RECCO reflector
NFC Medical ID tag