Armand de Brignac Brut Gold - Drink of the Week
Beyond its luxurious gold plated facade, pewter label, jaw-dropping price tag, connections to Jay Z and the hip hop world at large, what truly sets Champagne Armand de Brignac apart is the fact that it is produced by winemaker Jean-Jacques Cattier and a staff of just fourteen craftspeople at his family estate in Chigny-les-Roses, France. In case you didn't know a team of just fourteen people is almost unheard of at this level in the wine making industry. However, true to their craft they continue to produce Armand de Brignac the same way they did before the brand exploded onto the global scene nearly 10 years ago.
Sourced from the three most famous parts of Champagne, France (Montagne de Reims, Cote des Blancs, and Vallee de la Marne terroirs), Armand de Brignac Brut Gold aka the "Ace of Spades" utilizes a balanced blend of Chardonnay (40%), Pinot Noir (40%), and Pinot Meunier wine (20%) to create their most popular blend to date. This specific blend coupled with a truly unique oak cask maturation process and slow aging process in one of the deepest and coldest cellars in Champagne, France has created a truly unique champagne with lot of buzz around the brand.
When asked to describe his brand here's what Jean-Jacques Cattier has to say…
"To define Armand de Brignac in three words I would say, Exclusivity, Tradition, and Excellence and sometimes I like to use this image, Armand de Brignac is a 21st Century Champagne made in the traditional way."  -Jean-Jacques Cattier
Each year Armand de Brignac produces several exclusive large and extra large sized bottles. The crown jewel, however, is the Brut Gold Midas: at a weight of more than 45kg (100 lbs), it ranks as the largest luxury bottle of Champagne – of any type – ever created, and requires multiple people to lift, carry, or pour. Each bottle holds a volume equal to 40 standard bottles and stands nearly 1.5m (5 ft) tall. While only a few of these bottles are available each year, every sighting generates headlines.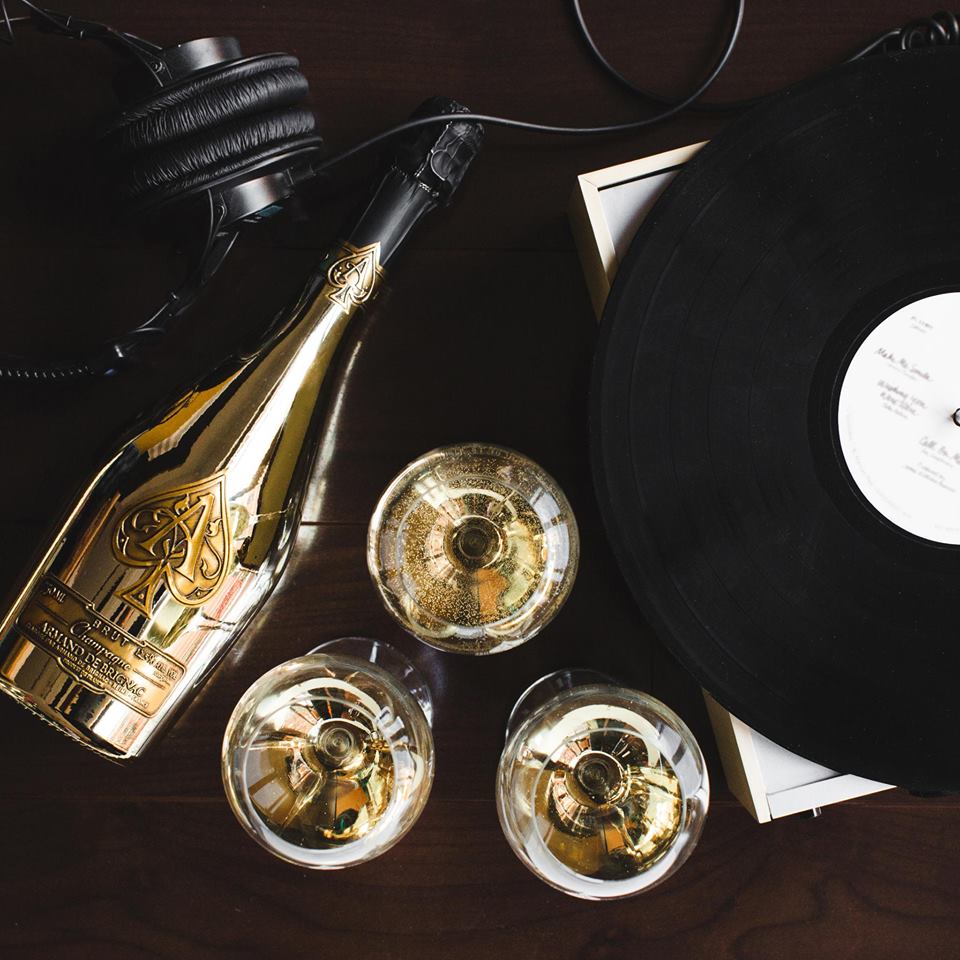 Recently Armand de Brignac tapped Busted Wallet's tasting panel to taste, test and review their Brut Gold as our drink of the week. Having heard all the hype for many years now we were more than happy to give it a try. This was one cuvée that we simply couldn't turn down.
Armand de Brignac Brut Gold Review Breakdown
ABV: 12.5%
Age: 4 – 5 years
Appearance: Light golden
Nose: Peach, apricot and red berry
Flavors: Vanilla, fruit, honey, hints of oak
Price:  $299.99 USD (750ml.)
Armand de Brignac Brut Gold is an exceptional champagne that our tasting panel has fallen in love with. On the nose this champagne is quite effervescent and fruity. Light, crisp and creamy across the palate, this champagne is truly something special. At nearly $300 what would you expect? If we had minor flaw to point out it would be the finish, which in our opinion is lacking some maturity overall.
I know what your thinking… is it really worth $299? And our answer is yes. Here's why. Armand de Brignac is as much of a statement as it is a beautifully balanced champagne. This isn't likely your everyday mimosa champagne. Nope, it's for special occasions, special events or a special someone.
When you purchase a bottle of Armand de Brignac Brut Gold you're buying an incredibly handcrafted champagne, but you're also buying status. When you have the Ace of Spades on ice people will understand you have discerning taste and some deep pockets.
If you're celebrating an anniversary, promotion or something totally outrageous we fully recommend this champagne. It is the ultimate gift too! With the holidays just around the corner you can't find a better gift for the bottle poppin' people in your life.
Buy Now: $299.99 | ArmandDeBrignac.com