Whether you're looking for a perfect gift for that whisky-loving booze-hound in your life, an escape plan from too much family time or just a bottle of exceptional hooch to keep you warm – we've got you covered this holiday season. Below you'll find 6 exceptional whisky options to keep you warm this holiday season. Over the past year we've had the joy of tasting each of these fine whiskys ourselves and found them to be ideal choices for sipping and mixing as the temps drop and family exposure ramps up. Happy holidays… and cheers!
Blanton's Original Single Barrel Bourbon
Revered as the first Single Barrel Bourbon Whiskey ever commercially sold, Blanton's Single Barrel Kentucky Straight Bourbon Whiskey dates back almost 30 years – to 1984. Before which it was NFS (not for sale) and exclusively reserved for ambassadors, dignitaries, VIPs and the Master Distiller himself – Col. Albert B. Blanton.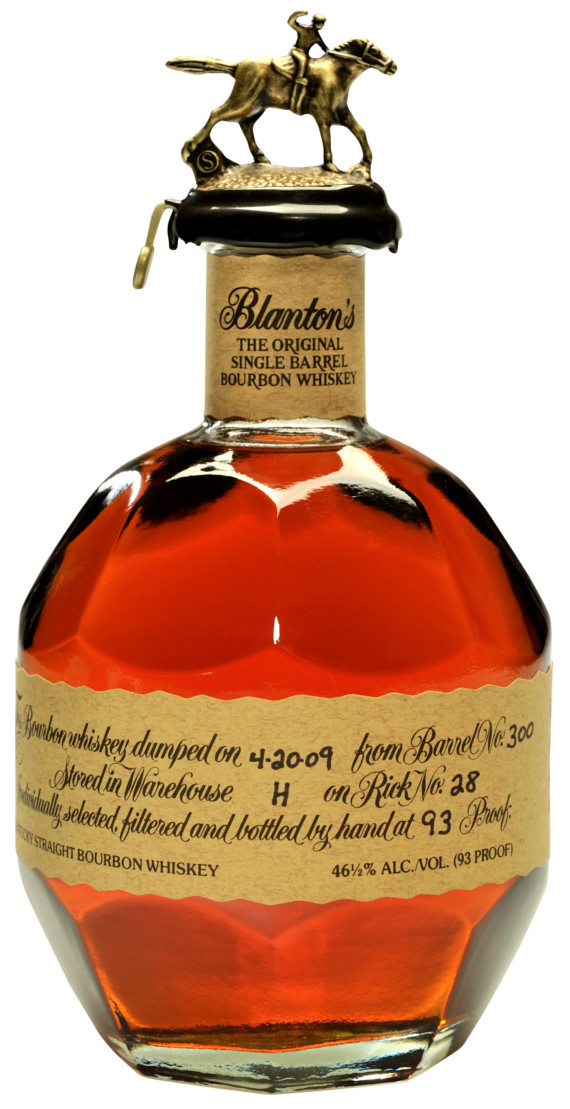 Proof: 93 (46.5% ABV)
Age: Unknown – White Oak Barrels
Nose: Citrus, Toffee and Vanilla
Flavors: Caramel, Oak, Vanilla, Citrus, Honey
Blanton's Single Barrel is a truly complex bourbon that is well balanced and powerful. Our tasting panel enjoyed Blanton's best as the distiller intended it – sipped neat. In this fashion you can truly appreciate its subtle nuances and elegant finish. Expect distinct flavors of rye, vanilla and oak and subtle hints of citrus and honey. At 93 proof Blanton's starts out with a bite, but mellows nicely as you begin to swallow. Whether you're looking for the ultimate  gift or to feed your bourbon addiction… Blanton's Single Barrel is home run!
MIX IT UP… "Gettin' Lucky in Kentucky"
Ingredients:  1 oz Blanton's Single Barrel, 1 oz Southern Comfort, 1/2 oz dry vermouth, 1 oz mandarin juice, 1 oz pineapple juice, 1/4 oz lime juice, 1 oz peach puree.
Directions: Blend briefly in a wine goblet filled with crushed ice, and serve with a straw.
Johnnie Walker 18 Year Old
Formerly known as "Platinum Label," this is a rich and refined blend of whiskies matured for at least 18 years that slips perfectly into the range just behind the iconic Blue Label.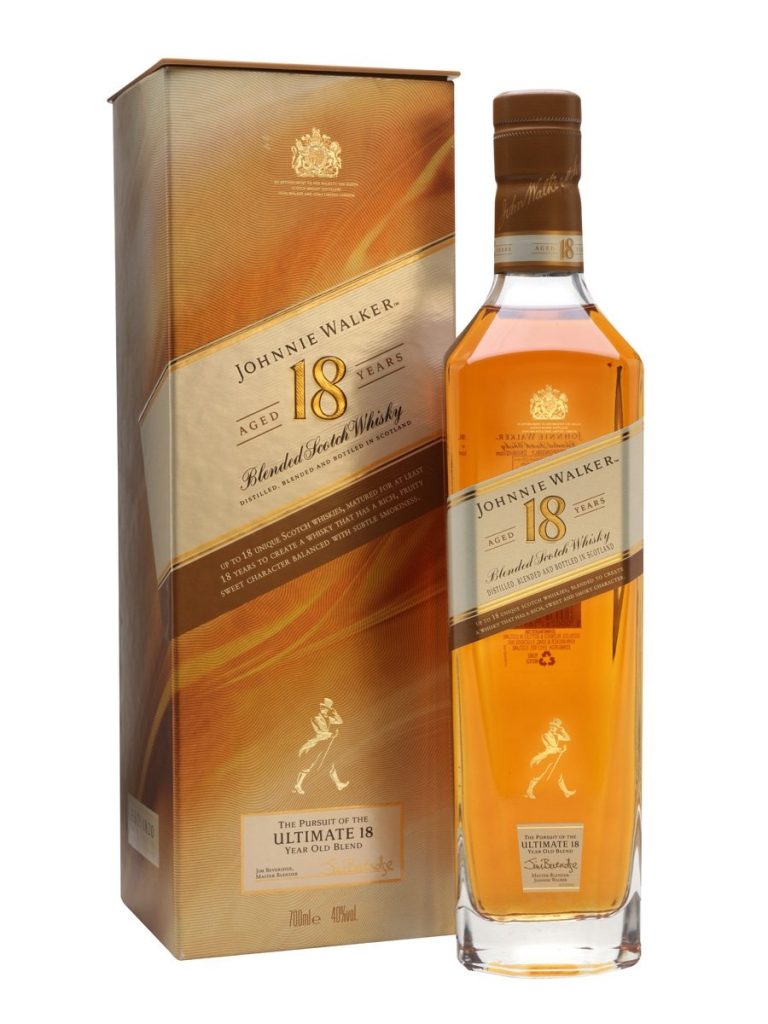 Proof: 80 (40% ABV)
Age: 18 years
Nose: Toffee, Caramel, Vanilla
Flavors: Vanilla, Citrus, Smoke
Johnnie Walker 18 blends big, classic Johnnie Walker flavors with intriguing contemporary notes of citrus and fragrant almonds. Initially sweet with a warm vanilla undercurrent and a suggestion of tangerines, it moves smoothly over the palate into a nutty, malty dryness before a long finish brings elegant suggestions of soft charcoal smokiness and a beautifully fading citrus zest. Up to 18 different whiskies go into making Johnnie Walker 18.
You can always enjoy the subtly smoky flavors of Johnnie Walker 18 as a long drink with the added refreshment of freshly pressed green apple juice, ginger and lime. Like this one for instance…
MIX IT UP… "The Dark Side"

Ingredients: 30 ml Johnnie Walker Aged 18 Years, 25 ml pressed apple juice, 10 ml ginger liqueur and 10 ml lime juice.
Twist: Mix 2 parts absinthe, 1 part orange bitters, 1 part Angostura bitters and, using a pipette, add a dash to the drink. Garnish with a mint sprig and an apple slice pierced with the pipette. Alternatively, add 5ml of bitters / absinthe mix.
The Dalmore Cigar Malt Reserve
First released only in limited edition back in 2011 and exclusively to the US market –  today my friends the The Dalmore Cigar Malt Reserve is back by popular demand.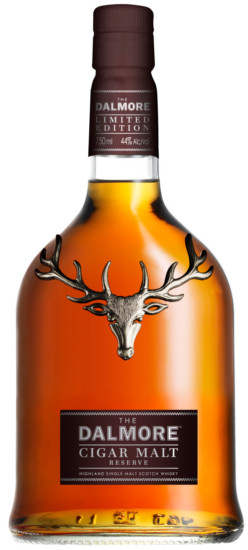 Proof: 88 (44% ABV)
Age: Blended
Appearance: Vibrant amber
Nose: Cinnamon, vanilla, citrus and tobacco
Flavors: Vanilla, citrus, caramel, hints of oak and spice
This robust highland scotch whisky isn't reserved only for cigar smokers, though we did discover quickly that a puffing on a fresh Macanudo did enhance the sipping experience undoubtedly. If you're looking for a budget brand scotch to kick your feet up and pretend to be Don Draper, this simply ins't it. At nearly $130 a bottle The Dalmore Cigar Malt Reserve is something for special occasions or quite possibly the finest gift you could give a man. If you're given the opportunity, trust us, don't pass up this complex and smooth finishing scotch. It's simply outstanding!
MIX IT UP… "Wet Willy" 
Ingredients: 1 part tap water (distilled if you like) and 4 parts The Dalmore Cigar Malt Reserve.
Directions: Combine ingredients in a low-ball glass, swirl, kick your feet back, lite up that stogie and enjoy!
Deriving the vast majority of its flavoring and color from the charred-oak barrels from which it is aged in, Jefferson's Bourbon matures in the heart of metal clad warehouses to accentuate the extreme temperatures that Kentucky is blessed with, forcing the bourbon to expand deep into the barrel and pull out the prevalent flavors of the wood.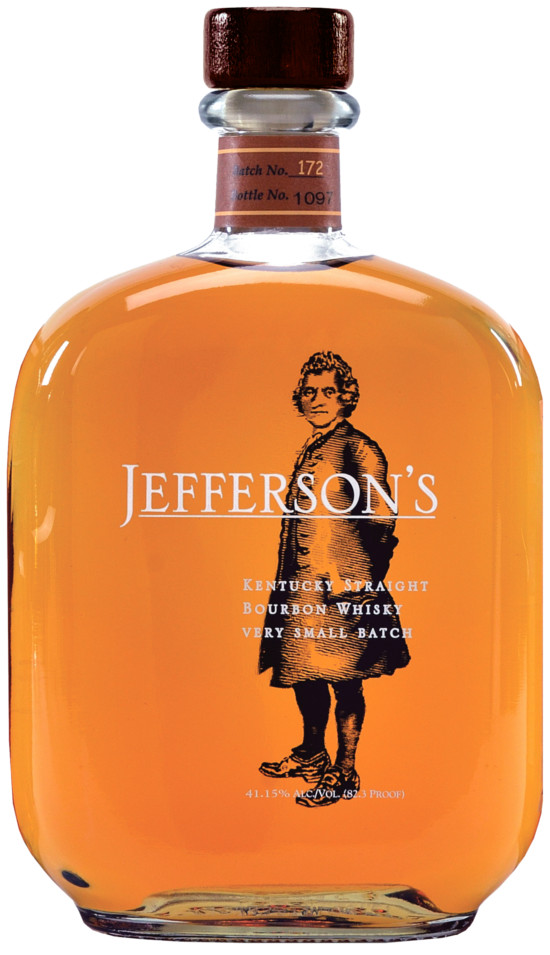 Proof: 82.3 (41.15% ABV)
Age: Blended 8-12 years
Appearance: Light golden amber
Nose: Oak, vanilla, corn and spice
Flavors: Toasted caramel, vanilla, oak, cinnamon
Make no mistake, this bourbon is bold, though its modest proof might have you believe otherwise. On the nose we discovered strong aromas of oak and vanilla while the predominate flavors that struck our palettes were that of caramel, honey and unmistakable notes of vanilla and spice with a sharp, if only momentary, initial burn (which mellowed nicely) to remind you that yes, this is after all Kentucky Straight Bourbon. Unanimously our tasting panel enjoyed this bourbon best as the master distiller intended it… neat. In this fashion its many complexities, balance and skillful blending process can be appreciated fully. But if you like to mix it we found Jefferson's to be a dangerously tasty base for mixing cocktails as well. Making it idea for… well, almost anyone!
MIX IT UP… "Harvest Highball" 
Ingredients: 1.5 oz Jefferson's Bourbon, 1 oz ginger liqueur, Apple cider and Cinnamon to garnish.
Directions: In a cocktail shaker, shake the bourbon and ginger liqueur together with ice. Strain into a glass with ice in it. Fill the glass with apple cider and sprinkle fresh cinnamon on top.
Crown Royal Northern Harvest Rye
Crafted from 90% rye and bottled at 90 proof, you are looking at Crown Royal's first-ever blended rye whisky. As rye becomes more popular than ever, liquor store shelves are inundated with unique options for whisk(e)y connoisseurs. It seems like every week there's a new label hitting the market… and we love it!
Since being launched in early 2015 Crown Royal Northern Harvest Rye has received several awards including being crowned the "2016 World Whisky of the Year" by renowned whisky writer Jim Murray. Such high praise has garnered a lot of attention for Crown Royal over the past 6 months, including our own.
Proof: 90 (45% ABV)
Age: Blended
Appearance: Amber
Nose: Spice, wood, grain/rye
Flavors: Rye, wood, spice, honey/caramel
Delivering a bold and spicy punch initially, this rye whisky is absolutely what we had expected on the nose. It also delivers rye flavor right out of the gate. As you begin to swallow the experience slowly mellows and finishes rather delicately. Leaving you craving the next sip.
We tasted and tested Northern Harvest Rye neat, on the rocks and mixed. In the end our consensus is that this particular whisky is best consumed however you like it. Served neat this whisky is truly enjoyable and delightfully intense. On the rocks we were greeted with a more subdued taste profile (as expected) that for some made this rye easier to consume. Mixed however you like, this rye is a great base for any mixed drink. We really enjoyed it with ginger beer and a handful of ice. If you're feeling more creative we recommend this recipe too…
Mix It Up: 'The Northern Buck'
Ingredients: 1.5 oz Crown Royal Northern Harvest Rye, 75 oz Fresh Lime Juice, 3 oz Ginger Beer, Lime Wheel, 2 Dashes Aromatic Bitters.
Directions: Combine Crown Royal Northern Harvest Rye Whisky and lime juice in a shaker, add ice. Shake well and strain into a highball glass over fresh ice. Top with ginger beer and garnish with lime wheel and two dashes of Aromatic bitters
Buy Now: $35 or to learn more, head over to: CrownRoyal.com
Skillfully blended with a trifecta of malted barley, un-malted barley and pot-still whiskeys, Tullamore Dew is a distinctly Irish whiskey dating back to 1829 where it was first distilled in the heart of Ireland… aka Tullamore, County Offaly.

Proof: 80 (40% ABV)
Age: 12 to 15 yrs. Blened
Appearance: Rich bronze tones
Nose: Vanilla, caramel, oak, subtle traces of fruit
Flavors: Sweet vanilla, spice, citrus and oak
Tullamore Dew is an Irish whiskey for the ages! Our panel absolutely fell in love with its truly sip-able profile, which is mystifyingly bold yet smooth simultaneously. Way-back-when, Daniel E. Williams knew what he was doing with this whole triple distillation/triple blend process. Who knew? And unlike the more popular names in the game (looking at you Bushmills and Jameson), Tullarmore Dew takes the bite out of sipping Irish whiskey for a truly enjoyable experience, and best of all without the inflated expense.
Don't fancy yourself sipper of whiskey? No fear, Tullamore Dew does one thing better than getting poured neat… and that's served up mixed in a iced-fill cocktail. Tullamore's smooth profile and sweet complexities make it an dangerous ideal option for simple concoctions like whiskey and coke… or this tasty diddy we worked up below.
MIX IT UP… "Apple D.E.W."
Ingredients: 2 oz. Tullamore Dew, 6 oz apple juice, dash of bitters and a lemon wedge.
Directions: Into a tall ice-filled glass, add the Tullamore Dew, top with apple  juice, garnish with a lemon wedge and enjoy. Bottoms up!
Maker's 46 is the bourbon that nearly didn't happened… you see, after more than a year and 120 trial batches the bourbon experts over at Maker's Mark almost called it quits on the 3rd whisky variation to carry the "Maker's" namesake since 1954. Never one to give up, Rob Samuels and his crew pushed on until they finally stumbled upon the unique process of re-aging their original Marker's Mark formula in barrels outfitted with French oak staves (No. 46 French Oak staves to be exact… hence the label "Maker's 46")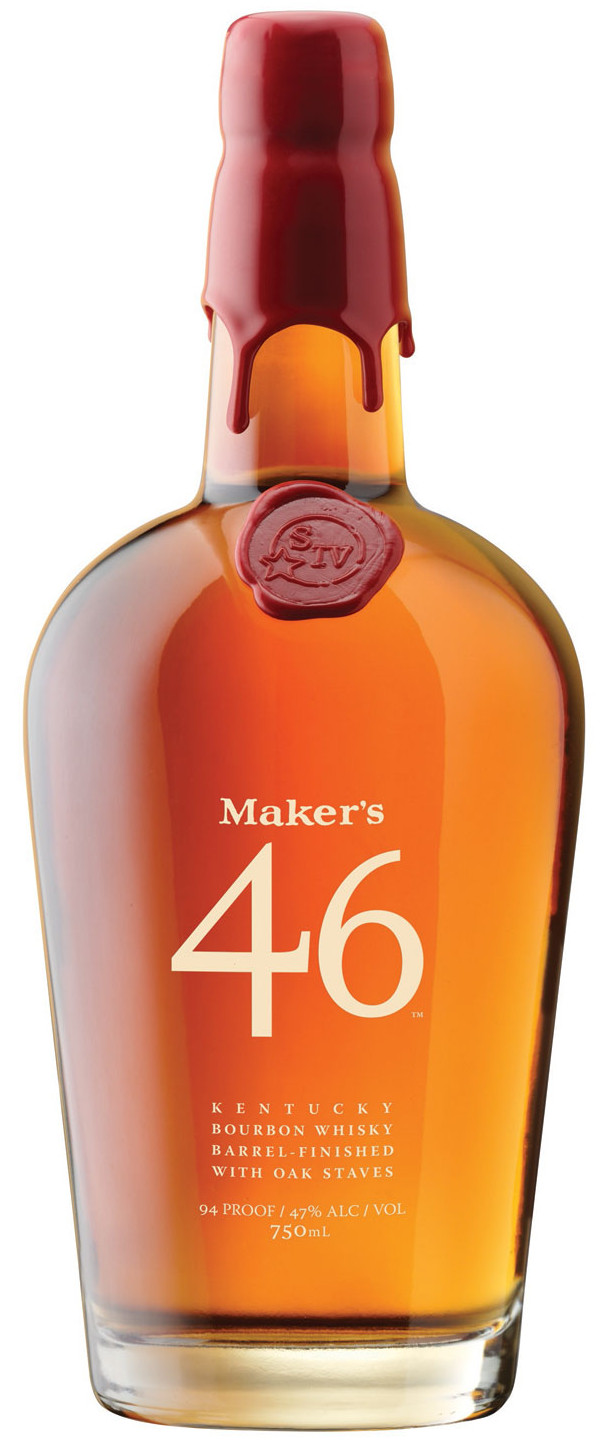 Proof: 94 (47% ABV)
Age: 6 to 7 yrs
Appearance: Deep amber
Nose: Vanilla, oak and cinnamon
Flavors: Honey , vanilla, caramel and nutmeg
This is an exceptional bourbon that is wildly tasty however you take it. Mixed, neat or on the rocks… we simply did't find a way this bourbon was't enjoyable. Holding Makers Mark's original formula in such high regard we were a bit leery that Maker's 46 might fall short of our expectations, but all our fears were quickly squashed after taking that first sip. Maker's 46 is undeniably Maker's Mark, but it's also much more. The additional French stave aging gives this whisky a more complex and rich overall profile that delivers a perfect balance of boldness and smoothness. If you like whisky 46 is worth picking up for yourself.
MIX IT UP… "Autumn-Yum"
Ingredients: 2 oz. Maker's 46, 1 oz. boiled cider or cider syrup and a strip of lemon zest.
Directions:Combine Maker's 46 and cider syrup over ice and stir gently. Twist lemon zest and drop into drink, stir again, and enjoy!