Born in the forests of Germany over 40 years ago, Jack Wolfskin may not be the household name you'd first expect to see on the skin track or in the lodge stateside. But the brand was loved by American enthusiasts and professionals long before opening its first 'den' in Park City, Utah. Offering a large variety of apparel that ranges from highly technical Texapore Core waterproof layers to fashionable yet functional on-trend sportswear, Jack Wolfskin is ready to compete and is here to stay in the American market!
I was lucky enough to get a hold of some new, winter-weight layers from Jack Wolfskin – just in time for ski season! So grab your boots and hardshell and drop into this gear review.
Jack Wolfskin Fall Winter Layers Breakdown
Men's Baiselberg Half-Zip (size: SM)
Warm, minimalist, and stretchy, this fleece is an upgrade from your current winter essential. A thick, breathable base layer that is comfortable as the first, second, or even third layer over a button-down and ready for all of your outdoor adventures.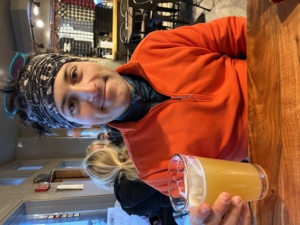 Here's a quick look at the features and details:
Men's Baiselberg Half-Zip (Color: Wild Brier)
Fabric

Polartec power stretch fleece

Weight: 375 g
Fit
Technology

Uses sustainable fleece fabric
A stretchy fleece with a Polartec blend may not be revolutionary, but Jack Wolfskin ticks all the boxes for under $100. A Polartec fleece is undoubtedly a cold-weather essential, but the market is totally saturated. So what makes this offering from Jack Wolfskin different?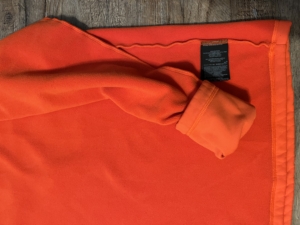 First, let's talk about sizing. Unfortunately for me, I'm neither tall nor broad, but if those words happen to match your body type, you're in luck. The European sizing from Jack Wolfskin offers those taller folk a comfortable, well-fitting silhouette that will hug your shoulders and chest. The result is an attractive and ergonomic fit that is equally flattering by itself or as a layering piece. And despite my short, slim frame (I'm 5'6″// 145lbs), a size small still fits very comfortably – if I roll up the sleeves.
Secondly, I love the weight. At nearly 400 grams, the Baiselberg feels like a heavy, thick sweater but still offers tons of breathability, which is vital for those long days on the trail. Of course, given the complete fleece construction, it does not pack well and will take up a lot of room in your pack. So if you plan on wearing the Baiselberg Half-Zip on the trail, be sure your other layers are packable.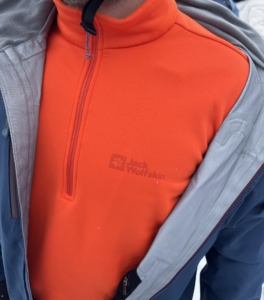 Lastly, and to be thorough, the Baiselberg Half-Zip boasts sustainable construction throughout. In a design process that Jack Wolfskin calls "Environmentally Responsible Innovation," the brand has wholly rooted out PFCs and PVCs from its entire collection. The Baiselberg Half-Zip is made of a minimum of 90% reused or recycled fabrics.
So, if you're looking for that next-level upgrade from your old fleece, or if you want to add a new option to your fleece rotation, you should look no further than the Baiselberg Half-Zip from Jack Wolfskin.
The Baiselberg Half-Zip comes in various colors (Night Blue, Blue Pacific, Wild Brier, Black, and Ebony), all available in multiple sizes from S to XXL on us.jackwolfskin.com. Be prepared for winter this year, and get yourself a fleece!
Men's Routeburn Pro Insulated Jacket (size: SM)
In the market for a breathable, stretchy, synthetic down puffy jacket? Looking for something totally layerable but warm enough on its own? Did I mention it's stretchy? Well, I found the answer to your questions. The Routeburn Pro Insulated Jacket from Jack Wolfskin ticks all the boxes for on-trail functionality while providing a stylish design suitable for any Aprés bar.
Let's look at the specs and then get into the nitty-gritty.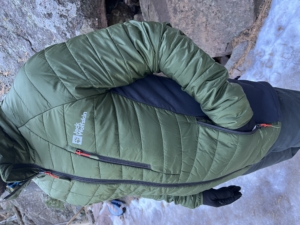 Men's Baiselberg Half-Zip Men's Routeburn Pro Insulated Jacket 
(Color: Greenwood)
Materials

Shell- 100% Polyester (Texashield Pro)
Second Shell – 95% Polyester // 5% Elastane
Lining – 100% Polyester
Filling – 100% Polyester (Primaloft)

Weight: 350 g
Fit
Technology

Sustainable construction. Certified Green Button product.

Pockets 

3 (1 on chest and 1 on each side)

Packing: NO
Let's address the elephant in the room. This jacket is fully synthetic, heavy, and doesn't pack well. But heck is it warm. I'm in Colorado right now – December 21st, 2022 – and the high today was 3 degrees Fahrenheit. This jacket, paired with a shell, will keep you warm in those temps. The Polartec fleece panels add just the right amount of breathability to keep you mobile and regulated, and the Texashield Pro shell fabric holds in warmth very well.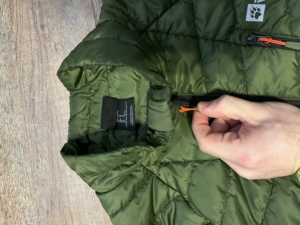 What is Texashield Pro? Glad you asked! Texashield Pro and Texashield Ecosphere Pro are Jack Wolfskin's trademarked applications for their proprietary Texapore technology. The product ranges from Core to Pro with both recycled (Ecosphere) and novel options. The Routeburn Pro features Texashield Pro, their most resilient and weather-proof fabric. However, I can't find out if the Routeburn uses the Ecosphere, i.e. the recycled version of Texashield Pro. While the rest of the jacket is made from recycled materials, I need to confirm later on whether or not the shell is recycled too. Either way, the Routeburn Pro's use of Texashield Pro makes it a formidable outer layer out on the trail.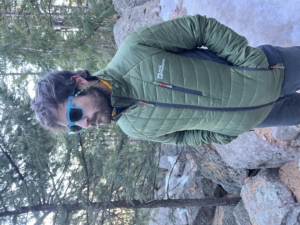 Above style and all else, it's important to note that the Routeburn Pro is a proper touring jacket. Featuring a slim, tapered fit, form-fitting sleeves, and an easy synch waist, this jacket was purpose-built for the skin track – or any other high-aerobic winter activity. It also boasts a reinforced, insulated zipper and a swatch of fleece at the neck to keep you extra warm. But I wish it had a hood. The Routeburn Pro also boasts sustainable construction using recycled materials throughout and proudly qualifies for Green Button recognition, the first German National Sustainability Label for Textiles. The standout sustainability features include recycled synthetic-down filling and recycled synthetic fibers throughout.
The Routeburn Pro is at home on the trail and at the aprés bar. It's very comfortable, and it will keep you well-insulated. I really like the Routeburn Pro, and for the price, I think it offers a lot extra in terms of fit and functionality when compared to equally-priced competitors. I can confidently say that I've put this puffy jacket through its paces in the Colorado Rockies, so the Routeburn Pro will handle just about anything you can throw at it and will definitely be a mainstay in my gear collection.
The Routeburn Pro is available on us.jackwolfskin.com for just under $170 USD. Available in European sizes ranging from S to XXL, there's a Routeburn Pro for nearly everybody type. Be sure to pick one up soon and stay warm!