If you are looking for an affordable, quick and easy to set up Sauna option for outdoor use, the SweatTent may be exactly what you are looking for. This wood-fired sauna heats up fast and stays hot for hours. The best part, it's portable! It takes less than 10 minutes to setup with the pop-up design. The insulated design retains the heat and makes you sweat with ease. I was a little hesitant on how well a portable sauna would work and hold up in the winter season. The SweatTent did not disappoint. After a month of testing, here is what I discovered.
Key Features
Easy Setup & Breakdown
Portable
Heats up fast and stays hot for hours
Sauna Rocks & Rock Basket for steam option
Wood-fired Stainless Steel Stove
Thermometer
Fire Poker
Gloves
Improves Circulation
Reduces Inflammation
Lowers Blood Pressure
Boosts Metabolism
Detoxify
Relieve Stress
Boost Mood
Sleep Better
Design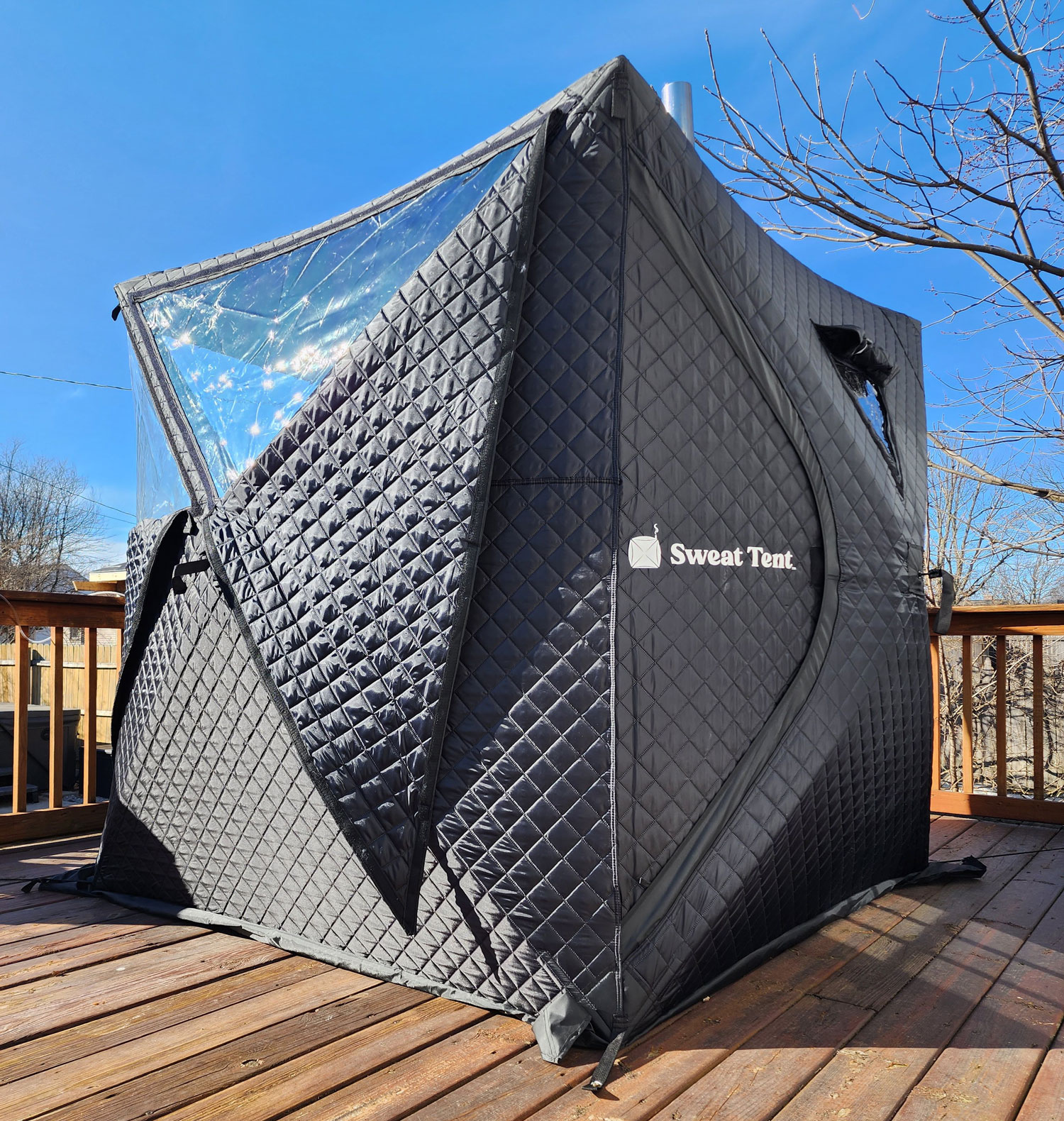 The design is actually brilliant. The tent material is made of non-toxic Oxford 210D Nylon. The interior fabric does not contain urethan and the exterior is rated to withstand 300 Degrees Fahrenheit, so there is no risk of off-gassing. There are several windows that can be covered or revealed by velcro panels. This is excellent for letting in light during the day or keeping things private at night. The tent is a pop-up design, so it's simple to just take it out of the bag and open in up. The stove is stainless steel to keep things light and portable, and pushes out the heat for an excellent sweat. The chimney pipes break down into several pieces making it easy to install or pack away for the next location.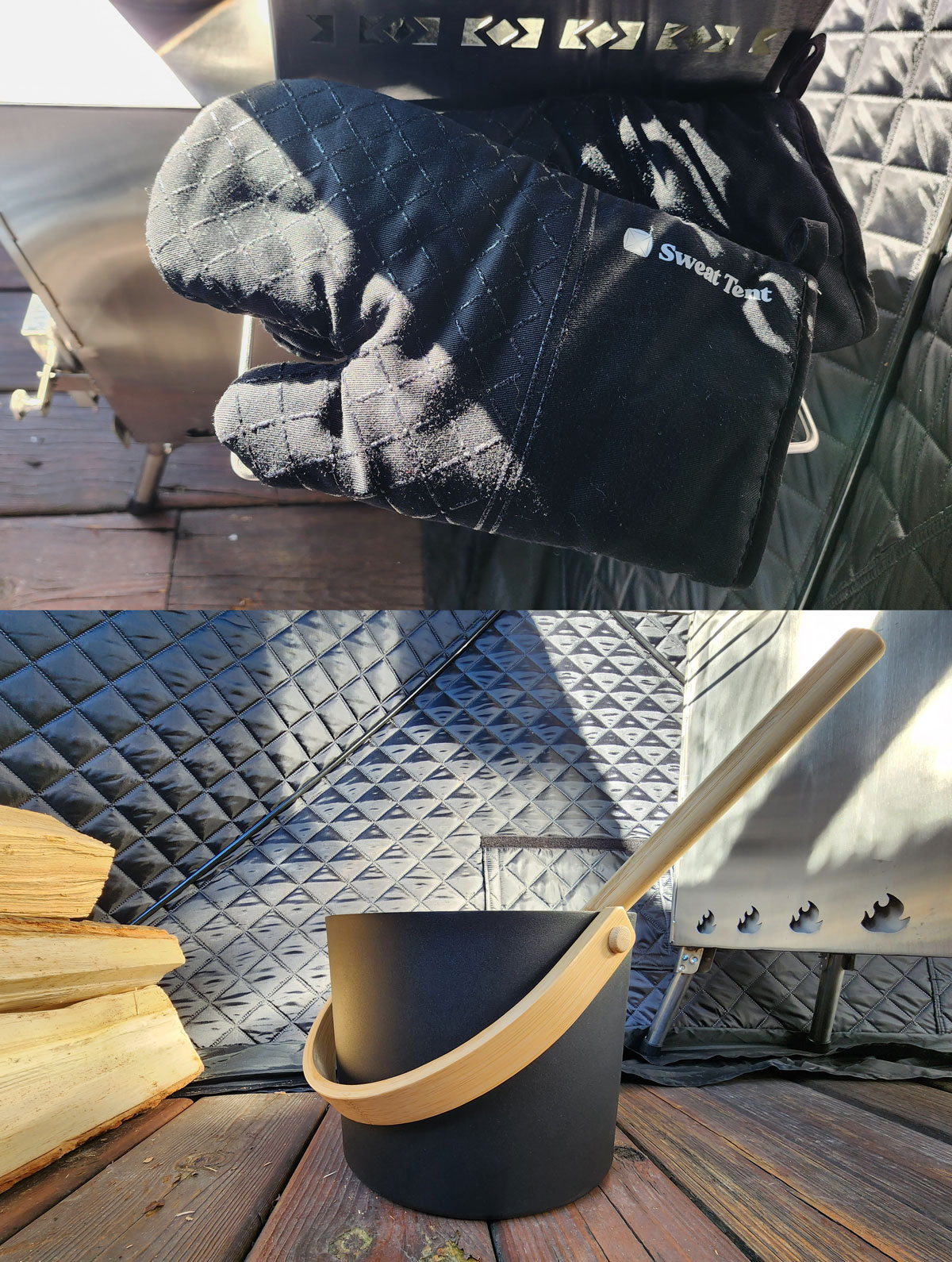 You can also purchase the Cedar Bench for an addition $199.00, which is light, portable, and comfortable. Another "Add-On Essential" is the Bucket and Ladle set ($49.00). The wooden handle on the ladle and the bucket make it perfect for handling while in the sauna for minimal heat retention, allowing your hands to stay safe.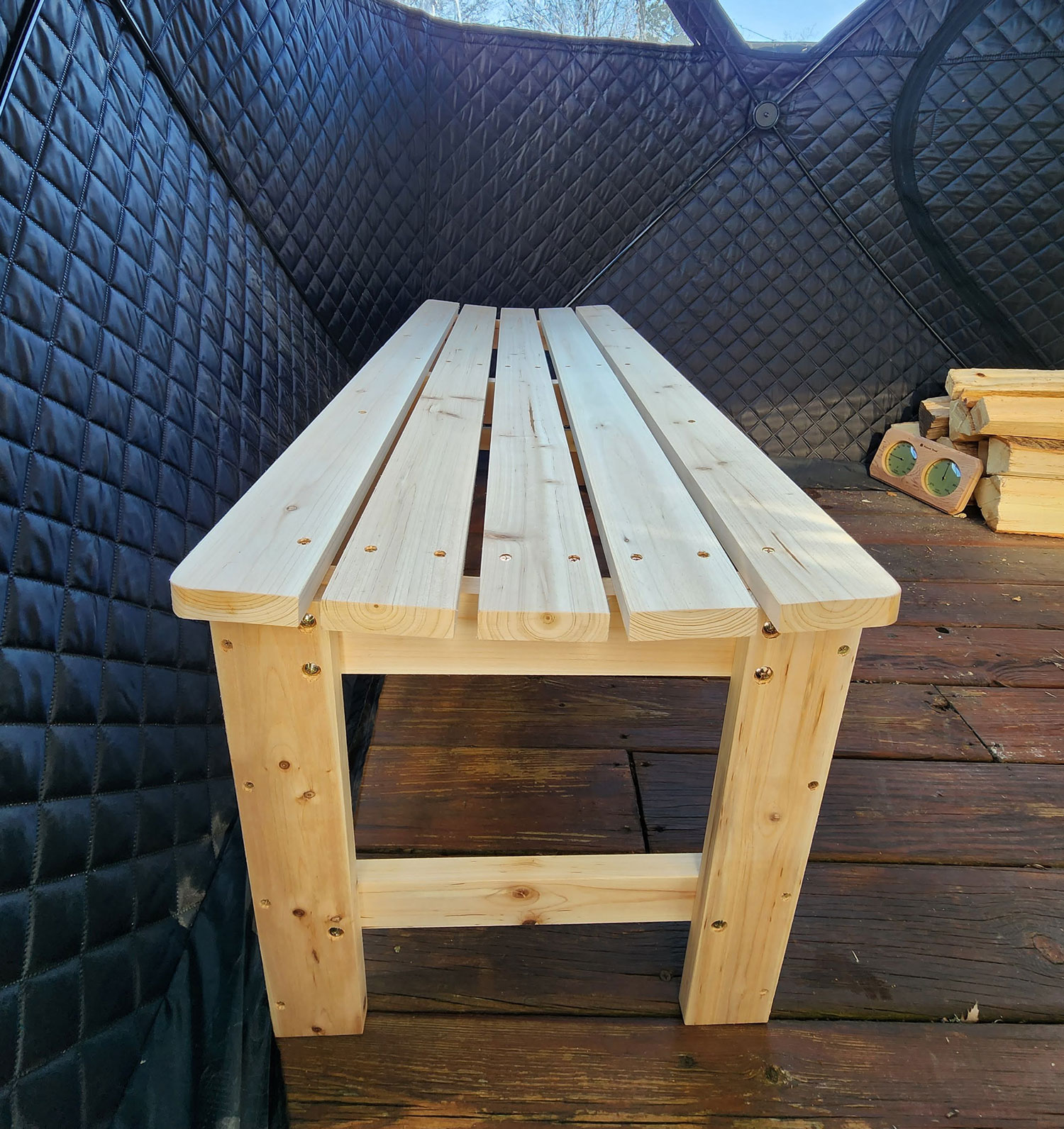 Functionality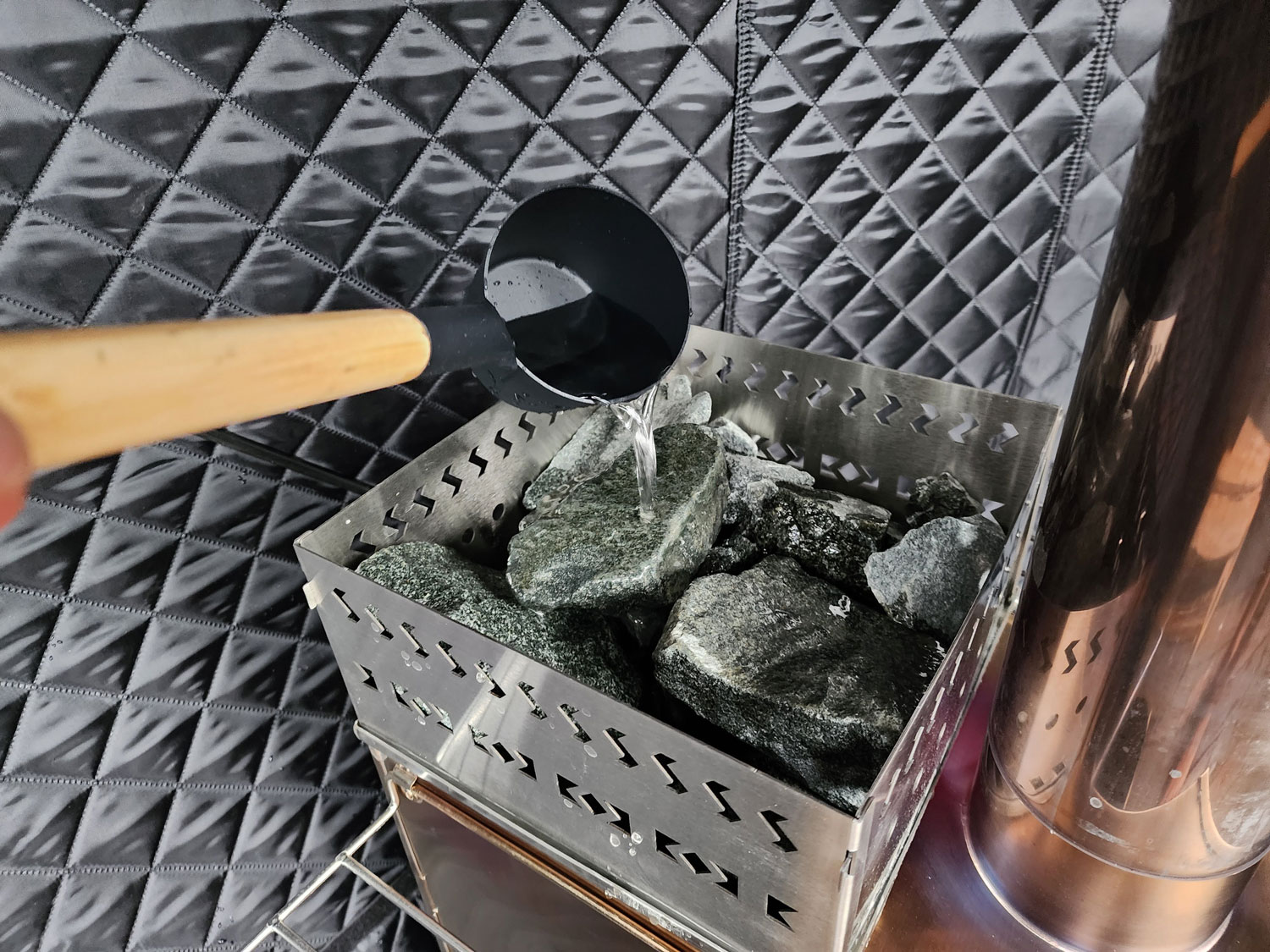 Once the tent is all set up, you'll want to "season" the stove before brining it inside the tent. Simply set it up outside in a safe area, toss a couple fire starters and logs inside, then let it burn out. Once it's cool, bring it inside the tent and install the chimney pipe and fabric chimney hole cover. I recommend using two fire starters with a couple logs to start, which will help heat things up quick. It seems to get hot enough for a sweat within 15 minutes. Once things are nice and toasty, you can use the water bucket and ladle (sold separately) to pour some water over the rocks for a proper steam. There is also a little vent located at the bottom of the stove that you can open or close to help with the heat. This vent is also part of a drawer that pulls out to clean any ashes left over from the wood logs.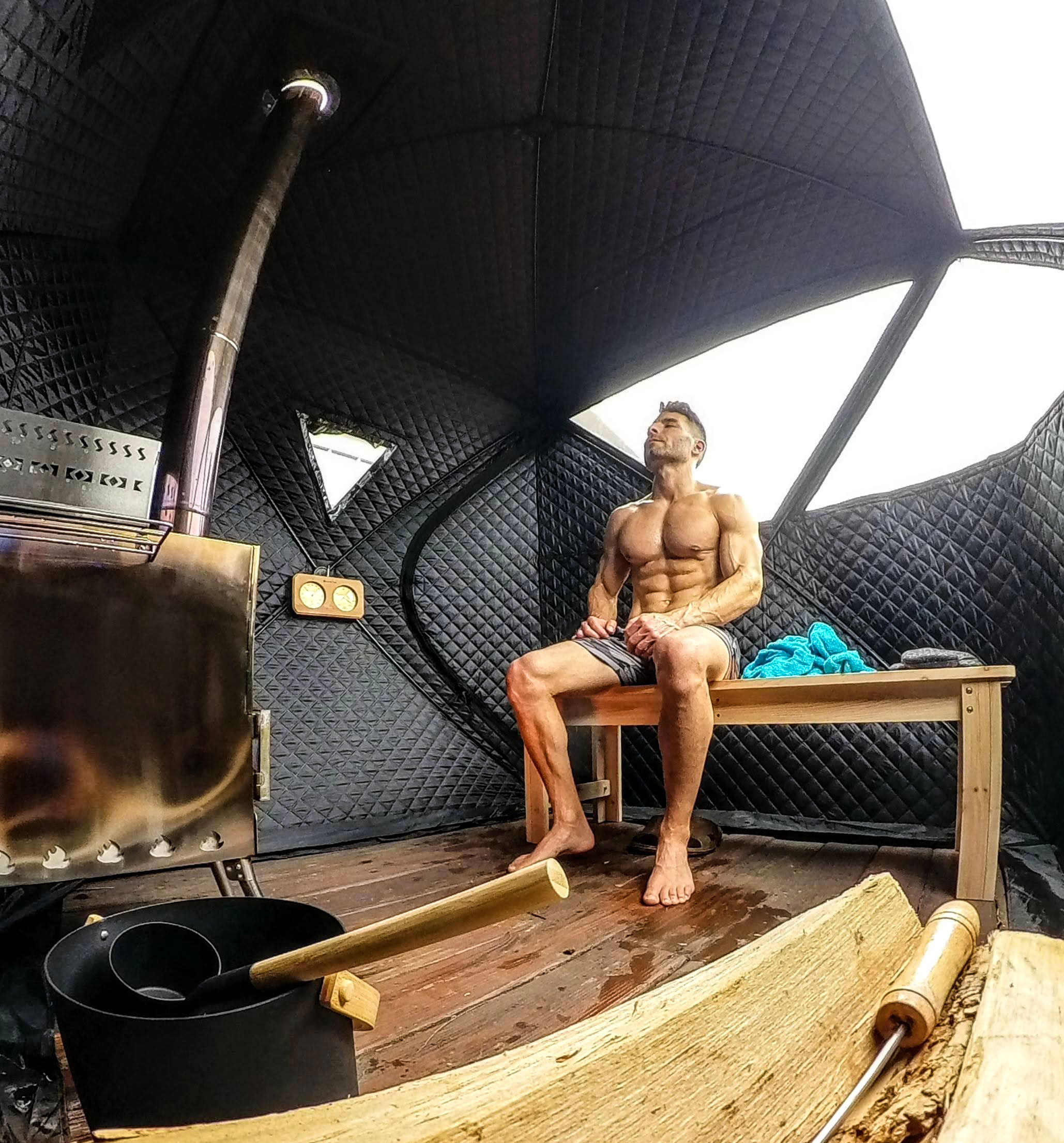 Durability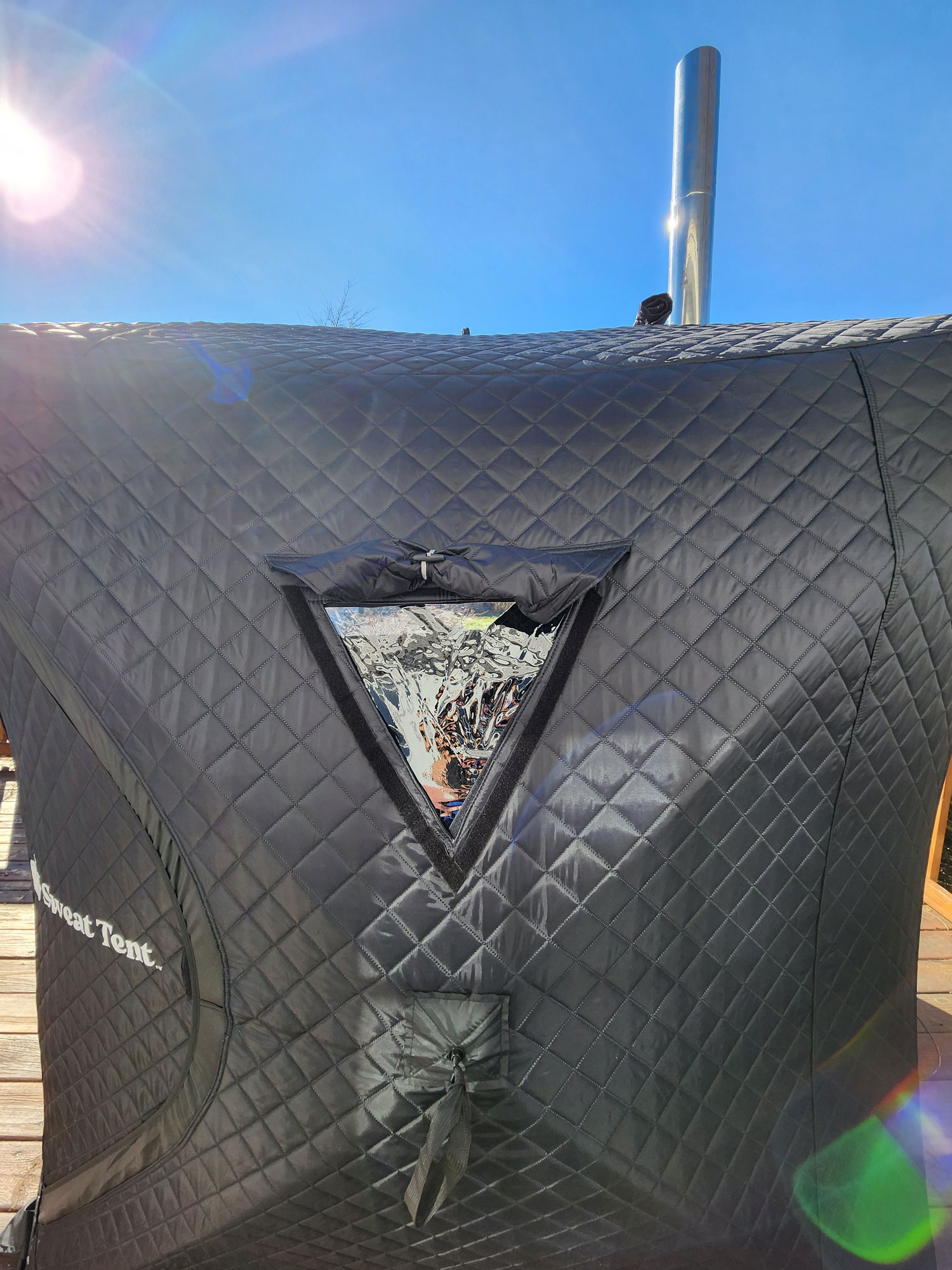 You can leave it up permanently, although it may shorten the lifespan if you are in an area with extreme weather conditions. After a few heavy snowfalls, I noticed the top part caved in. I was nervous to see the damage it cause when opening the tent, but nothing was messed up or out of place. There was a good 8 inches of snow on top that I had to brush off before lifting the center back up. Once the snow was cleared it was easy to pop back up into place. I definitely recommend anchoring down the bottom corners as well as securing the top corners to something heavy or permanent. We have some strong winds that come off of Lake Michigan, especially during the winter, but with each corner anchored down, the SweatTent stayed in place.
Portability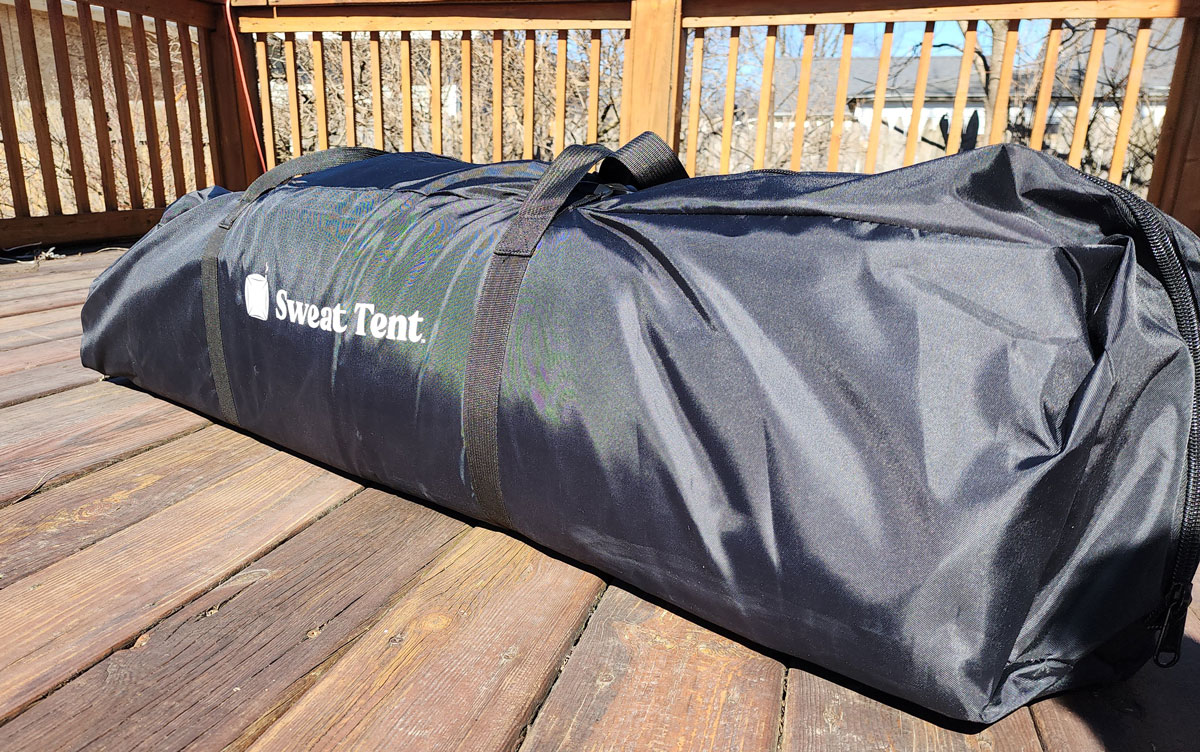 The pop-up design makes this a great option to take with you wherever you go. It took me less than 10 minutes to get it out of the bag, set-up, and secured down. Same goes for the stove. It's lightweight, which makes it easy for 1 person to lift and set in place. The chimney stack breaks down into several pieces for portability and easy setup as well. The carrying case and extra bag for the accessories are great. I used the extra bag to transport wood to the tent as well. When the tent is broken down and in the bag, it takes up minimal storage. It can also fit inside a trunk, backseat, or truck bed with ease.
Value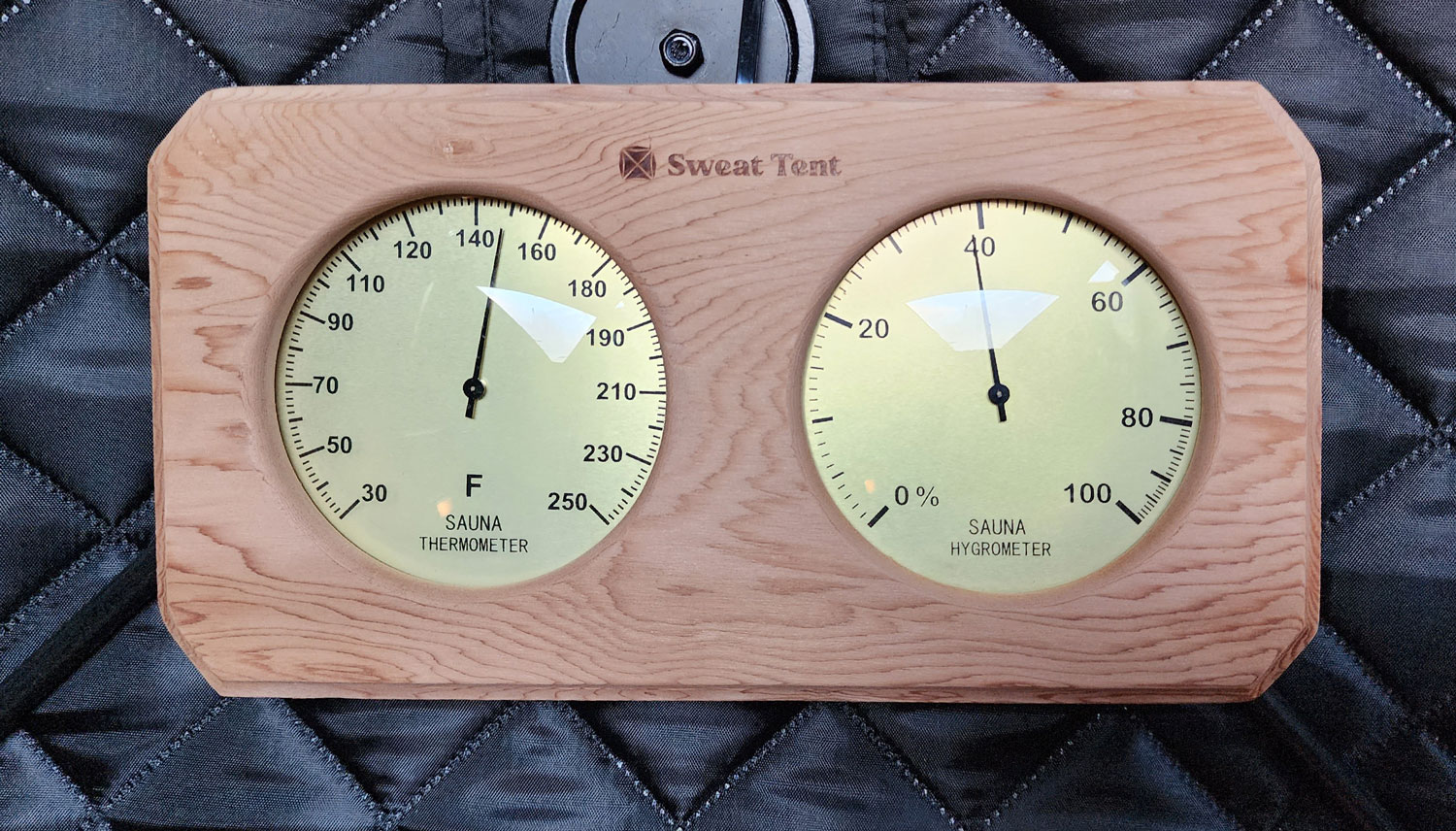 Overall, the SweatTent is an excellent value. Especially right now at $1,199.00 (regularly $1,499.00). It's hard to find a sauna that works this well for under $2,000. Even harder to try and build your own for that price. When you add in the portability and ease of use, the SweatTent is our top choice. I'm really impressed with the design and functionality of this sauna and will continue to use this setup for the foreseeable future.
Buy Now: $1,199.00 or to learn more, check out: www.sweattent.com
SweatTent - Outdoor Sauna Review
Overall, the SweatTent is an excellent value. When you add in the portability and functionality, the SweatTent is our top choice.
The Good
Easy to setup
Heats up fast and lasts
Portability
The Not So Good
Top or sides can pop inward in harsh weather (we suggest to take it down during bad weather or secure really well)