The windows are all down on the running Lamborghini Gallardo as I walk out to meet it in the pit. Parked right next to it is a stunningly beautiful Ferrari 458 Italia that increases my awkwardness as I slide nervously into the ground height Lambo while remaining mindful of the door staying clear of the $240,000 Ferrari. I make it in and have a look around – mentally preparing for my first outing on a real racetrack. This begins my Xtreme Xperience.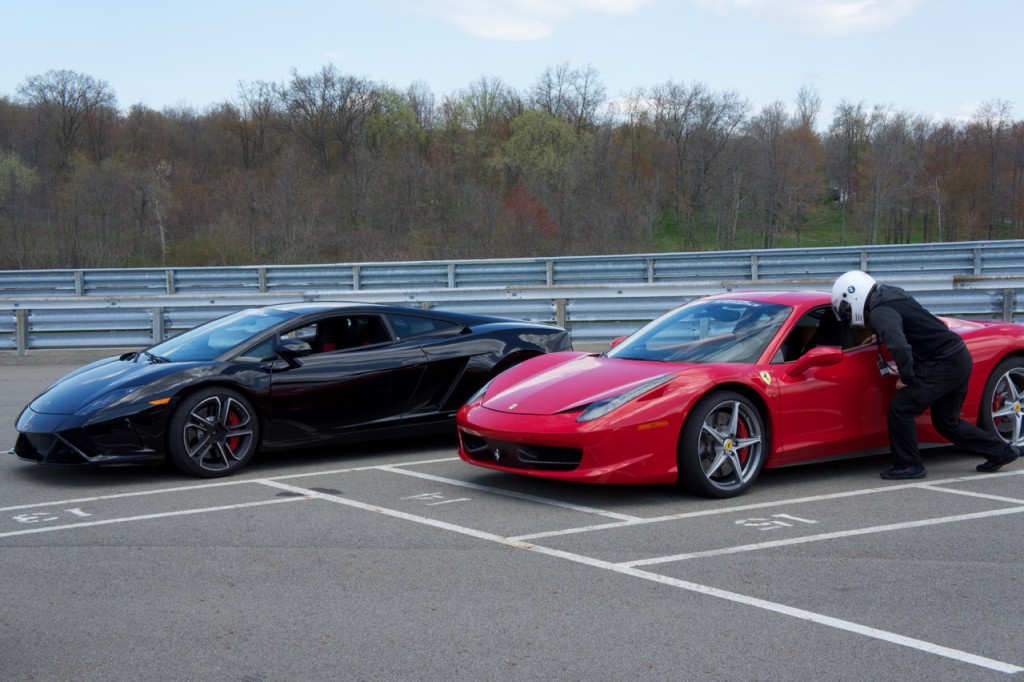 Aside from my racing helmet, there is nothing to say I'm not just sitting in some rich fellows weekend chick magnet. Nothing has been dumbed down or modified on the car. There is no passenger safety brake pedal, there are no governors, just real, unmodified supercars.  Oh and my driving instructor in the passenger seat. And the cameras and communication equipment. I shake hands with my instructor and explain to him that I've never been on a track before, let alone driven a Lamborghini. He's a very nice guy, much like everyone at the event, and assures me we're going to have some fun and learn some things. He's also adjusting his instruction and expectations to match my experience level.
An attendant signals us to leave the pit and form up behind the other cars in the session at the starting line. Like a new born baby I pussyfoot onto the gas and slowly make my way up to the track. You know that feeling you have at first when you drive someone else's car or a rental car? The unfamiliar vehicle makes you seem like an idiot for a bit while you adjust. This happens even more so in a $230,000, 550 HP rocket ship. We start to roll out and begin our standard 3 lap session and, as I'd been previously briefed on, my instructor starts speaking directions into my earpiece and proving hand signals as we move along the track.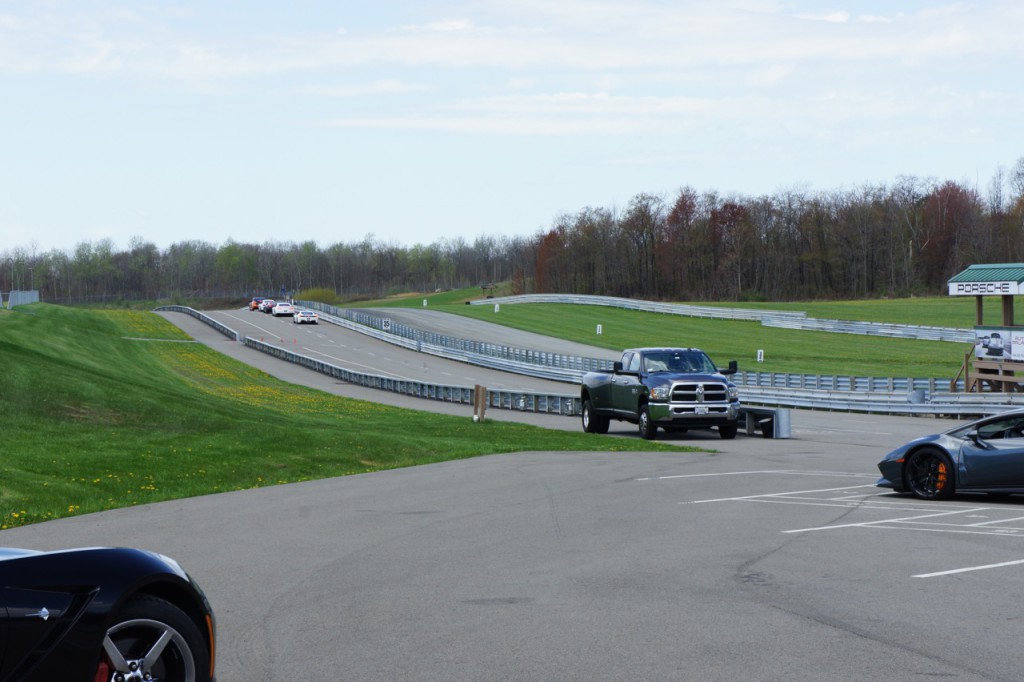 I'm following other cars so It's clear where I need to go, but I'm going more slowly than everyone else and I start to get anxious. Adrenaline kicked in about the minute I entered the car and about 1/4 of the way around my first lap I realized I need to put my foot on the gas and start driving this sucker. The car jolts forward losing grip and prompting a reaction from my instructor. It's clear that I don't know what I'm doing, but again he's super nice about it and talks me through the first lap. I make it to the straight away and careen down it with all the grace and speed of a cannon ball, easily breaching 110MPH. With that I begin my second lap and my real experience begins.
I pit the Lambo after my 3 laps and thank my instructor. Climbing out of the car and heading back into line for my next of 3 drives I'm giddy, this is amazing! Immediately an attendant grabs me to ask what other cars I'm driving (identifiable by my colored wrist bands). The Audi R8 V10 is next for me and before I even make it back into line, he sends me straight over to a car, no waiting, and pairs me with their lead instructor, Jack. I tell Jack that I just drove for my first time on the track and I'm feeling much more comfortable, my goal for the next two drives is to improve and push my ability. Jack is not like regular folk, he's more bomber pilot than average joe. In fact, his everyday car is a Porsche GT3 RS, an actual racing car.
As we take off in the Audi, Jack starts laying into me, as stern as you can get on a customer I'd imagine. He's yelling at me to stop braking, more gas, keep it tighter, more gas! Within about 60 seconds I'd broken the AWD tires free up a sharp right incline and Jack had to reach over and grab the wheel to reign us in. "Good" he says, and we catapult on, way faster and neater than my previous drive. He guides me through the course masterfully and gets me dancing the car through the turns without even using the brakes. In fact we worked it so well that I ran up into the car ahead of me and had to let off. After 4.5 minutes it was over and I was euphoric.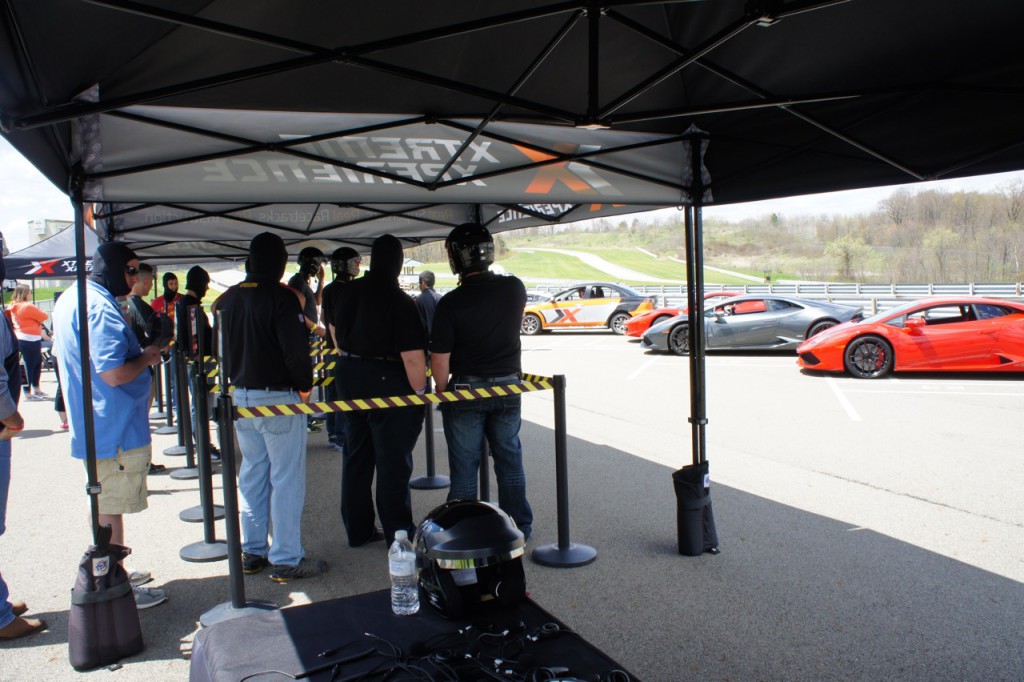 I got back in line to drive my final car in my 3 car class B package, the Nissan GT-R, the one I was most excited about. They only had one GT-R and there were 3 others in front of me, so I waited about 20 minutes and chatted with other car enthusiasts about car stuff. 20 minutes isn't that long but it definitely takes you out of the mood a bit. At this track (Pittsburgh International Race Complex) you can't see the track from the waiting area so you're just kind of milling around. Finally, with 2 drives and 6 laps under my belt, I headed into the GT-R. I told my new instructor about my experience with Jack and that I wanted that again. He agreed and helped me make the most of my time in this insane car that goes 0-60 in 2.9 seconds. We tore around the track with the windows down enhancing the sensation of speed and even caught the lead pace car on the straight away, ending my day in the most fun car and laps yet.
"While I was there a father rode along with an instructor to watch his son drive his dream car ahead of him."
I mention the 3 instructors as much as the cars themselves because they have a large effect on the experience. Based on what you tell them, they will adapt to your goals and your skill level to help you get the most out of your drive. And that's what the Xtreme Xperience is all about, not only giving you a chance to do something that very few would normally get to do, but also maximizing the potential of that experience.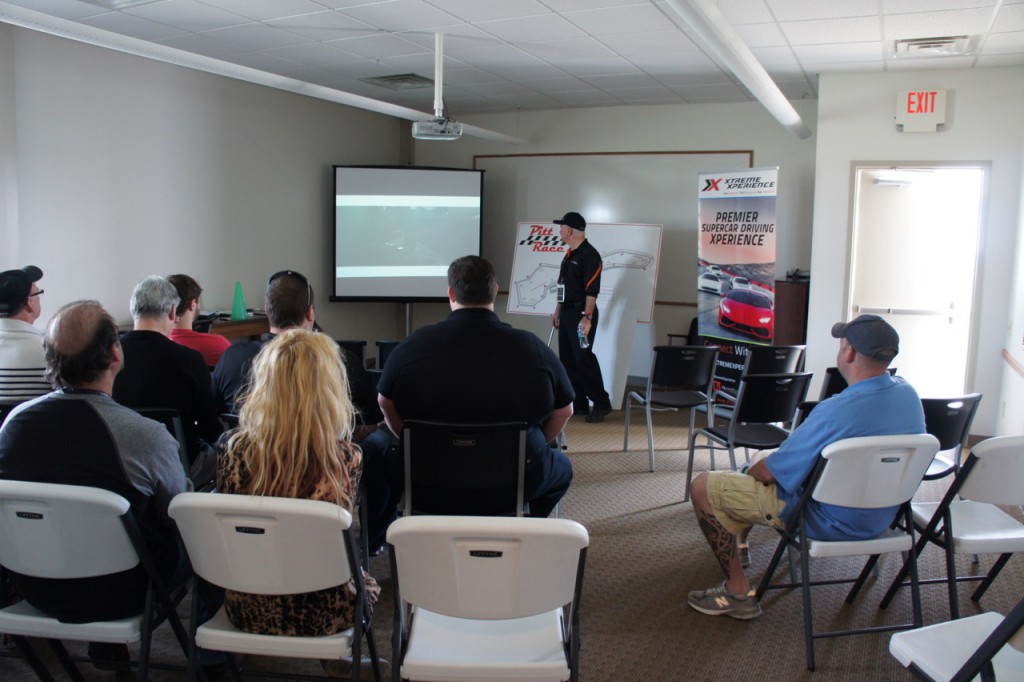 That experience starts with a 40 minute course on what to expect and how to drive on the track by senior instructor Brad Pines.  The main takeaways there, aside from the helpful tips on how to drive are:
There will be no racing, this is not a competitive event (lead-follow)
Safety is paramount
The level of aggressiveness should be a 7/10, not pushing the boundaries
Don't damage a car or you will pay (beyond the basic insurance you must buy)
Those points are a good way to frame your expectations of what it will be like out there. If you think you're going to hop in a Ferrari and lay waste to the track driving on the edge of madness, you're mistaken.
The drives are accessible to everyone as well, you don't have to be out for lap times. If you want to get on the track and cruise around, you can do that, your co-pilot will help the other cars pass you safely so you can take your time. You can also purchase a ride along instead of or in addition to your drive. While I was there a father rode along with an instructor to watch his son drive his dream car ahead of him.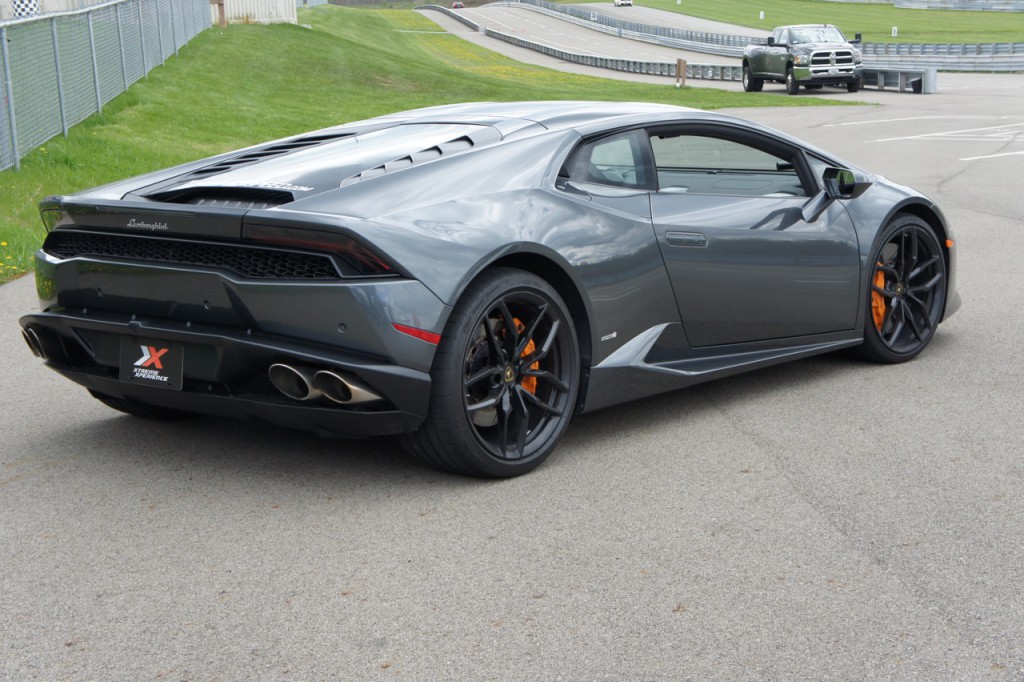 For about the price of a cell phone, you can drive a Ferrari 458 Italia and a Lamborghini Huracan (or Porsche GT3, Corvette C7, GT-R, R8, and more) on a race track as fast as you can stomach with professional instruction. There are also high tech accouterments to help you remember the experience such as first person video which syncs up with the cars on board data and GPS to build a video recording that includes multiple views, your lap time, track position, and speed along the way (my GT-R example below).
"If you're not willing to spend a couple hundred bucks to take an item off your bucket list, you didn't really want it that bad in the first place."
This was easily one of the most fun things I have ever done, hands down. I went into the event a little skeptical of the cost and came out recommending it without hesitation to everyone I talked to. It's the opportunity of a lifetime for car lovers everywhere. Without the events put on all over the country by the Xtreme Xperience team, driving these cars would remain a dream for nearly everybody. If you're not willing to spend a couple hundred bucks to take an item off your bucket list, you didn't really want it that bad in the first place. If you do take the plunge, and I'd suggest that you do, it will be something that you'll never forget.
Xtreme Xperience Supercar Driving: Track Review
A dream come true for car lovers and drivers
Instruction and Guidance
9.8
PROS
Opportunity of a lifetime
Insanely Fun
Accessible to everyone
CONS
Pricey
Time in car is limited
Track can get crowded