Dropping off a hard climb is standard business for climbers all around, but Asana's Superhero Chaos is there to make tough falls just a bit more bearable – in more than one way. 
Not only is the Superhero pad great at its job (absorbing falls), the Chaos fabric design is a spirit boost when you need it most. What better place to drop than a big menacing grin with spraypainted eyes? I sure can't beat it, besides deep water soloing perhaps…
After a few months of fun testing out the pad at various destinations including Allegheny State Park in Pennsylvania, McKenzie Pond in the Adirondacks, and Devil's Hole in Niagara Falls, the Superhero Chaos has caught its fair share of failed burns and lives on to keep on grinning. 
Read on to hear our full thoughts on the Asana Superhero Chaos crash pad.  
Asana Superhero Key Features:
57 x 40 x 4 inches

1000 denier nylon w/ bottom and side flap

Deluxe suspension system

Metal cam buckle closure

Aluminum carry clip w/ bottle opener

4 high visibility yellow carry handles

15 lbs

Dual-density foam structure
Asana Superhero Chaos Crash Pad Review Breakdown
Design
The Superhero pad is Asana's flagship pad design with a thick 4 inches of fall protection spaced out in over a wide surface area of 57in by 40in. That generous surface area is available in a wide variety of colors and prints to suit an array of climber personalities from serious to quirky and everything in between. 
While we lucked out with the smiley guy, there are a number of subtle options that are really nicely done from solid colors with bold accents to other fun designs.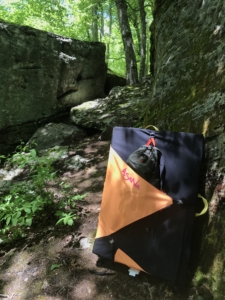 There are two stand out features on the Superhero pad: the suspension system (more on that later) and the closure flaps. The Superhero and Hero – younger sibling – pads both offer front and bottom triangle closure flaps. This is phenomenal for tucking gear inside the pad or for restraining a backpack hanging from Asana's signature BYOBuckle – a gear hook that doubles as a bottle opener. Asana's Superhero and Hero pad designs are workhorses when it comes to gear stowage.  
After a few months with the Superhero, I can confidently say once you flap, you never look back. It is truly a much superior carrying experience than other entry-level pads. 
Another item worth mentioning is the cam-style buckles. While they are definitely more laborious than a quick hook and loop closure, they are far more secure keeping the pad closed and all your possessions locked inside. They do not slip, lose grip, or disengage like hook and loop systems, but do require threading the nylon webbing through the clamp teeth after each opening. Honestly, a tradeoff worth accepting for more security and reliability in closing.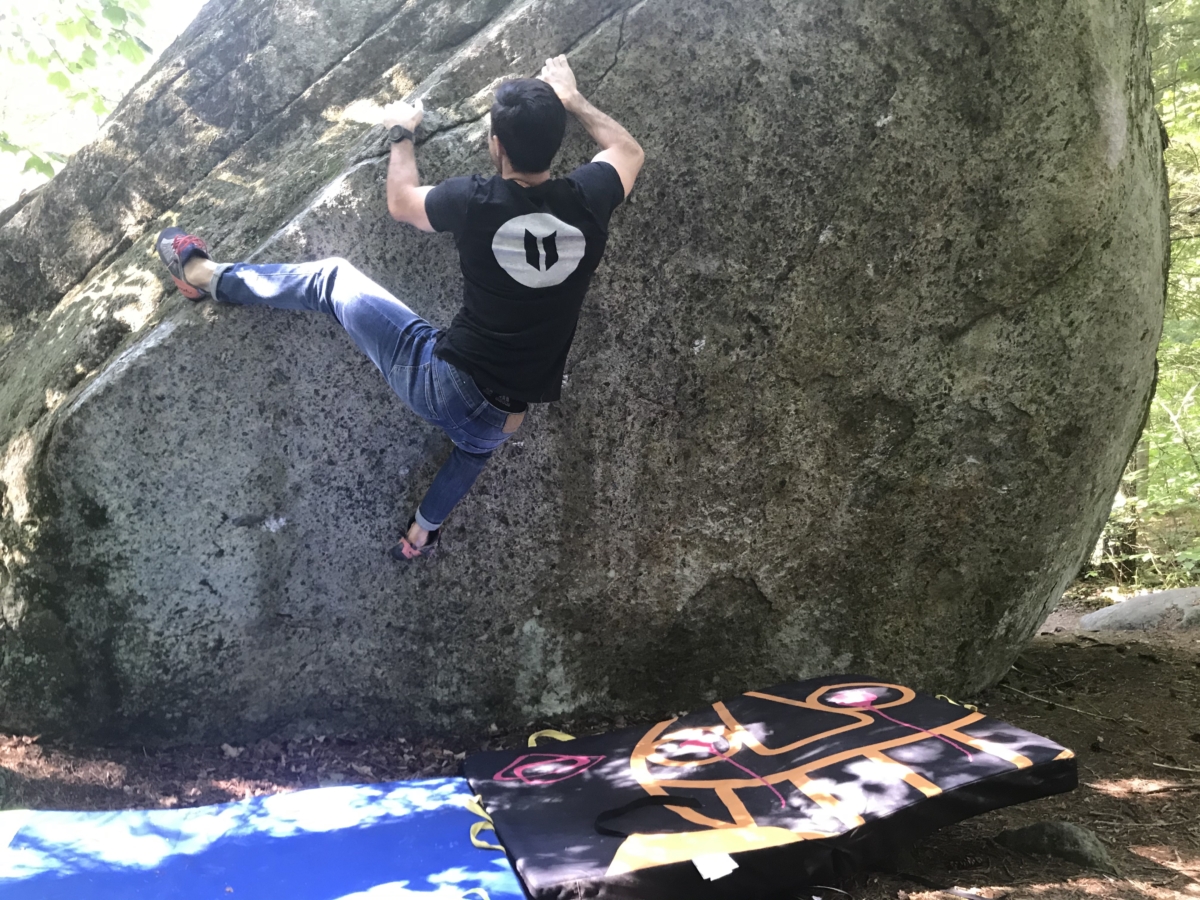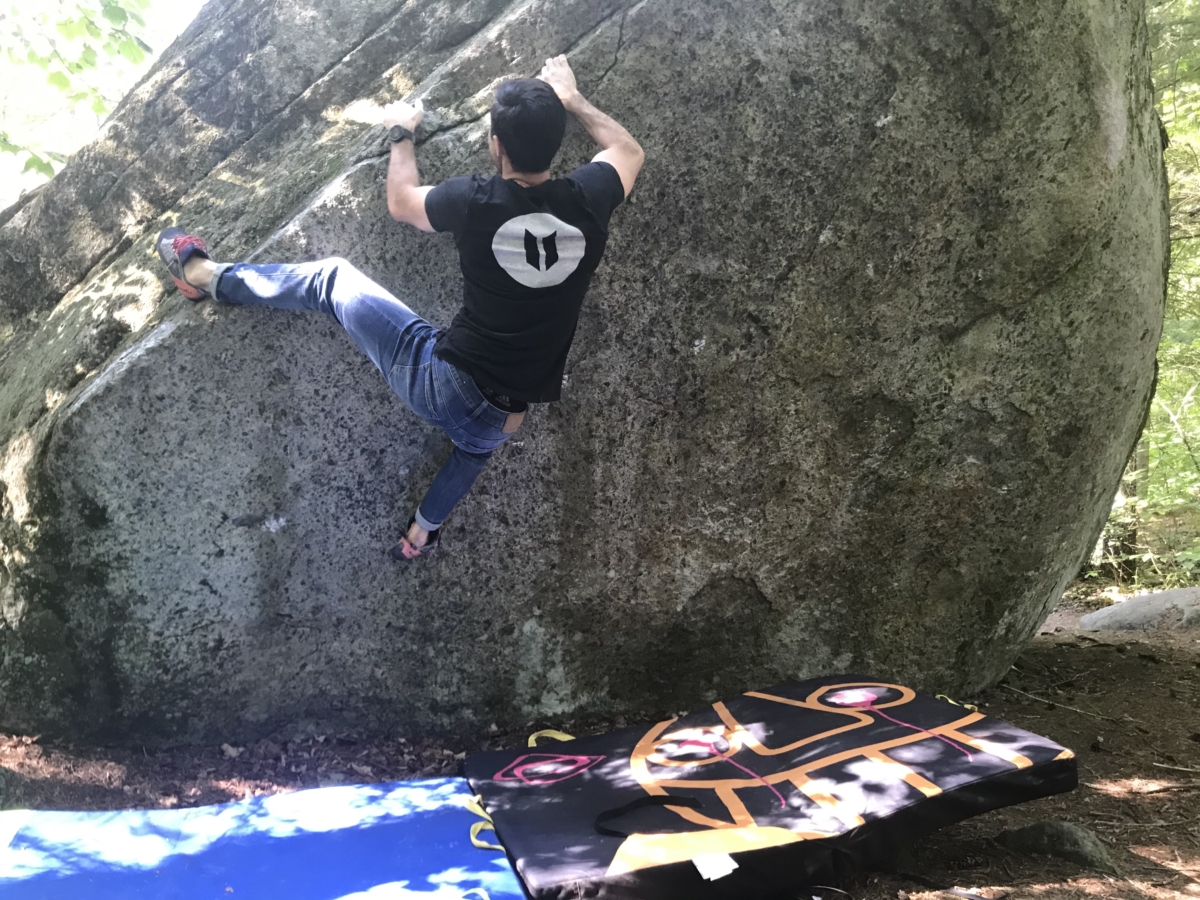 Suspension System
A flagship pad gets flagship straps. The Superhero's strap system is much more comfortable than other pads I've carried. 
There is one main stand out feature that set's it apart from the pack: the load-lifting straps. The pad alone is 15lbs, so the load lifters aren't totally necessary for quick carrying. 
However, the moment you load up and secure a bag to the BYOBuckle, the lifers make for a fine-tuned load shifting the extra topheavy weight forward over your center of gravity. 
The load lifters also have a pretty satisfying "zipper" noise when sinching up the straps as the webbing rubs against the cam teeth. 
Beyond lifters, climbers will find contoured straps, a sternum strap and a padded waist belt.
Carryability
At 15lbs for a full-sized pad, Asana did a great job balancing protection and durability with weight. It's really an ideal pad for longer approaches and only feels heavy if you take advantage of the loading features (BYOB/flaps).
The pad also offers 4 bright yellow haul loops for quick briefcase-style carrying from problem to problem, or easy drag-ability for pad positioning by spotters. 
Durability 
While this pad has only seen one season of duty for me, there are little to no signs of wear – apart from some obvious dirt (and chalk) stains – despite all we've been through together so far.
Everything on this pad is quality and heavy-duty. From the tough and tightly woven 1k denier ripstop nylon to the heavy-duty metal cam-style buckles, Asana intended for this pad to (safely*) stay in the rotation for quite some time. 
*Any pad's foam will degrade over time, just keep an eye on this. Your mileage will vary depending on usage frequency and proper storage – don't store if wet, don't store with heavy items sitting on top of it, etc.
Value
At $285, the Asana SuperHero pad is priced competitively with the other oversized pads on the market. For that price, you get a double-flap cammed closure, an advanced suspension system, integrated gear-hauling solutions, and fun add-ons like the BYOBuckle.  
Just about any pad from any trusted climbing brand will catch a fall, but a great crash pad delivers more than protection – it delivers a carrying experience. 
Asana's Superhero pads deliver an enjoyable and functional experience in a quality package with fun colorways to choose from. What more could you ask for? 
Buy now $285, or shop all Asana Pads
Asana Superhero Crash Pad - Gear Review
I don't often give 10s, but Asana knocked this one out of the park. It does everything a good pad should, but is so much more than a goos pad – it's an excellent pad with a collection of nice-to-have features!
THE GOOD:
BYOBuckle bottle opener is fun (enjoy responsibly)
Load-lifter straps are welcomed addition
Padded hip belt is great
THE NOT SO GOOD:
Face might be too much for some, but doesn't change the product design perfection