Metolius' Basic Crash Pad is an all-black, stripped-down version of the Session II Crash Pad at a stripped-down price. For $130 dollars and free shipping, Metolius seriously undercut the market with this pad. But that price doesn't deliver insufficient protection; remember, it's a Session II without the nice-to-haves. Metolius cut through the competition and fit a need for budget-conscious climbers, outdoor curious beginners, or enthusiasts looking for a spare when sending highballs. 
With the outdoor season fast approaching here in Western New York, we knew it was time to get our hands on this budget-friendly crash pad. Keep on reading for our full Metolius Basic Crash Pad Review after a few weeks play in a few of our favorite spots around town.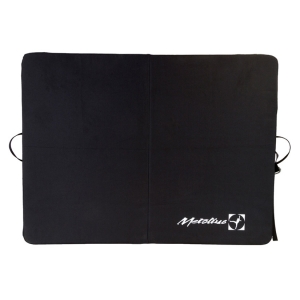 Metolius Basic Crash Pad Key Features:
Suitcase Carry Handles

Backpack Straps

Hip-Belt Straps

Single Closure Buckle for quick deployment

4 Inch Thick Foam

Open size: 36″ x 48″ x 4″ (91.4 cm x 121.9 cm x 10.2 cm)

Folded size: 36″ x 26″ x 8″ (91.4 cm x 66 cm x 20.3 cm)

Weight: 7.4 lbs. (3.35 kg)
Metolius Basic Crash Pad Review Breakdown
Design:
While we did touch upon this already a bit, the Basic Pad is a no-frills crash pad with everything you need and nothing you don't. It comes in one color and does one job: protection. With a slightly softer and thinner foam than some other pads on the market, its a great all arounder, easy to carry, and sufficient for most boulder problems.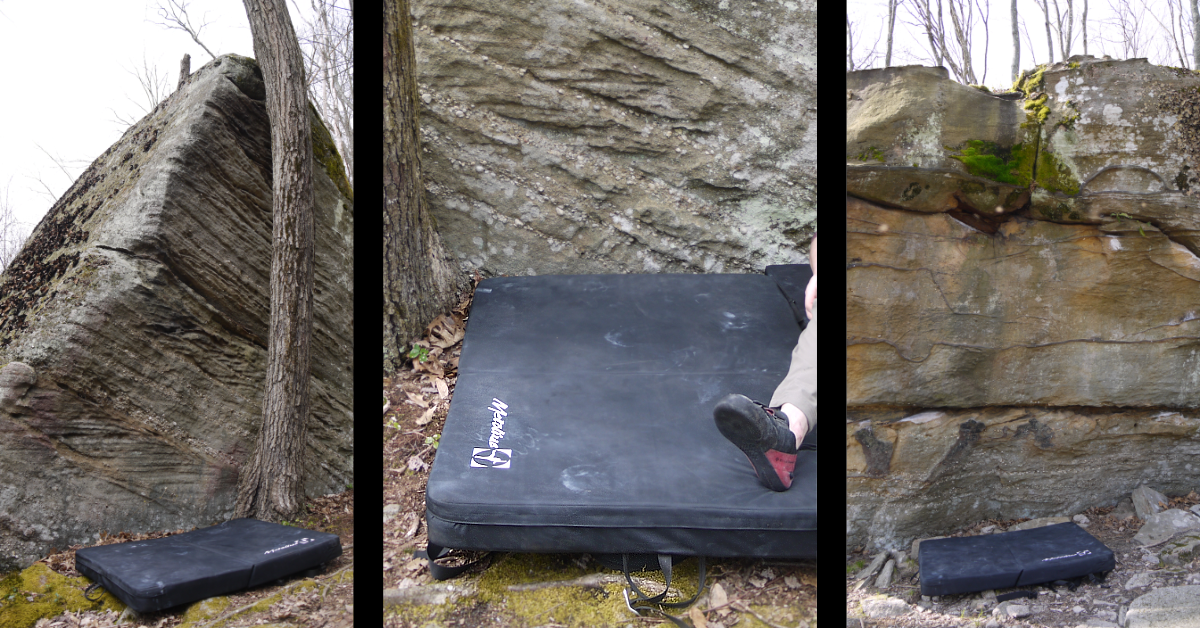 The 4-inch foam feels plenty sufficient for most problems. Metolius kept the really smart, angled hinge from the Session II to protect climbers from slipping between the foam protection and jamming their foot or ankle during a fall (you can make the angle out in the above left and right photos). 
The suitcase-style handles are great for quickly switching boulder locations, or adjusting the pad beneath the active climber when spotting. They also double as a carry loop when making quick switches between boulders (see images below in the carryability section). The speed-hook closure system – comprised of a metal buckle and woven loop – works like a charm, though a second closure would make this pad close a bit more tightly.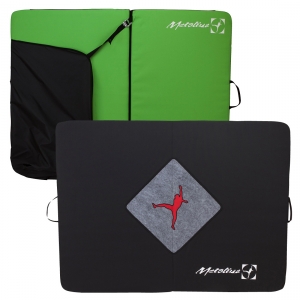 Honestly, the features that matter are there with the Basic Pad. The foam's the same, gutter protection's the same, and the straps are even largely the same. 
What you miss out on are nice-to-haves, as I mentioned above. The Basic lacks the following features from the Session II (pictured right):
Flap closure

– which doubles as a gear net when folded up for carrying, or a strap protector when opened up for climbing. 
A logoed rug

– this is the definition of nice to have; the Session II includes a carpet patch to clean your rubber before climbing. 
And that's about it folks! I don't know about you, but I don't mind putting that $30 difference towards my next pair of shoes.
Carryability: 
At 7.4lbs, the Basic Pad is a dream for long approaches. It feels virtually weightless on your back. Cutting a few features ads up in weight savings, as the Basic Pad rings in 1.6lbs lighter than its big sibling. The shoulder straps are plenty comfortable and the padding is definitely welcomed. The hip belt is nothing special, but does tidy up the fit and keep things stable when making your way to the send zone. Without the hip belt, the topheavy pad would sway back and forth a fair bit, especially when ascending or descending from your favorite boulders.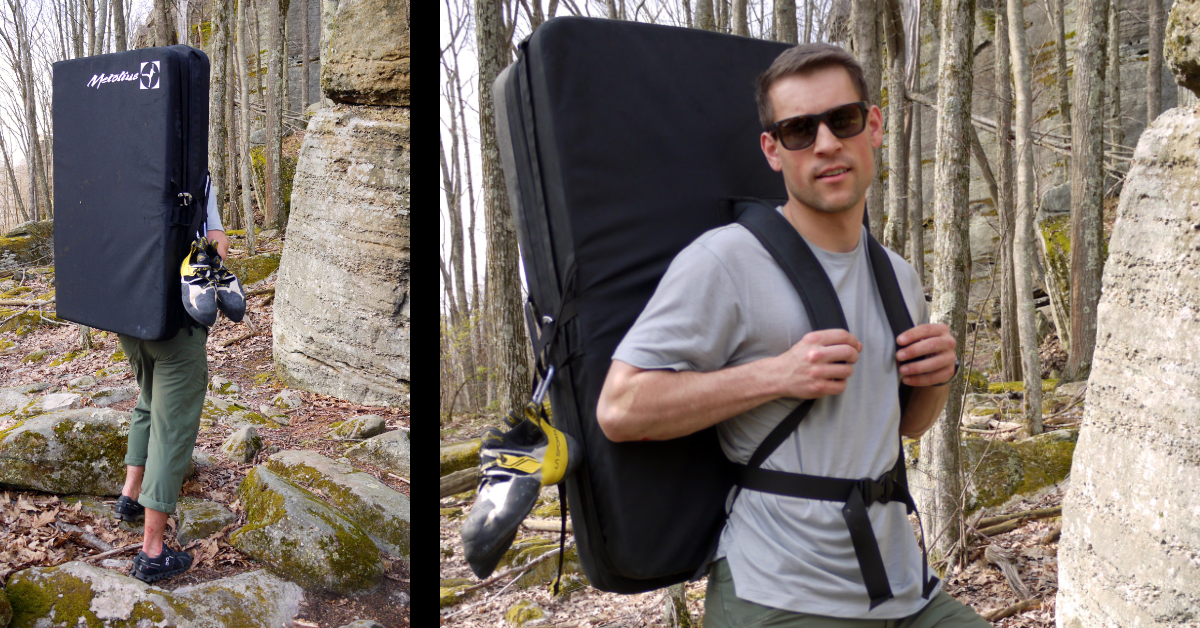 The only missing piece here is the ability to carry gear. Without that flap on the Session II, gear will slide out the bottom from walking. While I realize mentioning this contradicts my earlier point about nice-to-have features, I tend to double up anyway by flipping a backpack around my frontside to keep all my gear contained. And I'd likely still do this even if the Basic Pad could carry gear, but perhaps I'm strange – or just hungry wanting a bag of snacks with me at all times. 
Durability:
We've only had this pad in service for a few weeks, so it might be a bit unfair to make a final judgment here. However, with a metal buckle, reinforced stitching, and a 4-inch sandwich foam layup that has been used for years on other Metolius pads, we foresee no longevity issues. 
The shell fabric is definitely dirty and has seen plenty of scuffs from rock and debris, but nothing close to a puncture. The all-black fabric shows a lot less dirt (and cleans up better) than some bright competitor pads we've tested. But, these things are meant to drag around the ground, so it might be a moot point.   
Value:
At $130, Metolius' Basic Pad is a steal. You get ample protection in an ultra-lightweight package while still maintaining some thoughtful touches – metal speed-hook buckles, suitcase-style handles for maneuverability, and padded shoulder straps. It's a no-brainer for beginners and seasoned climbers alike, so get out there and climb knowing the Basic Pad has your fall!
Buy now, $130 at MetoliusClimbing.com
Metolius Basic Crash Pad - Gear Review
Metolius's Basic Crash Pad is the little sibling to the Session II trusted by climbers everywhere. Essentially a feature bare version of the Session II, this pad delivers everything you need and nothing you don't at a price any climber will grin at.
VS. Older Sibling (Session II)
7.5
THE GOOD:
Lightweight & easy-to-carry
Nice metal buckle quick closure system
Suitcase handles for easy sliding when spotting
THE NOT SO GOOD:
Could use another closure loop