After months of indoor training in La Sportiva's Skwama climbing shoe, I knew I wanted to switch to a stiffer shoe for the fast-approaching outdoor season. Luckily, La Sportiva has a tried and true Solution. Aptly named, we've run this crowd favorite through its paces during months of testing for this La Sportiva Solution review. The verdict? The name holds up; the Solution inspires confidence. A pair of these will no doubt elevate your climbing experience, even more so if you're coming from a standard shoe. 
The Solution is a performance climbing shoe designed for steep and overhung outdoor bouldering or sport climbing, but is equally as impressive on modern indoor routes. The Solutions fall toward the aggressive end of the spectrum featuring a noticeable downturn, narrow toe box, and stiff edge for secure and precise foot placement. 
This highly awarded shoe has been around for years but has recently seen a new sibling in the Solution Comp. Noted as a softer "re-boot" of the original, it is worth browsing both before you buy!
Let's dive into the La Sportiva Solution review.
La Sportiva Solution Key Features:
SIZES: 34 – 46 (half sizes) 

WEIGHT: 8.89 oz (258g) 

LAST: PD 80 

FIT: Performance with high asymmetry 

UPPER: Leather / Lorica® 

LINING: HF (toe-box and arch area only) 

MIDSOLE: 1.1mm LaspoFlex (toe only) 

SOLE: 4mm Vibram® XS Grip2™
La Sportiva Solution Review Breakdown
Design:
La Sportiva's Solution is a downturned, stiff-soled shoe that is quite competent for outdoor bouldering and indoor training alike. The Solution features a soft and padded sock-like component that comfortably wraps the top of the foot under Sportiva's Fast Lacing System. That "lacing system" is really just a standard hook and loop velcro strap system across the top, but it does have a very customizable fit depending on how much you crank it.  
While these shoes are partially cut from supple natural leather, I have not noticed a significant amount of stretch like other leather-uppered climbing shoes. I feel this lack of stretch is due to the generous amount of contact rubber wrapping the toe box. With that said, a lack of stretch does not mean they don't warm up and mold to your foot. It just means over time you won't notice them fitting looser, you'll notice them simply fit better. 
The Solutions feature La Sportiva's P3 Power Platform, which helps to hold that downturned shape under climber load. This power delivery feature "creates a shoe that hooks, grabs, edges, and smears on any feature you can find," according to La Sportiva. 
Comfort: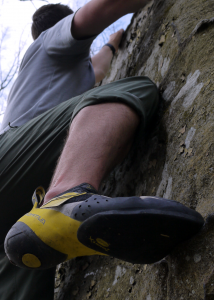 Ah yes, comfort. Arguably, if you're in the market for a performance shoe, comfort is likely not at the top of your list of needs for your new pair. But, that doesn't mean that the Solutions can't be comfortable. I have friends that wear these all day and others that peel back the heel after every route. It really all depends how much you size down, and perhaps the natural shape of your foot. 
In brutal honesty, I have larger big toes than most folks. I find the shape and last of these shoes to perfectly channel power through the big toe and wrap my foot nicely. I sized down one full size from my street shoe, but think I could have gotten another half size out of them. Overall, my heel feels very secure and my toes aren't on top of one another. I do notice that there is quite a bit of room in the sock-like part wrapping the top of the foot – see images below, I have the lacing ratcheted down quite tightly.
I noted this in my review of La Sportiva's Skwama, but I have both these shoes in a size 43. I find the Solutions take a lot more "wrestling" to get them on than the Skwamas, which I can slip right on. All things considered, this is how it should be, as the Solution is the more aggressive performance-oriented shoe of the two. 
Performance:
At the time of my other La Sportiva review, I was newer to the sport, and I initially did not realize the amount of outdoor bouldering within reach of where I live. So, unlike my previous review, I have been able to use these shoes in a mix of climbing from outdoor bouldering to indoor bouldering and indoor high walls.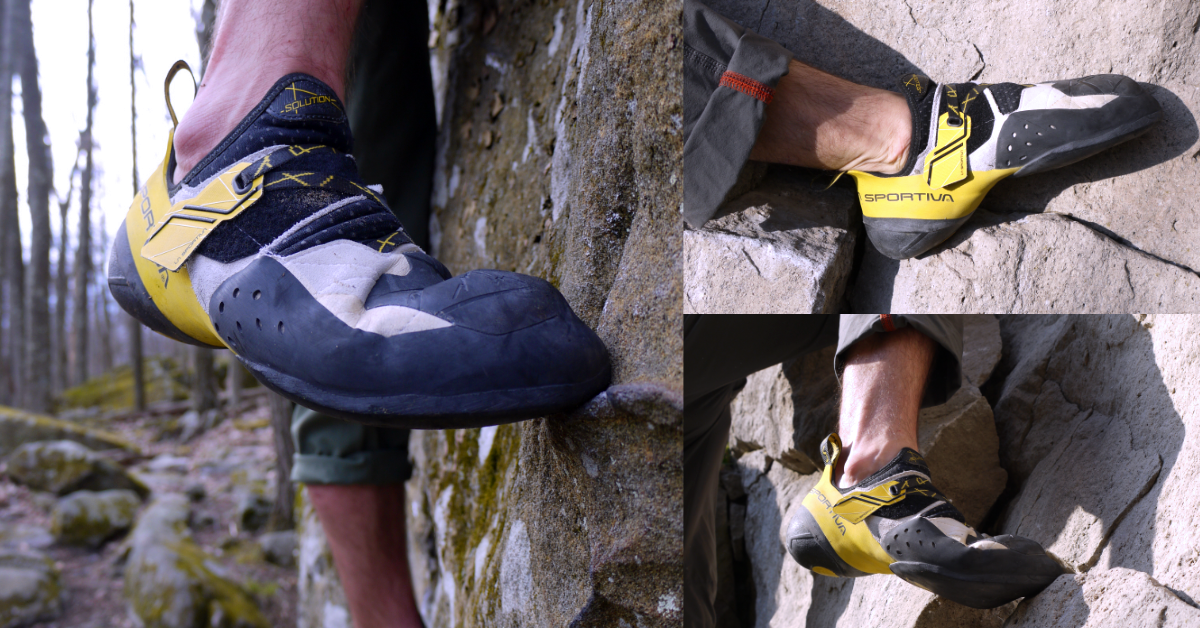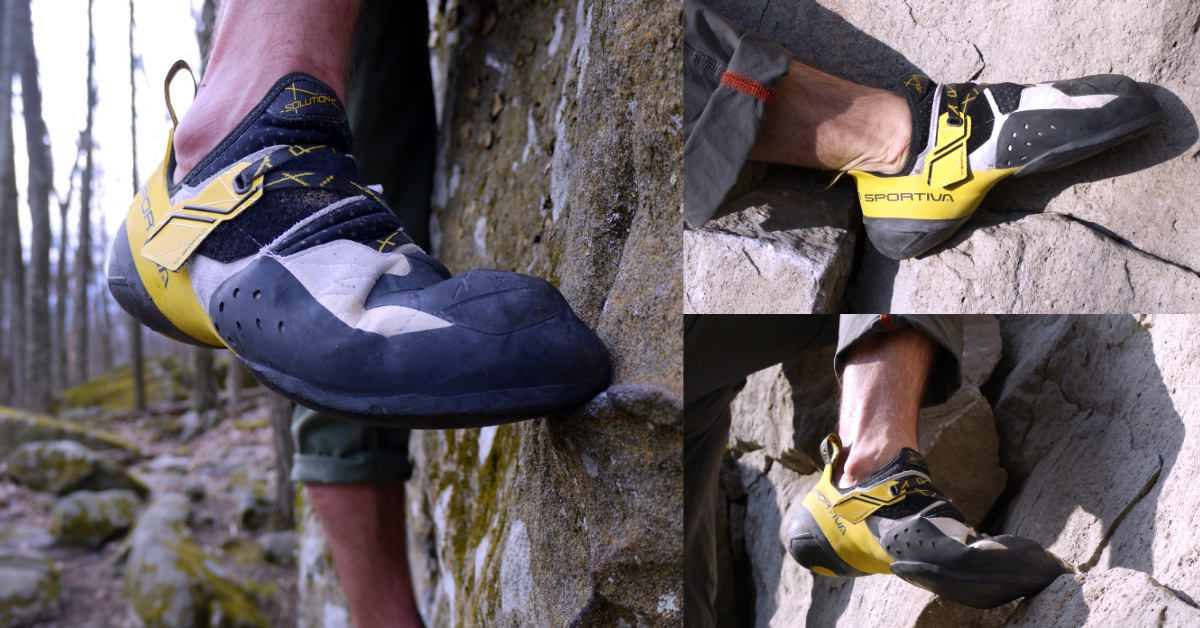 Edging:

it's great! Textbook edging, and what you'd expect from a stiff-soled performance shoe. There is no split sole on these shoes (crack in the rubber to raise flexibility), so power delivery is firm, controlled, and constant on the smallest of features. The P3 platform keeps things tidy and secure without twitching or slipping. 
Sensitivity:

these shoes do not feel very sensitive due to the reinforced midsole found only in the toe section. I find I'm forced to be extremely precise in my foot placement – which isn't a bad thing! I'd argue these shoes improved my technique due to the lack of sensitivity. I found that I spend more time carefully placing my toes with visual checks and then trusting the rubber

rather than

feeling the hold or feature through the rubber. All in all, I like what these shoes have done for my technique.  
Heel & Toe Hooking:

a definite strong point for these shoes. They were designed for steep sport routes and overhung bouldering, so the contact rubber is great all around. The toe is wrapped with thick, textured rubber for secure toe hooks. That thick rubber also makes toe hooking more comfortable than other shoes – you don't notice holds or features digging into the top of the foot as much. Heel hooking is also fantastic. The Solutions are equipped with a nicely rounded and textured heel that packs on the rubber just like the toe area. With a flexible area in the center of the midsole, you can really jam power through that heel while simultaneously curling the front of the shoe downward to create tension.  
Comparison to Skwamas:
I touched upon the comfort and fit already, but I felt it was worth doing a quick comparison. Many of my friends, and other climbers in my community, often ask why I have both, so here goes it: each shoe has its strengths, and I feel I chose them depending on what I will be doing that day. 


Fit:

The Solutions are more hardcore. The heel cup is tighter, the toes feel more jammed, and the stiffer sole encourages you to take them off more frequently between climbs. The Skwamas are a friendlier fit. Easier to slip on featuring softer, more supple natural leather that stretches a fair bit in comparison. They're roomier in the toe box and a lot more comfortable for all day wear due to the softer, thinner midsole. 
Feel:

The Solutions

feel

like a performance shoe, whereas the Skwamas feel like a shoe that doesn't mind hard stuff. I feel way more confident on small holds and features wearing the Solutions, but due to the (lack of) sensitivity, the Solutions require more concern in foot placement. The Skwamas softer design is great for training sessions; I find them to be less "tiring" overall. You can place them quickly and they'll stick, but the confidence isn't there when it really matters due to the high sensitivity. 
Use:

If I need to put down power or send my project, I pick the Solutions. If I am climbing high walls and ropes, I pick the Skwamas. They're just all around more comfy for longer days and I don't feel I need to take them off for belaying. I prefer my Solutions for outdoor boulders, as they have a more pronounced edge. I prefer my Skwamas for indoor training and rope climbing as they are comfortable, but still very much capable. 
Value:
At $180 USD, the Solutions are a fair price for a performance shoe. For climbers looking for a second or third pair of shoes to elevate their climbing and push for higher grades, they're worth the upfront investment. While shoes don't make a good climber, the right shoes can harness a good climber's skill, technique and power. 
Quite honestly, I don't think I'd be comfortable calling these my only pair. I find I reserve these shoes for when I really "need" them. They're more of an option in my bag for sending projects as opposed to my go-to.
Buy now $180, or browse all La Sportiva climbing shoes   
La Sportiva Solution - Gear Review
A great performance climbing shoe that is at equally competent indoors and outdoors. Elevate your climbing and perfect your form with La Sportiva's Solution.
THE GOOD:
Quick lacing system
Strong, reinforced toe patch
Lots of contact rubber
THE NOT SO GOOD:
Sock-like upper fits a bit loose
Hard to get on, but to be expected