If you don't already know about Goldwin, that's ok – because I didn't either. But I know a lot now, and I'm much better for it! Officially known as Goldwin Global, this Japanese company specializes in modern outdoor and athletic apparel. The company was founded in 1951 and has a long history of producing high-quality clothing and equipment for various outdoor activities, including hiking, biking, and snowsports. 
To me, their design language is timeless yet experimental. Featuring mostly flowy, oversized silhouettes in a catalog full of earth tones and neutrals. This summer, I just couldn't stop wearing the Easy Wide Shorts from Goldwin. They've easily become my go-to travel and hot weather shorts and are packed with hidden features. 
So take a break, and settle down for this quick gear review of the Easy Wide Shorts from Goldwin Global.
 Goldwin Easy Wide Short Review Breakdown
FIT AND FEATURES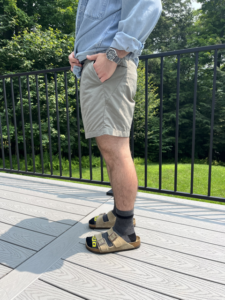 The name doesn't leave much to the imagination. The Easy Wide shorts have a flowy, oversized fit that is perfect for the Summer. Coupled with an elastic, drawstring waist and ultra-wide leg openings, these shorts are very utilitarian and seriously comfortable.
Main features include: 
Wide relaxed silhouette and above-the-knee length for improved comfort.

Easy-to-use elastic waistband with spindles.

Sleek design with hip pockets positioned at the seam line.

Right side pocket with zipper and a flap pocket on the left.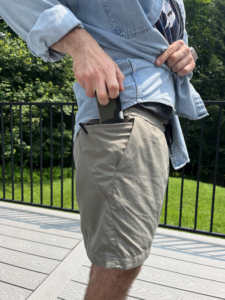 The standouts for me are the inseam length and the hidden pockets. If you're like me, you love to wear loose-fitting shorts during the Summer, but you hate it when your phone, wallet, and keys drag your shorts down – it really cramps your style. The Easy Wide shorts have a simple yet creative solution to my [our] problem!
Starting off with the length, the Easy Wide shorts sit perfectly above the knee, and the elastic, adjustable waist ensures a perfect fit. I'm 5'6" and wear a size 2 for reference. But where these shorts really shine is in the storage department. Yes, they have two classic hip pockets, but they also have two hidden storage pockets on either side – perfect for your wallet and keys. The right pocket features a zipper closure while the left side flap pocket secures with a snap. In these pockets, your heavier items sit just above the hip bone and won't cause any sagging.
The Easy Wide shorts from Goldwin have a unique fit and the right amount of features that have made them a staple in my summer wardrobe.
Check 'em out in full detail here!
MATERIALS
The Easy Wide shorts are made from a premium "100% recycled nylon material with a unique crisp texture". This particular nylon blend is part of Goldwin's 'Green Materials' catalog, which is summarized in their own words here: 
We define environment-friendly materials as "GREEN MATERIAL". Mostly, material that does not affect the cycle of nature and has low impact on the environment. Some examples are as below:

Plant-based fibers that grow in a short cycle and eco-fibers that require less cultivated areas

Polyester fiber produced by recycling PET bottles

Materials recycled from old clothing
In certain lighting, I've seen an almost reflective quality to the finish of these shorts (in the DESERT TAUPE colorway specifically), which in my opinion is super cool and futuristic. They are unlike any other shorts – casual or athletic – that I have ever seen before. And for good reason, these shorts toe the line between luxury and utilitarian. A combination often attempted but seldom executed, I feel the Easy Wide shorts tick nearly every box.
VALUE
All things considered, the Easy Wide shorts are a $200 pair of unlined, nylon shorts. It's going to sting no matter how you slice it. 
Categorically, the Easy Wide shorts fit under the 'elevated basics' umbrella, and for the most part, I think very little in that segment is actually worth the money. The Easy Wide Shorts from Goldwin fit in that minority. These are an ultra-unique piece of kit from a small, lesser-known international brand and boast impeccable quality despite being a 'basic' garment. I really think the Easy Wide Shorts are an understated gem in my wardrobe and will be there for years to come.
See what the hype is about over at https://www.goldwin-global.com/us/. 
Goldwin Easy Wide | Gear Review
Review breakdown for the Easy Wide Shorts from Goldwin
The Good
Great Fit
Super Comfy
Unique Brand