Helly Hansen, the Norwegian brand trusted by fishermen, sailors, and professional alpinists, is a mainstay in the outdoor apparel industry. While they may need no introduction, Helly has been outfitting some of the world's most pioneering athletes for quite a while – since 1877, to be exact.
Perhaps best known for its sailing gear, Helly's since expanded its offerings to include competition-level skiing and outdoor performance clothing. Trusted by professionals and enthusiasts alike, Helly Hansen apparel consistently ranks among the top in its category and adorns some of the most daring athletes.
So they have the experience, but can they deliver?
I had the opportunity to test out some of their latest all-purpose outdoor apparel on a recent trip to Acadia National Park. Late Summer in Maine means it was a cold and rainy trip to Mt. Desert Island. It's safe to say that I put these clothes through the wringer. Among the collection, I have to say that I was most impressed with Helly Hansen's Rapide Lifaloft Air Jacket – but more on that later!
So prop your feet up by the fire (or propane heater), and get ready for this in-depth review of a few select styles from Helly Hansen's Outdoor performance collection.
Helly Hansen Collection Breakdown
Verglas Shade T-Shirt + Shade Hoodie (Cloudberry)
The perfect hiking t-shirt doesn't exis–
Seriously, this is one comfortable t-shirt. Boasting a 54% recycled construction, breathable fabric, and a UPF index of 30+, this shirt comes packed with capabilities for your next adventure.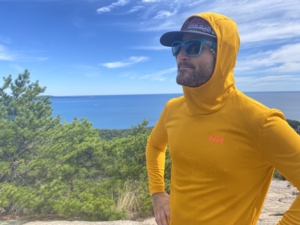 Here's a quick look at the features and details:
Verglas Shade T-Shirt (Size: Medium)
bluesign® PRODUCT
Recycled fabric
Sun protection
Cooling yarn
HH® logo at chest
Weight: 160g
While a sunshade t-shirt may not be revolutionary, the Verglas tee brings some new improvements to the modern hiker's clothing repertoire.
The Verglas Shade Hoodie(Cloudberry): It's like the t-shirt, but better.
The Verglas Shade Hoodie packs all the same punches as the t-shirt and some more. Adding long sleeves and a hood + elongated collar, this hoodie is the perfect base layer for those oppressively humid and sunny Summer days.
Check out the details here:
Verglas Shade Hoodie (Size: Small)
bluesign® PRODUCT
Recycled fabric
Sun protection
Cooling yarn
Sun hood
Weight: 250g
The Verglas line features a 54% recycled polyester blended fabric that works to wick moisture away from your skin and ensures a comfortable, dry fit on the trail. Of course, the 30+ UPF sun protection doesn't hurt, especially when your sunblock rubs away on those long hikes – the Verglas layers will have you covered.
Helly Hansen's commitment to reducing its environmental impact is evident in this line. These Verglas layers are made responsibly with a certified bluesign® textile manufacturing process, improving the safety of the textile workers, and reducing industrial waste throughout the clothing supply chain.
Rask Light Softshell Pant  (Black // Small)
Hate bulky hiking pants? Would you much rather slip on your favorite jogger sweatpants? Yes to both?
Well, Helly Hansen has you covered with a durable, stretchy, trail-ready hiker/jogger hybrid – enter the Rask Light softshell pants.
Let's take a look at the features and then dive into the review:
Fiber Content:

Shell: 93% Polyamide, 7% Elastane

Size // Size Small Measurements:
Weight:
bluesign® product
PFC-free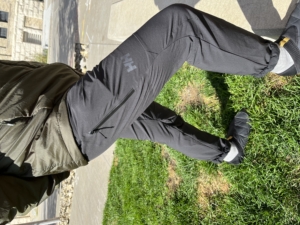 The Helly Hansen Rask Light Softshell pants are built for the rigors of outdoor adventure and are designed to protect you from the elements while providing maximum comfort. They're ultra-lightweight, and the added stretchiness combined with a gusset crotch and articulated knees make for superior mobility when the situation demands it. I wore these while climbing the fabled Beehive in Acadia National Park, and I was genuinely impressed with how well the Rask pants moved with my body and stayed on my waist. The curved, articulate waistband is a feature not highlighted and seldom discussed, but it makes a difference while high-stepping through Acadia.
Helly Hansen has recently made strides toward creating a greener, cleaner product line. While the likes of Patagonia and Cotopaxi may be leading the charge, HH is not far behind, using PFC-free water-repellent finishes across many of their products, including the Rask pants. The finish beads up water just fine and holds up after multiple washes – I've washed my Rask pants four times now and haven't noticed a difference in the efficacy of the finish.
In addition to Helly Hansen's commitment to using sustainable materials, and like all of the pieces included in this review, these pants are made responsibly with the certified bluesign® textile manufacturing process.
An ultra-lightweight take on the hiker/jogger, there's not much room for stowage in the Rask pants – I count three pockets: two on each hip and one behind the right knee. I like the minimalist approach to outdoor gear. It keeps you from packing too much and weighing yourself down. The Rask pants are expedition-worthy, packing all of the heavyweights' punches (water resistance, wind-proofing, stretchiness, etc.) while coming in at just 300g.
The Rask Light softshell pants come in two colors on hellyhansen.com (Black and Forest Night) and are available in various sizes from S to XXL. Grab the Black pair today for $150 – of the Forest Night for a discounted rate of $105.
Rapide Lifaloft Air Jacket   (Forest Night // Small)
I love this jacket. I really do. It's like your favorite hoody, and your favorite puffy had a baby and named it Rapide.
In all seriousness, I've rarely taken this thing off since I received it in the mail. The Rapide Lifealoft Air Jacket is a do-it-all mid-layer that's equally performative in a system or standalone.
Let's check out the features and then get into this review:
Fiber content:

Shell: 100% Polyamide
Lining: 100% Polyamide
Insulation: 58% Polypropylene, 42% Polyester

Weight:
PFC-free DWR
The Rapide Lifaloft Air jacket combines soft, lightweight warmth and maximum durability with LIFALOFT™ Air insulation and infused DWR 20D nylon to create the ultimate layering piece – but like I said, you can wear this piece anyway you want.
Before I get into my experiences with the Rapide, let's talk about Lifaloft. Developed with PrimaLoft, Lifaloft is a combination of Lifa's proprietary insulation structure and PrimaLoft's years of wisdom in the synthetic insulation game. It's much lighter and more compact than traditional polyester insulation. Here are some quick stats:
Lifa's fiber structure is on average 20% lighter than other polyester fibers
Lialoft's design creates more pockets of trapped air – giving the wearer more net warmth
Lifa fibers are hydrophobic
The Lifa fibers have better moisture transportation properties than traditional polyester insulation
So what does all this mean? You can sweat in this puffy and be not only warm but also dry. Crazy, right? Lifa fibers are soft like your favorite cotton hoodie, but their moisture transportation properties won't soak up all your sweat. Instead, it will transfer any moisture to the top layers so that it evaporates quickly. I hiked up Cadillac mountain (yes, so I could see the sunrise) wearing the Rapide and worked up quite a sweat. Sure it was damp, but the fibers did their job excellently, and after a quick shakeout at the summit, the jacket was bone dry.
Perhaps what's most incredible about this jacket is that you can comfortably wear it with short sleeves. The second I slip on a puffy jacket, I start sweating on all the exposed areas (ie. my arms). But because of the Rapide's lining, it feels like wearing a hoodie but with insulation and a PFC-free DWR coating. Like the Rask pants, I've only washed the Rapide 3-4 times, and the coating is holding up. I've worn the Rapide in various conditions and am consistently impressed with its versatility and comfort.
The Rapide jacket is available on hellyhansen.com between $140-280 (color dependent) and comes in various sizes from S to XXL. Pick yourself up one today, here – you won't regret it!
Helly Hansen Collection Breakdown
For 2022, Helly Hansen's Spring/Summer collection is a classic demonstration of versatile, multi-season gear. From the fit to the choice of materials, Helly Hansen's commitment to creating quality mountaineering equipment is very evident. For me, it's obvious my favorite was the Rapide. I'm still impressed with the use of new materials and technology in this wardrobe staple: the hooded puffer. Helly Hansen's Rapide is a definite advancement, and I'm really excited to see where else the technology will appear.
Remember to check out the entire collection on hellyhansen.com
Helly Hansen Outdoor Collection | Gear Review
Here's my snapshot review of the HH SS'22 Collection!
Verglas Shade T-Shirt + Shade Hoodie
9.4
Rask Light Softshell Pant
9.7
Rapide Lifaloft Air Jacket
10
The Good
Lightweight
Moisture-Wicking
Wind-Blocking
The Not So Good
Need More Color Options
Pricey