Bell Helmets are one of our favorites here at Busted Wallet. They are well-designed for style, comfort, and protection. I've even had the chance to test out the durability in my last review in an unfortunate motorcycle accident. End result, I'm still alive, no injuries, and the Helmet worked as it should. You can read that full review on the Bell Broozer Helmet here. That said, when I had the opportunity to review the SRT-Modular, I was happy to give it a go.
The SRT-Modular combines top-notch class with a touch of grit for ultimate style and performance. If you are looking for a helmet for long rides with versatility and comfort, then this is it.
Key Features:
Shield Type: Panovision Shield with Class 1 Optics
Construction: Modular, Flip-Up Style Helmet
Electronics Compatibility: Recessed EPS Speaker Pockets
Certification: DOT (US) / ECE (EU)
Product Weight: DOT: 1750G +/- 50G (SIZE M)|ECE: 1715G +/- 50G (SIZE M)
Bell SRT Modular Helmet Review Breakdown
Design & Functionality

The SRT-Modular features a flip-up Panovision shield that allows for easy access to your face for communication and guzzling some liquids for hydration. Plus there is an internal sunshield for extra protection on those sunny days. This helmet was exactly what I was looking for after a long week of touring. I realized I needed something that had better ventilation and versatility for riding at night and during the day. The clear Panovision shield is great for riding at night, plus the flip-down sunshield protects my eyes during the day. Having the best of both worlds is ideal when you are on the go and don't have time to swap out shields. The lever to flip the front upwards is located under the chin guard. Simply pull the lever and flip up. The front shield can be flipped up and down as well by the front tab. In order to flip the internal sunshield down, there is a sliding tab located on the left side. Simply slide it left and right to reveal or hide the sunshield. These controls are easy enough to adjust at a stop or while riding.
If you are looking to add a communications system like Cardo (or similar), this helmet is compatible with recessed EPS speaker pockets. The modular design makes it easy to install a communications system and the recessed speaker pockets allow for ultimate comfort once the ear pieces are installed.
Comfort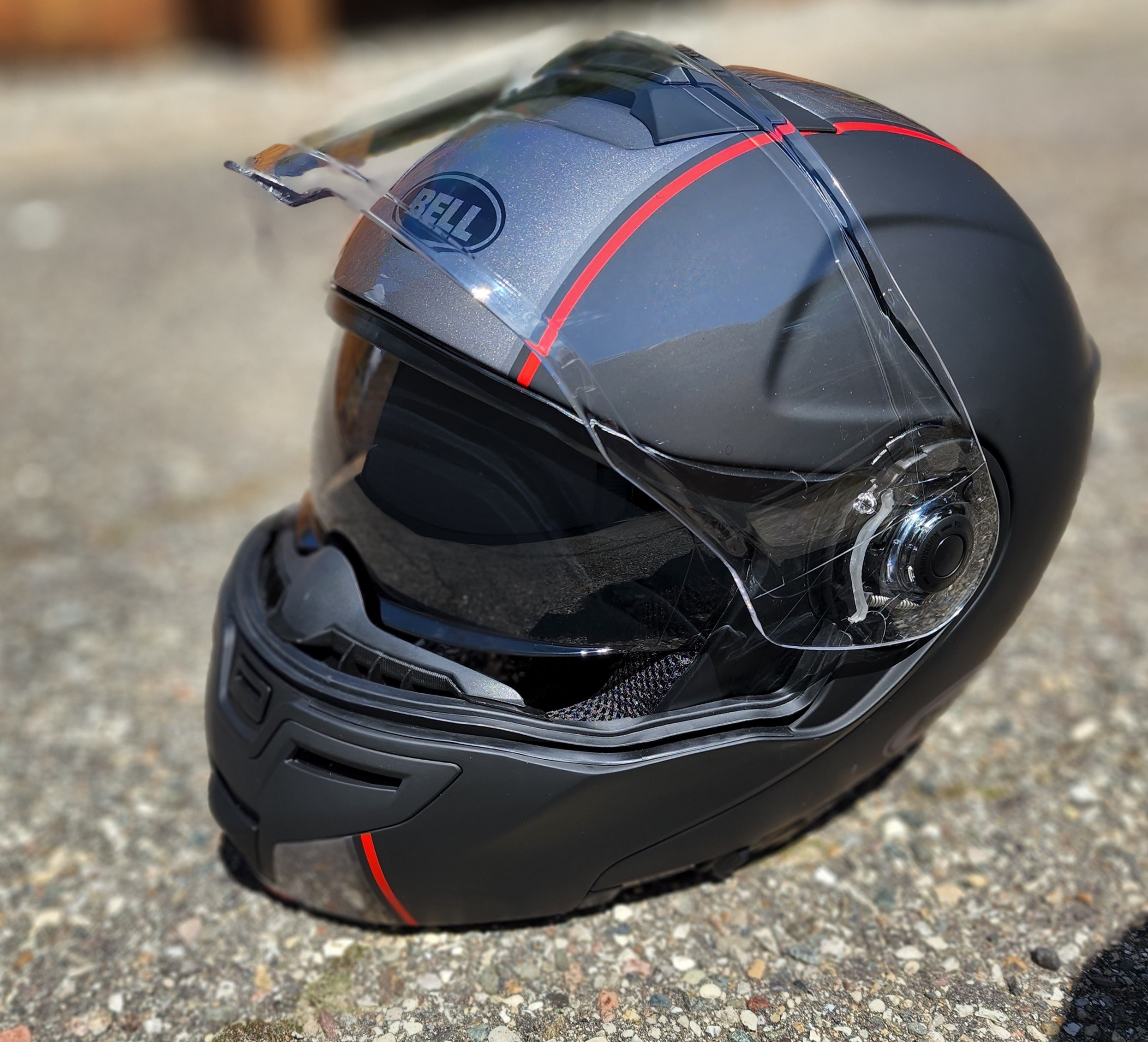 When I first tried on this helmet, it was a super snug fit due to the thick cheek pads. Luckily this feature is modular and was easy to swap out for a small size allowing for a much more comfortable fit. Depending on the shape of your head/face you can select from 5 different sizes to ensure a comfortable fit. If you wear eyeglasses, this design allows for a broad range of sizing options and makes putting on and taking off your eyewear easy with the flip-up design. There are two main areas to adjust for proper ventilation. The first ventilation tab is located on the top and the second is right on the front chin guard. Both can be easily opened and closed from the outside without the need to remove your helmet. This makes it convenient to make adjustments while riding.
Protection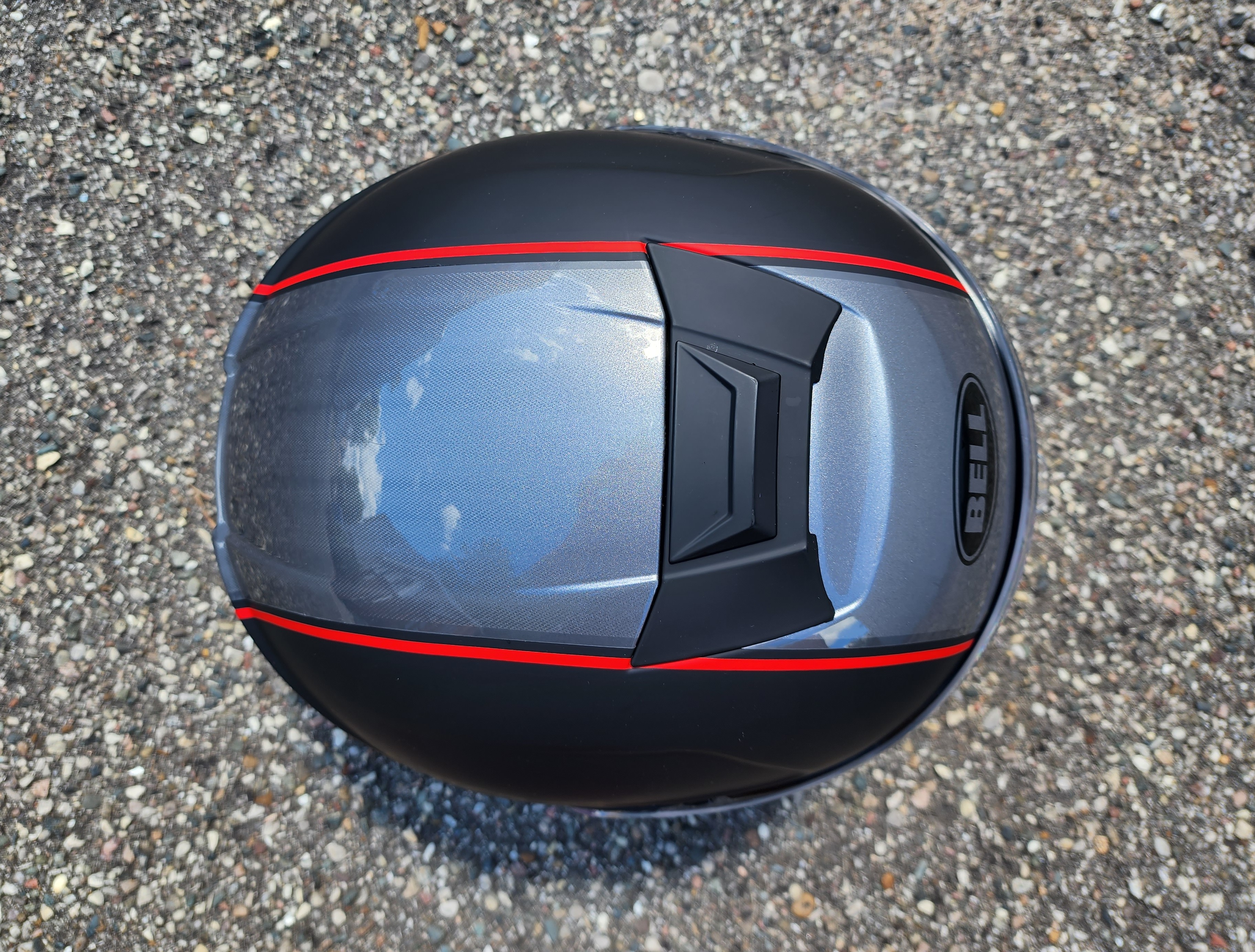 The construction is made up of a lightweight fiberglass composite and is DOT and ECE certified. Although this helmet is slightly bigger in size compared to the Broozer, it has just as much (if not more) protection. From the exterior shell to the internal padding, the SRT Modular is made to withstand an impact and protect your head.
Value
The SRT Modular comes in 6 different colors and range in price ($399.95 – $419.95). The color I chose was the Hart-Luck Jamo Matte/ Gloss Black and Red. Other options are Gloss Black, White, Matte Black, Yellow, and Predator. Each option has a unique style but the functionality is the same across the board. There's nothing more valuable than your head, so make sure to invest in a helmet that will keep you safe, comfortable, and cruising for years to come.
Buy Now: $419.95 or to learn more, check out: www.bellhelmets.com
Bell SRT-Modular Helmet Review
The SRT Modular helmet from Bell is perfect for longer rides and allows for a wide range of adjustability while providing proper protection, style, and comfort.
The Good
Modular design
Adjustable fit options
Packed with Functionality
The Not So Good
You may have to invest in different cheek pads depending on your head/face shape.