When Yuneec launched the Typhoon line of drones, it launched the Typhoon Q500 4K and it featured a high quality 4K camera built by Yuneec.  But the industry demanded more!  Pilots all over were asking for a way to fly their GoPro cameras and take advantage of the quality that only a GoPro could provide.  Yuneec answered with their new quadcopter, the Typhoon G.  We were excited when we wrote our First Look and we were even more excited to get our hands on one to fly.
The Typhoon G is the most economical option on the market that gets you a full featured flying GoPro platform.  Not only is the price point extremely friendly, but its easy enough for even a beginner to fly.  To help bridge the gap even further, they changed the way that flying cameras are piloted entirely by introducing another new accessory called "The Typhoon Wizard" that features ground breaking technology with its "Point To Fly" function.  You'll feel just like a wizard when you point this little wand to the sky and watch your flying camera magically fly to its new location.
Key Features:
25 Minute Flight Time
3-Axis GoPro Compatible Gimbal
SteadyGrip Handheld Gimbal Mount
1,500 Foot Live Video Downlink
Smart Modes Including "Watch Me" & "Follow Me"
Wizard "Point To Fly" Functionality
22 MPH Top Speed
Water Resistant Controller Pouch
Typhoon G + Typhoon Wizard Review Breakdown
Flight Capabilities:
The Typhoon G is really just a modified version of the original Typhoon Q500 4K we reviewed not long ago.  So you will see general flight characteristics for the most part in line with the original which is a great platform to start from.  However, Yuneec was sure to continue moving forward with more revisions on existing features so now when the Typhoon is in one of its Smart modes, not only will the quad follow you on the horizontal plane, but also vertically!  This is a fantastic addition that greatly reduces the chances of crashing into the ground by allowing it to go higher if you do and stay nice and close if you go lower as well.  Fantastic features if you are skiing and snowboarding or doing an activity that may have lots of varying terrain, such as mountain biking.
With the addition of the optional Wizard controller, flight capabilities are also expanded into new realms that really bring flight control to a different level.  With the seemingly magic "Point to Fly" feature, the days of worrying about proper flight orientation and trying to think through complicated stick movements are over.  If you want to move the quad to a new location, you simply point the Wizard to the location in the sky, push a button and the quad will fly itself to its new position. I found this feature incredible because the orientation point you pick is not really a fixed point in the sky, but rather a fixed point relative to you.  Here is an example: let's say you are riding your bike and getting great footage in the "Watch Me" Smart mode as the quad flies effortlessly right in front of you no matter where you move.  But you decide that you would rather have the quad follow you from behind for a few minutes to get a new shot.  Without even stopping your bike, you can simply point the Wizard over your shoulder, hit the button and watch the quad smoothly orbit around you, keeping the same distance and never looking away until it reaches its new angle directly behind you.  Normally this would be an incredibly difficult shot that would require a pilot, a camera operator and you, the star of the shot.  But now, you can be all 3 and never even have to slow down.
If there was one gripe about capabilities, it would be that for a quad in the 500 size family, it seems to fly a bit sluggish when GPS is active, but Yuneec has listened and modified firmware to speed it up a little.  About 17 mph will be the top speed in angle mode and 22 mph in Smart mode, but because this seems to be a programmed ground speed, you will be able to achieve 17-22 mph even in very heavy winds.  We took ours out in about 20mph winds and found that it flew just as easy as if it was dead calm.
It is also worth pointing out that if you are a seasoned pilot, you can turn off GPS and reaching speeds around 40-50+ mph is definitely possible, but if you don't know what you are doing, you could see an expensive crash very fast.  That said, with a little math, we can also assume that if the Typhoon can fly 40mph when not limited by software, then in the GPS mode, it should be able to maintain a smooth and controlled flight in around 25 mph winds.
Camera & Gimbal:
Here we touch on the flagship feature of the Typhoon G, GoPro integration!  There is not much arguing when it comes to high quality video in an action camera that the GoPro Hero is the gold standard.  For many quad pilots, having a GoPro is a must.  While other drone cameras still produce incredibly high quality video, there is just something about the GoPro that is just a little better.
The Typhoon G can handle any of the GoPro 3 or 4 series of cameras and will function in any of the cameras built in modes.  For our flights, we used a variety of cameras and they all flew just as expected and the camera quality also was just as expected for a GoPro quad.
The GoPro mounts easily into the new GB203 gimbal and is secured using a little thumb screw to prevent it from sliding out of the mount.  As with the Q500 4K, not only does the GB203 work on the Typhoon G, but it also works with the included handheld SteadyGrip gimbal mount that gives you the added bonus of also having a handheld gimbal for your GoPro!
I did find the mounting of the camera to be a bit of a delicate process because gimbals are notoriously fragile instruments, however nothing ever broke and it always held strong.  Steps to mount the camera are to first make sure the GoPro is set up the way you want it.  Once it is mounted, you can only access the top and front button and using wireless mode is highly discouraged because of conflicting radio frequencies that could cause the Typhoon to lose control.  Next, you attach the video feed cable into the USB port of the GoPro, then wiggle the camera into the mount, secure it with the set screw, hit record on the GoPro and you are ready to fly!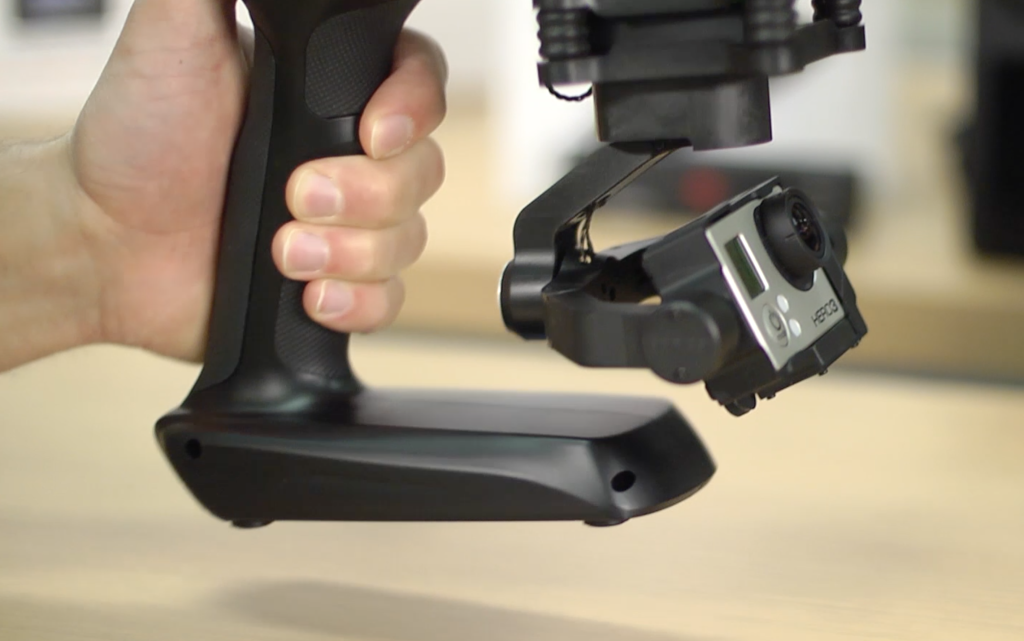 You may have noticed I said 'hit record on the GoPro' and this is correct, because there is no control of the GoPro from the ground station, only a live video view.  We are hoping that maybe through firmware upgrades, there could eventually be camera control, but for now, it appears that only a video signal is transmitted through the cable you plug into the GoPro.  Also, unfortunate is that no power is fed to the GoPro either, so make sure you take off with a fully charged GoPro battery!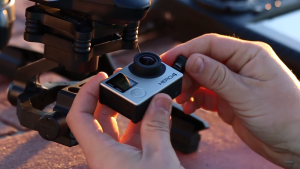 The new MK58 video transmitter is the guts of the GoPro integration and allows the live view to be displayed on the ST-10+ screen as you fly.  The MK58 comes pre-mounted on the bottom of the quad and pre-bound with the included ST-10+ controller.  Powered using the regular flight battery, the device is very compact and includes a small antenna that hangs down.  This antenna seems to be of the popular cloverleaf design, which has been shown to be an excellent choice for maintaining a solid link in all sorts of flight orientations.  The MK58 can maintain this solid video link at 480p resolution up to 1,500 feet away.
If I could offer one more suggestion to future owners, it's the same for all GoPro quads and that is that you invest in a tiny little GoPro lens hood.  Because the camera is mounted below the blades and because the GoPro is not in its normal housing, the dome shaped lens is really vulnerable to flicker due to the shadows of the blades casting onto the lens on sunny days.  An easy fix, but can be frustrating if you are not familiar with the phenomenon.  Nothing will ruin and otherwise perfectly smooth and vibrant shot like making it look like it was shot next to a strobe light.
Ground Station/Remote:
The ST-10+ controller included with the Typhoon G has all the same great features as the Q500 4K and still continues to be our favorite controller out there.  For a full breakdown on the ST-10+, check out the Q500 4K review.  One discovery since we reviewed the ST-10+ the first time was that we also found a bit of a secret and awesome feature which is the telemetry logging features.  By inserting a MicroSD card into a secret slot, you will be treated to full telemetry of your flight logged multiple times per second!  This telemetry is great for troubleshooting, or using software like Dashware to overlay live gauges into your videos like we played with!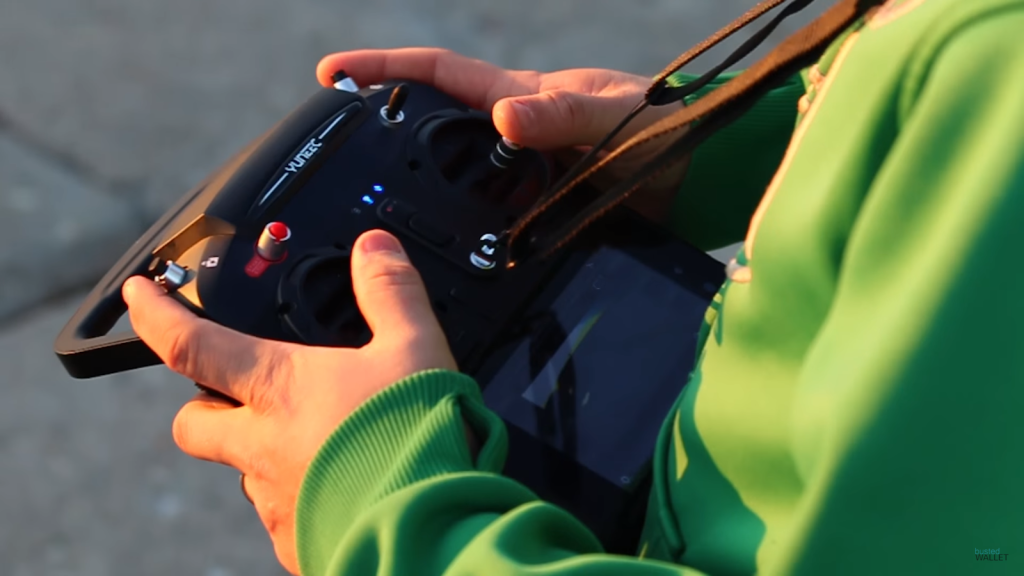 The only disadvantage with the Typhoon G + ST-10+ combo as mentioned above is that the "Capture video" and "take picture" buttons do not function when using the GoPro.  The manual doesn't call this out explicitly so only when you push them and get an error message on your screen do you realize that they are just for show when using the Typhoon G.  But you are not totally disconnected, the Camera pitch angle/position control slider that allows the gimbal to tilt up and down does still function so you are not left with a camera only pointed at a single point. Also, the GoPro itself overlays a nice screen showing camera battery life, record time and camera status that will be enough to let you know that everything is operating smoothly.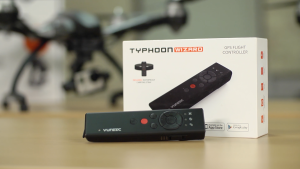 When it comes to the new Wizard controller, piloting a quad becomes a whole new and fantastic experience.  This little device replaces the ST-10+ controller and works with any quad in the Typhoon series.  It really is a game changer for flying and controlling a flying camera.  The Wizard controller has all the same control features as the ST-10+ without the bulk that comes with physical sticks and a screen.  On top of the small size is a new feature called "Point To Fly" and yes, it does exactly that, point to a spot in the sky, push a button and watch the quad fly there.
To get started, you simply bind the Wizard to the Typhoon and after the indicator lights on the Wizard show that it has GPS lock on both the controller and the Typhoon, you are ready to fly.  Push a button to take off, put it in Smart mode and you'll find the Typhoon locked on you ready to capture every moment on camera.  To orbit the shot around, you can simply use the control pad on the Wizard, or just "Point To Fly" as the cameras aim and the Typhoons flight path are smoothly controlled automatically.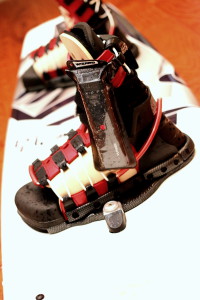 You can even take your fun to the water and snow because the Wizard includes a water resistant pouch that will let you keep it safe even in extreme conditions.  Perfect for surfing or wakeboarding, but keep in mind that radio waves can't go through water so if you happen to take a full plunge, make sure the Wizard doesn't stay under water for too long or you may trigger a failsafe landing…also in the water.
Manually flying the quad is also still simple using a novel way to access all the normal flight controls.  Hold the Wizard vertically and that is your left stick.  Hold it horizontally and that is your right stick.  Easy as that!  You are still left with enough control to make a precise landing or just fly in close quarters for the perfect shot.
When it comes time to land, you can either pilot the quad manually, or you can simply move the mode slider to "Home" mode and the Wizard will land itself safely by your side.
Value:
Yuneec has once again packed incredible value into this package with the Typhoon G.  The original MSRP was $899, but recently that price has been slashed and now you can easily pick up a Typhoon G for $499 or less direct from Yuneec, from your choice of vendors or Amazon.com.   Compared to other flying camera platforms, you just can't beat that price, period.  Especially when you look at all you get.  On other GoPro quads, you will spend nearly that amount just buying the gimbal mount and well over that amount buying a quality video transmitter.  But with the Typhoon G, you get a top of the line controller, a nice flying 500 size quad, a handheld GoPro gimbal mount, wireless video and all the accessories you will need to keep it in the air, from screen sun shades to neck straps.  Although, the lower price point does have a few catches.  You don't get everything that the Q500 4K comes with, most notably missing from the kit is a 2nd battery and no hard shell case, so make sure to keep the box it came in as your transport method and you may want to spring for a 2nd battery when ordering.
As for the Wizard's value, it really is the easiest and most convenient way I have seen to control a quad.  The $199 price is not bad when you consider all the technology packed into it and when factoring the already low price-point of the Typhoon quad itself, this should be a no-brainer add-on.  While it may not entirely replace the ST-10+ all the time, once you are familiar with how the flying camera behaves, you will love the freedom and flexibility that the Wizard brings to being a pilot.
Buy Now: $499 or to learn more, go to: Yuneec.com
Yuneec Typhoon G + Typhoon Wizard - Tech Review
If you already own a GoPro and are looking to get a quadcopter platform for a good price, look no further. Even if you don't own a GoPro, you can buy the Hero 4 Black on top of the Typhoon G and still have a 4K action cam with more accessories and have spent less than most quads with built in cameras. If you plan to use the quad to film yourself during action sport activities, the Wizard controller is a must. Piloting a quad in complex maneuvers has never been easier.
The Good:
Incredible value
Easy piloting
Steady video in wind
The Not So Good:
Can't control the GoPro remotely
No GoPro charging
Can't use Wizard & ST-10 at same time