Winter has officially arrived here in the Midwest and currently there's no end in sight. In our neck of the woods lake-effect and drifting snow are an everyday chore, it's unavoidable, but here in Michigan we're quite fond of our snow. Of course it's beautiful, but it also affords us the seasonal opportunities to shred the slopes, ride the snowmobile trails and hit our favorite ice fishing holes. You could say snow is our friend, but if not managed effectively, snow can build up and become your worst enemy – leaving you stranded at the end of the driveway digging your vehicle out or worse – calling for a tow truck to pull you out.
To fight this seemingly never ending battle you have a few choices… you can take the easy (and many times more expensive) way out and hire a plow truck driver (risking damaging your lawn), you can make it part of your workout regimen and go primitive with a shovel and some good old elbow grease, or if your somewhere in-between and of the mindset – "work smarter not harder" you can find yourself a snow thrower (errr… snow blower, whatever they call it where you're from) like we did this season.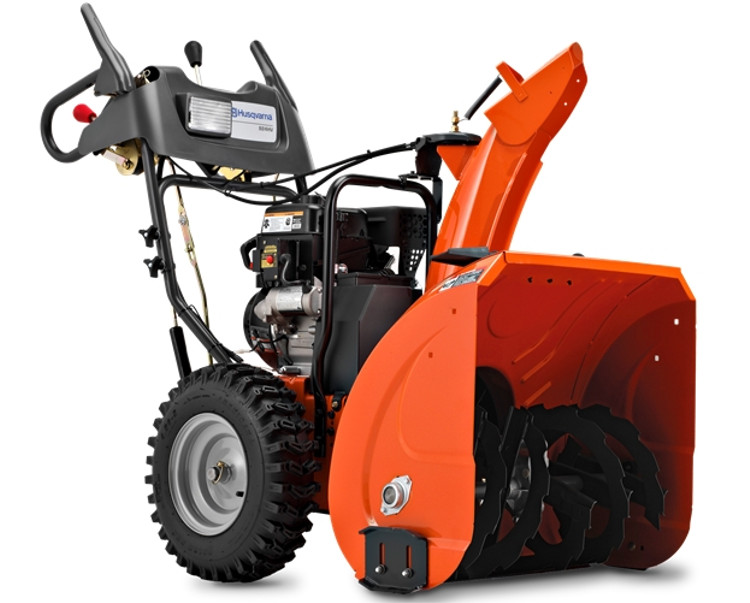 Introducing the Husqvarna 924HV Snow Thrower. This two stage orange coated beast boasts 6.3 hp, a 24" snow intake and can toss snow up to 30 feet!  To say the Husqvarna 924HV Snow Thrower is snow's worst enemy would be hyperbole… but I think it's safe to say they're not the best of friends.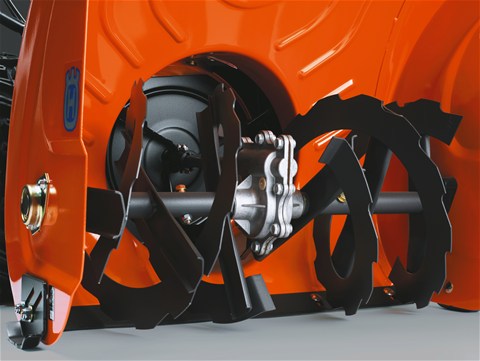 Key Features:
6.3 hp (208 cc)
Two Stage
Directional Snow Chute
LED Headlight
Electric Start (very handy for the older folks)
Variable drive speed
Heavy Duty Tires
Reverse Gear
Husqvarna 924HV Snow Thrower Review
Design:
The 924HV comes with all the bells and whistles you'd expect. This machine is a real snow devouring beast! The overall foot print of the 924HV is quite large, bigger than it looks in pictures, but its size is necessary for the snow moving work it's capable of.
Some standout features we really took a liking to throughout testing were the self propelled variable speed drive, which allows you to dial-in the moving speed so that you can walk behind the snow thrower at a snails pace or ramp it up to full-speed where it's more of a brisk walk. During our time with testing the 924HV we found the butter zone to be somewhere in the middle at the 50% speed mark – where maneuverability is simple and the snow auger can easily keep up with the snow intake.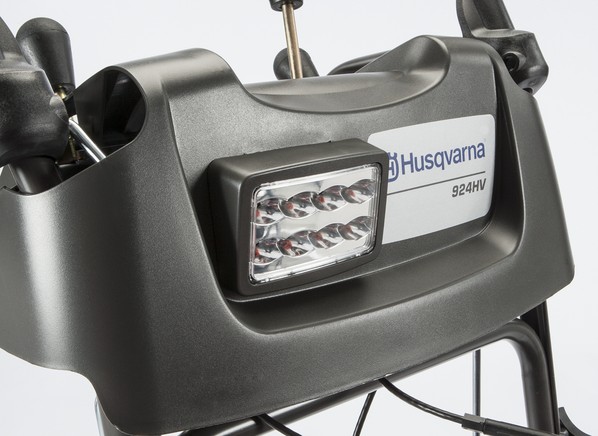 The headlight is also a nice touch. This time of year it gets dark early and many times the only option to keep up with snow accumulation is to either bust out the snow thrower early in the morning or in the evenings when it's dark. The headlight might not look like much, but it's a great feature for those times when you're clearing the driveway in the dark.
Finally, we have to mention the directional snow chute. What a smart design! With the use of two levers located on the main control dash you can quickly and easily control the chute from left to right as well as the angle of the snow being thrown from the chute. The ability to adjust the direction on chute makes it easy keep from sending snow all over the neighbors drive and onto the areas you've already cleared. Get to know these controls well; you'll be using them a lot!
On the down side, we did experience some fatigue in our hands while testing. This mostly happened when running the snow thrower at higher speeds and after about 15 to 20 minutes of run time. While the 924HV does almost all the work for you – don't expect operation to be a totally non-physical experience. Maneuvering this machine and depressing the controls is still going to get your blood pumping.
Assembly:
If you plan to purchase this snow thrower in-store you don't have to worry about assembly and to be honest, if you have this option we'd recommend it.
While assembly wasn't rocket science it does take about 45 minutes and the ability to read some schematics/instructions is necessary. Tools and hardware are provided. Average to experienced handy-men should have no problem tackling this assembly job.
Start Up:
Outfitted with an electric starter (when plugged-in) the 924HV couldn't be easier to start. Simply plug it in and push the start button and she's up and running in a matter of seconds. You don't even need to keep the 924HV plugged in, you only need to plug it in when you're read to start it. If you don't plan to utilize the electric start we also have good news for you. This snow thrower starts on the 1st or 2nd pull every time. Even at below freezing temps.
Pull Start: It's really as simple as starting your lawn mower. All you have to do is make sure the choke is in the "Start" position, the "Run/Off" button is in the "Run" position and give the priming ball a few pushed. Then give her a rip! After the snow thrower begins to idle for about a minute you can turn the choke from "Start" to "Run" and you're ready to start throwing snow.
Operation:
Operating the 924HV is fairly simple, but it will take a few runs to become completely accustom to all the levers and handles.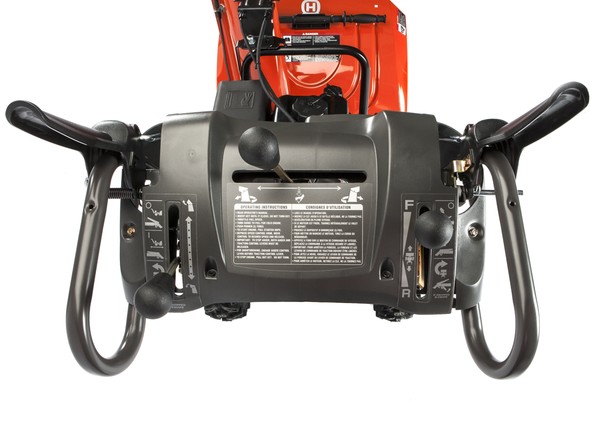 For starters the auger control is on the right. By squeezing down on the right handle you activate the spinning auger. Let go of this handle and the auger stops. On the left you'll find the drive handle. By squeezing this handle you engage the drive motor for the 924HV . To adjust the speed and direction of the drive motor there is a lever on the right side of the control dash (next to the auger handle). All the way forward (up) is high speed forward, and all the back (down) is reverse. In-between those two are various speeds in forward. We suggest operating at approx 50% speed. It seems to be the optimal speed for snow removal of 6" or more.
Additionally, there are two more levers which operate the auger. The middle lever, which slides from left to right, controls the direction of the snow being thrown – while the lever to the far left side of the dash controls the angle at which the snow is released. Push this lever up for a higher trajectory and pull it down for a lower more controllable angle.
One negative we did notice was the slipping of the tires. With very little ice the aggressive treads have a tough time finding their grip. A simple and effective solution would be a set of chains for the tires.
Additional Images:
Harnessing its 6.3 hp motor and two stage auger, the 924HV moves snow with ease. Without a sputter or hint of bogging down this snow thrower easily handles up to 10" of heavy snow, launching it 15 feet into the air (if you like). Around 12" you can feel it starting to work and at 14" and up you'll need to take it slow. We were very impressed with the power of this snow thrower overall. With the 924HV you can move a lot of snow quickly and with very little effort.
Durability:
Throughout our 1 month testing period with the 924HV , we found it to be an exceptionally durable piece of equipment. The fact that it's built by Husqvarna is a plus and they even offer a 2 year homeowner warranty to back it up.
Value:
Depending on the size of your driveway and walkways it's not out of the question to spend upwards of $800 a year on snow removal services. With that in mind, we found the 924HV to be an exceptional value. Based on its ability to move snow almost effortlessly and its tank-like durability this is a piece of equipment that will pay for itself over and over again – not to mention make your neighbors green with envy, which is priceless!
Husqvarna 924HV Snow Thrower
If you live in the Snow Belt and are sick of the back breaking manual labor it takes to keep your drive and walkways free of snow its time you check out the Husqvarna 924HV . This snow thrower is backed by a company that produces some of the most reliable outdoor equipment in the industry. Not only did we find the Husqvarna 924HV to be durable and reliable, but it's also quite functional, simple to operate and easy to start. Throughout our testing sessions we threw as much as 14" of snow at the 924HV and it ate it up like nobody's business! Its 6.3 hp motor and 24" intake are perfect for residential or industrial drives. While we can't say you won't break a sweat operating it, we can defiantly say you'll move more snow, more efficiently - minus the back ache!
The Good:
Incredible Power
Easy to Start
Love that Headlight!
The Not so Good:
Quite Large
Tire Slippage in Icy Conditions