Awhile back, we took a look at the JBL Charge 2 in a previous review. Fast forward to now and the Charge series of Bluetooth speakers from JBL have grown up a bit as we take a look at the latest iteration, the JBL Charge 4.
If you aren't familiar, the Charge series of speakers is an ultra-portable music companion that is designed to be with you all day providing excellent music quality and also has a built-in USB charge port to keep your phone powered up and feeding the tunes.
Key Features:
Wireless Bluetooth Streaming (2 simultaneous)
20 Hours of Play Time
7,500 mAH Battery Bank
USB-C connection
IPX7 Waterproof Rating
Dual Bass Radiators
30W RMS
60Hz-20kHz
Sync multiple speakers with JBL Connect+
JBL CHARGE 4 REVIEW BREAKDOWN
Features: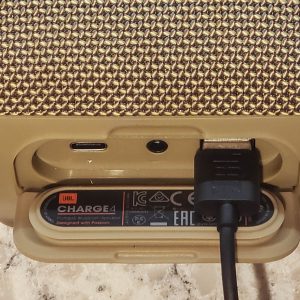 The defining feature of the JBL Charge 4 is the built-in USB charging port that taps into the speakers built-in 7500mAH rechargeable battery. This means that when your music is playing, your phone can stay topped off and you don't have to worry about killing your phone while listening to music.  I do love this feature because it makes the speaker a double-duty device and who doesn't love a good 2-fer.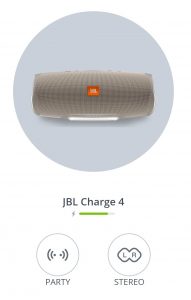 From a Bluetooth point of view, the Charge 4 uses Bluetooth 4.2 which means that 2 phones can connect at the same time so you can take turns playing your favorite song without the downtime of trying to hand off a connection.  Once connected, there is also a JBL app that can be installed to show you some basic information like battery level and also to install any firmware updates that JBL may push out.
If a party setting is what you are looking for, the JBL Connect+ feature lets you connect more than 100 JBL speakers together for a synchronized listening experience. This can be done by pressing the onboard button or in the app you can also manage your party mode. Perhaps an even cooler way to use JBL Connect+ is that in the app you can set up 2 matching speakers to work in a Left/Right stereo mode and achieve a very impressive sound experience using portable Bluetooth speakers.
It's worth pointing out that compared to the Charge 2, the speakerphone ability has been removed in the JBL Charge 4 so this is just a music device and no longer able to take phone calls.
Design:
What drew me to the JBL Charge 4 design is the fact that it is designed to be IPX7 waterproof. That means engineers have decided that the speaker is safe from "temporary immersion" in water up to 3 feet. That translates to mean that this is perfect for a pool, beach or boat side setting. Splashes are no big deal and even dropping in for an occasional full dunk won't phase the Charge 4.
The aesthetics of the JBL Charge 4 are also very nice with a classic speaker look but available in 12 color options. (We got the "Sand" color) The outer body of the speaker is wrapped with a rugged fabric and the areas likely to get banged around have a nice thick rubberized coating. That same rubberized coating makes up the buttons on the top that have a great subtle appearance.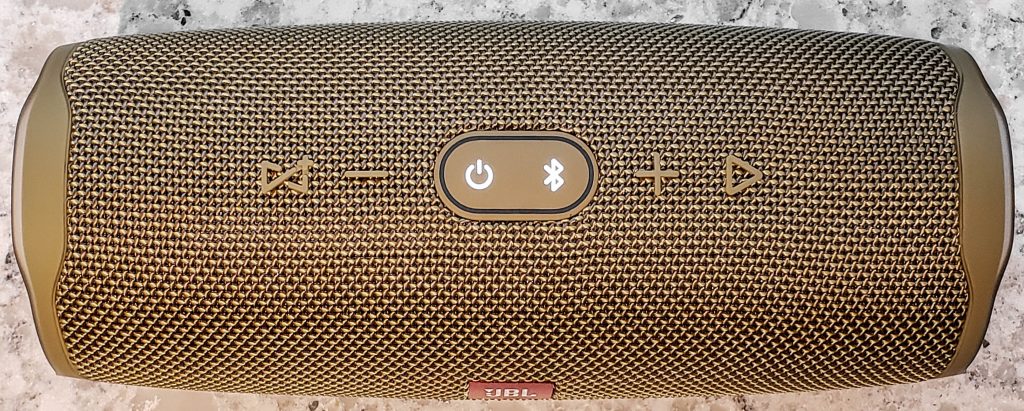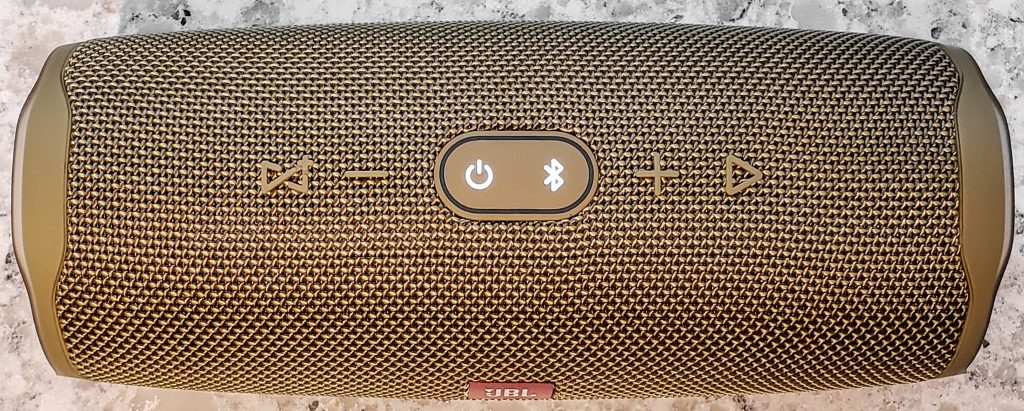 There is a nice flat bottom that keeps the tube-shaped speaker from rolling away, or you can opt to listen vertically.  Behind that flat bottom is a watertight cover where you'll find the charge ports and the 3.5mm audio cable input. On the other side of the flat bottom are 5 LEDs that show you the battery level.
Acoustics:
With a size profile that I would consider to be mid-sized in the Bluetooth speaker world, the acoustics of this speaker is best described as confusing…in a great way. How so much sound can come out of such a little package is still shocking.
The technical specs are a 60Hz-20kHz with 30W RMS power rating. The non-technical specs are that this speaker has fantastic low range response and is true to its rating. It may be tuned just slightly bass-heavy, but at medium volumes, I think it's tuned just perfect for a very full and clear sound. I would love to be able to tune the Equalizer from the app, but that's not a feature yet. Maybe in the future, though.
Although it is a tube, there is a directional aspect to the sound. You'll get best sound quality if you are facing the JBL logo, but the side-firing woofers seem to fill the space no matter which way they are pointed.
While a single JBL Charge 4 isn't going to blow your eardrums out while you're outside, it's definitely loud enough to fill a pool or back yard during a BBQ with great quality music. If it turns out you need a little more sound, the great news is that Connect+ is available to add more speakers and fill in the gaps.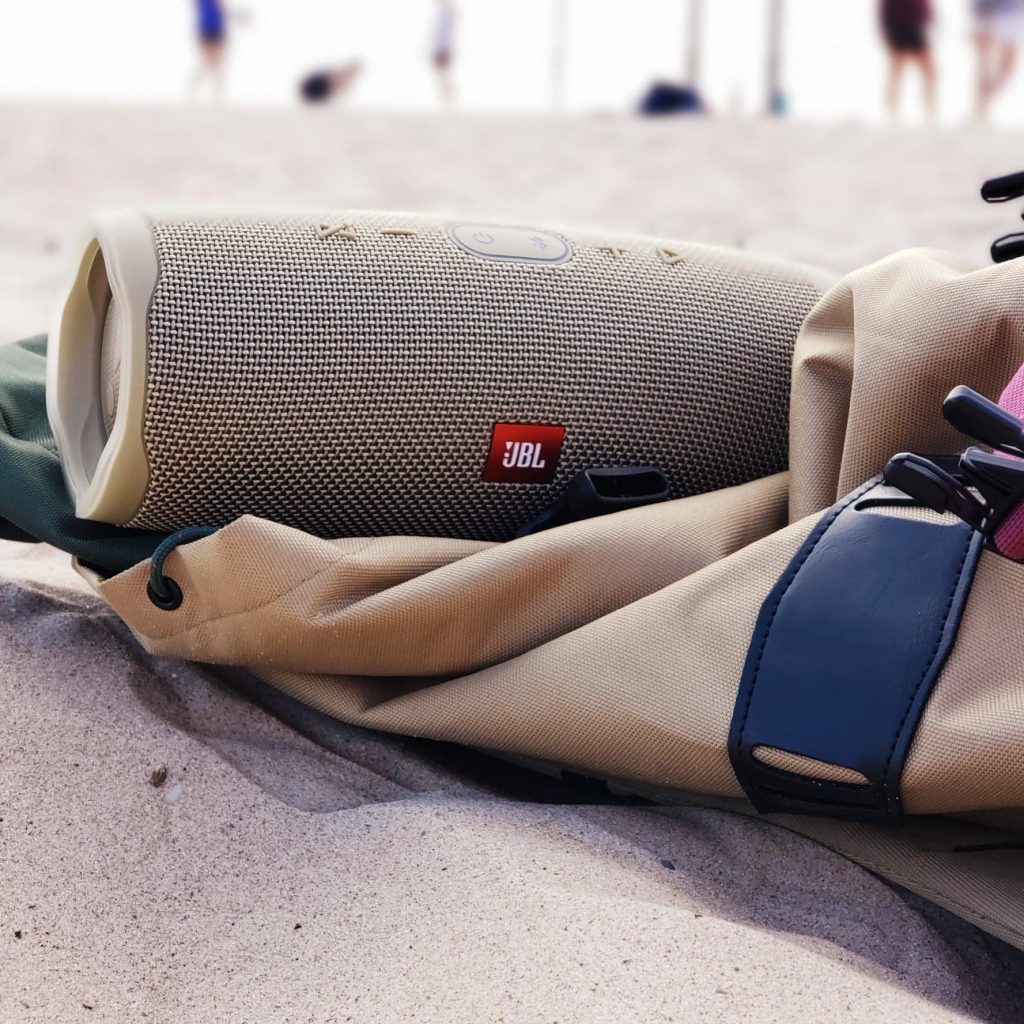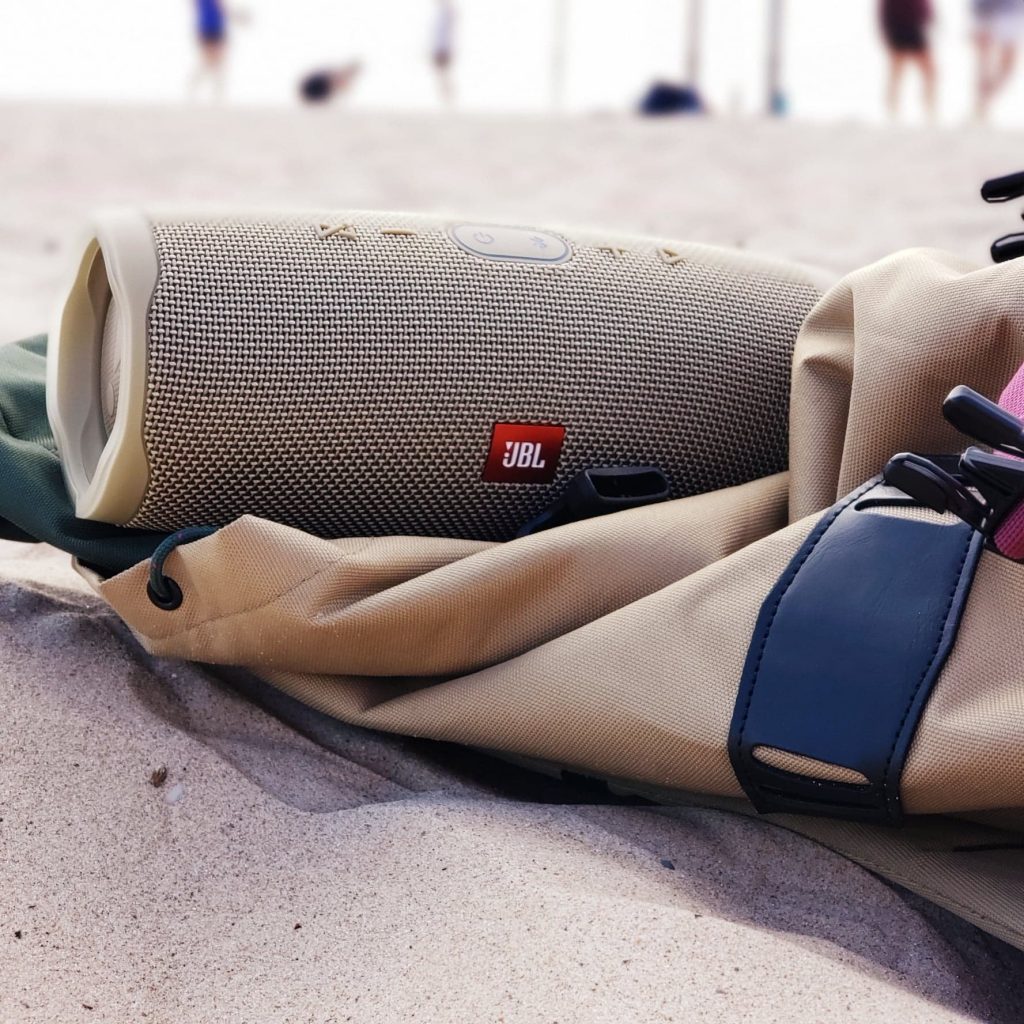 Battery Life: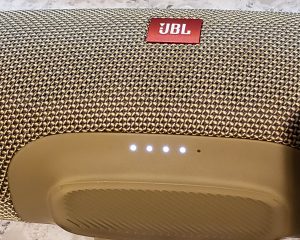 On its own, there is a 20 hour listening time.  Of course, if you are also charging your device you'll experience a bit less since the power is diverted to your phone. Or if you are blasting some heavy bass at full volume, you might come up a bit short of 20 hours. But even still, it's likely to last you several days of normal listening before needing to recharge. When that time does come, the included USB-C cable will have you back to 100% battery in 4 hours.
Value:
As the 4th iteration of the Charge, they have done some great fine tuning to improve the quality of the product and the sound, but what is even better is that the price has stayed the same. That means the Charge 4 continues the long standing tradition of a feature packed, great sounding speaker for just under $150.
Buy Now: $149.95 or to learn more, go to: JBL.com
JBL Charge 4 - Tech Review
Looking for a Bluetooth speaker with full sound that is portable, waterproof, rugged, affordable and can charge your phone? The JBL Charge 4 was built for you.
The Good
USB to charge your phone
Big sound for its size
Very portable
The Not So Good
No speakerphone
No voice assistant integration
Can't tune EQ