When it comes to portable speakers I've found a few truths over the years. You can't find an affordable speaker that has bold, sharp quality sound. You can't be little and pack a punch. And, that as fantastic as Bluetooth is, pairing across multiple devices is a always a pain. Surprisingly the JBL Charge 2 surprised the hell out of me turning each of these truths into utter myths.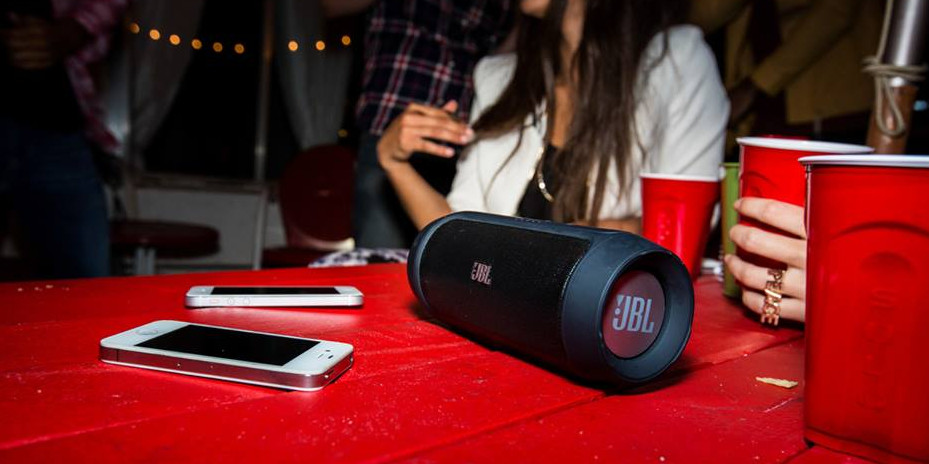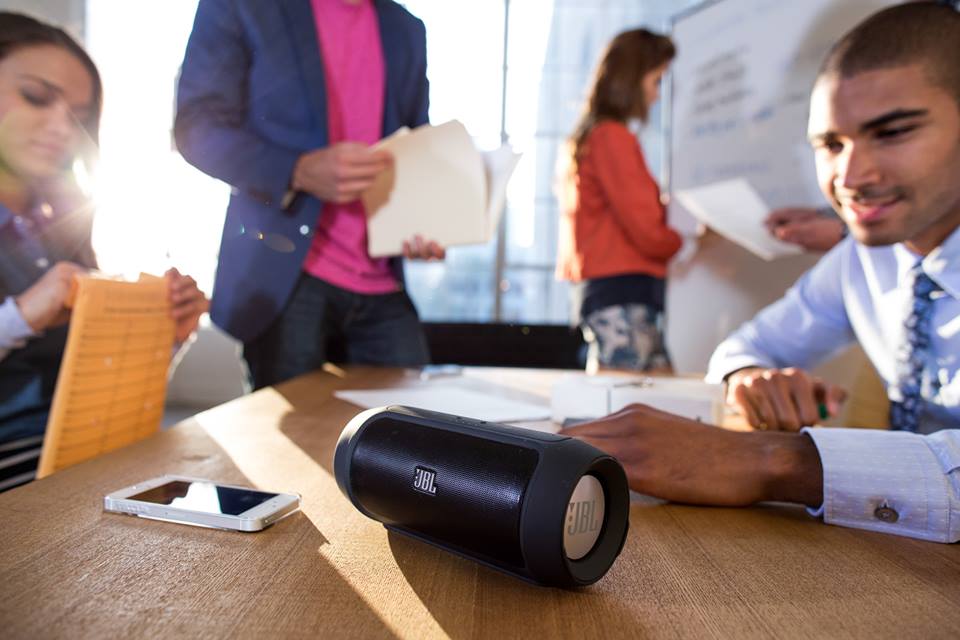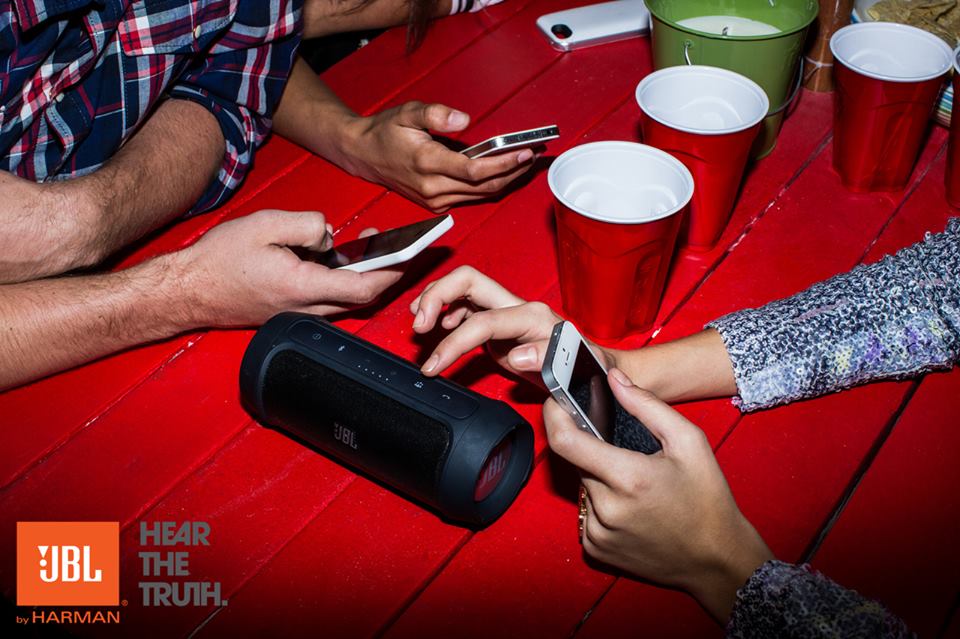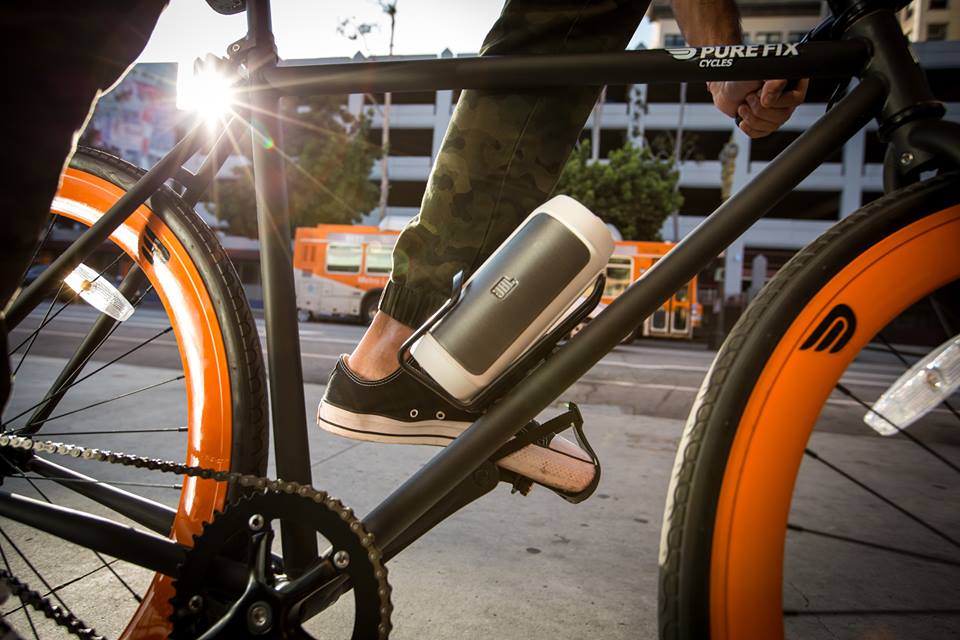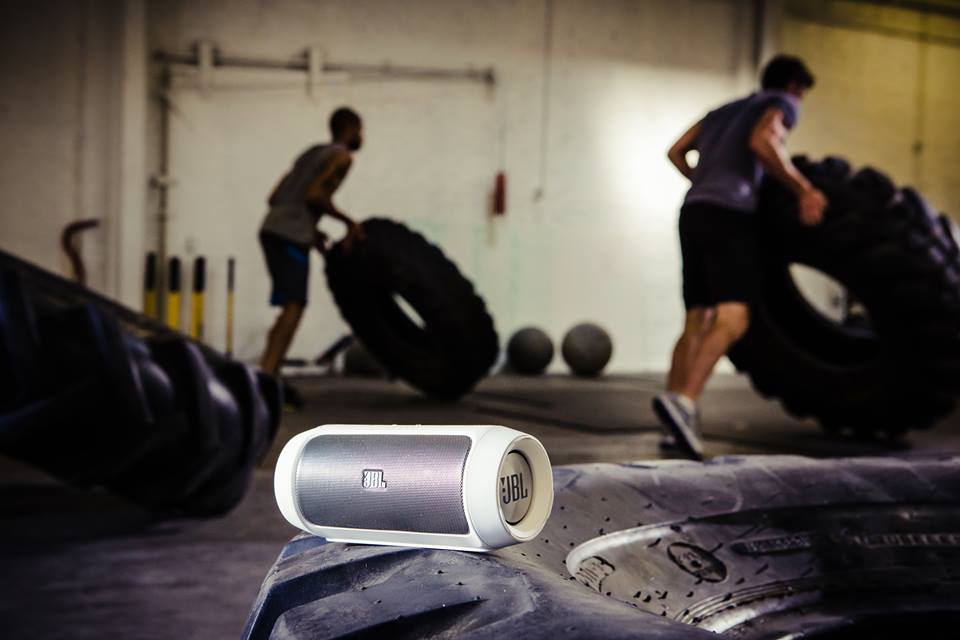 You see, every so often a company steps-up to take what works and turns it into something that breaks the mold. With the Charge 2, that's exactly what JBL set out to do when they revamped this portable speaker for 2014.
"We redesigned our JBL Charge 2 portable speaker system from the ground up to make a perfect speaker system even better, to the best-in-class audio, massive battery life and charging capability, we've added a raft of state-of-the-art enhancements, including Bluetooth Social Mode." -Michael Mauser, president, Lifestyle Division, HARMAN.
Key Features:
Social Mode for multiple users
Passive Radiators
Built-in Microphone
USB Port for device charging
Aux in for non-Bluetooth devices
Specs:
Dimensions: 79mm x 184mm x 75mm (H x W x D)
Power Input: 2 x 7.5W
Battery Lift: 12 hours
Bluetooth: version 3.0 cc
Range: 30 feet
Design:
First things first, this is a sexy little speaker. I'm reviewing the black speaker that features a matte black finish with soft matte buttons and crystal clear notification lighting on top. From afar it doesn't look remarkable, but as you get closer the subtleties of the design can be seen. From sharp edges, sleek lines and design elements like a hidden rubber ring for vertical audio consumption the Charge 2 is tastefully attractive, like a robotic Olivia Pope.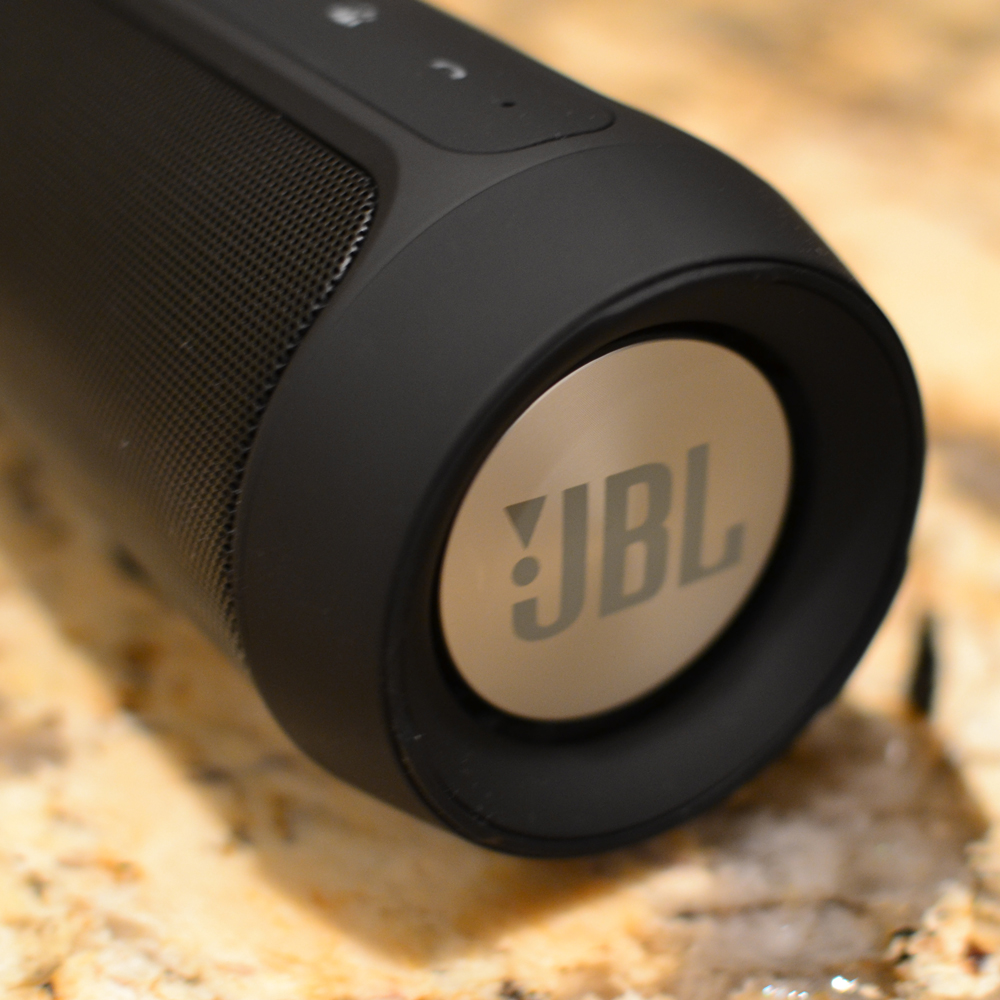 The only detractor is the shiny aluminum circles on the ends of the speaker that are covered in JBL branding. I would have loved to see it fully blacked out with a plain gunmetal insert, but I may be splitting hairs.
Acoustics:
The minute you connect Bluetooth, you'll hear the power that the Charge 2 brings to the table during the notification. The dual drivers feature 7.5 watts a piece that can scream and twin passive bass radiators that are unreal for a speaker this size. The bass in the Charge 2 is beyond surprising, it is superhuman.
One downside is that the speaker borders on being two bass-y, as it can overpower softer music. Disclaimer: I'm a 32 year old codger; this is likely perfect for the young whippersnappers these days.
Features:
One of the most unique elements to the charge is the multi-user Bluetooth capability. up to three users can connect at a time to take turns playing songs. This is huge as you can circumvent that annoying hipster that commandeers your phone at the party. With the Charge 2, he can hop on using his own phone (it if even has Bluetooth), play his folky garage-band garbage instead of getting his filthy hands all over your screen.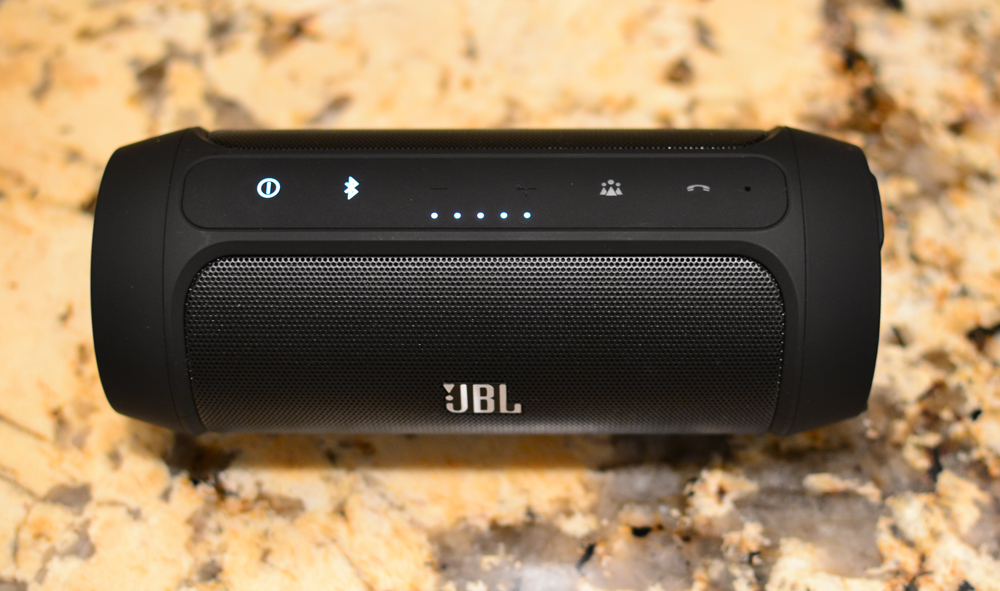 Another unique feature is a phone conferencing option. The Charge 2 allows users to leverage the speaker as a portable conference center, microphone and all. Users can ditch the speakerphone and upgrade to a handsfree, quality experience. Connecting with Bluetooth was a breeze on both iOS and Android devices. Another nice bonus is that on the back of the device is a USB port that will allow for device charging while rocking out.
Battery Life:
The Charge 2 claims to pack a whopping 12 hour battery life – something remarkable for the quality that it spits out. I wasn't able to fully test the 12 hours of continuous playback, but I did use for the better part of a day with no battery issues at all.
The charging cord is a welcomed micro-USB connection that features a retractable square power source. Be prepared, the cord for this is short (a bit over 3 feet, so if you are looking to place in a permanent location, you may want a bigger cable.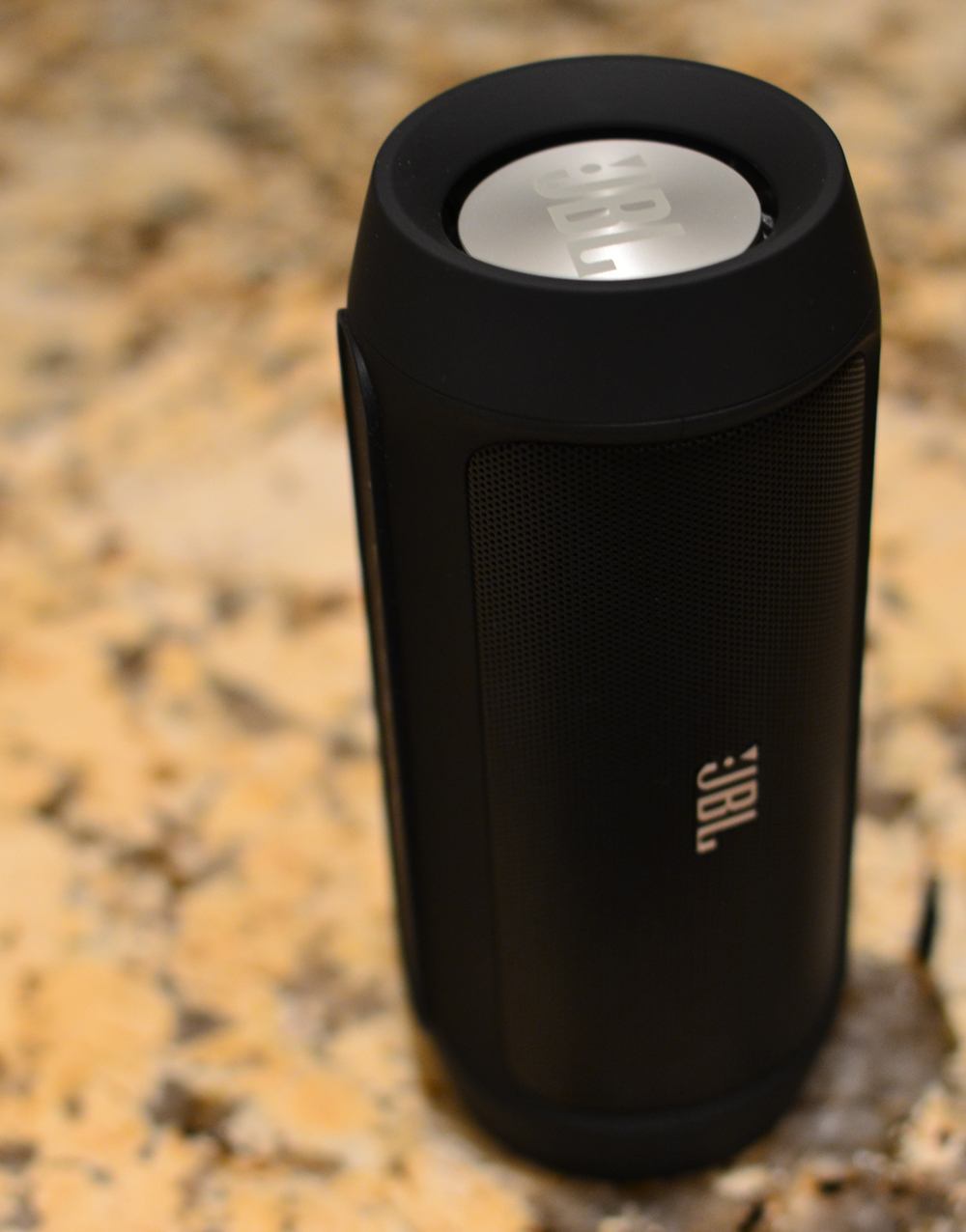 Value:
For its size, you simply won't do better than the Charge 2. With a price tag under $150, this isn't a cheap option, but it is affordable — but more importantly, worth the price. This is a spunky little speaker that packs serious sound, big bold bass and some nice upgrades that others in it's class don't have.
JBL Charge 2 - Tech Review
The JBL Charge 2 is a sturdy little speaker that packs a punch as well as some (actually usable) extras like the multi-user and speakerphone options. While the Charge 2 is a bit bass-y, the biggest upside is that battery that not only allows for up to 12 hours of playback, but also device charging. It'd be hard to find a better portable speaker on the market in the $150 price range and would be the perfect holiday gift this season.
The Good:
Excessive Battery Life
Great Acoustics
Perfectly Portable
The Not So Good:
Heavy Handed with the Low-end / Bass
JBL Branding is kind of off-putting`
Short Charging Cord