If you're searching for a portable Bluetooth speaker that can easily go everywhere you go, without having to worry about it getting splashed, smashed or dropped – with no sacrifice in sound quality, you've gotta check out the Fugoo. Not only is "Fugoo" fun to say, but it comes in a variety of configurations, including Style, Sport, or Tough – and offers a multitude of accessories, so if options are what you are looking for, you've come to the right place. But the best part of all – the sound quality! With Fugoo there's no tin can sound, and the bass actually rumbles!
Recently we were given the opportunity to fully test and review the Fugoo Sport which comes standard with 40hrs of battery life, six symmetrically-placed drivers and a rugged design that's Mudproof, snowproof, shockproof, waterproof and partyproof! Take a second to get an up close and personal look at the Fugoo Sport yourself in the embedded video just below…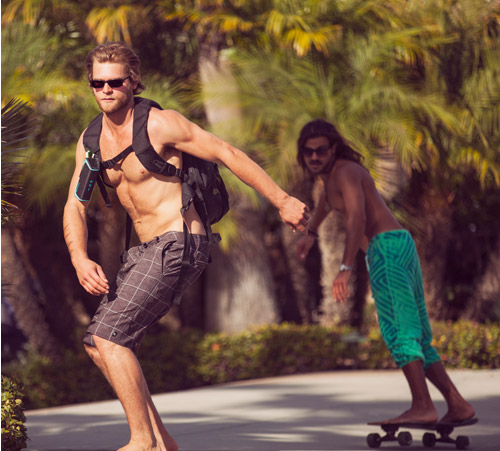 Key Features:
40 hour battery life (at 50% volume)
360° sound
Siri / Google Now integration
Built-in Lithium-Ion rechargeable battery (via USB)
Bluetooth Connectivity
3.5mm stereo input for wired connection
Doubles as a Speakerphone
IPX67 Rating (waterproof to 1 meter for 30 minutes)
Specs:
Dimension: 2.3″ x 7.4″ x 2.9″
Weight: 1.1 lbs
Frequency Response: 60Hz – 20KHz
Six acoustic drivers:

Two 28mm neodymium tweeters
Two 39mm neodymium aluminum domed mid/woofers
Two 43mm x 54mm passive radiators
Fugoo Sport Review Breakdown
Portability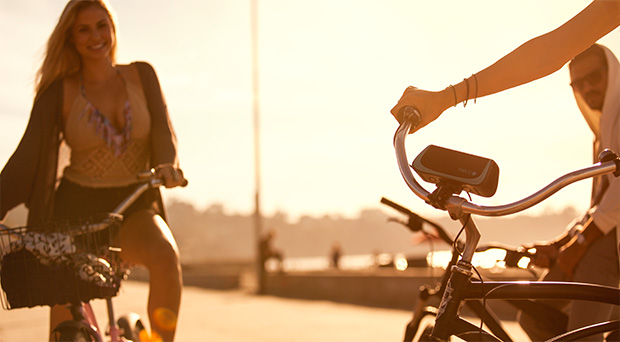 Measuring in at nearly 8" long and 3" high, this little guy is pretty compact and easily fits into a backpack, or even a purse (depending on the purse of course)! But what really drives my rating on this is that you have three different "mount" options – these are accessories that you have to buy separately, unfortunately, but you have the options. There is a bike mount – which I would find very useful – and Strap Mount, so you can strap it to a tree or something similar, and a Multi-Mount for anything else you can think of. The Fugoo, therefore, is really as portable as you want it to be . . . and if you don't want to spend the extra money on accessories, there is always duct tape!
Audio Quality
The sound on the Fugoo great! Firing audio from all sides, the Fugoo delivers a very full sound, but most impressive is the bass – it is a deep, rich sounding bass and I actually had to monitor the location of the Fugoo as it started to bounce its way off of my shelf at one point! So why did I not give it a full 10 out of 10 ranking in this category? I'll tell ya – it's because I like to party, and this speaker isn't loud enough to make it a real party, even in an enclosed space. That is my one and only gripe – I wanted to turn it up to 11, and really, it only goes to about an 8.

Design and Durability
The Fugoo was designed to be versatile yet attractive, and I think it hit the mark on both. You have three different "Jackets" to choose from (for purchase, of course) – the "Style", the "Sport" (reviewed here), and the "Tough". All three are waterproof, snow proof (really, frozen water too!!), dust proof, and shock proof, but the degree to which each protects increases as you move from Style to Tough (. . . with "Tough" providing the most protection . . . in case you couldn't catch that . . .). The great part is that all three, at least in this blogger's opinion, are aesthetically pleasing – it's both industrial and modern looking, and extremely neutral (although definitely more masculine than feminine . . . if a speaker can hold a gender).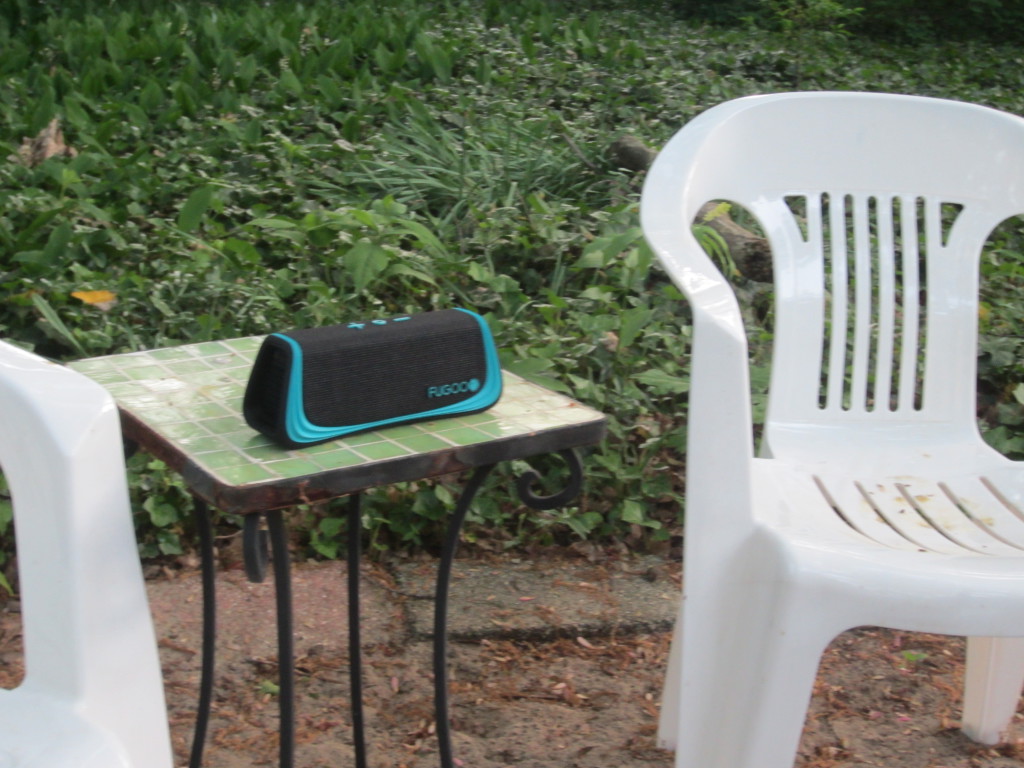 Finally, one of the coolest – yet totally novelty features – is that the Fugoo speaks to you . . . yup, you've got a friend in Fugoo. When you turn on the power, a nice gentleman greats you with "speaker is on" and will even let you know when your Bluetooth device is "connected" or "disconnected." And no more wondering if the battery is almost dead – Mr. Fugoo will tell you! Just double tap the power button and the gentleman will tell you just how much power is left . . . yay!
More Hands-on Photos:
Connectivity
The Fugoo can be used with any Bluetooth device – Android or Apple. All you have to do is pair it up and link it on your device. You can get pretty far away for the Fugoo if you have a good connection – our friend with an iPhone had the Fugoo on her boat and walked about 50 feet away and maintained a connection. No one that used it (and I had a few friends try it out with various devices) had an issue connecting or pairing with the Fugoo.
Value
At $199.99 – without purchasing any accessories – I'm giving the Fugoo a 7 of 10 in the value department. It's not that the Fugoo isn't worth the money, it's just hard to see myself dropping $200 on a portable speaker – even one as durable and versatile as the Fugoo – unless I could put it by the pool and have enough sound to fill up the entire space. I want my neighbors to complain about the loudness if I'm forking over that much! However, if I was looking for a device not just for my beach or pool dance parties, but one that I could take camping, hiking, fishing, any place where I'd be likely to get it wet, cold, muddy, or dropped, the I'd probably be willing to pony up the capital for the Fugoo to be pretty much guaranteed to keep the sound rocking on an extended trip – even if my clumsy ass dropped it!
Buy Now: $199.99[/button]
Fugoo Sport Bluetooth Speaker - Tech Review
The bottom line is this – if you need some great sound anywhere you go, and don't mind shelling out a bit of cash to get that, then the Fugoo is your answer. The added fact that it has options and is about as versatile as you can get makes the Fugoo even more enticing. And let's not forget, you get a friend to talk to in the Fugoo too!
The Good:
It's Everything-proof!!
Amazing Battery Life
Ultra Portable
The Not so Good:
Lacking in the Volume Dept.
Quite Expensive