Designed to keep the party hopping no matter where you go, the G-Boom rugged bluetooth speaker from G-Project is constructed with two major objectives in-mind… portability and durability. For starters, the G-BOOM is built around a lithium-ion rechargeable battery that allows for up to six hours of on-the-go listening, it also features a rugged housing structure with a protective elastomer base and an integrated handle, allowing you to take your music anywhere and everywhere.
In the past few years wireless audio has become all the rage. With new and exciting products (big and small) coming out constantly it's hard to keep up with everything. And we try! Heck, in the past year alone we've tested and reviewed over a dozen bluetooth enabled speaker systems – so when our friends at G-Project approached us with the opportunity to fully test and review their biggest and baddest model yet, we quickly snagged up a demo unit and hit the beach, back yard party circuit and everywhere in-between.
Key Features:
Stream audio wirelessly with Bluetooth from over 30 feet with iPhone, iPad, Android, Blackberry or any other Bluetooth capable device.
Charge any device via the USB charging port to keep devices charged and ready to play. Users can connect and stream from any device with standard headphone jack via a 3.5mm line in cable (included).
Integrated user interface with playback buttons and equalizer presets allows consumers to control the paired device directly from G-BOOM. Users can also wirelessly control the volume, play, pause, skip forward and back track functions directly from the paired device.
For a closer look at our testing process and to see the G-Boom in-action make sure to check out the embedded video below…
Design:
With the vast amount of portable, cordless, and bluetooth speakers circulating the market right now, it's hard to find the one with that "oh so sweet" bass!  The G-Boom is the first portable speaker we've come across that offers a big sound that can hold it's own.  Now let's be clear before we dive too far into this… This isn't a 12 inch subwoofer with a 1200 watt amp that'll give you a full body message.  This is a 11.8″ by 10.2″ by 4.9″ rugged speaker that you can carry like a lunch box anywhere you go and spread that bass at a radius of 30 feet.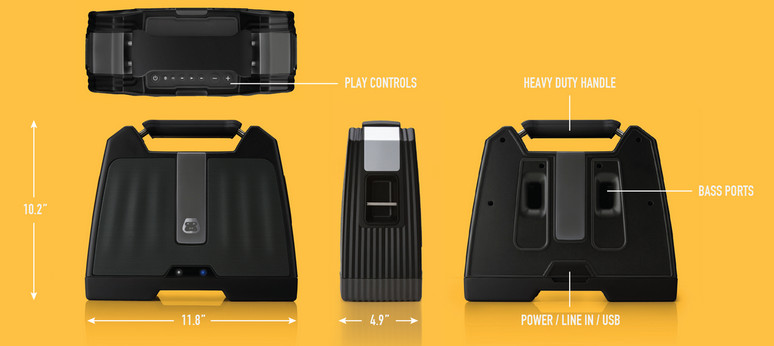 Bluetooth Connectivity:
Simple 3 step process…
Make sure the G-Boom is on, then hit the Bluetooth button on the speaker.
Select the bluetooth setting on your phone.
Your phone should scan and find the G-Boom, simply select the G-Boom option and you are ready to rock!
Audio Quality
Instead of a traditional portable speaker with a tin can bass and decent treble, this little beast can let out a roar!  It packs its punch with a 2.2 speaker configuration, 4 drivers, dual ports, and MAXX Auido.  The bass can travel a good distance and can be adjusted by selecting from three equalizer presets: powerful, deep, or extra bright.   Being able to adjust the volume playback from your phone and keep it charged through the USB charging port is a nice feature.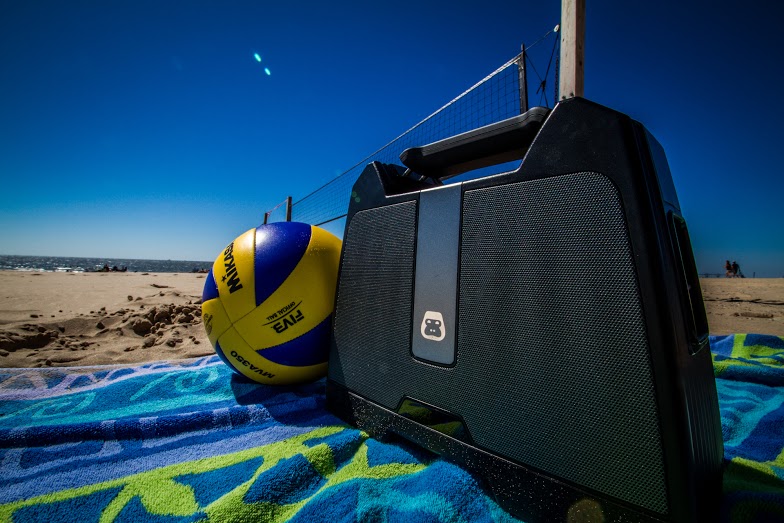 Durability/Battery Life:
The G-Boom is a great side-kick to have by your side.  It's rugged enough for the outdoors, convenient enough for the party on the go, and tough enough to hold your weight too.  The rechargeable battery does in fact last roughly six hours as promised and the idea of not having to replace batteries is great (but make sure you find a spare outlet to keep the party going past 6 straight hours).
Value:  
Priced at $100.00 the G-Boom is at the right price point for what it offers. Although I'd like to see a longer battery life and a tad more bass, for the price, it is a top contender in it's weight class.
G-Boom Rugged Bluetooth Speaker - Tech Review
Overall, it's loud enough to keep the neighbors up, priced nice for my wallet, and rugged enough to keep up with me.
The Good:
Durable Rugged Construction
Nice Audio Quality
Charging Devices off the Built-in Battery is a Nice Touch
The Not so Good:
Limited 6.5 Hour Battery LIfe Feels Small for the Size of this Speaker