Built for homeowners on a budget and lawns that ungulate more than Uncle Leon expertly executing "The Worm" at your wedding reception, the new Husqvarna HU675AWD Lawnmower was engineered with All-Wheel-Drive traction and a unique dual transmission that is said to easily handle hills, thick grass and tough terrain. What truly sets this push-mower apart from all other self-propelled mowers on the market is its AWD technology, which provides simultaneous power to all 4 wheels giving the operator maximum control and maneuverability. Constructed from heavy-duty steel and a powerful 149cc Kohler engine, the Husqvarna HU675AWD also features a generous 22″ cutting width, comfort handle and a 2 bushel soft bag collection system – all at a budget friendly $299 price tag.
That's why when we were offered the opportunity to test and review Husqvarna's latest AWD lawnmower this Spring we didn't think twice and gladly accepted the challenge! Now, for a closer look at Husqvarna's unique AWD drive system and how it operates check out the embedded video below, which actually features the HU800AWD Mower, but the technology is exactly the same.
While it's undoubtedly one of it's best features, All-Wheel-Drive isn't all the HU675AWD is packing.  In fact Husqvarna has outfitted this mower with some pretty impressive features.
"Based on the positive feedback we received after the launch of the original AWD mower, we wanted to make the innovative technology widely available at different price points, with three new pricing options and a variety of features, a wider range of users will be able to enjoy the benefits of All-Wheel Drive mowing technology with the launch of the new line." -Nick Schomer, Walk-Behind Product Manager, Husqvarna
Key Features:
All-Wheel-Drive System
22″ Cut Width
Auto Choke Starting
Aggressive Wheel Tread
Kohler 149cc/3.7hp Engine
Variable Speed
Bag or Mulch Options
Water Hose Connection
Wide-mouth Gas Filler
Husqvarna HU675AWD Review Breakdown
Design:
We can't say enough about how handsome this lawnmower is. Seriously… it puts most other push mowers to shame. I mean, just look at it! Its rugged stance and beefy wheels deliver a great look that'll keep your neighbors envious. But beyond it's muscle flexing physique the HU675AWD actually offers some really nice design features that are strictly functional. Like the easy to adjust deck height, switching from bagging to mulching and the impressive auto choke 149cc Kohler engine, which requires no priming (more on that in a bit). We were also happy to see the hose hook-up for easy and mess-free under deck washing. As well as the comfort grip bail and multi-speed AWD (which we'll go over in more detail later).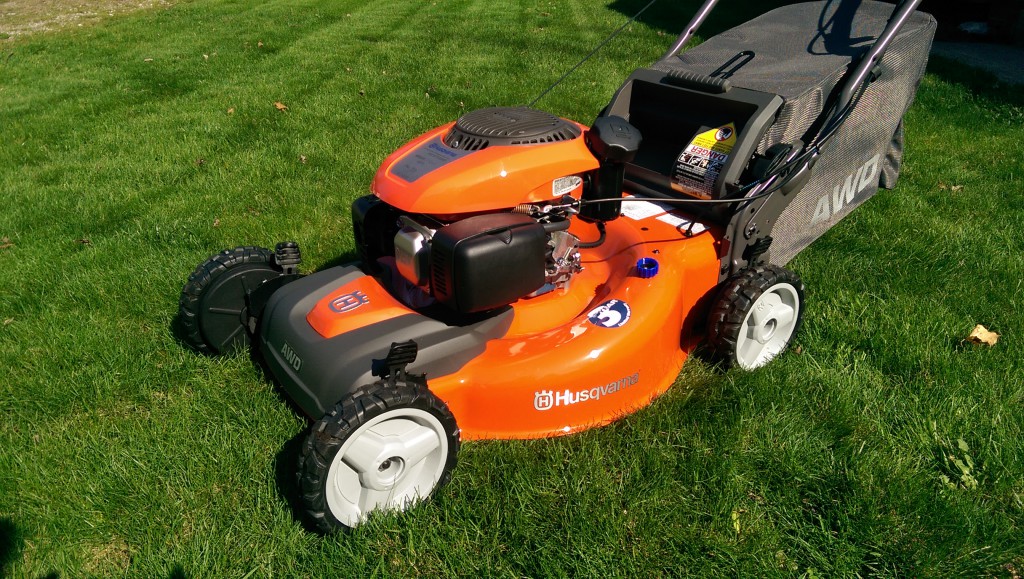 Overall, there's not much they missed. It might not be the top-tier mower you can find, but it's perfectly capable of tackling most lawns. For the price, there's really not much else you could expect either.
Setup & Starting:
With this mower setup is an absolute breeze, and since the HU675AWD is equipped with a 4-stroke engine there's no need to mix oil and gas. Just add the included bottle of oil to the oil reservoir and gas (87 octane) to the tank and this mower is ready to rock!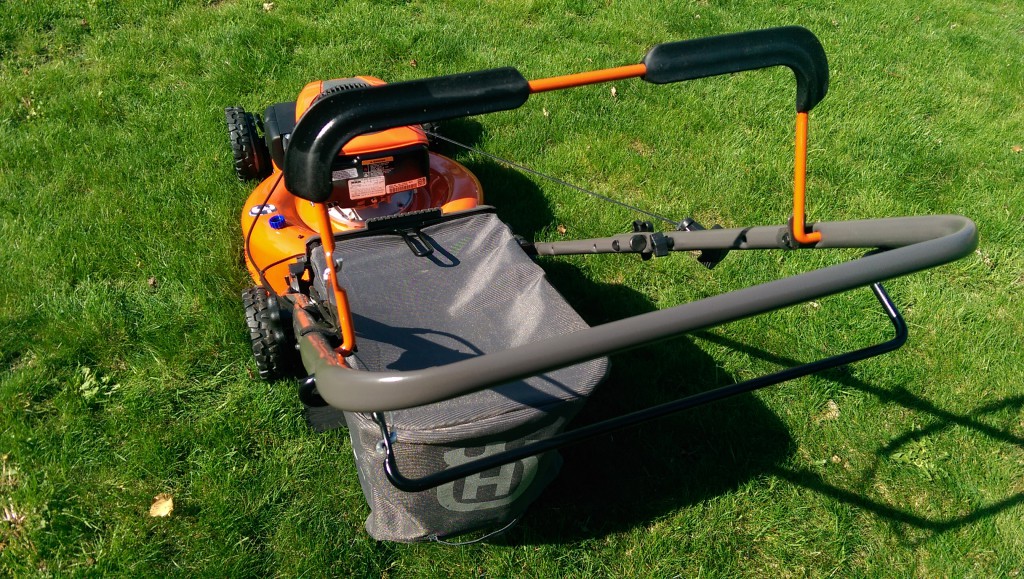 And when it comes to starting it couldn't be easier. The Kohler engine Huquvarna outfitted the HU675AWD with is an auto choke version which means no priming or choking required. After adding the oil and gas we started the HU675AWD on the very first pull and it ran like a champ! I personally can't recall ever starting a cold lawnmower on the first pull right after adding gas. As of today, after testing the HU675AWD for more than a month we've yet to have to pull the pull-cord more than once to get it started. Simply outstanding!
Operation:
Running the HU675AWD is very intuitive and simple to get the hang of. If you're making the switch from a non-propelled mower to a self-propelled unit like this the learning curve is a little larger, but it's nothing that can't be learned in a few passes down the yard. Honestly, all you need to know is how far to pull up on the AWD drive and dial in the speed you're personally comfortable with. The harder you pull up on the drive bail the more speed you get and vice versa.
Additionally, this mower can CUT GRASS! Who'd a thunk it… right?! Throughout testing we were very impressed with the consistent cut this mower produced. The bagging system isn't huge, but it's easy enough to attach/detach, while mulching proved to be a quick way to get the job done.
More Hands-on Images:
Maneuverability: 
While the AWD drive is engaged the HU675AWD's maneuverability is at its best – handling humps, bumps, hills and corners with no problem. It's only when you let off the AWD bail when things become a bit less manageable. For example, if you're in a tight space where you need to go forward and back out several times, the HU675AWD will go forward very easy with the AWD drive but when you have to pull the mower back it can be a bit of a struggle – almost like the drive system hasn't fully disengaged. This isn't totally uncommon for most self-propelled mowers, in fact it's one of the biggest complaints you hear of when it comes to self-propelled units. While it's honestly nothing too difficult to manage we suggest keeping the mower moving forward as much as possible for the best maneuverability.
AWD:
If your lawn has steep hills, ditches or any type of grade to it this mower with eat it up no problem – and since the wheels have an aggressive tread they won't be slipping around tearing up your yard either. Throughout testing we didn't find a hill or terrain that the HU675AWD couldn't handle. Even in wet conditions this mower got the job done.
Our only complaint about the AWD system was the placement of the drive bail (under the gas bail) which isn't the most ergonomic we've ever used. It's not terrible, but we've definitely used better.
Value:
For the price this mower is a great value from what we've been able test. It starts like a champ on the first pull each and every time and slays grass on any grade or terrain. Not to mention it also comes with a 3 year warranty and is backed by a brand that is synonymous with quality outdoor equipment.
Husqvarna HU675AWD - Lawnmower Review
This mower was a joy to test, and AWD system is no joke! If you're in market for an affordable self-propelled mower this season we highly suggest you check out the HU675AWD yourself. If you're anything like us you'll first fall in love with it's rugged exterior and then be amazed with it's ability to climb and maneuver all types of terrain.
The Good:
Extremely Easy to Start
AWD Takes You Up Any Hill
Easy to Clean Under Deck With The Hose Hook-up
The Not so Good:
Not as Maneuverable in Reverse
Less Than Ergonomic Drive Bail