Spring and fall clean ups are a part of life. Indoors, you vacuum, organize, and rearrange. Outside, you hose everything down either because you just got it out, or you are about to put it away. Why? because that's just what we do. Every year (or two) I borrow my father's pressure washer and go to town dressed in my oldest shoes for foot protection, swimsuit, tech shirt, and big floppy hat. It feels good to see the instant results from a pressure washer. It feels good to watch the dirt get blasted away.
Enter Greenworks, founded in 2007 with a goal of producing lithium battery powered tools, they launched their first pressure washer in 2011, with the same power as gas models, but no fumes, less noise and less vibration. They went on to launch a 40 volt tool line, an 80 volt tool line, and a commercial line of lawn tools. When we had the chance to try out the Greenworks 2300 PSi Electric Pressure Washer with a brushless motor we lined up our dirtiest deck and deck chairs. Would it wash away years of dirt and weather? Let's find out:
Key Features:
Brushless Motor
Tangle Free Hose
JettFlow™ water pressure-sensing technology
PWMA Certified
Inline GFCI
On board tool storage
Specs:
PSI 2300
GPM High Pressure: 1.2
GPM Low Pressure: 2.3
35′ power cord
25′ pressure hose
Nozzles: 15°, 25°, 40°, Soap spray tip, Turbo Nozzle.
Weight 41.2lbs.
120 volt, 14 amps
Greenworks 2300 PSi Pressure Washer Review Breakdown
Design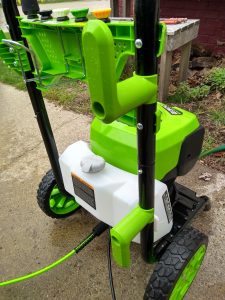 There is nothing that's more annoying with using a tool, than not being able to find the parts and accessories, so the on board tool storage speaks to us. It holds every part too, the hose, the power cord, the wand, the nozzles, and best of all, it's secure. We didn't lose a single part going up and down stairs with the 10 inch wheels and handle. Hand held models have their place for portability, but not having to carry the washer is really nice on the back.
Let's face it, power washing sometimes involves bending or stretching in weird ways to reach the right angle, the wand length was great for use, either with the provided tips, or with an attachment like a surface cleaner. We didn't feel hunched over using it. The 1/4″ quick connect collar is industry standard, so if you are replacing a pressure washer, or upgrading, your tools should still fit. We used this with another brand's surface cleaner and it produced great results.
The brushless motor adds more torque and should be longer lasting than a standard motor and comes with a 10 year warranty. This is longer than the 3 year warranty on the main unit. The 35′ power cord reached far into the house to find an outlet. The 25′ kink free hose on the wand helped keep the washer back out of the way and gave us free range of motion for use. The less you have to move any pressure washer, the more you can get done.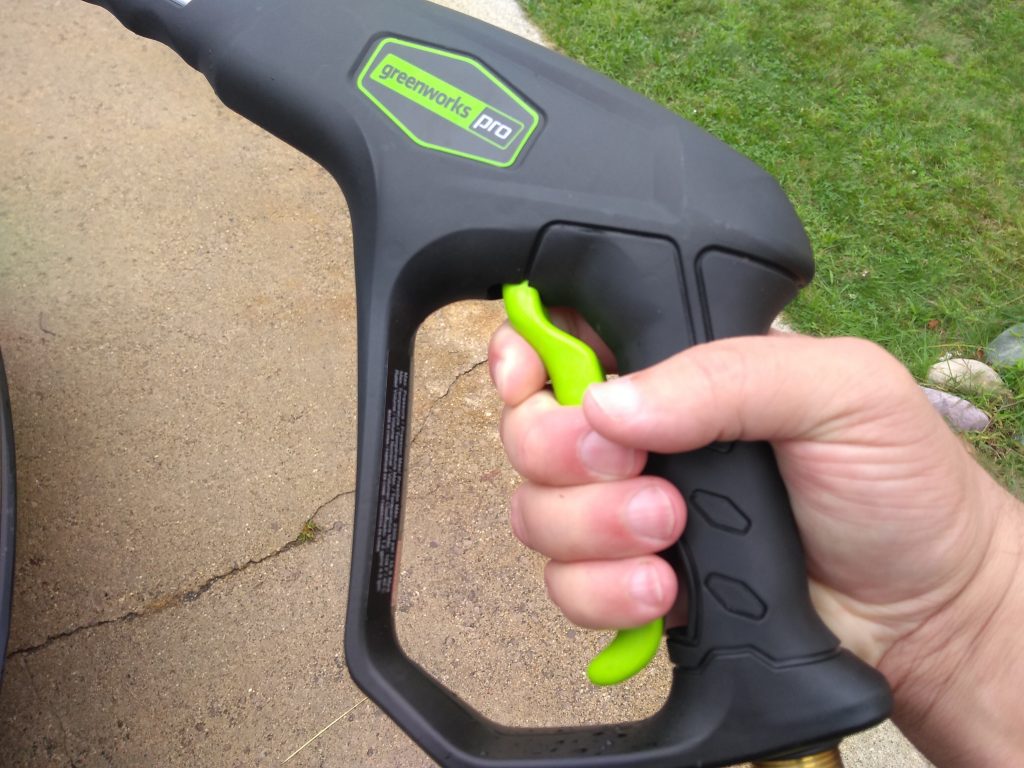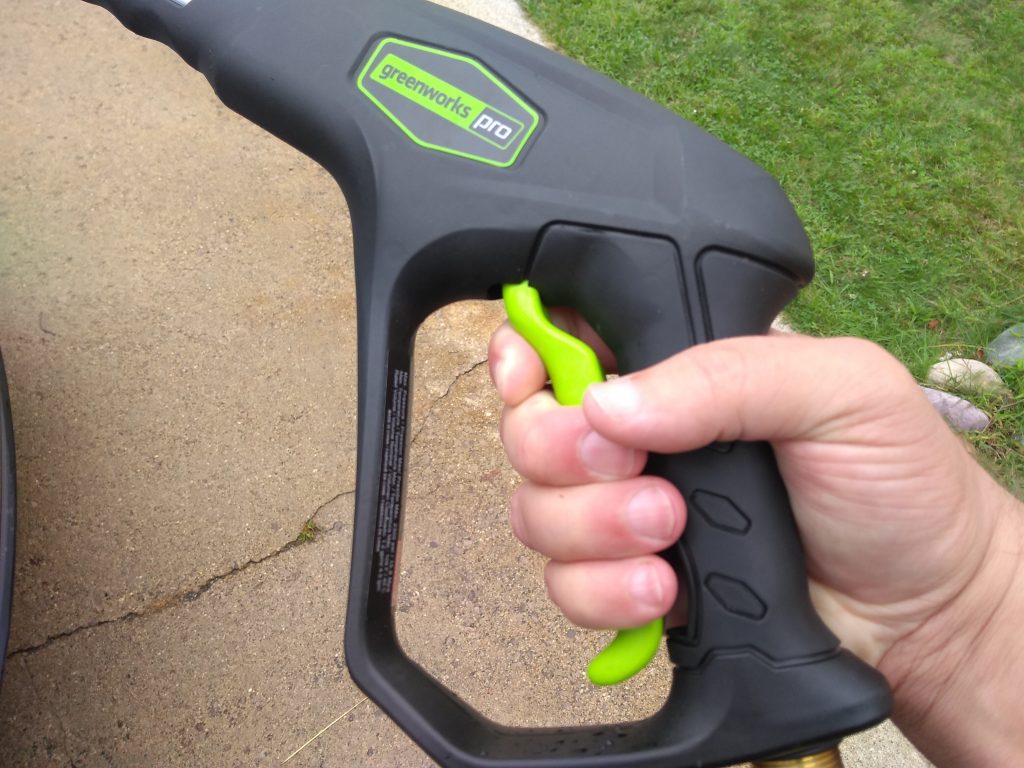 Overall the design is good, but we would have liked all connections on the front. Once fully connected it's not really movable without a lot of care.
Assembly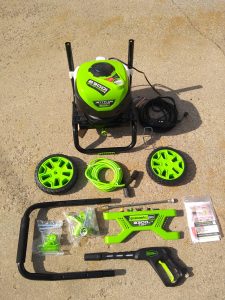 Greenworks balances safe packing with minimal assembly. At 41.5 lbs it's helpful to have a second person lift it from the box, but it's doable as a one person lift. The instructions were clear for assembly but missed one step for the lower hose reel. It's the same as the top of the reel, but upside down. At first we wondered why they sent us spare parts, but looking at the box made it obvious where it went. In all, taking pictures as we went it took 30-40 minutes. We'd rate this as an easy assembly.
One note not on the instruction sheet, check the soap container hose to make sure it is well connected on both ends, ours was loose on the bottom and we didn't notice until the next morning when we found half of a tank of soap on the floor. Honestly though, we should have cleaned out the tank at the end of the day. It's easy to pop off the unit by loosening two big screws a bit and unplugging the hose.
Starting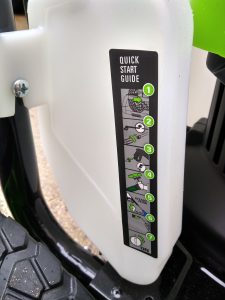 Because it's electric, start up is a breeze but must be done in the correct order to make sure you don't damage the motor by running it while dry.
Connect the garden hose to the pressure washer intake.
Assemble the gun and spray wand
Insert high pressure hose into the trigger handle
Connect high pressure hose into the pressure washer
Turn on the water
Pull the trigger on the gun/wand for 30 seconds with the motor in the OFF position. This drains the air from the tank AND the pressure hose.
Plug in the power cord in a safe outlet
Last, turn on the pressure washer.
The pressure washer will run the motor to build pressure and then the sensing technology will turn it off. Gas Pressure washers and the other electric models we've used run constantly. It's nice to not hear the constant noise when not in use. Once you squeeze the trigger, the pressure is low for 2-3 seconds as the pump recognizes flow and starts building pressure again. It quickly reaches full power with every tip it came with and when you release the trigger the motor stops again.
You might be asking, what about soap? Why two ratings for GPM flow? With all of the tips except the black soap nozzle the pressure washer is water only and 1.2 GPM. With the soap tip at the higher flow rate (but lower pressure) of 2.3 GPM it sucks in soap from the reservoir. It's nice not having to remember to turn soap on and off. So easy starting, no batteries to charge, and it's got a long cord. Just make sure you follow the start up/shut down(draining) procedure to prevent damage to the motor or pump.
Capabilities
It's able to use attachments like foam blasting guns, surface cleaners and rotating vehicle brushes from Greenworks and other popular makers because of the universal collar lock. We ended up using another brand's 12 inch surface cleaner on the deck and front walk, but Greenworks has a 15″ surface cleaner that would do the job.
Side note on surface cleaners: GET ONE. If you are cleaning a flat surface like concrete or a deck, this is a must have tool for several reasons. The first of which is, they do a great job and produce really even results. The second reason is they keep the water from splashing everywhere. Normally I wear a swimsuit because I've always gotten soaked doing my porch, it's a semi enclosed area, with the surface cleaner attachment I stayed mostly dry.
The Nozzles
The Yellow 15° tip  is the tightest tip provided, it is the most concentrated nozzle for removing dirt. The 25° tip is for general cleaning and sweeping dirt and grass from surfaces. The 40° is for general light cleaning and is meant for the more delicate surfaces. The Soap spray tip is for low pressure soap application.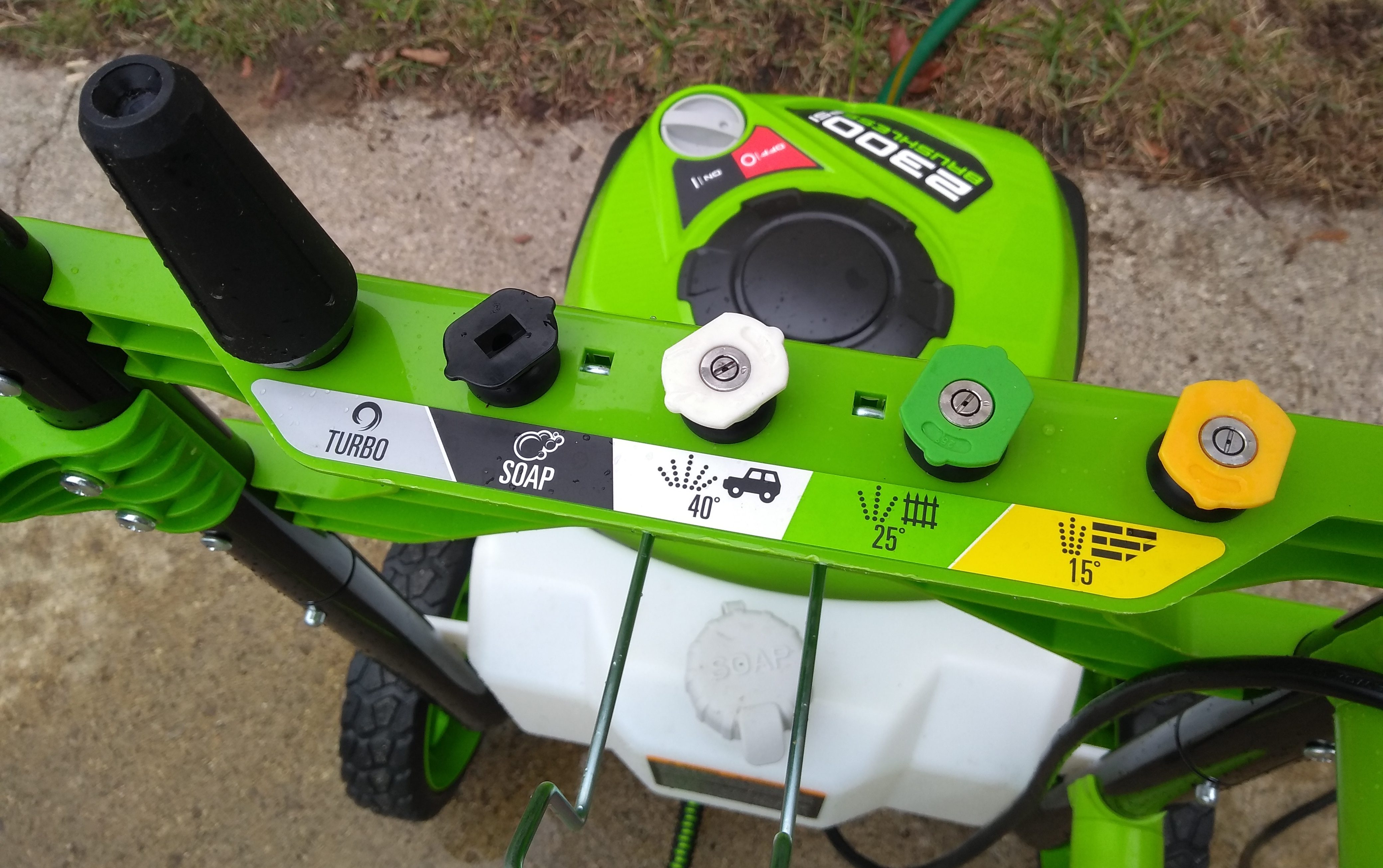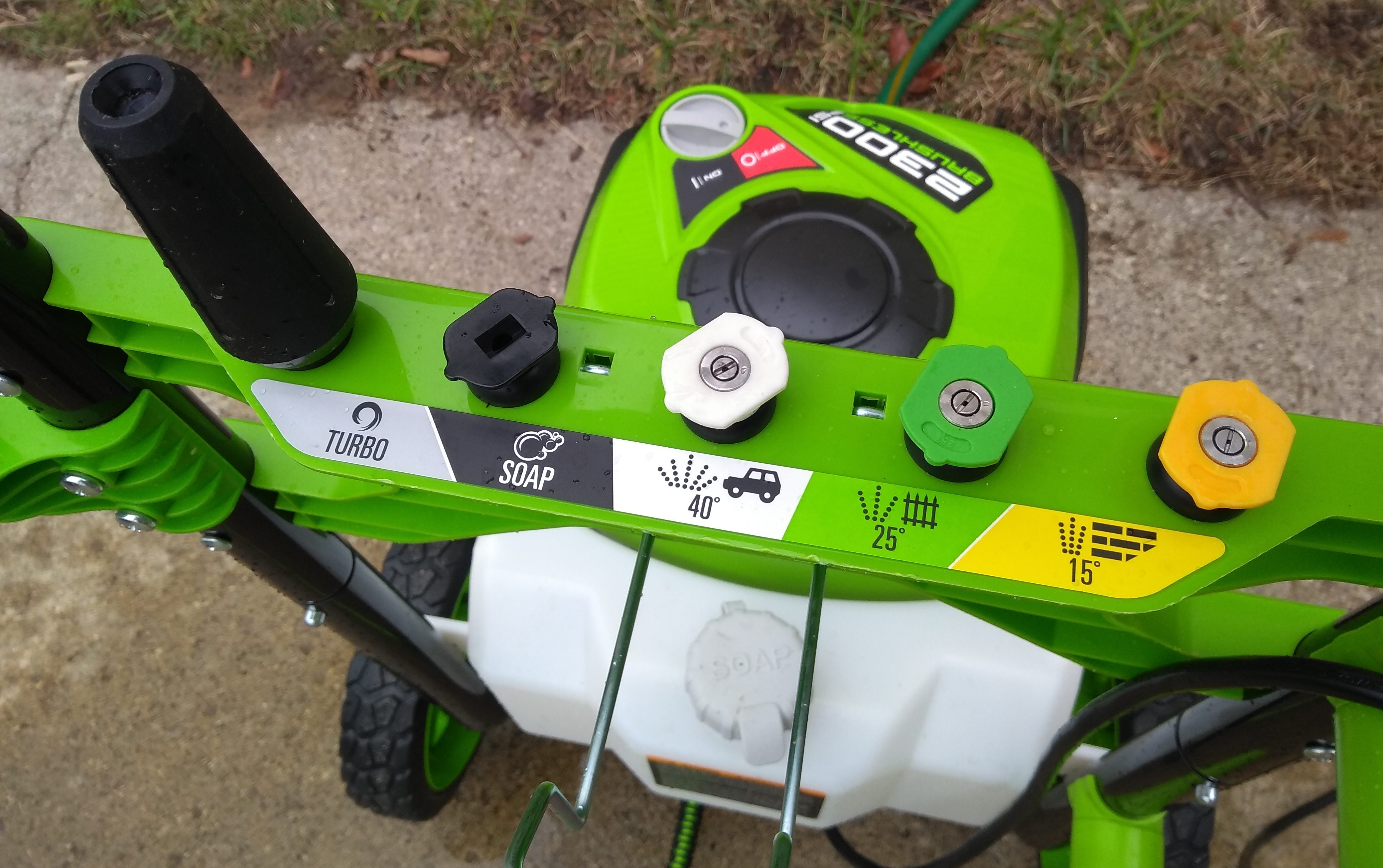 Last is the Turbo Nozzle. We were skeptical at first, but this proved to be one of our favorite nozzles and we've not seen anything like it from other manufactures. It's a pin point nozzle, but it rotates/spins to cover a wider area. Think of an orbital sander, but with high pressure water. Depending on how far you hold it from the surface it can be deep or light cleaning. The surface cleaner we u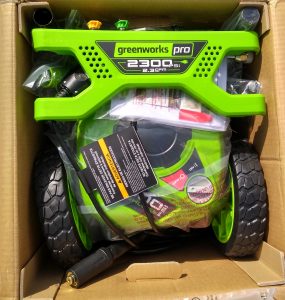 sed left about an inch from the edge that still needed to be done, the 15° or 25° nozzle would have been fine, but the Turbo nozzle blended it in a lot better.
Value
The measure of any purchase is, "Are you happy with it?". At $349 ($329 at Lowe's)the Greenworks 2300psi pressure washer is a little more expensive than similar pressure washers, but it is in the ball park.. With its brushless motor, features like being self contained on a cart, and accessories/attachment abilities, we would be happy with it and think you would too. They pack a lot on this compact machine while keeping operation simple. It's a solid buy if you ask us.
Buy Now: $349 or to learn more, go to: GreenworksTools.com
Greenworks 2300 PSi Electric Pressure Washer
The Good
Compact, good cart/storage
Turbo Nozzle
Works with other attachments
The Not So Good
Didn't like the one hose connection on the back
Instructions missing a step