Milwaukee has become a household name by building rock solid heavy duty tools and continues that tradition with the new Fuel M18 brushless cordless tool set. Try doing a demo project without the infamous Milwaukee Sawzall. Go on, I dare you. Milwaukee has paired their new cordless Powerstate brushless motor with the M18 Red Lithium XC 4.0 battery and Redlink Plus electronic intelligence to deliver an awesome lineup of cordless power tools.  Milwaukee Powerstate brushless motor promises up to 10 times longer motor life, 25% more power, as well as 50% more run time than other cordless tools. Milwaukee also offers a 5 year warranty on this tool set (3 years on batteries) which is 2 years longer than some of the leading competition.
Our crew here at Busted Wallet feels this tool kit is honestly ideal for anyone from the weekend DIY'er to the professional contractor who will beat on these tools day in and day out. I used to build houses for a living and would have loved to have this tool set back in the good old days. Now that I'm more of a DIY type I think this will be a great tool set for anyone to have around the garage or jobsite gang box alike.
What's Included:
Circular Saw
Impact Driver
Hammer Drill
Angle Grinder
Sawzall
LED Light
(2) M18 RED LITHIUM Batteries
Battery Charger
(2) Milwaukee Tool Bags
Fuel M18 Brushless 6-Tool Combo Kit Review Breakdown
Grinder:
The problem with most cordless angle grinders is that they are not so great at grinding masonry but fine at cutting metal. While testing Milwaukee's new cordless brushless angle grinder it cut through 3/4″ metal conduit no problem and #4 rebar without issue utilizing a metal cutting wheel no problem as expected. How can this benefit the everyday man? Well, let's say someone who you thought was your nice lady friend moves and locks away your precious collection of mint condition 1950-1989 baseball cards. Well, this handy dandy grinder will melt right through that padlock with ease and no need for electrical cords. Boom, nice try lady!  Now put a masonry grinding wheel on this bad boy and watch it power through brick and block without hardly slowing down. This grinder is seriously impressive and as powerful as any corded grinder I've used. The grinder comes with 2 different arbors for either cutting or grinding which is nice. The grinder comes with either a trigger or a paddle switch. The grinder I tested came with a paddle switch. The paddle switch has an easy to use safety on the paddle.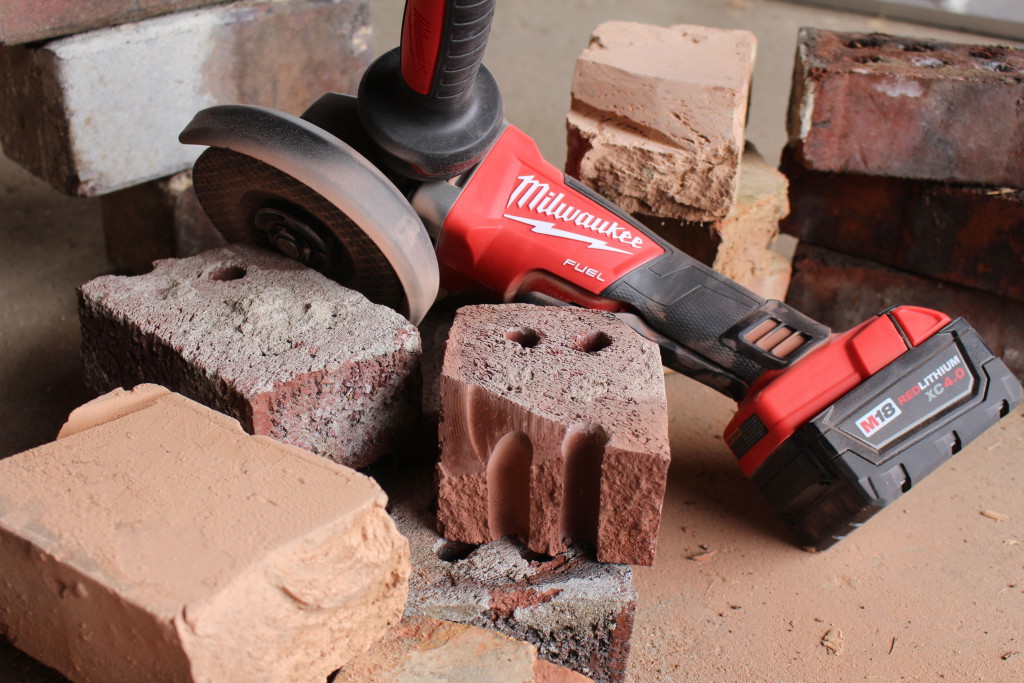 Sawzall: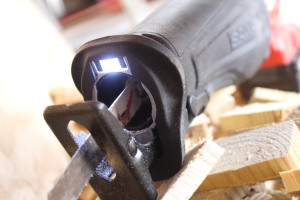 The Sawzall, appropriately named as it simply sawz…all. This tool is what made Milwaukee what it is today. Every other brand that makes this tool calls it a reciprocating saw but not Milwaukee. This tool is made for destruction. 2×4's full of nails this thing shreds through just like it's corded predecessor and that's how it operates. This Brushless Sawzall has every bit of the power of the corded 15 amp Super Sawzall. A convenient upgrade over previous model's somewhat awkward blade twist lock is the easy latch on the side to switch out the blades. Another nice upgrade is the LED light illuminating your project as well as the built-in rafter hanger.  Finally, there is a safety feature near the thumb position that is a simple toggle lock/unlock to prevent any accidental sawzall-ing.
Circular Saw: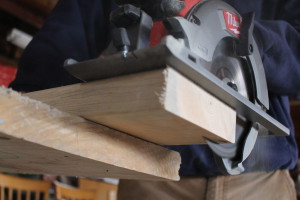 I'll be honest the last time I used a cordless circ saw I would have been better off using a hand saw.  Sooooo needless to say I was skeptical about this saw and was eager to run it through it's paces. All I can say is Wow! First off, the version I tested was the 6-1/2″ circular saw which would be great for any home owner. For the everyday contractor this saw also comes in a traditional full size 7-1/4″ size as well. The weight of the Milwaukee saw itself is noticeably lighter than my traditional corded circ saw which is great when you are in those awkward positions like up on a roof cutting roof sheathing or in a tight spot up in the rafters. The saw also has an integral hook that enables you to hang the saw on rafters or whatever else may be around you which is awfully handy. The Milwaukee saw is also right handed which is a feature usually reserved for higher end saws which is awesome. Another great feature is the LED light on the saw. You don't know how many times I've been trying to finish a project outside at dusk or in a dimly lit room and trying to make a cut by flashlight. Well, no more! The handle of the saw is comfortable and has a safety switch conveniently near the your thumb which also activates the LED light.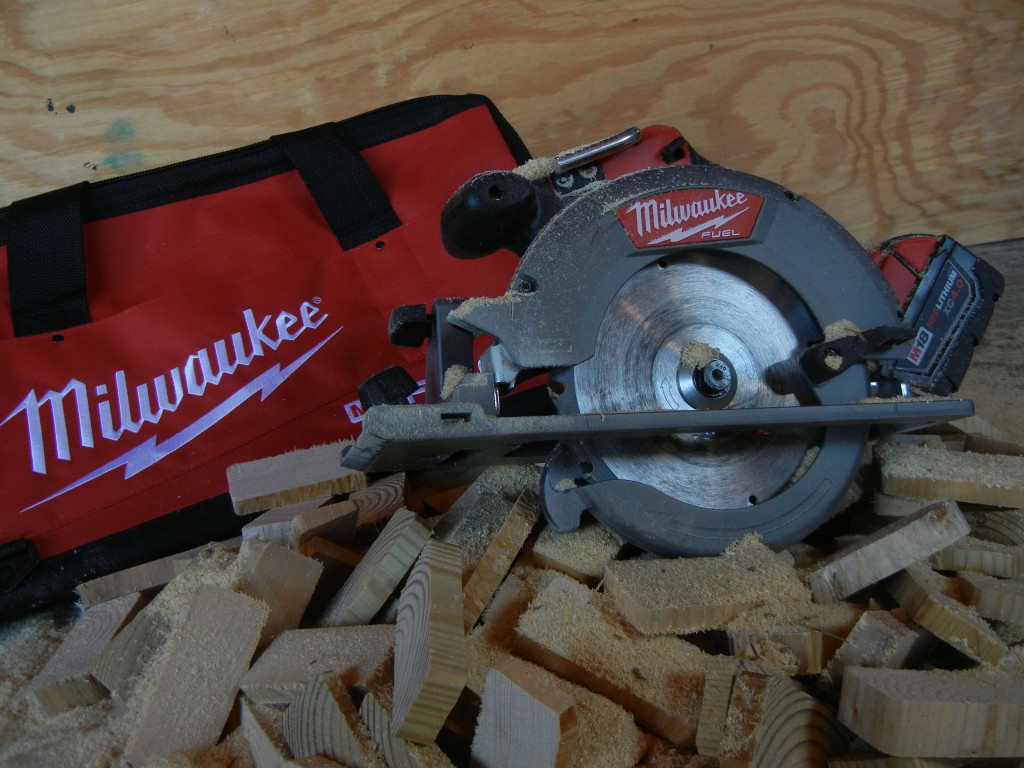 To test the motor strength of the saw I cut through 1/2″ OSB as well as plywood with no issue. Next, I tried a typical No. 2 2×4 and then a 2×6. I took it slow the first few cuts of the 2×4 and the saw ate up the wood so I decided to crank up the heat and push it hard through the cut. The saw did bog down a little but did not stall out which is what I was waiting for it to do. The real test came when I cut solid piece of 1&1/2″ thick Maple butcher block and the saw bogged down a little but did not stall out. I was curious so I decided to directly compare how my Dewalt corded circ saw handled the butcher block. It actually bogged down much more to the point of almost stalling out. So I can say that this Milwaukee cordless brushless circ saw is a great heavy duty grade saw and I am sold!
Impact Driver: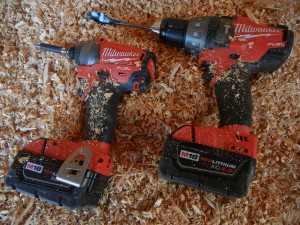 Right off the bat the impact driver feels like it was made for your hand. It's so light you wouldn't think this driver could deliver a lot of power but it's plenty strong for any task. I drove a 1/4″ x 2″ lag bolt without issue into a 4×4 which is one of the tougher tasks you can throw at this tool so I believe any fastener you need driven this impact driver will handle with ease. Besides the comfortable grip and light weight the impact driver has a handy LED light shining right where you need it and a hook which you can swap between the two drivers so you can conveniently hang the driver on your tool belt. A really nice feature of the driver is it has three modes of drive control so you can hone in the exact power and speed you need to accomplish the task at hand. This is a proprietary feature you can only find with a Milwaukee impact driver. Milwaukee also sells the impact driver and drill driver as a set. If you cannot afford the full 6 tool set I would highly recommend purchasing just this drill/driver combo set.
Drill Driver:
Much like the impact driver the drill driver feels very comfortable in your hands. This driver is heavier but that is a trade-off for an extremely powerful drill. It has 2 speed settings and 24 clutch settings. Like the impact driver, the drill driver also has the same LED light. A nice feature about the LED light is that it stays on roughly 10 seconds after releasing the trigger of the drill so you can still see what you're aiming at even if the drill isn't engaged. Everything I threw at this drill it handled easily. 1-1/2″ auger bits chewed up wood.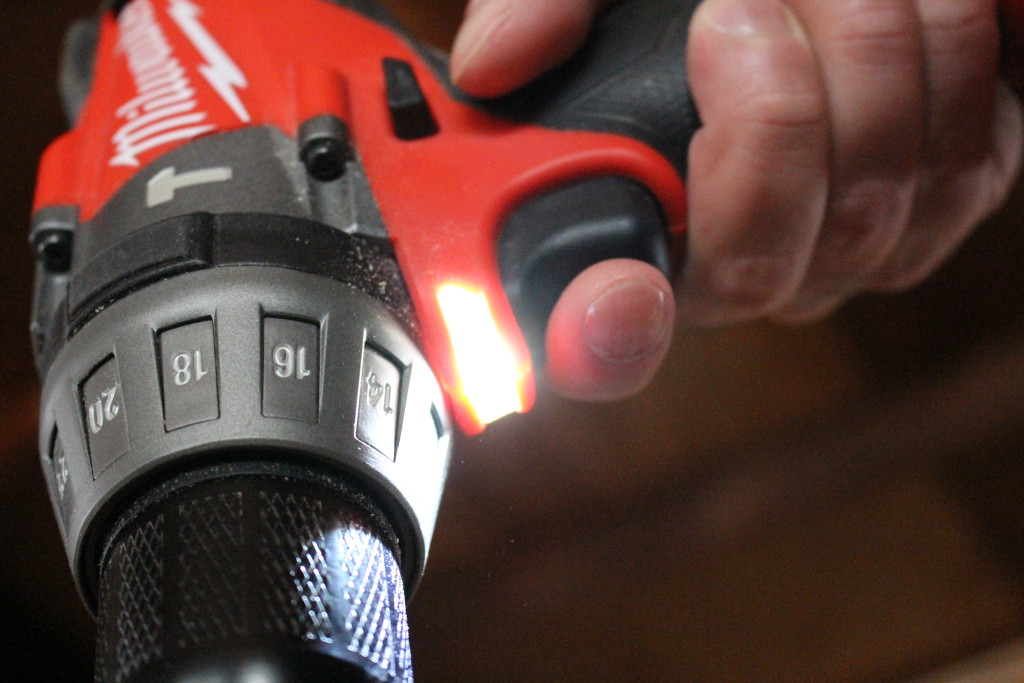 Using the hammer drill feature with a 1/2″ masonry bit made holes in concrete just like my old trusty Milwaukee 1/2″ corded hammer drill. I was even able to drill a 3″ hole into a 2×6 with a hole saw without issue. The drill also comes with a handy handle attachment for those jobs you need two hands to really bear down on the drill. Needless to say this drill will handle any task you can throw at it.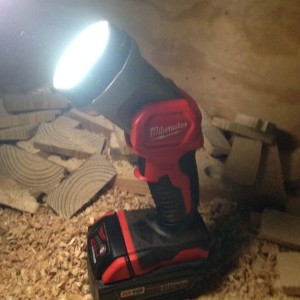 LED Work Light:
The LED work light accompanies this tool kit quite well. This light is plenty bright and very helpful as it can be stoodup on it's battery base and is flexible with several adjustable angles you can position the light. So from changing the oil under your truck to telling scary ghost stories with your kids this light will handle any situation. Just don't look directly into the light…it stings the eyes.
M18 Red Lithium XC 4.0 Battery Life:
How much wood could a wood chuck chuck if a wood chuck ran on a Milwaukee M18 Red Lithium XC 4.0 battery? What good are your tools if you're sitting at the toolbench waiting for batteries to charge? Good thing I chucked a bunch of wood with the Milwaukee M18 Red Lithium XC 4.0 battery and I'll answer these burning questions right…wait for it…now!
First off, let me say that the battery life indicator on the batteries themselves is a really nice improvement over previous models I've used. Having four indicator lights gives you a much better idea of how much life you actually have left.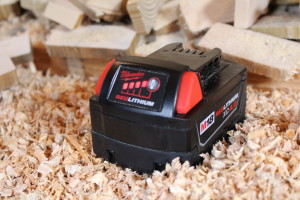 Test conditions were in my unheated garage and the temperature at test time was roughly 23-25 degrees outside. I tested with the Hammer Drill Driver by putting a 1″ self tapping spade bit in the chuck with a fully charged battery and went to town. I drilled into construction grade 2×4's on the higher speed setting drilling 12 holes at a time rapid fire then giving the drill and my hand a 2-3 minute break. I was able to drill an impressive 115 1″ holes on a single battery charge. I wanted to check consistency so I took another fully charged battery and drilled 113 1″ holes on a charge so I'd say the battery charges are consistent.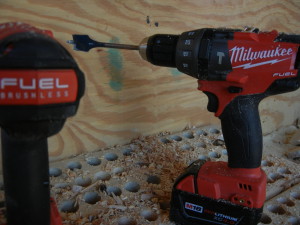 For the final test of battery life I took a fully charged battery and hooked it up to the circular saw with a 24 tooth blade to see how many cuts I could make through a 2×4. For this test I would make about 20 cuts and give the saw a 2-3 minute break. The saw was able to make a surprising 163 cuts. I would say that type of battery life would definitely make it through any DIY'er / weekend warrior's day as well as a professional carpenter's average work day.
Charge Time: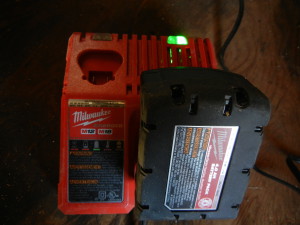 I'll say one thing I enjoyed about the charger is the simple red light / green light system for charging and charged notification. How brilliant! You can also charge Milwaukee's 12 volt batteries which is nice. In some other battery charging systems I've used it seems like you need to decipher morse code to tell what the charger is telling you about the battery. To test the charge time I timed the batteries twice from a flat dead condition. The first time came in at 1 hour 28 minutes and the second came in at 1 hour 32 minutes. If you are pushing these tools hard like I was you will be waiting for batteries to charge for a bit assuming you're using a 2 battery rotation. Under normal use conditions you shouldn't have to wait at all for charging. I was honestly hoping it would be closer to an hour even but considering the lengthy battery life I'm not disappointed.
Value:
The Milwaukee Fuel M18 brushless 6-tool combo kit retails for $999.99. Is it worth it? The Busted Wallet crew thinks that for the power, battery life, and overall tool longevity it's definitely worth the money. You can find cheaper less heavy duty cordless tool sets than this but if you can afford it we would highly recommend this tool set.
Buy Now: $999.99 or to learn more, go to: MilwaukeeTool.com
Milwaukee Fuel M18 6-Tool Kit - Tool Review
Overall power on this tool set is on par with traditional corded tools. Battery life is the best I've seen and with the new brushless motor Milwaukee promises much longer overall tool life. A great set off tools anyone would be proud to own.
Pros
Power and torque
5 year warranty
Battery life
Cons
Charge time a little long
Higher end of price range