SideTrak has made it their mission to create high quality, portable monitors for those looking to increase productivity and mobility. The current work space is changing. In fact, it's been changing for some time now. Between pandemics and the flexibility to work remote (from anywhere), we are seeing a change in how and where we work. Having the ability to easily expand your productivity to multiple screens with ease, while staying lightweight, compact, and mobile has proven to be a valuable feature in the SideTrak monitors. It has definitely helped me stay productive while traveling and being away from the office.
Key Features: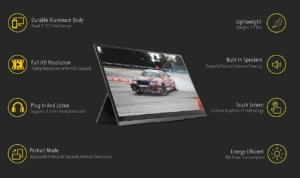 15.6″ Full HD LED IPS monitor
HDR Mode
Mini HDMI & USB-A or USB-C
1.9lbs
Touchscreen (10 Point touch G+FF technology)
Adjustable settings (brightness, volume, display settings, orientation)
Compatible with: Mac, PC, Chrome, PS4, Xbox, & Raspberry Pi
Design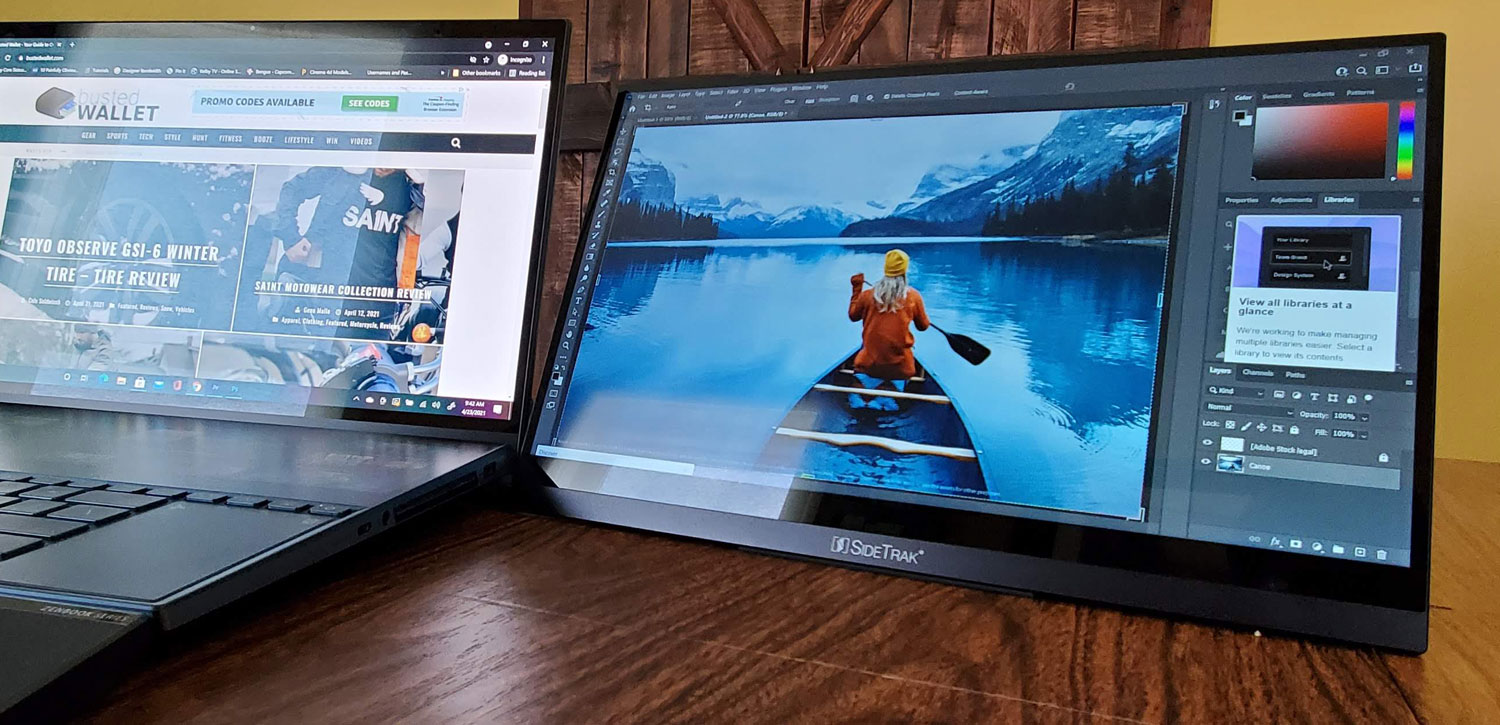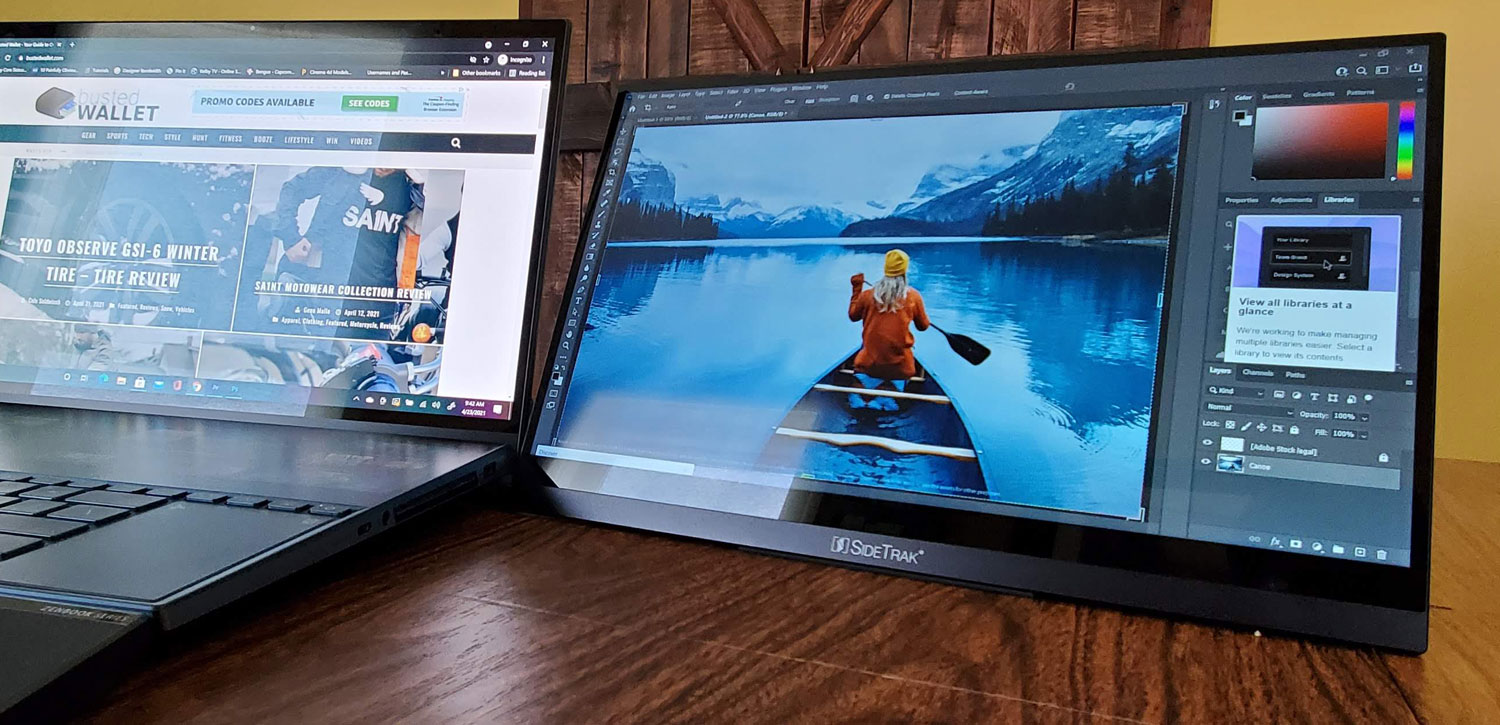 The full HD LED 15.6″ monitor is entirely touchscreen. While it is not a 4k display, the quality of the display is crisp with its LED IPS technology. The HDR Mode is great when watching movies and the low latency makes gaming enjoyable and easy on the eyes. The slim and lightweight design makes portability a breeze. Coming in at only 1.9lbs with a profile of 0.16″, packing, traveling, and setting up the SideTrak is super easy.


Setup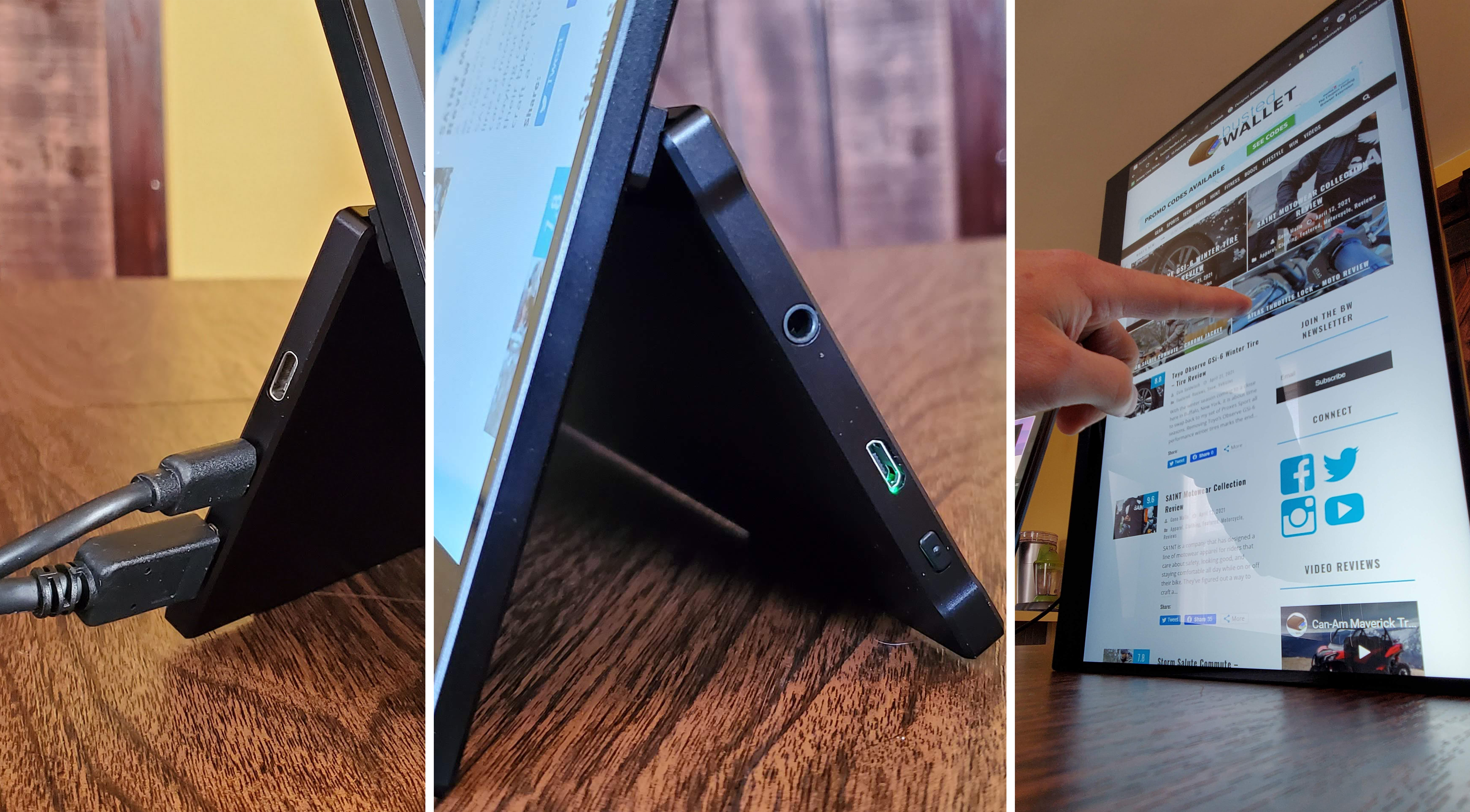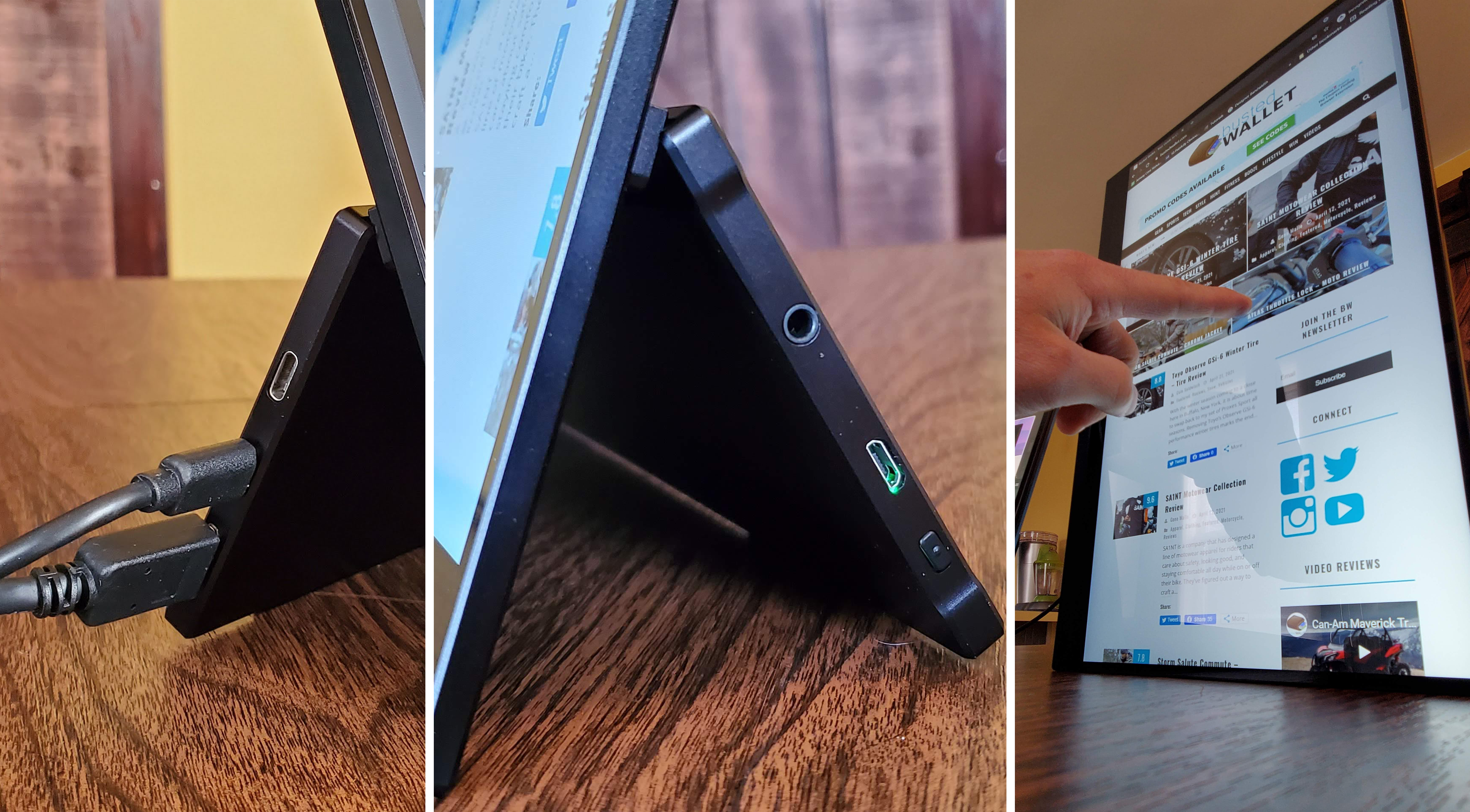 Setup is a breeze. If your computer has a USB-C port (and is powerful enough to run it) then you just need the one cord. While my Asus Zenbook Pro Duo had a USB-C port available (and is plenty powerful enough to run it), the monitor kept shutting off each time I tried to increase the brightness. Slightly disappointing, however, the workaround for this is attaching the other two supplied cords (HDMI and USB-A). With these two cords, I was able to crank the display settings all the way up. Once everything is plugged in and running, your computer should automatically download and install a driver to properly run the display. From there, it's just a matter of adjusting any settings to best suit your workspace.
Functionality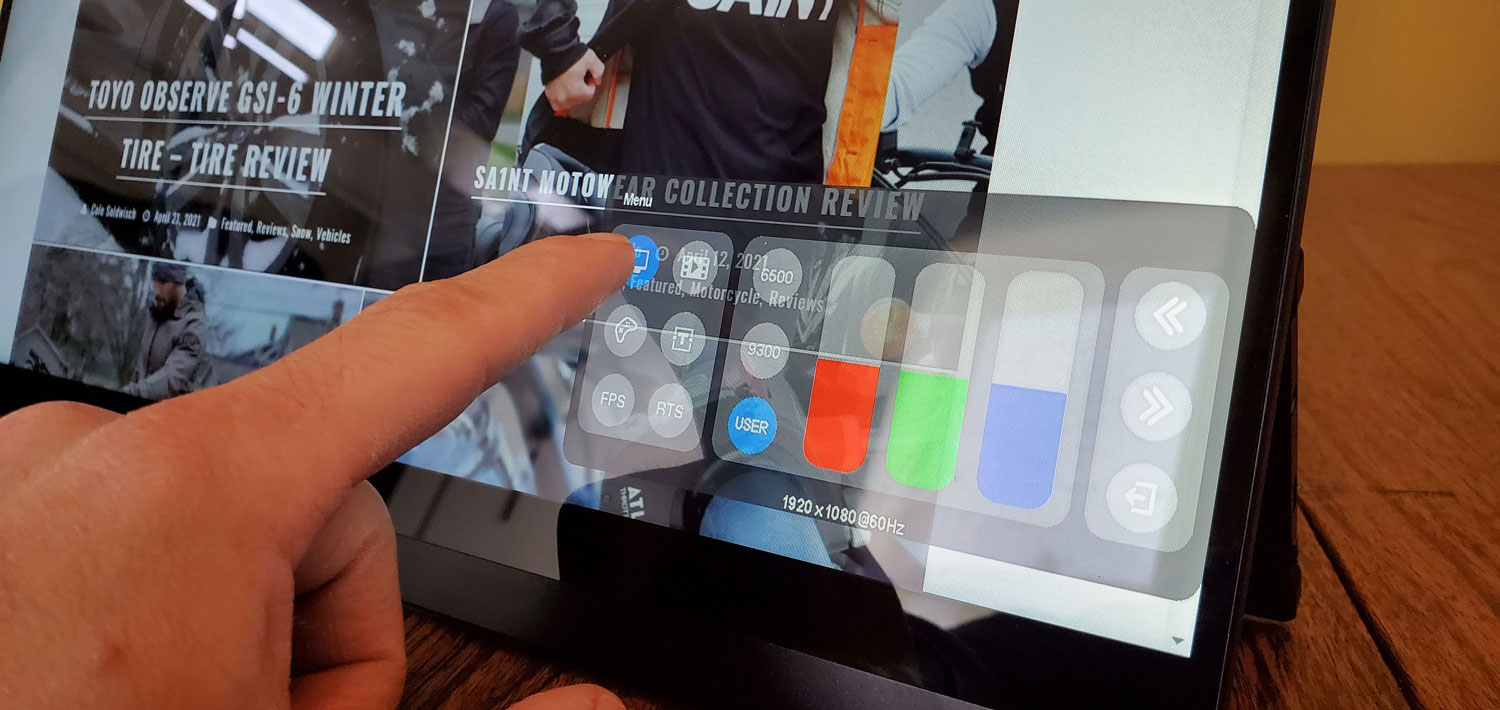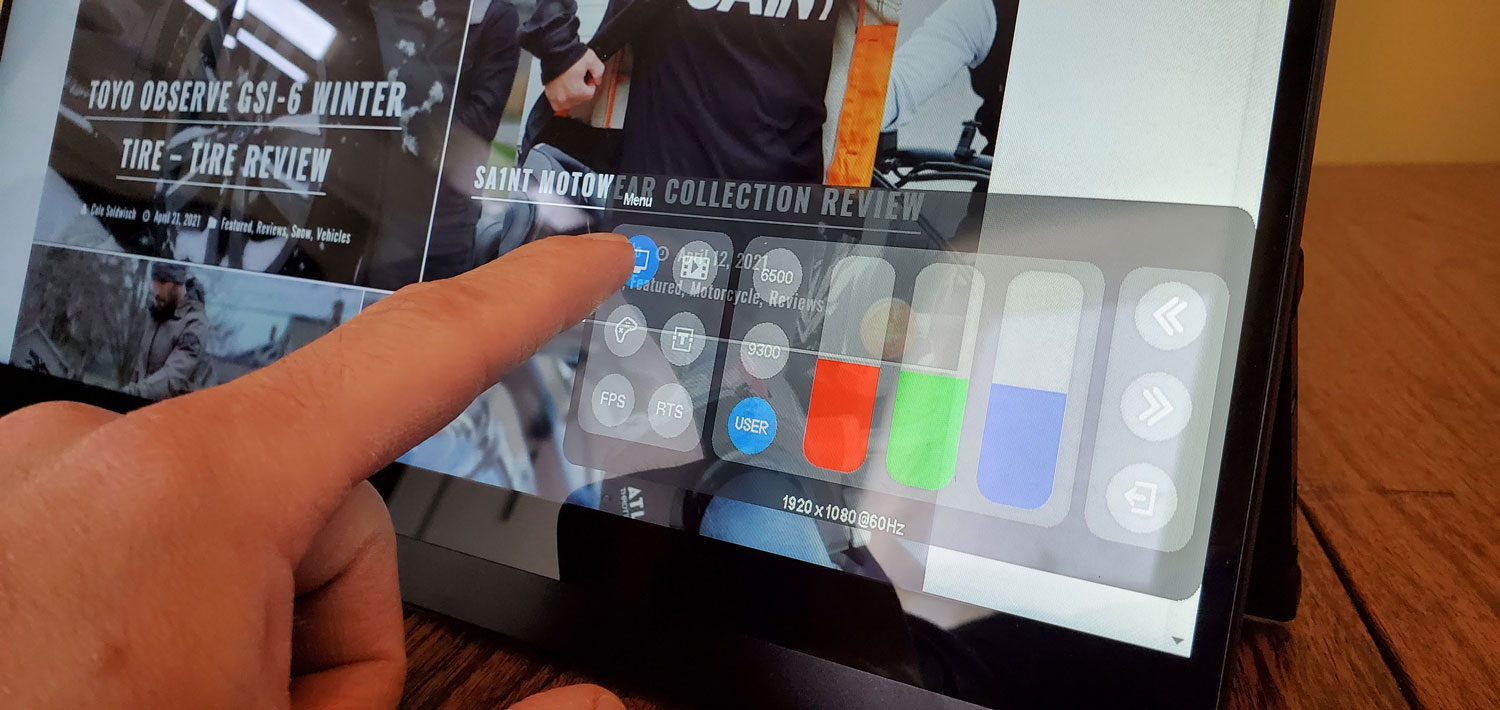 The touchscreen monitor has adjustable settings so you can easily modify the brightness, contrast, volume, display settings, and even the orientation (vertical/horizontal). There's also a few pre-programed settings that you can utilize that automatically adjust the contrast, color, and brightness. Access everything by clicking the menu button on the side, then adjust each setting via the touch screen.
As far as compatibility goes, I tested this touchscreen monitor using an Asus Zenbook Pro Duo running Windows 10. Sidetrak claims this monitor also works with Chrome, PS4, Xbox, Raspberry Pi, and Mac. However, the touch capabilities are not compatible with Mac OS or phones. While I'm mostly a Mac OS user, I have a pc just for these scenarios (since apple never likes to play nice with other hardware). So if the touch capabilities are important to you, and you have a Mac, you're out of luck. But it still makes for a great portable monitor.
Value
While I would have liked to have seen a 4k display from this touchscreen monitor, the full HD was sufficient enough for my needs. Especially when you factor in the touch capabilities. Overall, the $349.99 price tag is a little high, however, between the display size, portability, and functionality, you definitely get your money's worth.
Buy Now: $349.99 or to learn more, check out: www.sidetrak.com
Solo Touchscreen Portable Monitor - Tech Review
The Solo Touchscreen Freestanding Portable Monitor... it's all in the name and it gets the job done. Super portable, touchable, and usable for web browsing, movie watching, photoshopping, and gaming.
The Good
Portability
Touchscreen
Built-in speakers
The Not So Good
No touchscreen capabilities on Mac OS
USB-C is touchy depending on your computer