When you the make the switch from renting a home to buying a home, the first thing you will notice is how much work is in store for you. It does not matter if you bought new or a fixer-upper. Every house requires work and maintenance. Since it is impractical to hire a handyman for everything, its time you upgrade your tools, watch some how-to YouTube videos and get to work! We have put together a special guide for first time home owners that lays out some tools that will make your life easier as you get to work. Many of our Busted Wallet staff have taken on house projects in the last few years.
These are some tools from our good friends at RIDGID and Craftsman that we thought were helpful in our work. For this tool guide, we ignore the obvious selections such as screwdrivers or tape measures and focus on tools to bring your handyman skills to the next level. Read on for the full breakdown!
Tools for the First-Time Home Buyer Breakdown
What's included: Hammer Drill, Impact Driver, Circular Saw, Reciprocating Saw, and LED Flashlight.
Why you need it: The RIDGID GEN5X combo kit is just what you need to get started on your home projects and luckily for you it all comes in one great kit. The batteries are interchangeable so you don't have different types of batteries that require their own charger.
The Hammer drill features GEN5X Motor Technology and can produce 780 in-lbs of torque for demanding drilling and driving applications. The drill is designed for drilling into stone, concrete, brick or mortar. Depending on your home type, a hammer drill is great to have around because of its ability to drill through the toughest of materials. The drill also features a Micro Clutch that is designed to give pin-point accuracy with over 100 torque settings. You can also easily transition between hammer, driving and drilling without changing the micro-clutch setting which allows you easily find the right mode for your drill project.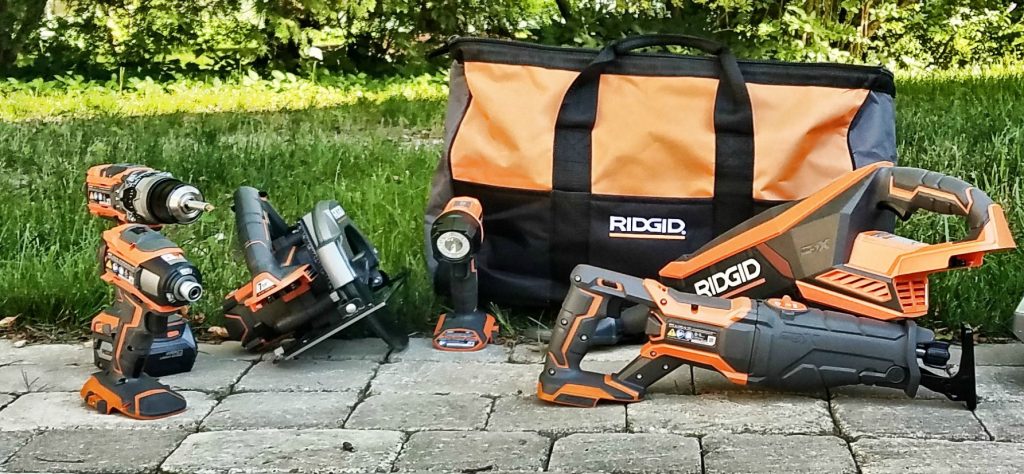 The Impact Driver also features the same GEN5X Motor Technology as the hammer drill and will drive fasteners easily with an open frame motor that gives up to 2,000 in-lbs of high torque output. The Driver has a 3-speed setting system that gives adjustable power and speed for any job. Impact drivers uses both bit rotation and concussive blows to power-drive screws through the thickest, densest woods, making it a good driver to have around. If you want to make sure you get through a tough area, then the impact driver will give you that secure fit that you need.
The Circular Saw is designed to power through the cut every time with a best-in-class open frame motor that should compete with its corded saw counterparts. When you undertake house projects, you are going to have to cut some wood. You can try to be precise by having the lumber yard cut you to size but that takes too long and you will need to make adjustments on the fly. Having a good circular saw around will allow you to cut through most of your lumber needs.
The Reciprocating Saw is going to be your best friend if you have any demolition projects on the horizon. The saw delivers optimal cutting speed with 1-1/8″ stroke length at 3,000 strokes per minute and provides orbital cutting for wood demolition and non-orbital for metal-cutting. It features an open shoe design that will give you better visibility when performing your cuts.
The LED Flashlight is touted as to never need a bulb change and will give you over 40 hours of battery life before you need to recharge the battery. The flashlight is very bright and provides good illumination on those dark areas. A handy flashlight is always a good friend to have in your tool bag.
Value: $399 RIDGID's tools match up evenly with all competitors out there and deliver optimal performance. As you get started on your home improvement projects you need some good tools to get you started. For under $400 you get a very nice set that will last a long time and features a life time warranty. RIDGID produces some great tools that last a long time and don't break the bank. This kit will get you looking like a professional in no time!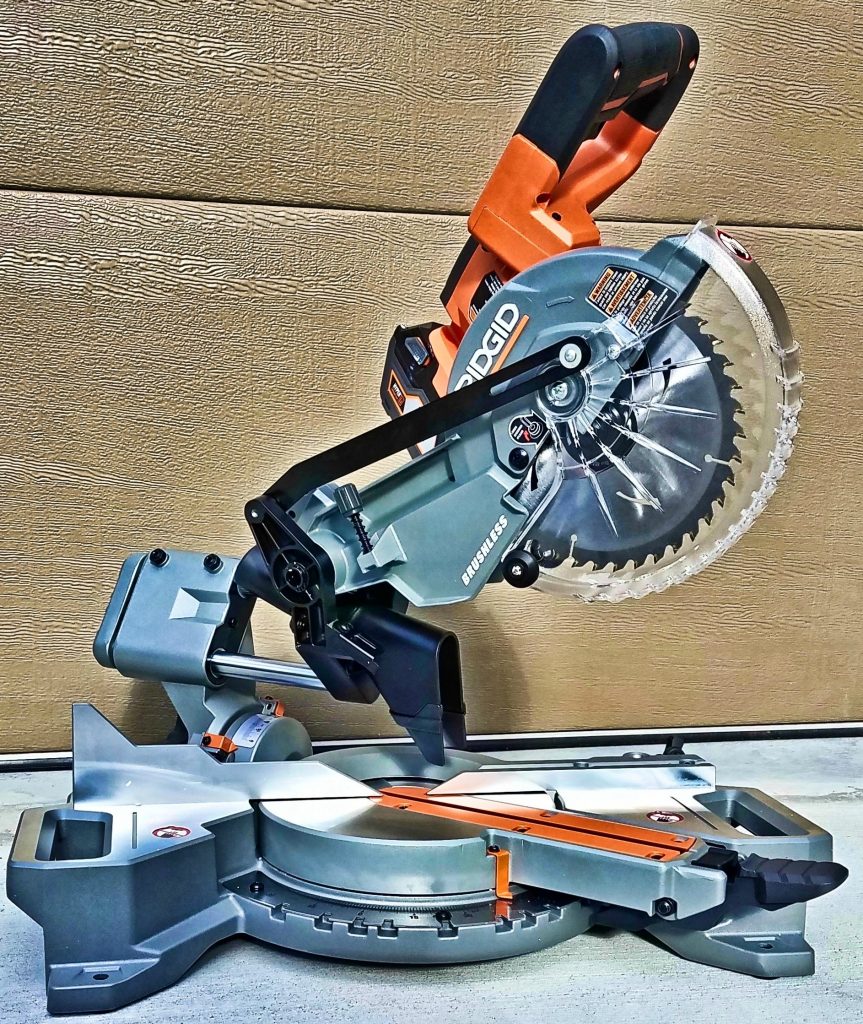 What's included: Miter Saw, 5 Ah lithium-ion battery, GEN5X charger.
Why you need it: Do you need a reason other than this thing is awesome?!? This saw features excellent power portability, while being battery operated. Carry the saw anywhere you need to make a cut without the hassle of a cord or an electrical outlet.  The saw features an LED lighting system casts the shadow of the blade onto the work piece to increase cut line visibility, resulting in greater cut accuracy. The brushless motor fosters extended run time and a longer tool life. A 5 Ah lithium-ion battery is included with this kit for maximum run time.
The ergonomic lightweight design has the saw only weighing 24 lbs. for portability. Also, for being battery operated it offers 2 times more cuts per charge than competing models. It also has enough power to get through the toughest of lumber. The RIDGID saw also has a dual bevel design with positive stops allows moving the saw head instead of the material. The saw contains miter detents and bevel positive stops for quick adjustment to most common angles. Finally, it features a built-in dust collection port works with common 1-1/4 in. wet/dry vacuum adapters to keep your work space nice and clean.
Value: $399. The RIDGID 18-Volt miter saw cut is a must have if you are going to be doing a lot of cuts that require pinpoint precision. If you are undertaking a remodeling project around the house, then this saw needs to be at the top of your purchase list. The saw features all the power you will need for your next project.

What's included: 18 Volt vacuum, Floor Nozzle, Crevice Nozzle, and 2 ft. Extension Tube,
Why you need it: When working around the house or in the garage you are always going to want a wet/dry vac around to keep the work space clean. The GEN5X Brushless 18V Wet/Dry Vacuum is one of the strongest 18V wet/dry hand vacuum in the industry. The Brushless motor delivers maximum run time, power, and an extended motor life. The vacuum shares the same battery as the above RIDGID GEN5X set we discussed which makes it an easy addition the set.  In addition, you get the floor nozzle, crevice nozzle, and 2 ft. extension tube. You will be able to clean up large areas and reach tight spaces with this handy vacuum.  
Value: 79.99.  You must have a wet/dry vacuum around to clean up debris around your work station. Because it is cordless, it is a handy clean up vacuum as well. You can easily clean off your floor mats or a wet area in the basement. With being able to use the same battery as your other RIDGID set, it makes this slick tool have great value in your tool kit.
What's included:6-3/4 in. Slip Joint®, 7 in. Diagonal, 7 in. Linesman, 8 in. Long Nose, 8 in. Long Reach Long Nose, 4 in. Diagonal Cutter, 4 in. End nipper, 4-1/2 in. Long Nose.
Why you need it: If look in your father's tool box you are always going to find a variety of pliers. When purchasing tools most people overlook the importance of a good set of pliers. The purpose of pliers is to take care of gripping, bending, cutting and compressing all kinds of materials. They are used in electrical work, building, plumbing, home repairs, and anything you might need to get a good grip on.
In this Craftsman Set you are getting good quality pliers that offer a little of everything. They feature a long reach long nose for smaller wire gauges in those hard-to-reach areas. The diagonal pliers will cut medium gauge wires, and feature induction hardened cutting edge. The linesman pliers will crimp, cut, twist & pull wires, and also have the induction hardened cutting edge. The slip joint features effective wire cutting edge and easy access into tight areas that let you give you a good cut in those tough spots. The long nose is designed for those smaller wire gauges features induction hardened cutting edge & serrated teeth. Finally, the end nipper cuts closer to surface for more precise cutting.
Value: $54.99. With Craftsman, you are getting the best in the business. This variety pack will be a life saver down the road you as you will end up using all of these at some point. Pliers are a life saver for any project and for this price you can get a top-quality set without having to break the bank.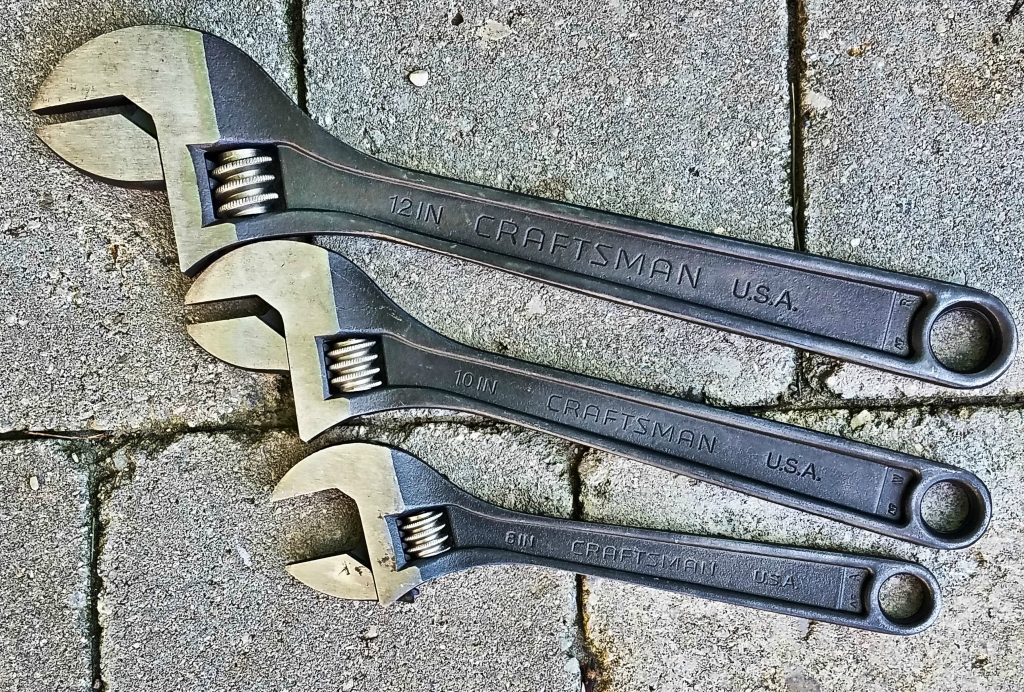 What's included: 6" Adjustable Wrench, 8″ Adjustable Wrench, 10″ Adjustable Wrench
Why you need it: Versatility and Ability. You never know when you are going to need a wrench. If you are buying a new place that means you are getting furniture and it probably needs to be assembled. Having a variety of wrenches gives your toolbox versatility for your home improvements. Wrenches often go overlooked when purchasing tools but you'll be glad you have them when you do. These Craftsman are made with quality forged alloy steel. The steel makes these durable wrenches built to last. They also perform to the toughest conditions you can handle. The wrenches also feature wide beam handles for more comfort and control. They feel great in your hands: strong enough for when you need some torque, but light and balanced when you need precision.
Value: $29.99. Having a good set of wrenches around is always worth their cost. While it may seem pricey to pay $10 per wrench up front, but these will last forever and you will find yourself using them often. If you ever assembled some furniture and used the factory provided tools, you will definitely appreciate having a versatile wrench in the tool box.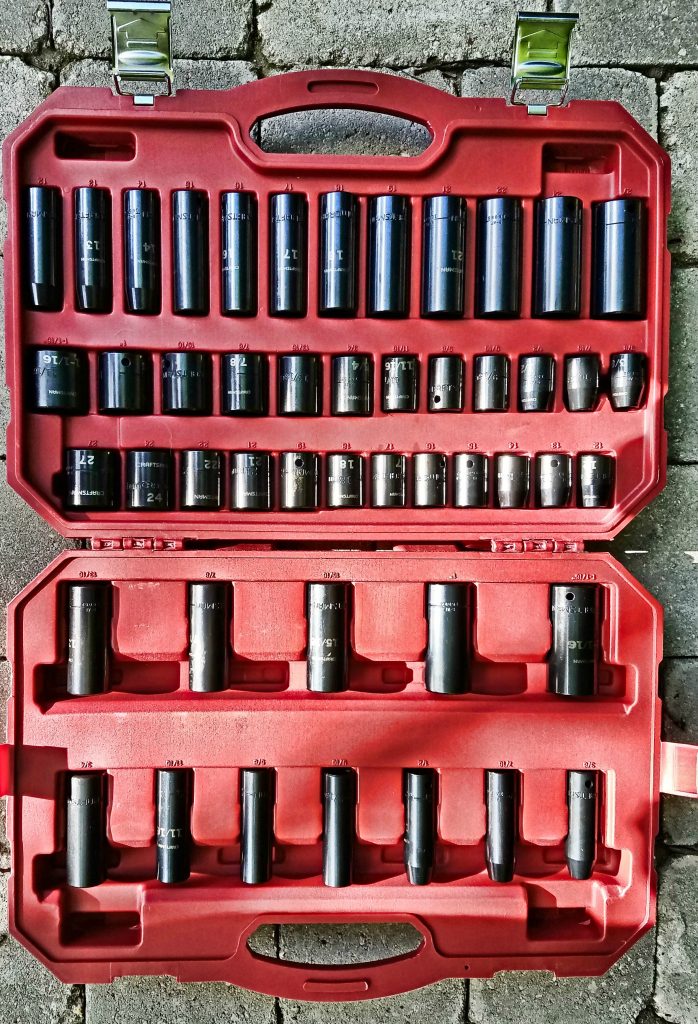 What's included: 48 Standard and Metric sizes (1/2 in. drive)
Why you need it: A socket set like this may be a luxury addition when rounding out your tool kit. However, we have found great use for our Craftsman set. In addition to be great fasteners for bolts, which we used for a recently built farmhouse table. We recently used the impact set to install a TV mount on the wall to ensure a secure fit. In addition, you can use them on car repair, snow blower, lawn mower,etc. Simply put, they are versatile and any time you are working with bolts, they are nice to have.
Value: 149.99  This is a great price for a set like this. If you are going to get a socket set, you want to get a good high-quality set.  These Craftsman impact sockets are going to last you for awhile. The industrial grade black oxide finish provides added durability and prevents corrosion. The set also features laser etched size markings for quick identification. It also includes 6pt Impacts Sockets in Standard and Deep Length. You can probably wait on a socket set, but they are a great addition to have around. Not only will you use them on home projects but they work for your car or your mower. If you are working with bolts that need to be taken off or put on, then you want this set.
As we stated earlier, this is not an exhaustive list of everything you will need when starting your home projects. However, this was a collection tools that we put together based on Busted Wallet homeowner experiences. Please feel free to add your advice or suggestion in the comments section below!