It's that time of year once again, if you haven't already, by now you've got to be itching hardcore to get out of the house and into the wilderness for some long overdue 1-on-1 time with mother nature. As long as you've got yourself a decent pack, a sleeping bag and means to stay hydrated you're good to go right ? Well… yes, and no. You see – every year new and outstanding equipment, apparel and technology that makes camping and trekking lighter, quicker and easier is almost continuously put out to market. To keep up with everything is a full time job, and 2014 is no exception!
That's why this summer we decided to do you all a solid and sift through the garbage and bring you only best of the best when it comes to new and unique products built specifically for camping. While we could have simply slapped together a list of "what's cool" we didn't. Instead we hand picked products we found to be essential and unique – then individually hand-test them all in the field. While it took us nearly 3 months to complete, we're finally finished – so let's get started!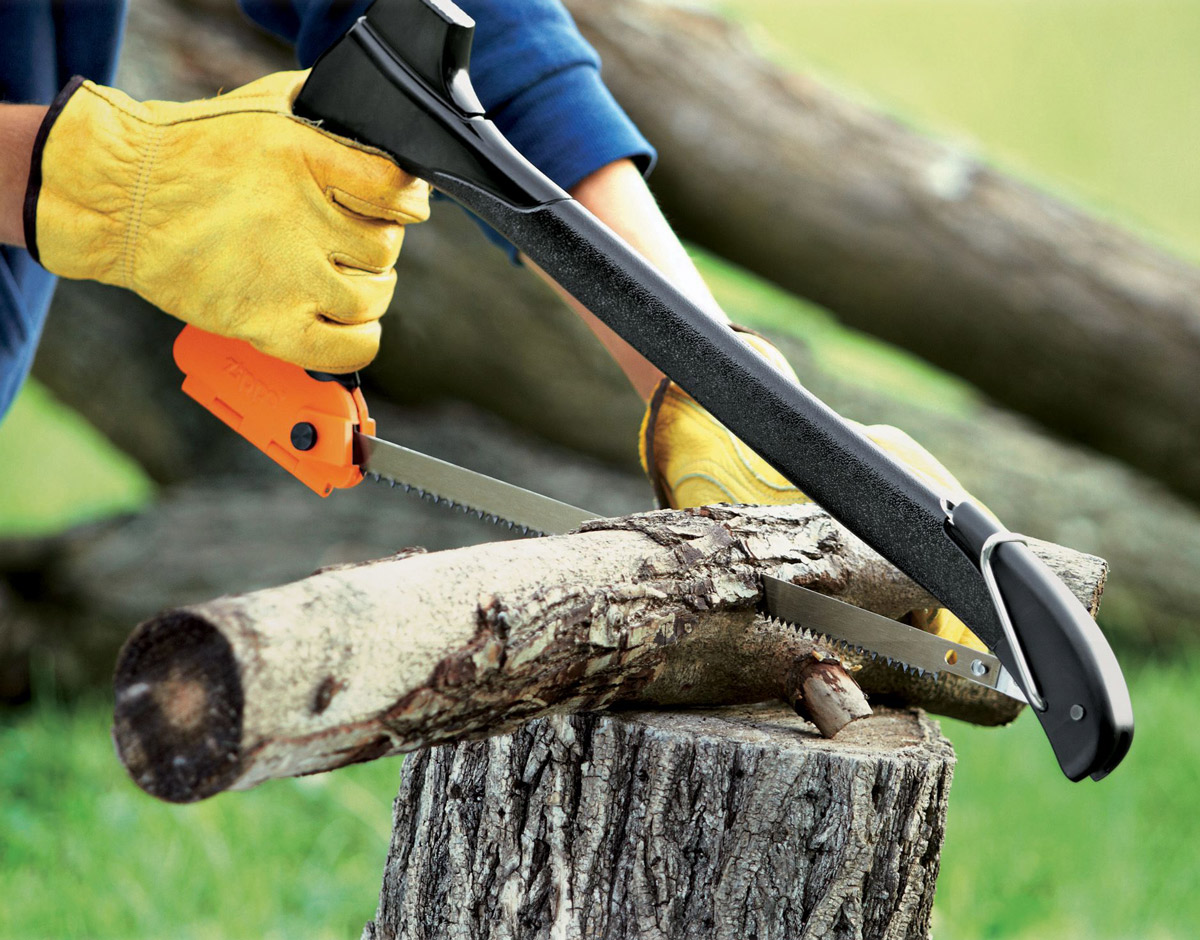 A true transformer in disguise, the 4-in-1 Woodsman from Zippo converts from an traditional hatchet style axe into a bow saw in seconds, helping campers gather wood – minus all the hassle of chopping. And on top of that it has a hammer end and a stake puller. Other brands have attempted the 2-in-1 axe/saw combo in the past, but none of them have been as rock solid at the woodsman.
We were lucky enough to test this bad-boy out in the field and it works like a charm. The saw blade (it comes with 2) is sharp and makes cutting through smaller logs a breeze. While the axe is equally sharp and works nicely for stocking up on kindling. If you camp where finding our own wood is necessary this tool is exactly what your looking for. The handle is nice on both the axe and saw. It comes with plenty of leverage and packs quite well. Overall, we loved the 4-in-1 Woodsman, and you won't catch us out in the woods this summer with out it!
The North Face Terra 50 Technical Pack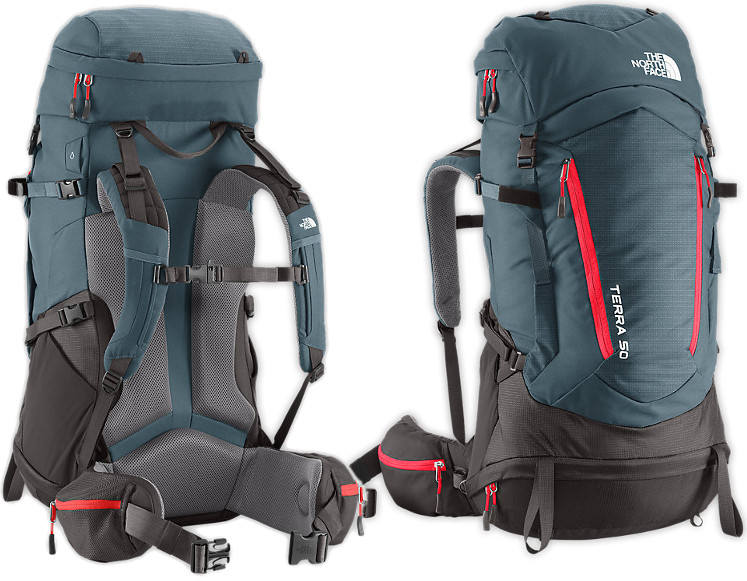 Ideal for 1 to 3 day trips, this 50-liter pack has a new easy access design that's slimmer and lighter for managing larger loads. As well as a variety of well-placed pockets to improve access to trail essentials when you're on the move. The North Face is known for the technical gear and the Terra 50 is a prime example of why their good name continues on year after year.
After testing the Terra 50 on the trails we're happy to report this pack is not only looks great but is also quite functional. We'd recommend it for weekend trips and not much more. It's perfect for long treks and distributes heavy loads evenly to the hips keeping strain off your shoulders. The venting is also pretty great! I'm not going to say your back will stay dry, but it's definatly a nicely designed system to keep the air flowing.
Beyond the vents and suspension, we found the storage system to be well laid out and surprisingly roomy. If you're so inclined you can pack a lot of equipment and gear into this pack. The hip-access pockets work nice as well, perfect for storing smaller items like your GPS or cell phone. If you're a taller hiker (6ft and up) we'd recommend going with the Terra 65, which comes with a built-in Opti-Fit suspension for lengthening or shortening the torso.
Eagles Nest Outfitters DoubleNest Hammock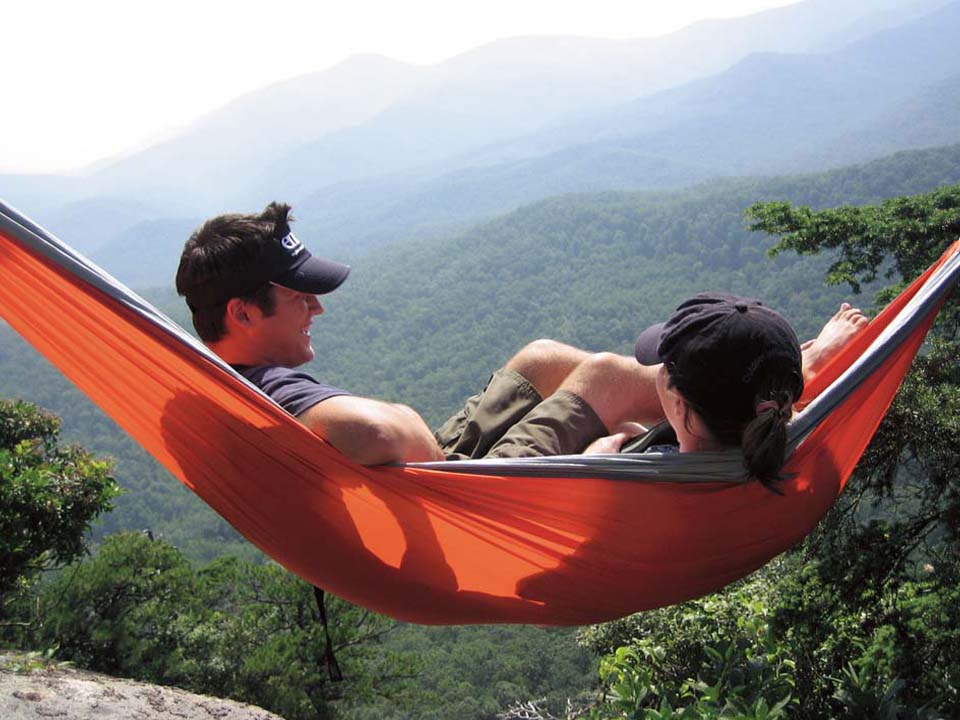 If you're looking to pack ultra-lite, ENO Hammocks are simply one of the best options available. Weighing in at just 20 oz, the DoubleNest is designed to sleep two people with a carrying capacity of 400 lbs. Recently we had an opportunity to put this jumbo hammock to the test ourselves and came away very impressed.
With the DoubleNest you can leave your tent and sleeping mat at home creating more room in your pack for gear, food and essentials. The hammock itself takes up hardly any space in your pack folding  up into the size of a softball. The suspension straps come in a pack not much smaller so the entire setup is very small and pack-able! As far a sleeping in a hammock goes, we love it. Like a baby you can rock yourself to sleep. If you're camping and the threat of rain is something you worry about, ENO sells a rain fly and if the mosquitos are buzzing your tower you can even pick up a bug net. We highly recommend both – better to be safe than sorry.
Overall, this is a great setup for camping with a partner or alone. The hammock keeps you up off the ground away from the critters and has to be one of the more comfortable ways to rest while camping.
Rugged Rukus Bluetooth Speaker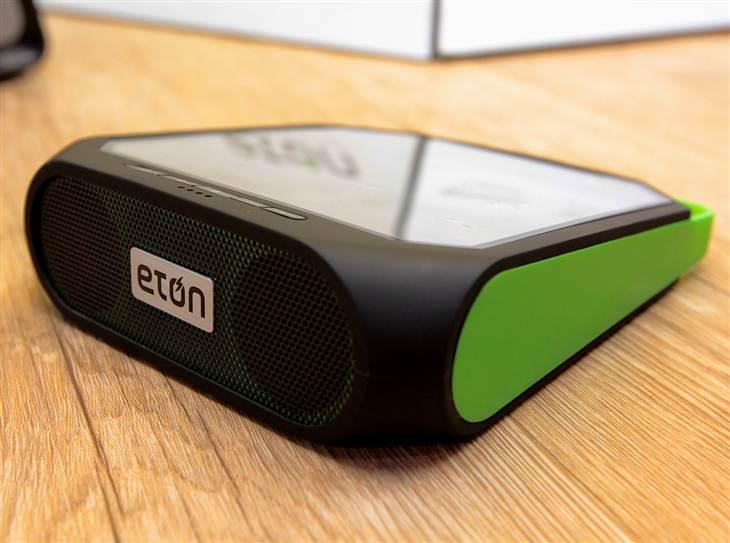 As the name would lead you to believe, the Eton's Rugged Rukus is a wireless speaker built to take a beating! This bluetooth speaker is special in a few ways… first, it's rather small and pack-able, but still large enough to kick out some serious volume. Secondly, it's able to recharge via wall adapter or solar power. And finally, it's able to charge your cell phone, GPS and other devices via USB either from stored power in it's battery pack or through solar power.
Throughout testing we were presently surprised with the sound quality and build quality Eton put into this easy to pack speaker. While is does feel rugged, the solar panel on top is definitely the weakest point. So if you can, keep it protected when possible. I personally really like the open loops on the back corners which make it easy to attach the speaker to any loops or molly on your pack while hiking. I mean, you might as well let it charge while your on your way to camp… right?
Overall, it's a well designed and manufactured device. We found that the Rugged Rukus delivers quality audio in a small package and is fully rechargeable through the power of the sun, which is totally awesome. Not to mention it's splash-proof (water resistant, not submersible). If you're looking for a versatile speaker for the back-country, this is one of the best you'll find.
The original folding Bladelight from SOG has been around for a few years now, but for 2014 they've revamped the design with a new "Camp" version which boasts an upgraded handle, fixed blade and impressive sheath with a handy integrated sharpener and belt clip. Running on 1 AAA battery, the Bladelight is actually impressively bright – casting 30 lumens via 6 LED lights. It's not going replace your headlamp, but works great for night time tasks.
It's always important to have a knife and a flashlight while out on the trails, so why not have both in one? The Bladelight is sturdy, comfortable and after spending just over a month with ours we can attest it's actually very durable as well. Well worth the $92.00 they sell it for online.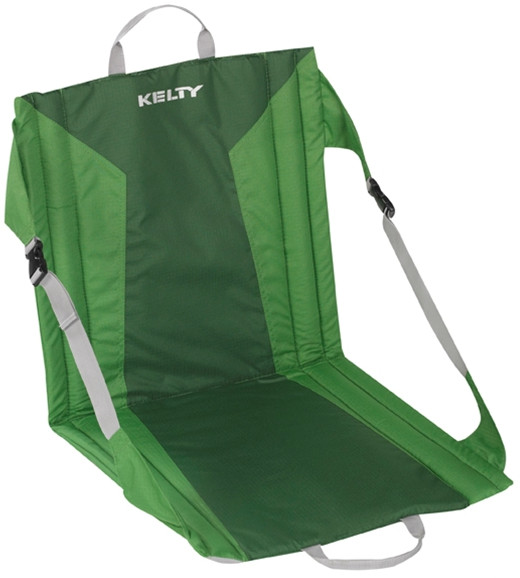 Designed to be light, foldable, portable, and comfortable, Kelty's Camp Chair is a go-everywhere, sit-anywhere essential. Use it at camp, on the beach, at a festival, or wherever a comfy seat is needed.
So, you're trekking in to the woods for a weekend camping session, you definitely want to cut back on the weight, but you also don't need to be sitting on the ground the whole time. One of the very best solutions you can pack is Kelty's Camp Chair. It's light, easy to pack, fully adjustable and as we found out pretty damn comfortable.
For the price you can't really find another solution so easy to pack and simple to use. Best of all you can use it even when you're not camping. It's also great for the bleachers at football and baseball games. And gets our seal of approval for sure.
Magellan eXplorist 710 GPS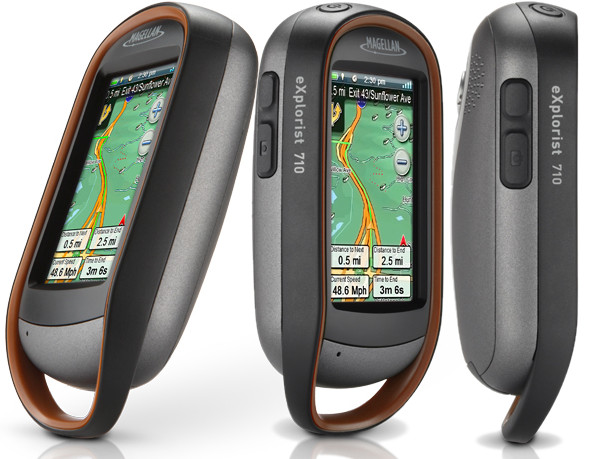 Billed as one of the most advanced consumer handheld GPS units on the market, the eXplorist 710 from Magellan allows you to experience, capture and share all of your outdoor adventures no matter where they might take you. Without going too deep into all the functionalities, lets start with the touch screen. The 710 has a beautiful touch screen that makes for easy navigation of the menus and options. Another great feature is the built-in 3.2 megapixel camera which is capable of still shots and video. Storage is another awesome feature on the 710, because it allow you to store pics, maps etc… directly to the GPS or add a SD card.
The eXplorist 710 is ideal for when treks take you past cell phone towers into places very few people set foot. The maps are detailed, the GPS coordinates are very accurate and the design of the unit itself is ultra rugged – with an IPX7 rating the 710 is fully submersable for up to 30 minutes in up to 1 meter of water.
Overall we absolutly fell in love with the eXplorist 710 from Magellan – the battery life is fantastic, the design is truly rugged and the GPS capabilties are tremendous. If you're looking to break new trails, ascend peaks or just find some near by geocaches – this handheld is among the best we've ever tested and comes highly recommended from our entire staff.
GSI Destination Kitchen Set 24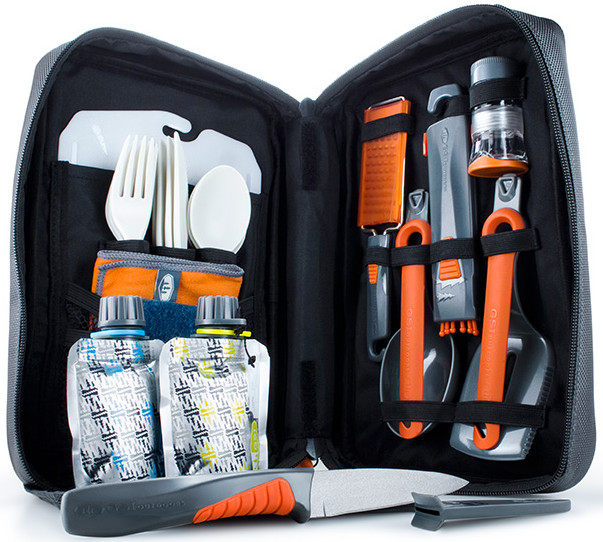 Outfitted with every  utensil  you'd ever need on the trials, the GSI Destination Kitchen Set 24 is likely the only kitchen kit you'll ever need.
Included with the kit, you get: a Mini Cheese Grater, Collapsible Whisk, Pivot Spoon, Pivot Spatula, Utility Knife, 12 pc. Cutlery Set, Spicer, 2 Condiment Containers, Cutting Board, Scrubber, Camp Towel, and of course the Ballistic Nylon Carrying Case.
While this kit might seem like a bit of an overkill for some minimalists, we found it to be a great option for a lot of differing camping scenarios. If you're going ultra-lite route and just need a few spoons and forks you can easily cut out the bulk by leaving the rest at home – but when camping with family and friends is in order this kit delivers everything you need to prepare a gourmet meal for breakfast, lunch and dinner.
Hydro Flask 18oz Insulated Coffee, Tea, and Water Bottle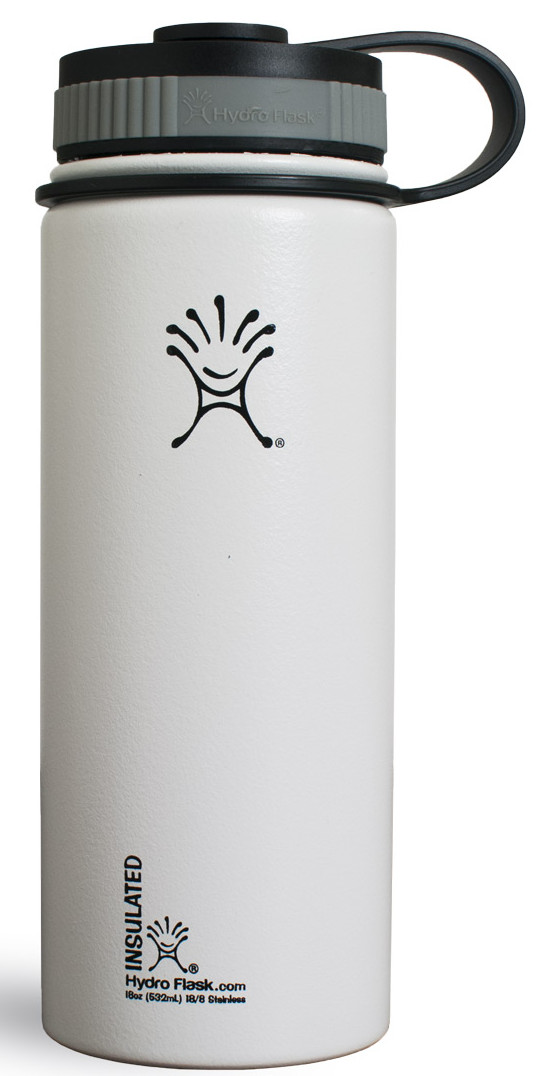 In the northeast, winters can be long and cold. This is especially true when there is a polar vortex sweeping through. Throughout the Winter and Spring our team had the opportunity to test the 18oz Insulated Coffee and Tea Hydro Flask bottle, and see how it would stand up to the polar winds.
The 18 oz thermos we tested felt light, but extremely durable. This was not surprising, seeing as it is made from 18/8 stainless steel (18% chromium, 8% nickel). With the lightness and durability of this bottle, I would gladly welcome it in my pack for cold winter adventures as well as summer treks.
Hydro Flask claims up to 12 hours of keeping your water warm. In isn't often that we have a thermos of hot water and don't use it for up to 12 hours, so we picked a more reasonable time of 4 hours to see how much the temperature of the liquid would drop. During testing the temperature outside was roughly 20°F, with a wind chill of 7°F. We left the Hydro Flask exposed, so it was not covered with any layers. The results simply don't lie… with a base line of 212°F, after 4 hours our testing shows that the Hydroflask kept our tea warm up to 148°F consistently.
We also wanted to test the claim that the Hydro Flask can keep beverages warm for up to 12 hours. We began our test at 7:30pm, and we left the Hydro Flask outside for 4 hours. Then, before going to bed, we brought it inside and left it on the counter overnight. We took a final reading at 8:30a.m. the following morning (we slept in and missed the 12 hour mark). Starting with boiling water, after 13 hours, the water temperature was roughly 105°F. The Hydro Flask passed the test too!
Overall, we are very pleased with the performance of the Hydro Flask. It's durable and lightweight design makes it a great option for the outdoors, and it's ability to keep liquids hot makes it a fantastic thermos.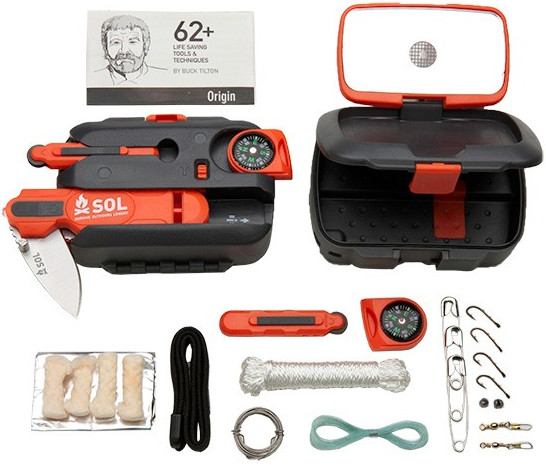 A survival kit that fits in the palm of your hand and has everything you need should your adventure take a turn for the worse. They call it the Origin and it's designed to keep you alive.
The SOL Origin is outfitted with a collection of tools you need to survive, including: Rescue Flash signal mirror, waterproof case, folding lock-blade knife, Ultra-bright LED light, signal whistle, Fire Lite sparker, fire tinder, button compass, 4 close pins, 4 fishing hooks and line, thermal blanket, nylon cord, metal wire, Buck Tilton's 62+ lifesaving tips and techniques.
Hopefully you'll never have a chance to use it, but if things get hectic and you find yourself lost in the middle of nowhere, the SOL Origin is a great tool to have in your pack. Since receiving our demo model, we haven't left for a trip without it!
Kelty Upslope 2.0 Trekking Poles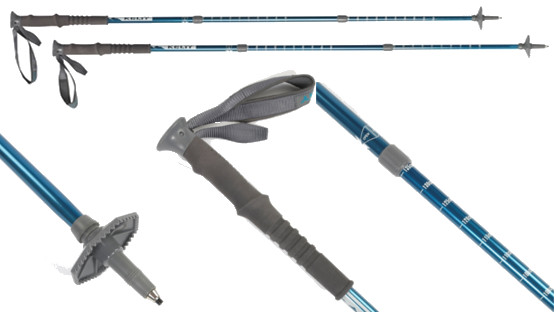 Built to be light, easy to pack and expandable for trekkers of all heights, the 2.0 Upslope Trekking Poles from Kelty are some of the nicest we've ever had an opportunity to fully test.
The poles themselves are very light and have very comfortable hand grips. The built-in wrist leashes are a nice touch as well.
Overall, we found these trekking poles to be a great buy for adventures through aggressive terrain. The build quality is very nice, the grips are ergonomic and comfy – while the poles themselves are easy to attach to your pack.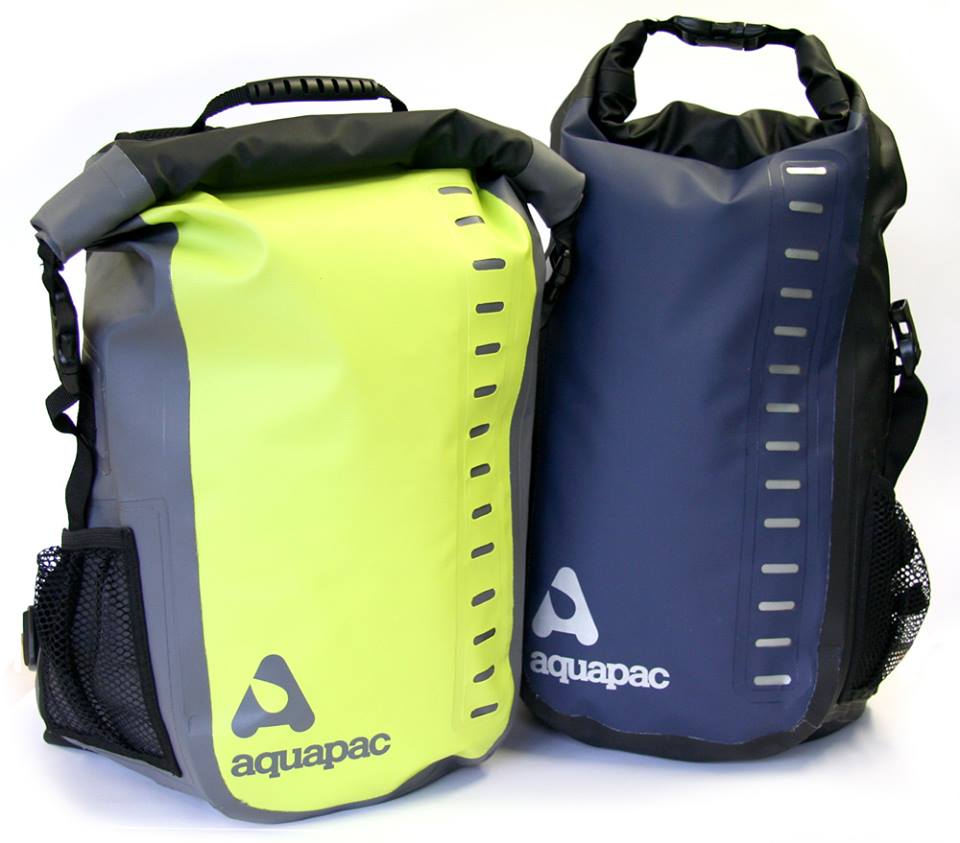 Not your ordinary run-of-the-mill backpack, the Aquapac Toccoa Daysack is a waterproof dry bag designed to keep your camping essentials high and dry no matter where your adventures take you. Built to go wherever you'd like to take it, the Toccoa is essentially an over sized dry bag with a shoulder harness system. Great for kayak and canoe trips, this pack is more comfortable than it looks and at 28L, is big enough to haul quite a bit of equipment and gear. Currently it's our go-to kayaking pack, but could see good use for it as a day pack on short excursions in inclement weather as well. The shoulder harness system makes it pretty functional – I think we'll be getting a lot more use out of it as the summer goes on.
Ultralight / Watertight .5 First Aid Kit
Every time you hit the trails, even if it's for the afternoon, please do yourself a favor and pack your self a medical kit. Even if it's just an ace bandage and some band-aids – you never know when something could ruin your camping experience. I used to make my own kits, but would never keep them stocked, and time after time would never have exactly what I need for the job. What Adventure Medical Kits has done here is put together a comprehensive first aid kit designed specifically for hiking, kayaking, backpacking, mountian biking and climbing.
The entire package is small, waterproof, easy to pack and comes with everything you'd need to keep safe on the trails. Of all the product we were able to review this could be the most useful, but hopefully you'll never have a need to use it!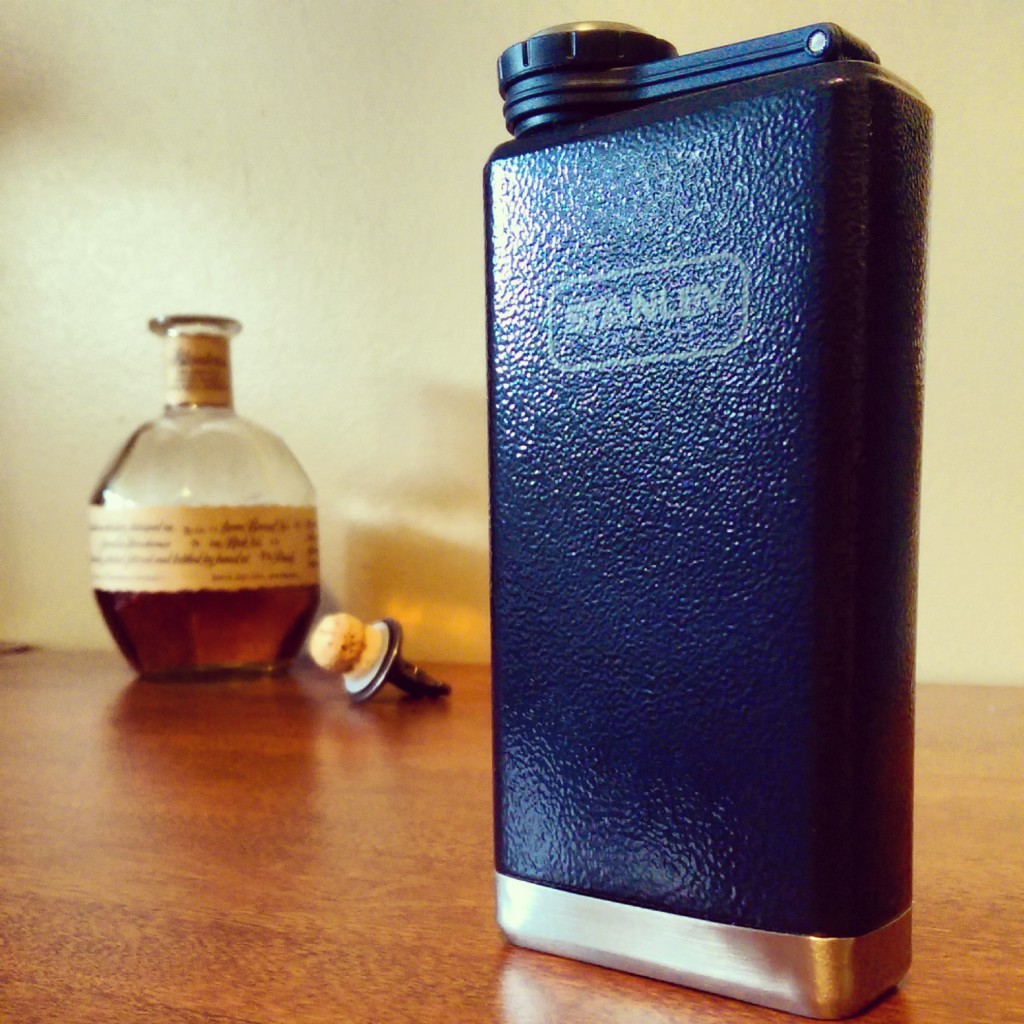 The STANLEY name is synonymous with beverages, specifically thermoses. In recent history the brand has branched out and now offers a whole slew of products built around keeping beverages cool or hot for extended periods of time. The one product that doesn't focus on insulation so much is their new SS Flask.
Designed to keep your booze safe, the SS Flask is built tough with 18/8 stainless steel that won't rust. While it's likely not an "essential" for camping, it's easy to pack and holds 8 oz. of the good stuff so that you can reward yourself at the base camp, the summit, or anywhere in between.
The SS Flask wasn't hard to test. It just had to meet a few criteria before we gave it our final stamp of approval. First, does it hold liquid without leaking? CHECK! Next, can you pack it easily? CHECK! Finally, is it easy to open and drink? Double CHECK! Overall, you can't find a more rugged flask. Pack two and have yourself a party!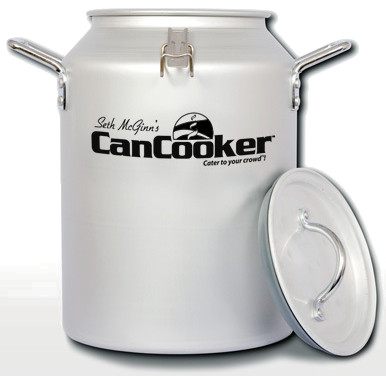 The CanCooker is by far the easiest way to cook up heaping serving of food for lots of people. Essentially the CanCooker is an over-sized pressure cooker. The idea behind it? To cook a lot of food without a lot of work!
How she works… before adding any ingredients to the can give it is a fresh coat of non-stick spray, and then throw your veggies, spices and meat. Before adding heat add a can or two of your favorite beer and bring it to a boil. Once you see steam coming from the top, you've got 40 to 45 minutes until diner is served.
The can cooker comes with a ton of recipes and ideas for cooking breakfast, lunch and dinner. Our personal favorite is a potato, mushroom, carrots, onions and pork loin dinner.
You can use the can cooker on your stove top or on the fire pit. It's made from high strenght aluminum and cooks a damn good meal. While you won't be taking it on your next 20 mile trek, we highly recommend it for deer camp, state park camping and even home use.
Fiskars' 28″ Chopping Axe
The all-purpose design of Fiskar's 28″ Chopping Axe makes felling trees quick and easy. Design to maximize performance this axe combines perfected weight distribution, advanced blade geometry and an ultra-sharp edge and virtually unbreakable. This combination of features allows the blade to bite three times deeper when chopping. With more blade penetration on each swing, you can chop more wood in less time, with less effort and hand strain.
Our testing proved that this axe is a chopping machine – taking down trees and chopping though logs with ease. The three stand out features that truly caught our eye througout testing was the comfotable grip, the shock-absorbing DuraFrame and the handy sheath with carrying handle.
This axe isn't exactly light weight or packable, but it's prefect for those camping trips where you bring your truck, setup camp and sit by the bonfire till the wee-hours of the morning. Overall, this axe gets the job done – plain and simple.
Freescape Camp Kitchen Knife
Built by mad scientists at Gerber specifically for food prep at the camp site, the Freescape is a fantastic piece of gear. Used to prep our CanCooker meals, this knife comes factory sharpened like a razor! The knife has a great feel in your hand and is weighted nicely.
To be honest, I never thought I'd need a specific knife for camp food prep, but after using the Freescape a handful of times now, I don't see myself every using anything else. Yeah, it's that good.
Adidas' Hydroterra Shandals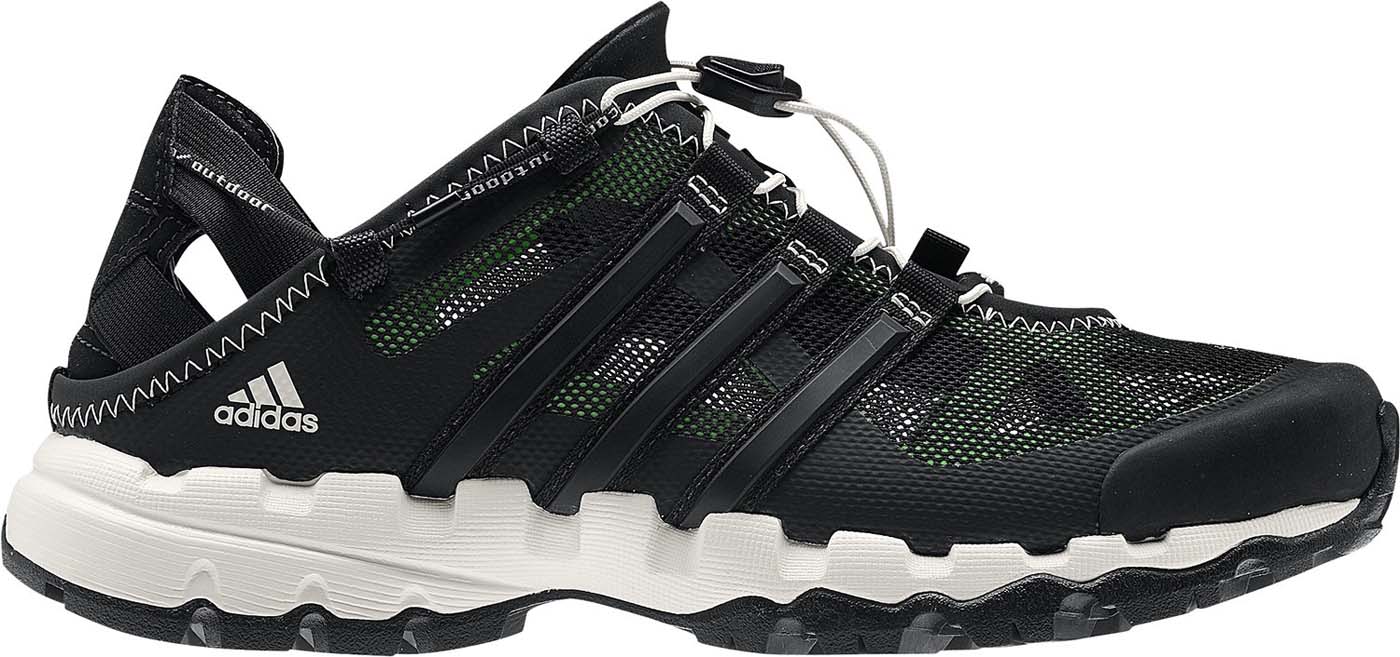 Engineered to be worn in a variety of environments, the Hydroterra from Adidas isn't really a sandal and isn't really a shoe. It's both – a "Shandle." You see, this highly vented shandle is ready to take on water, light hikes and everything in between. Not only does it look freakin' awesome, but this shandle actually preforms very well.
Personally, I like to use the Hydroterras for kayaking, I try to keep dry, but when and if I need to take a walk in the water I know my feet will be protected. Then once i'm back in the kayak they drain and dry rather quickly. I could also see using them for hiking, they're super light and do a superb job of venting.
Some stand out features include the step-down heal, which allow you to wear the shandle as a slipper or a full shoe. Also the bungee lace system is nice and secures the fit very well. Overall, Adidas knocked it out of the park with this one. A great buy for hiking, kayaking and barefoot activities you plan to get yourself into!
Therm-a-Rest NeoAir Venture WV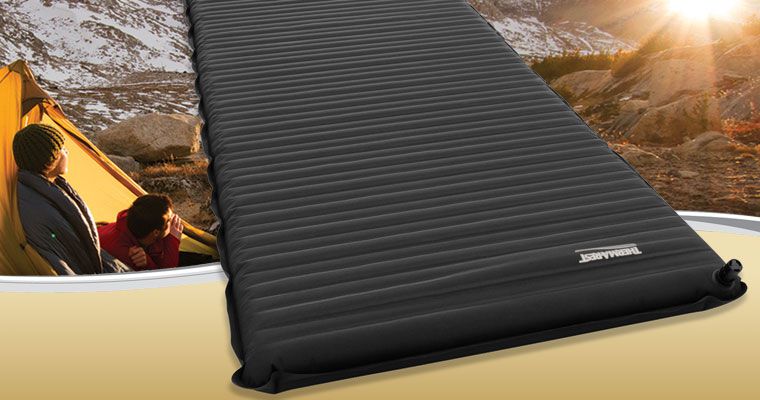 New for 2014 and Made in the good ole USA using Therm-a-Rest's new WaveCore technology, the Venture WV mattress offers targeted quality and performance for entry-level and recreational backcountry users. It doubles the warmth of uninsulated air mattresses, while maintaining similar weights and price points, delivering a unique level of stability and reliable comfort.
Therm-a-Rest is a big hitter in the back packing community and it's for good reason. Their sleeping mats are the best. They're light, comfy and pack extreme well. Nights spent camping on the floor of the forest can be brutal. With the Venture WV I slept like a baby. Pro Tip: don't over inflate your air mattress – use the release valve to dial in the perfect sleeping condition. For me it's about 60% full.